In this Hotspot Shield VPN Review, we're going to take a deep dive into Hotspot Shield VPN, a provider that claims to be the fastest VPN on the market–thanks to its unique connection protocol, Hydra.
With a free basic plan, a wide range of servers, and lots of extra features, Hotspot Shield VPN certainly seems to have a lot going for it, but does it live up to its promises? That's exactly what we set out to find in our Hotspot Shield VPN, putting the provider through its paces and conducting a range of tests over a period of two weeks.
Table of Contents
Table of Contents
What is Hotspot Shield VPN?
American-borne Hotspot Shield VPN is known as one of the premium providers in the VPN market. Founded in 2008, Hotspot Shield VPN has become synonymous with lightning-fast speeds and is favored by users looking to unblock streaming sites, engage in lag-free gaming, or simply use a VPN for free.
While Hotspot Shield VPN doesn't have the same robust no-logging policy as CyberGhost or NordVPN, the company's data anonymization policy means users don't have any reason to be truly concerned.
Hotspot Shield VPN Review Pros and Cons
If you're looking for a TL;DR version of our Hotspot Shield VPN VPN review, our list of pros and cons is for you. Here's a look at the plus points and drawbacks of this VPN at a glance.
Pros
Impressive speeds
Free version
Excellent at unblocking international streaming content
Access to 1Password and other security products with a paid plan
P2P-compatible
Cons
Some logging
No bitcoin support
No multi-hop
Free version comes with ads
How Much Does Hotspot Shield VPN Cost?
The Hotspot Shield VPN price varies depending on the subscriber you choose. There's the basic free plan and the premium plan. With the premium plan, you can either choose to pay on a monthly or annual basis.
As with most VPN providers, you'll unlock a lower price if you commit to purchasing annually rather than monthly. As a nice touch, the provider also offers a 45-day money-back guarantee if you're not satisfied with the product.
| | |
| --- | --- |
| Plan | Price |
| Basic | $0/month |
| Premium | $12.99/month |
Hotspot Shield's free VPN plan is a great choice for users seeking a wide array of features–and it fairs pretty well against competitors. For example, Proton VPN, which is often considered one of the best free VPN services, offers just 152 servers, while Hotspot Shield boasts over 160.
Similarly, while other free VPNs have monthly data caps set at 10GB, Hotspot Shield VPN technically offers uncapped data usage, as you can increase the 500MB limit by watching adverts. Even though this can hinder the online browsing experience, it's an interesting touch that adds a sense of flexibility.
However, like all free VPNs, Hotspot Shield does have its limitations. For instance, it only allows a single device connection in its free version, while most other free VPNs permit three or more simultaneous connections.
If you're looking for more comprehensive features, the paid VPN option is available starting at $12.99 per month, with support for up to ten devices. This paid plan provides access to all the features we'll delve into in the next section of our Hotspot Shield VPN review. While it lacks the anonymity of a Bitcoin payment option, you can use a credit card or PayPal.
Reviewing the Core Hotspot Shield VPN Features
For our Hotspot Shield VPN review, we spent two weeks exploring the VPN's capabilities across applications. By conducting a range of performance tests, speed tests, and analyzing the VPN's features, we've built a solid picture of how well Hotspot Shield VPN stands up against other leading VPN providers.
Here's a look at why Hotspot Shield VPN stands out from the crowd.
SmartVPN
For our Hotspot Shield VPN VPN review, we had to, of course, look at the VPN's split tunneling capabilities. As background, split tunneling is a feature that enables you to exclude some apps from your VPN connection.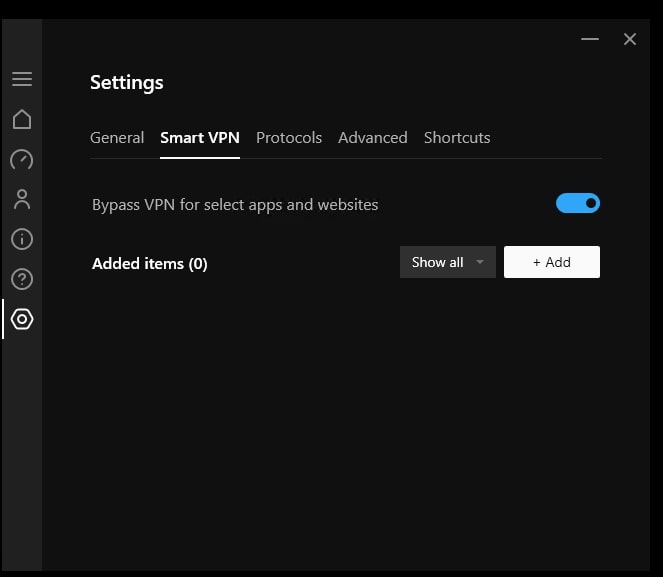 For this provider, split tunneling is known as Smart VPN. Simply go to settings, toggle on the Smart VPN option, and add the apps that you want the VPN to bypass.
We noticed that Smart VPN is available across Windows, iOS, Mac, and Android, which is great if you plan to use Hotspot Shield VPN across a range of devices.
Speed Performance
Hotspot Shield VPN is known for its unique Hydra protocol, which has previously won awards for its super-fast download speeds, which is an impressive 15% faster than NordVPN.
When it comes to upload speed, Hotspot Shield VPN is just as impressive, with an average of 20% drop-off with the Hydra protocol.
If you're a diehard WireGuard protocol fan, you'll also be glad to hear that Hotspot Shield VPN supports this protocol. We found that we were able to keep at least 93% of our baseline speed, even when we connected to servers on other continents.
Free Version
If you've seen The Social Dilemma on Netflix, you'll be familiar with the phrase: "If you're not paying for the product, then you're the product." With that in mind, is Hotspot Shield VPN's free offering too good to be true?
In our view, not at all. For our Hotspot Shield VPN review, we spent several days using the free version of the VPN, and we came to the conclusion that the free version would be fantastic for novice VPN users.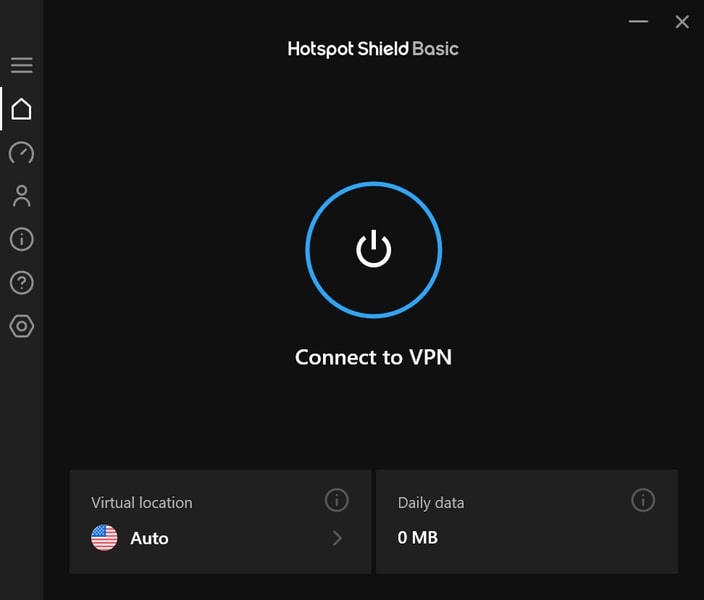 With the free version, you get internet speeds of up to 1 Gbps and access to servers in Los Angeles, New York, Singapore, and the United Kingdom. So, if you want a free VPN to unblock American Netflix and Hulu, Hotspot Shield VPN is definitely a great choice.
Of course, free VPNs do have their limitations, and the Hotspot Shield VPN free version lacks a kill switch and split tunneling and only enables you to connect one device at a time. On top of that, you miss out on accessing the full potential of Hotspot Shield VPN's server locations, including ones that are specifically optimized for streaming and gaming.
Then there's the adverts. While free users get 500 MB of data per day, we found that we had to watch ads when we wanted to continue using the VPN. This can be a little annoying and interrupt your workflow, but at least the adverts are only 45 to 60 seconds.
Browser Extensions
Hotspot Shield VPN offers browser extensions for Chrome and Firefox. We explored both browsers and loved the granularity they provided.

With the Hotspot Shield VPN extension installed, we were able to designate specific websites for constant protection through the proxy, even when the proxy connection itself is inactive. We also liked how easy and intuitive it was to customize the list of websites that we didn't want to route through the proxy.
All in all, if you get the paid version of Hotspot Shield VPN, the browser extensions are definitely worth exploring.
Optimized Servers
If you're one of the 46% of people out there who use a VPN for streaming, then this provider might be for you. Hotspot Shield VPN specifically markets itself as a VPN that's optimized for gaming and unblocking streaming platforms–and it certainly delivers.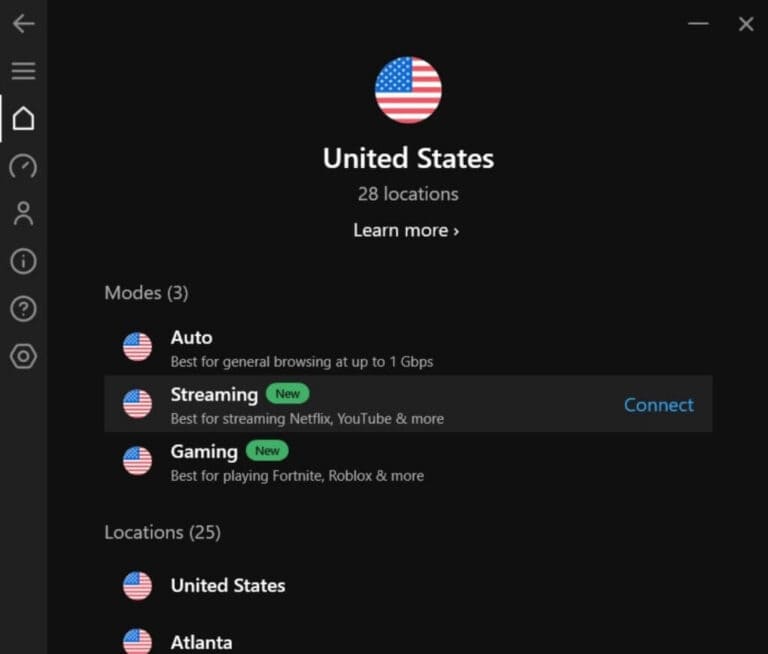 It offers specialized servers depending on the user's needs. We tried accessing Netflix, BBC iPlayer, Hulu, and Disney Plus from a range of different countries with these servers, and the VPN worked a charm every time.
On top of that, there was no lagging or buffering, making our streaming experiences very enjoyable and without borders. Similarly, with gaming, the specialized servers worked wonders, with exceptionally low ping.
Customer support
If you're a free user who needs customer support, your one and only option is the customer support website, which is chock full of answers to FAQs. While it's a shame that free users don't get access to human customer service support, we have to say that the FAQs are written very well. They're jargon-free, easy to understand, and offer step-by-step guidance.
For paying users, Hotspot Shield VPN offers a live chat feature as well as email support. We tested out the live chat feature by asking a product-related question and found it to be great. While initially, we were put in touch with a chatbot, when we escalated our inquiry, the bot quickly put us through to a friendly agent in all of 30 seconds.
So, should you run into any trouble using Hotspot Shield VPN, you can rest assured their customer support will be on hand to help swiftly and expertly.
Virtual Servers
Hotspot Shield VPN has over 1,800 servers in 80 countries with coverage across Europe, the Americas, Asia, the Middle East, and Africa, too. Living up to its promise of being a premium VPN provider for streaming, this range of locations is fantastic for users looking to unblock streaming content.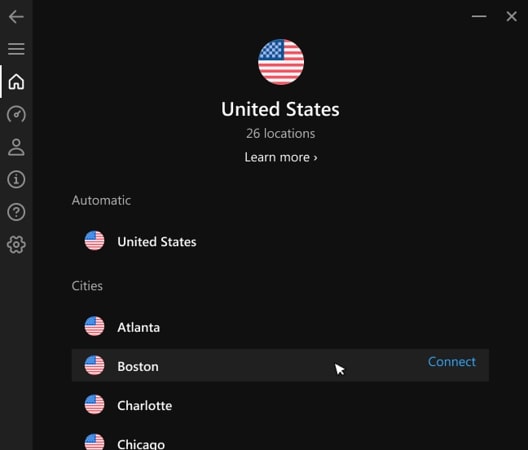 An interesting feature we noticed when testing Hotspot Shield VPN was its use of virtual locations. As context, a virtual location means that, even though you've selected a location in one country that returns that country's, the actual server is actually located in another country altogether. Hence, the server location is virtual.
Virtual server locations have a number of uses. For example, if you're in a country with notoriously poor connectivity or you're worried about national surveillance, virtual servers can be extremely handy.
From our research, we found that Hotspot Shield's Cambodia, India, Pakistan, Algeria, Azerbaijan, Israel, and Malta servers all seem to be hosted virtually.
Is Hotspot Shield VPN Safe?
With the majority of people purchasing VPN services to boost their online security, reviewing the security of Hotspot Shield VPN is a must. We found Hotspot Shield VPN to be secure as it is fast, with military-grade encryption, a kill switch, and a choice of two superb protocols. Here's a more detailed look.
Encryption
Hotspot Shield VPN uses the AES-128-CBC cipher, which is well-regarded for being incredibly secure and has never been cracked. But, if you're a VPN pro, you'll know that most VPNs opt for the AES-256 cipher, which has a longer encryption cipher.
While the AES-256 cipher is more resilient to brute-force attacks than the AES-128, the latter is still incredibly secure and, importantly, more efficient: it's faster than AES-256 and requires fewer resources. Since speed is a top priority for Hotspot Shield, it makes sense that they would therefore choose AES-128.
Hotspot Shield Protocols
Hotspot Shield offers users the flexibility to select between two distinct protocols: their in-house developed Hydra protocol or the widely recognized industry standard, WireGuard.
The creation of the Hydra protocol by Hotspot Shield was driven by the recognition that conventional protocols such as IPSec and OpenVPN often grapple with performance and latency issues like slow-loading web pages and seemingly unresponsive applications.
In our evaluation, we discovered that Hydra consistently delivered exceptional speeds of 99Mbps, even for long-distance connections. Notably, it was also efficient in terms of bandwidth consumption.
In addition to the proprietary Hydra protocol, Hotspot Shield provides support for the WireGuard protocol. WireGuard is another lightweight alternative to OpenVPN. Both protocols offer excellent security, and you can switch between the Hotspot Shield VPN protocols with ease at any time–it just comes down to personal preference.
Kill switch
Hotspot Shield VPN's apps include a kill switch that blocks your internet connection in the event the VPN drops, preventing any IP leakage. Undoubtedly, kill switches are a very important part of securing the user experience, so we wanted to put the Hotspot Shield VPN through its paces.
One thing to note is that if you're mulling between Hydra and WireGuard, Hotspot Shield VPN's kill switch is only available with the former. Given that Hydra offers excellent speeds and security, this shouldn't be an issue but is worth noting for WireGuard fans.
We ran a number of tests to gauge how effective the kill switch is, simulating crashes to see if the kill switch sprung into action–and it did every time.
While the kill switch is reliable, it's not enabled by default, and figuring out how to enable automatic kill switch protection isn't as intuitive as we'd like it to be.
Firstly, you'll need to head to the settings tab to turn the kill switch on. Importantly, if you want the kill switch to continuously work, you'll need to switch your protocol setting from automatic to Hydra by default. Otherwise, you risk connecting to WireGuard and losing the kill switch functionality.
Logging
Like all great VPN providers, Hotspot Shield VPN has a no-logging policy. However, as part of our Hotspot Shield VPN VPN review, we noticed that the free version does lead to some logging.
This is because the free app makes use of advertisements. For these to be relevant, Hotspot Shield VPN provides your city location to advertisers, along with your advertising ID and International Mobile Equipment Identity. So, if privacy is your main concern, the free version of this app should be avoided.
Saying that, once we used the paid version, our privacy concerns dissipated as the provider didn't log activity and deleted your IP address after every session.
The other thing to note is that unlike ExpressVPN or NordVPN, Hotspot Shield VPN doesn't accept payments in cryptocurrency. For the ultra privacy-conscious out there, this means Hotspot Shield VPN probably isn't an option.
However, if your main objective in using a VPN is to unblock streaming content and increase your internet speed, Hotspot Shield VPN is a great choice.
Hotspot Shield VPN Compatibility
Hotspot Shield VPN offers apps across desktop and mobile, with options available for Windows, macOS, Linux, iOS, and Android. For our Hotspot Shield VPN VPN review, we tested out the user experience for the Premium version across applications to build a picture of any inconsistencies between the different operating systems.
Here's what we found.
Windows
Hotspot Shield's Windows application has a user-friendly interface that welcomes you with a dark panel, showcasing a large On/Off button that you click to start your session. Immediately, we liked how intuitive the interface appeared. Even novice VPN users will find it easy to use the application.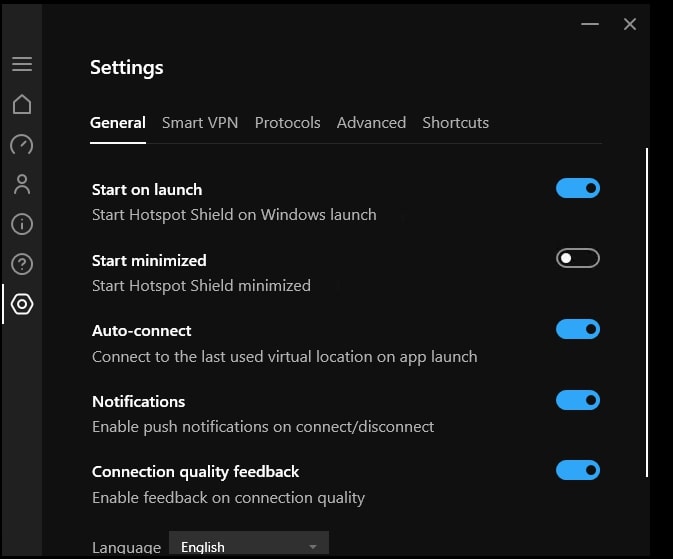 Initiating the VPN connection is a swift process, taking all of two seconds. Once connected, a map displays your virtual location. Alongside it, there are various widgets that show several connection details, including your server's IP address latency, data usage, and more.
While this information might appear a bit overwhelming to non-technical users, it's more there as background info and can be useful for more proficient users.
Accessing Hotspot Shield's settings is also a breeze in the Windows app. Here, you'll find the protocol options and options to configure the app to launch at startup and auto-connect.
Mac
The Mac and Windows apps are very similar. Both have modern, user-friendly designs and a wealth of handy features. We used Hotspot Shield VPN a few years back and were disappointed to find it didn't have split tunneling on Mac.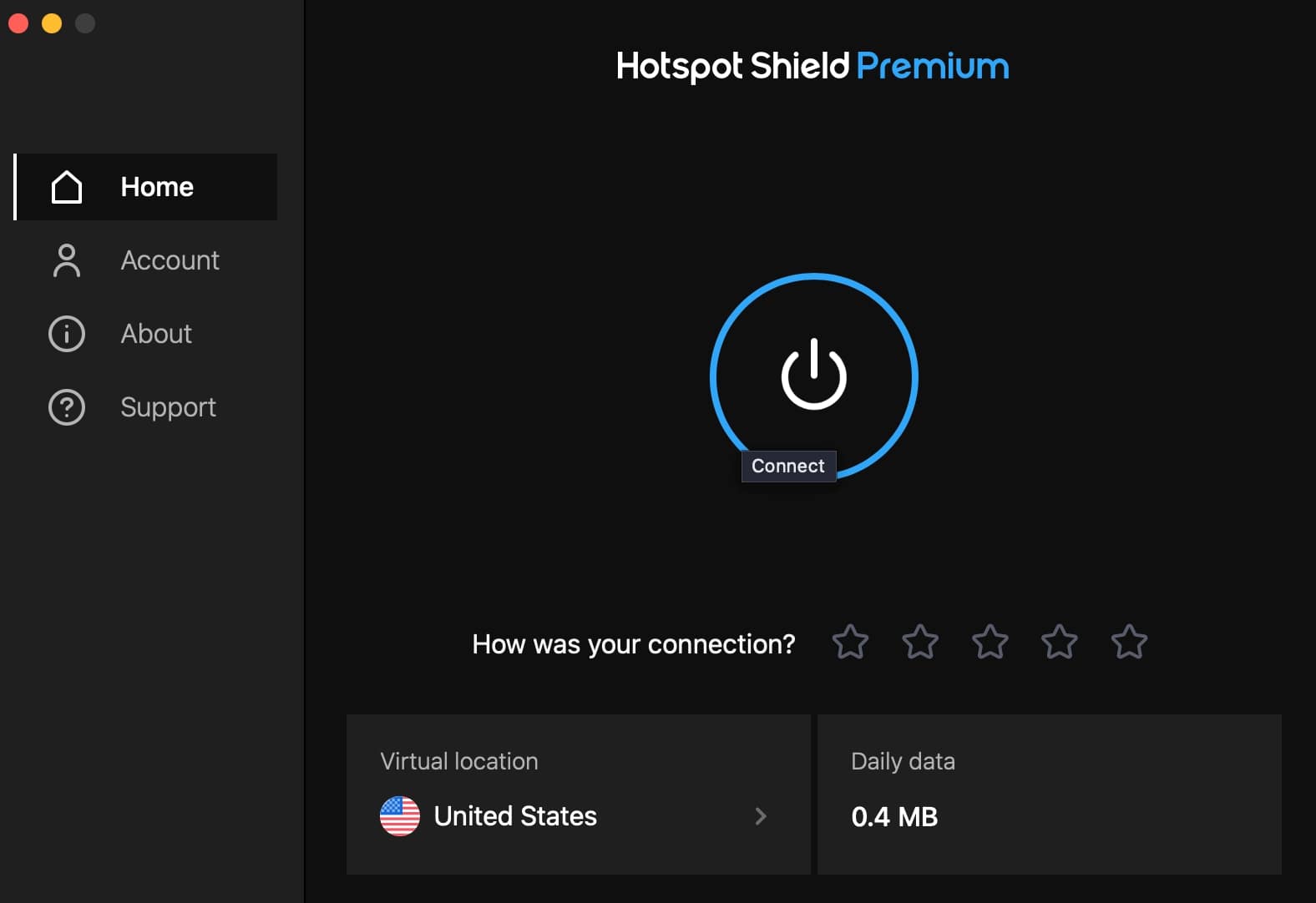 However, it appears the company has innovated since then. We were pleased to find the split tunneling feature available, along with the kill switch and protocol options–making the Mac version as good as the Windows one, which often isn't the case amongst VPN providers.
Android
Research shows that more VPN users use their VPN of choice on their mobile phones rather than desktops, so reviewing the mobile versions of Hotspot Shield VPN was paramount to us.
The Android app has the same modern, intuitive interface as the Windows and Mac versions. Securing your connection is a straightforward process, with just a simple tap of the Connect button. As with the desktop interface, the Android app offers a wealth of connection statistics for those who like to delve into the technical details.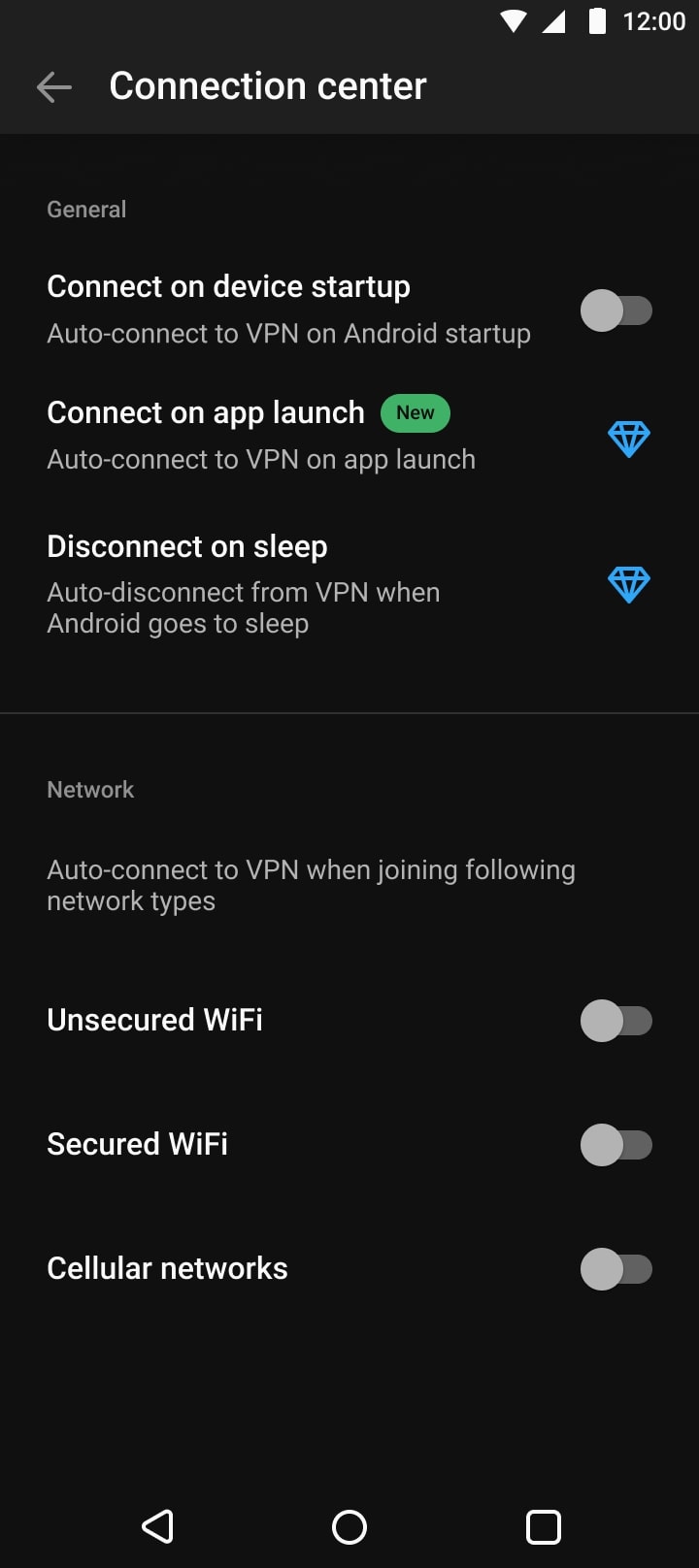 The Android app is undoubtedly impressive and robust. It's got support for both WireGuard and Hydra, split tunneling, and seamless integration with Android's system-wide kill switch. Additionally, when we headed to the Connection Center, we realized we could configure the app for automatic connections on Android startup.
iOS
Consistency is obviously important to Hotspot Shield VPN. The iOS app is, again, nearly identical to the other clients: modern and intuitive to use. Plus, while many iOS VPN apps can be a little bare bones, we were impressed with Hotspot Shield VPN for iOS.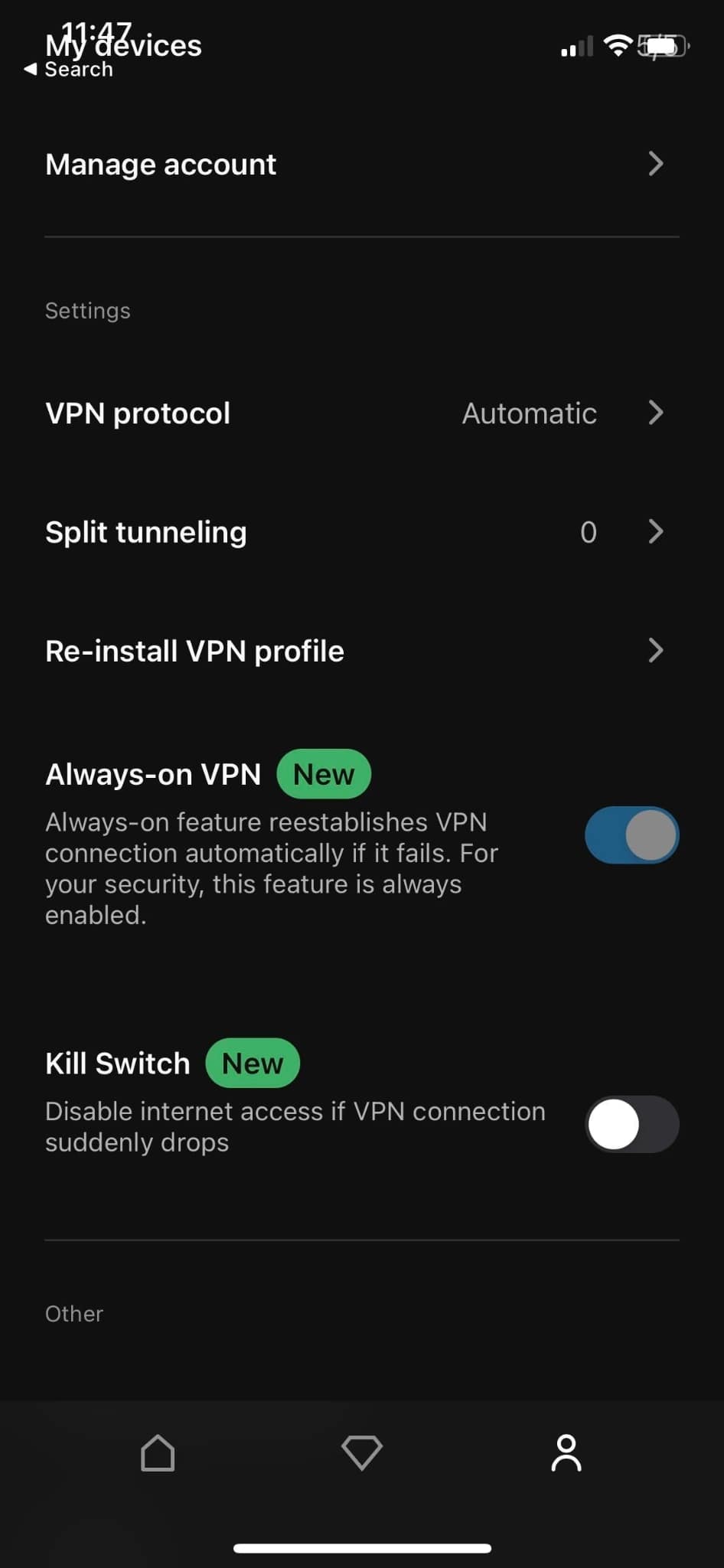 It features split tunneling, a kill switch, and an always-on feature, all of which make online browsing from an iPhone or iPad much more secure and private.
Linux
Hotspot Shield VPN does provide support for Linux, but the command-line interface is undoubtedly technical. While you get access to the breadth of the provider's server locations, the Linux app does not possess features like the kill-switch or always-on feature.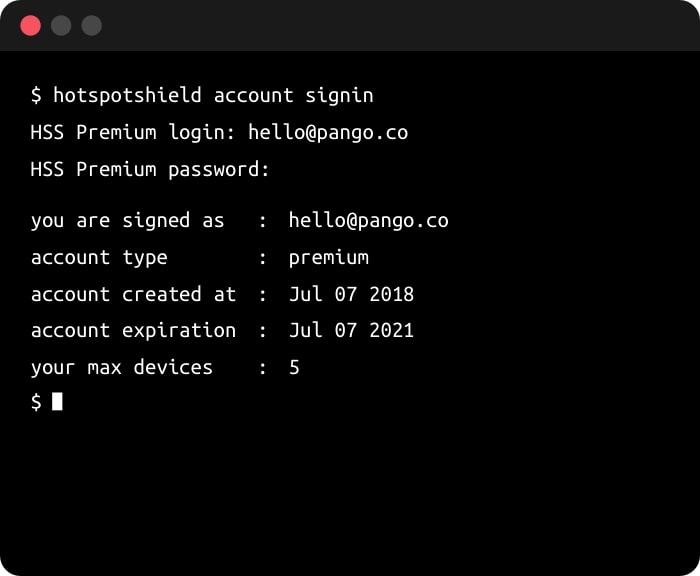 Hotspot Shield VPN vs. Top VPN Competitors
The global VPN market is worth over $25 billion, meaning it's quite a crowded market space. So, as part of our Hotspot Shield VPN VPN review, we wanted to see how this super-speedy provider compared to other leading VPNs out there. Here's a look at the key statistics:
| | | | | | | | |
| --- | --- | --- | --- | --- | --- | --- | --- |
| Top VPNs | Best Suited For | Starting Price | No Logs Policy | Free Version? | Number of Connections | Split Tunneling? | Kill Switch? |
| Hotspot Shield VPN | Super-fast streaming and gaming | $2.99/month – 3-year plan | Y | Y | 10 | Y | Y |
| ExpressVPN | Online privacy | $6.67/month – 1-year plan | Y | N | 5 | Y | Y |
| CyberGhost | Security | $2.19/month – 2-year plan | Y | N | 7 | Y | Y |
| PureVPN | Worldwide server network | $1.33 /month – 3-year plan | Y | N | 10 | Y | Y |
| ProtonVPN | Solid free service | $4.99/month – 2-year plan | Y | Y | 10 | Only on Android and Windows | Y |
With its impressive speeds, inexpensive long-term plan, and range of features, Hotspot Shield VPN certainly deserves its place as one of the leading VPN providers out there.
While ExpressVPN also offers fast speeds for streaming, Hotspot Shield VPN clips it to the finish line thanks to its unique Hydra protocol, a higher number of connections, and a lower monthly pricing plan.
Saying this, if you're looking for a free offering, ProtonVPN's free service is just as reliable and fast as Hotspot Shield VPN–without the pesky ads.
What is Hotspot Shield VPN Good For?
Not everybody uses a VPN for the same thing. While some people download VPNs to unblock streaming, others use them to boost their online privacy. So, what exactly is Hotspot Shield VPN best for? Here's our take after two weeks of using the client extensively.
Streaming
Hotspot Shield stands out as an excellent VPN option for bypassing geo-blocked content on major streaming platforms. With over 3,200 servers spanning more than 80 countries, it's easy and fast for users to choose streaming servers outside of their country.
In our testing, we encountered zero obstacles when trying to unblock popular streaming platforms like Canadian Netflix, BBC iPlayer, Hulu, Disney Plus, and Amazon Prime Video.
Plus, the user experience was a joy. Everything we watched loaded in the blink of an eye, and the images were crystal clear every time.
Gaming
Hotspot Shield is, without a doubt, an excellent choice for gaming, thanks to its impressive speed records and low ping. Plus, it offers gaming-optimized servers, which makes it easy for gamers to find a connection that meets their needs.
When we connected to one of these servers, we noted an impressively low ping time, meaning no lag whatsoever.
Torrenting
While VPN providers don't tend to brag about it, we found that Hotspot Shield VPN was great at torrenting since it doesn't place any restrictions on P2P connections. Although there aren't specific servers designated for torrenting, the sheer number of locations you can choose from means it's easy to find a fast connection for P2P downloads.
Hotspot Shield VPN Server Locations
With 3,200 servers in more than 80 countries, Hotspot Shield VPN gives users a range of locations to choose from. While there aren't that many servers available in the Middle East, the great selection of server locations in America and Europe means that this VPN provider exceeds most users' needs.
Is Hotspot Shield VPN Good? A Look at Hotspot Shield Reviews
We've been impressed by Hotspot Shield so far. But we also wanted to take a look at other Hotspot Shield VPN VPN reviews from other users across the world to get a more complete picture of the provider. We looked at reviews on Reddit and TrustPilot to compare our experience.
On Reddit, Hotspot Shield VPN consistently ranked as one of the top VPNs out there, both for the free and paid version. Like us, most reviewers were impressed with the VPN's lightning-fast speeds, praising it for streaming and torrenting.

Saying this, we did notice a few Reddit reviewers criticizing the VPN for being too slow. While this isn't our experience, it's interesting to note that Hotspot Shield VPN isn't unanimously fast for everyone.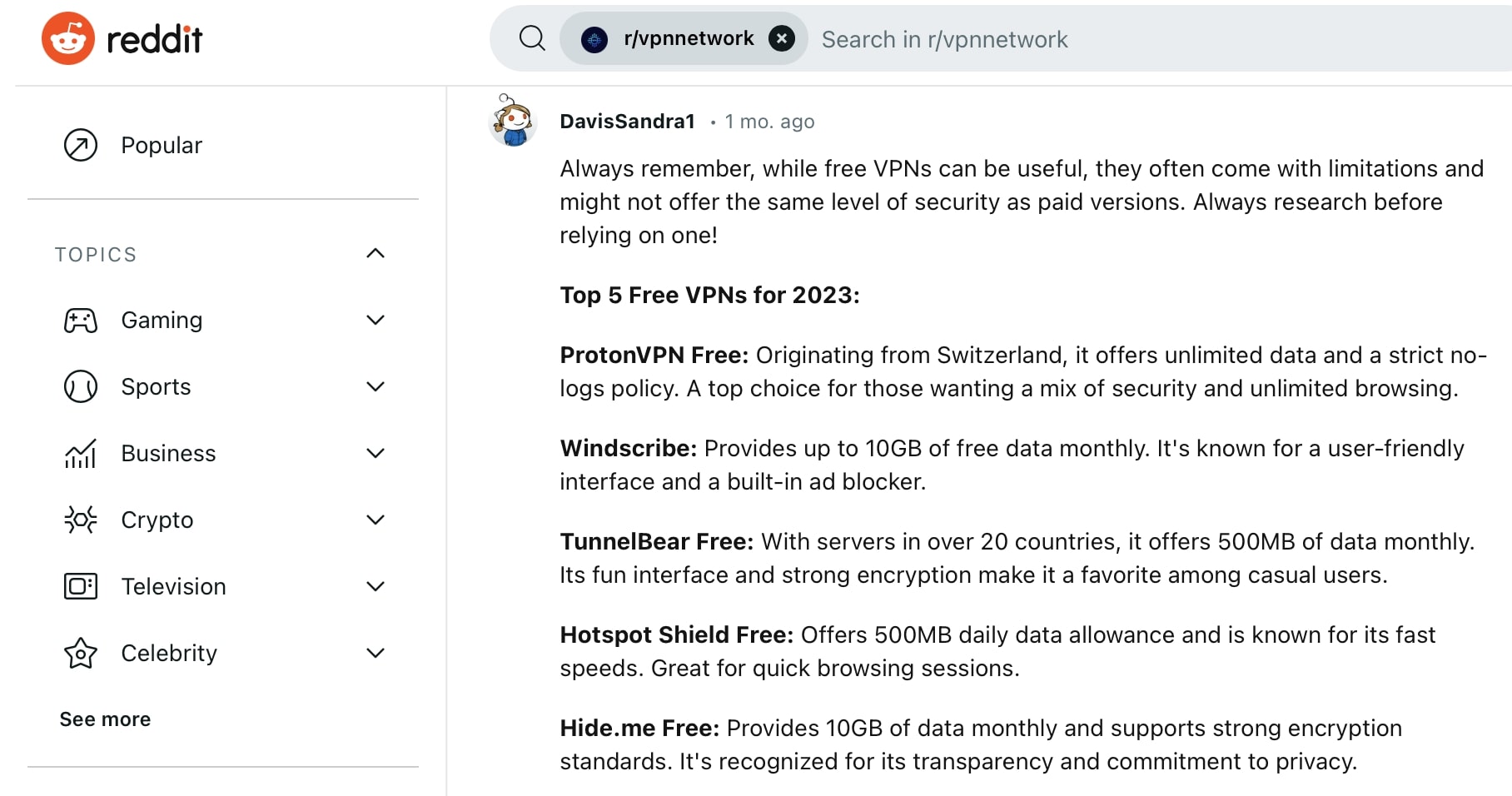 On TrustPilot, Hotspot Shield VPN has an impressive overall score of 4.7 out of 5. Users consistently praised the speedy customer support and the provider's reliability and speed. As well as this, we noticed that a lot of reviewers had been Hotspot Shield VPN customers for years. Clearly, the company is doing a lot right!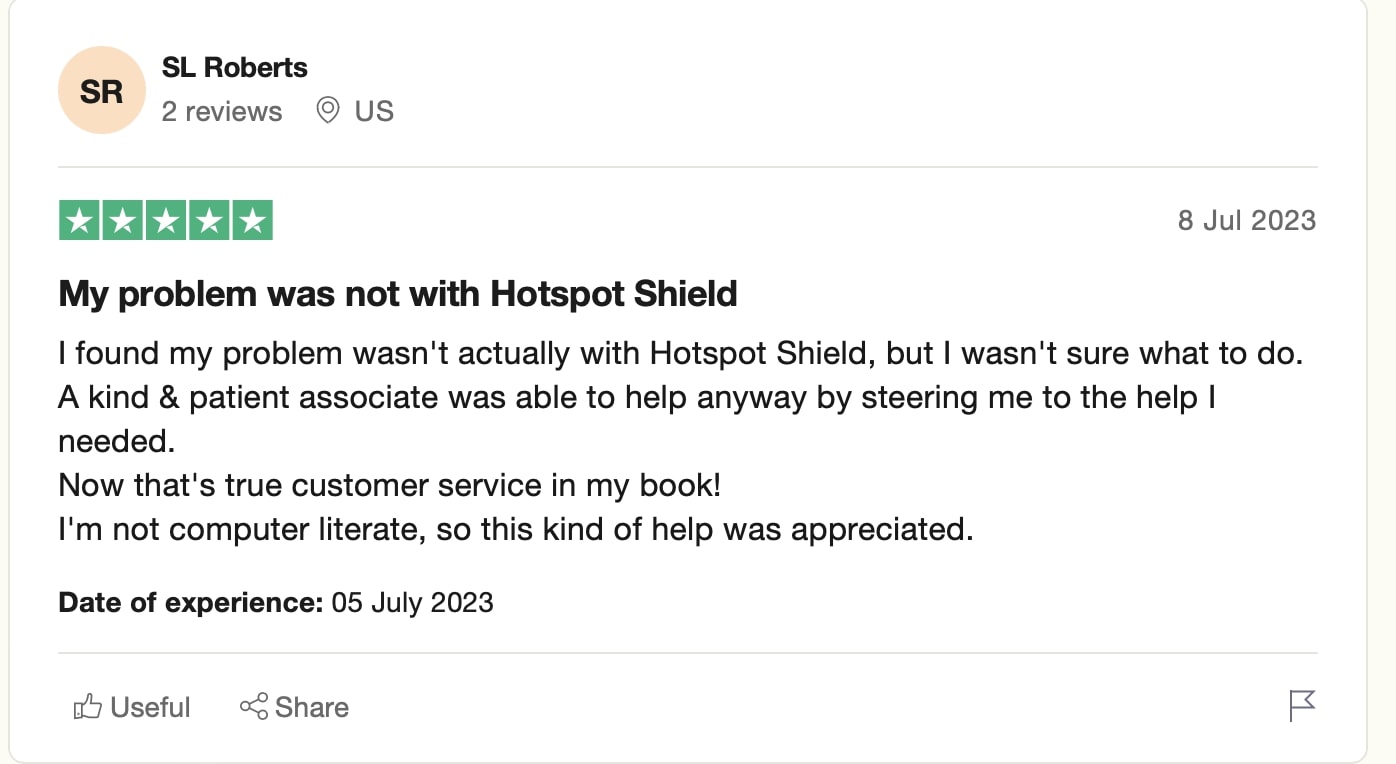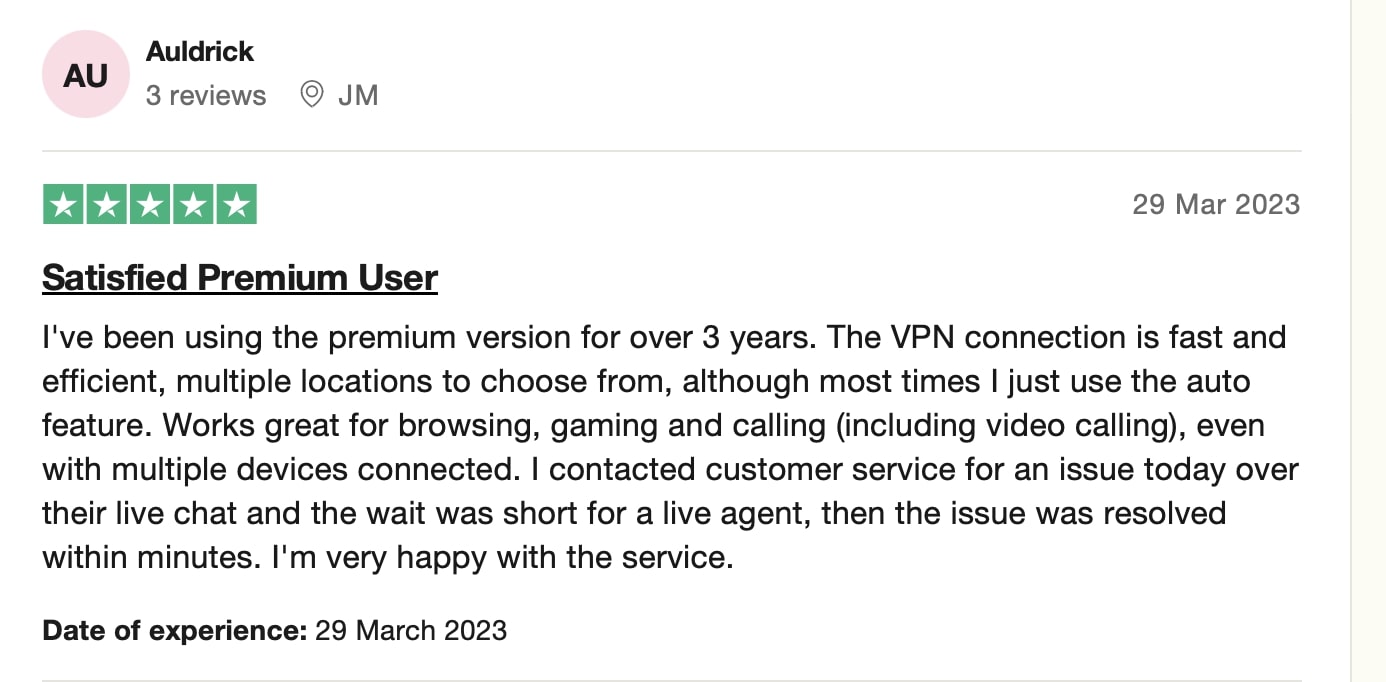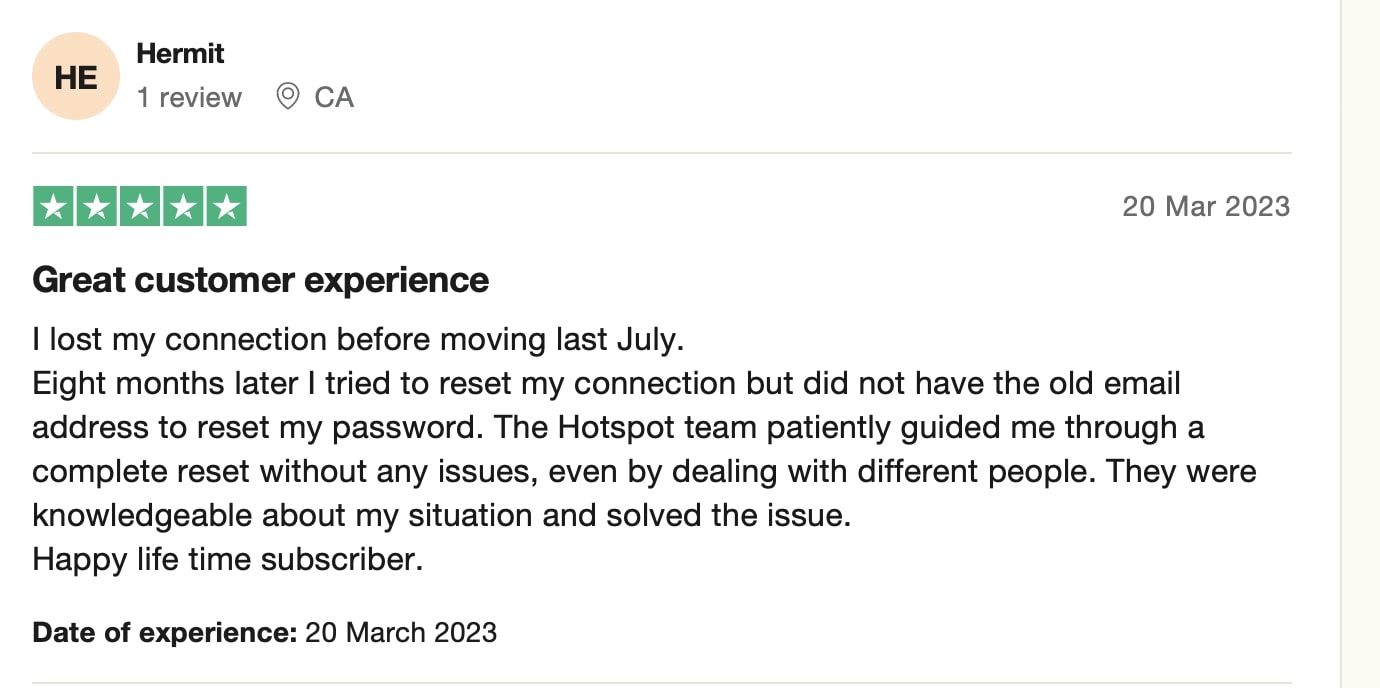 How to Use Hotspot Shield VPN- A Quick Guide
By now, you might be raring to go with Hotspot Shield VPN. So, Here's a step-by-step overview of how to set up the Windows app.
Step 1: Open the Hotspot Shield VPN application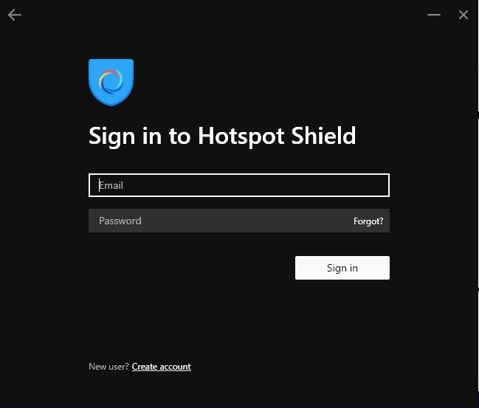 Once you've completed the Hotspot Shield VPN download, head to the Windows icon in the lower left-hand corner of your screen and select the Hotspot Shield VPN icon to start the app. From there, enter your login details.
Step 2: Turn Hotspot Shield VPN on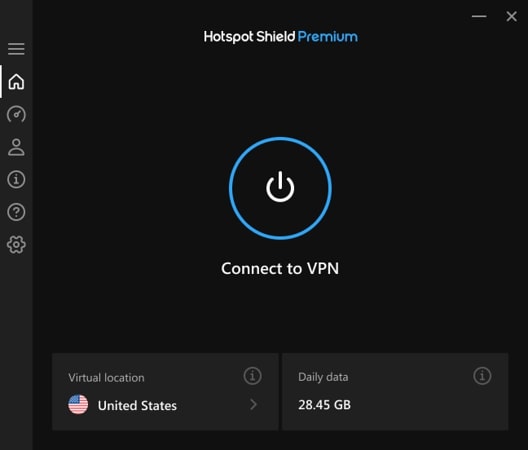 Click on the "Start" button to connect to the Hotspot Shield VPN.
Step 3: Choose a VPN server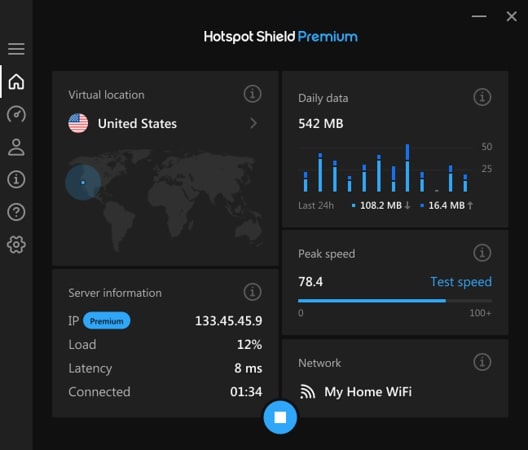 Once you're connected, click on the country name in the upper left of the screen, and then choose the server you'd like to connect to.
How We Tested Hotspot Shield VPN
At Techopedia, we want our readers to feel informed and confident in the technology choices they make. That's why we put Hotspot Shield VPN through a range of tests over a fortnight to bring you reliable, trustworthy guidance.
As with all our VPN reviews, we've tested Hotspot Shield VPN rigorously, running basic internet speed tests, testing for VPN leaks, and using the VPN first-hand–across platforms–to gauge its features.
Because reviewing VPNs is our bread and butter, and we've tested all of the leading players, we know what our readers are looking for in an exceptional VPN, enabling us to share the pros and cons that matter to you.
On top of this, we also believe in validating our findings by collecting organic user feedback. User research is of the utmost importance to our reviews, and we've spent a great deal of time combing through Reddit and TrustPilot to gather widespread opinion on the Hotspot Shield VPN user experience globally.
Our Other VPN Guides
If this article has got you wondering about the other leading VPNs out there, why not read some of our other VPN guides:
Concluding Our Hotspot Shield VPN Review – Is Hotspot Shield Worth it in 2023?
Overall, we're really impressed with Hotspot Shield VPN. It's inexpensive, super-fast, and has everything you could want for accessing global streaming content with minimal ping.
Saying this, if privacy is your main concern, providers like NordVPN and CyberGhost do have better features, such as robust no-logging policies and the acceptance of crypto payments. Plus, with no support for multi-hopping and a kill switch that only works with the Hydra Protocol, Hotspot Shield VPN will lack the functionality some technical users demand.
However, despite these shortcomings, Hotspot Shield VPN is right to position itself as a leader in speed and VPN streaming. With an effortless user experience, unparalleled reliability, and a large global network of servers, this VPN is a great choice for people looking to unblock streaming content while maintaining a fast online experience.
FAQs
Is Hotspot Shield a good VPN?
Does Hotspot Shield hide your IP address?
Is NordVPN better than Hotspot Shield?
How much does Hotspot Shield cost?
How secure is Hotspot Shield?
How fast is Hotspot Shield?
Where are Hotspot Shield's servers located?
How good is Hotspot Shield for streaming?
How good is Hotspot Shield for torrenting?
References