This IPVanish review will give you in-depth insight into this popular VPN service and how it can be used to enhance your browsing experience. Whether you want to add more security to your computer or mobile device or watch a television series from a restricted country, IPVanish can help.
This comprehensive IPVanish VPN review will teach you everything you need to know about what IPVanish is, how this VPN works, how it compares to the most popular VPN services, the pricing, and everything in between. Read our in-depth IPVanish VPN review to learn more about this virtual private network before deciding if it's the best solution for your online security needs.
How Does IPVanish Work?
IPVanish is a VPN service that creates an encrypted connection between your device and its servers. It sends all IPv4 (Internet Protocol Version Four) data — the technology that allows us to connect devices to the internet — through this newly formed connection, making it look like a group of scrambled code to an outside source.
Your data that originally came from your device will travel through the encrypted connection to IPVanish's VPN server before moving on to its final destination.
If someone checks where this data originated, it'll show the IPVanish server's IP address, of which it uses over 40,000 on 2,200+ servers in 75+ locations. As such, you can:
Browse the internet anonymously
Stop unwanted sources from collecting information about you
Establish a secure connection when using unsecured internet like public Wi-Fi
Overall, IPVanish, as with all the best VPN apps, stops anyone from seeing your internet activity and also stops any collecting of information about you to ensure complete online security and anonymity.
What Can IPVanish VPN Be Used for?
IPVanish has many features that make it a solid option for various applications and uses. Besides offering online security, here are some other things that you can use IPVanish for:
Unblocking Streaming Services
While this service doesn't have specialized servers for streaming, it can easily unblock several versions of Netflix (UK, US, and India) as well as YouTube TV. IPVanish can also unblock other popular streaming services available globally, including BBC iPlayer and HBO Max.
That said, unfortunately, this service can't unblock Hulu or Amazon Prime Video consistently and reliably. If you want access to geo-blocked content on these services, we recommend checking the top VPNs for Netflix and other streaming services.
These services are renowned for being tough to unblock as they block VPNs on exact location identification and server IP address pools.
So if your location doesn't match the server, they know you're using a VPN. As such, the only VPNs that do successfully bypass these are those that constantly add new IP addresses that haven't been restricted.
Along with streaming services, IPVanish can also work with the best streaming boxes, such as Kodi Box or Amazon Fire TV Stick, which is a feature that most of the top VPNs offer.
Overall, while this VPN service can unblock many mainstream streaming services, it isn't as effective at unblocking smaller, less popular streaming websites.
Torrenting
IPVanish is excellent and safe for torrenting. While it doesn't have specific torrenting services or servers, the process is executed seamlessly without any issues.
Most VPN services use P2P file sharing and BitTorrent on their networks, but unlike other VPNs, IPVanish doesn't restrict its BitTorrent, which is excellent for heavy downloaders.
Its average server speeds are 7-8 MB/s (56-64 Mbps) when connected and are slightly higher than average. For example, NordVPN's average speed is 5.25 MB/s — and NordVPN is still considered one of the fastest VPNs for torrenting.
Also, IPVanish has a free SOCKSS5 proxy, which is excellent for those who want high download speeds while maintaining their online privacy.
OnDemand Connectivity
The OnDemand feature allows you to work on your preferred Wi-Fi network or application. When this is activated, IPVanish is automatically connected every time your device is turned on.
This feature ensures that your device's IP address is hidden and securely encrypted, which stops unnecessary geo-tagging, and keeps your device fully protected from any viruses or unwanted attention.
The OnDemand feature can be set up in several ways depending on how you use your device. It can:
Connect automatically whenever you use your device
Only connect when you're outside specific secure networks
Or connect specifically when you're browsing particular websites or applications
This is especially beneficial when using sensitive websites or applications like banking, as it gives you an additional layer of protection and anonymity.
However, as some banking institutions don't allow you to connect via a VPN, it's nice that IPVanish can allow some apps to bypass the VPN while encrypting your activity on others, for example, general browsing and streaming.
Other applications IPVanish can be used for include stopping online censorship so that you can access new information that isn't shown in your country. It also prevents internet service providers from completing a deep packet inspection.
This includes retaining information about your speeds on certain websites. This ensures a high level of privacy while using your devices, as it stops organizations and ISPs from scrutinizing your information.
SugarSync
As an add-on to the IPVanish subscription, you can get SugarSync encrypted storage for an extra fee. This works similarly to Google Drive but has better encryption.
This storage uses AES-256 encryption so that your files are given the same protection as the VPN service. It has 500GB of storage, and you upload your files by email.
You can forward emails with attachments to a unique email address, and this email will be automatically stored within the cloud, offering users more storage when compared to popular email providers. For example, Gmail only offers 15GB of storage.
Is IPVanish Good? The Key Pros and Cons
IPVanish is a great tool for increasing your online security while enjoying unrestricted access to the internet and popular streaming services. However, as with all, there are positives and negatives to using this tool:
Pros
Free SOCKS5S Proxy
Fast download speeds (252 Mbps)
Uses industry-leading encryption protocols
It offers excellent customer support
Has one of the cheapest yearly packages on the market
A high number of servers available throughout 52 countries
Users can have an unlimited number of connections
It has a kill switch that supports Windows, Apple, and Android
Highly customizable service for every user
Cons
It can't bypass the Great Firewall of China
The monthly subscription increases after a year
The interface is dated compared to competitors
IPVanish doesn't publicly release its audits
How Much is IPVanish?
Several different plans are available with IPVanish, depending on what your specific needs and wants are. You can add various additional features, such as SugarSync (the encrypted storage feature), to your subscription package to create a package that's perfectly suited to your specific use case.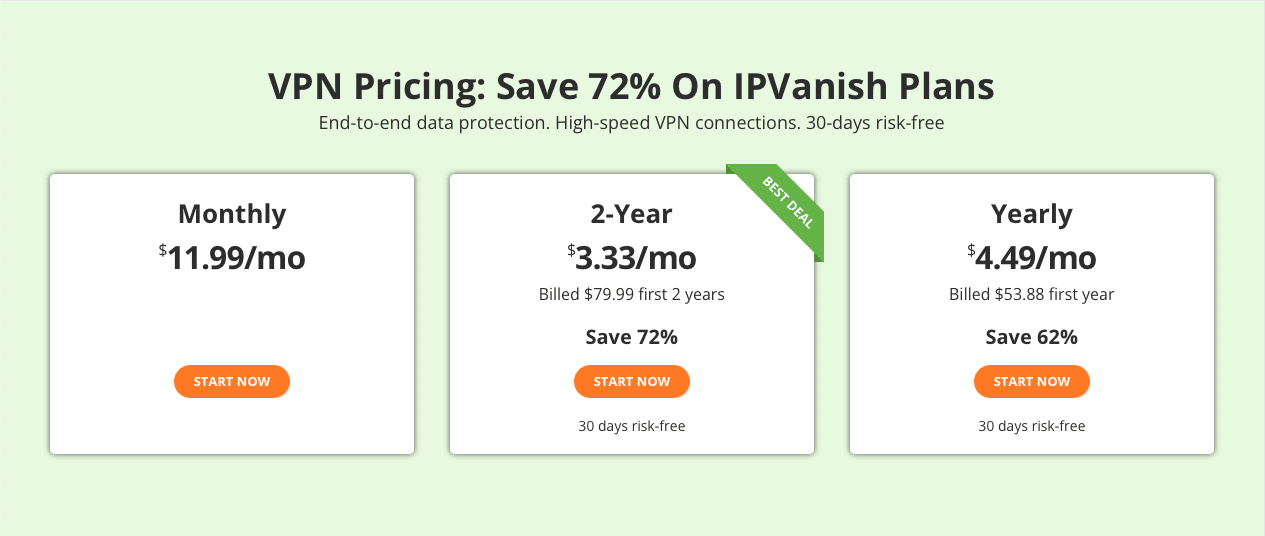 With a subscription, you'll receive many features like split tunneling, a kill switch, and DNS leak protection. Also, you'll receive unlimited connections on as many devices as you want, so there's no worrying about extra charges for more devices — a rarity in the VPN space.
When researching subscription prices in the VPN market, IPVanish's prices are lower than the average VPN price (especially when you take into account the level of service you receive), but it's worth noting that IPVanish's price will increase after your first subscription ends.
That said, IPVanish can be canceled anytime. Simply log into the IPVanish website and hit the "Cancel" button in the "Subscriptions" section. You can also use IPVanish's 30-day money-back guarantee, but it only applies if you opt for a longer plan (one year and up).
In terms of payment, you can pay using credit cards and PayPal, but not cryptocurrencies, which can be a slight drawback for those in search of complete anonymity.
Is IPVanish Free?
While this service isn't free, new users can opt for a 7-day free trial. Within this, you'll have access to everything as if you had paid for the premium subscription, including all the advanced features like the SOCKS5 proxy, split tunneling, and the kill switch.
This will give you insight into whether this VPN platform is suited to your specific needs. To utilize the trial, you must:
Download the IPVanish app
Register as a new user
Pick the subscription that suits your budget
If you've chosen a one-year subscription plan or longer, you can also use the 30-day guarantee and receive a full refund if you aren't satisfied. So overall, you can trial the IPVanish VPN service for 37 days before completely committing to the subscription.
Exploring IPVanish's Core Features
There are many ways that IPVanish's interface ensures you have a seamless experience. Here are some of the features that make it so efficient and easy to use:
Split Tunneling
Split tunneling allows you to customize and control your VPN setup. With this feature, for added security, you can decide which application on your device will automatically connect to the internet using your original IP address and not the VPN connection.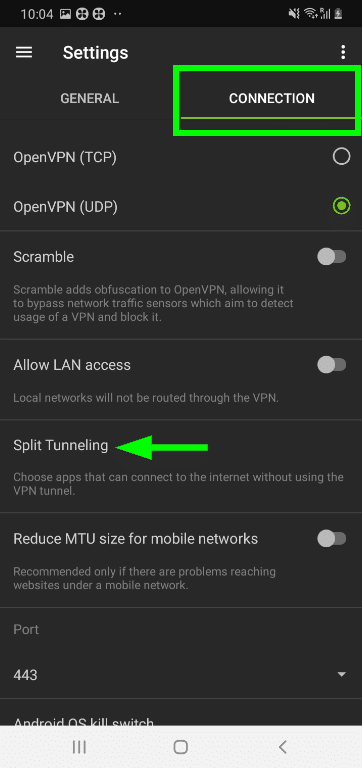 Also, you can customize what applications will always go through the VPN service to ensure these are used with the highest level of security and anonymity possible.
An example of split tunneling is ordering food from a local restaurant on your actual IP address but watching a film on the European version of Netflix through a VPN.
SOCKS5 Proxy
The free SOCKS5 Proxy subscription is an encrypted intermediary server that disguises your IP address. While this feature is beneficial to people who download high quantities of data regularly, it doesn't encrypt any data.
So people could still see what you're doing online and collect information on your movements. However, in combination with features like traffic obfuscation and AES-256 encryption, it ensures hackers can't see any of your information.
It also reduces the risk that your IP address ends up on a junk mail list, and that minimizes the risk of getting blacklisted by any sites or streaming services.
Traffic Obfuscation
Another helpful feature that IPVanish has in its arsenal is traffic obfuscation. This feature enables the XOR cipher for your encrypted traffic, modifying it so that it's difficult to determine if you're even using a VPN. This helps the VPN go under the radar when accessing geo-restricted sites like streaming services.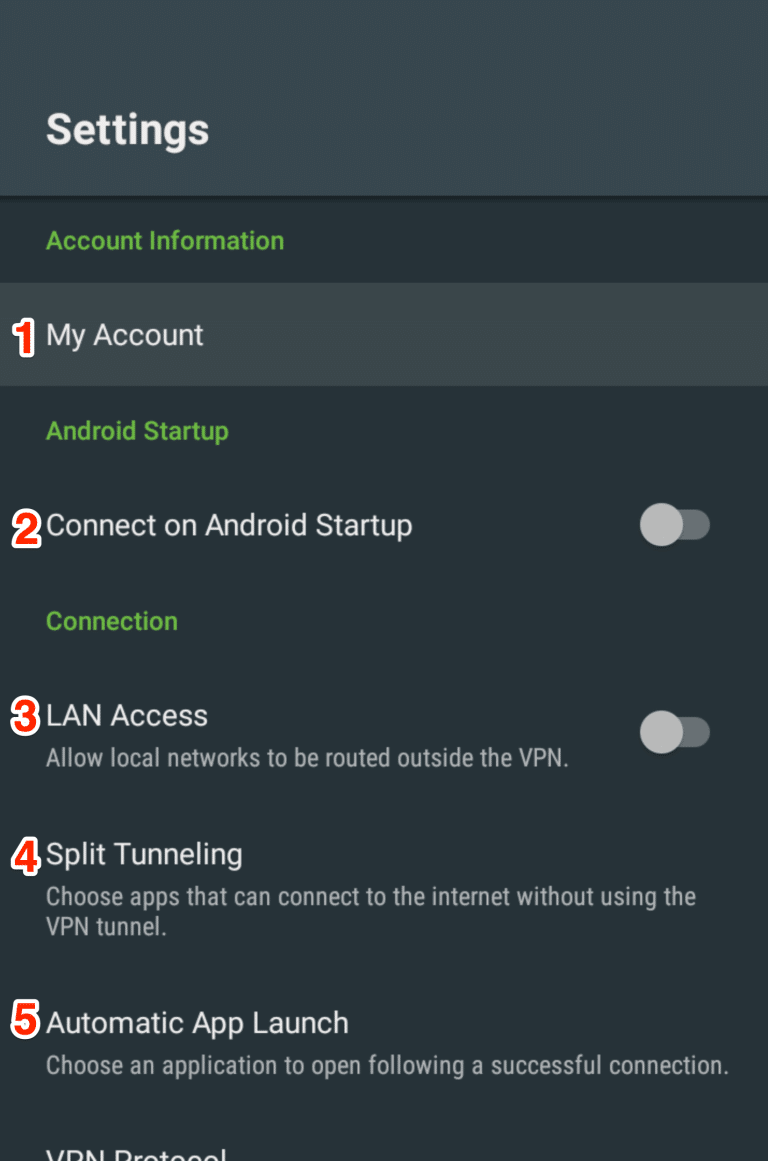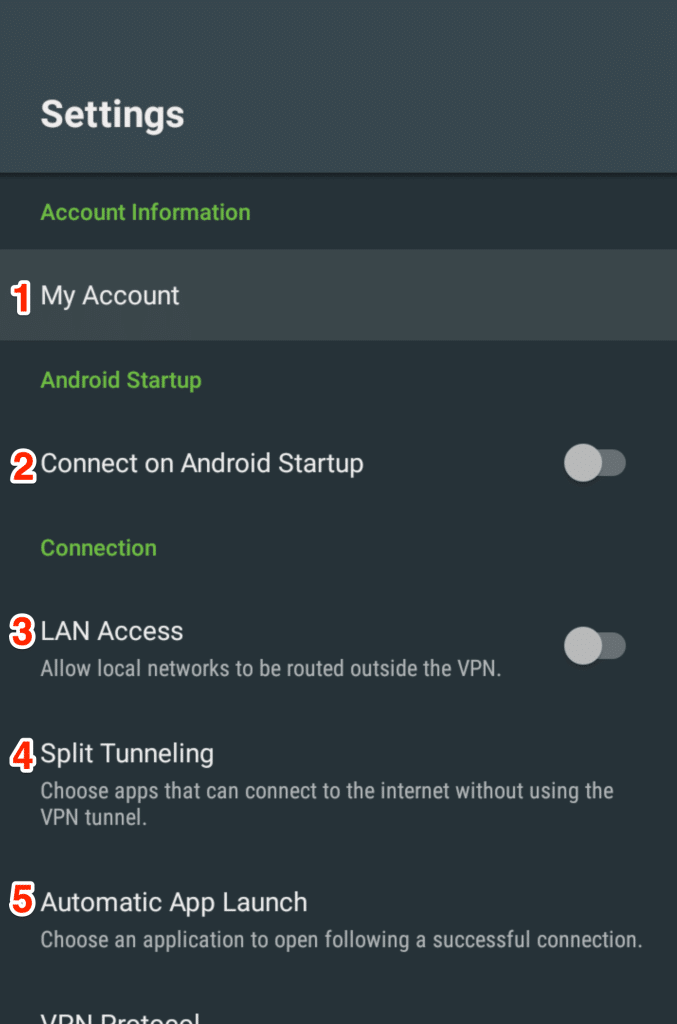 There are specific patterns known to be paired with VPN usage. These are scrambled with the XOR step, which conceals the patterns to the outside world.
While this may seem irrelevant to activate, remember that governments have created firewalls with deep-packet inspection methods that can disable VPNs. So if they can't determine if you're using a VPN service, they can't deactivate it.
Alternative Connection Mode
This feature is exclusive to iOS users, and it allows you to connect to a VPN in countries where strong connections to a VPN are difficult to make, for instance, if all servers are too far away or they've been blocked.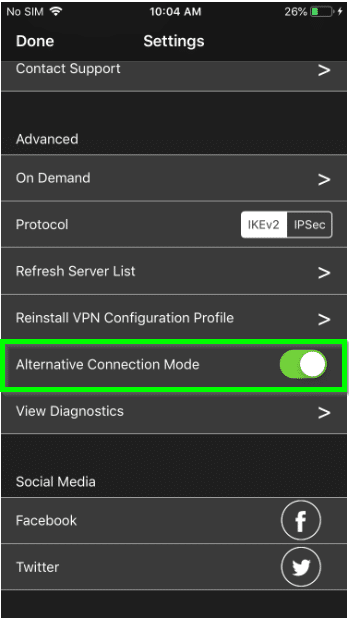 Utilizing the alternative connection mode feature will provide a connection to an IPVanish VPN running on the IKEv2 (Internet Key Exchange Version Two) protocol in another country that would otherwise be restricted. This allows you to connect to the server via your IP address and enables you to get around any geo-restrictions.
VPN Kill Switch
The VPN Kill Switch can be used on Android, Windows, and MacOS and is used when your VPN connection is lost. It can block all network traffic and keep your device protected until a secure connection is restored.
This feature adds an extra layer of safety for users in areas with unreliable connections or for those who want maximum privacy.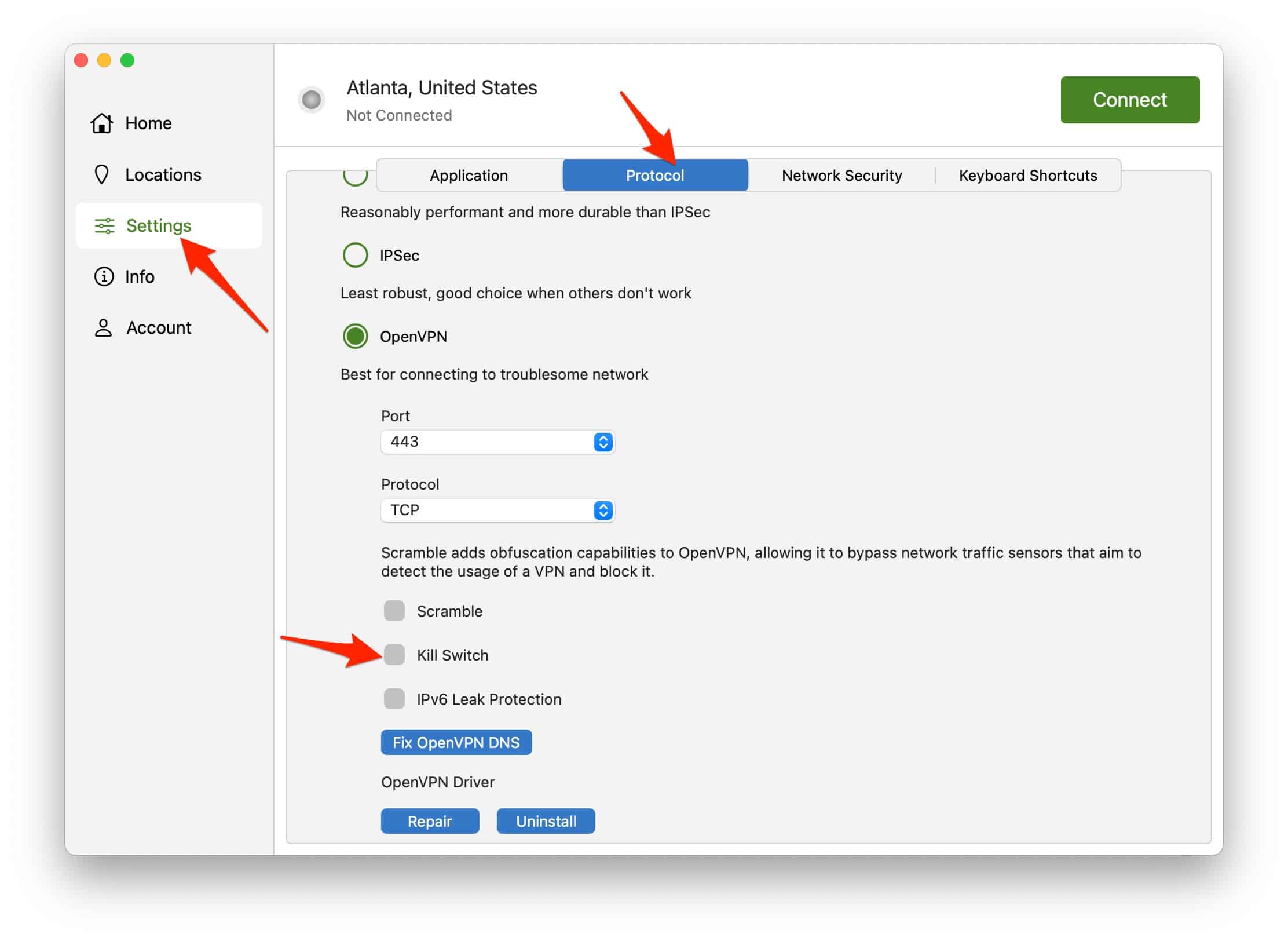 To activate the kill switch, you must be disconnected from IPVanish. By clicking the IPVanish icon in the menu bar, which will reveal the entire IPVanish app interface, you can locate the kill switch through the "Settings" menu.
WireGuard Protocol
Implementing the WireGuard Protocol feature is very beneficial. WireGuard is a new protocol that offers improved speed and cryptography and has been adopted by a lot of the top VPN services, like Surfshark, NordVPN, and ProtonVPN.
This will give you faster connections, excellent security, and improved performance, giving you the best VPN performance possible.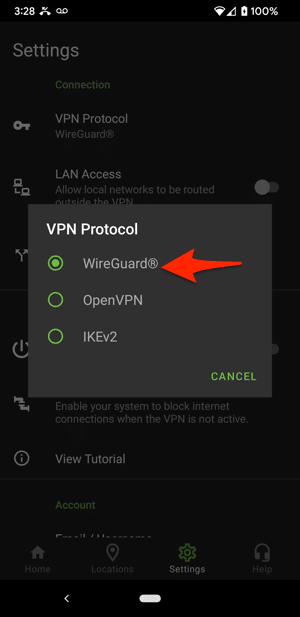 This feature can be utilized on:
iOS 11 or later
Android 5.1 or later
macOS 12 (Monterey) or later
Amazon FireStick generation 2 or later
Windows 10 or later
To activate the WireGuard Speed feature on all processors, select the "VPN Protocol" item in the "Settings" menu. Click the "WireGuard" option to turn this feature on.
LAN Blocking
Implementing LAN blocking on operating systems like Windows and Android ensures all devices are blocked when you're sharing a local network and prevents any data leakage.
This feature can also be helpful if your VPN disconnects unexpectedly. When blocking LAN, it's essential to remember it also stops your ability to access any LAN resources like home or business Wi-Fi networks.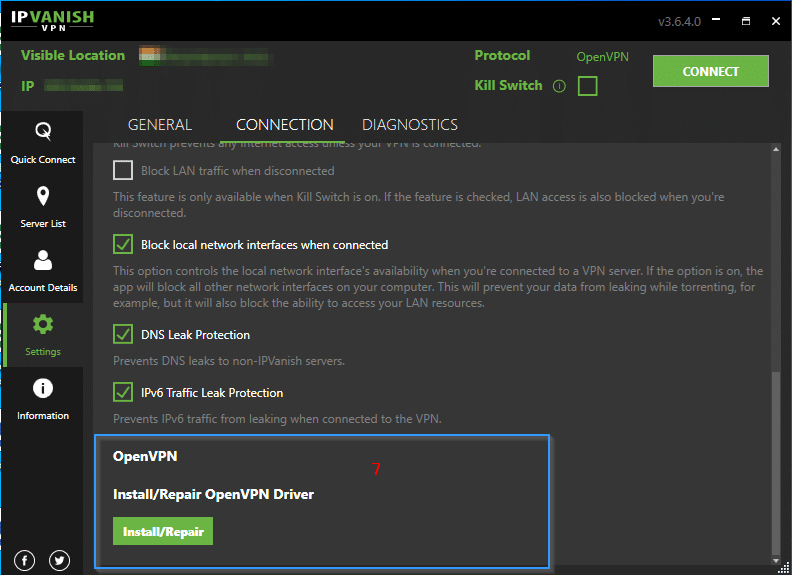 Open VPN Scramble
One problem that many VPN services encounter is when firewalls detect that the VPN is trying to unblock what they're protecting.
Using the OpenVPN Scramble feature allows IPVanish to unblock any webpage by acting as an extra layer that hides OpenVPN protocol traffic so it can't be identified and specifically works with firewalls to ensure the VPN connection doesn't drop.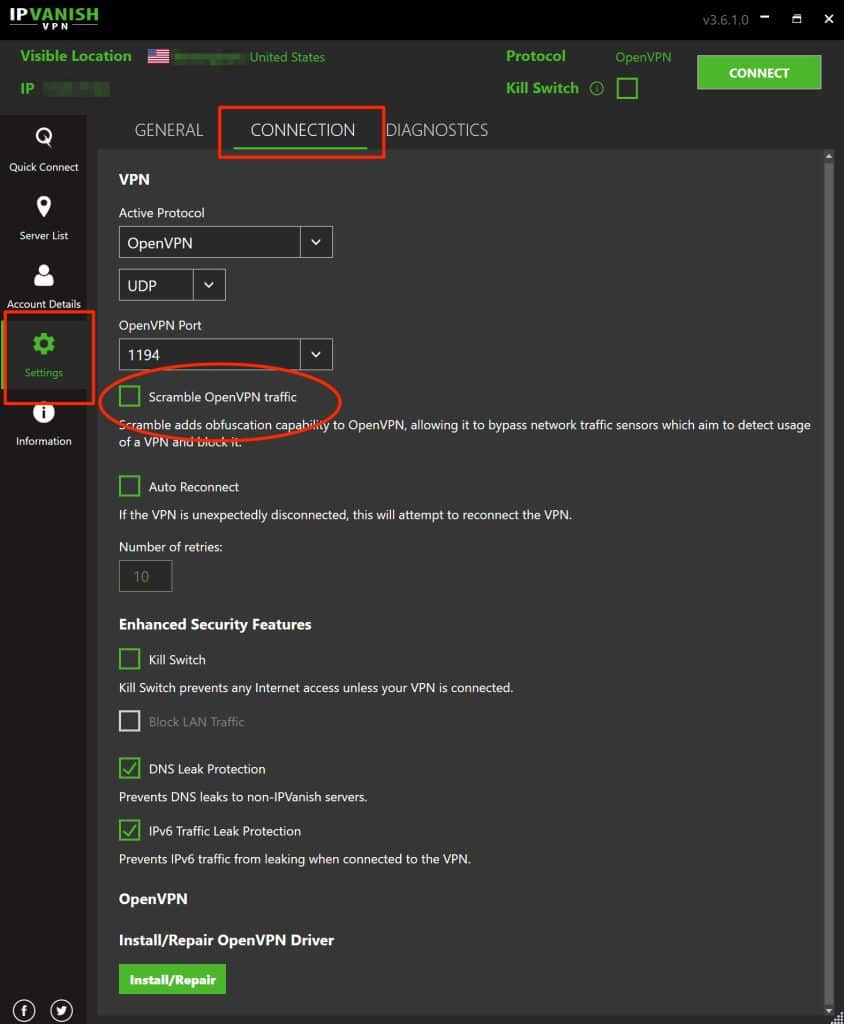 This feature is available on Android, Windows, Amazon FireStick, and macOS devices and can be applied in countries that have censored certain areas of the internet.
Other features within IPVanish's subscription service include:
Dual Router Functionality: Some may want to use their traditional router instead of their VPN router. IPVanish allows you to use their traditional router in conjunction with their VPN router to switch between them when needed. This allows you to send private data between the two networks as the data is still encrypted by the VPN.
Added DDoS Attack Protection: This is great for online gamers and businesses who know the threat of DDoS attacks. These attacks use traffic requests to flood your IP address in an effort to freeze your device. But IPVanish's DDoS protection hides your true IP address, which helps avoid DDoS attacks.
All this leaves no doubt that IPVanish isn't only one of the best Android VPNs, but the functionality across its apps makes it a solid all-rounded regardless of the device — add Linux to the mix, and it's a winner for many in terms of compatibility.
Is IPVanish Safe?
IPVanish is a safe VPN service with high-grade ciphers (which are encryption algorithms) and excellent security features like AES 256-bit encryption, shared IP Addresses, and multiple connection protocols. It'll also protect you against any security breaches through DNS leak protection.
IPVanish is located in Florida, which means they're part of the Five Eyes Alliance. This is an intelligence alliance that includes the United States, the UK, Australia, New Zealand, and Canada.
In short, this allows the Five Eyes Alliance to monitor communications within the five countries by intercepting private communications from satellites and fiber optic cables.
The FVEY has been known to spy on citizens from one another's countries, so having your VPN provider based within the FVEY is definitely something to note. However, this doesn't mean that IPVanish isn't safe. Here's everything you need to know:
Encryption
To ensure the safety of your data, IPVanish uses AES 256-bit encryption. This encryption is used widely in financial and government institutions and is too complex to be bypassed by hackers.
During account authentication, the hash function SHA-512 is basically an algorithm used to scramble your sensitive information into "hashes." Each hash size is 512 bits, which is widely considered too big to crack, making any critical data safe.
The encryption used by IPVanish also uses perfect forward secrecy (PFS) so that a part of the encryption system is constantly changing; that way, if a data breach does occur, your data is safe.
Protocols
IPVanish has several protocols you can choose from, including WireGuard, OpenVPN, IKEv2/IPSec (Internet Key Exchange Version Two), and PPTP (Point-to-Point Tunneling Protocol).
The various protocols work best with different devices and have various features that make them useful for different situations:
OpenVPN — Gives excellent security, is incredibly versatile through its multiple authentication methods, and doesn't need third-party software to be installed when using it with IPVanish.
IKEv2 — The best protocol for any mobile device as it provides added security because mobiles can stay connected to the VPN when switching from a cellular network to Wi-Fi.
WireGuard — A great option that provides industry-leading speed and superior protection, plus it's very easy to use. It's recognized as the industry leader in the VPN industry.
Logging of Data
IPVanish claims that they don't log any client data or sell that data to third parties. The only pieces of information that they collect are your email address and payment method.
They've admitted that their website uses a lot of tracking cookies that allow them to record diagnostic data to improve performance.
But they've been recently independently audited, in which the tests proved that they don't log or collect customer data. So, in short, IPVanish doesn't log your:
Search history
Websites you've logged into
Internet traffic
Apps that have been used
Locations
Upload or download activity
Or any streaming content that was consumed. However, we feel that in order for 100% transparency, the name of the company that carried out the audit should be made public so that these results can be verified with them.
IPVanish's Device Compatibility and Ease of Use
The IPVanish interface has been praised for its usability and well-thought-out design. The design is even more appreciated by those who use its extensive list of features and advanced settings.
Here are all the details you need regarding IPVanish's design and device compatibility:
Windows
If you use Windows 7 or newer, you can use features like Quick Connect (which allows for quick connections to the best servers in IPVanish's network) to customize your settings to suit your needs or connect to a faster server.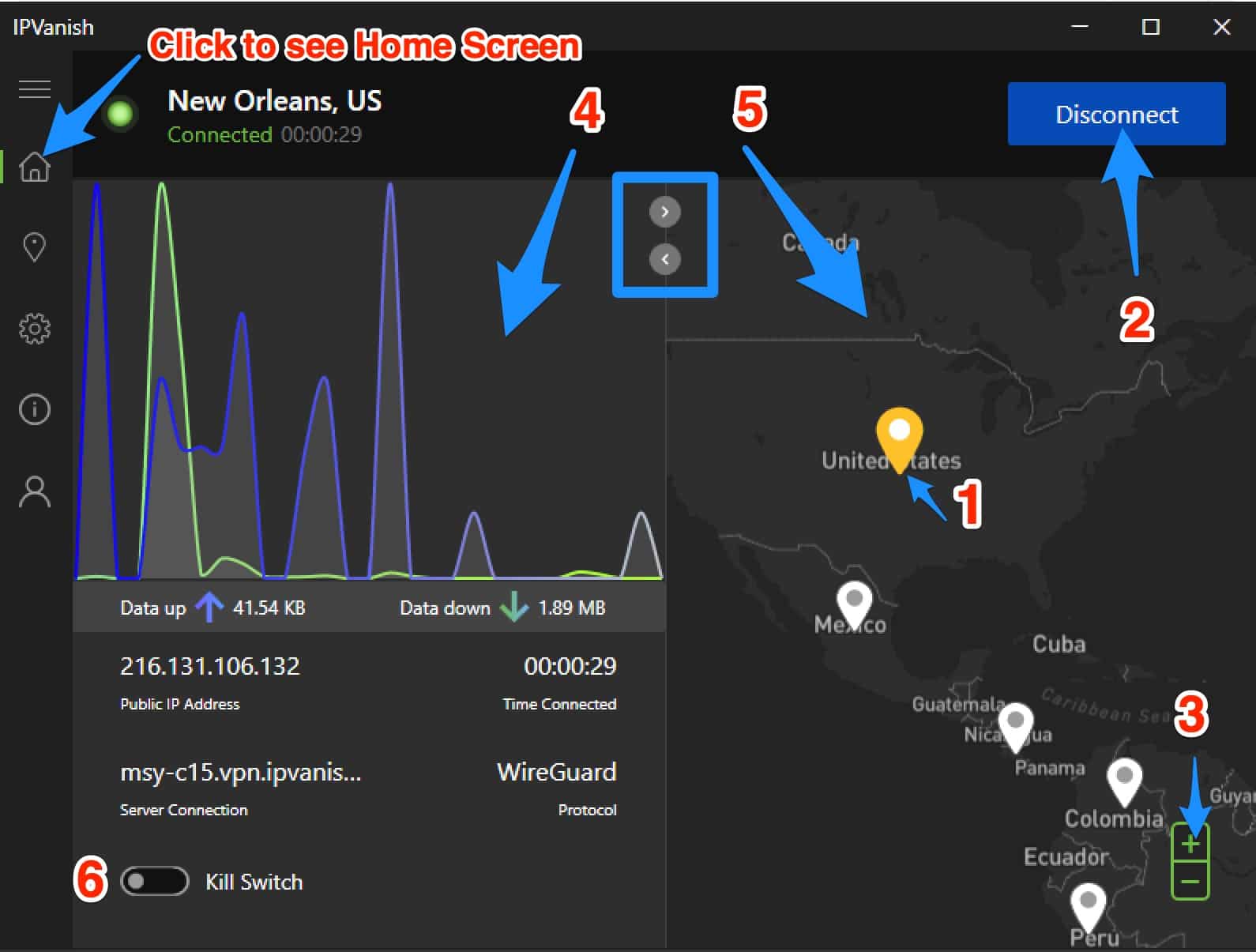 When choosing a server, you can view the list of available options either on a list or a map. The map can make the selection process easier for some users who prefer a more visual interface.
Different filters can also be applied to give you a favorite list of your most used servers or the proximity and speed of a specific server. The Windows kill switch is also more customizable than the macOS version, as you can allow local area network (LAN) blocks.
This will block any connection to a local network while allowing an internet connection, which protects you from any vulnerabilities associated with that network.
macOS
The macOS version of IPVanish is rich with features, including a kill switch, auto-reconnect, On-Demand (connects to IPVanish VPN automatically), an obfuscation toggle, and a default setting to the WireGuard protocol while supporting all other protocols. It's compatible with Mac 10.13 versions and newer.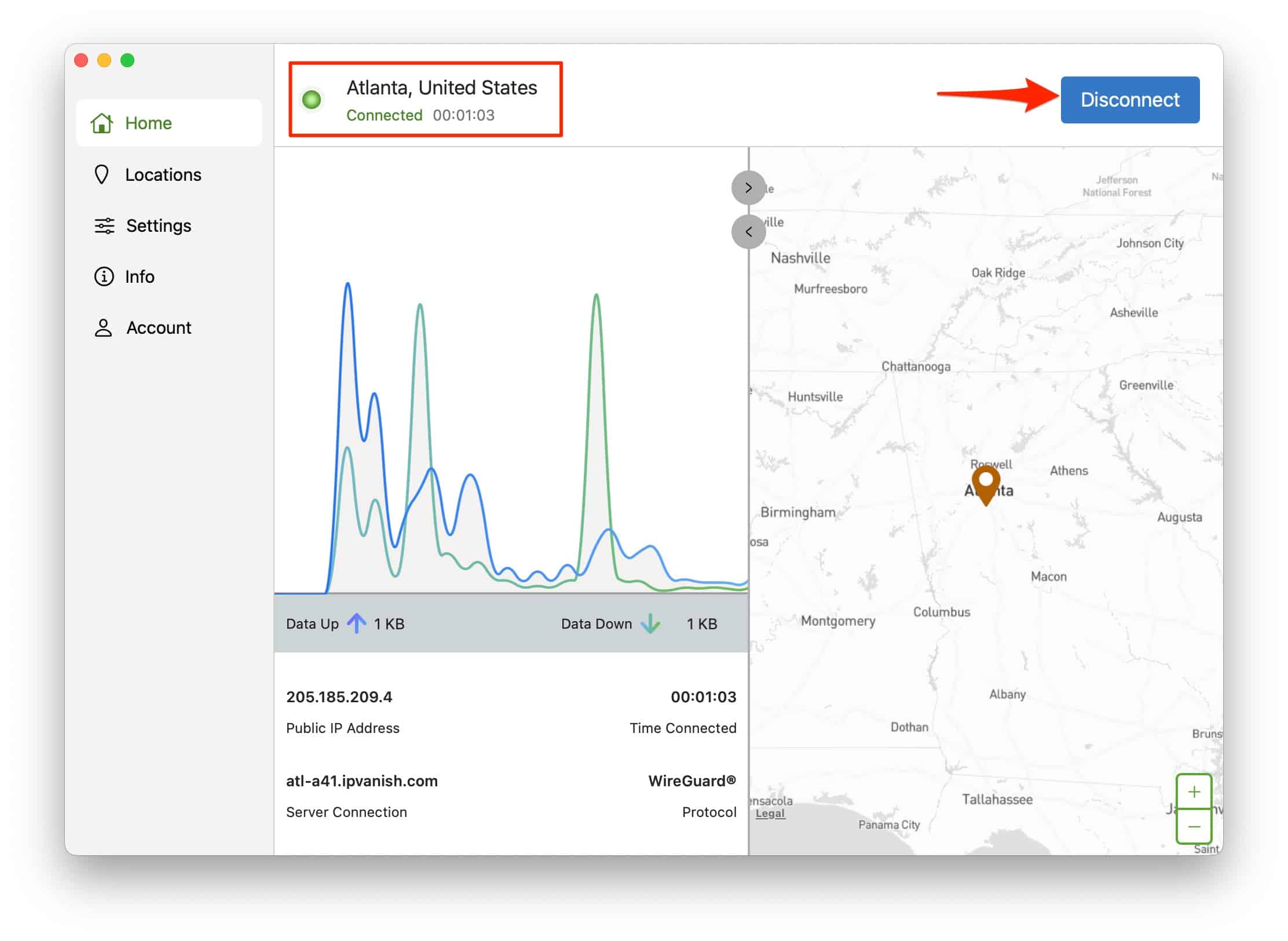 Overall, the interface remains quite similar between the Windows and macOS platforms and maintains excellent usability. That said, IPVanish doesn't offer any browser extensions, though, so if you're working on a restricted device like a work laptop that restricts app downloads, you're out of luck.
iOS
Even within its mobile applications, IPVanish has managed to keep its easy-to-use interface design. It's compatible with iOS 14.0 and newer and has several features like Alternate Connection Mode and OnDemand connections.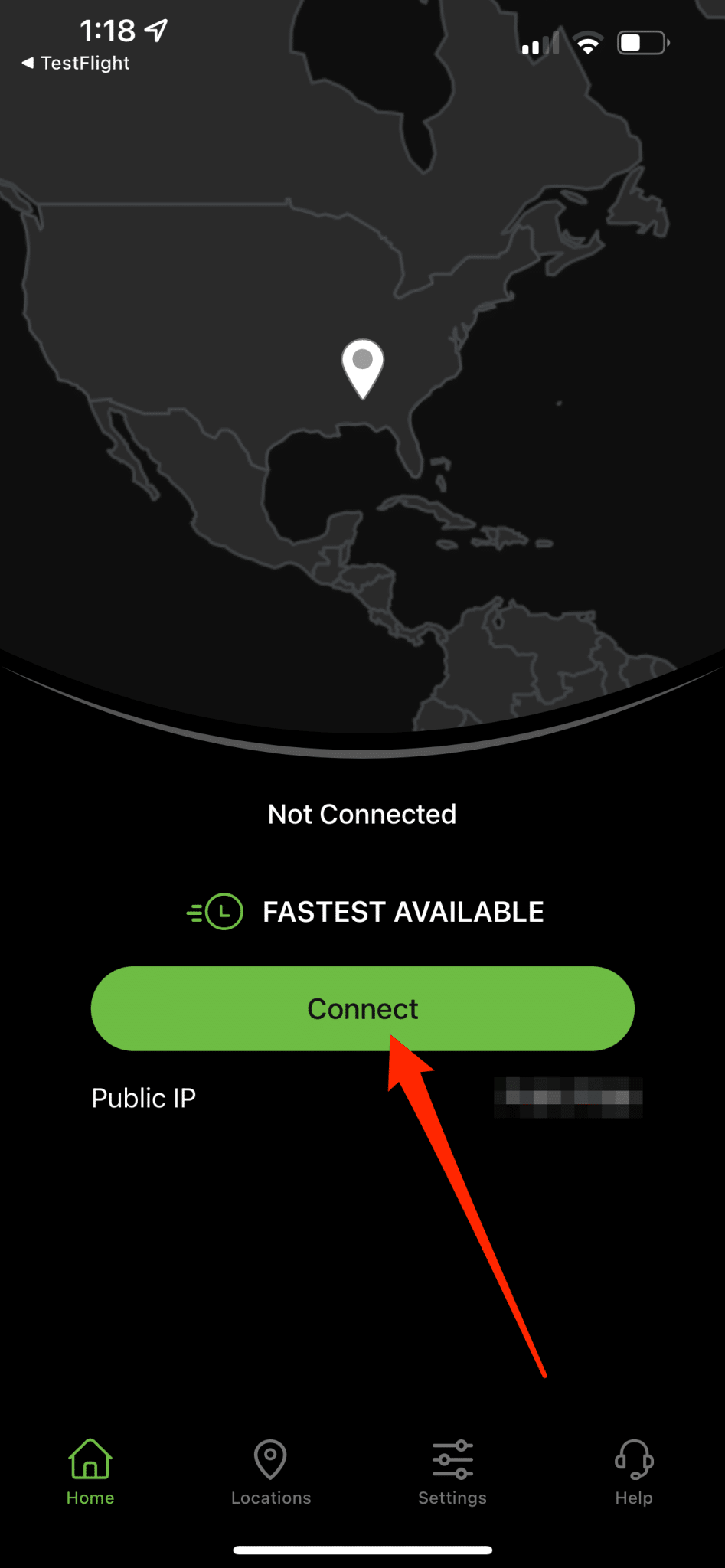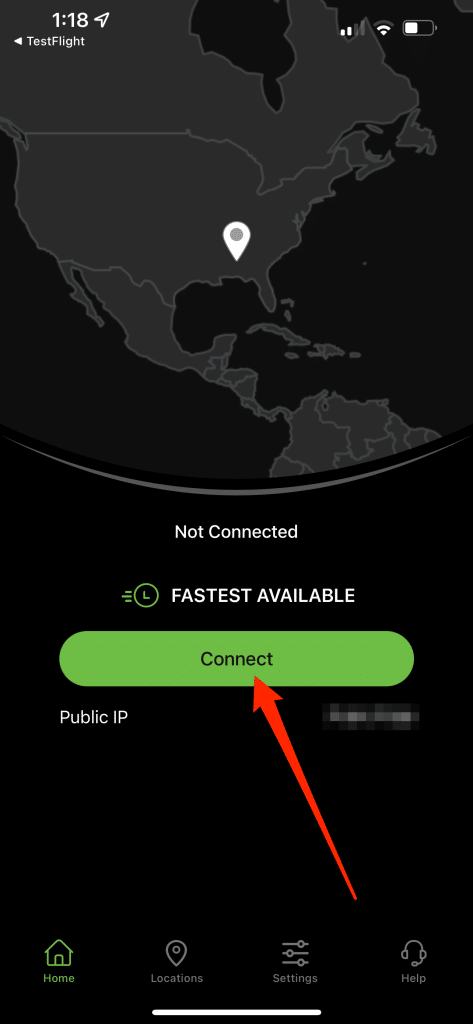 In the "Settings" section, you can customize settings like the VPN server location down to the particular city, your account details like your email and renewal date, and your connection settings like the desired protocol and if you're using "On-Demand" or not.
When selecting a server, the app will show you the best server in the best (probably closest) location to connect to. However, you can also choose your own server if you're looking for a server in another country or for a specific application like streaming or torrenting.
Android
The Android version of the IPVanish application has similar functionality to the Apple app. It can be used by devices with Android 5.1+ and higher, and there's a light and dark mode depending on customer preference.
That said, it doesn't have a kill switch, but it does have the obfuscation toggle and split tunneling, so you can decide what internet traffic should go through your VPN.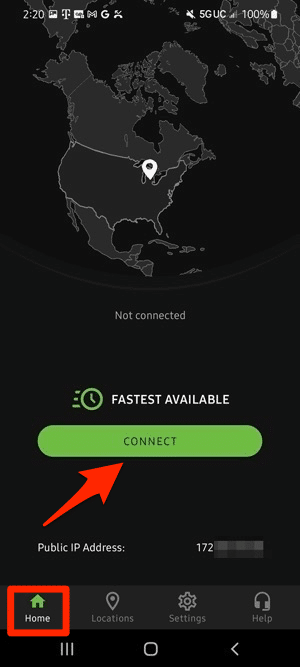 If you have a decreased signal, you can also reduce the maximum packet size that can be transmitted, which uses less internet bandwidth to improve your connection.
The app will also show you status information — letting you ensure you're still connected and check on what location you're connected to. This will show you your new IP address, the name of the server, the server location, and the time spent connected to the specific server.
Linux
The IPVanish VPN service comes with an easy setup and clean interface for Linux users. It has features such as advanced encryption and bypass censorship. Like all operating systems, it doesn't log activity or information while using the VPN.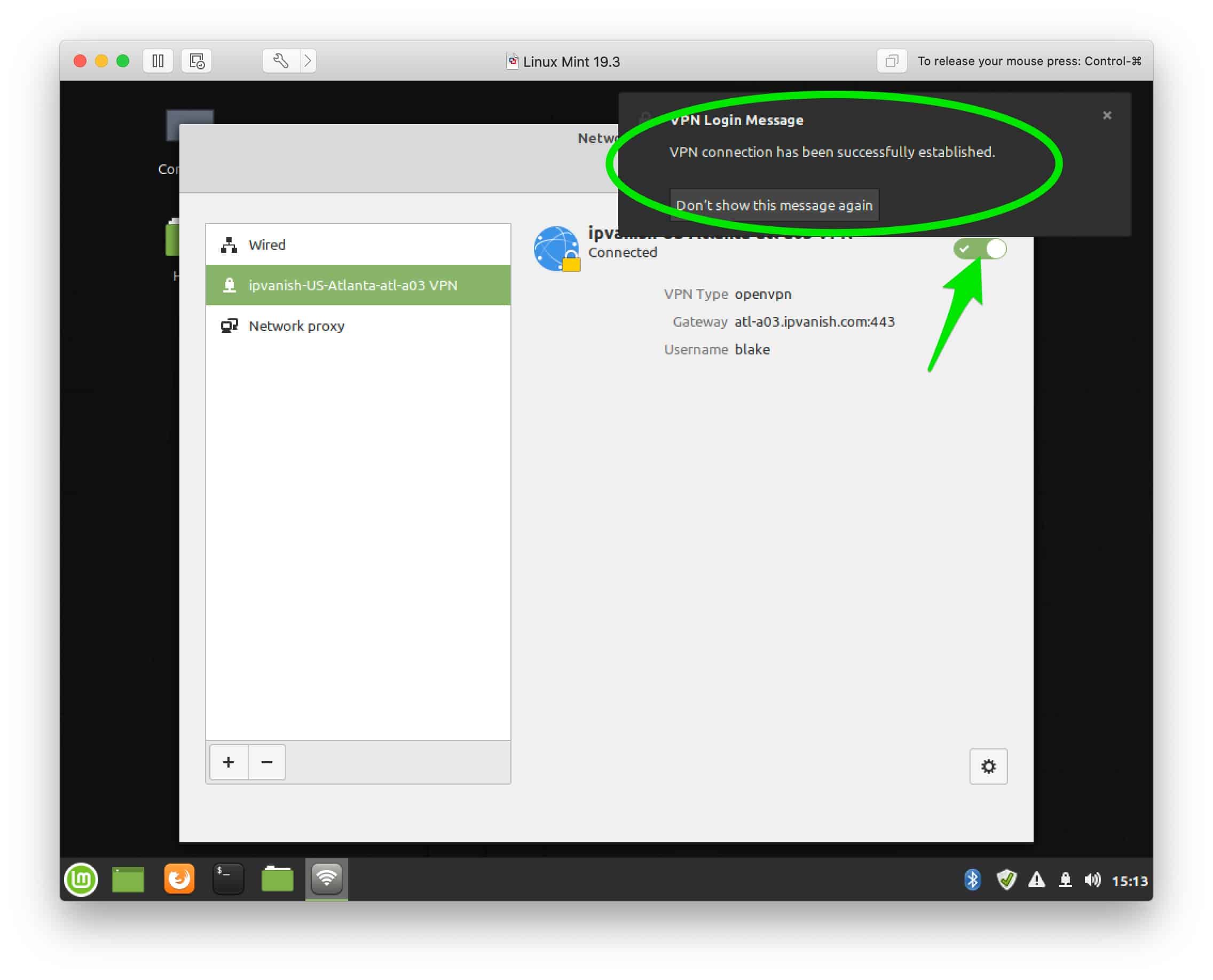 It can support a range of Linux operating systems, including Ubuntu, Fedora, Kali Linux, Linux Mint, Lubuntu, and Pop! OS. This is very rare to have such comprehensive support for Linux from a VPN.
It shows how much IPVanish is committed to providing the maximum privacy, security, and speed for its Linux users. Overall, this undoubtedly makes IPVanish one of the best Linux VPNs.
IPVanish vs. NordVPN and Other Top VPN Services
If you're wondering how IPVanish fares against some of the best VPN service providers, here's a quick overview of the top five VPN services on the market, including IPVanish:
| | | | | | |
| --- | --- | --- | --- | --- | --- |
| Top VPN Apps | Average Speeds | Cheapest Plans | Simultaneous Connections | Server Count | Server Locations |
| | 277 Mbps | $3.33/month (2-year plan) | Unlimited connections | 2,200+ | 75+ |
| | 417 Mbps | $3.99/month (2-year plan) | 6 | 5,000+ | 60+ |
| | 193 Mbps | $8.32/month (1-year plan) | 5 | 3,000+ | 151 |
| | 200 Mbps | $5.75/month (1-year plan) | 10 | 6,500+ | 74+ |
| IvacyVPN | 90 Mbps | $1.33/month (5-year plan) | 10 | 5,700+ | 100+ |
As you can see from the table, IPVanish pricing is competitive, especially when you consider its many servers across 75+ locations worldwide and its focus on unlimited connections, which make it great for families and even one of the best business VPNs.
Similarly, NordVPN has a low price, vast worldwide locations, and excellent connection speed, but unlike IPVanish, NordVPN limits their connections to 6, whereas there are unlimited connections with IPVanish.
If you combine the features offered within IPVanish's subscription service, its price, and its excellent customer service, it is, without a doubt, one of the best VPN service companies on the market.
IPVanish Server Locations
IPVanish has over 2,200 servers in over 75+ locations in 52 countries. While a VPN service doesn't need to have a high number of servers, it does help minimize traffic congestion to improve the speeds users get.
These servers are owned directly by IPVanish, so they have higher security than companies that outsource servers, like Surfshark — see our in-depth Surfshark review for more.
This is a huge positive for IPVanish as only a small number of VPN providers fully own their servers, and this gives them complete control over their operation.
| | | |
| --- | --- | --- |
| Region | Amount of Servers | Number of Countries |
| North America | ~1278 servers | 4 |
| Europe | ~527 servers | 30 |
| Asia | ~84 servers | 9 |
| Oceania | ~73 servers | 2 |
Within the IPVanish application, it's quick and easy to pick a server:
Pick your location on the map
Click the green bubble – this will show you how many servers are available
Connect to the suggested fastest server
For users who want to use this service to connect to Asian servers, the connection may be crowded, picking a server in Europe will receive a far better response. Also, how far you are from your selected server will impact your speeds.
Is IPVanish Legit? | A Look at IPVanish Reviews
IPVanish is a popular VPN service with customers all over the world, therefore, many websites and customers have reviewed its quality.
On the customer review website Trustpilot, over 8,054 people have shared their experience with IPVanish. Of the customers who provided a review, 81% gave it five stars, while 12% gave it four stars.
Overall, customers believe that IPVanish is a consistent VPN service that provides a reliable service for a competitive cost. With very few IPVanish complaints, it's clear that they've attained high customer satisfaction.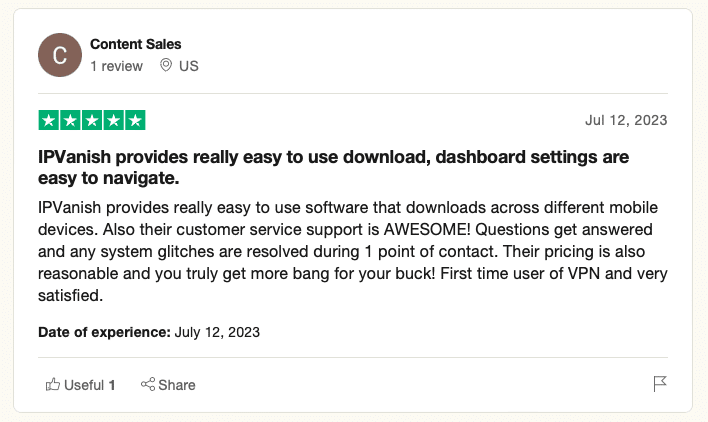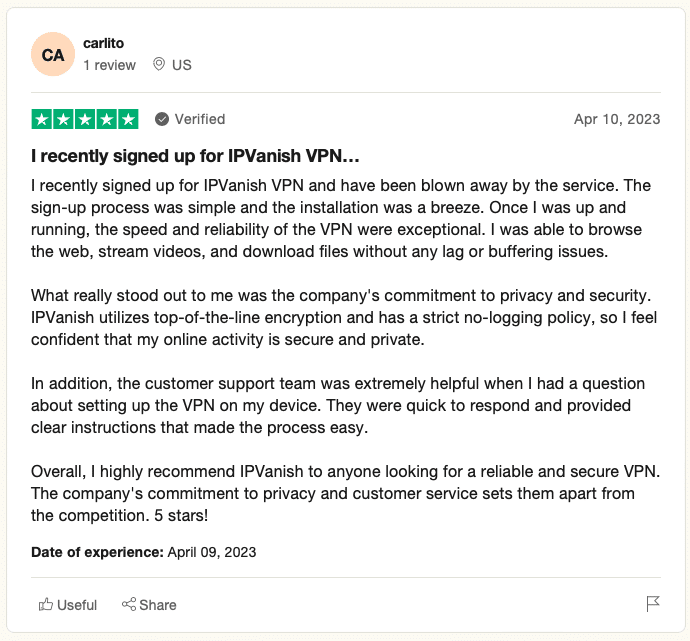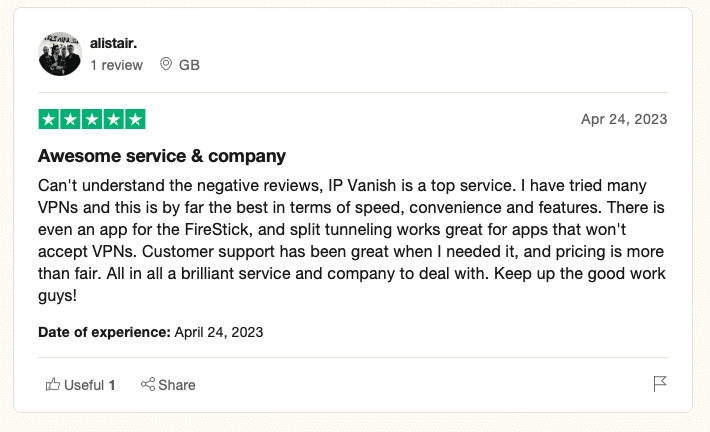 From these reviews, it's safe to say that IPVanish's customers are satisfied with the service they provide, how easy it is to navigate, and their device security.
The only disadvantage that was mentioned was the colors used for the interface, as people with poor eyesight find it a little difficult to use.
How to Use IPVanish | A Quick Guide
If this is your first time using IPVanish, here's a quick guide that'll help you set up your VPN easily. Keep in mind that this process is similar for all VPNs:
Windows
Below are the various steps for installing and using the IPVanish app on the Windows platform:
Step 1 – Install the IPVanish Windows App
Through your computer, you can log on to the IPVanish website, and under the Apps list, you can download the Windows App.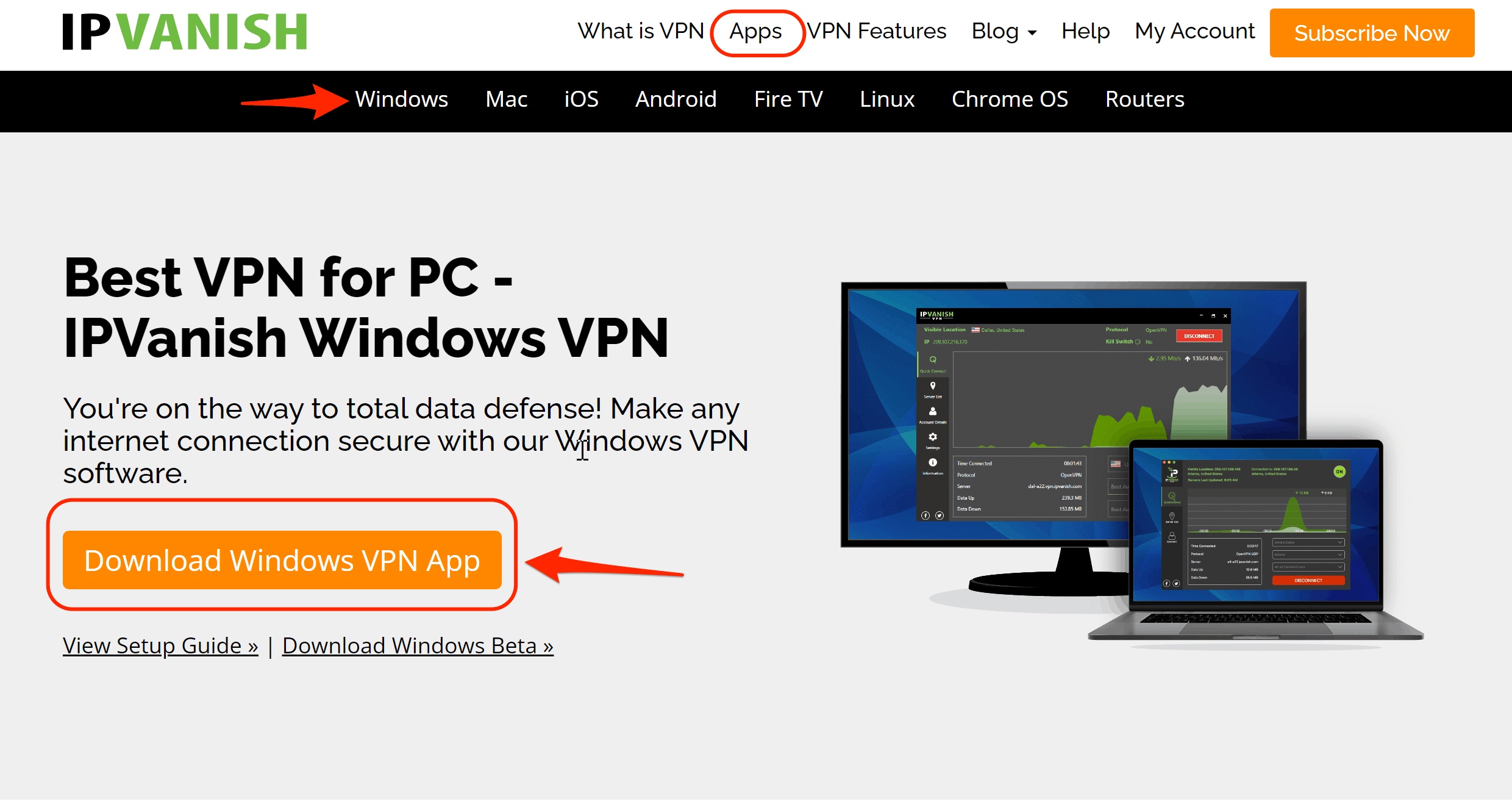 Step 2 – Run the IPVanish App
Once it's installed, you can run the application. This will take you to the login page. For first-time users, you'll have to click "Create An Account."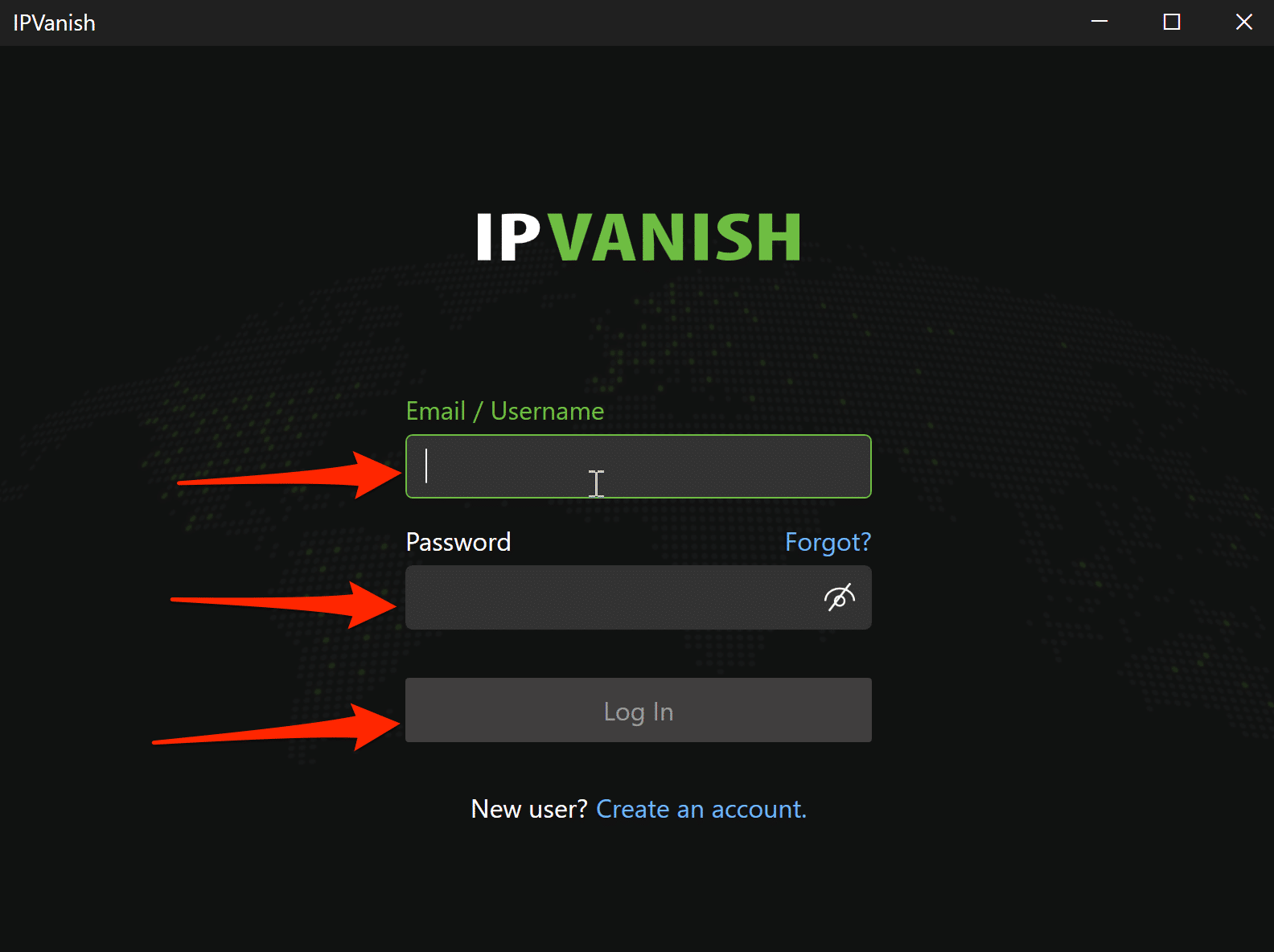 If you haven't done this yet, you'll be prompted to select the subscription plan you'd like to use and pick any add-ons, such as SugarSync. If you're a returning user, use your login credentials to access the VPN network.
Step 3 – Connect to IPVanish VPN Network
Once you've created an account or logged in using your username and password, you'll be directed to the application homepage. Here, you can connect to the VPN services. Click the "Connect" button on the top right-hand corner of the screen to connect to a server.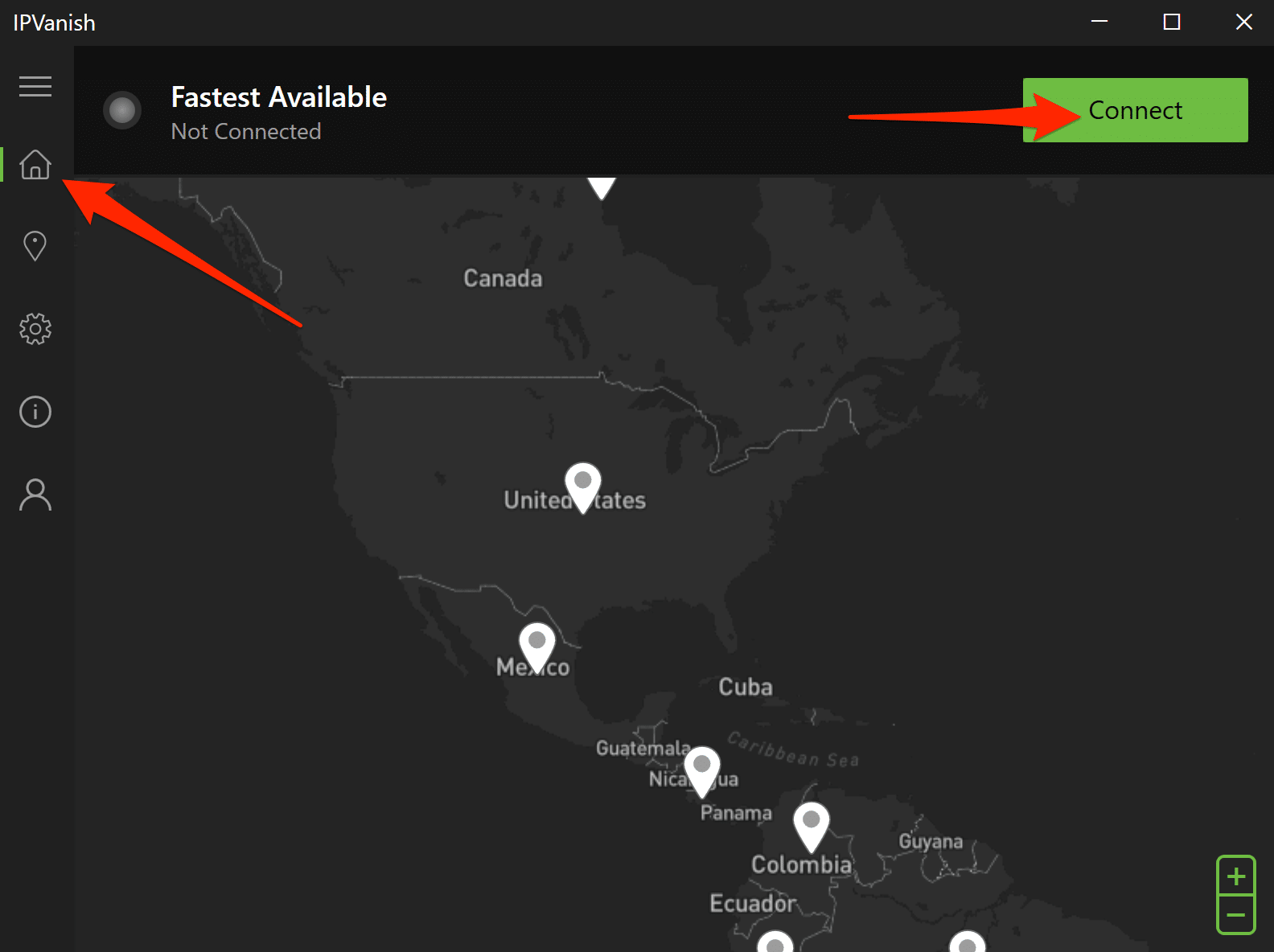 Step 4 – Disconnect from IPVanish
Once connected to the VPN, you can check the status of your connection. This can be found at the top of the homepage, and it'll show you the name and IP address of the server you're using, the time connected, and the protocol being used.
When you're finished using the VPN, to disconnect, click the "Disconnect" button in the top right-hand corner of the screen.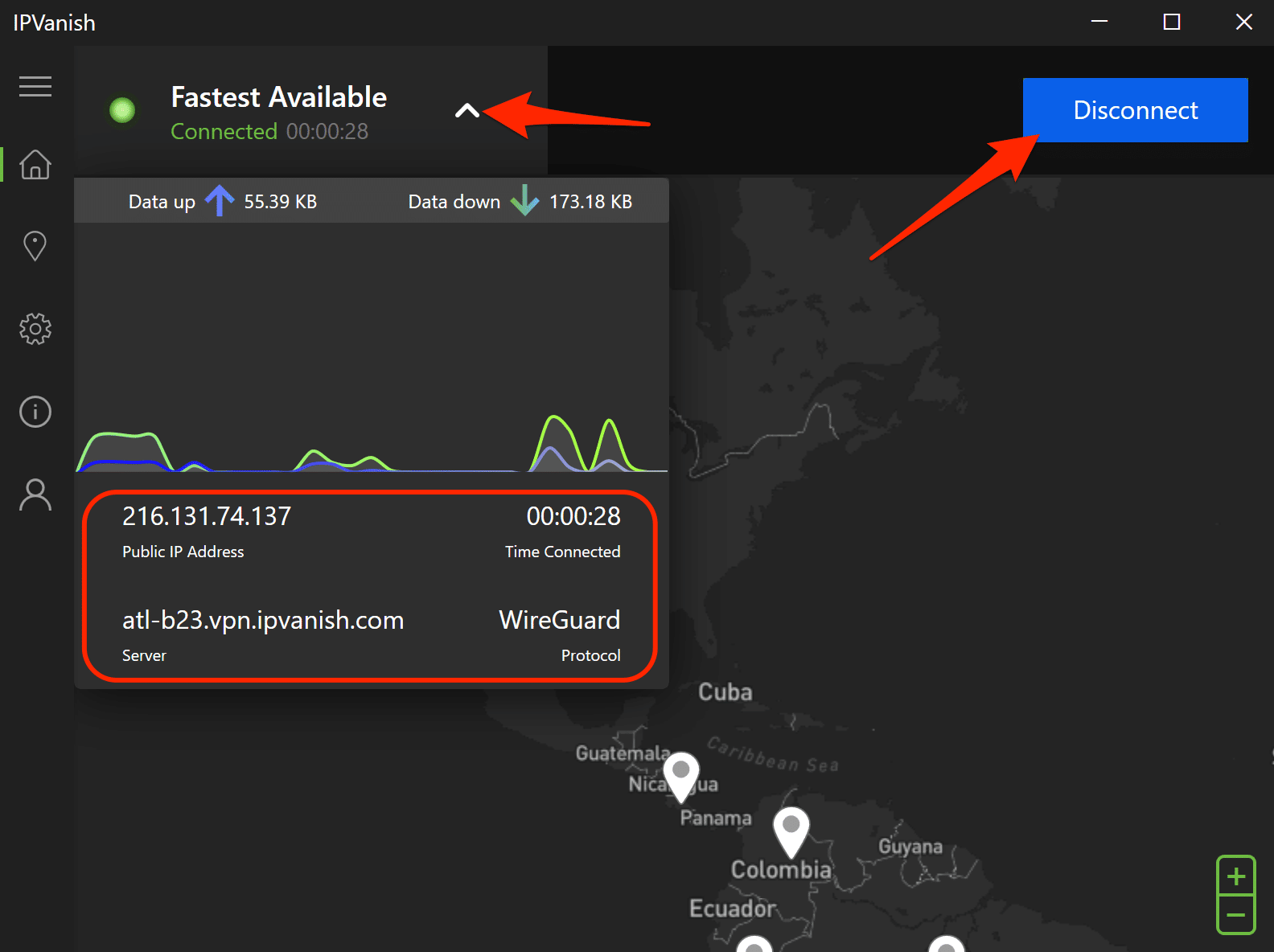 Android
Below are the various steps involved in installing and using the IPVanish app on Android:
Step 1 – Install the IPVanish App
Find the Google Play Store app on your Android device and download the IPVanish application.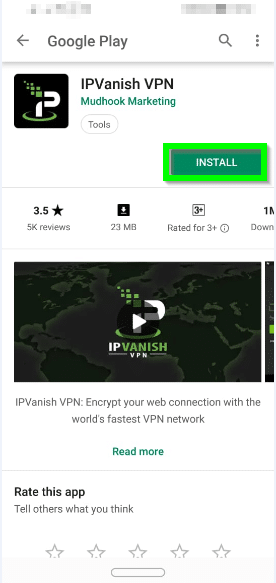 Step 2 – Connecting to IPVanish
Once the application is downloaded, open it, and you'll be redirected to the IPVanish login screen. If you're a new user, you'll need to sign up.
This is where you can avail of the 7-day free trial. If you've already signed up, click the "Log In" button and enter your login credentials and access your account.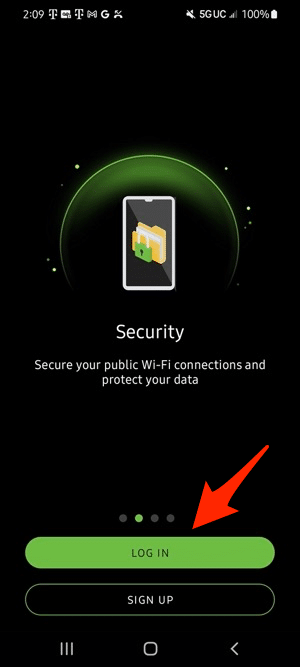 Step 3 – Tutorial for New Users
Once you've signed up, new users may want to begin the tutorial to become familiar with the IPVanish interface and where all the features are located — or you can skip this step.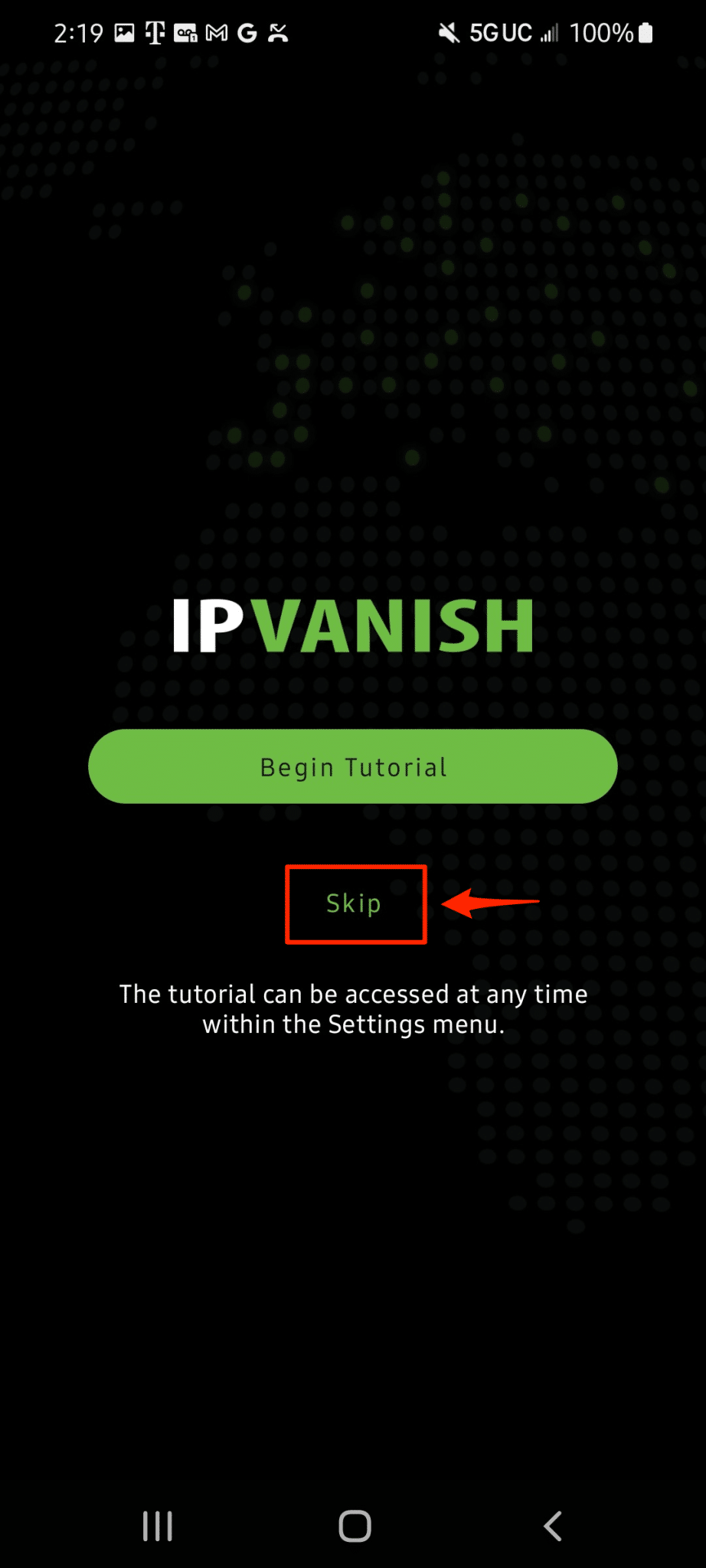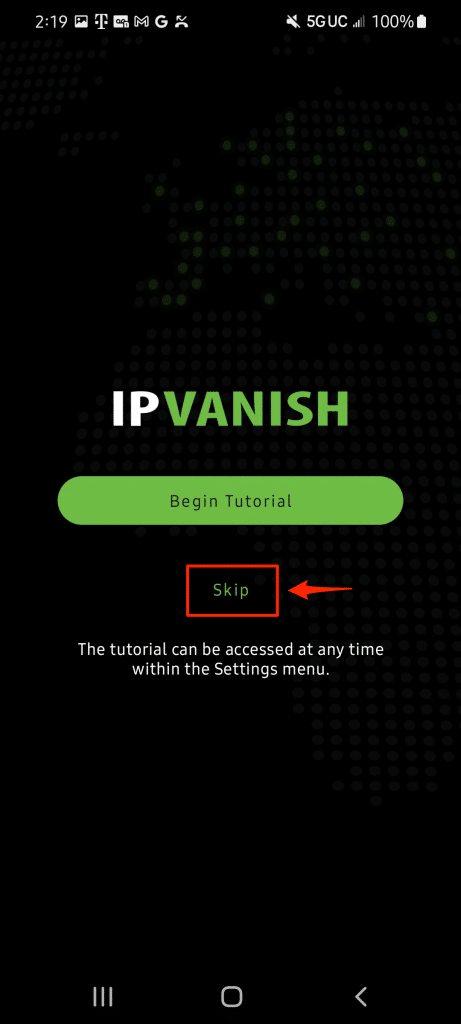 Step 4 – Connection Request
Once you've finished or skipped the tutorial, a pop-up will inform you that a connection request is required to set up a VPN connection between your device and IPVanish. Click "OK" to proceed.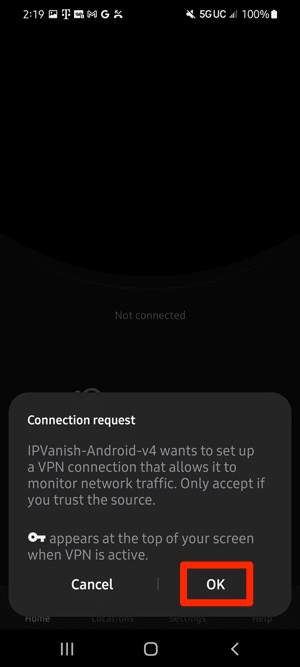 Step 5 – Start Using IPVanish
Once you've accepted the connection request, this will bring you to the IPVanish homepage, where you'll find the "Connect" button. This will give you access to the fastest available server.
You should now be able to see your Connection Status, IP address, Location, and Time Connected.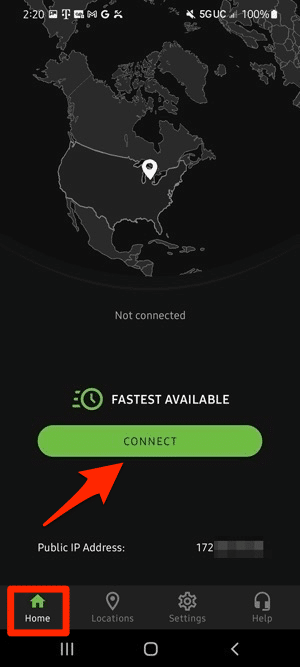 Step 6 – Disconnecting from IPVanish
To disconnect from the IPVanish VPN, you can click the "Disconnect" button on your home screen underneath a map displaying your server's location to stop the VPN connection.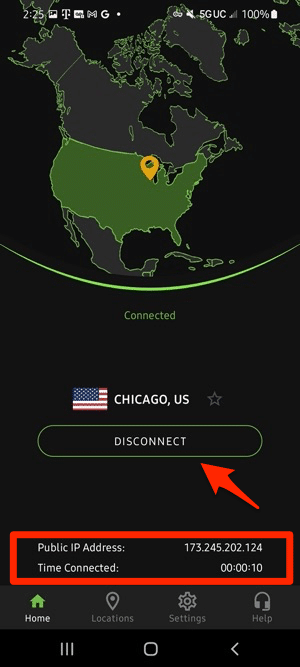 For macOS, iOS, and other operating systems, the set-up process for IPVanish VPN is very similar. If you need help, there are guides on the IPVanish website to set up the VPN service for each operating system. Also, there are various customer support options if you encounter problems.
Why You Can Trust Our Review of IPVanish
The process of compiling our IPVanish review follows the same steps that our team of experts always follows to ensure that we provide an accurate and informative overview of the tool.
Our first step is to test the product ourselves. For this, we sign up for any free versions on offer — in this case, IPVanish's 7-day trial to get a hands-on experience with the product.
Although short, we had enough time to test the interface, run speed tests with sites like www.speedtest.net by Ookla, and see how well it unblocked geo-blocked content.
This gave us a solid foundation to build on. Next, we look to long-time IPVanish users to get an overall view of the key advantages and any areas where they found it to be lacking.
This, combined with our experience testing and comparing other leading VPNs, such as ExpressVPN, gives us the confidence to pinpoint what makes IPVanish and where it could use improvement — giving our readers a balanced summary of what to expect.
Other Popular VPN Guides and Reviews
If you need more before committing, our team of experts has formulated in-depth reviews of many of the market's top VPNs — including full reviews like this one and comparison pages. Here are the best of the bunch that we recommend checking out next:
IPVanish Review Conclusion: Is IPVanish Worth it in 2023?
IPVanish is a VPN service offering a wealth of features that make it powerful and reliable. It has critical features like high download speeds and a high number of servers to connect to.
It also has many advanced features, such as a kill switch, SugarSync encrypted storage, and OnDemand connectivity.
This service can unblock streaming services such as Netflix, has P2P compatibility, has a competitive price for the first year, and, beyond that, easily rivals other VPN providers.
While it has many features that you can use to customize your user experience, if your goal is to use this VPN to stream, it has difficulty unblocking some streaming services like Hulu.
However, if you're happy streaming Netflix or YouTube TV, it can unblock them easily, allowing you to watch high-definition content anywhere in the world.
Overall, IPVanish is an excellent option as a VPN service as it provides a fast, reliable service centered around privacy and security and has a multitude of customizable features for a competitive price. What's not to like?
IPVanish FAQs
Is NordVPN better than IPVanish?
Is IPVanish really necessary?
Is IPVanish as good as ExpressVPN?
Does IPVanish unblock Netflix?
References