In this Mozilla VPN review, we'll be exploring the ins and outs of a leading browser's contribution to the VPN market. Mozilla VPN has gained significant attention for its seamless integration with the Firefox browser. Mozilla is well known for its commitment to user privacy and security, but how does it fare in the VPN market?
Our Mozilla VPN review will give you the understanding you need to appreciate the nuances of its offerings in comparison with other VPN providers. Whether it's exploring Mozilla VPN's compatibility with streaming services or assessing its capabilities for secure torrenting, this comprehensive review aims to provide you with the knowledge you need to evaluate Mozilla VPN for yourself.
Table of Contents
Table of Contents
What is Mozilla VPN?
Mozilla VPN is a lightweight virtual private network service offered by the renowned browser developer Mozilla. A virtual private network, or VPN, allows you to browse the internet privately by using an encrypted tunnel.
This means that your ISP and other third parties, such as hackers, can't spy on your connection. All your browsing data is kept safe while you're connected to a VPN, so even if you're on public WiFi you don't have to worry about a hacker stealing your passwords.
What makes Mozilla VPN stand out is how it's integrated with their Firefox and Brave browsers. While Mozilla VPN is a standalone product that can be downloaded without installing either browser, you get the most out of using these privacy-focused tools together.
We'll go over these features later, but for now, all you need to know is that Mozilla VPN significantly upgrades your privacy when integrated into Firefox or Brave.
Mozilla VPN is powered by Mullvad VPN, a strong VPN provider with an emphasis on user data protection and no-logs servers. It's available for various platforms, including Windows, Mac, Android, and iOS, catering to a wide range of users across different devices.
Mozilla VPN Pros and Cons
Our Mozilla VPN review takes a comprehensive view of the VPN, but before delving into the specifics, we'll examine both the overall advantages and drawbacks of Mozilla VPN.
Pros
Easy setup process
Emphasis on privacy
Unique browser integration
Audited apps
Strong data encryption using WireGuard
Cons
Lack of server locations
Only uses basic VPN features
Mozilla VPN is ideal if you're already using Firefox or Brave and you need a VPN that allows you to easily change between identities and locations to carry out your business.
It's also great if you just need a user-friendly VPN solution that prioritizes data security and privacy. However, there are quite a few VPN providers out there who have more extensive server options.
While Mozilla easily covers all the basics, if you need high-speed performance or a comprehensive privacy toolkit, then it might be worth comparing Mozilla VPN vs Nord VPN, Express VPN, or several other providers on our top VPN list.
How Much Does Mozilla VPN Cost?
Mozilla only offers two different price plans, which makes it pretty simple to pick which one you need. All subscription plans come with the essential features you'd expect from Mozilla VPN.
This includes the ability to connect up to five devices, access to over 500 servers in more than 30 countries, unlimited bandwidth, and a strict no-logging policy. Additionally, Mozilla VPN offers a 30-day money-back guarantee to ensure you're happy with their product.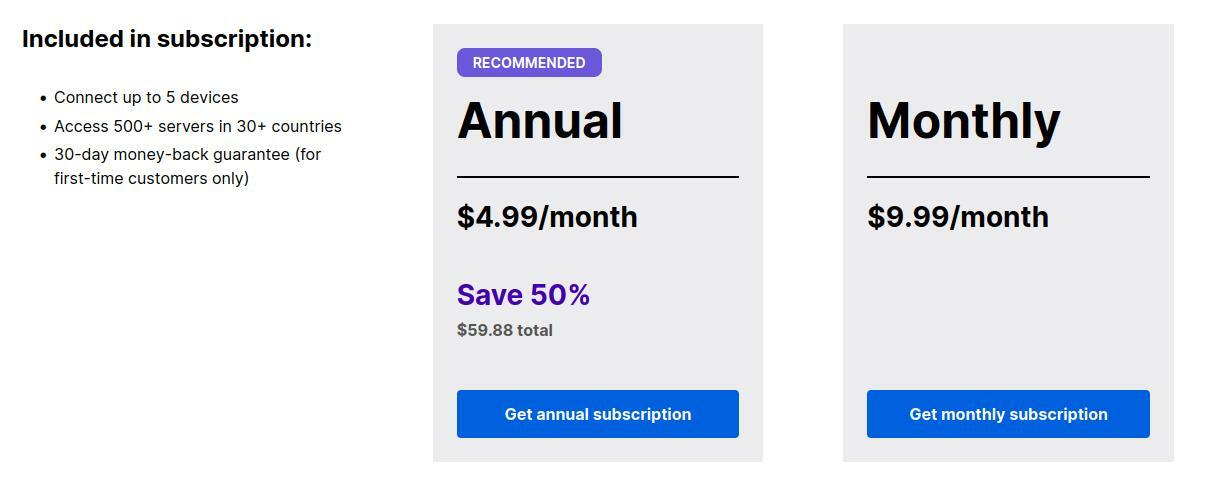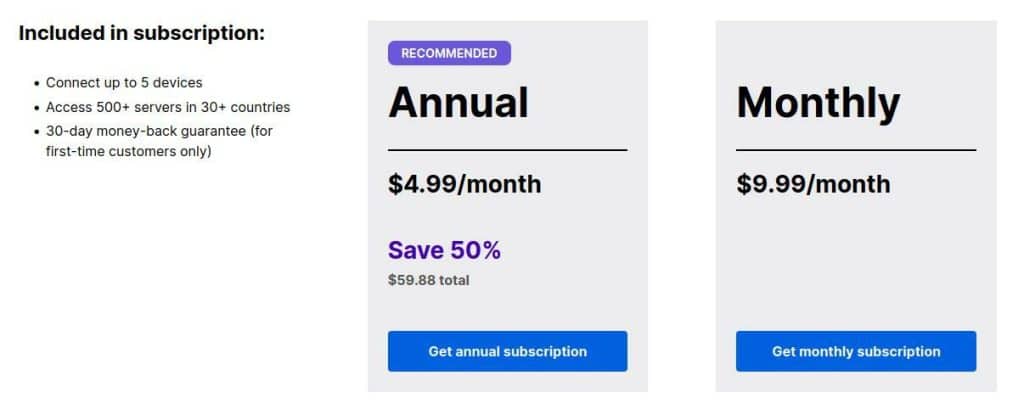 Refund requests can be initiated through the app's settings or via the Mozilla VPN support Knowledge Base. You need to provide a refund request explaining the reason that you want to cancel Mozilla VPN.
After you've made the request, you'll get a response from the support team, after which the refund is typically processed within 5-10 business days.
However, purchases made through app markets will be subject to different refund policies governed by those specific platforms. This means if you've bought your subscription through the App or Google Play store, you may not be eligible for a refund.
Reviewing the Core Mozilla VPN Features
Mozilla VPN offers many of the features you'd expect with a standard VPN. We cover each of these notable features, how they work, and what this means for you.
Multi-Hop
It's surprising that Mozilla VPN offers MultiHop servers, but it's a welcome addition from a security perspective.
MultiHop provides enhanced security by encrypting your data through two secure web servers, further ensuring the confidentiality of sensitive online interactions.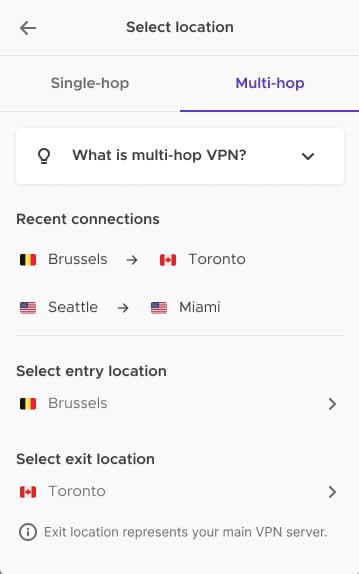 If you're worried about connecting to an endpoint in a country where data privacy laws are less than friendly, changing your connection to a MultiHop server means that even if your endpoint is compromised, the hacker or law enforcement agent will only be able to trace your connection back to the first MultiHop server you're connected to.
By bouncing your connection through several jurisdictions, you massively increase the difficulty of tracking you down through your internet connection.
However, you should be aware that connecting to a MultiHop server from your phone may significantly drain your device's battery. Furthermore, using a MultiHop server will slow down your connection in comparison with just connecting to one single server.
Kill Switch
A VPN Kill Switch keeps your internet data safe in case of internet connection cutouts. Without it, you would default back to your normal connection if your internet drops out or your tunnel to the VPN server fails for some reason.
It's critical to make sure you're always covered by the VPN's encryption if you're relying on it to preserve your privacy. Mozilla VPN's Kill Switch is implemented in every version of the VPN and works well, keeping all traffic flowing through the VPN.
In our testing, we found that the VPN works through a variety of internet disconnection scenarios, from wandering out of range of a WiFi point all the way through to crashing the VPN.
However, it's important to note that this feature is permanently enabled across all supported devices, and you do not have the option to deactivate it. To turn the Kill Switch off, you need to quit Mozilla VPN completely.
It makes sense why you can't turn the Kill Switch off, as it's a crucial component for maintaining privacy and security during VPN usage, but it is a little inconvenient in edge cases where power users may need to disable it.
Container Tabs Integration
When you install Mozilla VPN on a computer that already has Firefox or Brave installed, it allows you to integrate with the Multi-Account Container tabs feature.
The MAC tabs allow you to customize your browsing experience by allocating different internet accounts, such as email and banking accounts, to different containers.
Mozilla VPN takes this a step further by allowing you to choose completely separate IPs and locations for your MAC tabs. By assigning different server locations to specific containers, you can maintain different virtual identities for distinct online activities.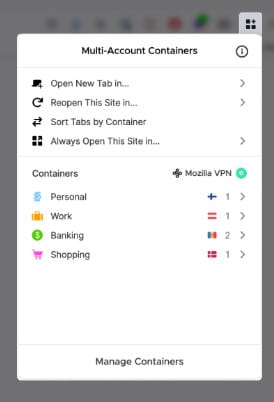 This integration further enhances online privacy and security by promoting a more isolated and secure browsing experience.
This is a significant step ahead of most other VPNs when it comes to managing how advertisers interact with your browsing and identity data, as you can effectively segregate your online identities entirely.
This makes it far more difficult for advertisers to profile you, which is otherwise an extremely easy task for most marketing agencies. However, you will need to use either the Firefox or Brave browser to take advantage of this functionality.
Split Tunneling
Split Tunneling enables you to choose which applications are connected to the VPN while allowing other applications to connect directly to the internet without VPN protection.
It's very useful when you're using a VPN to connect to another location to watch a streaming service while using your normal connection to carry out tasks that are latency-sensitive, such as gaming or voice calls.
It's pretty straightforward to manage this through the Mozilla VPN app, but it's not particularly deep. Although this isn't available on iOS or MacOS, it offers a practical solution for managing different app permissions, ensuring that certain applications can access the internet without the constraints of the VPN.
Privacy Enhancements
Mozilla VPN provides additional privacy defenses through its Privacy features, which include DNS-level safeguards targeting advertisements, trackers, and malware.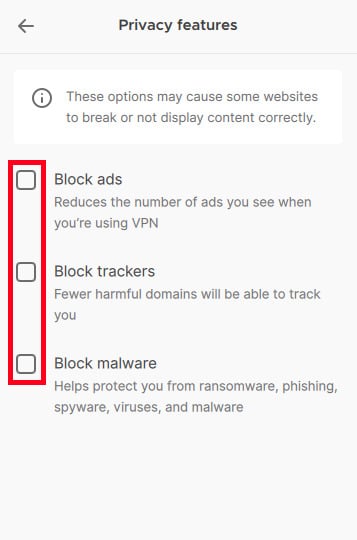 While these safeguards offer an extra layer of security, you may need to deactivate these features temporarily if you encounter issues accessing certain websites, as they can occasionally affect website functionality.
Activating and deactivating these Privacy features is a straightforward process, providing you with customizable privacy options on demand.
Device Compatibility
Mozilla VPN is compatible with various platforms, including desktop, tablet, and mobile devices, ensuring comprehensive protection across multiple devices. With a Mozilla VPN subscription, you can install the application on up to five devices.
Something to note is that where most VPN apps allow you to have a number of connections active simultaneously, Mozilla VPN uses up a slot every time you install the client on a device.
This means you have to choose which devices you want to cover with Mozilla VPN very carefully, which is a definite downside compared to other VPNs we've reviewed.
Is Mozilla VPN Safe?
When considering the safety and security of using a VPN, several crucial factors come into play, including encryption standards, protocol support, logging policies, and add-on security features.
We've assessed these elements to determine the overall safety of Mozilla VPN and its ability to safeguard user data effectively.
Encryption Standards and Protocol Support
Mozilla VPN uses a "better safe than sorry" approach when it comes to protocol support. It only supports WireGuard, which is well-known as a recent VPN protocol that uses significantly fewer resources and offers quicker connection speeds than protocols such as OpenVPN or IKEv2.
It's somewhat surprising that Mozilla VPN doesn't offer OpenVPN, which most VPN providers use to increase compatibility with other devices. As such, because MozillaVPN doesn't support OpenVPN, it won't work on routers, SmartTVs, or gaming consoles.
It looks pretty unlikely that Mozilla will implement OpenVPN support in the future, so while Mozilla VPN is very secure, there are definitely providers out there that have better cross-device support.
Logging Policy
With a strict no-logging policy in place, Mozilla VPN prioritizes user privacy by refraining from collecting any user-specific data or online activities.
While Mozilla collects technical information for product improvement, it does not record users' actual web browsing activity, including IP addresses and visited websites.
You can also opt out of Mozilla VPN's technical data collection, maintaining control over your data privacy. While Mozilla claims that its VPN data policy lines up with the approach Mozilla takes to user data in general, there is the issue of trust.
Most VPNs can be put into one of two categories: VPNs that are audited for their no-logs policy and VPNs that aren't. However, while Mozilla VPN hasn't been audited by a third party to prove its no-logs stance, its reputation for data privacy is beyond reproach.
As such, it's hard to argue that Mozilla isn't putting the same level of care into their VPN product.
While it's not clear how much input Mozilla has on the Mullvad servers that run Mozilla VPN, it's reassuring to know that Mullvad has undergone several third-party audits with Assured AB that demonstrate their no-logs claims are valid.
DNS
The Domain Name System is a fundamental component of your internet connection, acting as a sort of phone book that matches domain names to IP addresses.
Typically, your ISP provides your device with DNS servers, which, in turn, can monitor your online activity whenever you make a domain name request to their servers.
Mozilla VPN takes a proactive stance on protecting your privacy by providing an encrypted DNS server for you to connect to, ensuring your browsing data remains concealed from your ISP. This also blocks malware, ads, and tracker URLs from your device.
You have to enable these features through the Privacy settings window, and we'd prefer if they were on by default, but Mozilla VPN does warn that these settings might interfere with your normal browsing experience.
As such, it's reasonable that they're turned off when you first boot up the VPN. Beyond this, Mozilla VPN also offers a feature known as Custom DNS, granting you the flexibility to choose a DNS server of your preference while still providing the full encryption of the VPN.
However, it should be approached with caution, as misconfigured custom DNS settings can lead to issues. In most cases, Mozilla VPN's default DNS settings provide the ideal balance of privacy, security, and speed for typical users.
Mozilla VPN Device Compatibility
Mozilla VPN offers compatibility with numerous operating systems, including Android, iOS, Windows, Mac, and Linux. We'll break down the differences between each version of this VPN in the following section, as they're not all quite the same.
Android
Mozilla VPN is compatible with Android devices running at least Android 8.0. Although the app lacks advanced features, it offers Split Tunneling, allowing you to select specific applications covered under the VPN.
There's also an Auto-Connect feature to make sure you're always covered under the VPN. A functional Kill-Switch rounds off the major features available on Android, which is otherwise more or less the same as the Windows version.
iOS
The iOS version of Mozilla VPN is available for devices running iOS 13.0 and up. This means both iPads and iPhones. It's a reliable solution for encrypting your internet browsing data on your phone.
However, while the Windows and Android versions offer both a Kill Switch and a Split Tunneling feature, the iOS version offers neither. This is somewhat disappointing, but the core functions of Mozilla VPN work well.
We found that while testing out the VPN, there wasn't really any significant change to the battery consumption over the course of a full day of usage. Only 5% extra consumption was added, but this wasn't using the MultiHop functionality.
Windows
Our experience with Mozilla VPN on a Windows was more or less seamless from start to finish. The app's design combines a minimalist aesthetic with a vibrant color scheme that makes it easy to pick out the interactive parts of the app instantly.
You'll instantly know where to go to change your location or how to connect, whereas the rest of the interesting options are hidden away behind a separate settings section.
The Privacy Features section offers ad and tracker filtering, enhancing the overall browsing experience. The app successfully passed all of our IPv4 and DNS Leak tests, ensuring the protection of your IP address information.
Though it lacks some advanced features, Mozilla VPN on Windows delivers a hassle-free and secure browsing experience. Mozilla VPN works on Windows 10 and 11.
Mac
Mac users can also benefit from the security and privacy features provided by Mozilla VPN on MacOS 10.14 and up, but it's not quite as fully featured as the Android or Windows versions.
Instead, while the UI has the same clean aesthetic as the Windows version, you'll notice the Split Tunneling and Kill Switch options aren't available on MacOS.
This is somewhat disappointing, as we consider these more essential security features than optional extras.
Linux
Most VPNs don't offer a graphical user interface for their Linux client if they offer a Linux client at all. By comparison, Mozilla VPN offers a fully functional Linux client that's at feature parity with the Android and Windows versions.
It's great to see that Mozilla VPN is compatible with most modern versions of Ubuntu, but that's the only Linux distribution Mozilla VPN currently supports.
You can install Mozilla VPN from the command line or via a direct download from their site, but either way, the installation process is as easy as can be. It's integrated with the Linux versions of Firefox and Brave too, so you'll get the full use out of Mozilla VPN.
Mozilla VPN vs. Top VPN Competitors
Below is a comparative overview of Mozilla VPN alongside some of its top competitors, highlighting key aspects such as pricing, number of devices supported, logging policy, and free versions.
We hope this comparison will help to assist you in choosing the right VPN for your requirements.
| | | | | | | | |
| --- | --- | --- | --- | --- | --- | --- | --- |
| Top VPNs | Best Suited For | Starting Price | Log Policy | Free Version? | Number of Connections | Split Tunneling? | Kill Switch? |
| Mozilla VPN | Users who need to change identity often | $9.99/month | No-logs policy | 30-day Money-back Guarantee | 5 Registered Devices | Y | Y |
| ExpressVPN | Streaming from anywhere on the planet | $12.99/month | No-logs policy | 30-day Money-back Guarantee | 8 Connected Devices | Y | Y |
| CyberGhost | Users who want a VPN located in a privacy-friendly country | $12.99/month | No-logs policy | 45-day Money-back Guarantee | 7 Connected Devices | Y | Y |
| PureVPN | All-in-one privacy suite with a VPN | $12.45/month | No-logs policy | 7-Day Trial | 10 Connected Devices | Y | Y |
| ProtonVPN | Free VPN with unlimited bandwidth | $9.99/month | No-logs policy | Free Plan | 10 Connected Devices | Y | Y |
There's a very real reason to use Mozilla VPN over the other VPN providers we've listed in this table. While most offer interesting extra features, better speeds, or more locations, only Mozilla VPN offers integration with Firefox's Container Tabs feature.
If you're regularly changing VPN locations to manage your streaming content, connecting to work, or accessing services in another country, then Mozilla VPN is a game changer.
You can set up completely separate accounts for the same service, such as Google, that connect from completely different countries automatically.
However, if you want to check out some of the additional features other VPNs on our list offer, you should check out our list of the best VPN apps to get an idea of which one is best positioned to suit your needs.
What is Mozilla VPN Good For?
Mozilla VPN serves as an effective tool for users seeking enhanced online privacy and security across various digital activities. With its robust encryption and security measures, Mozilla VPN caters to a wide range of user preferences and requirements.
We've reviewed some of the more popular use cases and evaluated how well Mozilla VPN performs at each below.
Streaming
Unfortunately, Mozilla VPN is not well-suited if you're looking to access geo-restricted streaming content securely. While Mozilla VPN offers reliable encryption and access to multiple server locations, it doesn't focus on geo-unblocking content.
While testing our favorite streaming services on Mozilla VPN Netflix didn't work on any region we tested. We also found that it didn't unblock BBC iPlayer, Amazon Prime, or Disney+.
While Mozilla VPN has speeds that are good enough to support high-definition streaming, it doesn't matter if you can't access it.
Torrenting
While Mozilla VPN isn't good for streaming, torrenting is, thankfully, a different story. We found that when using Mozilla VPN, torrenting worked well on all of the servers we tried out, with no major issues compared to torrenting offline.
While there's no port forwarding option available for Mozilla VPN, it's not a massive issue, as you'll be able to make outbound connections with other peers in the torrent pool regardless.
It can be safer to connect to a torrent pool using MultiHop, but you're protected by Mozilla VPN's top-tier encryption standards regardless.
General Browsing
This is where Mozilla VPN really shines. Whether you're using the internet for work, research, or personal use, Mozilla VPN ensures that your online activities remain private and secure.
You're safeguarding your data from potential online threats and vulnerabilities thanks to a set of privacy options that block malware and adverts at the DNS level.
Other than that, Mozilla VPN doesn't have a lot of extra flashy features, but being able to integrate with Multi-Account Container Tabs makes browsing in multiple locations the simplest it's ever been.
When you're setting up your MAC Tabs to add new accounts, you can also set a location for your VPN to change automatically. It's barely noticeable when you're browsing, meaning that you can integrate work and play at will while still keeping your identities completely separate from an advertiser's point of view.
Security & Privacy
Mozilla VPN is an excellent option if you prioritize online security and data privacy. By adhering to strict no-logging policies and implementing a single powerful encryption standard, Mozilla VPN offers you a reliable solution to maintain the confidentiality of your online activities with absolutely minimal setup.
Mozilla VPN ensures that you can browse the internet securely and privately with DNS-level safeguards. These prevent ISP snooping and malware and ads from being loaded onto your computer, protecting your offline data from potential online threats. MultiHop further ensures that your location won't be revealed while browsing.
Mozilla VPN Server Locations
Mozilla VPN provides you with a fairly comprehensive network of servers across various regions, ensuring widespread coverage across the globe.
With server locations strategically positioned across different continents, Mozilla VPN offers you the flexibility to choose server locations based on either your latency needs or browsing requirements.
Is Mozilla VPN Good? A Look at Mozilla VPN Reviews
We've looked through G2, TrustPilot, and Reddit to try and find reviews for Mozilla VPN, but as Mozilla VPN is a relatively new VPN, there are not a lot of user reviews yet.
However, Reddit has tested Mozilla VPN out pretty thoroughly and largely came to the same conclusions we have.

The general sentiment is that Mozilla VPN isn't a terribly advanced VPN, but it does what it needs to without a lot of fuss. The VPN's user-friendly interface, robust security measures, and reliable customer support as some of its notable strengths.

Upon reviewing multiple user testimonials and feedback, it's evident that Mozilla VPN has garnered a positive reputation within the VPN community. Users appreciate its emphasis on user privacy, reliable server speeds, and comprehensive customer support.

While some users have noted minor issues with speed in certain regions, the general consensus highlights Mozilla VPN as a solid choice for individuals seeking a user-friendly and secure VPN solution.
How to Use Mozilla VPN – A Quick Guide
We've put together a quick guide on how to use Mozilla VPN. It's pretty simple, but there's one or two things you'll need to pay attention to as you go:
1. Download Mozilla VPN
Visit the Mozilla VPN website from our link and click on the "Get Mozilla VPN" button to get the VPN app. You'll need to pick a pricing plan before you can start your Mozilla VPN download. Be warned, Mozilla VPN is only available in certain locations.
If you're not part of the regions that Mozilla VPN covers yet, you can sign up for a wait list and be informed by email when the Mozilla VPN rollout comes to your country.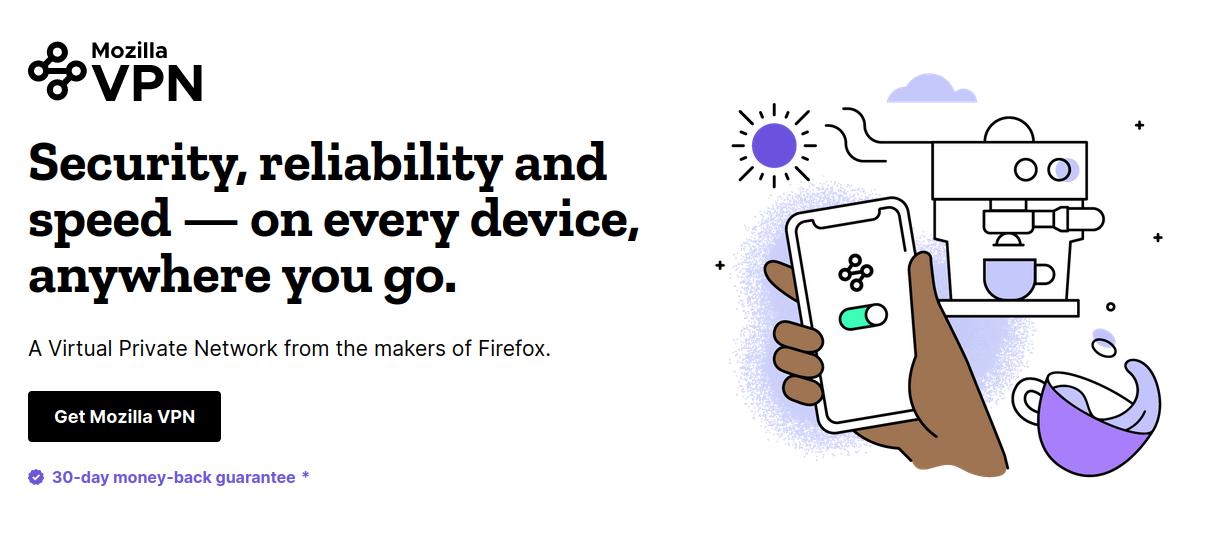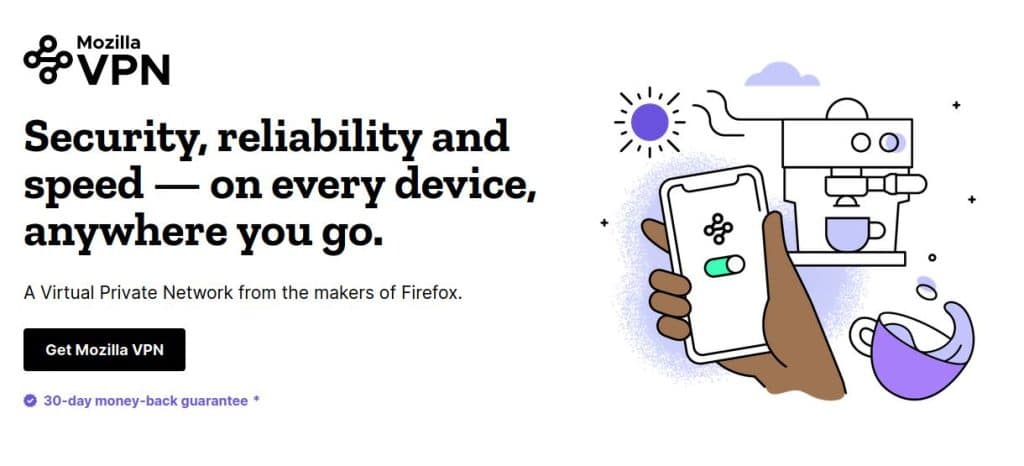 2. Install the Application
From here, you can pick the download for the device you want. For Windows, locate the setup file and double-click to begin the installation process. Follow the on-screen instructions to install the application.
3. Open Mozilla VPN
After the installation is complete, open the Mozilla VPN application on your device.
4. Sign In or Create an Account
You'll now be able to sign into your account using your Firefox account credentials by clicking "Get Started". If you don't have your credentials already, this will lead you to the pricing page where you can pick a plan.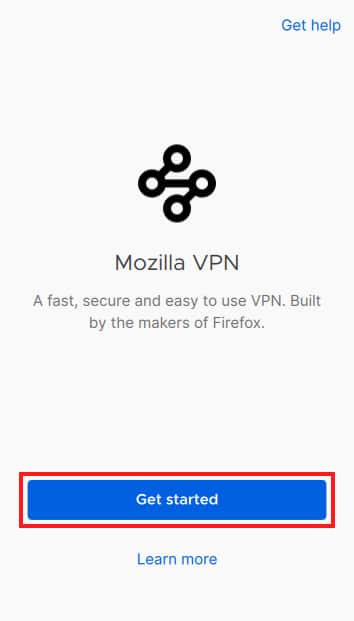 5. Select a Server Location
After you've signed in, you'll be presented with the "Connect" page. From here, click the "Select Location" button, and you'll be taken through to a list of locations you can choose from. This includes both standard servers and Mozilla VPN's MultiHop servers.
Choose your preferred server location from the list provided.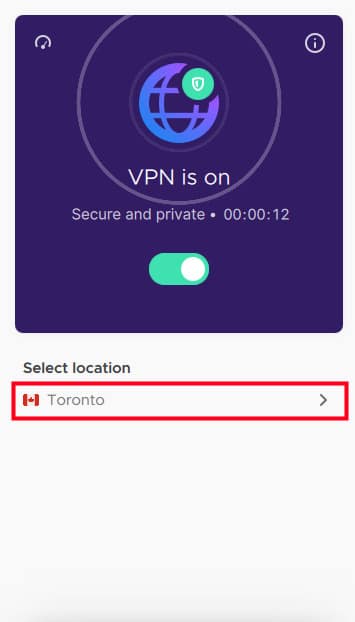 6. Enable the VPN Connection
Once you've picked the server location you want, head back to the "Connect" page and click on the Connect slider to turn it on. There's not much else you have to do.
The Kill Switch is always on by default, and there's only one VPN protocol Mozilla VPN uses. However, there are a few extras you might want to enable before you go.
7. Activate Multi-Account Containers Functionality (Optional)
Once you've activated your VPN, head on over to either your Firefox or Brave browser and open your Multi-Account Containers window. You'll notice there's a new notification next to the Containers header, indicating the Mozilla VPN extension for your account is now connected.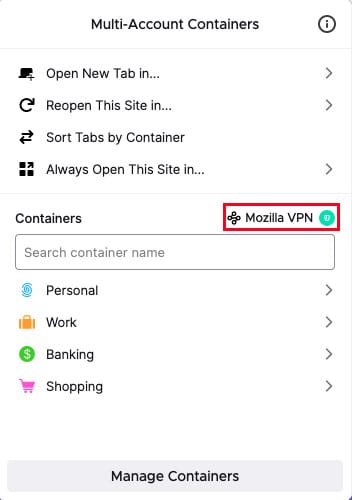 Select one of the Containers you've already set up, and you'll notice at the bottom of the tab that there's an option to integrate Mozilla VPN into the account container you've chosen.
If you want to, you can now select a location that the VPN will automatically connect to when you select a tab within that container. All you have to do is click the slider so that it's green and choose a location from the list.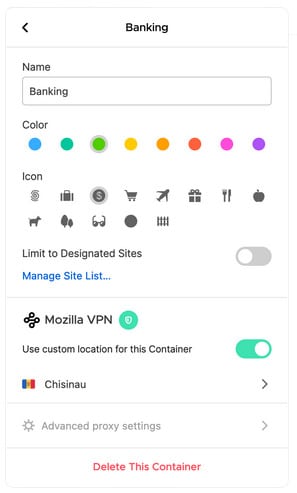 How We Tested Mozilla VPN
Testing out this VPN for our Mozilla VPN review was a relatively quick experience, as there isn't a lot of in-depth functionality to put through its paces.
Nevertheless, Mozilla VPN used our comprehensive testing methodology aimed at thoroughly assessing the VPN's performance, security features, and overall user experience.
We've tested out Mozilla VPN's Kill Switch on various devices and operating systems, as well as the Split Tunneling feature.
We've also tried to access several different streaming services using Mozilla VPN to understand whether it's really useful for geo-unblocking restricted content, as well as to get an idea of how the speeds hold up for streaming.
We've run several torrent files while using Mozilla VPN to test out the P2P aspects of the service, as well as some games to make sure the VPN doesn't block P2P services.
We paid special attention to aspects such as speed, reliability, and user-friendliness as we went along to understand how the VPN functions in practical usage.
To make sure that our findings hold up against the rest of the community, we've gone looking for reviews to cross-reference with other Mozilla VPN users.
This involved consulting reputable platforms such as TrustPilot, Reddit, and G2. By integrating user feedback into our assessment, we've ensured a comprehensive understanding of Mozilla VPN's performance from multiple perspectives.
Furthermore, our extensive experience in testing other leading VPNs, such as NordVPN and ExpressVPN, allows us to make meaningful comparisons against the rest of the VPN market.
Tying all of these aspects together in our review allows us to provide an insightful analysis of Mozilla VPN.
Our Other VPN Guides
Even if Mozilla VPN doesn't have quite the feature set you want, there's a whole world of VPNs out there that might suit your needs better. Check out some of our VPN guides below, and you'll see how our VPN comparison pages can help you pick the right one:
Concluding Our Mozilla VPN Review – Is Mozilla VPN Worth it in 2023?
Mozilla VPN isn't the best VPN out there, but if you're looking for a reliable VPN that's easy to use and has a particular need to protect your identity across multiple accounts, Mozilla VPN is the one for you.
While there aren't a ton of server locations, Mozilla VPN offers quite a few MultiHop servers compared to the competition. Using Mullvad VPN as a base also means there's a certain standard of connection quality you're always going to get from Mozilla VPN.
Mozilla's commitment to user privacy is also commendable, which is reflected in their attitude towards VPN design. They've been completely transparent about the results of multiple audits of their software, even when the results have been less than flattering.
This is also reflected in Mozilla VPN reviews. While some users have reported minor issues with speed in certain regions, the overall consensus is that Mozilla VPN is a fast and effective VPN.
Mozilla VPN FAQs
How much does Mozilla VPN cost?
Is VPN from Mozilla free?
What VPN protocols does Mozilla VPN offer?
How does Mozilla VPN protect your privacy?
References