In this NordVPN review, we'll dive into the details of this service to uncover what makes it one of the most popular choices for users looking to protect their privacy online. Trusted by millions of users globally, NordVPN provides numerous features, thousands of servers, and fast connections.
To help you make an informed decision, we'll provide a detailed analysis of its services, reputation, and advanced features. Keep reading our NordVPN review to learn more about its pricing structure, best use cases, and strengths and weaknesses. In addition, you'll find out how it compares to other comprehensive VPNs regarding their capabilities and pricing.
Table of Contents
Table of Contents
What is NordVPN?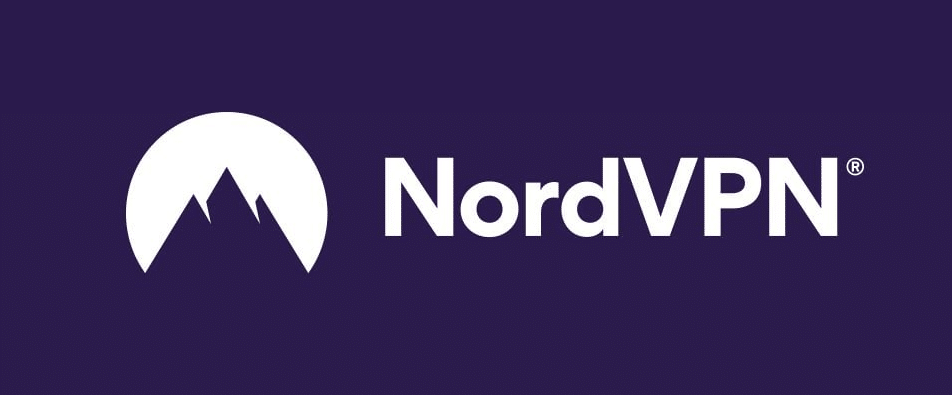 NordVPN is a popular virtual private network (VPN) service with some of the most comprehensive privacy-enhancing plans in the industry. It has servers in over 60 countries, in locations that include South and North America, Europe, Asia, and Africa.
Connecting to any of its servers allows you to stay anonymous while browsing the web, protects your devices from malware, and enhances the security of your online accounts.
Besides its well-placed servers and numerous advanced features, NordVPN is one of the fastest VPNs. That means you can use it for more than just browsing, as its exceptional speeds allow you to play games, torrent large files, and watch streams buffer-free, even in 4K.
NordVPN Pros and Cons
Although it's one of the best VPNs we've tested so far, NordVPN doesn't come without some flaws. Here, we'll list the strengths and weaknesses of its services that we found while testing NordVPN.
Pros
Over 5,800 high-speed servers in 60+ countries
Compatible with all major operating systems
Intuitive and user-friendly
Passed numerous independent audits
Excellent for unblocking foreign content and streaming platforms
NordVPN lacks a GUI for Linux, but its capabilities still make it one of the best VPNs for Linux, it's just not ideal for users who want to avoid using a VPN via command lines.
While its pricing may be higher than most of its competition, it isn't far off if you opt for a 2-year-long plan. In addition, it justifies its price by offering thousands of secure servers, a proprietary protocol, breach monitoring, and numerous other features.
How Much Does NordVPN Cost?
NordVPN isn't the most affordable VPN on the market, but it makes up for that by providing exceptional features. It splits its services into three pricing plans you can subscribe to monthly, annually, or biannually. It's worth mentioning that choosing to pay on a biannual basis reduces the cost of NordVPN plans by more than 60%.
Plan
Price
Features
Standard
$4.99/month (annual subscription)
– Double VPN
– Tracker and Ad Blocker
– Malware Protection
Plus
$5.79/month (annual subscription)
– All Standard Features
– Password Manager
– Data Breach Scanner
Complete
$6.99/month (annual subscription
– All Plus Features
– 1 TB Cloud Storage
– Next-Gen File Encryption
Unlike some of its competition, NordVPN lacks a free plan you could use to test out its features. Each NordVPN plan has a 30-day money-back guarantee, which means you can cancel NordVPN subscriptions and receive a refund if you change your mind.
In addition, there's a 7-day free trial for Android and iOS users. While NordVPN makes canceling auto-renewal straightforward, you'll need to contact its customer support to get a refund, meaning it's not instant.
Apple users will instead need to head to Apple Support, as NordVPN can't grant refunds for subscriptions made through the Apple store. In this section of our NordVPN review, we'll break down its pricing plans to help you find the one ideal for your needs.
Standard
As the cheapest NordVPN plan, Standard offers fewer features at a budget-friendly price, making it ideal for users looking for a blend of performance and affordability.
This plan lets you access almost every NordVPN feature except the solutions it provides with its more expensive packages. These include threat protection, double VPN, Meshnet, and split tunneling.
Here's how NordVPN prices the Standard plan:
Monthly Subscription — $12.99/month
Annual Subscription — $4.49/month + 3 extra months
Biannual Subscription — $2.99/month + 3 extra months
Plus
The Plus plan includes all the benefits of the Standard plan and expands on them by offering one of the best password managers and a data breach scanner. This is ideal for privacy-conscious users looking to protect their online accounts.
In addition, it allows you to rest easy knowing NordVPN will automatically notify you of any online leaks that include your email addresses, credit cards, or passwords.
Here's how NordVPN prices the Plus plan:
Monthly Subscription — $13.99/month
Annual Subscription — $5.49/month + 3 extra months
Biannual Subscription — $3.99/month + 3 extra months
Complete
As the most expensive NordVPN plan, Complete is also its best option for users looking to unlock all of the provider's bells and whistles. It incorporates the features the previous two plans offer and lets you use NordLocker, an encrypted cloud storage.
This plan is ideal for users looking to secure their personal and business files, access them remotely, and share them securely. Here's how NordVPN prices the Complete plan:
Monthly Subscription — $14.99/month
Annual Subscription — $6.49/month + 3 extra months
Biannual Subscription — $4.99/month + 3 extra months

Reviewing the Core NordVPN Features
As one of the most feature-rich VPNs available today, NordVPN is surprisingly intuitive and easy to use. That becomes clear when you open its app on a computer or smartphone, and it has helped us test its core features.
You can find and configure its more advanced features in the settings panel, and NordVPN neatly organizes them on the home screen of its desktop and smartphone apps.
Here, we'll review the NordVPN features we tested and outline their strengths and downsides.
Threat Protection
NordVPN's Threat Protection is one of the best antivirus software solutions against malware, trackers, and intrusive ads. You can configure it to work only when you connect to a VPN server, but it can also independently protect your system from malicious attacks.
We tested both versions to see if there's a downside to allowing Threat Protection to always work in the background and noticed no performance issues. The best part about Threat Protection is that, unlike most VPNs, it comes even with the cheapest NordVPN plan.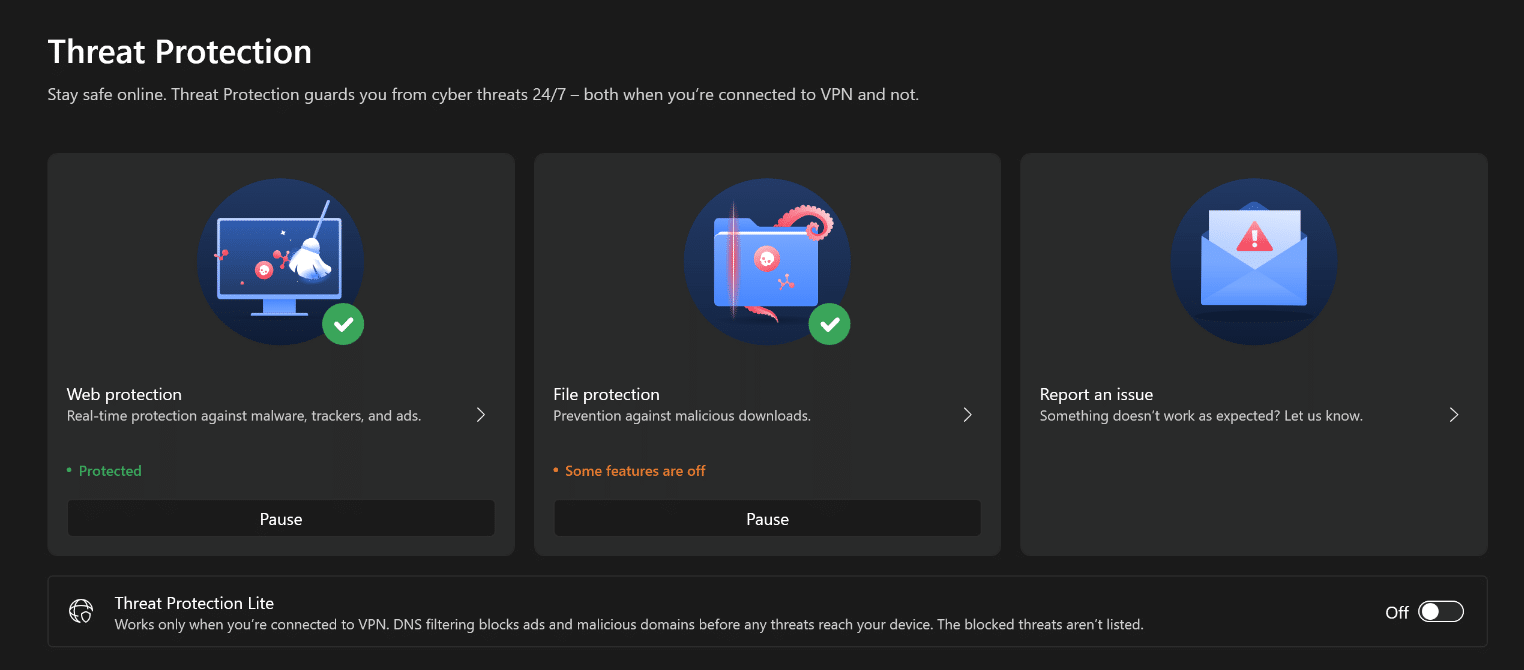 It'll block access to malicious websites and prevent malware-ridden pop-ups from showing, giving you peace of mind as you open links and browse the web. In addition, it'll stop websites from collecting your data by disabling third-party trackers.
These trackers are constantly working in the background to create a database of your interests and browsing habits and are responsible for the ads you see online. Threat Protection makes it near-impossible for others to spy on your activities and browsing history.
Private DNS
This is a standout benefit premium VPNs offer compared to free solutions. Private DNS gives NordVPN complete control over available IP addresses and network access.
That means your ISP won't have access to your online activities, as you won't use their public DNS server structure anymore. Public DNS servers allow your ISP to monitor and log your online activities, and they will often keep these records for years.
Thanks to NordVPN's private DNS servers, your ISP will only see that you've logged into its servers and receive no further data. Besides preventing anyone from keeping tabs on your browsing activities, this also prevents ISP throttling and DNS hijacking.
That means snoopers won't be able to spy on you or redirect you to a malicious site, and it prevents your ISP from slowing down your bandwidth while you play games or download large files.
Meshnet
This unique feature simplifies file sharing amongst NordVPN users and your devices. Essentially, this feature can connect devices via a private, encrypted tunnel that allows you to share files without data leaks or fear of external threats.
We used it to read documents and use software on remote devices and were impressed with how easy it is to use compared to traditional screen-sharing tools.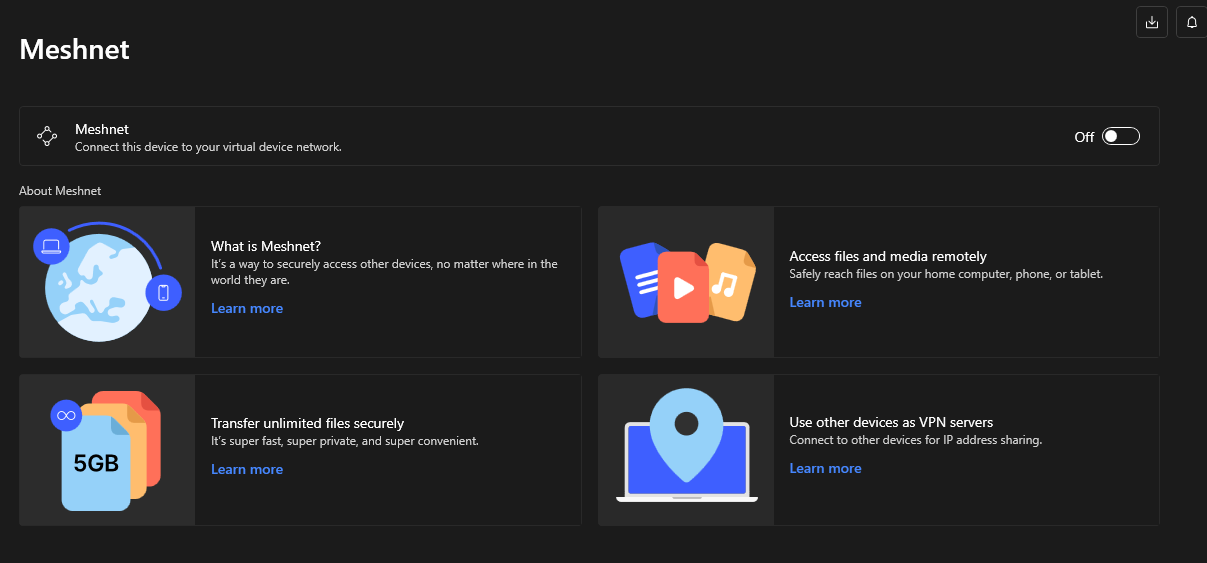 Meshnet can be an invaluable tool for frequent travelers and hybrid workers, as it provides a failsafe if you forget something back home or at the office. In addition, you can use it as a secure channel for sharing sensitive business documents with anyone.
It lets you connect with up to 50 external devices that belong to your coworkers or family members by simply inviting another NordVPN user to your network.
Double VPN
NordVPN is one of the few VPN providers to offer a Double VPN feature, also known as Multi-Hop. This powerful feature can significantly reduce the chances your ISP or hotspot owner has to monitor or log your browsing activities.
Unlike a regular VPN connection that encrypts your traffic, routes it to a VPN server, decrypts it, and sends it to its final destination, a Double VPN connection will encrypt it twice, leaving anyone attempting to trace your traffic clueless about its origin.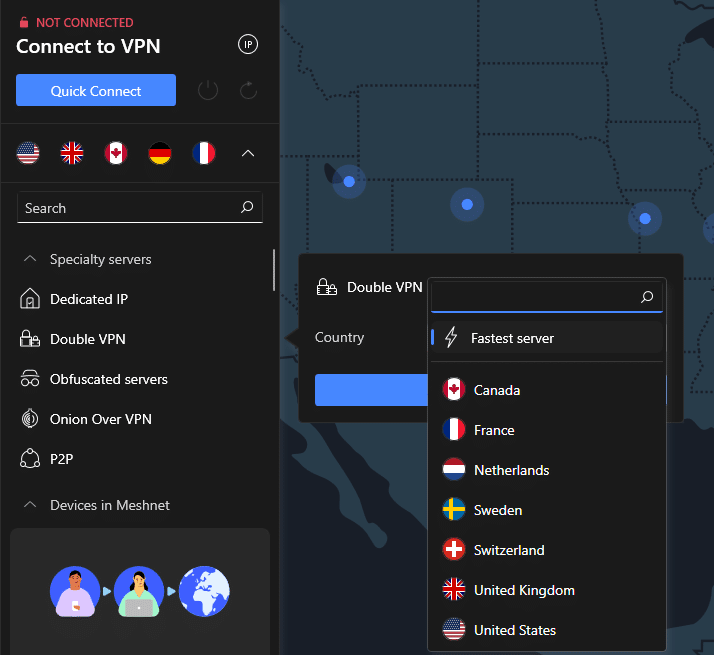 One downside we noticed while using this near-impervious encryption method is that it'll slow your connection down. That makes it unsuitable for everyday activities like browsing or downloading files.
However, it can be invaluable when visiting countries known for heavy censorship and surveillance, such as Russia, China, or Turkey. In addition, it's easy to use, as you simply need to tap "Double VPN" on the home screen and pick a country to connect to.
You can also let NordVPN find the best server automatically by choosing the "Fastest Server" option in the drop-down menu.
Dark Web and Data Breach Monitoring
NordVPN constantly monitors the surface and dark web for leaks of your information that could endanger your online accounts and finances. Data breaches aren't uncommon, even among the largest services such as Facebook.
While numerous tools can monitor the surface web for information leaks, NordVPN is one of the rare solutions for dark web monitoring. The dark web is home to some of the most sophisticated hackers who often target bank accounts and businesses.
They expose the credentials of millions of users at a time. With NordVPN, you'll be immediately notified if its scanning tools find your information among the leaked data, allowing you to react swiftly to prevent hackers from accessing your accounts.
This makes NordVPN's monitoring feature invaluable if you shop online or own a business in your name. We couldn't test this feature because it can take months for our data to appear in a company's security breach.
However, we read dozens of NordVPN reviews from third-party users praising its swiftness and precision in notifying them about leaks.
Kill Switch
NordVPN is one of the few VPN providers to offer a fully functional and reliable kill switch feature. This feature provides an additional security layer to safeguard your data even if the connection to a NordVPN server suddenly drops.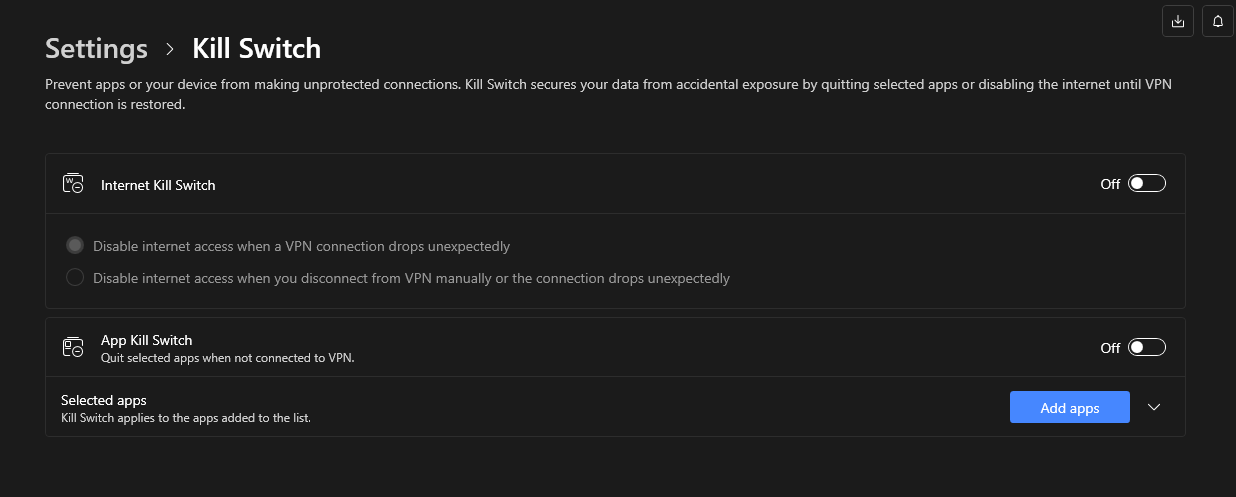 This fail-safe mechanism will continuously monitor the stability of your VPN connection and shut down your device's connection to the internet if it detects anomalies. Unlike most of its competition, NordVPN provides this feature on all major operating systems.
However, it offers the most advanced features to Windows users, as you can choose to cut internet access whenever there's no active VPN protection, providing ultimate security to its users.
Although heavy stress testing caused the kill switch of some providers, like Surfshark, to fail, we haven't noticed such issues with NordVPN.
Split Tunneling
This feature is available to NordVPN's Windows and Android users. It lets you choose which apps need VPN protection and which can access the internet directly.
That means you won't experience connection slowdowns when using apps that don't require additional protection while simultaneously encrypting your traffic on other apps or websites.

For example, you can configure NordVPN to encrypt your traffic to foreign websites that would otherwise be inaccessible while using your regular internet connection to play a video game or watch Netflix.
We found this feature easy to use, as you simply need to choose the apps you need encrypted and let NordVPN do the rest. In addition, we tried its browser extensions that allow you to select URLs you want to exclude from its VPN protection, and it worked flawlessly.
Is NordVPN Safe?
Although no online service is entirely risk-free, NordVPN does an excellent job of keeping its users safe. In this part of our NordVPN review, we'll talk about the security measures it offers to keep you safe from external threats.
In addition, we'll evaluate how it handles user data to help you determine if it's the right service for you.
Next-Generation Data Encryption
Encryption is a fundamental component of any VPN and makes your data inaccessible to third parties. Without encryption, this data can easily be accessed by lawful and unlawful means, as all your data is public by default.
NordVPN employs the robust AES-256 encryption standard to safeguard your data, impregnable by any known practical attacks. To help put this into perspective, it's worth mentioning the NSA uses this encryption method to protect classified data.
Protocols
NordVPN supports three different VPN protocols, each having unique strengths and weaknesses. Depending on the level of security you need and the device you're using, you can freely choose between these protocols and switch between them at any time.
Here's a quick breakdown of their capabilities:
OpenVPN — A versatile VPN protocol for UDP and TCP ports, it's ideal for gaming, live streaming, and similar activities. This protocol thrives on transparency since its open-source code is freely available for review and modification, so security experts can report bugs and fix new-found vulnerabilities.
IKEv2/IPsec — This protocol can quickly re-establish a VPN connection if the network connection is interrupted. That makes it ideal for iOS and Android users looking for stable VPN protection and peace of mind while traveling and using public Wi-Fi.
NordLynx — Based on Wireguard, a cutting-edge VPN protocol that boasts the highest speeds, NordLynx is a proprietary protocol of NordVPN. Since the original Wireguard protocol couldn't ensure complete user privacy, NordVPN took it upon itself to improve it and came up with NordLynx.
NordLynx is one of the fastest and most secure protocols available in the industry, and it stores no identifiable data on the VPN server, making it ideal for privacy-conscious users who don't want to sacrifice performance for security.
RAM-Only Servers
NordVPN uses RAM-only servers to enhance user privacy and data protection. These servers differ from traditional solutions because they only store temporary data while a server is operational.
That means NordVPN's servers automatically delete the data stored on them when they power off, minimizing the risk of data breaches or unauthorized access to user information.
No-Logs Policy
Although most VPN companies effectively keep your data safe from others, not every provider guarantees it won't take advantage of your data. There are a few reasons for VPN providers to collect your data, including legal obligations and personal benefits.
However, NordVPN operates out of Panama, which has no data retention laws, and it guarantees a zero-logs approach to your data. Unlike most of its competition, NordVPN is also open to independent audits that test its no-logs policy.
So far, NordVPN has undergone three audits by third-party security experts who found no deficiencies concerning its logging policy. PricewaterhouseCoopers AG Switzerland performed the first two audits in 2018 and again in 2020, while the third and most recent NordVPN audit was conducted in 2022 by Deloitte.
NordVPN Device Compatibility
NordVPN is a versatile VPN provider that offers its services via apps for every major operating system, including Windows, Android, iOS, Mac, and Linux.
You can use a single NordVPN account on six devices simultaneously, which is lower than the industry standard of ten. That means you can seamlessly switch from your PC to your smartphone without re-logging or dropping your VPN connection.
So, how does NordVPN work on different devices, and does it provide all its services equally for each? We'll dive into the details below.
Windows
Whether you own one of the best gaming PCs or laptops with a Windows operating system, you'll have full access to all NordVPN features covered by your pricing plan.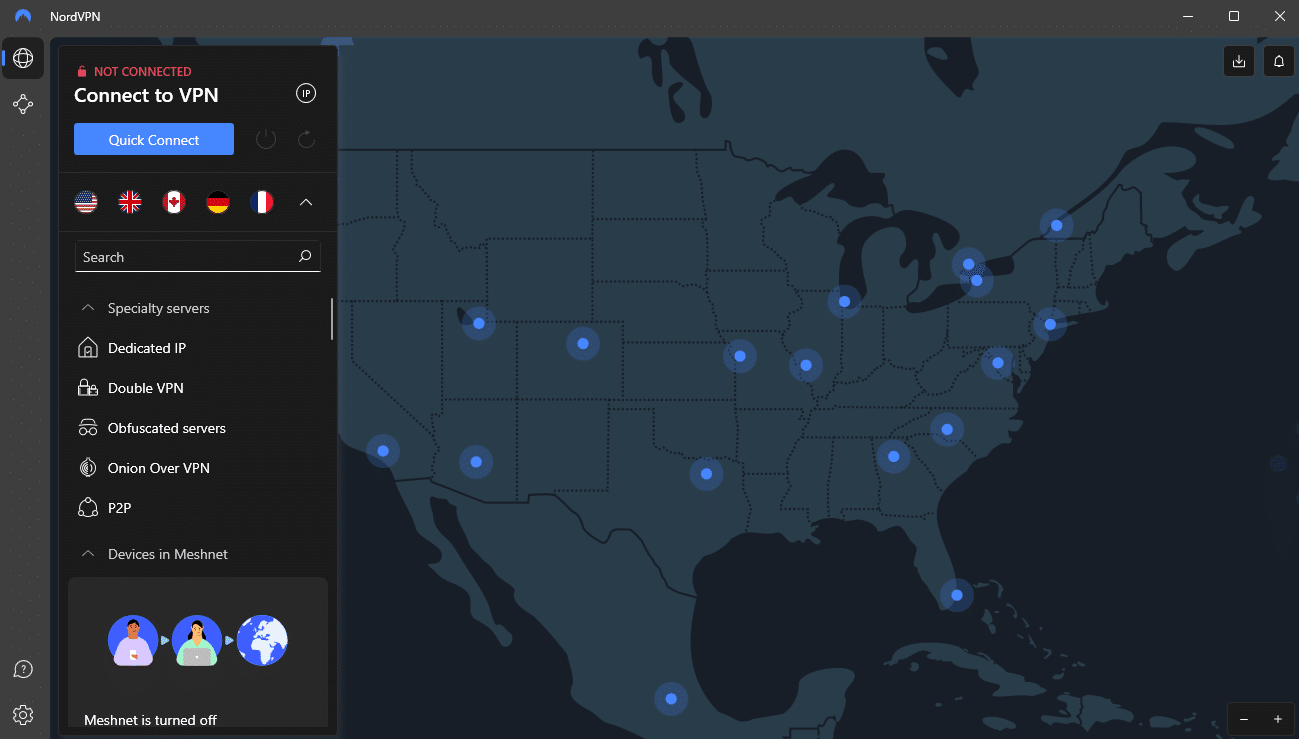 That means you won't find any of its advanced features missing, including Kill Switch, Split Tunneling, Threat Protection, and more. We found its Windows interface intuitive and easy to use, which makes it one of the best picks for first-time VPN users.
Android
We tested NordVPN's Android app by performing numerous actions, from engaging its Kill Switch to watching YouTube videos and Twitch streams. We noticed no performance errors or bugs with its features, except one Threat Protection downside.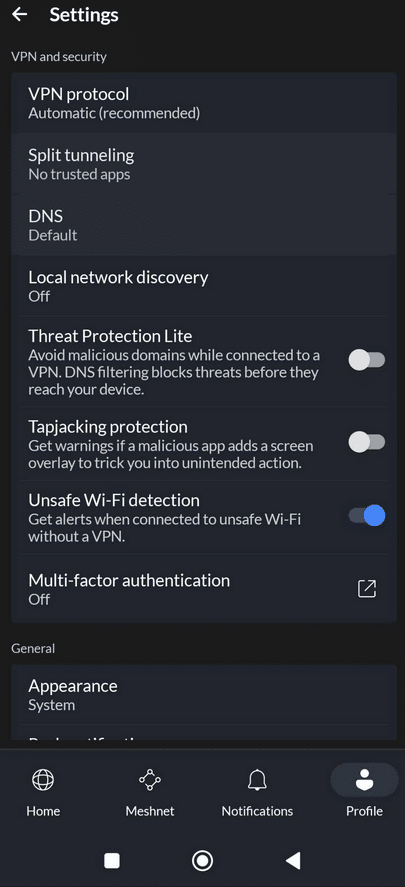 For Android, NordVPN offers Threat Protection Lite only, which means your device will only be protected while connected to a VPN server. That said, NordVPN provides one of the most comprehensive VPN solutions for Android out of all the providers we tested.
iOS
The first thing we noticed about the NordVPN iOS app was that it, like most of its competition, lacks a Split Tunneling feature. Besides that, we have no complaints about its interface and ease of use, as it is easily one of the best iOS VPNs available today.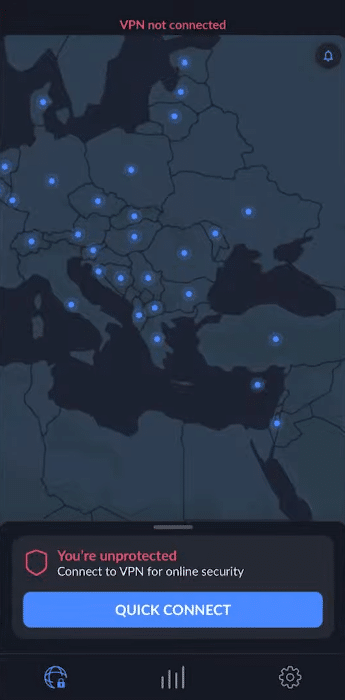 From a reliable Kill Switch to fast VPN connections and no DNS leaks, we were impressed by its capabilities. In addition, NordVPN seamlessly integrates Siri into its processes, providing hands-free VPN protection.
Mac
NordVPN is available on all Mac devices and is one of the simplest NordVPN apps. We noticed no speed difference while connecting to local and distant NordVPN servers compared to its Windows client.
Unlike most of its competitors, NordVPN equips its Mac client with the Kill Switch and Split Tunneling features, making it ideal for users looking to maximize their Mac security.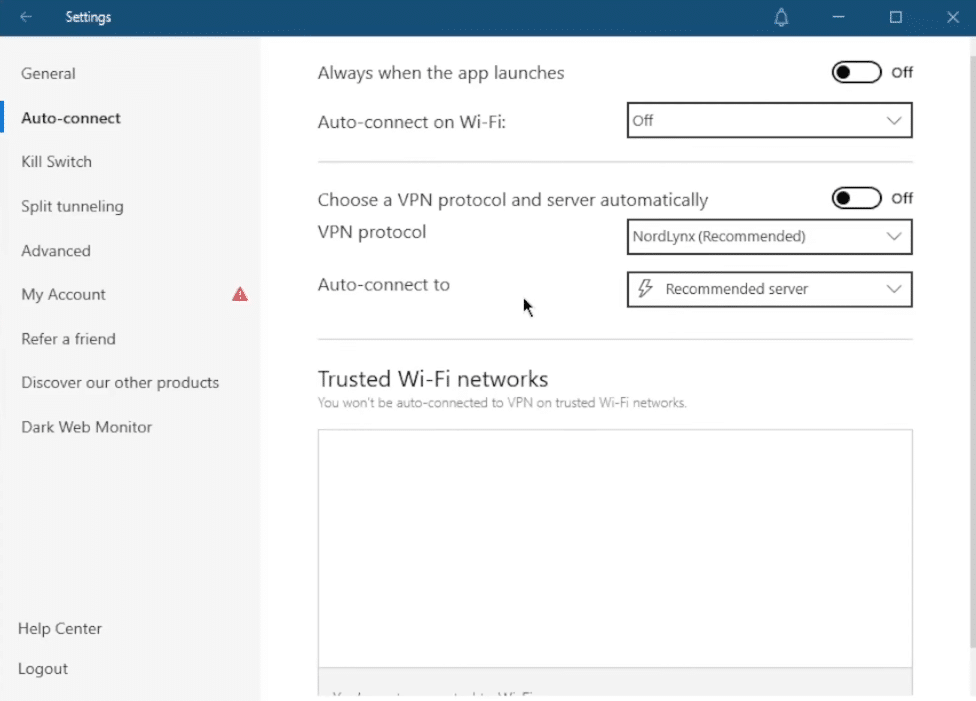 Linux
NordVPN's Linux client is the one we liked the least just because it lacks a GUI. However, that won't be a problem for users since NordVPN provides in-depth setup and use guides for each distro.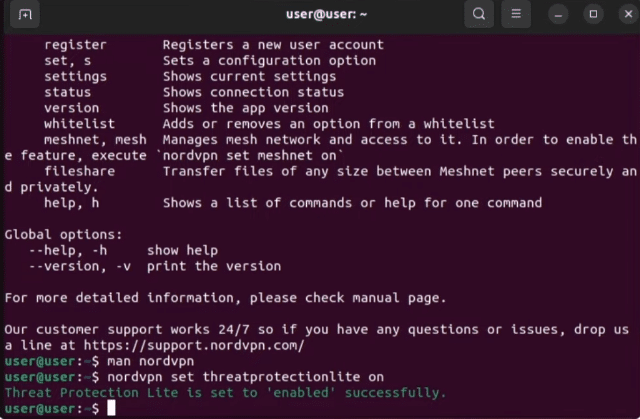 Using those guides, we tested its speeds, third-party tracker blocking, and Meshnet features and found no issues. It's worth mentioning that it took us far longer to set up NordVPN for Linux compared to other platforms.
NordVPN vs. Top VPN Competitors
Several VPN providers stand out from the rest with their capabilities and ease of use. In this section of our NordVPN review, we'll compare it to its closest competition to help you make an informed decision.
| | | | | | | | |
| --- | --- | --- | --- | --- | --- | --- | --- |
| Top VPNs | Best Suited For | Starting Price | No-Logs Policy | Free Version? | Number of Connections | Split Tunneling? | Kill Switch? |
| | Security | $12.99/month | Yes | 7-day free trial on Android and iOS | 6 | Yes | Yes |
| | Speed | $15.45/month | Yes | 7-day free trial | Unlimited | Yes | Yes |
| | Torrenting | $12.99/month | Yes | 1-day free trial for Windows | 7 | Yes | Yes |
| | Encryption | $12.95/month | Yes | None | 8 | Yes | Yes |
| | Streaming | $12.45/month | Yes | 7-day free trial | 10 | Yes | Yes |
| | Affordability | $9.99 | Yes | Free Forever Plan | 10 | Yes | Yes |
Opting for each of these VPN providers has unique benefits and disadvantages. For example, choosing NordVPN over the others offers a perfect blend of VPN features and connection speed, plus a password manager, dark web monitor, and other benefits.
However, if you're looking for the fastest VPN service, Surfshark may be a better pick, while budget-conscious users will prefer ProtonVPN's affordable packages.
If you'd like a more in-depth comparison of these providers, visit our review of the best VPN services for 2023.
What is NordVPN Good For?
With a fleet of over 5,800 servers in 60+ countries worldwide, NordVPN lets you use its services wherever you go. From bypassing geo-restrictions to improving your ping on games. Besides keeping you safe online, here's what NordVPN excels at:
Torrenting
NordVPN's advanced features and no-logs policy make it an attractive choice for users who need to download large files securely and privately.
Combining its robust AES-256 encryption and features like Kill Switch and fast protocols, hide your torrenting activities from others, including your internet service provider.
In addition, it offers a massive selection of peer-to-peer (P2P) servers designed to provide the best downloading speeds.
Streaming
NordVPN earned its place on our list of the best VPNs for Netflix and other streaming platforms because of its exceptional server fleet and stable performance.
Thanks to its SmartPlay feature, which allows its private DNS servers to cloak your IP, NordVPN will bypass any IP blocks while you stream foreign content.
We used its NordLynx protocol to unblock different Netflix libraries and had no issues accessing region-specific content.

Having a VPN service capable of unblocking foreign content may not be attractive to everyone, as you might have all you need at home, but that changes once you travel abroad.
With NordVPN, you'll have access to local and foreign content wherever you are, making it an excellent pick for frequent travelers.
Gaming
Thanks to its compatibility with numerous devices, NordVPN can help you avoid ISP throttling and enjoy lag-free gaming sessions on any platform. That includes consoles, as you can set up your NordVPN on a router.
Changing your IP address to a location closer to the game servers can result in a lower ping, ensuring a smooth experience as you play.
NordVPN's Meshnet feature makes it stand out from the competition with its LAN gaming capabilities. Setting up a private Meshnet network lets you invite other NordVPN users to connect with their devices, allowing you to set up LAN gaming sessions effortlessly.
NordVPN Server Locations
NordVPN offers several server types to its users, including Standard, Double VPN, Onion Over VPN, Dedicated IP, and Obfuscated Servers.
All these server types serve different purposes, from providing buffer-free streaming to bypassing even the heaviest forms of internet censorship, and NordVPN has strategically placed them around the globe.
Although NordVPN lets you connect to any server with a single click, you can let it find the fastest servers for you. This is invaluable if you're looking for a stable P2P or obfuscated server while in a foreign country. Here's a list of countries NordVPN has servers in:
Europe — Albania, Austria, Belgium, Bosnia and Herzegovina, Bulgaria, Croatia, Cyprus, Czech Republic, Denmark, Estonia, Finland, France, Georgia, Germany, Greece, Hungary, Iceland, Ireland, Italy, Latvia, Lithuania, Luxembourg, Moldova, Netherlands, North Macedonia, Norway, Poland, Portugal, Romania, Serbia, Slovakia, Slovenia, Spain, Sweden, Switzerland, Ukraine, United Kingdom.
The Americas — Argentina, Brazil, Canada, Chile, Colombia, Costa Rica, Mexico, the US.
Asia Pacific — Australia, Hong Kong, Indonesia, Japan, Malaysia, New Zealand, Singapore, South Korea, Taiwan, Thailand, Vietnam.
Africa and the Middle East — Israel, South Africa, Turkey, UAE.
Is NordVPN Good? A Look at NordVPN Reviews
NordVPN enjoys a positive reputation, as it's a service without historical records of breaching its policies or abusing the trust of its users. Our experience with its platform matches our expectations.
We thoroughly combed through user reviews on various third-party websites, looking for common issues and popular features. In this part of our NordVPN review, we'll share what we found on websites that allow users to share their experiences with software.
The first website we visited is Trustpilot, on which NordVPN enjoys an overwhelmingly positive score of 4.2 out of 5. 74% of the 26,000+ reviews rate it with the highest score, and most NordVPN reviews point out the quality of its customer support and interface.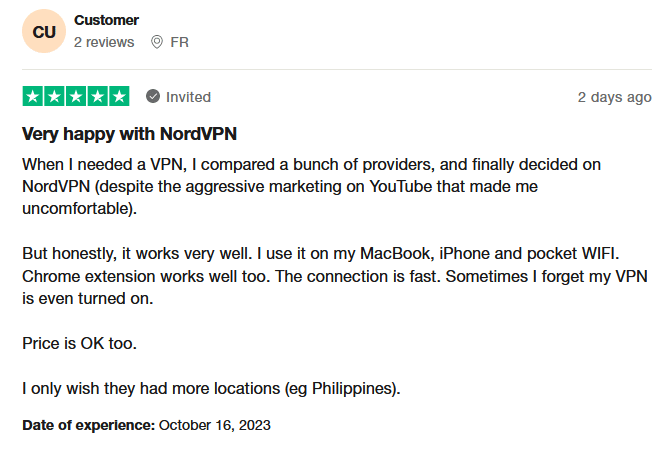 We've also found numerous reviews praising the connection speeds while torrenting, gaming, and streaming, which fits our experience with its platforms.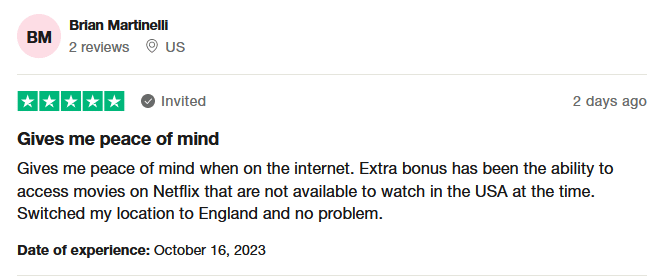 Browsing Reddit, we found mixed opinions, as some users complained about its speed and bugs. However, most of the negative NordVPN reviews are old, and the newest reviews commend its improvements over the years and the quality of its current services.

Although most NordVPN user reviews are positive, we found several negative reviews and conveyed their messages throughout this NordVPN review.
Most negative reviews stem from its lack of a free plan, while finding reviews criticizing its features, customer support, or interface is uncommon.
How to Use NordVPN – A Quick Guide
Like most VPN services, NordVPN has a simple setup process that takes no longer than a few minutes. Here, we'll provide a step-by-step guide on installing its Windows client and encrypting your internet traffic.
Step 1: Download the NordVPN Client
Head to the official NordVPN website and pick a plan that suits your needs. You'll then need to create a NordVPN account and download the Windows client to use its services. The installation will take less than one minute, and its completion takes us to the next step.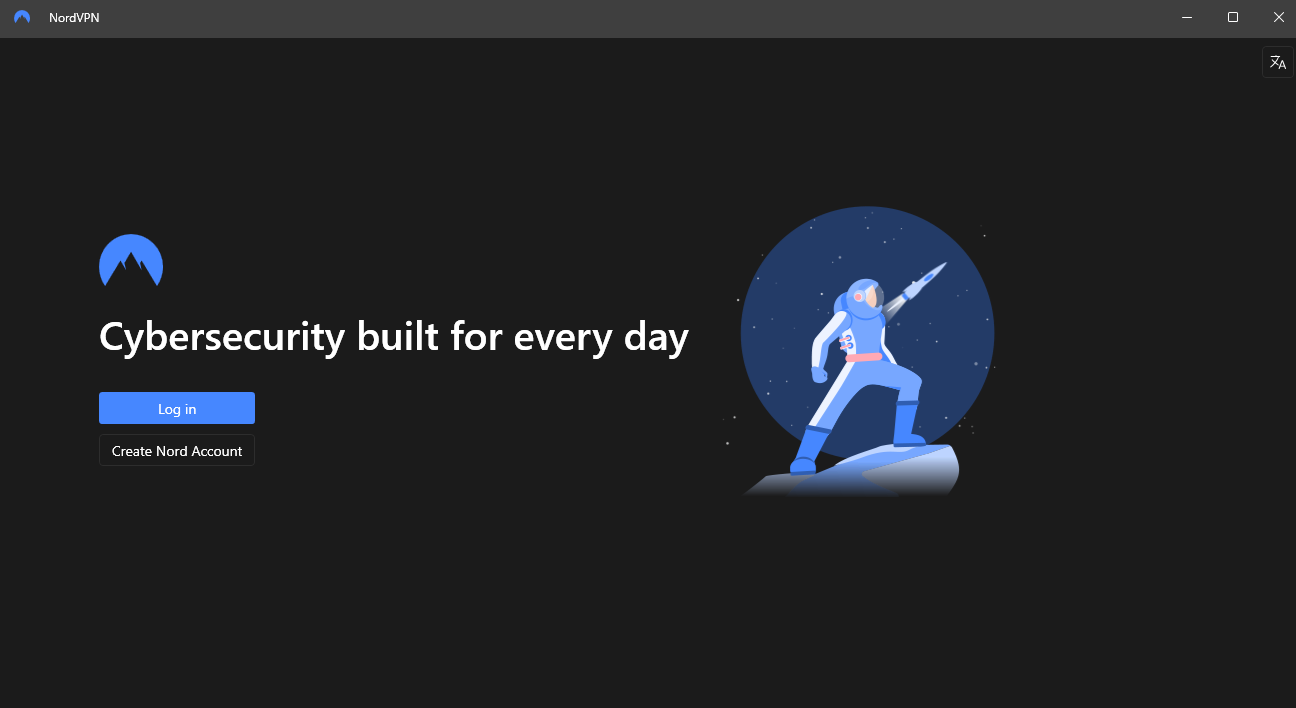 Step 2: Log Into Your Account
Clicking on "Log In" takes you to Nord Account, a unified Nord website that lets you log into its VPN and other services. Use the credentials of your NordVPN account to log in, and allow it to interact with the NordVPN app you've installed on your PC.
Step 3: Secure Your Internet Connection
Now that you've logged into your NordVPN account, you can connect to a VPN server and encrypt your traffic. You can simply click "Quick Connect" to let NordVPN find a suitable server or find one by scrolling through the locations or navigating the map view.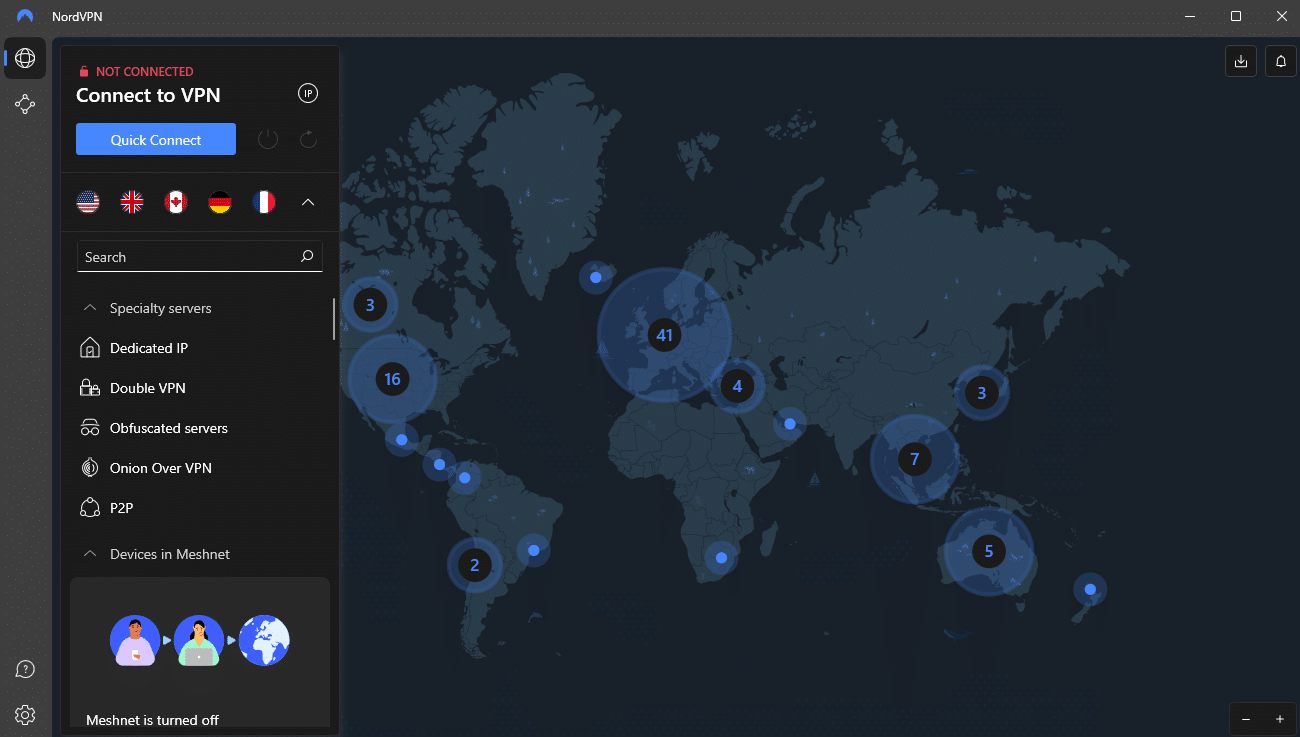 How We Tested NordVPN
To provide you with an in-depth NordVPN review, we've thoroughly tested its performance and security features to ensure it meets the expectations of privacy-conscious users.
That included connecting to numerous servers around the globe to download or watch content online, executing malware-blocking tests, and stress-testing its Kill Switch and other features.
To supplement our hands-on experience, we've also browsed through dozens of third-party user reviews. These reviews provide insights into the experiences of long-term NordVPN users and allow us to test the most and least likable aspects of its services.
In addition, NordVPN isn't the first VPN provider we've tested, as we've had experience with dozens of its competitors, including Surfshark, ExpressVPN, PureVPN, and others.
The hands-on testing of various VPN products in the past allows us to create meaningful comparisons between these products and highlight the crucial benefits of each to help you make an informed decision.
Our Other VPN Guides
Similar to NordVPN, its competition is continuously releasing new features, providing competitive prices, and delivering excellent service. Visit our other VPN guides for more information on which providers offer the best services for different needs.
Concluding Our NordVPN Review: Is NordVPN Worth it in 2023?
NordVPN is a service that delivers a consistent, well-rounded service, and its exceptional performance makes it appear in most of our VPN ranking lists. After our hands-on experience with its apps, we're confident it's one of the best VPN tools available today.
Thanks to its massive server fleet of more than 5,800 servers across 60+ countries, NordVPN will help you encrypt your internet traffic wherever you are.
Although it isn't the cheapest VPN you can find, nor the fastest, it delivers stable connection speeds that allow for buffer-free streaming and lag-free gaming, outperforming most of its competition.
In addition, it offers numerous unique features that make it stand out from the other providers. From Threat Protection to Meshnet and its proprietary protocol, NordLynx, NordVPN will keep your online accounts and physical devices safe from external threats.
While NordVPN doesn't offer a free plan that would allow you to test its services free of charge, it has a lengthy 30-day money-back guarantee. That means you can pick one of its plans, create an account, and connect to one of its secure servers risk-free today.
NordVPN FAQs
How much does NordVPN cost?
Can I use NordVPN while traveling abroad?
Which devices does NordVPN support?
What is the disadvantage of NordVPN?
What security tools do you get with NordVPN?
Is NordVPN good value for money?
Does NordVPN have a free trial?
References