In this Norton VPN review, we'll explore the features and performance of Norton's virtual private network service. Norton Secure VPN is the latest offering from Gen Digital, a well-known cybersecurity company formerly known as Symantec. With a focus on online privacy and security, Norton VPN aims to protect your internet connections and safeguard your sensitive data.
Our Norton Secure VPN review will show you how Norton VPN shields you from potential cyber threats while browsing the web by encrypting online traffic, concealing your IP address, and enhancing anonymity. We'll delve into the core features, user experience, and overall effectiveness of Norton VPN to help you determine if it's the right choice for your online protection needs.
How Does Norton VPN Work?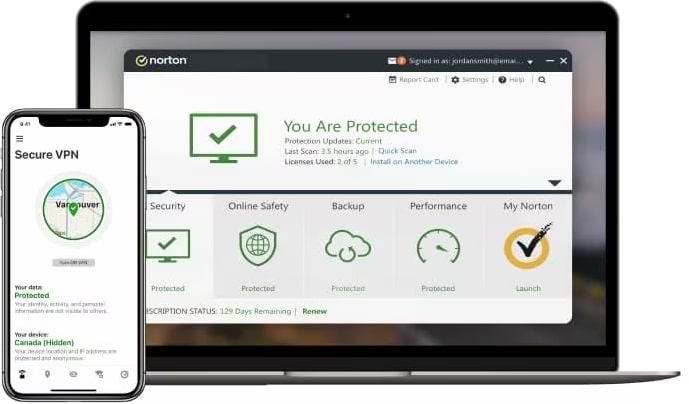 Norton VPN keeps your internet traffic private. When you activate it on your device, it establishes an encrypted connection to Norton's VPN servers using a VPN protocol. These encryption protocols work to protect your internet traffic from potential eavesdropping by hackers or your ISP. As such, any sensitive information you send through Norton VPN, like passwords, financial details, or personal messages, remains secure.
When your data reaches the VPN server, it's decrypted and then sent to its final destination on the internet. This process also works in reverse when data is received from the internet – it's first sent to the VPN server, encrypted, and then sent through the secure tunnel to your device.
When using Norton VPN, you protect your real IP address from the websites and services you access, as they only see the IP address of the Norton VPN server to which you're connected. These servers are strategically located in various regions across the globe, letting you choose where you want to appear that you're connecting from. Obfuscating your IP address like this helps protect your identity and makes it more challenging for advertisers to track your online activities and location.
What Are the Pros and Cons of Norton VPN?
We've put NortonVPN through its paces and found lots to like, as well as a few areas where the VPN could be a little better. Here's a recap:
Pros
Strong Security Features: Norton VPN employs robust encryption protocols, kill switches, and split tunneling, ensuring that your internet traffic is protected and secure from potential eavesdropping or hacking attempts.
User-Friendly Interface: The UI is designed to be straightforward and easy to navigate, making it accessible even to users with limited technical expertise.
Support for Multiple Devices: Norton VPN is compatible with various platforms and devices, including Windows, macOS, Android, and iOS, allowing users to protect multiple devices across different platforms with a single subscription.
No-Log Policy: Norton has a no-log policy, which means they don't log or store users' online activities, providing an additional layer of privacy.
Cons
Core Features Only: Compared to some other VPN providers, Norton VPN has fewer advanced features and configuration options, which might be a drawback if you have a specific use case in mind.
Limited P2P Support: Norton VPN restricts P2P file sharing and torrenting to selecting regions instead of locations, which may be a disadvantage for those who need to use P2P services while connecting from a specific country.
How Much is Norton VPN?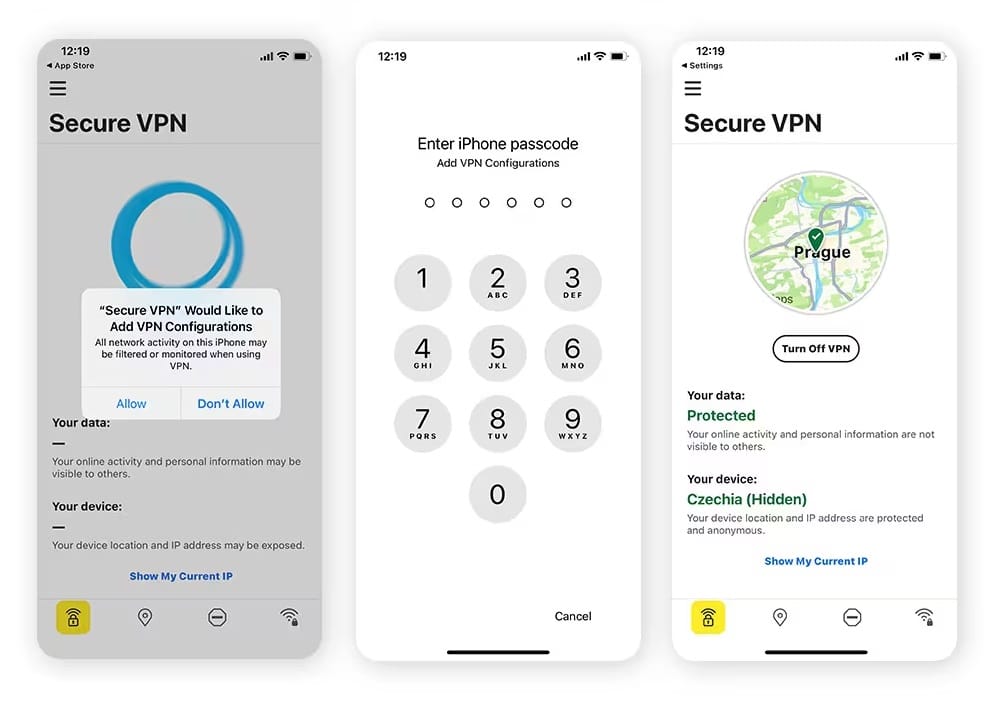 The Norton VPN service offers flexible subscription plans with monthly and annual renewals, depending on how many devices you want to cover. Monthly plans start at:
$4.99 for one device
$7.99 for five devices
$9.99 for 10 devices
For those considering longer-term commitments, annual plans are available starting at:
$24.99 for one device
$39.99 for five devices
$59.99 for ten devices
It's worth noting that annual plan pricing changes after the first year, with renewal prices set at $49.99 for one device per year, $79.99 per year for five devices, and $99.99 per year for 10 devices.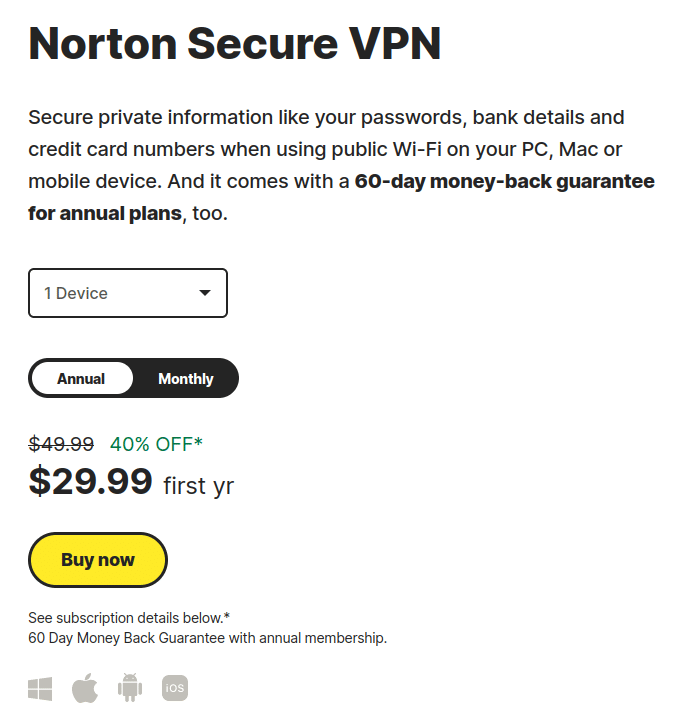 The Norton VPN cost is comparable to other top-tier VPNs, which offer similar features, but it's cheaper once you start bundling it with other Norton features or the whole Norton LifeLock suite. Is LifeLock worth it? Well, it depends.
You can sign up for a basic plan at only $7.50 a month, which provides a comprehensive set of identity theft alerts, whereas letting identity theft go unchecked can potentially cost you your savings, reputation, and digital identity.
Norton accepts major credit cards, Google Pay, and PayPal for payment. Interestingly, Norton Secure VPN subscriptions can also be purchased in brick-and-mortar locations such as BestBuy, where payments can be made in cash. However, it doesn't support cryptocurrencies like some other top VPN services.
Is Norton VPN Free?
There is no free Norton VPN available on their site. Norton VPN is a subscription-based service that offers several different pricing plans, including package deals that bundle NortonVPN with other Norton products. These bundles include a 7-day free trial, so you can test out NortonVPN before you commit to a full subscription.
However, you need to sign up and create a Norton account before you can test the VPN out. There's also a 60-day money-back guarantee, which means you'll be able to get a refund any time during the first 60 days of your subscription, no questions asked. Norton is pretty good about getting refunds to their customers.
What is Norton VPN Used For?
Besides spoofing your IP address, Norton VPN can be used for various other things. Here's a breakdown of other Norton VPN uses so you know what you'll be paying for.
Unblocking Streaming Services
NortonVPN allows you to access geographically restricted content, such as Netflix US and BBC iPlayer, from anywhere in the world. All you have to do is change your virtual location by picking one of the many different VPN servers available, and NortonVPN takes care of the rest.
The streaming service you connect to only sees the IP of the VPN server, not your home IP, which circumnavigates any regional blocks you might encounter.
This capability is particularly useful for accessing geo-blocked streaming services when you're trying to watch your favorite shows while on holiday. It's also great for expanding your selection of streaming services to access content that might not be available in your specific region.
Safer Internet Browsing
Norton VPN also ensures that you'll be safe when browsing the internet. When you connect to the internet through the VPN, you're protected from ads and malware. Not only is your traffic disguised from the outside, but Norton VPN also blocks connections from the ad and malware networks to the VPN servers, stopping them from ever appearing on your computer.
This reduces the number of potential avenues that hackers have toward your computer, ultimately protecting you from fraud and data theft. It also frees up resources on your computer that might otherwise be taken up by running an ad-blocker on your browser.
Online Anonymity
Norton VPN enhances your online anonymity by masking your real IP address and replacing it with the IP address of the VPN server you connect to. This makes it challenging for websites, advertisers, and other entities to track your internet activities and location. This is especially true if you regularly rotate the location you're connecting it from, making it harder to profile you.
In an era where personal data is highly sought after by advertisers, maintaining your online privacy is more crucial now than it ever has been before. Using Norton VPN as part of a comprehensive privacy strategy that includes anonymous browsing sessions, ad-blockers, and antivirus software helps protect your identity online and browsing history from being logged or traced.
Secure Public WiFi Usage
Norton VPN brings added assurance when you're taking your laptops and phones out into the world. While your data plan is secure, Public WiFi networks can expose your data without you realizing it.
Common public WiFi security issues include the fact that other users on the public WiFi can see when you browse unencrypted websites using specialized monitoring equipment, and if you connect to a hacked WiFi access point, then even your encrypted connections might not be safe.
Norton VPN solves this issue by encrypting your internet traffic from the moment it leaves your computer, making it safe to use public WiFi without compromising your data security. This way, you don't have to rely solely on the SSL encryption your banking website or mail provider uses to keep your data safe.
Exploring NortonVPN's Features
Despite not having as many features as some rivals, Norton VPN does boast some necessities many casual users would be after. Here's a rundown of the key capabilities you'll find with NortonVPN.
Split Tunneling
NortonVPN offers a Split Tunneling feature on Windows and Android. It allows you to select which internet traffic goes through the VPN tunnel and which traffic bypasses the VPN and uses your regular internet connection.
It's very useful if you want to access services that require your local connection while still encrypting other sensitive data. For example, you might want to connect to your mail on a VPN connection while using your local connection to log into a work-related web portal.
Conversely, Split Tunneling also lets you manage your internet bandwidth, striking a balance between location and performance. You might want to stream from a foreign location, such as Amazon Prime in the US, while using your local connection for gaming, ensuring you'll have a speedy connection with minimal latency. The key thing that Split Tunneling offers is flexibility in how you use your VPN. We found it worked well through NortonVPN, but it's unfortunate that it's only offered on Windows and Android.
Kill Switch
A Kill Switch is a crucial safeguard for any modern VPN that helps you protect against data leaks, and NortonVPN's implementation of it is secure. It prevents data leaks by cutting off your internet connection if you lose connection to the VPN for any reason. This way, your sensitive information remains protected instead of being exposed to an insecure connection.
This added layer of security is especially crucial when using public WiFi. While the Kill Switch is essential for maintaining privacy, it might temporarily interrupt your internet connection if the VPN experiences connectivity issues. However, this brief inconvenience outweighs the risk of potential data exposure from defaulting back to your normal, unencrypted internet connection.
No-Log Policy
Norton VPN follows a strict no-log policy, which means that they do not collect or store any records of your online activities. This policy ensures that your browsing habits, connection times, IP addresses, or any other data related to your VPN usage aren't retained.
As you use the VPN service, Norton doesn't store any information about your internet sessions, which enhances your privacy and minimizes the risk of your data falling into the wrong hands. This way, you can browse with peace of mind knowing that your online activities aren't being recorded or monitored.
WiFi Security
Norton VPN employs WiFi Security, a cutting-edge security measure designed to protect you from potential threats while using public WiFi networks. It's clear that for Norton Wifi, privacy is a top priority. When you connect to a public WiFi access point, this feature actively scans the network for any signs of a man-in-the-middle attack, a common eavesdropping technique employed by cybercriminals.
MITM attacks allow hackers to intercept and read sensitive data transmitted between your device and online services, compromising your privacy and potentially leading to identity theft or financial fraud. This feature detects WiFi snooping on public networks and automatically connects you to a VPN if it detects interference, ensuring that you're protected from potential dangers when connecting to a public network.
By receiving real-time warnings about compromised networks, you can make informed decisions and take necessary precautions to safeguard your sensitive information. Norton VPN's encrypted VPN connections allow you to browse the web securely and privately, even on potentially risky public Wi-Fi networks.
Is Norton VPN Safe?
NortonVPN is generally considered a safe and reliable VPN service. For a start, it's provided by Norton, which is a well-known cybersecurity company with decades of experience providing anti-virus tools and privacy-preserving programs to millions of customers. The program itself uses AES-256 encryption to keep your data secure, which is trusted by every major internet institution. Even if your data is captured in transit, it cannot be cracked open.
Safety Features
The VPN itself offers essential security features like a Kill Switch, which greatly improves your security and ensures data protection even if the VPN connection drops unexpectedly. We tested out the Kill Switch under a variety of disconnection scenarios using packet analysis to identify data leaks on both Android and Windows. In all cases, the Kill Switch didn't default back to an unencrypted connection, meaning that there were no data leaks whatsoever.
Leaks
We also tested NortonVPN for IPv4, IPv6, and DNS leaks. This is an essential part of ensuring VPNs are safe and secure, and we're glad to report that NortonVPN passed all of our leak tests, with the exception of IPv6. Typically, only the very top-end VPNs protect against IPv6 leaks, and you can protect yourself by disabling IPv6 on your device.
Audits
There are a few small issues around NortonVPN. It's important to note that Norton Secure VPN does not undergo public, third-party audits, which may raise some concerns regarding its privacy practices. However, it's important to remember that Norton is a world-leading brand with decades of experience in the industry. While it would be nice to see a third-party audit, Norton is far more trustworthy than some unknown overnight VPN brand.
Other Features
Some VPN providers also offer a more comprehensive set of privacy tools, such as multi-hop connections and fully supported access to the Tor network. While you can access the Tor network from Norton VPN, we found that, in practice, the speeds and connectivity made it nearly unusable. Furthermore, while NortonVPN's core VPN tools work very well, you may need to pick another provider if you need specialized privacy tools such as Shadowsocks.
Privacy Policy
You should carefully review Norton Secure VPN's privacy policy. It states that while it doesn't collect user-specific information, it does collect anonymized IP addresses and device data. This isn't really an issue unless you're extremely paranoid about your browsing, but considering that Norton is located in the US, you may want to choose a VPN more heavily focused on privacy instead.
What Devices Can I Use Norton Secure VPN On?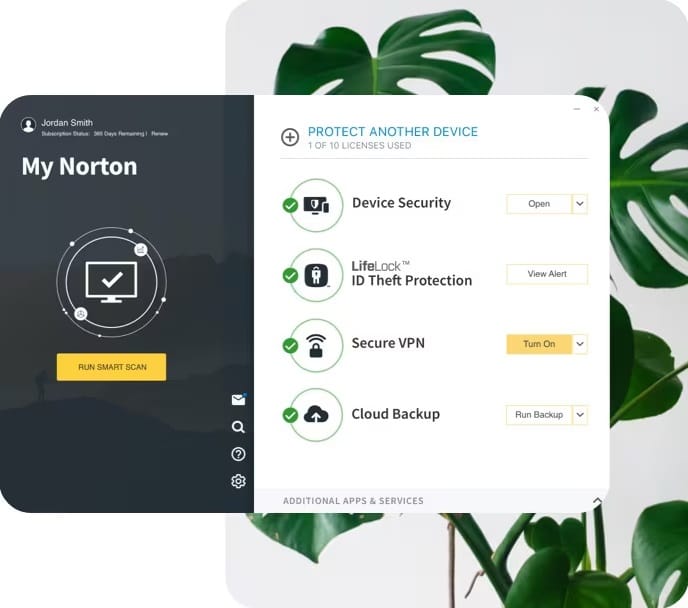 Norton VPN is available across a wide range of devices and operating systems. Here's everything you need to know:
Windows
Norton VPN is compatible with Windows devices from Windows 7 SP1 upwards. The only exception is 10 and 11 running in S Mode, which is a locked-down version that only allows apps to be downloaded and run from the Windows App Store.
The actual Windows app works well. We found the installation process took moments and didn't require any advanced knowledge to set up. Once you're in, all it takes is clicking the "Connect" button to get started with a VPN server that has the best connection for you.
There's a location bar right on the front page with a dropdown box, so you're easily able to change your connection location on the fly. The settings section is also easy to navigate and provides some explanation text about each option, making it clear what you're changing and how it affects your browsing experience.
The Windows app only supports one type of VPN protocol, which is OpenVPN. It's regarded as highly secure and used industry-wide to keep enterprise-level connections safe, which is a plus in our book. It's unfortunate that Norton VPN doesn't support WireGuard yet, which is a faster and more modern protocol, but the important thing is that the protocol Norton VPN on Windows does support is essentially bulletproof. Some other VPN protocols are known to be insecure.
Mac
Norton VPN is also available for macOS devices. Norton is less clear about which versions of macOS are supported, simply stating that it supports the "current version" and the "previous two versions" of macOS. That said, the app works as well as it does on Windows. However, there's one key exception: A lack of split tunneling.
When you're running Norton VPN on your Mac, it's all or nothing. This is typical of most VPN apps running on macOS as the operating system doesn't have a built-in interface for split tunneling, so it's not surprising that Norton VPN doesn't offer it either.
Other than that, you'll see the same well-designed minimalist layout you get on Windows, and the rest of the features you'll need to keep safe are here (including that all-important kill switch). We found no notable differences between Mac and Windows in terms of bandwidth, experience, or security, which means that you can browse from your Mac and remain confident you're browsing securely.
The only difference you might notice is that the macOS version uses IKEv2/IPSEC to encrypt your traffic instead of OpenVPN, but this isn't really an issue. IKEv2 is just as secure as OpenVPN and, in some cases, may actually connect you to your VPN faster.
Android
Norton VPN supports Android smartphones and tablets running Android 8.0 or later, allowing you to secure all your Android devices no matter what hardware they're running on. Like the Windows version, Android uses OpenVPN to secure your browsing data and offers an additional split tunneling feature that leverages the capability built into the OS.
Something that the Android version has over the desktop versions is WiFi Scanning, a feature that constantly monitors whichever WiFi access point you're connecting to. If it detects a potential man-in-the-middle attack or another snooping technique, Norton VPN will warn you that the access point is potentially unsafe.
Other than that, you can expect the same smooth connection experience as on desktop versions with a self-evident app that allows you to install, set up, and connect within seconds. The location bar is found at the bottom of the main app, giving you a clear way to change your location as well.
Overall, it's one of the better Android apps we've seen in terms of user interface design. The only complaint we've got is that the split tunneling is sometimes inconsistent, but this is more likely a problem with the underlying Android implementation than the Norton app itself.
iOS
Norton VPN is compatible with all iOS devices, such as iPhones and iPad, from the current iOS version to two versions ago. Like the macOS version, Norton is a little vague on what version exactly is supported.
While the iOS version is missing the split tunneling feature you'll find on Windows and Android, it includes the WiFi Scanning feature from Android and does malware and ad-blocking on the connection level. Unfortunately, there's no kill switch either, making this the least featured offering from Norton VPN.
The core app functions still work perfectly though, ensuring fast connections through IKEv2/IPSEC, which got us up and running in seconds. Like all other versions of Norton VPN, the user interface itself is clear and easy to use. The lack of features compared to other distributions is a pity, but it's not a deal-breaker. That said, if you need a fully featured iPhone VPN, it might be worth checking out our list of the best iPhone VPNs instead.
Linux
One notable exception to our list is Linux. There's currently no support for Linux apps, not even a command-line interface that you can set up yourself. This is because Norton VPN doesn't distribute its OpenVPN config files, meaning that until Norton builds a graphical user interface client for Linux, there's absolutely no way you can connect on a Linux-based device.
This is true for routers and other OpenVPN-based devices which rely on config files too. While Norton VPN works well on all other OSes we've mentioned here, we have to recommend a competitor instead if you're looking for one of the best Linux VPN apps.
Norton VPN vs. Other Top VPN Services
You've now got a good idea of how Norton VPN works, but how does it hold up against other top-tier VPN providers? We've put together a short list that'll break down the most important aspects of each VPN provider for you, so you can choose the one best suited to your needs:
| | | | | | |
| --- | --- | --- | --- | --- | --- |
| Top VPN Apps | Average Speeds | Cheapest Plan | Simultaneous Connections | Server Count | Server Locations |
| NortonVPN | 90Mbps | $4.99 | 1/5/10 | 2,000+ | 30+ |
| ExpressVPN | 190Mbps | $8.32 | 8 | 3,000+ | 90+ |
| IvacyVPN | 50Mbps | $1 | 10 | 6,500+ | 100+ |
| AtlasVPN | 30Mbps | $10.99 | Unlimited | 750+ | 35+ |
| Surfshark VPN | 90Mbps | $3 | Unlimited | 3,200+ | 100+ |
Although it's not the fastest VPN service, Norton VPN stands among the leading VPNs with a competitive offering considering the price point. This bolsters its popularity for those after a security solution.
Norton VPN Server Locations
Norton VPN operates servers in various locations across the globe, which you can connect to from the Norton VPN app. Having a broad network of servers is usually better for a VPN, as it allows you to choose the best server for improved connection speeds and access to region-specific content.
A wider server pool also enhances your anonymity as you'll have more locations to appear from, making it harder to track you. Norton offers some of the most important locations you'll need to connect to while using a VPN, but that's about it.
This is an area where Norton could improve if you need access to a comprehensive list of locations, as Norton only offers about 30 locations. The exact locations of Norton VPN servers may change over time, but as of this review, we found that the below are the most important server locations that Norton VPN offers:
Norton VPN Servers
United States
United Kingdom
Canada
Australia
Germany
France
Netherlands
Singapore
Japan
Hong Kong
Compared to some other VPNs, Norton Secure VPN's server network is on the middling side. It's also not possible to pick a specific state when connecting to the US, whereas other top-tier VPNs allow you to pick from the full list most of the time.
Instead, when you connect to the US, you'll be assigned a server in one of four different states. This isn't ideal if you're trying to connect to a specific state to access gambling sites, sports games, or other blackout sites. Norton VPN also doesn't offer connections to China, as it's very difficult to consistently offer VPN connections that can beat the great firewall of China.
Often, VPN providers with China servers will also offer Shadowsocks as a VPN protocol, as this allows you to disguise your VPN traffic as normal browsing traffic that won't flag the deep packet inspection services China uses to detect VPN software.
Is Norton VPN Good? A Look at Norton VPN Reviews
There's no better way to give a good overview of a product than to take a deep dive into what users have to say. Here's our review and a rundown on other user reviews to give you a good idea of what the overall consensus is about Norton VPN.
Speed
Norton VPN is a fairly speedy VPN. We put it through several speed tests to see what sort of download speed Norton VPN offers and found that the UK servers capped out at 91.34Mbps download and 39.72Mbps upload on our 120Mbps connection. This is pretty good.
Streaming was never an issue on Norton VPN when it came to speed or connection quality, as even while streaming 4K content from Netflix US on multiple devices, we didn't encounter buffering or connection drops. This was also the case while gaming, which felt like we were using a home connection most of the time.
Unblocking
Norton VPN doesn't prioritize unblocking streaming content, but it does unblock Netflix US and BBC iPlayer. Compared to a streaming VPN, Norton performs slightly worse as we weren't able to unblock Netflix UK, Australia, or Japan. However, most non-regional streaming services, such as HBO and Amazon Prime, worked.
This will likely change as streaming services constantly update their ban lists, so while Norton VPN works well for some streaming needs, you may want to also check out our list of streaming VPNs if it stops working in the future.
Reviews
Norton VPN is a powerful VPN when used as part of Norton's full security suite, which includes an anti-virus program, dark web monitoring, and more. With Norton, security is paramount. While some other VPNs might have more specialized features for specific use cases, Norton VPN is easy to set up and integrate into a full suite of security products such as Norton safe search.
Don't just take our word for it, though. We looked through a bunch of Norton reviews to get an idea of how Norton VPN slots into a wider security focus.



Overall, Norton VPN reviews are positive. It does what it says it does to a high degree. Once you're sure Norton VPN is the solution for you, it's easy to get started. We've got a quick guide below that'll walk you through the most important steps.
How to Use Norton VPN – A Quick Guide
Using Norton VPN is a straightforward process, whether you're setting it up on Windows or Android devices. Here's a step-by-step guide on how to use Norton VPN from scratch:
Step 1: Subscribe and Install
If you haven't already subscribed to Norton VPN, visit the official Norton website and choose a suitable subscription plan. Once subscribed, start the Norton VPN download from the Norton website.
On the Norton site, you'll find it by going to "My Norton", then "Secure VPN". Now hit the download button, and install the app on your device and launch it.
Step 2: Sign in to Your Norton Account
After launching the Norton VPN app, sign in using your Norton account credentials that you used to sign up.
Step 3: Activate the VPN Service
On the "My Norton" page, go to "Secure VPN" and click Turn On. Once signed in, you'll see a main screen with a "Connect" slider. Slide this to "ON" to activate the VPN service.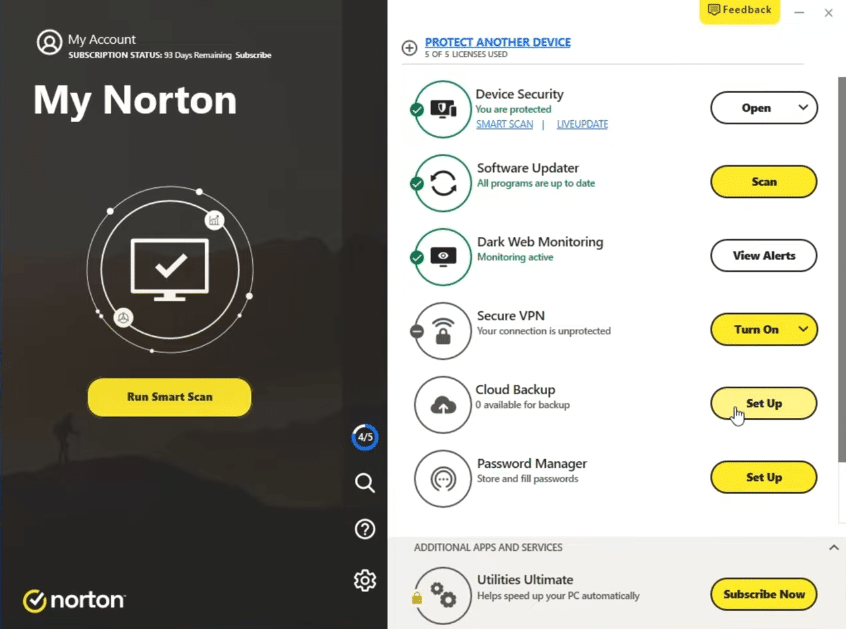 Step 4: Choose a Server Location
Norton VPN will automatically connect you to the best available server based on your location. If you want to connect to a specific location, click on the "Choose Location" dropdown box and choose the location you prefer.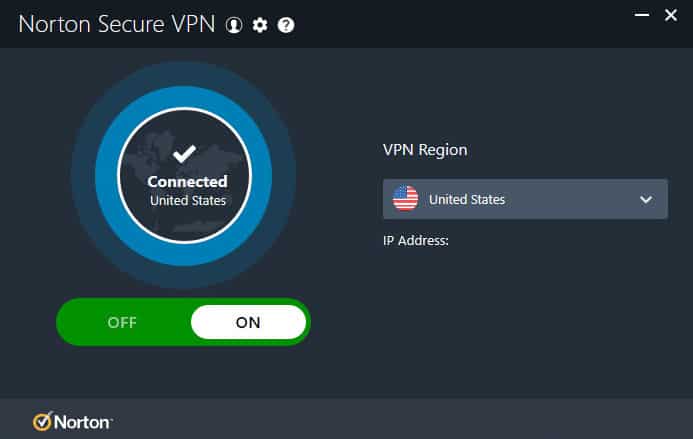 Step 5: Connected!
Once you've chosen a server location, the Norton VPN app will establish a secure connection, and you'll see a message confirming that you're connected. If you want to use P2P services, you'll need to make sure you picked a P2P-friendly region in the previous step.
Step 6: Change Settings
The Norton VPN app offers additional settings and features. To access these options, hit the gear icon at the top of the page to check out the features Norton VPN offers. This will allow you to set up ad blocking, split tunneling, the kill switch, and more.
The setup process for Norton VPN on other platforms (such as macOS, iOS, and Android devices) is very similar. You'll follow similar steps to download the app, sign in to your Norton account, activate the VPN service, and connect to a server location.
The only key difference will be downloading the app from the Google Play Store or iOS Store on Android and iOS, respectively, but this shouldn't prove too much trouble. If you need additional support, Norton provides in-depth tutorials and support resources on their website for each supported platform, ensuring a smooth and hassle-free setup process.
With Norton VPN activated, you can enjoy the reassurance a secure VPN app offers with an encrypted internet connection, protecting your online privacy and data.
How We Tested Norton VPN
When we review software products, we set out to provide a comprehensive, unbiased overview of their features and functionality. Looking at Norton VPN, we've explored its core function of delivering a secure, anonymous connection, as well as the speed, performance, and stability of its service, the extent of its network, and the additional security features that the service offers.
In addition to that, we've taken into account the product's pricing, its place in the market, and the trials, guarantees, and support on offer from Norton, so you can get a feeling for what the product's user experience is really like.
Our team includes expert security and privacy researchers, and we've covered innumerable VPN, antivirus, and cybersecurity products, so we can provide informed comparisons between products and can comment on what really constitutes exceptional performance.
It's also very important to us that we build in real user feedback, so we carry out research on forums and social media to get information on how real-world customers have found the product, as well as to note the issues they faced.
We then bring all this information together and present it in a digestible format to give you everything you need to evaluate the product's performance and its suitability for your personal requirements.
Guides and Resources on the Top VPNs
One of the biggest challenges when choosing a software solution is the sheer range of options available. To make it easier to select the right product for you, we've reviewed VPNs for an extremely wide range of use cases, including:
Conclusion – Is Norton VPN Any Good in 2023?
Norton Secure VPN is a strong contender in the VPN market, backed by the reputable Norton name. Its affordable and flexible pricing plans, along with a refreshed client software design, make it an attractive option for users looking to secure their online activities.
The addition of features like split tunneling, ad-tracker blocking, and compromised network detection on mobile devices enhances its overall value. Moreover, the recent lifting of restrictions on BitTorrent and P2P traffic further boosts its appeal as a versatile VPN solution.
While Norton Secure VPN may not offer some obscure VPN features and has a limited number of server locations, its solid security pedigree and competitive pricing make it worth considering. Norton Secure VPN's improvements and feature additions have positioned it as a strong competitor in the VPN space, making it a viable choice for those seeking a reliable and budget-friendly VPN service.
Norton VPN Review FAQs
Is Norton VPN as good as ExpressVPN?
Does Norton VPN hide my IP address?
What is the downside to Norton VPN?
Does Norton VPN track my internet?
Does Norton VPN work with Netflix?
What is the difference between Norton 360 and Norton Secure VPN?
References