In this Private Internet Access VPN review, we're going to be going over the features and performance of one of the leading VPN services available. It's regularly lauded as one of the best VPNs out there, but does it really live up to its reputation?
From its extensive server network to its strong encryption protocols, Private Internet Access VPN aims to provide a seamless and secure browsing experience for users.
In our Private Internet Access review, we'll be checking each feature as well as how the servers hold up in terms of speeds, uptime, connectivity, and locations.
Stay with us, and we'll find out if Private Internet Access VPN continues to be a top contender in the VPN market.
Table of Contents
Table of Contents
What is Private Internet Access VPN?
Private Internet Access VPN is a feature-rich
virtual private network
service that prioritizes user privacy by providing online security features.
Private Internet Access works by building an encrypted tunnel from your computer to one of their servers, which acts as a new endpoint for the rest of the Internet.
From the perspective of every server you connect to from then on, you're now connecting from the location you've set up in your VPN menu with its own IP, not your home connection.
With a strong emphasis on data encryption and protection that's been audited by third parties, Private Internet Access VPN allows you to browse the internet anonymously and securely.
While you're connected to Private Internet Access, your online activities are shielded from potential threats such as hackers on public WiFi or your ISP trying to spy on your browsing data.
The Private Internet Access VPN app also offers a comprehensive suite of features in a single user-friendly interface. Their high-speed servers guarantee you'll barely even notice you're connected to a VPN.
With a worldwide server network, you'll be able to connect from practically anywhere on the planet to unblock geo-restricted content, such as Netflix.
Whether accessing the internet from a desktop, laptop, or mobile device, Private Internet Access VPN aims to provide a secure and private online environment for you to browse, stream, and communicate without compromising your data privacy.
Private Internet Access VPN Pros and Cons
Private Internet Access is a pretty big program, but if you haven't got the time to read our full Private Internet Access VPN review, we've summed up the important points for you below:
Pros
Comprehensive security measures
You can choose your encryption type
Minimal lag
Great torrenting support
Extensive global server network
Wide device support
Cons
Lack of extra bundled features
Concerns over who owns the company
Private Internet Access VPN does practically everything that a top-tier VPN should, and looking back at its update history, it's clear that whenever the app has fallen behind the rest of the market, they've scrambled to catch up.
However, there are still a few things that other VPNs do slightly better. ExpressVPN does a slightly better job of providing a streaming VPN with better speeds and more locations to choose from.
Surfshark and NordVPN both offer fully integrated privacy solutions that include a password manager, identity protection tools, and cloud hosting. While PIA is starting to catch up, it's still clear they have a lot of ground to cover to keep up with these VPNs.
How Much Does Private Internet Access VPN Cost?
There's one main Private Internet Access VPN payment plan which comes in a few different timescales, depending on how long you want to use PIA. There are also a few added bonuses when you buy a plan that we'll discuss below.
Private Internet Access offers a 30-day money-back guarantee on all plans, allowing users to experience the service risk-free for the first 30 days.
Additionally, the mobile apps for iOS and Android provide a 7-day free trial, enabling users to test the service before committing. If you decide to cancel your subscription, you can easily do so within 30 days of the original purchase and receive a full refund.
The multi-year subscription plan comes with four extra months for free, making it an extremely cost-effective option.
In addition to the savings you get when you sign up, Private Internet Access also includes a free email breach monitor and provides discounts on premium add-ons such as a dedicated IP address and antivirus software for added security.
Reviewing the Core Private Internet Access VPN Features
Private Internet Access has all of the features you'd expect from a VPN. We go over each feature, how it works, and what that means for the user below.
VPN Encryption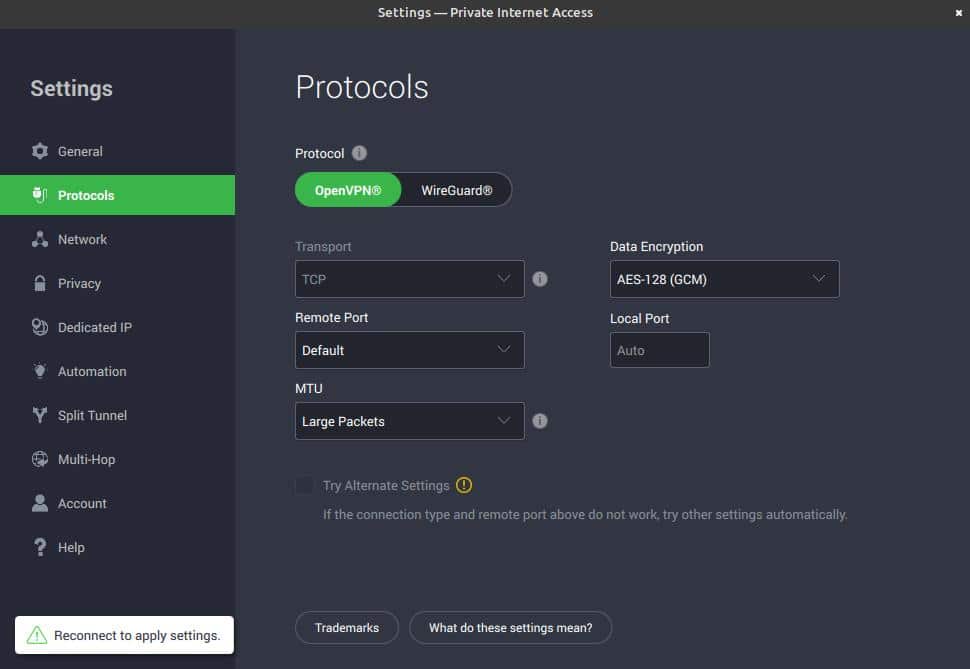 Private Internet Access VPN uses powerful encryption protocols that ensure that you're safeguarding your internet activities from prying eyes.
With the utilization of military-grade 128-bit and 256-bit AES encryption, PIA provides a powerful defense against ISP snooping and hackers. It uses both the WireGuard and OpenVPN protocols to secure your data based on your preference.
If you need an extra layer of security to help beat the most advanced ISP deep packet inspection, Private Internet Access also allows you to use Shadowsocks.
This is an extra obfuscation technique that disguises your VPN traffic as normal encrypted HTTPS browsing traffic. From your ISP's perspective, it will look as though you're just connecting to a normal website to browse the internet.
This allows users in repressive countries such as Russia and Iran to continue to use a VPN even after their ISPs have begun to filter VPN traffic.
We found that the plethora of options available when setting up PIA's encryption settings is more comprehensive than most VPNs out there, which is great for power users.
However, you may experience a minor decrease in speed when opting for higher levels of encryption. It's crucial to strike a balance between security and performance when selecting encryption options, and having access to all of these different options may be overwhelming for new users.
Website Unblocking
The ability to bypass geographical restrictions and internet censorship is a crucial aspect of PIA's services.
By connecting to any of their numerous servers across the globe, you can access any of your favorite websites and applications without any issues. This includes geo-blocked content such as Amazon Prime, Disney+, and Netflix.
During our evaluation, we were impressed with the ease of accessing geo-restricted content. If we ever encountered a point where our current connection was geo-blocked, it was just a simple matter of choosing a different location that's allowed by our chosen streaming service.
This allows you to flip between different Netflix libraries at the press of a button.
Split Tunneling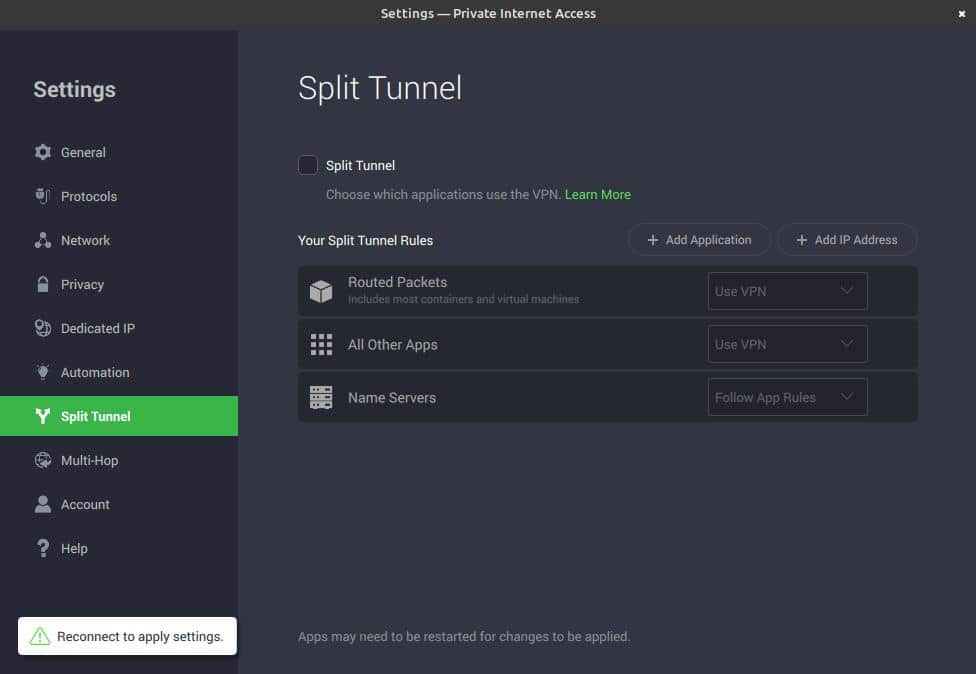 PIA's Split Tunneling feature allows you to select specific applications or websites to bypass the VPN connection, offering flexibility and convenience.
By directing traffic both through and around the VPN simultaneously, you can enjoy a seamless online experience without compromising security when it comes to applications that need protection.
We found this feature particularly useful when managing applications that don't work optimally with VPNs, such as playing multiplayer video games online.
One thing that really makes PIA stand apart from other VPNs that offer Split Tunneling is the ability to make rules that work on the packet level instead of the app level.
There's still the option to choose to put certain apps under the VPN, but now you can decide whether you want to have only a certain virtual machine run under the VPN.
You can also specify IPs to manage inside or outside the VPN and even decide which apps use PIA's DNS as compared to your local DNS. It's one of the most comprehensive Split Tunneling apps we've seen.
However, some users may find the setup process for split tunneling slightly complex, especially for those with minimal technical knowledge.
Kill Switch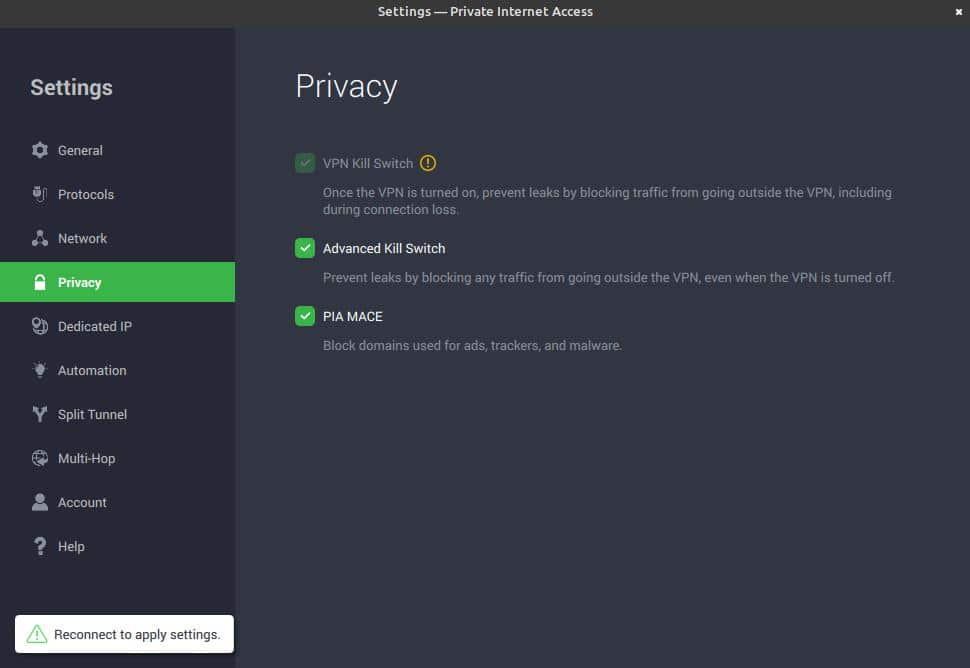 Private Internet Access VPN's Kill Switch is a vital fail-safe feature that ensures your data remains secure even during unexpected connection interruptions.
With the Kill Switch activated, all internet traffic is halted if the VPN connection drops, preventing any potential exposure of sensitive information.
In our experience, the Kill Switch functioned reliably through a barrage of disconnection tests. These tests vary from turning the internet off at the source to crashing the underlying program.
Knowing that the Kill Switch will cope with practically everything you can throw at it is a big plus in our eyes.
PIA Antivirus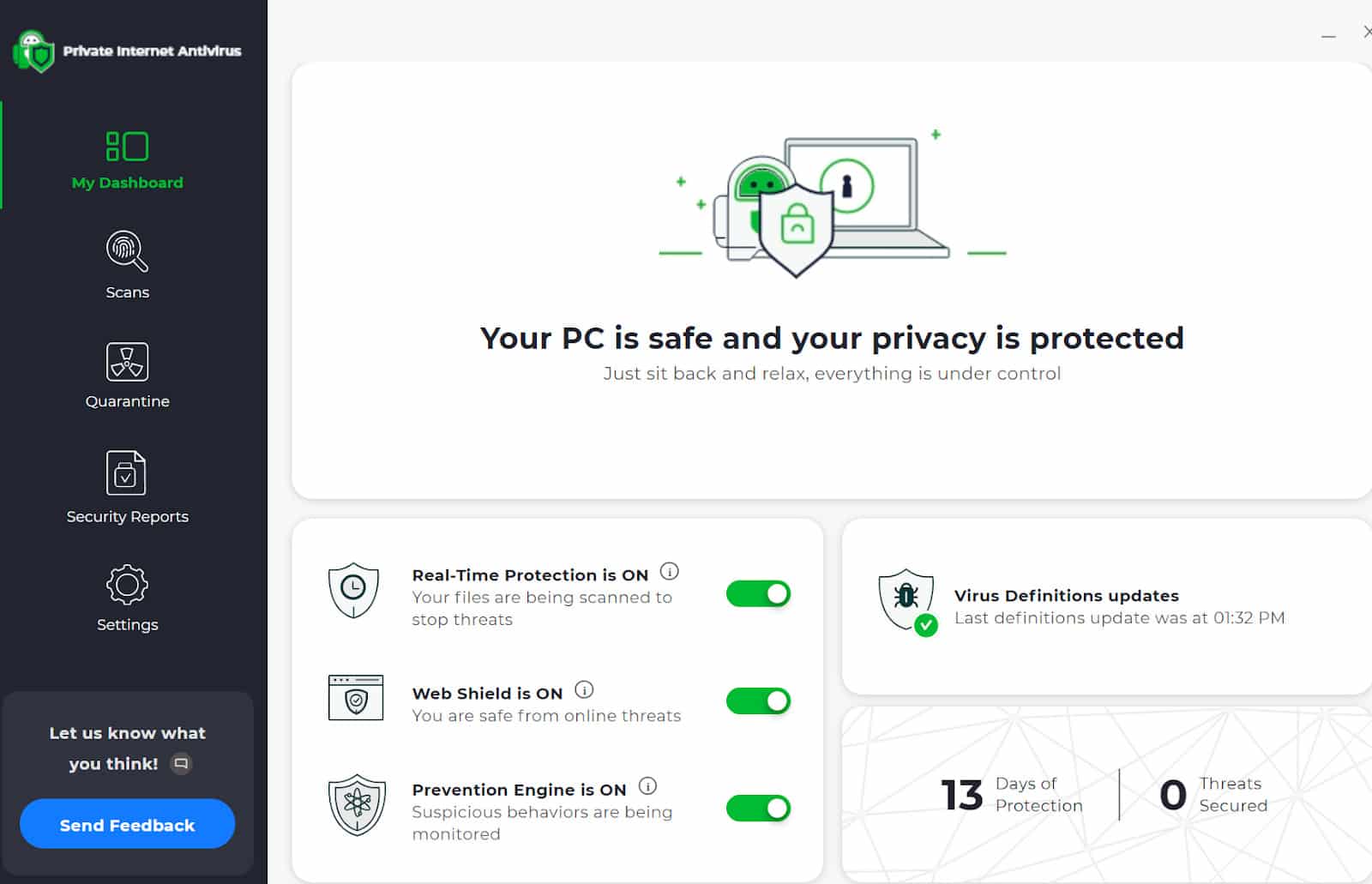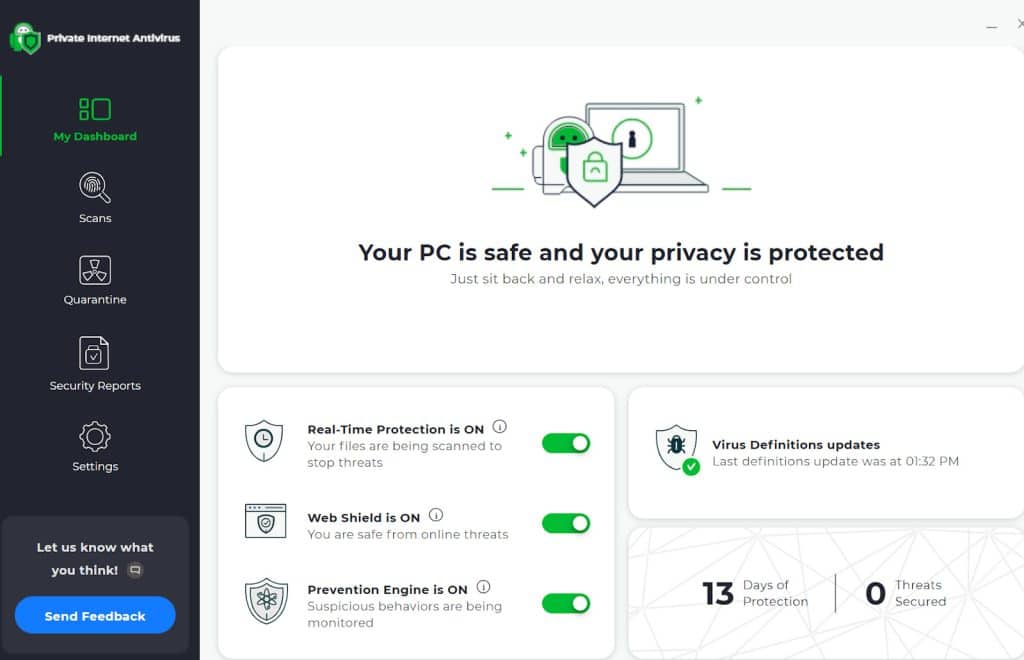 PIA Antivirus comes bundled with Private Internet Access as an optional extra. It boasts real-time protection with alert notifications, a prevention engine for Zero-Day threats, and a web shield for defense against malicious websites and downloads.
Where PIA's antivirus differs from most other AV solutions is in how it handles your data. It's completely transparent and gives you control over your data with a privacy-centric approach.
This includes detailed security reports, notifications for data privacy issues, and fully customizable communication settings with PIA's cloud-based virus definition database for enhanced privacy and security control.
It's currently available exclusively for Windows devices, which makes it a little less robust compared to other VPN services that offer AV tools across a range of devices.
Router VPN
Setting up Private Internet Access VPN on your router provides comprehensive protection for all devices connected to your network.
This feature is especially beneficial if you're looking to secure IoT devices, smart TVs, and gaming consoles that are typically incompatible with VPNs.
It's also great for when your friends come over and ask to hook up to your WiFi router. We appreciated the ease of setup and the added layer of security that router VPN integration provided.
Unfortunately, it only works with routers that are compatible with OpenVPN, so you'll need to make sure this is the case before purchasing PIA if you want to use it on your router.
Is Private Internet Access VPN Safe?
Private Internet Access VPN is a popular choice if you're looking for a secure and private online browsing experience. With that said, how does it actually protect your data?
Let's delve deeper into its safety features to understand how it safeguards user information and privacy.
Encryption Standards
PIA implements top-tier encryption standards, utilizing military-grade 128-bit or 256-bit AES encryption protocols. This ensures that user data remains highly secure and inaccessible to any unauthorized entities.
Instead of using insecure protocols such as L2TP and PPTP, PIA only supports VPN protocols that are known to be secure. OpenVPN is used by the vast majority of the VPN industry to protect both domestic and enterprise internet connections.
It's open source and has been continually audited for potential security flaws. PIA also supports WireGuard, a new protocol designed to replace some of OpenVPN's functionality in a significantly more lightweight and less resource-intensive package.
However, WireGuard requires more work on the server level to make it VPN-friendly. Most implementations of WireGuard expose the connecting user's IP inside the VPN server, but we're confident, given PIA's multiple audits by Deloitte, that they've solved the NAT issues associated with WireGuard.
Logging Policy
Private Internet Access VPN has established itself as a secure and privacy-focused service, primarily due to its stringent no-logs policy. The VPN ensures that no user activity or connection logs are retained, guaranteeing complete privacy and anonymity for its users.
This commitment to user privacy is reinforced by the fact that PIA has faced legal scrutiny in the form of court orders, warrants, and subpoenas, yet has never had any data to provide due to its lack of logging.
More than anything else, this serves as a strong testament to the effectiveness of PIA's no-logs policy. PIA's privacy claims have undergone independent audits by Deloitte, a reputable management consulting company specializing in security audits.
Deloitte's endorsement further validates PIA's no-logging policy, which gives us a greater level of confidence in the VPN's commitment to user privacy.
DNS Protection
The VPN offers DNS leak protection to prevent any DNS queries from being exposed. This means that any DNS query is made through PIA's private servers instead of your ISP's default DNS servers.
DNS leaks are one of the primary ways ISPs can continue to spy on you after you've switched over to a VPN, so it's good to see that PIA solves this issue without any extra input needed on the user's part.
MultiHop
In addition to the normal servers PIA offers, you've also got the choice of using MultiHop servers.
The MultiHop feature allows you to route your internet traffic through multiple servers, enhancing data encryption and security by adding an additional layer of distance between your home connection and your endpoint IP.
Any hacker that manages to trace the connection from your endpoint VPN server will only be able to trace it back to a hardened MultiHop server in a country with privacy-friendly laws.
This process also makes it significantly more challenging for law enforcement to track VPN connections across several countries and jurisdictions.
RAM-Only Servers
Private Internet Access VPN goes above and beyond when it comes to implementing its no-logs measure by utilizing RAM-only servers.
Unlike traditional servers that use hard disk drives for data storage, RAM-only servers ensure that no data is permanently stored on the servers. This approach reinforces PIA's strict No Logs policy by eliminating any possibility of data retention.
By loading the operating system entirely into RAM, the server memory exclusively handles the necessary information required for the VPN service to function, and this information is only retained while the server is operational. No data is ever written to disk.
The volatile nature of the RAM-only servers ensures that any data stored is automatically erased in the event of a power interruption or any attempt to access the server without authorization.
This security measure significantly minimizes the risk of data breaches and unauthorized access, further enhancing the overall security and privacy offered by Private Internet Access VPN.
MACE (Malware, Tracker, and Ad Blocker)
Private Internet Access VPN's MACE feature serves as an effective defense mechanism against unwanted advertisements, trackers, and malware at the DNS level.
By incorporating MACE, PIA ensures that you can enjoy a more secure and streamlined browsing experience by minimizing the risks associated with malicious online content.
MACE works by returning the IP addresses of unwanted domain names as an address that is not routable on the public internet. This process significantly enhances privacy and security by preventing browsers from making requests to tracking and advertising sites.
Unlike traditional browser extensions like AdBlock and uBlock, which rely on checking each site against a list of known tracking pages, MACE operates without the need for additional browser extensions, which saves on resource usage.
Private Internet Access is constantly updating MACE to keep its list of malicious domains current, ensuring that you are consistently protected from potential threats.
Additionally, the use of MACE can reduce battery drain on mobile devices by keeping ads off the device entirely.
Automated Connection
PIA allows you to set your VPN to connect automatically to specific network types according to your preferences. This is especially handy if you're constantly moving between public WiFi access points on the go and don't have the time to verify each connection.
This automated connection feature ensures that you're always protected while still having the convenience of deactivating your VPN when you come back to your home connection without having to press a button.
Private Internet Access VPN Device Compatibility
Private Internet Access VPN is compatible with a wide range of devices and operating systems, more than most other VPNs we've seen.
Whether it's mobile devices, desktop computers, consoles, routers, or smart TVs, PIA ensures that you can enjoy a secure and private browsing experience across all of your devices.
Android
Private Internet Access VPN is fully compatible with Android devices running on Android 5.1 (Lollipop) and higher. You can download PIA VPN from the Google Play Store and get started in minutes.
The Android app also supports WireGuard for additional security, as well as significantly reducing the amount of battery the app takes up.
Split Tunneling is available on the Android app, too, so you can choose which apps are covered under the encrypted VPN tunnel. We found this is especially useful if you're using banking apps on your phone, which tend not to work on a VPN connection.
iOS
For iOS users, Private Internet Access VPN is available on devices running iOS 12.1 and higher. It's well integrated with existing iOS features, such as the Siri voice command you can use to summon PIA on a whim.
There's a Kill Switch for iOS as well, which is essential for keeping yourself safe while traveling between public WiFi points.
The interface keeps the typical green and black house style you'd expect from PIA while shrinking everything down a little to work on a mobile screen. We found that everything worked well, but the lack of a Split Tunneling feature is slightly disappointing.
You can perform the Private Internet Access VPN download straight from the App Store, skipping the need to visit the PIA site.
Windows
PIA supports multiple Windows operating systems, including Windows 8.1, 10, and 11. The install process for the Windows app worked without a hitch, although we were a little concerned to see the install file was unsigned.
It's a little concerning, but as long as you know you've downloaded the file from a reputable source, it's not a huge issue.
Once you've installed PIA VPN, you'll immediately notice how simple the app is. Just press the connect button, and you're working with a fully encrypted VPN.
If you're not a power user, this is all the setup you'll ever have to do. However, for the more curious out there, there's a wide range of options tucked away under the Settings menu, which allow you to customize nearly every aspect of how PIA performs.
We've already covered most of these features elsewhere in our review, but PIA on Windows absolutely does not disappoint when it comes to providing absolute control over your VPN.
Mac
Private Internet Access VPN is compatible with macOS 10.13 and higher operating systems. The Mac app has almost complete parity with the Windows app, ensuring that Mac users can protect their sensitive data and enjoy a secure browsing experience.
Linux
Most VPN providers treat Linux support as an afterthought, at best providing a CLI that users have to manually type commands into and, at worst, giving them an OpenVPN config file and instructions on working with a third-party client.
PIA is completely different. The PIA Linux app is almost entirely the same as the Windows app, giving you a user-friendly interface to get started with while also allowing you back-end access to a deep set of security tools for your convenience.
Linux users can take advantage of Private Internet Access VPN on various Linux distributions, including Ubuntu, Debian, Arch, Mint, and Fedora.
PIA is compatible with x86_64, ARM64, and ARMhf systems, providing an easy-to-use solution for securing internet connections on Linux devices.
You're unlikely to find another top-tier VPN that provides a Linux service as good as Private Internet Access.
Smart TVs
PIA's Smart DNS feature enables the VPN to work seamlessly with a variety of smart TVs, including Apple TV, Amazon Fire TV Stick, Roku TV, Samsung Smart TV, LG TV, and more.
Although the Android app works across Smart TVs that run an Android operating system, for other Smart TVs, you can configure Smart DNS to access your favorite shows and streaming services without any geographic restrictions.
Smart DNS works by translating the DNS requests your TV makes from locations where you'd be blocked by geo-restrictions into locations that allow you to view content, making it seem as though you're really in the same part of the world as your content provider.
All you have to do is update the DNS servers loaded on your TV to PIA's private DNS servers, and all the extra work is taken care of for you.
Routers
Private Internet Access enables you to safeguard your entire network by setting up the VPN on your router with an OpenVPN configuration.
This functionality ensures comprehensive protection for all connected devices, including those incompatible with standard VPNs, such as gaming consoles, some Smart TVs, and IoT devices.
While Private Internet Access on routers isn't as advanced as the desktop or mobile offerings, it does allow you to set up Split Tunneling with ease.
With simple setup instructions on PIA's support site to carry out a Private Internet Access VPN mod on your router, you can benefit from network-wide protection when you connect new devices to your router without any extra work.
With support for most retail routers, including ASUS WRT, MERLIN, and DD-WRT, Private Internet Access offers a convenient solution for securing every device on the network.
Private Internet Access VPN vs. Top VPN Competitors
It's a great VPN, but who wins when it comes down to Private Internet Access vs ExpressVPN? We've built a quick table to give you all of the stats you need to compare ExpressVPN against some of the other top-tier VPNs out there.
| | | | | | | | |
| --- | --- | --- | --- | --- | --- | --- | --- |
| Top VPNs | Best Suited For | Starting Price | Log Policy | Free Version? | Number of Connections | Split Tunneling? | Kill Switch? |
| Private Internet Access VPN | Best Linux VPN client | $11.95/month | No-logs policy | 30-day Money-back Guarantee | Unlimited | Y | Y |
| ExpressVPN | Streaming from anywhere | $12.99/month | No-logs policy | 30-day Money-back Guarantee | 8 Connected Devices | Y | Y |
| CyberGhost | Users in a privacy-friendly country | $12.99/month | No-logs policy | 45-day Money-back Guarantee | 7 Connected Devices | Y | Y |
| PureVPN | All-in-one privacy suite with a VPN | $12.45/month | No-logs policy | 7-Day Trial | 10 Connected Devices | Y | Y |
| ProtonVPN | Free VPN with unlimited bandwidth | $9.99/month | No-logs policy | Free Plan | 10 Connected Devices | Y | Y |
There's no doubt about it, Private Internet Access has one of the best Linux apps we've ever seen. It's also a high-speed VPN with a fantastic full feature set, even down to exotic extras like being able to register your own static IP completely anonymously.
As an all-around VPN, it's hard to find a better one than Private Internet Access.
However, if you want to try out a VPN before you buy and don't want to take advantage of a money-back guarantee, ProtonVPN is a great choice for the first-time VPN user.
We've also found that ExpressVPN is absolutely unmatched when it comes to unblocking geo-restricted content and even works in restrictive regions where ISP throttling is common.
If you'd like to see more comparisons with other top-tier VPNs, check out our best VPN guide for a breakdown of the very best VPNs out there.
What is Private Internet Access VPN Good For?
Private Internet Access VPN is well-suited for a variety of online activities thanks to a combination of high-speed connections and a suite of features that actively enhance your browsing experience.
Whether it's ensuring secure and private browsing, accessing geo-restricted content, or protecting sensitive data, PIA serves as a reliable tool for internet users looking to browse the internet safely.
Streaming
Private Internet Access VPN is an excellent choice for streaming enthusiasts, as it allows you to bypass geo-restrictions and access your favorite content from anywhere in the world.
We found that during testing, we were able to access any streaming service we tried, including Netflix US, UK, and JP, as well as Amazon Prime, Disney+, HBO Max, and several other streaming providers.
We're confident that PIA will continue to update its servers if one of the services ends up being blocked. We've also found that with PIA, you can enjoy seamless streaming of HD movies and TV shows without any interruptions or buffering.
The VPN's high-speed servers and unlimited bandwidth ensure a smooth streaming experience. PIA's encrypted tunnel also prevents ISPs from throttling your streaming connection during high-use times of the day, which guarantees consistent and reliable access to streaming platforms 24/7.
Torrenting
Private Internet Access is a great choice for
torrenting
. Not only do the high-speed servers ensure you'll get the most out of your home internet connection while torrenting, but the VPN also provides robust support and security.
You should also be aware Private Internet Access provides port forwarding on the Windows app as well as on Mac and Linux. This means you'll have full connectivity when connecting to a torrent pool, as other users will be able to connect to your torrent client.
While some other VPN providers use specific P2P-enabled servers, with PIA, you can enjoy full support for torrenting on every VPN server.
You won't have to compromise on server speed to ensure that you can share files safely and privately. As we've mentioned before, the VPN's encrypted tunnel also stops your ISP from throttling torrent traffic if you're working with an ISP that isn't P2P friendly.
Private Internet Access's advanced Kill Switch also helps to protect your privacy by preventing any potential data leaks while torrenting, which is absolutely essential if you're using P2P services over public WiFi.
If you're not convinced that PIA is the best for torrenting, you can check out our list of the top VPNs for torrenting for more choices.
Gaming
Private Internet Access VPN is an ideal option for gamers looking to enhance their online gaming experience. With PIA, users can mask their IP addresses to protect their network from DDoS attacks and other malicious activities.
The VPN's high-speed servers and low latency ensure a seamless gaming experience, while its ability to prevent ISP throttling and reduce ping times helps to maintain a stable and reliable connection for online gaming.
Privacy Protection
PIA is an excellent choice for users who prioritize online privacy and data security. The VPN's strict no-logs policy ensures that users' browsing data remains private and secure, with no tracking, storing, recording, or selling of user information.
Private Internet Access VPN also offers advanced privacy and security features, such as ad and malware blocking, secure protocols, DNS leak protection, and multi-hop functionality, providing users with comprehensive protection against online threats and privacy breaches.
Private Internet Access VPN Server Locations
Private Internet Access has one of the most comprehensive server lists out there, spanning almost every continent on the globe. This VPN has over 500 servers in more than 80 countries.
Is Private Internet Access VPN Good? A Look at Private Internet Access VPN Reviews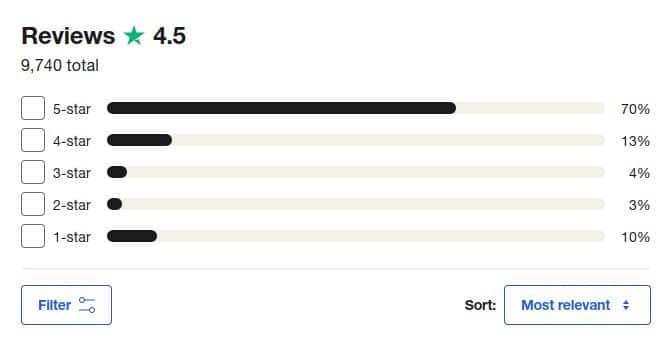 We've spent our time looking at a mixture of Trustpilot and Reddit reviews to see how the community's been reacting to Private Internet Access VPN.
We've been pretty happy with Private Internet Access VPN throughout this review, so it's no surprise to see that the reaction's been the same for most reviewers we've come across.
The main theme we've seen across Private Internet Access reviews is that it just gets the job done. While all of the extra features are fantastic, there's a general sentiment that the core of Private Internet Access is high-speed connections that won't fail under pressure.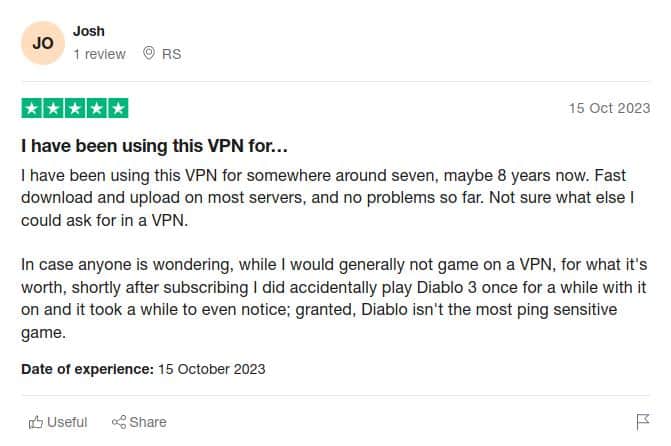 Users have consistently praised Private Internet Access for providing a simpler, more streamlined experience compared to feature-heavy VPN tools like NordVPN.
One compliment we've seen consistently is that users looking for a great Linux client for their VPN have settled in on using Private Internet Access instead of any other top-tier VPN.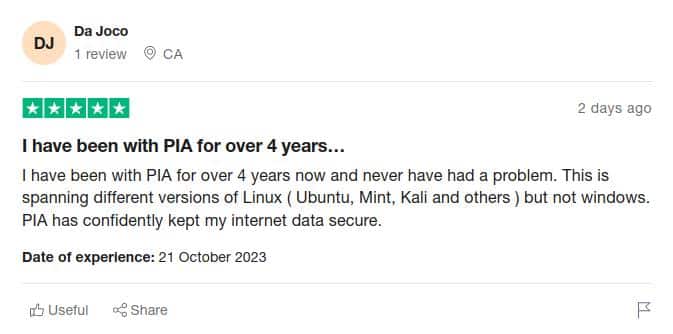 While some negative reviews have focused on Private Internet Access occasionally dropping service, this is an unavoidable reality of hosting an Internet service, especially in some countries such as Russia and Iran, which are actively seeking to block out VPN usage.
Overall, we feel that the reviews we've read largely line up with our expectations. Something that surprised us is that while VPN reviewers tend to look at Private Internet Access' associations with Kape Technology quite negatively, this isn't really a concern that's reflected in user reviews.
How to Use Private Internet Access VPN - A Quick Guide
Using Private Internet Access VPN is a straightforward process. Here is a step-by-step guide to help you set up and use the VPN on your device:
1. Visit the Private Internet Access Website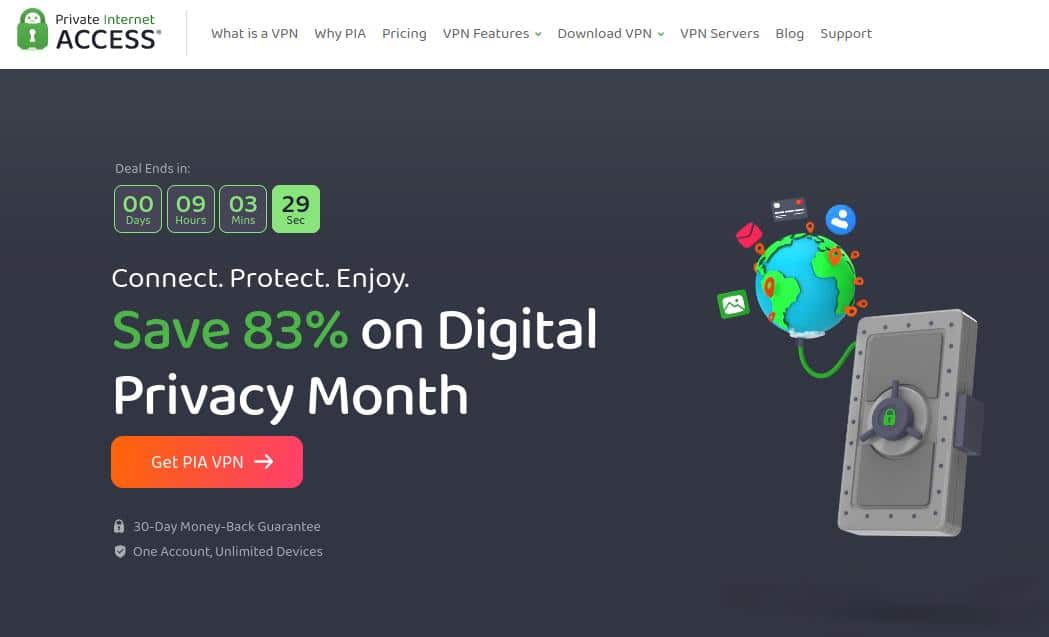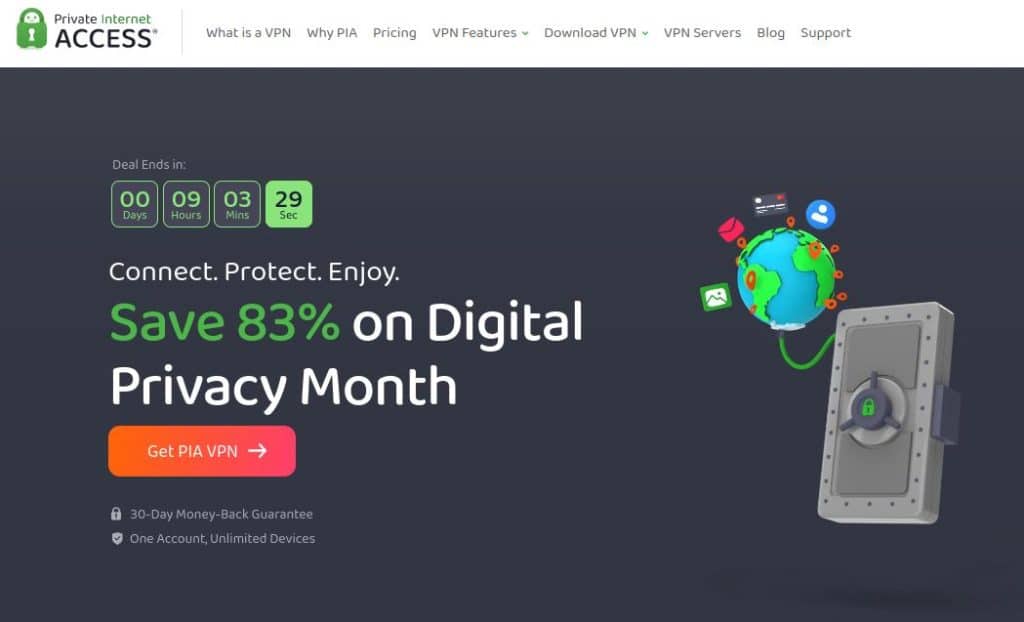 Visit the Private Internet Access website from our link and click on the "Get PIA" button to create an account.
2. Choose a Subscription Plan
Select a subscription plan that suits your needs and budget. You can choose from monthly, yearly, or other plans based on your preferences.
Fill out the required information to create your account, and you'll be presented with a Private Internet Access VPN login. Your user name is chosen for you to enhance your privacy, so make sure you note it down.
3. Download and Install the App
After creating an account, download the Private Internet Access app from the website. Make sure to select the version compatible with your operating system.
Locate the downloaded file and run the installer. Follow the on-screen instructions to complete the installation process.
4. Launch the App and Login
Once the installation is complete, launch the Private Internet Access app on your device.
Use your registered email address and password to carry out the Private Internet Access login within the app.
5. Choose a Server Location

Click on the "VPN Server" button to go to the Server Location tab. Select a preferred server location from the list provided. You can choose a server based on its proximity or specific location to access region-restricted content.
6. Connect to the Server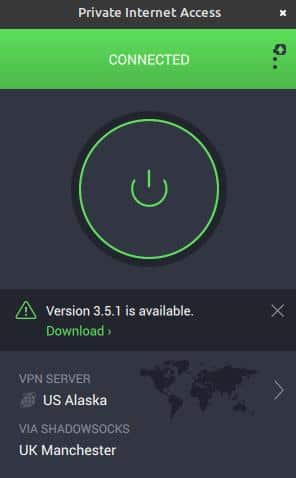 Click on the "Connect" button to establish a connection to the chosen server. Once connected, your internet traffic will be encrypted and secured.
How We Tested Private Internet Access VPN
Our assessment of Private Internet Access VPN involved a total breakdown of its features and performance. We got behind the wheel and tried PIA VPN out for ourselves to ensure a well-rounded understanding of the service.
Our testing methodology uses both hands-on experience with the app and research using reputable sources to ensure we have the full picture of PIA's capabilities.
For our practical experience, we extensively evaluated key features, including encryption standards, server network reliability, security performance, as well as compatibility across different devices.
We also examined the server network's ability to bypass geo-restrictions for streaming services and websites by accessing content from various regions, including several Netflix regions, Amazon Prime, Disney+, DAZN, Hulu, and HBO Max.
Additionally, we conducted tests to measure the impact of the VPN on connection speeds to assess its impact on activities like streaming, gaming, and torrenting.
Our evaluation doesn't just stop with the technical side, either. We've made sure to look into the way that PIA is run and audited to ensure we're looking at a truly trustworthy VPN.
We've also gained valuable insights from other Private Internet Access VPN users across platforms such as TrustPilot, Reddit, and G2.
Our Other VPN Guides
While we'd definitely recommend Private Internet Access, you might want to take a look at some of the other VPNs we've reviewed to get an idea of what's out there first.
Concluding Our Private Internet Access VPN Review - Is Private Internet Access VPN Worth it in 2023?
Private Internet Access VPN ticks all the boxes when it comes to evaluating a top-tier VPN. With its strong encryption standards, extensive global server network, and fully fleshed-out extra features, it's hard to find anything that PIA does particularly badly.
Having a strict no-logs policy with RAM-only servers that have been audited by a third party immediately puts this VPN near the top for us.
Considering the overall balance of features, security, and performance, Private Internet Access VPN is certainly worth considering in 2023.
Private Internet Access VPN FAQs
How much does Private Internet Access VPN cost?
Is Private VPN Internet Access VPN trustworthy?
How much is PIA VPN monthly subscription?
Is Private Internet Access any good?
References