In this PrivateVPN review, we put the tool through extensive testing to make sure it provides good protection and works well. As we all know, VPNs are useful for keeping your online activities secure – so looking for the best one is important.
We compared PrivateVPN with its top competitors to give you the best knowledge of what provider is right for you. We tested its speed, features, customer support, and more. Read our comprehensive PrivateVPN review to learn more.
Table of Contents
Table of Contents
What is PrivateVPN?
PrivateVPN is a company from Sweden that provides a special kind of internet connection called a
virtual private network or VPN
. It has high-quality security with 2048-bit encryption, which is the same level used by governments and the military.
Whether streaming top-quality HD videos, surfing the web, or downloading huge files at lightning speeds, PrivateVPN provides you with all the power you need to do it all securely and anonymously online.
Its global network of over 63 countries makes it conveniently worthwhile no matter where you are in the world. Torrenting is supported everywhere; there are apps for PC as well as iOS or Android devices, so you're always connected without hassle.
As an airtight bonus feature, PrivateVPN also unlocks content like Netflix US, BBC iPlayer, and more while following Swedish privacy laws for a zero-logging promise.
PrivateVPN Pros and Cons
Now, let's take a look at the pros and cons of PrivateVPN:
Pros
Offers outstanding protection with strong AES-256 encryption
Has stealth VPN mode to bypass VPN bans in certain regions
Provides an intuitive user experience and is easy to configure
Customer service is available 24/7
Cons
The server network is relatively small
Doesn't provide multi-hop support
Browser add-ons aren't available on this platform
How Much Does PrivateVPN Cost?
PrivateVPN delivers quality service for a competitive price, offering three distinct plans depending on VPN usage duration.
For anyone seeking flexible and short-term access, PrivateVPN's monthly plan is the perfect option. The great thing about this plan is it can be canceled anytime – no questions asked.
At the other end of the spectrum, the yearly plan provides steady long-term access with extra savings for its commitment. For users looking for a balance between savings and commitment offered by PrivateVPN, there's a 3-month plan available as well.
In terms of value compared to competing services in the market, PrivateVPN offers plans that are hard to beat across budget types.

As for the PrivateVPN free trial, it offers you a full week of testing, plus there's a 30-day money-back guarantee. With the 7-day trial, you can test out all features of the service without having to worry about providing a credit card.
The guarantee acts as a 30-day trial and lets you try out any plan for a month before deciding whether it's worth keeping or not, and if you do cancel within these thirty days, you'll get your money back.
Reviewing the Core PrivateVPN Features
Having a VPN has become increasingly important, especially when using unsecured networks like public WiFi. PrivateVPN guarantees a secure network with fast speeds and anonymity for browsing.
We've tested and reviewed their core features so that you can make an informed decision about whether the service meets your needs.
Device Compatibility
Once downloaded, installation takes only moments and requires little to no technical skills. iPhone and iPad devices also have their own application for version 9.0 and up.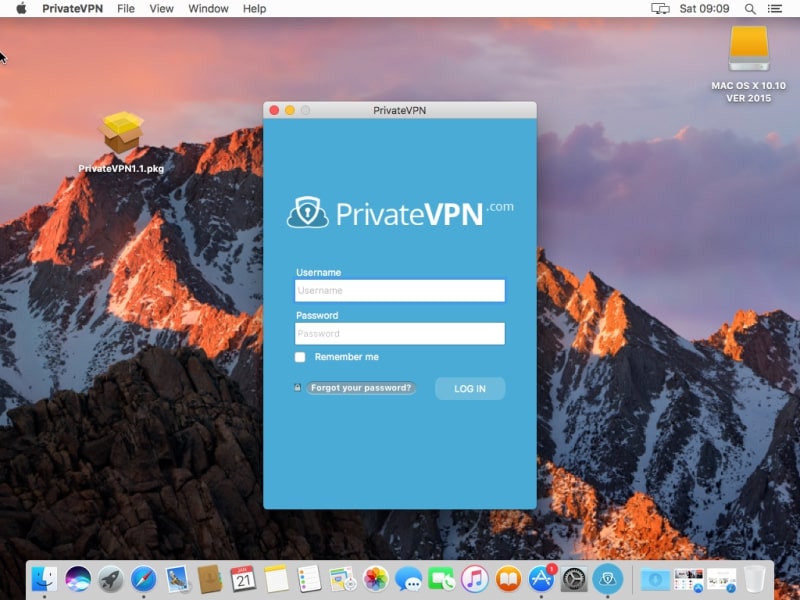 It also provides a dedicated Windows app that works well on most versions of 7, 8, 8.1, 10, and 11 builds of Windows operating systems, ensuring wide compatibility between versions.
Android devices get treated to a dedicated app requiring Android 4.0 or above, so no worries for the majority of devices here. Once downloaded and installed, you'll be connected to your designated PrivateVPN server in no time.
In our testing, we found that PrivateVPN provides adequate device compatibility across various platforms. We didn't encounter any issues; all apps were smooth. It makes it simple to set up and access a secure connection on just about any device.
VPN Tunneling Protocols
PrivateVPN offers several tunneling protocols for a secure connection. All the protocols are used to encrypt internet traffic and hide your identity from online surveillance and hackers. We review each protocol in detail below.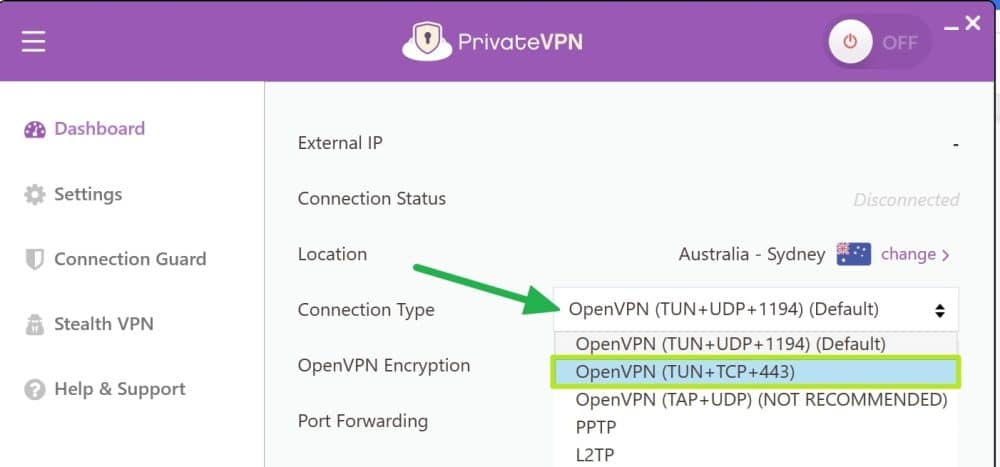 OpenVPN: The most common option. It gives a good blend of fast speeds and protection. To secure transferring data, it uses an SSL/TLS encryption system. In addition, it runs on both UDP (quicker but has no mistake correction) and TCP (slower with mistakes corrected) kinds of activities.
L2TP/IPsec: This gives more protection than OpenVPN. It's a bit slower because it uses two layers of encryption (L2TP and IPsec), but it is quick enough. It works well on many systems, too, including phones that don't work with other protocols.
WireGuard: This has been gaining traction since its introduction in 2018, thanks to an excellent combination of speed and security brought by modern cryptographic methods. In particular, it's very focused on offering the highest speeds.
PPTP: This is by far the simplest protocol, but it's also the least secure option. It offers fast connection speeds and high compatibility, but it can easily be blocked due to its known vulnerabilities. It shouldn't be used when security is of utmost importance.
IKEv2: This is special because it provides good protection and works quickly, especially for people using mobile devices. It stays connected when you switch between different internet companies or gadgets, so you don't have to sign in over and over.
We tested many options and found OpenVPN works best for a good mix of speed and security. The other protocols are good options for more specific use cases, such as PPTP for high compatibility or WireGuard for faster speeds.
Zero-Log Policy
PrivateVPN offers a strong promise of zero-logs. A no-log policy is critical to protect your privacy and to provide anonymous web browsing, keeping all activities hidden from hackers, governments, or even law enforcement.
Log files can show almost everything you do online—from what websites have been visited to the kind of downloads being made, and when this data gets into the wrong hands, it can be used for malicious purposes.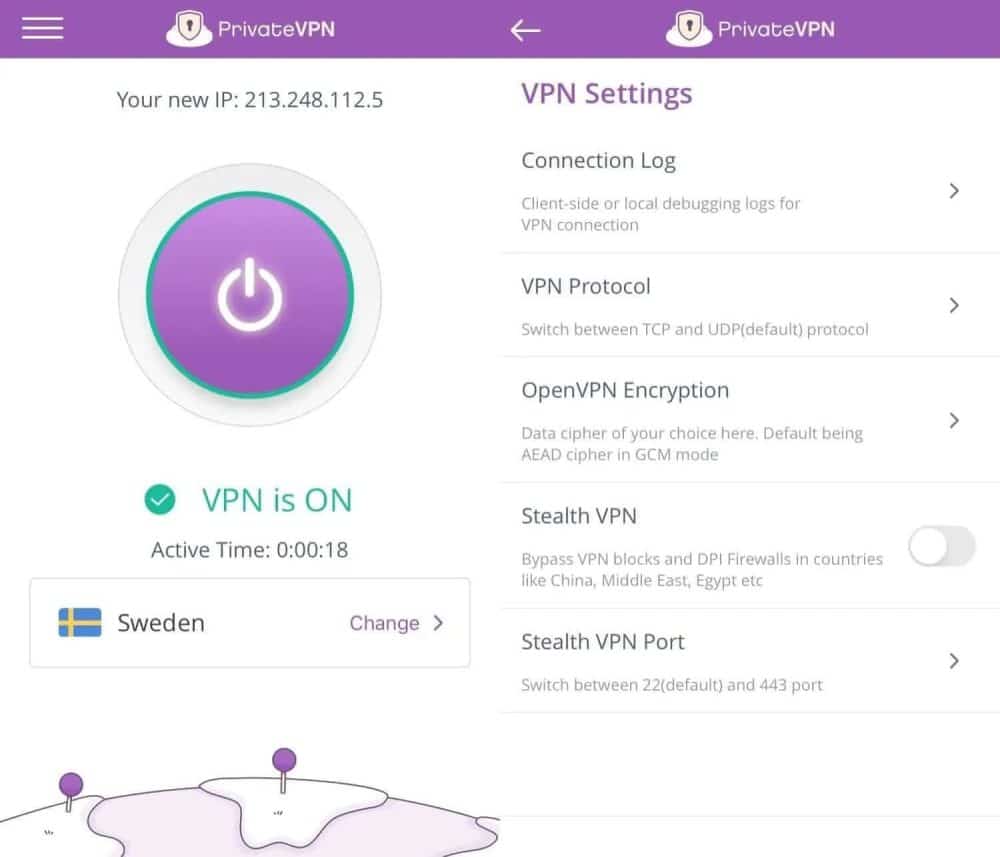 PrivateVPN takes privacy seriously and guarantees that any logs kept are deleted after a certain amount of time. Even if there are temporary logs created while in use, they won't exist long enough to be given out or used against its customers.
PrivateVPN also uses flash technology with 2048-bit and 256-bit encryption to ensure your activities are safe from hackers and anyone who may be monitoring your online activity, such as ISPs or advertisers.
By embracing their zero-log policy along with powerful encryption technology, we found in our testing of PrivateVPN that it reliably provides an entirely private browsing experience across devices.
This prevents ISP throttling since the data you're sending isn't monitored, thereby allowing for lag-free streaming and internet activities without interruption. Lastly, given that this software is Swedish-based, it isn't governed under the 5-Eyes Alliance.
However, other VPNs put their no-logging policies to the test with private audits, PrivateVPN doesn't seem to take this extra measure.
HQN for High-Speed VPN
HQN stands for High-Quality Network and is PrivateVPN's proprietary feature, which offers you a high-speed connection.
Using the HQN network, we were able to enjoy speeds of up to 300 Mbps, and this makes it the perfect choice if you want speed without compromising on security.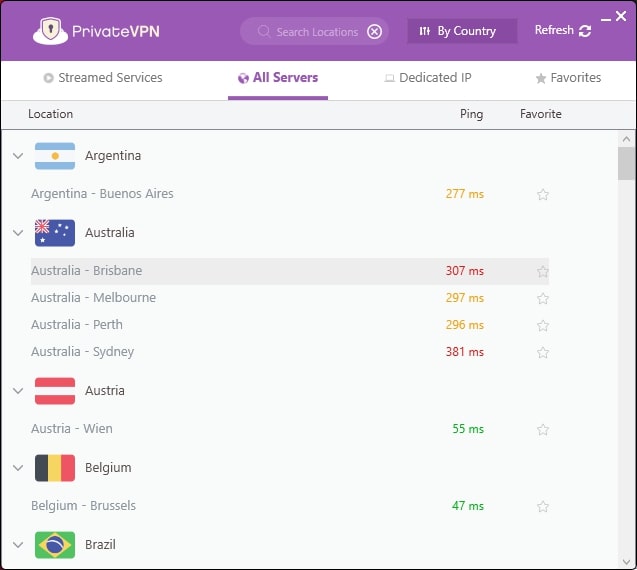 HQN is available on all PrivateVPN devices (mobile, desktop, routers, and even Firestick), making it very accessible for any user. Once connected with the HQN protocol, the commercial VPN-blocking technology can be bypassed quickly and easily.
Beyond easy access to streaming services such as Disney+ and Netflix, you'll get a secure connection with super-fast speeds to ensure high-quality streams without buffering. In fact, we found that this can bypass most VPN blockers.
However, despite the great results we got from our tests, we should point out that although there are servers located around the globe, HQN protocol limits connecting with certain countries; therefore, restricting access to streaming content that's only available in some regions.
We suggest that you take advantage of HQN's benefits; it gives exceptionally fast speeds plus data security while also giving you access to over 60+ countries to choose from.
P2P VPN
P2P
or Peer to Peer VPN means that PrivateVPN has specialized servers that enable you to use torrenting clients effectively and anonymously.
With these, you can download files without exposing your real IP address or sacrificing your privacy or financial safety. All of this is possible because it hides your identity, location, and activity from ISPs, governments, and hackers alike.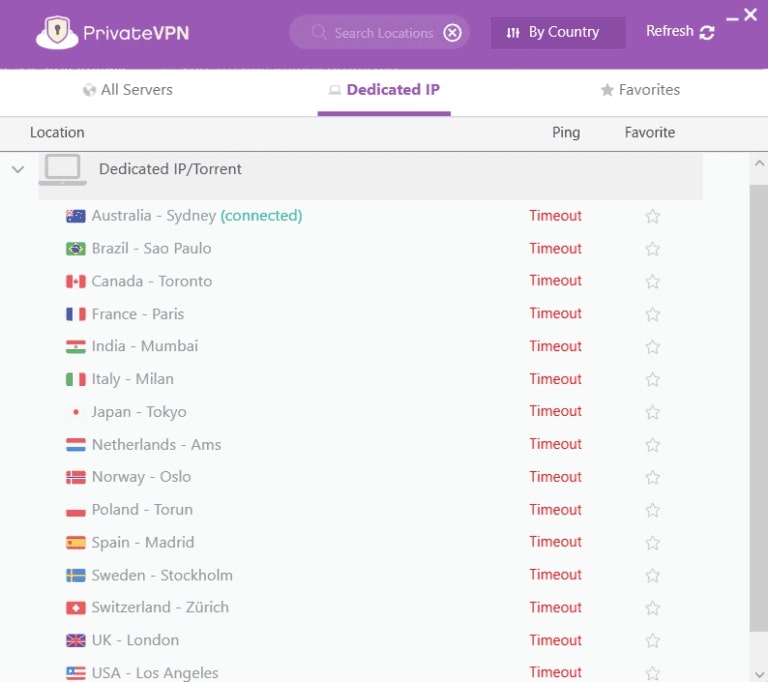 PrivateVPN's Port Forwarding can be used for torrenting at great speeds. This software ensures that any connections made to a port in your network will be successfully forwarded.
We tried their torrent servers and found out that they were all working. Thanks to its advanced security features, you don't have to worry about your connections being intercepted or having your data compromised, either.
Having dedicated servers also helps ensure that no matter what you're downloading, your traffic won't be tracked or monitored in any way. The problem is there aren't many specialized servers, which could cause slow connections at busy times.
Kill switch
A VPN kill switch is a must-have for anyone who values online privacy and protection. By cutting off internet access as soon as any disruption in your VPN connection is detected, it eliminates any potential vulnerability caused by dropped connections.
With PrivateVPN's fast-acting kill switch, you can rest assured that your data remains safe even if your VPN connection temporarily fails. This works automatically when signs of interference from your ISP, router, firewall settings, or otherwise are detected.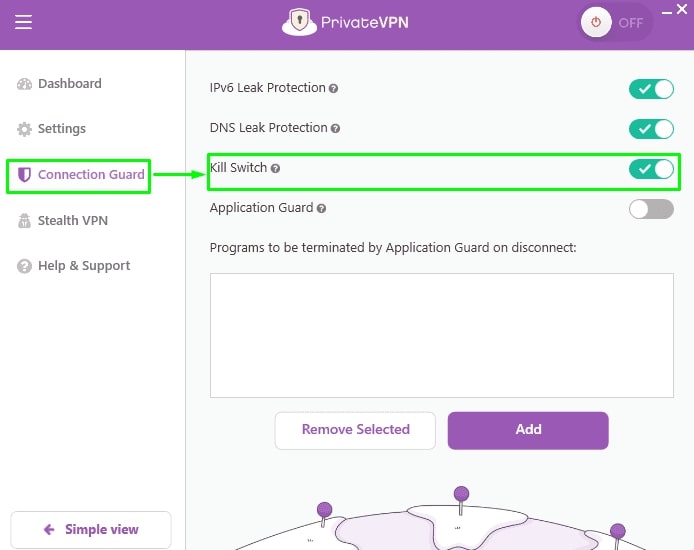 This ensures that hacking attempts and unwelcome third parties are unable to view sensitive information while the VPN connection is being re-established.
A kill switch offers added protection from any number of sources that could result in a dropped connection, such as a slow WiFi network or ISP restrictions – ensuring nothing can be accessed during this potentially nefarious window of vulnerability.
When switching between different WiFi networks, it's essential to have an active kill switch, as you may unintentionally disclose sensitive information if you forget to reconnect to the VPN connection.
Unlimited Bandwidth for Streaming Sites
Whether you're at school trying to access blocked content or traveling abroad and wanting to watch your favorite Netflix shows, PrivateVPN can help you out. It supports unlimited bandwidth for any streaming site you might need.
This means that your data, file transfer, or upload and download speeds will be unrestricted. This is one of the fastest VPN services out there, giving you the ability to stream HD videos or music without buffering issues.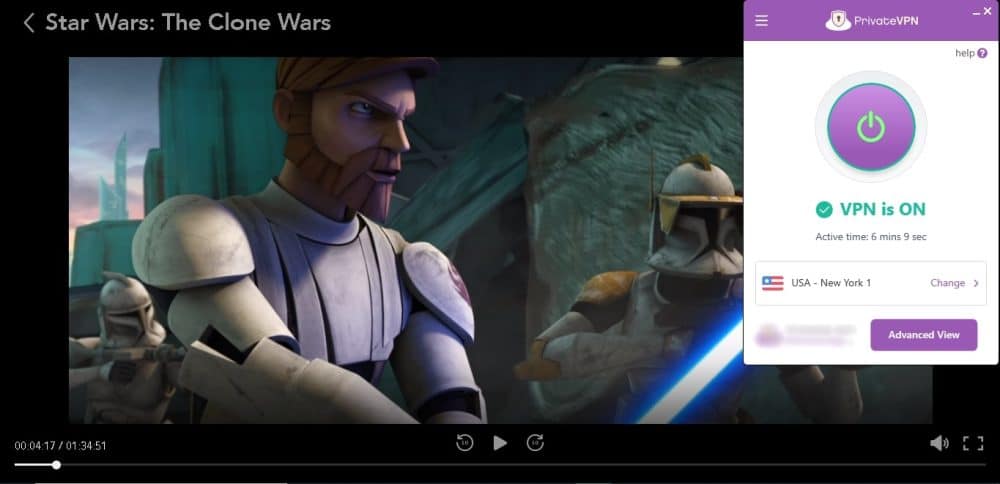 We tried watching Disney+ in the US and Netflix from New Zealand servers with PrivateVPN; it worked well. Load times were noticeably fast, and we could access the content without buffering issues.
There were some slowdowns, but they only happened for a couple of seconds; this might be due to network activities. We otherwise had no server disconnection or other issues while testing their services.
PrivateVPN vs. Top VPN Competitors
PrivateVPN is by no means the only option you have. Here's a quick overview of how it compares to other leading VPN services:
| | | | | | | |
| --- | --- | --- | --- | --- | --- | --- |
| Top VPNs | Best Suited For | Starting Price | Log Policy | Free Version? | Number of Connections | Split Tunneling? |
| PrivateVPN | Torrenting | $9.90/month | N | 7-Days Free Trial | 10 | Y |
| Surfshark | Multiple Users | $15.45/month | N | 30-Days Free Trial | Unlimited | Y |
| CyberGhost | Gaming | $12.99/month | N | 7-Days Free Trial | 7 | Y |
| ExpressVPN | For Faster Browsing | $12.95/month | N | 30-Days Free Trial | 8 | Y |
| PureVPN | Streaming | $12.45/month | N | 7-Days Free Trial | 10 | Y |
| ProtonVPN | Budget-Conscious | $9.99/month | N | 30-Days Free Trial | 10 | Y |
Surfshark is another popular choice that caters to multiple users or households. CyberGhost is well known among gamers for access to secret servers in video games, while ExpressVPN offers faster browsing speeds than most providers can offer.
For streaming videos, PureVPN is a great pick – or if you're on a budget, ProtonVPN can provide adequate protection without having to break the bank.
What is PrivateVPN Good For?
There's a lot that PrivateVPN can do. For general use, it helps to increase your online security and privacy. For the torrent-heavy user, PrivateVPN offers unlimited bandwidth and P2P sharing on some of its servers.
Unblocking Geo-Restricted Content
We found that PrivateVPN is a great choice for unblocking geo-restricted content. Whether you're looking to watch international streaming sites like Netflix, Disney+, and BBC iPlayer, all are blocked outside certain countries due to regional licensing.
PrivateVPN has servers and unblocking capabilities, and with its advanced encryption protocols, you can be sure your connection will remain private no matter what service you're using, as it masks both your location and IP address.
Enhanced Security & Privacy
With 256-bit AES encryption protocols powering PrivateVPN's secure network, your data won't be falling into anyone else's hands anytime soon.
Furthermore, PrivateVPN operates a strict 'No Logging' policy, meaning none of your online activities are logged or tracked on their VPN servers. It also protects against online scammers with features such as its kill switch and automated IP swapping.
Hackers won't receive any confidential information even in the event of an external breach when connected to public WiFi networks.
Optimized Streaming & Torrenting Speeds
With dedicated bandwidth for each VPN server, PrivateVPN ensures data is optimized, meaning users get to enjoy lightning-fast speeds when streaming or downloading. This makes it great for activities such as HDTV and movie streaming without any lag or buffering.
You can also torrent with seamless encrypted file sharing. It's worth noting that not all VPN providers offer dedicated servers for torrenting, even the popular ones. This gives PrivateVPN a huge edge in terms of download speeds and overall connection quality.
Overall, PrivateVPN is great for anyone who needs stronger privacy, security, and access to content that's unavailable in their region. It has strong encryption and dedicated servers; no logs are stored, and IP addresses switch up automatically — all at a reasonable cost.
PrivateVPN Server Locations
With over 60+ countries and over 300 servers to choose from, here is a full list of PrivateVPN's worldwide server locations:
Is PrivateVPN Good? A Look at PrivateVPN Reviews
We also took a look at published reviews from different sources to get a sense of the public opinion about PrivateVPN. Most people praised its fast speeds, security, customer service, and features.
They said it was easy to use and could unblock Netflix, too. But don't just take our word for it; you can see in the screenshots just how satisfied customers are when it comes to PrivateVPN.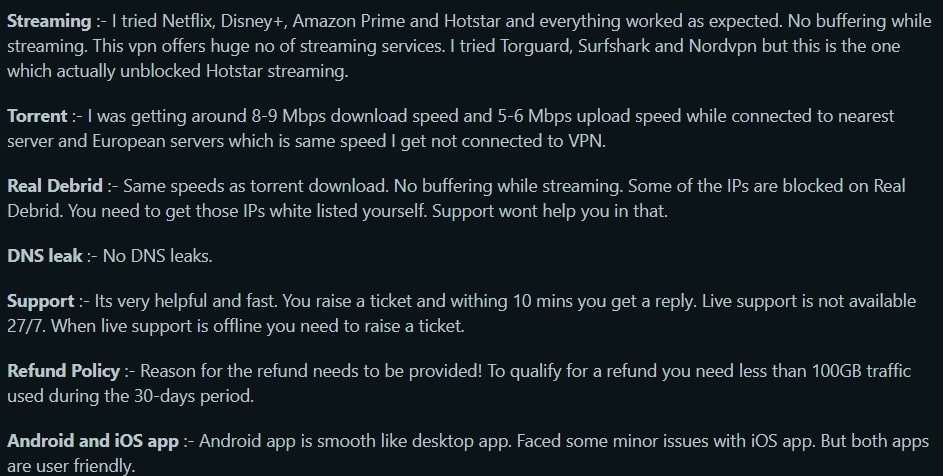 Users commend its customer service, suggesting that PrivateVPN goes the extra mile to keep its users happy. As another example, here's one of many Trustpilot reviews praising PrivateVPN: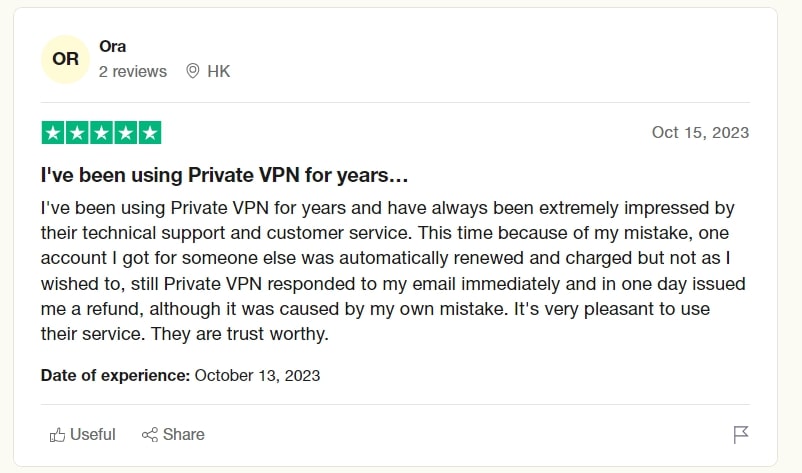 All in all, we're confident enough in PrivateVPN's reliability and performance abilities to recommend it to anyone looking for a reliable service (and customer service).
How to Use PrivateVPN – A Quick Guide
Using a PC, let's go through the steps of setting up and using PrivateVPN.
Step 1: Choose Your Plan
Go to PrivateVPN's website and pick a plan that works for you. You can try any plan free for 30 days before deciding if you want it.

Step 2: Set Up an Account
You will enter your email and a password of your choice, then choose the payment method you want. Once it's done, an email with a link for downloading the software will be sent to work with later.

Step 3: Download
Follow the link in your confirmation message and choose the right installation package according to what system (Windows, Mac, or Linux) you have on your computer; once it's finished downloading onto your device, move on to the next step.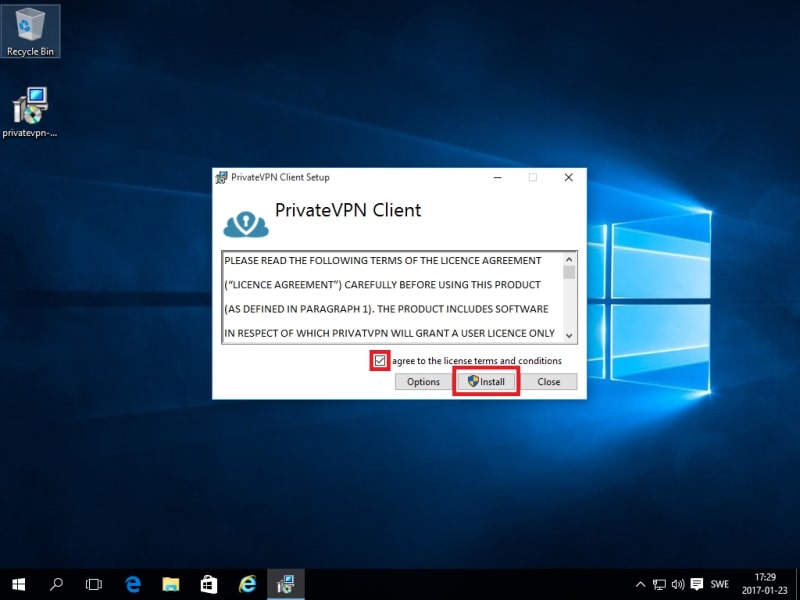 Step 4: Install PrivateVPN
Look through all your files until you find where PrivateVPN is located. Once found, click on it to start the installation. This will take only a couple of minutes.
Step 5: Connect
Choose a server location from the list of options. Press "Connect," and an IP address will be revealed next to a country of choice. To double-check everything is connected, please head over to a website such as ipaddress.com – you should now have access.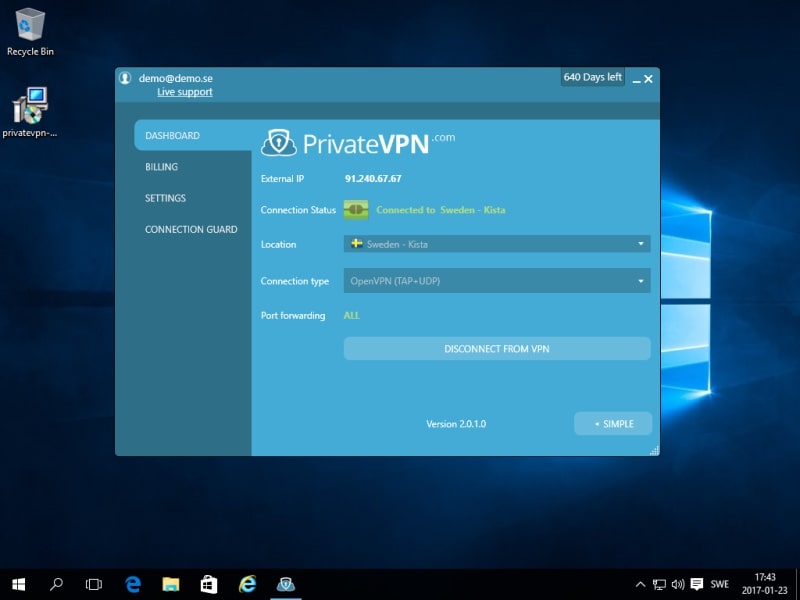 How We Tested PrivateVPN
At Techopedia, we make sure to thoroughly vet the products that we review and vouch for. To test PrivateVPN's reliability, privacy, speed, and security features, we put it through a series of tests in order to identify its strengths and weaknesses.
Our team conducted hands-on testing ourselves in multiple countries. We tested different server locations to gauge the connection speed of each one before determining an average download and upload rate.
Of course, we also tried streaming region-specific content from various platforms like Netflix to see how well we were able to access them.
Lastly, we also checked communities like Reddit and review sites such as Trustpilot to compare customer feedback and the overall sentiment with PrivateVPN in comparison to competitors offering similar services.
We're confident that our detailed – yet simplified – methods of testing allow us to provide an accurate and reliable assessment of PrivateVPN's performance.
Our Other VPN Guides
We made some other guides and tutorials to help you understand why you need a VPN, what good features to look for, and how to set it up on different devices.
Concluding Our PrivateVPN Review: Is PrivateVPN Worth it in 2023?
The answer is: yes, PrivateVPN is worth it in 2023. This reliable, secure provider offers fast speeds and useful features like HCN connections, port forwarding for torrenting, and kill switches.
It also keeps no logs, so you can be sure you are in secure hands. Plus, it offers excellent customer service. All of this adds up to a solid VPN that's definitely worth the cost.
PrivateVPN FAQs
How much does PrivateVPN cost?
Does PrivateVPN work in China?
Does PrivateVPN work with Netflix?
Which devices does PrivateVPN support?
Is PrivateVPN good for torrenting?
References