In this ProtonVPN review, we'll explore its privacy and security practices to help you determine if it suits your needs and preferences. We'll give you a clear overview of its advanced features, pricing, and key pros and cons, as expressed by Proton VPN users.
Although ProtonVPN reserves most of its advanced features for its premium users, it's also well-known for its comprehensive free plan, which we'll cover in this ProtonVPN review. Read on to discover how ProtonVPN conceals your online activities and protects your privacy. You'll also find out it remains one of the best VPNs this year and how it compares to its closest competition.
How Does ProtonVPN Work?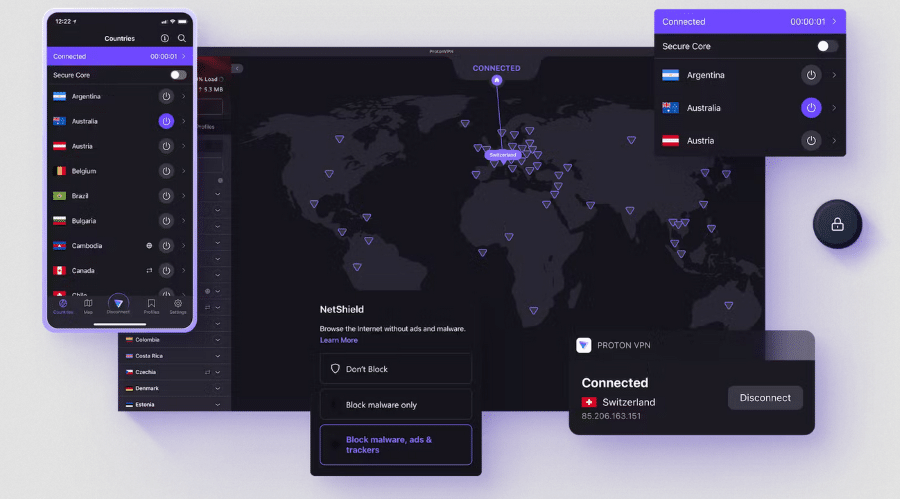 As a virtual private network (VPN), ProtonVPN ensures online privacy and security by encrypting your internet traffic when you connect to one of its secure servers.
Connecting to an encrypted server creates a virtual tunnel between your devices and ProtonVPN's servers, which makes your data and online activities unreadable to third parties. In addition, it hides your IP address and location from websites and online services, allowing you to bypass geo-restrictions and preventing ISP throttling.
What is Proton VPN Used for?
ProtonVPN offers numerous benefits to its users, and its versatility makes it suitable for various purposes, with a primary focus on accessing restricted content, keeping your browsing history safe, and enhancing the security of your devices. Here are a few key points outlining its uses:
Online Anonymity
Staying anonymous online means your personal information and online activities aren't available to third parties. ProtonVPN ensures that by masking your IP address with the IP address of its servers, preventing websites, malicious actors, and advertisers from invading your privacy.
In addition, it safeguards your internet traffic from surveillance by using reliable encryption protocols that prevent cyber criminals from eavesdropping on the data you transmit over the internet. This type of protection is invaluable when you connect to unsecured public Wi-Fi networks, especially if you travel to a foreign country.
However, is ProtonVPN good at keeping your information secure on its servers? Yes. It doesn't keep data on its servers in the first place, thanks to its strict no-logs policy that prevents it from collecting information on its users. Besides its no-logs policy, this Swiss-based VPN provider has no forced logging obligations by the government, which makes it an excellent choice for privacy-conscious users.
Streaming
With nearly 3,000 servers in 68 countries, ProtonVPN lets you access content from popular streaming services, even if inaccessible in your country. For example, Netflix offers different libraries for Europe, North America, and Asia, but you can access any of them by connecting to a Proton VPN server on those continents.
Although its free version doesn't offer streaming support, subscribing to its services lets you enjoy smooth, buffer-free streaming anywhere in the world. Thanks to its high-speed servers and the VPN Accelerator technology — which can improve VPN speeds by over 400% — ProtonVPN lets you enjoy your favorite TV shows and movies in 4K without issues.
Torrenting
Another reason some VPN users choose ProtonVPN over its competition is its reliable network of Peer-to-Peer (P2P) servers which are ideal for torrenting. Although it offers fewer P2P servers than some of its competition, ProtonVPN excels at preventing ISP throttling and imposes no bandwidth limits, which makes it ideal for downloading or sending large files and improves download speeds.
ProtonVPN lets you rest easy knowing its strict no-logs policy prevents it from recording user activity. That provides an added layer of privacy while torrenting since nobody can trace the data back to individual users.
Is ProtonVPN Good? Key Pros and Cons
Like every other VPN provider, ProtonVPN has strong and weak points, meaning you'll have to consider your needs and preferences before subscribing to its premium plans. For example, although it's hard to find a VPN that protects your privacy as efficiently as ProtonVPN, most of its competition offers more servers and better global connectivity.
Pros
Quick download speeds
Beginner-friendly interface
Buffer-free 4K streaming
Comprehensive free forever plan
Robust security features
Cons
Fewer advanced features than some other top VPN providers
Is Proton VPN Free? ProtonVPN Pricing Details
Proton VPN offers one of the most comprehensive free forever VPN plans on the market that doesn't limit the amount of data you can use. Free ProtonVPN users can connect to strategically placed servers in the Netherlands, the US, and Japan. The Proton free VPN service also adheres to its strict no-logs policy, meaning its free users can enjoy the same privacy-related benefits as its premium users.
In addition, ProtonVPN is one of the few rare free VPN providers that don't constantly target its free users with ads. With that said, its free VPN plan can hardly compare to the premium version because it limits you to a single device and offers no support for streaming or torrenting.
However, it's an excellent choice for users interested in enhancing their online privacy and security while performing light daily tasks, such as responding to emails or browsing the internet.
Subscribing to ProtonVPN's premium service starts at just $4.99 and grants you access to all its bells and whistles. That includes streaming and torrent support, Tor over VPN, and access to high-speed 10Gbps servers.
If you find ProtonVPN's features or performance insufficient for your needs, it's worth mentioning that it has a straightforward cancellation process. To unsubscribe from its premium plan, you simply need to log into your Proton VPN account, navigate to settings, and select "Downgrade," which allows you to continue using its services as a free user.
Although Proton VPN had a free trial offer for first-time customers, allowing them to test its advanced features before committing to a subscription, it's no longer available. However, the VPN provider offers a lengthy 30-day money-back guarantee on its 2-year-long subscription plan, allowing you to try its services risk-free.
ProtonVPN's Key Features
Although it offers fewer features than some of its competition, ProtonVPN's clients are easier to use than most, and a single subscription allows you to protect up to ten devices simultaneously. Beyond this, here are some crucial ProtonVPN features that have made it the top preference for thousands of users: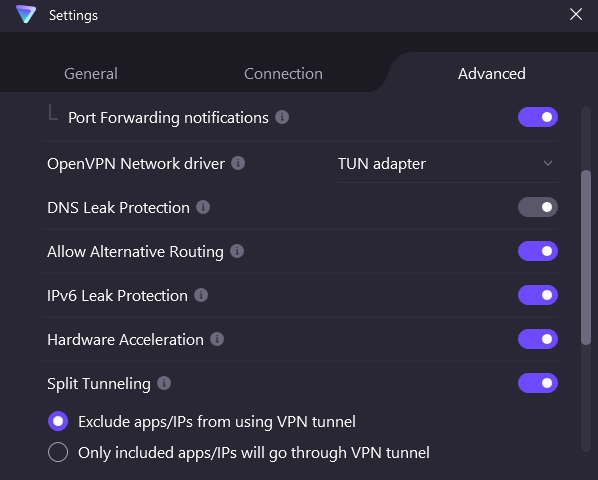 Always-On Kill Switch
ProtonVPN offers one of the best solutions for sudden VPN connection drops that could endanger your privacy and security. Although most VPNs offer this functionality, ProtonVPN went a step further to ensure it's customizable and effective.
Turning this feature on lets it monitor your VPN connection — it'll automatically halt your device's internet connection if the VPN connection drops unexpectedly. This prevents the transmission of any sensitive data during potential disruptions that wouldn't be noticeable to its users.
This fail-safe mechanism is invaluable for unstable public Wi-Fi connections and critical situations where uninterrupted VPN protection is crucial for anonymity. You can enable this feature manually or set it to be permanently active.
When permanently active on a ProtonVPN Windows client, its functionality remains available even during PC boots or shutdowns. Although it's already commendable because of its basic functionality, ProtonVPN's kill switch is also customizable.
Its users can apply the feature system-wide, ensuring it monitors all internet traffic, or configure it for specific applications. That lets you tailor its security settings to your needs and preferences and reduces the risk of VPN connection fluctuations.
Split Tunneling
Split tunneling is a VPN feature that lets you choose which internet traffic goes through the VPN and which traffic remains outside the VPN tunnel. For example, it allows you to play video games using your regular internet connection while simultaneously watching a TV show using the VPN.
However, this feature is available only on Proton VPN Android and Windows clients. To enable split tunneling, simply activate the feature by navigating to the settings menu and selecting apps to include or exclude from VPN protection.
DNS Protection
ProtonVPN doesn't store your DNS queries on its servers, and the Swiss laws it abides to can't force it to start logging them, which makes ProtonVPN an excellent online privacy solution.
All ProtonVPN apps have DNS protection tools that encrypt DNS requests to prevent your ISP and third parties from monitoring your online activities. This feature is essential for unblocking geo-restricted content and remaining anonymous online, as unencrypted DNS requests can result in a DNS leak and immediately reveal your location to your internet service provider.
ProtonVPN addresses the issue by running its own DNS servers to keep your privacy intact. This way, like your internet traffic, the DNS requests are routed through the VPN tunnels, which encrypt them and make them unreadable to third parties, including your ISP — or even the government.
NetShield Ad-Blocker
NetShield is ProtonVPN's response to various malicious and intrusive ads and trackers that collect information about your interests and habits while you browse the internet. It uses DNS filtering to block ads and online trackers that advertisement companies use to profile you, keeping your device secure and your browsing private.
Beyond this, by preventing your device from loading this type of unnecessary content, Proton VPN can reduce the amount of data you need to load while visiting a website, which makes browsing smoother.
Besides these benefits, NetShield also keeps your devices safe from malware. Whenever you visit a website with NetShield enabled, ProtonVPN will check that website's address against its massive database of malicious websites. If it finds the domain of the website you're trying to visit on one of its blocking lists, NetShield will automatically block the website from loading.
Although NetShield can keep you safe from websites with phishing scams, malware, spyware, or other malicious software, you'll still need one of the best antivirus programs to prevent other cyber threat types from harming your devices.
Tor Over VPN
To achieve the highest level of anonymity at the cost of a fair amount of connection speed, ProtonVPN offers numerous Tor servers in many countries around the world. Connecting to a ProtonVPN Tor server lets you connect to dark web .onion websites via your preferred browser without installing third-party applications.
Combining the privacy features of a VPN and the Tor network enhances your protection from potential surveillance or tracking. That's possible because the Tor network routes your connection through at least three random volunteer-run "nodes" located anywhere in the world.
Although most users use this feature to visit the dark web, Tor over VPN is also one of the best ways to bypass the strongest forms of online censorship, including the Great Firewall of China.
Is ProtonVPN Safe?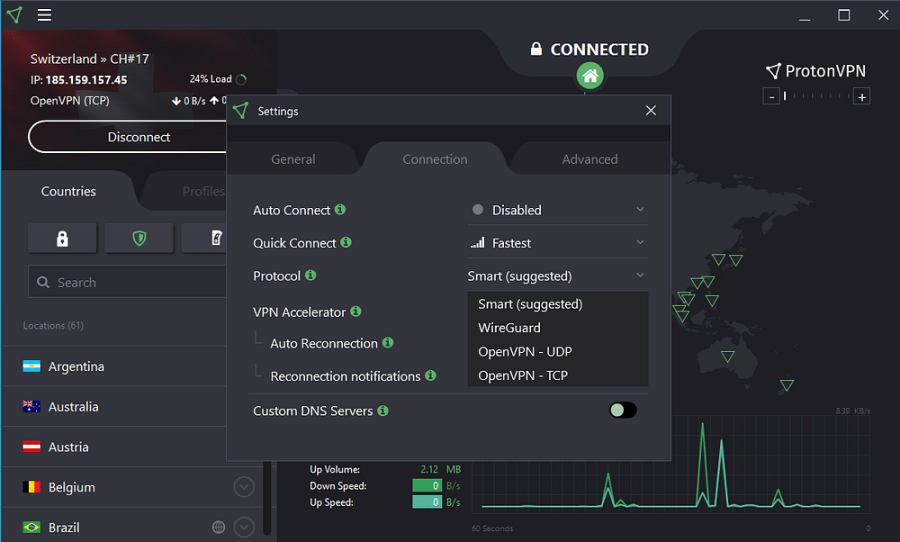 ProtonVPN's apps are open-source, meaning its global user base can constantly test for vulnerabilities and suggest improvements. Thanks to its active community and expert security teams, ProtonVPN is one of the safest VPNs you can use this year.
Proton VPN excels at keeping your devices safe and your privacy intact. The ProtonVPN project started not only as a continuation of the ProtonMail project but as a solution for journalists and political activists who wanted to stay safe online.
The reputation of the CERN scientists behind ProtonMail and ProtonVPN, and the powerful technology used to create them, adds another layer of credibility to its privacy and security claims. Here are some crucial factors that make ProtonVPN stand out as an excellent privacy-focused tool:
Encryption and Protocols
Proton VPN employs VPN protocols with reliable security track records that determine your connection's security, stability, and speed. The VPN employs the robust AES-256 encryption protocol to ensure the security and privacy of its user's VPN connections using the OpenVPN and IKEv2 protocols for top-notch security, ensuring your sensitive information remains intact.
The AES-256 uses a 256-bit key that makes it near-impossible for unauthorized third parties to decrypt your internet traffic. Beyond this, it also has the lightweight and open-source WireGuard protocol for the fastest VPN connection speeds. With this, ProtonVPN will encrypt your data with ChaCha20, an equally powerful and slightly faster encryption cipher — the same one used by one of the best password managers, NordPass.
On top of all of this, it has a proprietary protocol, Stealth, which is ideal for defeating internet censorship, especially in countries that ban social media platforms and news outlets.
Although the encryption used is practically impossible to crack, Proton VPN goes further with perfect forward secrecy. This continuously changes the key used to decrypt or encrypt information, meaning that even if third parties breach the encryption, they won't have access to your data.
Secure Core Servers
ProtonVPN has a unique server architecture that protects its users from network attacks better than most of its competition. Typical network attacks on VPN servers nullify the privacy benefits of VPN encryption and are common in countries with broad surveillance powers, such as Turkey, Iran, China, or Russia.
That means ProtonVPN and other VPN providers can't guarantee the security of their servers in countries with government-level surveillance systems. However, the Secure Core server architecture allows you to encrypt your internet traffic by routing it through multiple servers.
ProtonVPN tackles this issue by sending your traffic through its Secure Core servers before encrypting it again via a server in your chosen country. These multi-hop connections create a VPN tunnel within a tunnel to encapsulate user data in a second layer of encryption in case the first VPN connection is compromised.
ProtonVPN placed these servers in countries with strong privacy laws — Switzerland, Sweden, and Iceland — to ensure their security.
Privacy Policy
Proton VPN, and Proton's other products, such as Proton Drive or Proton Mail, have a transparent privacy policy well-complemented by Swiss laws. Although Proton VPN clearly outlines that it doesn't collect user data or throttle connection speeds, you can't trust companies on their word only.
So, is ProtonVPN legit? According to an independent audit by Securitum, cybersecurity experts specialized in penetration tests, ProtonVPN adheres to its privacy and no-logs policy. In addition, Securitum confirmed that ProtonVPN applies the same privacy policy to all servers, regions, and account types. That means you can trust Proton VPN with your privacy as a free or premium user.
What Devices Can I Use Proton VPN On?
You can use Proton VPN on various devices, including Windows, Mac, Android, iOS, ChromeOS, and Linux, and it also has web extensions for popular browsers like Chrome and Firefox. In addition, Proton VPN offers an app for Android TV, an OS common among the best streaming devices.
It's worth mentioning that you can use Proton VPN on up to ten devices simultaneously with a single subscription.
ProtonVPN recently overhauled its interface, switching to a modern black and purple look and making its apps more responsive and easy to use. Here's what you can expect from ProtonVPN on each device:
Windows
ProtonVPN provides a well-designed and easy-to-use client for Windows, and its interface consists of a large interactive map and a control menu on the left. It allows you to connect to a server by clicking on the purple "Quick Connect" button on the menu or clicking on a country on the map.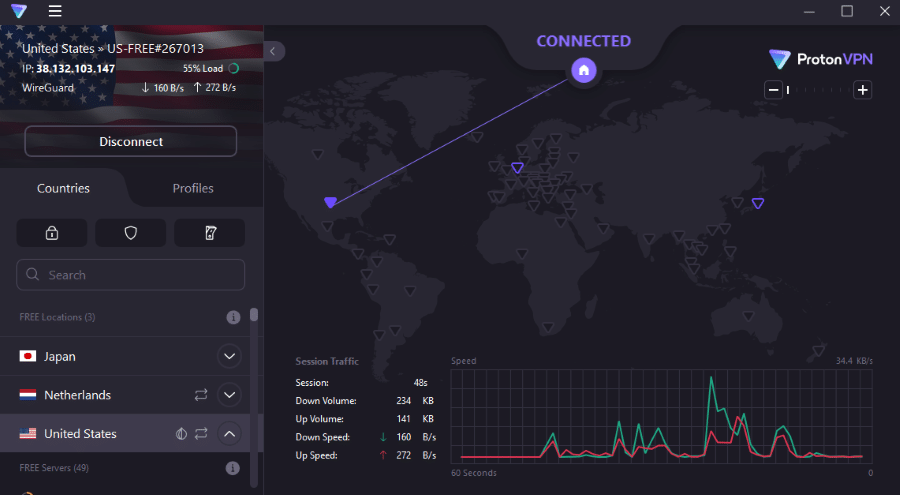 In addition, you can select a specific server based on its load and features by navigating through its list of countries in the left rail menu. For example, if you're looking for a Tor over VPN server, you'll see the onion icon next to the server name.
Once you connect to one of its VPN servers, you'll find various information about your connection in the upper left corner. Proton VPN will inform you of your new IP, protocol, upload and download speed, and server load.
In the middle of the left rail, you'll find some of its advanced features, including Secure Core, Kill Switch, NetShield, and Port Forwarding. Clicking on Secure Core opens a separate server list with eligible servers that let you establish multi-hop connections for extra anonymity.
Clicking on the NetShield button lets you turn it off, block malware only, or block trackers, ads, and malware. In addition, you'll see information about its tracker and ad-blocking performance per session. You can find the rest of its advanced features by navigating through its Settings tab.
This lets you select protocols, enable split tunneling, and more. Although ProtonVPN wasn't the easiest VPN to use on Windows before the changes to its interface, it's one of the most user-friendly choices this year, ideal for beginners and advanced VPN users.
Mac
Although similar to the Windows client, the ProtonVPN Mac client lacks some advanced features. You'll immediately notice its Secure Core servers, Kill Switch, and NetShield on the left rail menu, but that's about it.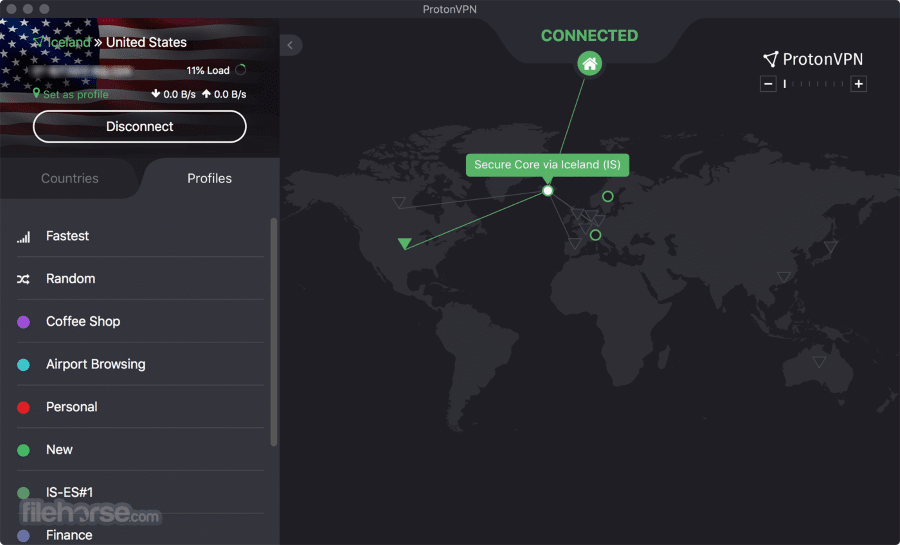 However, it's one of the easiest Mac VPNs to use, and it gives you a quick tour the first time you install it and log into your account. In a series of pop-up windows, ProtonVPN shows you how to enable different protocols, establish VPN connections, and use its advanced features. This type of approach makes it ideal for first-time VPN users.
Android
The feature-rich Proton VPN Android client provides an easy way to secure your connection by navigating its list of supported countries and selecting a server. Going through its Settings, you'll find its Always-On VPN, Split Tunneling, and Kill Switch features, with detailed step-by-step guides on how they work and how to enable them.
These features make it an excellent choice for travelers using various public Wi-Fi connections, as these networks are known to endanger your privacy and the security of your device. Like its clients for other devices, the Proton VPN Android client also supports NetShield.
Besides blocking numerous ads and trackers while you browse the internet, NetShield will stop your Android device from using unnecessary amounts of mobile data, which can make a considerable difference at the end of the month.
iOS
ProtonVPN provides a responsive iOS app with excellent performance and design. While it lacks a Split Tunneling feature, its iOS app offers Kill Switch, Always-On VPN, NetShield, and a VPN accelerator.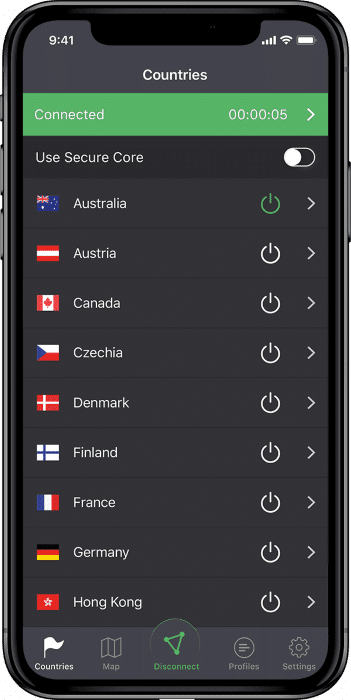 It has a straightforward design with a navigation menu at the bottom of the screen you can use to open the list of countries with VPN servers, settings, ProtonVPN profiles, and map overview. Opening the list of countries lets you toggle Secure Core at the top, and you'll find it easy to connect, disconnect, or change VPN servers.
Linux
ProtonVPN is one of the few VPNs to offer a fully featured Linux app with a graphical user interface (GUI), which makes it one of the best VPNs for Linux. Alternatively, you can use ProtonVPN Linux CLI if you prefer to work in Terminal or want to use minimal resources.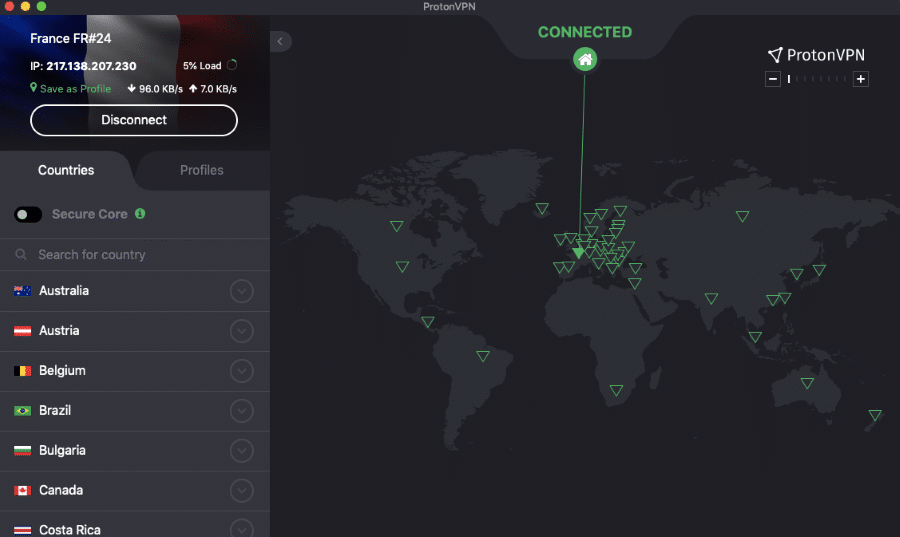 You can install the ProtonVPN Linux app on several distros, including Ubuntu 20+, Debian 10+, Fedora 34+, and Manjaro. ProtonVPN has detailed installation guides for each distro and a guide for establishing a VPN connection on other Linux systems by setting up an OpenVPN connection.
Proton VPN vs. Other Top VPN Services
VPN providers continuously improve and adjust their services, global coverage, and advanced features to appeal to new customers and retain experienced users. However, each of the top VPN providers has strengths and weaknesses, meaning you'll have to choose based on your needs and preferences.
We've prepared the table below to help you compare ProtonVPN to its main competition based on its speeds, pricing, and other features:
| | | | | | |
| --- | --- | --- | --- | --- | --- |
| Top VPN Apps | Average Speeds | Cheapest Plan | Simultaneous Connections | Server Count | Server Locations |
| | 253 Mbps | $4.99/month | 10 | 2,950+ | 68 |
| | 475 Mbps | $6.67/month | 5 | 3,000+ | 94 |
| | 260 Mbps | $2.29/month | 10 | 6,500+ | 70+ |
| | 450 Mbps | $1/month | 10 | 5,700+ | 100+ |
| | 202 Mbps | $2.49/month | Unlimited | 3,200+ | 100+ |
ExpressVPN vs. ProtonVPN
Comparing ProtonVPN to its closest competition is the best way to determine if it suits your needs. For example, ExpressVPN is ideal for advanced users looking for a VPN that offers a proprietary high-speed protocol, faster download speeds, and an in-house router, and as we saw in our full ExpressVPN review, it's undoubtedly the one to beat.
However, unlike ProtonVPN, this VPN provider lets you protect no more than five devices simultaneously and won't protect them from malware — plus, its cheapest plan costs nearly two dollars more a month, so it all depends on preference and what you need out of a VPN.
PureVPN vs. ProtonVPN
These two VPN providers offer similar features and have a transparent no-logs policy, but PureVPN offers more servers and covers more countries. It's also cheaper but lacks a crucial feature that justifies ProtonVPN's higher price point — multi-hop servers.
In addition, as we went over in our full PureVPN review, some of PureVPN's numerous servers are virtual servers, which makes ProtonVPN a more consistent solution for streaming and torrenting.
IvacyVPN vs. ProtonVPN
IvacyVPN is one of the cheapest VPNs on the market, offers excellent download and upload speeds, and lets you connect to its servers in over 100 countries. Although its advantages over ProtonVPN are hard to ignore, IvacyVPN never went through an independent audit of its privacy policy and other claims. That means your privacy is never 100% guaranteed, making ProtonVPN an obvious choice for privacy-conscious users.
Surfshark vs. ProtonVPN
Although both VPNs focus on user security and privacy, ProtonVPN has one crucial advantage over Surfshark. Based in Switzerland, ProtonVPN is a much better long-term solution than Surfshark, based in the Netherlands, a member of the Fourteen-Eyes alliance.
However, as we explored in our Surfshark review, one key benefit of this VPN is that it lets you protect unlimited devices, making it a better choice for families and friend groups.
Although some of its competition offers more servers, cheaper pricing plans, or unlimited simultaneous connections, ProtonVPN has the most transparent privacy policy and unmatched security features. For more information about the other VPN providers here, you can visit our list of the best VPN services with even more options for you to consider.
ProtonVPN Server Locations
With almost 3,000 servers in 68 countries, you'll always have a nearby server to connect to with Proton VPN. Although most of its servers are in the US and Europe, ProtonVPN also helps encrypt your internet traffic in countries with heavy internet censorship, including Russia, Vietnam, and Turkey.
However, as a free user, you'd have access to a limited number of servers and features in the following countries:
The Netherlands
The United States
Japan
Argentina
Australia
Austria
Belgium
Brazil
Bulgaria
Cambodia
Canada
Chile
Colombia
Costa Rica
Croatia
Cyprus
Czechia
Denmark
Ecuador
Egypt
Estonia
Finland
Frace
Georgia
Germany
Greece
Hong Kong
Hungary
Iceland
India
Ireland
Israel
Italy
Japan
Latvia
Lithuania
Luxembourg
Malaysia
Malta
Mexico
Moldova
Myanmar
Netherlands
New Zealand
Nigeria
North Macedonia
Norway
Peru
Philippines
Poland
Portugal
Puerto Rico
Romania
Russia
Serbia
Singapore
Slovakia
Slovenia
South Africa
South Korea
Spain
Sweden
Switzerland
Taiwan
Thailand
Turkey
Ukraine
United Arab Emirates
United Kingdom
The United States
Vietnam
Is ProtonVPN Legit? A Look at Proton VPN Reviews
Since ProtonVPN offers no free trial that would allow you to take a closer look at its advanced features, server speeds, and other capabilities, the best way to check if its services are suitable for you is by reading user reviews.
They can give you a unique insight into the first-hand experience of ProtonVPN customers, especially if you look for reviews from users with similar needs or devices. We've combed through user reviews on popular websites for product grading and noticed that most users praise ProtonVPN's security features and ease of use. Here are a few examples of Proton VPN reviews by its users:
On TrustPilot, we found numerous reviews that point out its excellent unblocking capabilities, reliable connection speeds, and the quality of its interface.
On Capterra, ProtonVPN enjoys a 4.6 out of 5 stars rating, and the user reviews praise its split tunneling and kill switch features as some of the most reliable in the industry.

Users that left reviews on GetApp are satisfied with the value-for-money ProtonVPN offers because of its NetShield and Secure Core features — rare but valuable add-ons to a VPN for those who want 360-degree protection.

However, we also noticed some negative reviews that concern its customer support. Although ProtonVPN's customer support teams provide knowledgeable and helpful answers, the only way to contact them after business hours is by emailing them. Unlike most VPNs, ProtonVPN's live chat isn't available 24/7. That said, you can reach its live chat representatives Monday to Friday from 9 am to 5 pm CEST.
How to Use Proton VPN – A Quick Guide
Installing ProtonVPN on any device takes no more than a few minutes and allows you to improve your online security immediately. Here's a step-by-step guide on how to install ProtonVPN on a Windows device.
Step 1 — Download the Proton VPN Windows App
Visit the official Proton VPN website and look for the "Download" drop-down menu at the top of the page. Click "VPN for Windows" and download the Proton VPN client installation file.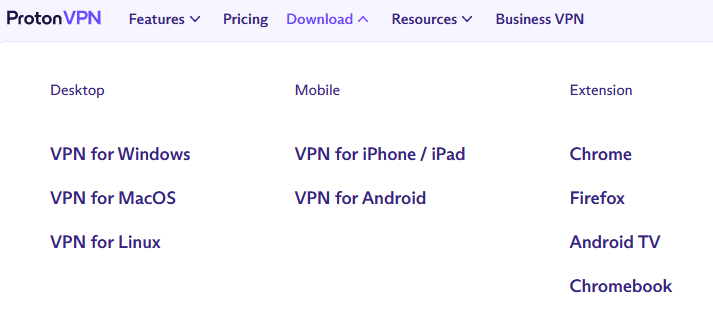 Step 2 — Install the Proton VPN Windows App
Locate the protonvpn.exe installation file in your downloads folder and launch it. Follow the on-screen instructions to finalize the process, and the Proton VPN application will start and appear in a new window.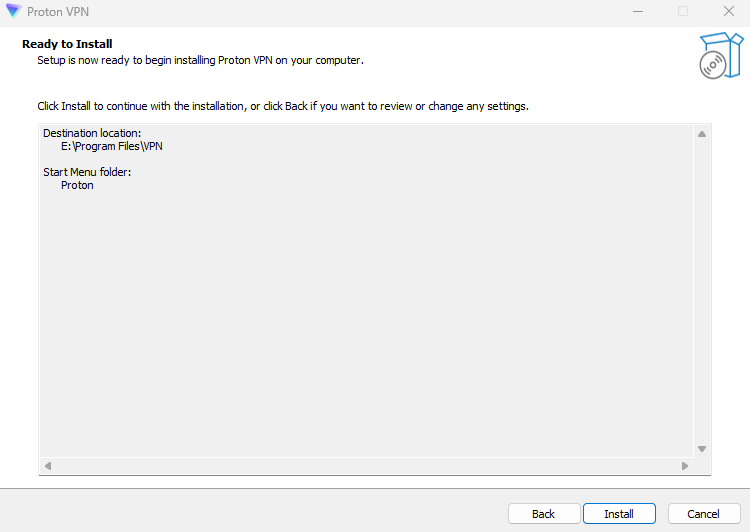 Step 3 — Log Into Your Proton VPN Account
Log into your Proton VPN account to start using its services, or head to its website to create an account and purchase a subscription if you want to use its premium features. If you want to create a free account before committing to a subscription, you'll find the "Sign up for free" button on the bottom right of its pricing plans tab.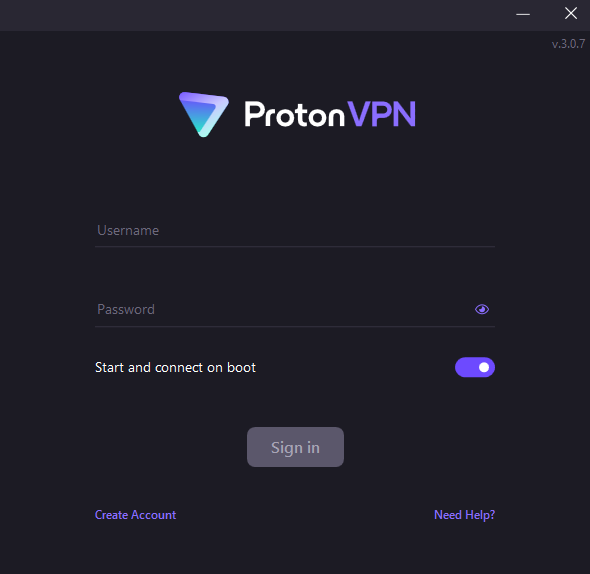 Step 4 — Connect to a VPN Server
Once you log in, Proton VPN will offer a quick tour to familiarize you with its Windows client. You can take this tour or skip it, and then you'll be ready to encrypt your internet traffic and increase your online anonymity. To connect to a server, choose a country on the interactive map or the left rail menu or click "Quick Connect."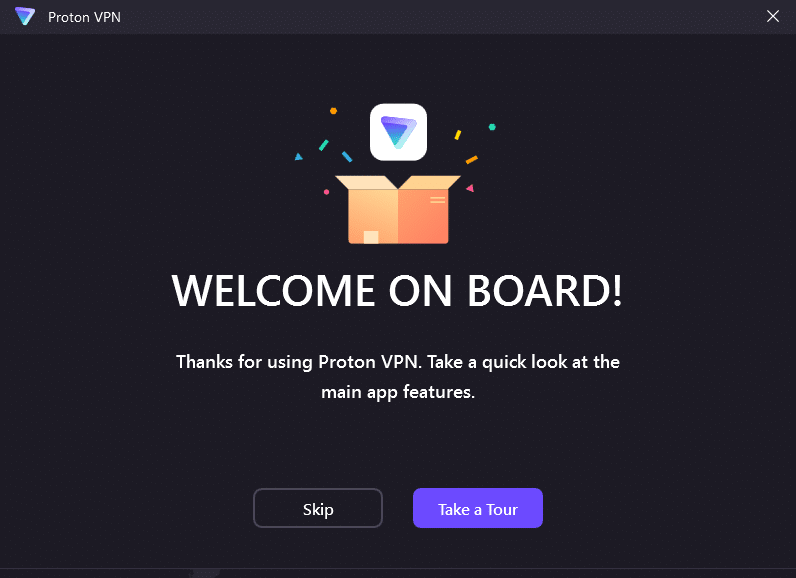 Installing Proton VPN on other devices is also a quick and straightforward process. You'll find its official apps on Google Play Store and App Store for your Android and iOS devices, respectively, and the app for Mac is right below Windows in the "Download" section on its website.
For Linux, you'll find that ProtonVPN has a guide for each distro that supports its ProtonVPN Linux app. In addition, it offers installation guides for each device on its Support Center platform and various walkthroughs and explanatory pages.
How We Tested ProtonVPN
To provide a reliable, in-depth guide to ProtonVPN, we've taken a close look at its server network, the performance, stability, and speed of its connections, and the various added security features it offers – as well as its core capabilities when it comes to enabling secure, anonymous internet use.
We've also considered the platform's plans, guarantees, support, and free service, so we can deliver a rounded picture of what it's really like using the product and of how the company will help you troubleshoot issues.
At Techopedia, we have a team of security and privacy experts who have reviewed the full spectrum of antivirus, VPN, and cybersecurity tools. Given this, we can offer insights into how products really compare to one another and where providers are offering best-in-class features and services.
We also stress the importance of collecting organic customer feedback, and we conduct research on Reddit and other forums to see how real users rate the pros and cons of different services – a process that can often surface valuable information on unforeseen pitfalls.
Our approach is to then collate this material, drawing on a wide range of sources to offer an in-depth, comprehensive perspective of the product's performance. This gives you the best possible grounding to then make up your own mind about the product and whether it suits your needs.
VPN Resources
ProtonVPN isn't the only VPN we've reviewed – we've created guides to many of the top solutions now available, including:
Conclusion – Is ProtonVPN a Good VPN to Use in 2023?
ProtonVPN is an excellent VPN to consider this year because it offers a surprising number of features for its price and focuses on keeping you secure and your privacy intact. It also has a well-designed layout and a beginner-friendly interface that shows informative session traffic details.
Although having servers in more countries would be beneficial, ProtonVPN has a strategically placed network that offers a nearby VPN server wherever you are. However, it's undeniably the best VPN this year for privacy-conscious users, thanks to its transparent and proven no-logs policy and security-focused features.
Besides its premium plan, Proton VPN offers one of the best free VPN plans that you can use for light browsing or while performing daily tasks. In addition, its 30-day money-back guarantee allows you to try its premium services risk-free today.
Proton VPN Review FAQs
Is Proton VPN trustworthy?
Is Proton VPN really free?
Which countries are free with Proton VPN?
Does Proton VPN track me?
Does Proton VPN work on Netflix?
References