This Surfshark review will present everything you need to know about the VPN. While there's no shortage of VPNs on the market, not all of them are reliable or even safe to use. If you're looking for a secure and dependable virtual private network, Surfshark VPN should be at the top of your list. It offers fast connections, strong encryption, and total anonymity – perfect for those who wish to keep their online activities away from prying eyes.
This comprehensive review will cover everything you need to know about Surfshark VPN – its features, pricing plans, security protocols, customer support options, and more. Our Surfshark review will also compare it to other leading services like ExpressVPN and NordVPN so you can decide which one best fits your needs.
So is Surfshark worth your money? Let's dive in.
What is Surfshark?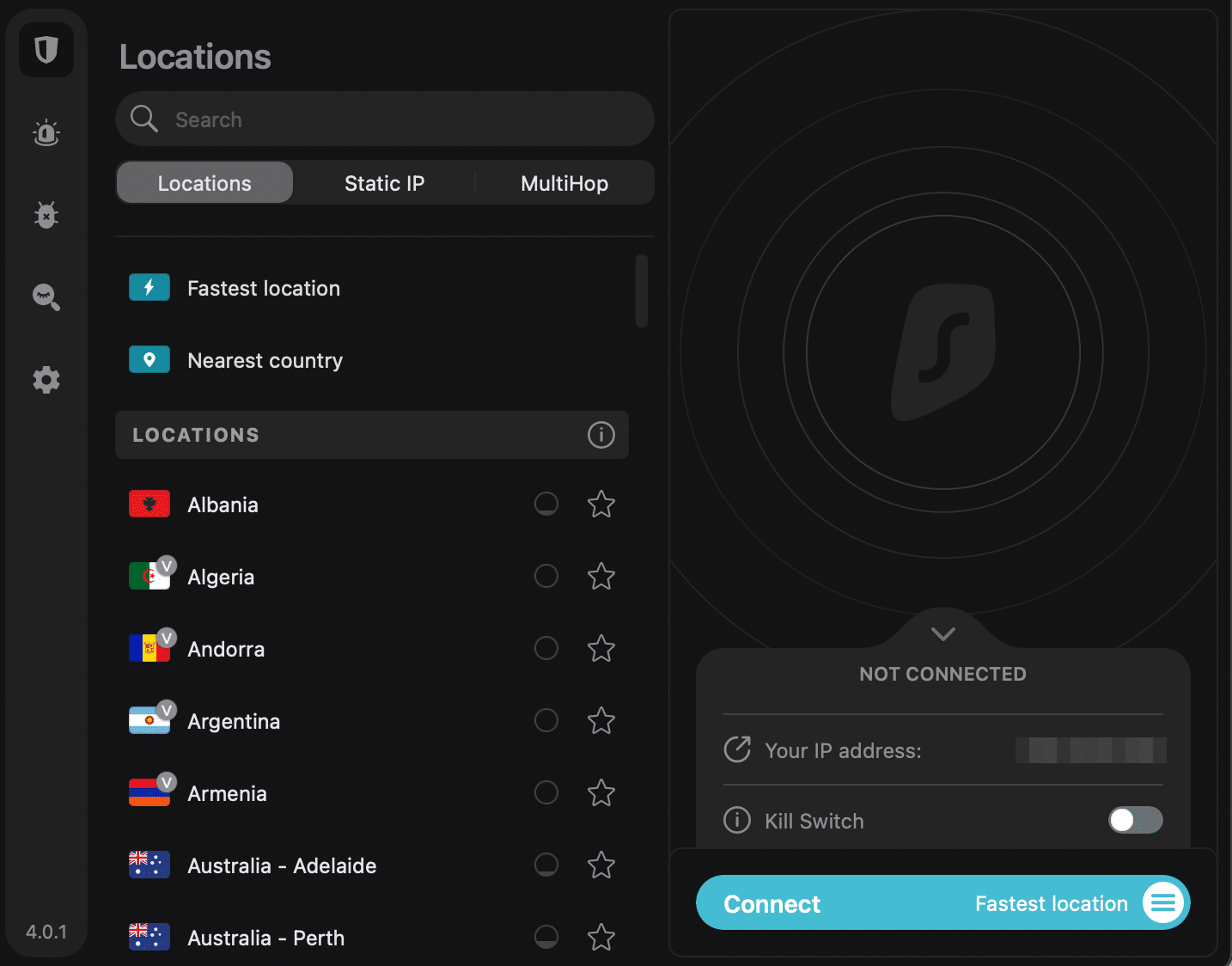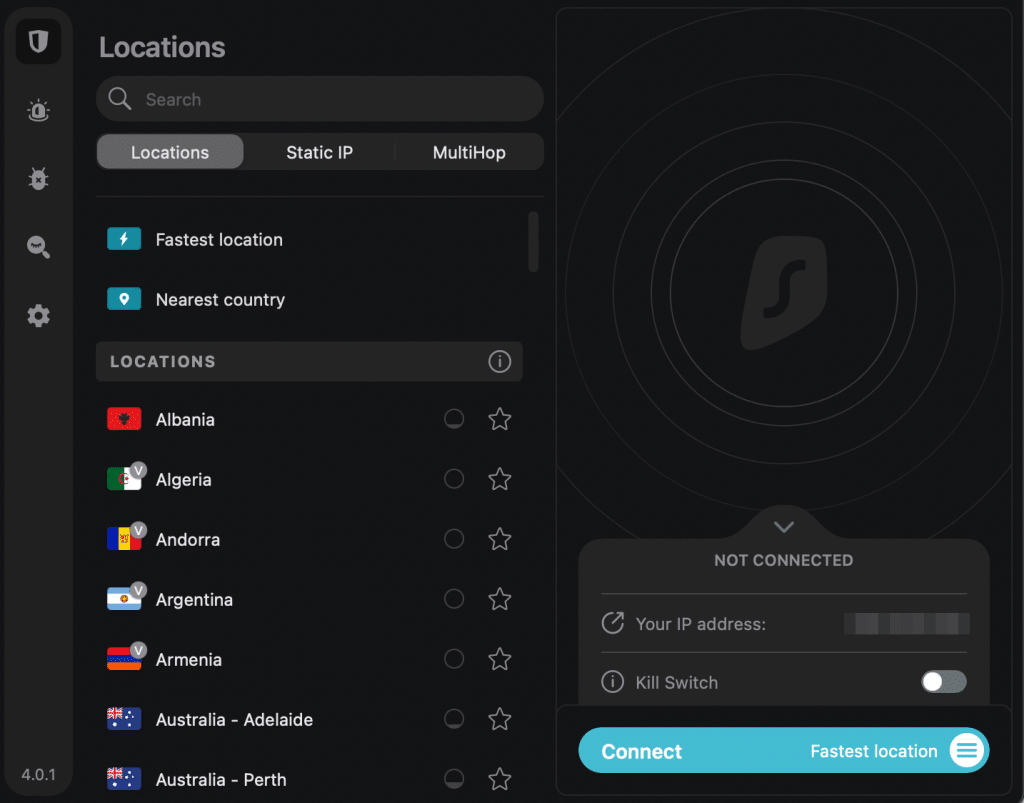 Surfshark is a VPN (Virtual Private Network) service provider that offers a secure and private connection when you surf the internet. The Surfshark app is easy to use, even for beginners, and it allows users to choose from any of over 1,700 Surfshark virtual servers found in more than 63 countries around the world.
It also has an antivirus, meaning Surfshark can protect your device against malware and other threats.
When using Surfshark's VPN services, you don't just get privacy but fast connection speeds with unlimited bandwidth, as well. You can get its complete suite of products with the Surfshark One package. This bundle includes access to Surfshark Antivirus, which is rated to be one of the best antivirus for servers out there.
You can use Surfshark on Windows or Mac computers with their software for a worry-free online experience. Surfshark reviews, including Surfshark antivirus reviews, are generally positive across the board. Users praise its accessible interface, reliable security protocols, excellent speeds, and the depth of its features.
Surfshark VPN's Pros and Cons
With its wide range of features like multihop connections, strong global server presence, and the ability to unblock geo-restricted content, Surfshark has gained popularity among users seeking a reliable VPN service. However, like any product, Surfshark has both pros and cons worth considering.
Pros
Powerful, secure, and affordable: Surfshark VPN offers excellent streaming and torrenting capabilities.
Multihop connection available: This feature adds an extra layer of security by routing your Internet traffic through two servers instead of one.
Excellent speed: Surfshark has a strong global server presence which helps in maintaining good connection speeds.
Smooth streaming of geo-blocked content: Surfshark can unblock content on Netflix, Amazon Prime, and other video-on-demand services.
Great prices: Surfshark is available at a great price compared to other top VPNs on the market.
Cons
Kill switch issues: This feature has performed inconsistently for some people.
Surfshark's OpenVPN speeds: Speeds may not be the best.
P2P Behavior: Some users have reported erratic behavior when using P2P services with Surfshark.
How Much Does Surfshark Cost?
The Surfshark VPN price range caters to different preferences and budget considerations. Surfshark prices include a one-month plan billed on a monthly basis, a 24-month plan with an additional free month included, and a 12-month plan with annual billing.
It's important to note that taxes may be applied based on your jurisdiction. For the most accurate and up-to-date Surfshark pricing information, check out the official Surfshark VPN website.
To give users a chance to try out the service, Surfshark offers a 30-day money-back guarantee. This means that if you're not satisfied with the VPN in the first 30 days of your subscription, you can request a refund. To initiate the refund process, you can email [email protected] or use their live chat feature.
When it comes to canceling your Surfshark subscription, the process is relatively straightforward. If you wish to cancel on a PC, you can visit the Surfshark website or app and locate the "Cancel Subscription" button. Depending on your device, you may need to navigate to the Settings menu or go to your profile, Subscription, or Billing tab to find the Surfshark subscription cancellation option.
If you're in the first 30 days of your subscription and want to cancel, you also have the option to request a refund. However, if not, you can still cancel the automatic renewal feature and allow your subscription to expire without incurring any further charges.
Exploring Surfshark's Core Features
For travelers, online gamers, and those seeking an extra sense of security while browsing the web, Surfshark delivers world-class user protection with unbeatable features and resource flexibility. Let's dive into the core features that make exercising freedom on the internet easier with Surfshark VPN.
Unblock an Array Of Streaming Content With A SmartDNS Feature
According to studies,
50% of VPN consumers
use the service to stream content that would otherwise be unavailable in their geographic location. This includes shows on geo-restricted services like Netflix and crosses over with access to websites that are blocked in some regions.
Through its unique SmartDNS feature, Surfshark makes accessing banned or restricted content extremely easy.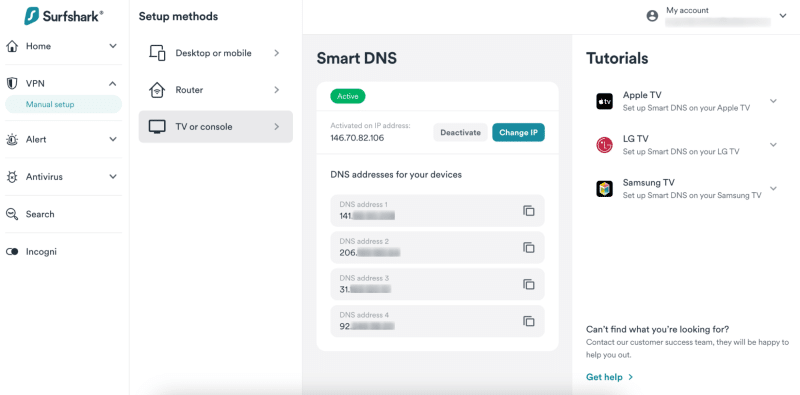 Users can instantly bypass restrictions to access shows, movies, and sports games, and the system is also fast and easy to set up.
Unlimited Devices At One Flat Price
The days of paying per device for a VPN connection are well and truly gone with Surfshark, as the service allows simultaneous access from an unrestricted number of devices, which might include computers, tablets, phones, and TVs.
Many competitors offer plans that only include two simultaneous connections, so Surfshark offers far more flexibility in comparison.
CleanWeb
Surfshark's CleanWeb feature is designed to protect your security online by blocking ads, trackers, and any malicious sites you might encounter. This allows for a secure connection and a more efficient browsing experience.
With CleanWeb enabled, Surfshark delivers a better, faster browsing experience. It also limits the potential for you to be exposed to malware and other malicious software.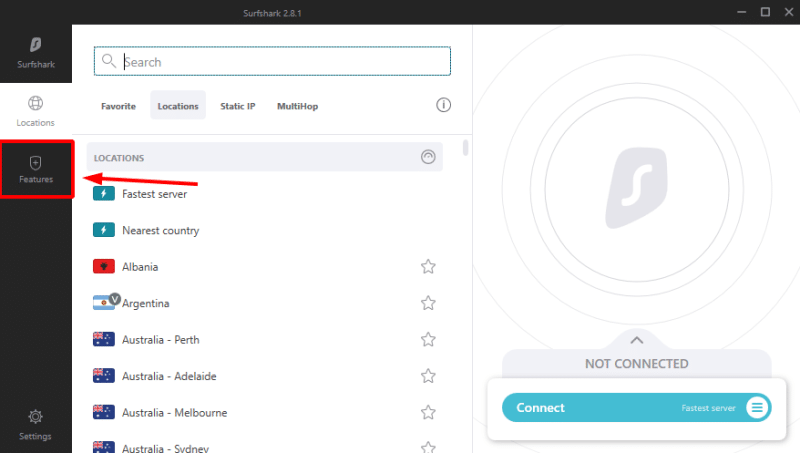 On top of all that, Surfshark adds an extra layer of security by keeping you safe from phishing scams that might try to steal personal information like passwords and credit card numbers.
CleanWeb offers tremendous benefits in terms of privacy protection. However, there are some downsides to the feature as well.
For example, while it does block most types of unwanted ads and pop-ups, it doesn't do much to combat cryptocurrency miners on webpages – which can still run in the background, consuming data without making their presence known.
Effortless Setup & Convenient Control Panel
Surfshark knows how daunting setting up your online security infrastructure can be, especially for those unfamiliar with tech jargon and browsing terminology. For these reasons, they've taken a proactive approach to minimize user confusion by limiting the required setup procedures.
Simply follow the instructions drawn out step-by-step in a convenient tutorial provided for both Windows and Mac configurations – there's also an Android app available – to get up and running within minutes.
If desired, you can choose to set it up manually if you're comfortable with more technical configurations. To further facilitate user stability and peace of mind, the dashboard allows users to quickly and conveniently monitor their data allotment or alter server locations.
Limitless Data Bandwidth Across Countless High-Speed Servers
Since its launch, Surfshark has increased its global network rapidly, and it now has servers located all over the world – from North America to Europe and down to Australasia and South Africa.
Users can access these securely encrypted servers for both international and domestic use without adding to latency – resulting in fast, smooth streaming with few buffering issues.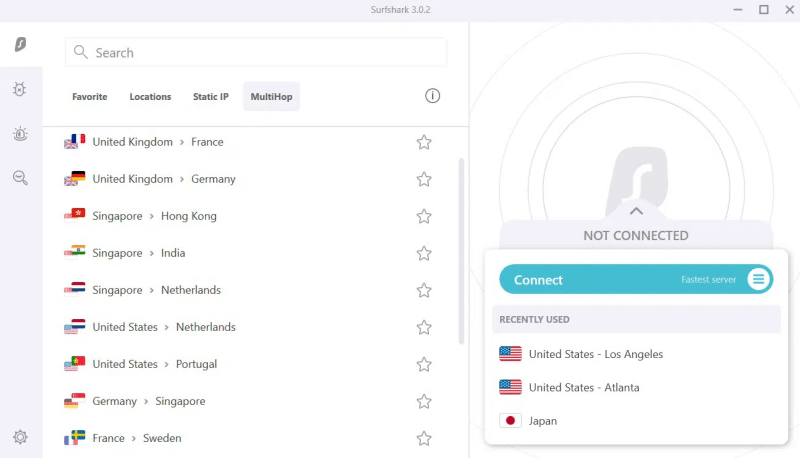 Best of all, Surfshark provides unrestricted data bandwidth across all its installations meaning that no matter how much content you choose to stream or download, there won't be any nasty surprises when it comes to speed restrictions or billing.
Easy To Use Applications For PC & Mac
Surfshark takes pride in its commitment to delivering an exceptional user experience, not only during browsing but also when it comes to usability for its applications and configuration software on PC and Mac devices.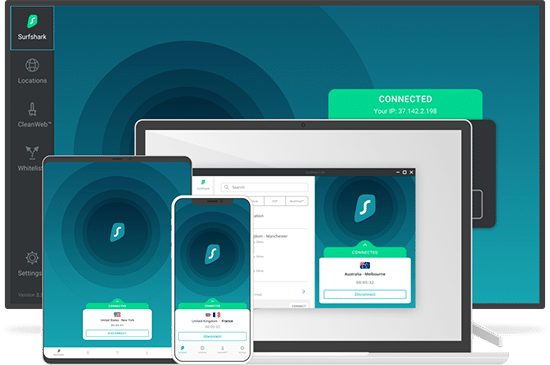 Surfshark's apps include an intuitive, easy-to-use graphical user interface (GUI). This makes it effortless for users to navigate and operate the app, even if they're not technically inclined, and it's great for both beginners and advanced users.
Setting up and configuring the application takes a bare minimum of time. Once you log into your device, you'll be greeted with a control panel that provides access to all the features and settings, such as making adjustments to encryption protocols.
Advanced users who are comfortable working with terminal drives and prefer more granular control have access to a range of advanced options, empowering them to customize their VPN experience according to their needs.
Surfshark ensures that maintaining a secure connection is hassle-free and stress-free for its users. There's great technical support – but you likely won't need it.
Unbeatable Security Practices
Surfshark is renowned for its unbeatable security practices, making it a top choice for privacy-conscious individuals in today's increasingly hostile digital landscape. Despite its affordable price, Surfshark has a reputation among privacy professionals as a strong player in safeguarding consumer data.
To ensure robust security, Surfshark employs military-grade encryption protocols, including
OpenVPN
(TCP/UDP), IKEv2, Shadowsocks, and L2TP. These protocols have undergone thorough testing to identify and address potential vulnerabilities that could compromise user information.
By implementing these industry-leading encryption standards, Surfshark demonstrates its commitment to protecting the confidentiality and integrity of user data.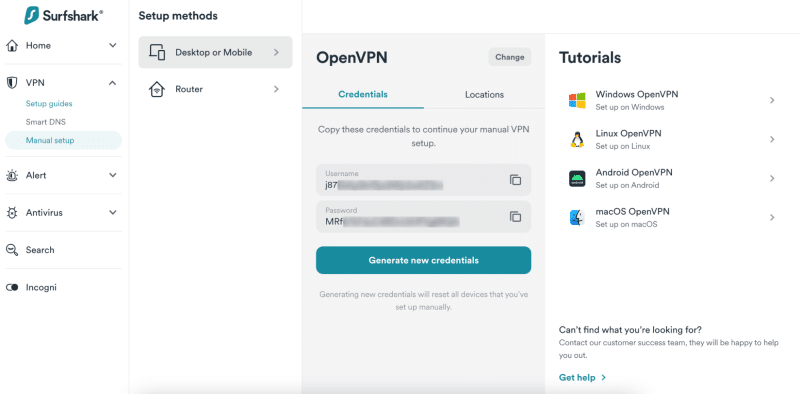 When it comes to transmitting data, Surfshark subjects all information to rigorous encryption checks. This ensures that any attempts to intercept or eavesdrop on secure communication streams should be promptly thwarted.
This extra layer of encryption safeguards sensitive user data from falling into the wrong hands, providing peace of mind.
In addition to robust encryption, Surfshark has an automatic kill switch feature. This instantly terminates the internet connection in the event of sudden drops or interruptions, preventing any accidental exposure of unencrypted data.
By promptly cutting off internet access, Surfshark mitigates the risk of data leaks and ensures continuous protection for its users.
Surfshark strictly adheres to a no-log policy, which means that customer searches and streaming activities are not logged. This commitment to user privacy minimizes the risk of tracking and further safeguards personal information.
Users can confidently rely on Surfshark to provide them with the freedom to explore the web while maintaining their privacy and anonymity.
However, it's worth noting that – like any VPN service – Surfshark may experience occasional connection slowdowns due to the encryption and routing processes involved in protecting user data.
Surfshark Antivirus
One of the key strengths of Surfshark Antivirus is its ability to defend against threats on the internet. It offers full-scale network protection by actively scanning and blocking malicious URLs and preventing users from inadvertently accessing websites that may contain harmful content or malicious code.
Additionally, Surfshark Antivirus employs advanced detection mechanisms to identify and intercept potentially dangerous downloads, shielding users from installing malicious software onto their devices.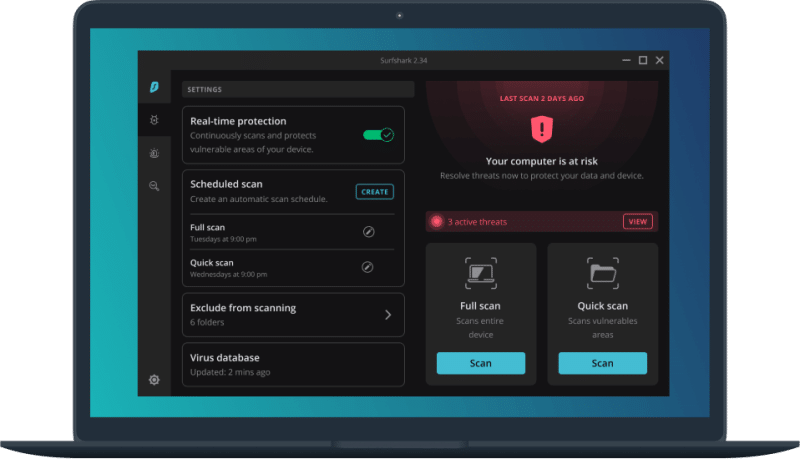 Surfshark Antivirus also helps in identifying areas where a user's device may be vulnerable or exposed to potential security risks. It performs comprehensive checks to identify outdated firewalls and missing software patches that could serve as entry points for cyber threats.
Users can then take action to secure their devices and mitigate against potential risks. All of this gives users confidence, knowing they're protected from exploits and vulnerabilities.
Surfshark Antivirus is one of the top antivirus software products on the market today, allowing users to explore the internet without fear of falling victim to cyber-attacks or having their sensitive information compromised.
Surfshark Search
Surfshark Search is a secure and privacy-focused search engine that is part of the Surfshark One suite of products. Surfshark One also includes the VPN service, Surfshark Antivirus, and data leak alerts, offering users a comprehensive privacy and security solution.
A key feature of Surfshark Search is that it delivers purely organic search results, free from ads and tracking. By removing ads from search results, Surfshark Search ensures that users can access information without any distractions or unwanted marketing messages.

The absence of tracking mechanisms means that users' search queries and activities remain private and are not used to create profiles or feed targeted advertising without logging or data storage. It enables users to conduct searches without leaving any digital footprints.
All of this provides users with a higher level of anonymity and prevents third parties from accumulating personal data. The community forum Reddit is particularly geared towards anonymity, and its users rate Surfshark as one of the best VPNs for Reddit users.
Surfshark Alert
Surfshark Alert is an advanced security solution that's an integral part of the Surfshark One bundle. It's designed to protect your sensitive information and ensure it remains out of the wrong hands.
Using sophisticated algorithms, Surfshark Alert proactively seeks potential threats to your online security and privacy. It scans various online platforms and databases, searching for any indication your personal information, such as usernames and passwords, may have been compromised or exposed.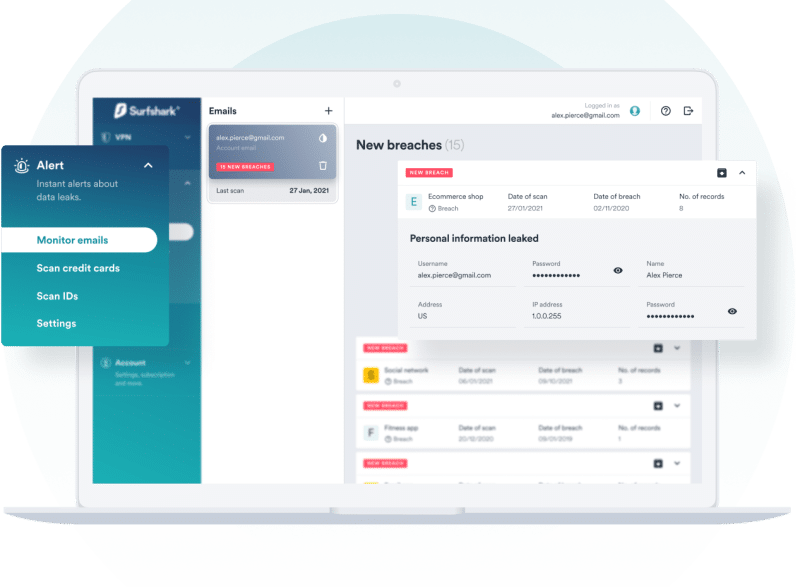 Should Surfshark Alert detect any signs of a data breach, it promptly alerts you, bringing the situation to your attention. Timely notifications give you valuable insights into the specific breach or breaches that have occurred, allowing you to take immediate action and fortify your online defenses.
Is Surfshark Safe? Surfshark's Security
Surfshark takes a very serious approach to security. As a provider of online privacy and security solutions, it is the company's priority to ensure all of its customers stay protected from potential threats and malicious actors on the internet.
Let's now discuss different aspects of Surfshark's security measures so you can determine whether or not it's a reliable option for keeping your data safe while using the web.
Encryption Standards
A key component of any secure network is its use of encryption standards – securing connections as they travel between two points. The most commonly used encryption standard today is Advanced Encryption Standard (AES), which Surfshark employs across its entire infrastructure with 256-bit keys.
This sets an extremely high bar in terms of encrypting data. Even if someone were to gain access to your connection, they wouldn't be able to decipher what was being transferred without knowledge of that particular key configuration.
Secure Protocol Support
Surfshark also supports popular, secure protocol suites like OpenVPN, IPSec/IKEv2, and WireGuard VPN, all powered with forward secrecy – meaning that each session gets unique encryption keys generated every time you log in or out, making hacking attempts far more difficult.
This ensures safety when connected to any public hot spot, home network, or workplace, as your connection remains secure through all of them.
No-Logging Policy
Another important aspect of Surfshark's security stance is its commitment to a no-logging policy, meaning they do not track, store or monitor what you do online in any way. This means that your activities are never recorded. If they were ever confronted by a government agency requesting user information concerning an investigation, they would have nothing to give due to the lack of logs on file.
Deloitte, a reputable third-party auditing firm, conducted a thorough security audit of the company's systems and verified that they are indeed in compliance with this policy. Deloitte's endorsement adds an extra layer of trustworthiness to Surfshark's service as it shows that its processes are being verified externally.
Zero-Knowledge DNS
For additional privacy protection, Surfshark also utilizes its own zero-knowledge DNS (Domain Name System) servers which help mask user activity, further preventing malicious actors from attacking customers' connections by monitoring what websites they visit and the IP addresses connected to those sessions.
With this feature enabled, users can be sure that all traffic moving between their devices will remain completely anonymous, ensuring an ultra-secure experience for all users no matter where they access the company's servers from.
MultiHop VPN Security Dashboard
For added control over your security, Surfshark offers a 'MultiHop VPN Security Dashboard,' allowing you to customize your use of the feature.
Users can manually adjust which countries they want their VPN server to route through here, giving them a much higher level of control over their privacy and security.
Independent Audits
Surfshark has also participated in independent auditing from prestigious firms to ensure their security measures are effective and up-to-date. The latest was from Cure53 and gave Surfshark a seal of approval. This means Surfshark can confidently say their users' data and traffic remain safe and anonymous with each use session.
RAM-Only Servers
An innovative service offered by Surfshark is its deployment of RAM-only servers. Surfshark is among the first providers in the VPN industry to upgrade its servers to RAM-only infrastructure. This means that user data has no traceable physical location as the server only works in memory and not on storage disks.
Secure Proxy Extension for Chrome & Firefox
As part of its arsenal of features, Surfshark offers browser extensions for Google Chrome and Mozilla Firefox browsers called 'Secure Proxy.' This allows you to encrypt your web traffic and virtually change your location, giving you full anonymity when browsing online.
Secure Proxy is very easy to set up and use, even for those unfamiliar with technology or security settings. It can be enabled in seconds, and you can switch between servers quickly whenever needed, connecting to foreign servers to unblock streaming services like Netflix and Hulu.
The data is fully encrypted, meaning no one can track or spy on messages being sent or received from a device using the SecureProxy connection.
There have been reports, however, of occasional lags affecting page loading speed when using the SecureProxy service – which, of course, depends on where you are in relation to Surfshark's VPN locations.
Camouflage Mode
Surfshark has a feature called "Camouflage Mode," also called Obfuscation, which is designed to hide your VPN usage even from your ISP (Internet Service Provider). This mode masks the fact that you're connected to a VPN server altogether, so no one can tell what sites you're visiting or where you're located.
This is especially useful if you live in an area with censorship laws, as it'll make it much harder for third parties to detect what content you're accessing online, as well as the fact you're using a VPN – protecting your data from observation at all times.
Due to the nature of how camouflage mode works, it may slow down overall connection speeds to some extent. However, this degradation should be minimal – depending on the robustness of Surfshark's servers, in addition to external conditions such as network congestion.
MultiHop
MultiHop is a feature offered by Surfshark that allows you to connect to multiple VPN servers in sequence. Your traffic routes through one server location and then another before it reaches its destination, providing an extra layer of safety and anonymity.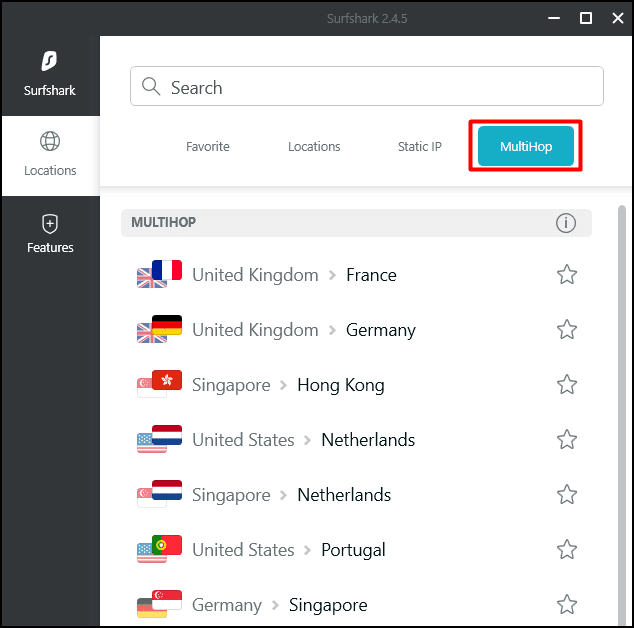 You'll get an increased level of privacy and improved reliability when evading censorship restrictions and bypassing geo-blocks around the world – all in one go.
Surfshark provides users with access to as many servers as they need, making it easy for them to quickly and easily change between hops according to their current location or desired destination.
However, using multiple VPN connections does put an additional strain on both your computer's resources and bandwidth. This should be negligible for most people, though, depending on what type of device they're using. The connection is also less stable as if one hop fails, then potentially all the connections can go down at once.
NoBorders
NoBorders looks to solve the challenge of accessing secure websites, streaming services, and other online content while in heavily restricted areas like schools, universities, and residential blocks that use firewalls. It offers users a way to bypass these limitations using advanced VPN protocols (Ikev2/IPSec) and to protect their identities from anyone attempting to monitor browsing data.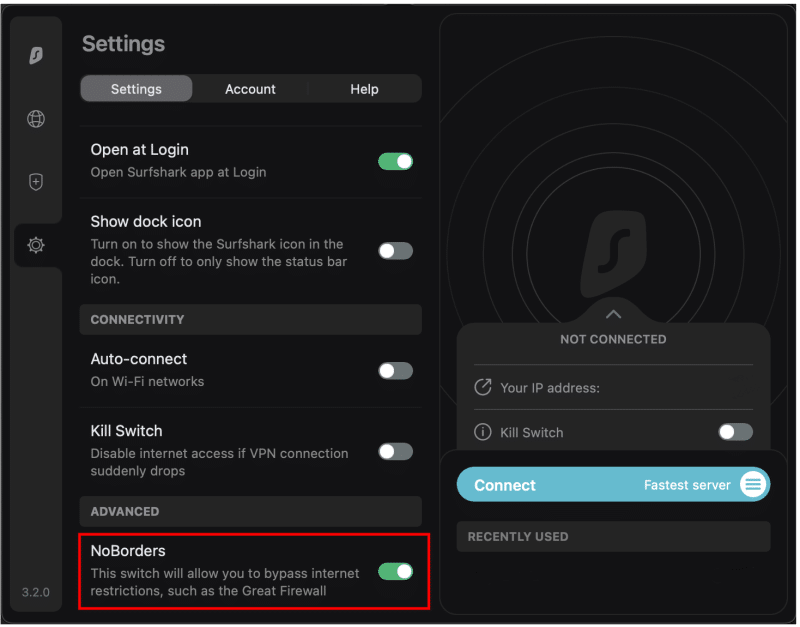 Although NoBorders adds an additional layer of protection, it does have some downsides which are out of Surfshark's control, such as slowing connection speeds due to interference caused by the firewall, plus, certain types of websites may still remain blocked even when it is enabled.
Surfshark's Device Compatibility
Surfshark has apps for all of the major platforms on desktop, tablet, and mobile. Let's take a closer look at the different options Surfshark offers to ensure you'll be able to safely and securely access the internet.
Android
For Android users, Surfshark provides an easy-to-use interface in addition to full encryption protection for both Wi-Fi connections and cellular data networks. The app also features an integrated kill switch which will automatically disconnect your device if your VPN connection fails unexpectedly.
iOS
Surfshark offers full compatibility with iPhone and iPad devices running iOS 8 or higher. The app is designed specifically for iOS users with features like optimized profiles for streaming services and simple navigation menus that require minimal user input. Users also have access to split tunneling for optimized connections when needed.
Windows
Windows 10 users can download Surfshark's dedicated client from the Windows store or from their website. This allows for secure browsing without fear of being tracked online while protecting sensitive information such as passwords and credit card numbers. It even includes additional features such as a VPN kill switch and 'launch on startup' for continuous protection whenever your device is turned on.
Mac
Apple users can also take advantage of Surfshark's Mac security features with an easy-to-use app available both from their website and the App Store. The app allows you to anonymously browse the web while encrypting all incoming and outgoing data from your device with military-grade encryption, as well as providing additional protection with an integrated kill switch.
Linux
You can also install Surfshark on popular Linux operating systems, such as Ubuntu, Mint, and Debian. The app includes all the same features and benefits found in other versions of Surfshark, including military-grade encryption and a kill switch to keep your data safe while you're online.
Surfshark vs. Top VPN Competitors
The global VPN market is worth $44.6 billion. Being one of the biggest tech industries today, it's safe to say that the market is pretty saturated – so it's important to compare services before you make a purchase. Check out this table for a comparison of Surfshark and its competitors' features:
| | | | | | |
| --- | --- | --- | --- | --- | --- |
| Top VPN Apps | Average Speeds | Cheapest Plan | Simultaneous Connections | Server Count | Server Locations |
| Surfshark | 263 Mbps | $2.39 per month | Unlimited | 3,200+ | 100+ |
| PureVPN | 200 Mbps | $2.29 per month | 10 | 6,500+ | 78 |
| ExpressVPN | 400 Mbps | $8.32 per month | 8 | 3,000+ | 160 |
| IvacyVPN | 189 Mbps | $1 per month | 10 | 5,700+ | 100+ |
What is SurfsharkVPN Good For?
SurfsharkVPN is a versatile VPN service that excels in providing a seamless streaming experience, ensuring a secure environment for torrenting, and enhancing online gaming performance. With its extensive server network and advanced features, SurfsharkVPN caters to the needs of users in a range of areas.
Streaming
SurfsharkVPN boasts a large network of servers spread across more than 100 countries, totaling in excess of 3,200 servers. This broad presence allows users to bypass geographic restrictions and access streaming content from various platforms around the world.
Whether you're interested in streaming movies, TV shows, or sporting events, SurfsharkVPN ensures a smooth streaming experience by providing high-speed connections and eliminating buffering issues. This means you can enjoy your favorite content in stunning 4K HD quality without interruptions.
Torrenting
SurfsharkVPN is an excellent choice for torrenting. All of its servers support P2P (peer-to-peer) traffic, which means you can engage in torrenting activities without limitations, and SurfsharkVPN provides fast connections for rapid, efficient file sharing.
To enhance your privacy and security while torrenting, SurfsharkVPN implements AES-256 encryption, which is highly secure. Features like the kill switch, Double VPN, and a privacy-focused logging policy work together to shield your P2P activities from ISPs and maintain your anonymity while using popular torrenting clients such as qBittorrent, BitTorrent, uTorrent, and Vuze.
Gaming
SurfsharkVPN understands the importance of a stable and lag-free gaming experiences. By connecting to Surfshark's servers, you can prevent your ISP from throttling your gaming data, ensuring you have the optimal speed required for online gaming.
With Distributed Denial of Service (DDoS) protection, SurfsharkVPN adds an extra layer of security to shield you from potential cyber-attacks during gaming sessions. Furthermore, SurfsharkVPN allows you to connect to servers in different countries, giving you the ability to play games with friends worldwide, regardless of their geographic location.
Surfshark Servers Locations
With over 3,200 servers, Surfshark boasts one of the most extensive server networks in the VPN market. The company claims that its worldwide network offers superior speed and security, allowing users to unlock content on a global scale.
Europe: Austria, Belgium, Bosnia and Herzegovina, Bulgaria, Croatia, Cyprus, Czech Republic, Denmark, Estonia, Finland, France, Germany, Greece, Hungary, Iceland, Ireland, Italy, Netherlands, Norway, Poland, Portugal, Romania, Serbia, Slovakia, Slovenia, Spain, Sweden, Switzerland, Turkey, Ukraine, and the UK.
Americas: Brazil, Canada, Chile, Colombia, Costa Rica, Mexico, United States, and Venezuela.
Asia Pacific: Australia (servers in Sydney, Brisbane, Adelaide, Melbourne, and Perth), Azerbaijan, Hong Kong, India, Indonesia, Japan, Kazakhstan, Malaysia, New Zealand, Philippines, Singapore, South Korea, Taiwan, and Thailand.
Middle East and Africa: Israel, South Africa, and the UAE.
Is Surfshark Good? A Look at VPN Surfshark Reviews
Based on the Surfshark VPN reviews from TrustPilot, the overall sentiment towards this VPN is positive. Here's a summary of the key points:
Performance and Features: Users appreciate Surfshark's fast connection speeds, particularly when it comes to connecting to servers. They find the app great for streaming and mention the availability of various useful features such as rotating IP addresses, dedicated IP, multihop, static IP, and NoBorders.
Privacy and Security: Customers praise Surfshark for effectively protecting their personal data and privacy. They mention that the VPN promptly warns them about harmful websites, apps, and actions, providing a secure experience across multiple devices.

Customer Support: The customer support team is highly regarded for being friendly, professional, and responsive. Users appreciate the prompt and satisfactory resolution of their queries and value the opportunity to interact with human support representatives rather than bots.

How to Use Surfshark VPN – A Quick Guide
To set up Surfshark on Windows, follow these steps:
1. Visit the Surfshark website and download the Surfshark app for Windows.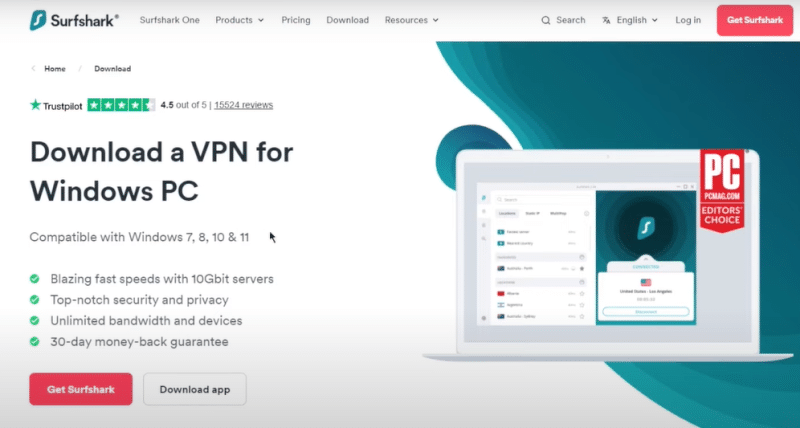 2. Locate the downloaded file (usually in your "Downloads" folder) and double-click on it to start the installation wizard.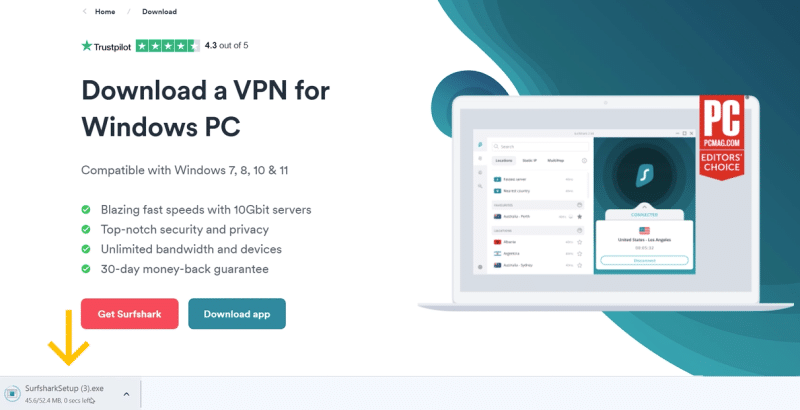 3. Follow the on-screen instructions to install the Surfshark app on your Windows computer.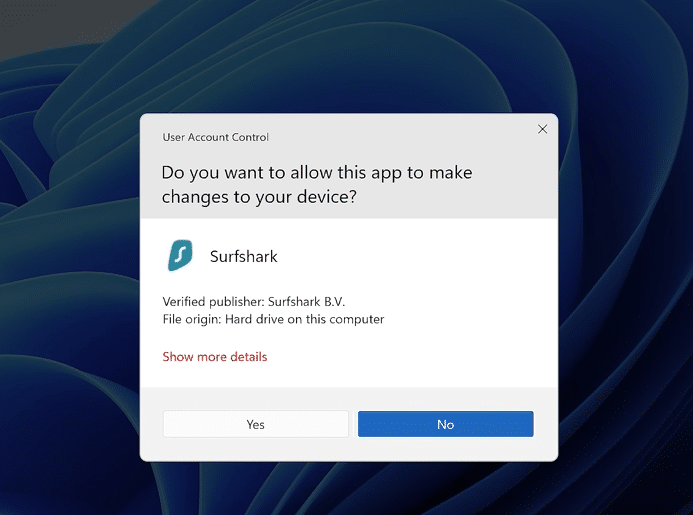 4. Once the installation is complete, launch the Surfshark app.
5. Log in to your account using your Surfshark VPN login credentials. If you don't have an account, you can create one during the sign-up process.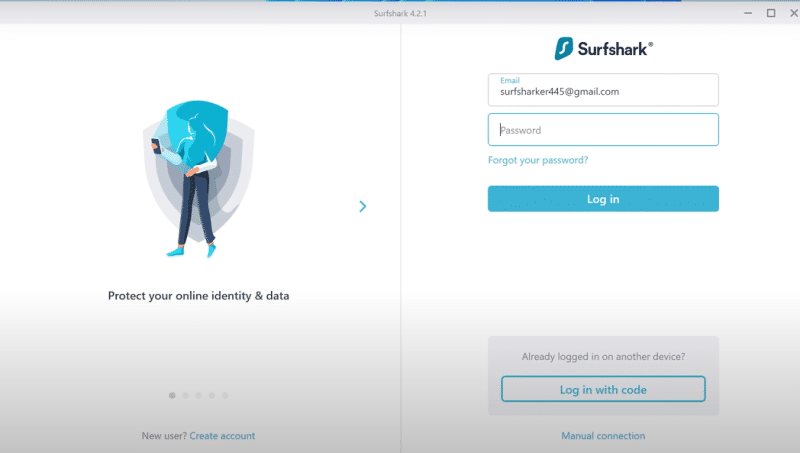 6. After logging in, you will be presented with a server location. You can choose a specific country or let the app select the best server for you automatically.
7. Click the "Connect" button to establish a VPN connection. The Surfshark app will now connect you to the selected server, securing your internet traffic.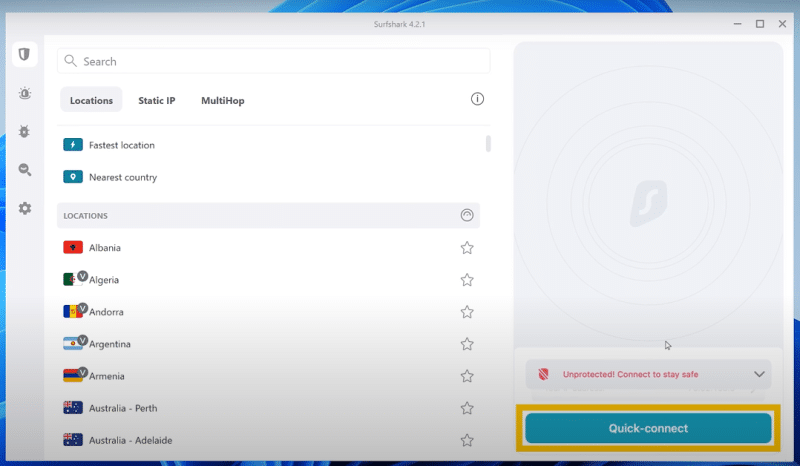 For other platforms such as macOS, iOS, Linux, or routers, the setup process is similar. Surfshark provides comprehensive tutorials and guides on its website to help you set up the VPN on various devices. These tutorials typically include step-by-step instructions along with screenshots or illustrations to make the process easy to follow.
It's worth noting that Surfshark offers dedicated apps for most major platforms, simplifying the setup process and ensuring a user-friendly experience. By following the instructions provided by Surfshark, you can easily configure the VPN on your preferred device and enjoy a secure and private internet browsing experience.
How We Tested Surfshark
To offer a comprehensive overview of Surfshark's delivery, we've thoroughly explored the product, considering its performance, its unique security features, the stability and speed of its connections, and the scale of its server network, alongside its fundamental ability to deliver private, secure internet access for users.
We've also taken note of the product's pricing, the trials, guarantees, and support it offers, and its competitive field, to provide a fuller picture of the customer experience.
Our cybersecurity team includes researchers with significant experience in reviewing VPN, antivirus, and cybersecurity tools, so we can make in-depth comparisons between products and highlight industry-leading features that might otherwise be missed.
It's also important to us that we draw on organic customer reviews, incorporating real user feedback collected from the web to offer further insights into how people have found the product and their thoughts on where it exceeded expectations and where it fell short.
In our guides, we then bring this research and feedback together to provide a 360′ perspective of the product, covering its performance, usability, and market context. With this in hand, you can then come to an informed decision about the best product for you.
VPN Guides and Resources
Beyond Surfshark, our team have put together a range of VPN resources on the best tools available on the market, including:
Final Thoughts – Is Surfshark Worth the Money in 2023?
So, is Surfshark worth it? The consensus from our VPN experts and the market is that, yes, Surfshark is worth the money in 2023. It offers a comprehensive set of features that make it one of the best VPNs on the market. It's also extremely affordable compared to other top-tier VPN products, and its 30-day money-back guarantee means you can test it for yourself without having to worry about being stuck with something you don't like.
Overall, whether you're primarily looking for added privacy and security or want access to content not available in your region, Surfshark provides great value.
Surfshark FAQs
Is Surfshark VPN trustworthy?
Is Surfshark good for Netflix?
Does Surfshark slow down the internet?
What are the downsides of Surfshark VPN?
References