Our TurboVPN review takes a deep look at this leading Singaporean platform. We'll explore everything from its features and its pricing to how it compares against competitors. As you could need it for anything from casual browsing to business, we'll also look at its best use cases.
By the end of our TurboVPN review, you'll learn everything you need to know to decide whether it's the right VPN for you.
Table of Contents
Table of Contents
What is TurboVPN?
TurboVPN is a
virtual private network
(VPN) that secures and protects your online browsing activities. You can use it to encrypt your internet traffic, mask your location, and access region-restricted online content.
Since it started in 2018, TurboVPN has become one of the leading providers, with 24,000 servers in over 50 countries. It now has over 100 million downloads on the Google Play store alone.
You may have noticed there are two TurboVPNs. For clarity, our TurboVPN review is about the Singaporean-based provider owned by Innovative Connecting. We're not discussing the Cypriot TurboVPN under Airsharp Limited.
TurboVPN Pros and Cons
After thoroughly investigating TurboVPN, we found it to be a fast and reliable service overall. However, like any platform, it has its pros and cons, so it won't be a perfect fit for everyone. Here are the main points to be aware of:
Pros
Free plan
Beginner-friendly
Affordably priced
Choice of protocols
24,000 servers worldwide
Top speeds for nearby locations
Cons
Pop-up ads on the free version
Occasional disconnects on Chrome
Lacks advanced security features
If security is your biggest concern, TurboVPN may not be the best fit. While it has essential features like split tunneling and the kill switch, it lacks Wireguard protocol.
TurboVPN also participates in the Five Eyes alliance, even if it's not a strict member, which may deter some users. This shouldn't be a security concern due to the platform's strict no-logging policy—even if the government asked for information, they'd have nothing to share.
However, with TurboVPN's range of locations, it's ideal for streaming content from anywhere in the world. The number of servers also guarantees you'll get a reliable connection so your show or movie won't get interrupted.
The best use case for TurboVPN is for beginners on a budget. You can take advantage of the free plan, discounts, and low monthly prices to keep costs low. The simple interface means you don't have to worry about mastering complex software just to have a movie night once or twice a week.
How Much Does TurboVPN Cost?
On the website, the TurboVPN team says they believe in equitable access to the Internet. That's why they offer a free plan and a range of competitive pricing plans. You're sure to find an option that accommodates your budget without missing out on essential features like the kill switch and split tunneling.
Here's a quick look at the payment plans for the Premium account in 2023. The free plan isn't listed here, as it has a dedicated webpage.
We were happy to see you could get the 30-day money-back guarantee even on the monthly plan. There were also in-app offers for a free trial which makes it much easier to try TurboVPN before you commit.
Similarly, TurboVPN is easy to cancel. All you have to do is go to the app store where you made the purchase and end the subscription. You only have to contact customer support to handle your cancellation if you happen to pay via the TurboVPN website.
Now let's get a closer look at the differences in features between the two plans:
Plan
Price
Free plan
$0/month
Premium plan
– $11.99/month
– $6.67/month six-month plan
– $5.00/month 12-month plan
– $3.75/month 24-month plan
We found the TurboVPN free plan was suitable for masking our IP address and overcoming geo-blocks. Although we couldn't access many security features, we had the choice of four countries: the United States, the United Kingdom, Singapore, and the Netherlands. This was enough to guarantee us a reliable connection and let us watch popular North American and British series.
Upgrading to TurboVPN premium unlocks all the security features, locations, and servers regardless of your payment plan. You can customize your safeguards to ensure you have the protection you need or rely on the smart algorithm and automatic protocol to pick the best-fit settings at any moment.
Reviewing the TurboVPN Features
Now that we've reviewed TurboVPN pricing let's get a closer look at the features you'd get. Generally, we found its tools matched competitors on speed and reliability but had a more limited range than some. What we thought made TurboVPN a really worthwhile choice overall were the features' ease of use and affordability.
Servers and Locations
With over 24,000 servers, TurboVPN has one of the largest global networks on the market. Only Private Internet Access came close out of the other platforms we've reviewed at around 10,000. The extra servers mean you can be sure you'll connect to the location you need while maintaining fast speeds.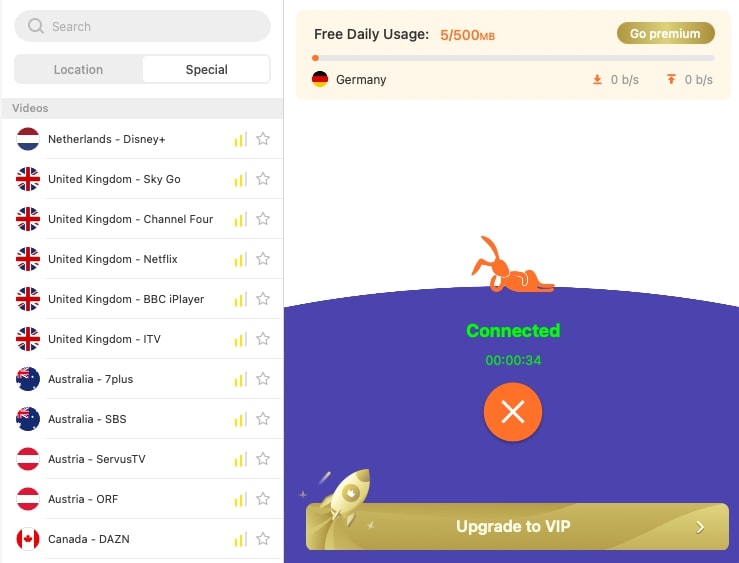 When we tested TurboVPN's speed across various servers, we found there were no significant dips. We found it wasn't as quick as IPVanish or ExpressVPN, but the drop speed never went beyond around 20%. You'd have no issues either streaming or downloading while connected to TurboVPN, regardless of location.
There's also the choice of four countries on the TurboVPN free plan: the United States, the United Kingdom, Singapore, and the Netherlands. Given how popular North American and British streaming services are, this should suit most casual users. Most competitors don't even offer a free plan, let alone access to multiple, in-demand locations.
Smart Algorithm
While there might be hundreds of servers to choose from, if you're just masking your IP, you just need the fastest and most secure. That's where Turbo's smart algorithm comes in to automatically link you to the most optimal server available. This feature is also available on both the free and premium versions.
We tested the algorithm several times and found it switched smoothly and chose the server with the highest connectivity. When logging in or just browsing, this feature helped us maintain the best speeds.
Intuitive Kill Switch
The kill switch is a standard feature that cuts your Internet if you lose your connection to your VPN. This means you won't risk exposing your details online if TurboVPN goes offline.
Like leading VPNs such as NordVPN and CyberGhost, you also have the option to turn off the kill switch in your settings if security isn't your biggest concern, but you can't risk interrupting your online activities. For example, accountants may prioritize keeping their clients' details confidential, but PR assistants may need to ensure constant contact with their team.

We noticed the kill switch wasn't on TurboVPN's free plan as with AtlasVPN. However, we feel this was a fair tradeoff considering you have access to four countries and a variety of servers.
Split Tunneling
Occasionally, you may need to access geo-restricted content from both your current location and other countries. You can use TurboVPN's split tunneling feature to decide which apps or web pages should connect to which locations. All you have to do is open the feature on the tab and select which apps to exclude from the VPN.
We weren't surprised to see that the split tunneling wasn't on all the devices. Many iOS and Mac devices don't support this feature, so it's a common issue for VPNs. However, it is available on the free plans for PC or Android with no restrictions.
Multiple devices
TurboVPN supports up to five connections which is on par with many other providers. Some providers like SurfShark and IPVanish offer unlimited connections. However, if you're a couple or a small family with a few devices between you, we think you'll probably find TurboVPN's offering sufficient.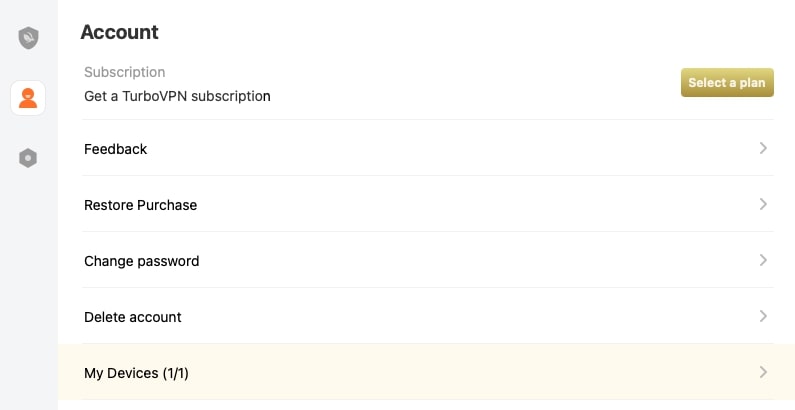 On the free plan, you only get one connection. We were happy to see that TurboVPN made it easy to swap between devices, though, with notifications and prompts. If one person or a close-knit pair wanted to rely on the free plan, it wouldn't be disruptive.
Trusted WiFi Networks
One feature we really liked was TurboVPN's trusted WiFi. You can create a list of approved networks that won't activate the VPN services when you connect to them. That way, you won't have to keep configuring Turbo's settings to get the level of protection you want.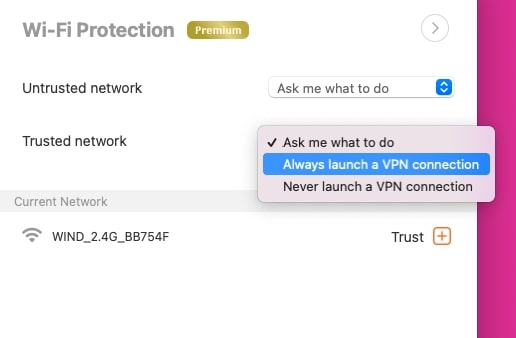 You can also tell TurboVPN exactly what you'd like it to do with networks for the ultimate flexibility. That means if you sometimes use a VPN on your personal WiFi, you can select 'Ask me what to do', and you won't accidentally forget to turn the service on.
Customer Support
You'll find TurboVPN has a range of support for different issues. There's a troubleshooting page, and help guides alongside a 24/7 live chat and email form. We would've liked to see a phone number but found the chat assistants responsive and informative.
TurboVPN also makes it easy to contact their team from directly inside the app to give feedback and raise concerns. You can select these options from their side menu on every version.
Is TurboVPN safe?
We found that while TurboVPN lacked some advanced security features, it still offered reliable, basic protection. Let's look at what you can expect from the provider.
No Logging Policy
TurboVPN has a strict no-logging policy which it outlines when you sign up. You can also access a copy from their website if you need to refer to it.
The policy states that TurboVPN won't record or store any of your browsing activities. That includes your personal information, such as your email address and phone number or websites you visit.
VPNS has to collect a little information to maintain your account. As per GDPR guidelines, TurboVPN only collects the minimum details required, like your user name and choice of payment plan.
Robust Protocol Support
In terms of protocols, TurboVPN provides several options that balance security and speed. If you're not familiar with the term protocols, decide how to transmit and secure your data over the virtual private network.
Here's a list of the protocols that TurboVPN includes:
Internet Key Exchange version 2 (IKEv2)
Layer 2 Tunneling Protocol Internet Protocol Security (L2TP-IPsec)
Information System Security Representative (iSSR)
Server-side rendering (SSR)
We were disappointed to see that TurboVPN doesn't appear to have Wireguard, one of the most powerful types of protocol. Some competitors like ExpressVPN and Private Internet Access offer this on their paid plans.
You also can't access all the protocols on the free version. However, we thought it was helpful that TurboVPN included the automatic option, which switches you to the best option. Beginners who are testing out the service don't have to learn which protocol to use, and those who want the forever-free plan don't have to settle for a low-quality protocol.
Military-grade Encryption
Encryption is the backbone of any VPN, and TurboVPN uses Advanced Encryption Standard (AES) algorithm 256. These standards are among some of the highest — even governments and military bodies use them. You can be sure that, even if hackers intercept some of your data, AES 226 will make it unreadable.
TurboVPN Compatibility
There's no need to fret about sharing a TurboVPN account when everyone's got different devices. The platform is compatible with a range of platforms and consoles. You can also use services like TurboVPN for Kodi, Netflix, or Amazon from every device.
Here's everything you can connect with at a glance:

Mac app
You can easily download TurboVPN for Mac from the App Store, provided you have version 10.12 or later. The store will ask you for your Apple ID credentials, so make sure you have an account before you try to download. Once downloaded, you can access TurboVPN from your Mac menu.
The app has every feature except split tunneling — Apple often restricts how VPNs can interact with networks, though. Otherwise, there may be some small differences, but the layout is almost identical to the mobile app.
PC app
If you've got a Windows version 7 or later, you can install TurboVPN for your PC. You can download it from the Turbo site and go through the setup process in a couple of minutes. Note that because you get TurboVPN for Windows straight from the website, you may have to contact the customer support team to cancel any subscriptions.
The PC desktop app is the same as the Mac version, with minimal differences in appearance, such as fonts and shapes. You also have access to the split tunneling feature with a list of apps.
TurboVPN for Android
There are two versions of TurboVPN for Android: One is called 'TurboVPN Lite,' which offers you a more streamlined, stripped-down version of the app. The other is called 'TurboVPN – Secure VPN Proxy', which has all the regular features.
The Lite version doesn't have some of the advanced tools, such as split tunneling and support. However, it still has a wide range of servers to choose from.
It's worth noting there are TurboVPN APKs (Android Package Kits) available online. These often have names like 'TurboVPN Mod APK' or just 'TurboVPN Mod' and come from third-party sites. However, these downloads come with risks as they haven't been vetted, so get your copy of the app from the Turbo website or authorized sources like Google Play and Apple.
iOS
Like the Mac app, you just search for TurboVPN in the App Store on your device. You should have an iOS version or later on your iPhone or tablet. There's a quick installation process before you have to allow the app access and decide whether to activate app notifications.
TurboVPN on Chrome
If you have to keep shifting locations to access region-restricted content, it's more convenient to use the TurboVPN Chrome extension. You just have to find the platform on the Chrome store and log in. Bear in mind you'll have to manage some settings, such as the kill switch and protocol from the desktop app.
There's a slight difference between the TurboVPN extension and the desktop versions in that you have to click on the map pin icon to see locations. Otherwise, we found it was easy to select countries from the drop-down menu in TurboVPN Chrome.
As there's another app called 'Turbo', be sure you've got the right one. 'Turbo Max VPN' and 'TurboVPN Pro' are versions of the Cypriot provider.
TurboVPN for Consoles
We were pleased to see there were also dedicated versions of TurboVPN for Switch, PlayStation, and Xbox. This feature makes it more possible to share the provider's capabilities with your consoles and access geo-restricted gaming content from other countries. You can use this with TurboVPN Premium or create a hotspot using the free version of the app.
TurboVPN Vs. Top VPN Providers
Understanding how TurboVPN compares to other providers on the market will help give you a complete picture of what the platform is like. Here's an overview of the differences in pricing, features, and best use cases.
| | | | | | | | |
| --- | --- | --- | --- | --- | --- | --- | --- |
| Top VPNs | Best Suited For | Starting Price | Log Policy | Free Version? | Number of Connections | Split Tunneling? | Kill Switch? |
| TurboVPN | Worldwide server coverage | $4.17/month | Y | Free plan, seven-day free trial, and 30-day money-back guarantee | 5 | Y | Y |
| ExpressVPN | Advanced security | $8.32/month | Y | 30-day money-back guarantee | 5 | Y | Y |
| CyberGhost | Encryption | $2.19/month | Y | Three-day trial and 45-day money-back guarantee | 7 | Y | Y |
| PureVPN | Multiple users | $2.03/month | Y | Seven-day free trial and 31-day money-back guarantee | 10 | Y | Y |
| ProtonVPN | Free service | $2.29/month | Y | Free plan and 30-day money-back guarantee | 10 | Y | Y |
We can see from the table that TurboVPN is one of the few providers to offer a free plan plus trials. If you're on a strict budget, you might also consider Proton VPN, which also has a forever-free plan with no ads.
As we've mentioned, TurboVPN has more servers than any of the other platforms on this list. It's the clear winner when you're looking for a VPN with maximum global coverage.
However, TurboVPN is also one of the providers with the fewest connections. Anyone worried about sharing the platform with family or housemates may find Pure VPN is more suitable for them.
Overall, TurboVPN matches competitors where it matters, which is on the features. It has the essentials, including the kill switch and split tunneling. If you'd like to get a deeper comparison, though, check out our article comparing the best VPN providers out there.
What is TurboVPN Good For?
When considering a VPN provider, it's helpful to understand its full range of functions. Here's everything that you can use Turbo for:
Streaming Geo-restricted Content
TurboVPN can help you unlock geo-restricted content from around the world. With a range of locations, you can use popular Amazon, Netflix, and other streaming sites from wherever you are. You just have to toggle your location to the same one as the service, create an account, and choose what you want to watch.
As you can switch between locations easily, you can even go from viewing something on an Australian provider to another on a British platform in minutes.
Keeping Your Browser Activities Anonymous
Every move you make online can be tracked by advertisers, governments, and criminals. Now people handle everything on the internet, it's imperative to shield your browsing activities from prying eyes.
VPNs like Turbo can mask your IP address by routing them through different servers, making it hard to pin down your location. They also encrypt your internet traffic so hackers can't identify your details.
Secure Online Banking
With cyber threats looming, you need to secure financial transactions. Otherwise, hackers may exploit your connection's vulnerabilities to steal your personal or banking details. A VPN can encrypt any transfers you make, so it's impossible for criminals to view them and gain access to your accounts.
TurboVPN Server Locations
When shopping for VPN providers, you may be interested in gaining access to region-restricted content in specific locations. For instance, many users are keen to get onto US streaming services. Here's a complete run-through of every country where TurboVPN has severs.
If you can't see the location you want, TurboVPN is open to requests. You can contact their customer support team to suggest a country.
Is TurboVPN Good? A Look At TurboVPN Reviews
We wanted to get a more comprehensive idea of how TurboVPN performs in different scenarios. That's why we researched and analyzed reviews from across the web to see what users had to say.
TurboVPN reviews are generally favorable, with a 4.4 out of 5 rating on the App Store and 4.6 on Google Play. The score on TrustPilot is a little lower at 3.8, which makes sense — given the platform's affordable pricing but missing security features, it's bound to be more popular with casual users in the general public than tech enthusiasts.
In fact, many users praised both TurboVPN's free plan and its affordable payment options. They reported there were no issues with performance despite the low prices.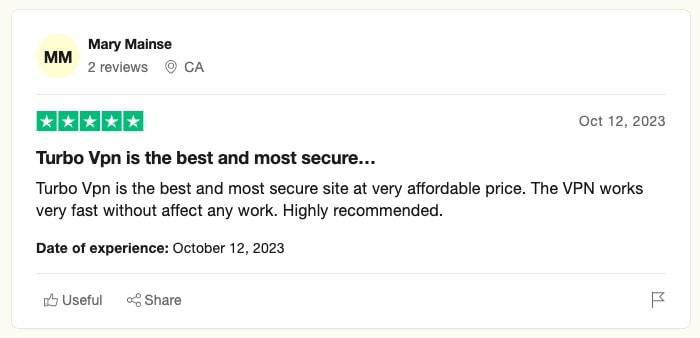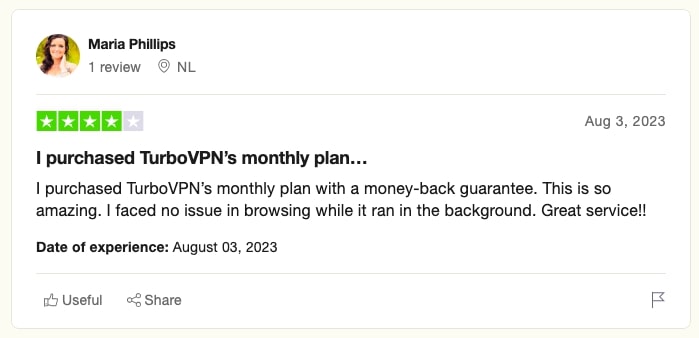 Some users had complaints about the ads and slow speeds on the free version. However, they often acknowledged that this was the tradeoff for accessing the service without paying. Many said the negative effects were minimal and didn't prevent them from enjoying the app.


Many long-term users said they'd found TurboVPN to be reliable, whether they were using it every day or just occasionally. They could trust the app to run in the background while they performed tasks online.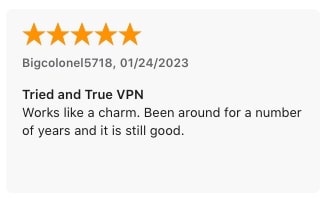 How to Use TurboVPN – A Quick Guide
We found TurboVPN very easy to implement and quick to start using. In just 15 minutes, we'd opened an account, gone through the setup process, and configured the settings to our liking. Here's a step-by-step guide to what we did:
Step One: Choose Your TurboVPN Plan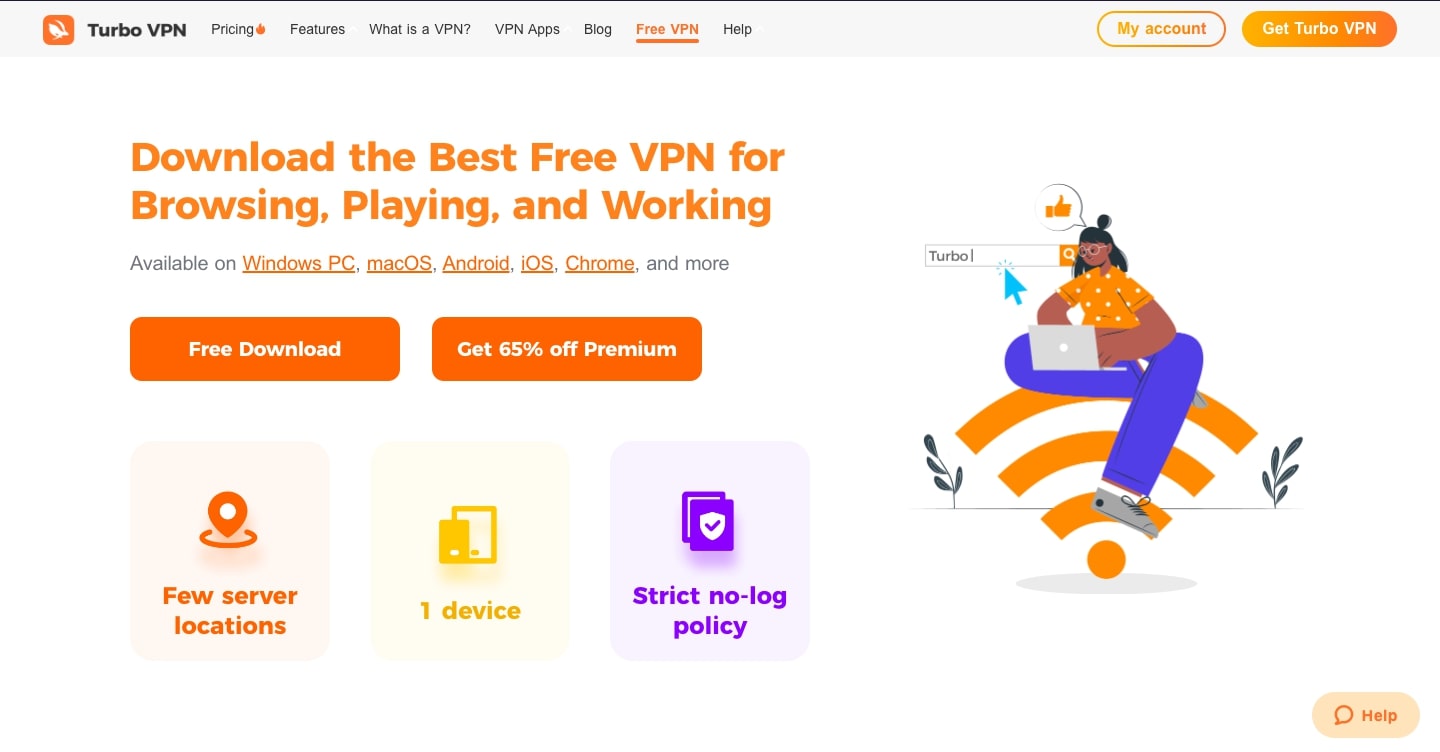 Visit the website, and you'll find links to the different plans at the top. For our TurboVPN review, we used the free trial. Once on the page, you'll get a choice between the free TurboVPN download and the premium version.
One minor frustration we had was that it took several clicks to get directed to the download page. The website suggested the premium version twice before we could move on. However, that's not unusual when buying the free version of any software.
Step Two: Download TurboVPN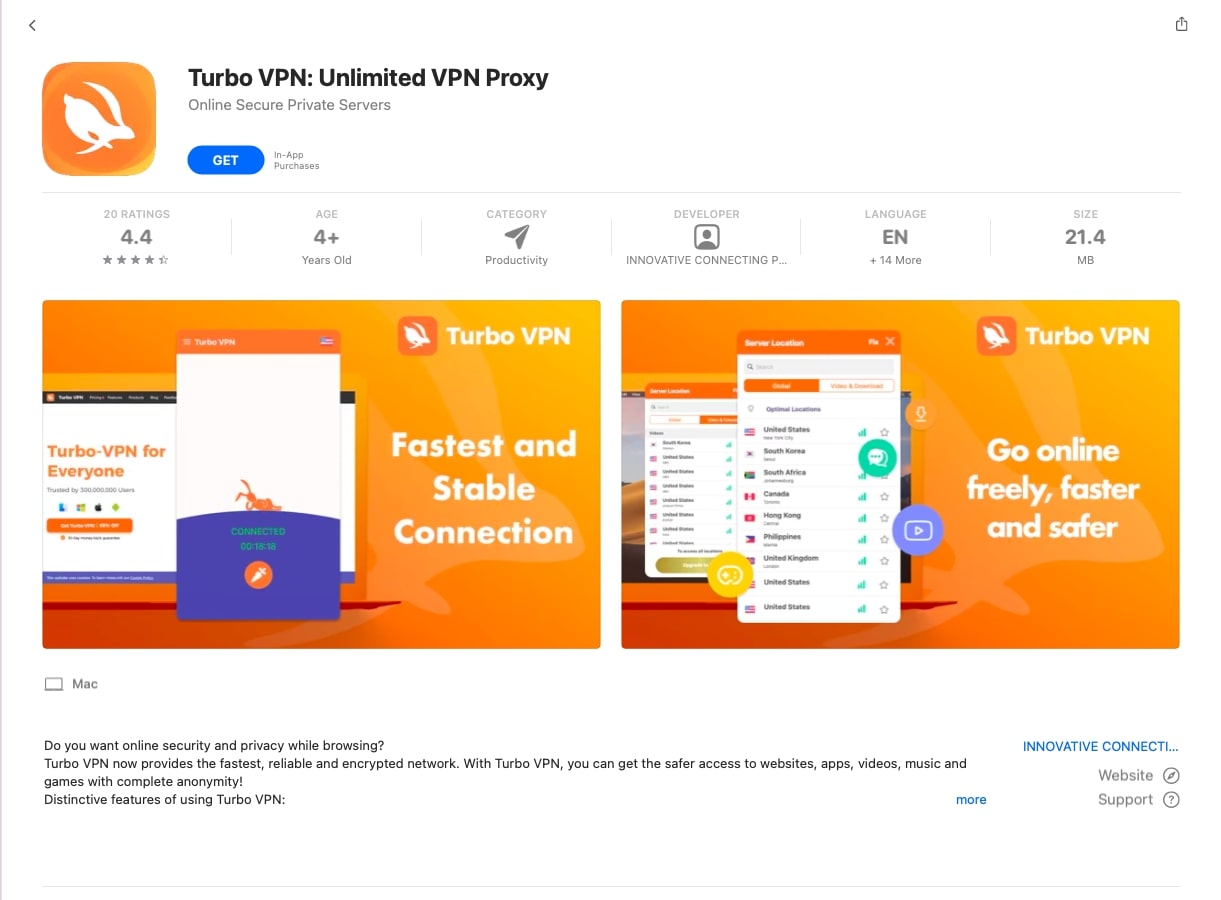 TurboVPN automatically directs you to the relevant store for your device. In our case, that was the Apple Store. All you have to do is click 'Get' and enter your credentials. It took us less than a minute to install TurboVPN, and then the app appeared in the Applications folder.
Step Three: Make an account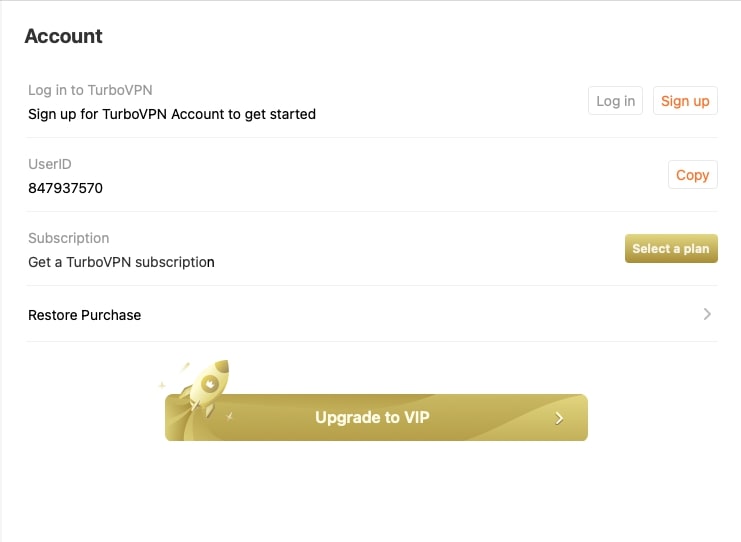 Click on the application to open it, and you'll find a login screen. If you click on 'Signup', TurboVPN will ask you to check its terms and conditions, plus the privacy policy. After you've agreed, your account is ready to use.
Step Four: Connect TurboVPN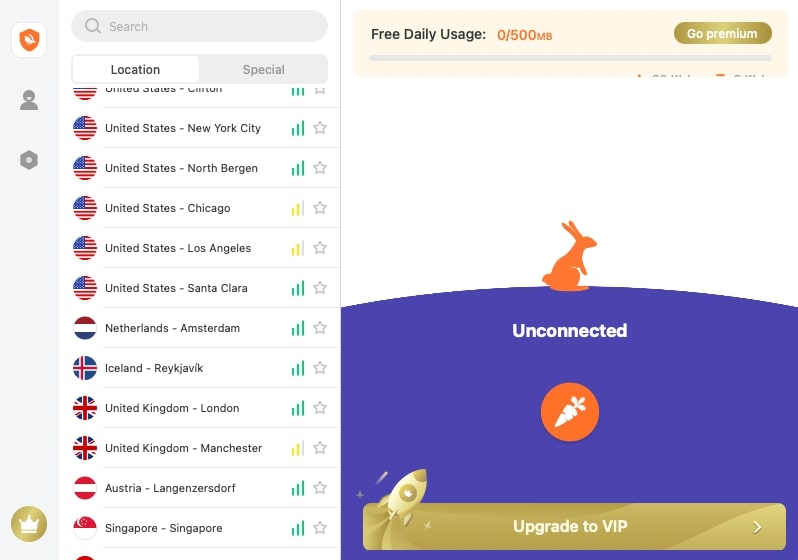 On the dashboard, click on the carrot icon to connect. Your device will ask you to confirm, and then you're in. To disconnect, you can click the 'X' icon in the same place.
There was a pop-up ad for the premium plan, but you can simply click the top right arrow to return to the dashboard.
Step Five: Configure Your Settings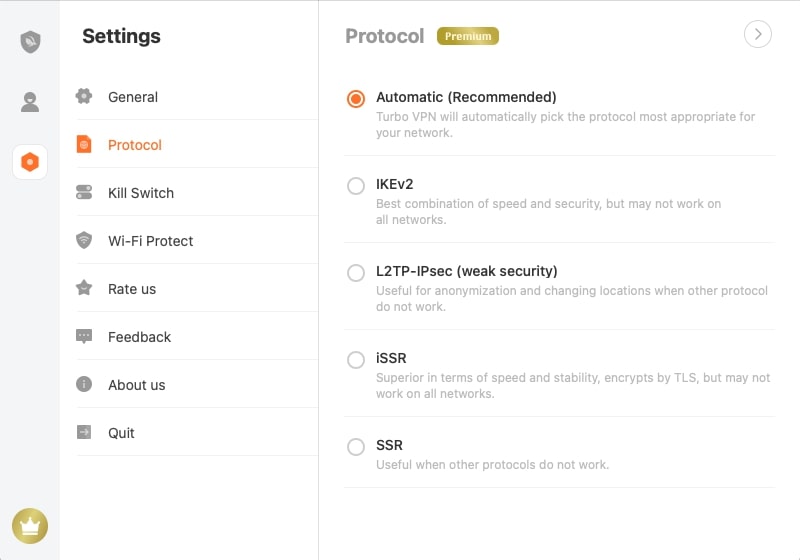 You can toggle TurboVPN settings by going to the orange cog icon in the tab bar. There you'll find:
General settings such as auto launch and icon location
Protocol list with five options (see above)
Kill switch with on-off button
WiFi, where you can add trusted and untrusted networks
Ratings with an auto direct to the relevant app store
Feedback that opens your default messenger app
The 'about us' with the privacy policy and terms
Quit, which is self-explanatory
In most cases, you can just click the circles to choose between options or active features. We found it very quick and intuitive — no clicking only to find the setting still didn't work.
Step Six: Choose a location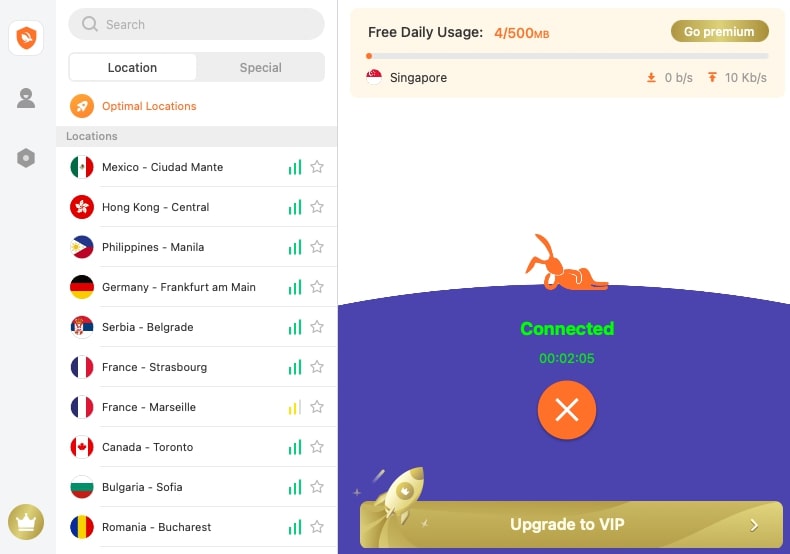 There are several ways to choose a location on TurboVPN: You can scroll down the list, use the search bar, or ask the platform to find an optimal location for you. If you're trying to access region-restricted content, the search bar is best. Otherwise, using the optimizer feature is an efficient way to find the fastest, most secure connection while you browse online.
Step Seven: Link your devices and accounts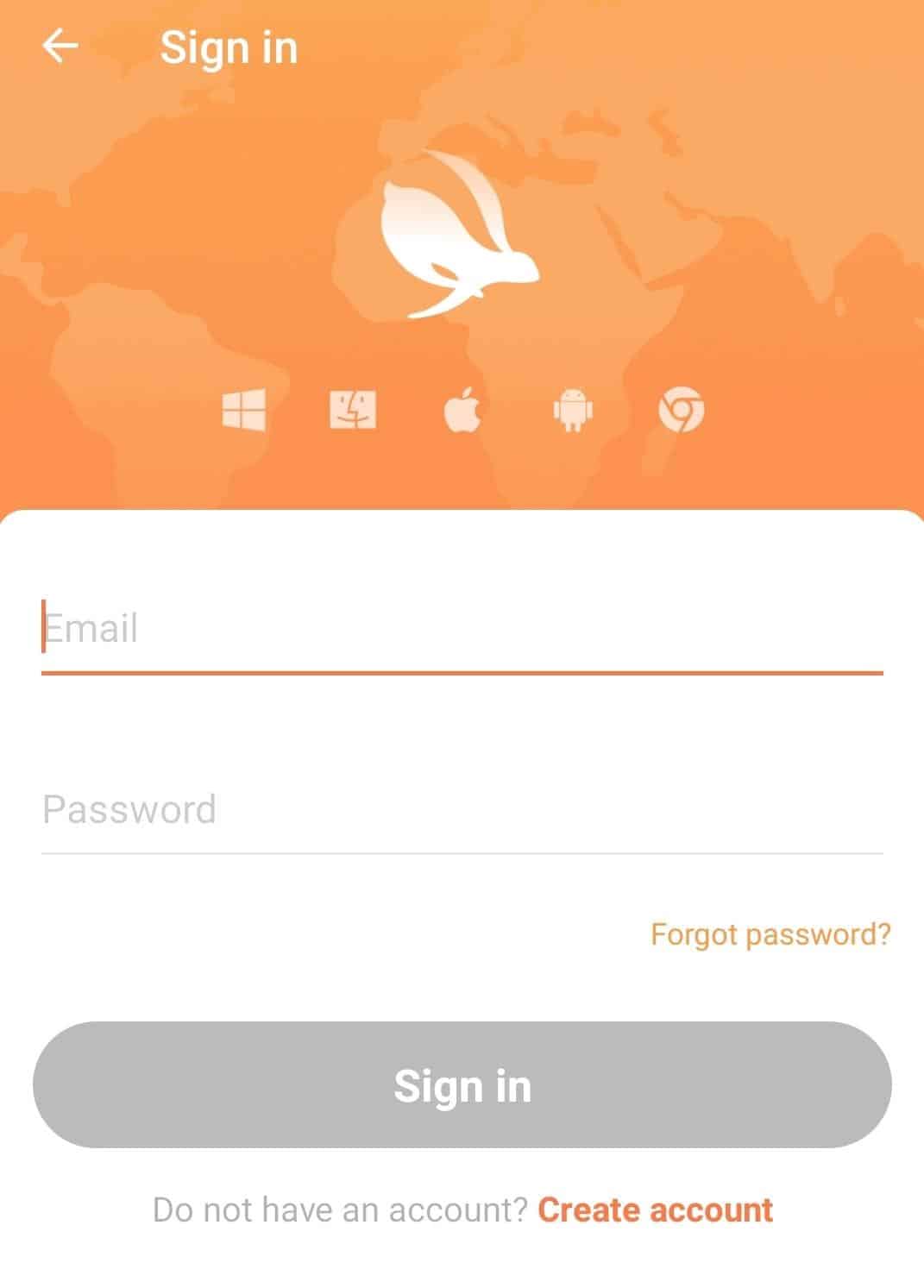 All you have to do to link devices is log into your account from other laptops or smartphones. Then you can approve these on the dashboard under the 'Account' tab represented by a person icon.
If you're using the same email address for Chrome and your account, you can also just add the TurboVPN extension to Google. Simply search for TurboVPN in the store and click the 'Install' button.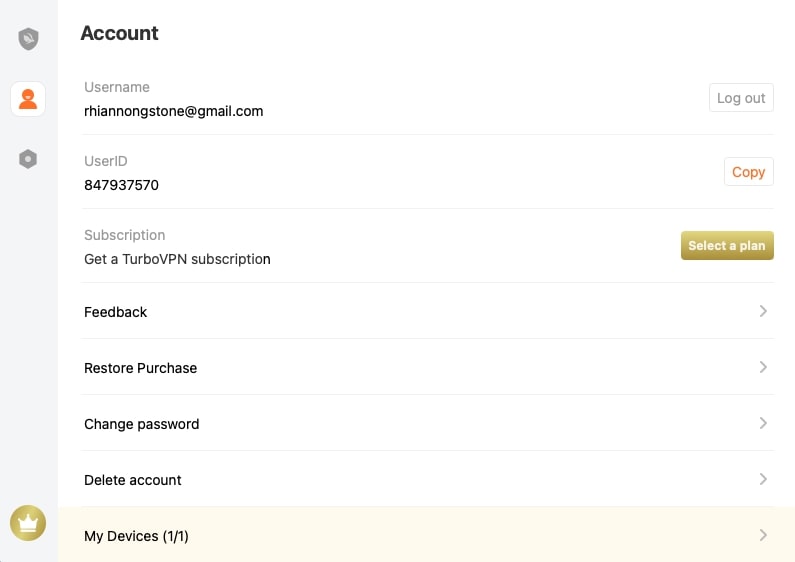 Note that if you're on the free plan, you have to disconnect one device before you can use TurboVPN on another. However, this process is quite quick, so it's easy to arrange with a little cooperation.
How We Tested TurboVPN
To get the fullest idea of what TurboVPN is like, our review approached the platform from as many angles as possible.
Our TurboVPN review started with a first-hand look at the different apps. We installed the platform on all our devices to test the setup process and functionality on each of them. Afterward, we tested TurboVPN in different scenarios, such as watching a video or downloading a file to see how it would perform.
Throughout this process, we considered how beginners might experience the app. We've got experience with multiple VPNs, so we try to be conscious that many users will never have used this type of software before.
We also compared TurboVPN to other leading providers on the market. That meant looking at elements such as feature range, security, and speeds. We weighed up what you might lose or gain for different pricing.
Reviews can provide valuable insights into the long-term use, versatility, and customer support of a platform. That's why we read testimonials across reputable sites such as TrustPilot and Reddit to learn as much as possible about TurboVPN. Given how quickly changes can happen, we prioritized recent reviews from the last six months to a year.
Once we've collected all this information, we compared and analyzed it to get the most comprehensive and accurate TurboVPN review.
Our Other VPN Guides
If you're still curious about other VPN providers or would just like to know more about the subject, why not check out some of our other guides?
Concluding Our TurboVPN Review – Is TurboVPN Worth it in 2023?
Our in-depth and up-close TurboVPN review has led us to conclude that it's a top contender on the market. Overall, it's an affordable, efficient, and reliable service.
Most notably, TurboVPN offers a free plan across a range of devices. If you're new to VPNs or have a tight budget right now, you can take advantage of the basic service for as long as you need. You'll not only get access to four countries but also the automatic protocol and smart algorithm.
While we're on the topic of beginners, we also found that TurboVPN was very simple and intuitive to use. There's no need to have a lot of technical expertise to download and run the service.
If you do upgrade, you'll find that TurboVPN has an unrivaled number of servers. You can consume geo-blocked content from over 50 countries while depending on their strong network.
Although TurboVPN doesn't have advanced security features, it's still a good option for basic protection. You can be sure you're hiding your IP address and your online activities while the app is connected.
Ultimately, our TurboVPN review has found that the platform is well worth trying out if you're looking for a fast, affordable VPN.
TurboVPN FAQs
Does TurboVPN change your IP?
How do I cancel TurboVPN?
How do I hide my IP address with TurboVPN?
How do I use the TurboVPN app?
How user-friendly is TurboVPN?
References