In this VPN Unlimited review, we'll give you an overview of the VPN Unlimited software and service from KeepSolid, list some pros and cons, and take a deeper dive into the cost and offered features. With a wide range of supported devices and a full suite of security add-ons, VPN Unlimited is a VPN tool fit for individual consumers and businesses alike!
Both for security and privacy, VPNs are becoming a more commonly used tool in this digital age. And, with an increasing number of VPN products to choose from, it can be hard to pick the right one. We're here to help you with that through our numerous, in-depth VPN guides.
Continue reading this VPN Unlimited review to find out more and see if VPN Unlimited is the right service for your needs.
Table of Contents
Table of Contents
What is VPN Unlimited?
VPN Unlimited is a full-featured VPN tool that runs on a number of different platforms, including desktops, mobile devices, tablets, and smart TVs. You can also set up VPN Unlimited on your router or even run your own personal VPN server.
VPN Unlimited runs over 3,000 servers in over 80 different locations around the world. Their services include a 30-day money-back guarantee and 24/7 support.
VPN Unlimited was built by KeepSolid, a software company founded in 2013 and focused on the development of cybersecurity products. They have a selection of security products bundled together, known as MonoDefense.
VPN Unlimited Review Pros and Cons
No system is perfect. But it's important to know both the good and bad points when making a purchase decision. Here we'll review some of the pros and cons of VPN Unlimited.
Pros
Reasonable prices
Wide device compatibility
Lifetime subscription
30-day money-back guarantee
Cons
Subject to US Jurisdiction
Slower speeds
Temporarily stores user data
Limited Torrenting options
VPN Unlimited covers a wide range of devices, allowing you to protect your entire home. They also offer dedicated servers for often visited stream sites such as Amazon and Netflix. And though they do have decent server coverage, they don't have as many servers as some of their other competitors. And the limited torrenting options may turn some customers away.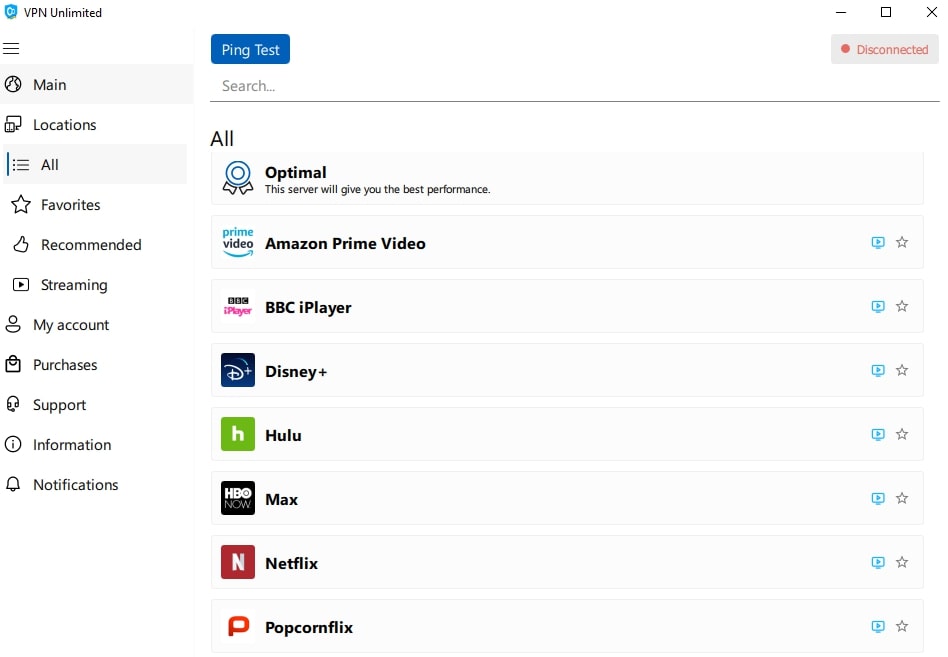 However, the flexibility offered by VPN Unlimited is hard to beat. With their reasonable prices, a wide range of device compatibility, a free trial, and a 30-day money-back guarantee, VPN Unlimited is definitely a product worth consideration for your VPN needs.
How Much Does VPN Unlimited Cost?
VPN Unlimited has three plans available and includes a 30-day money-back guarantee for all of them. All of the plans provide access to the same product. The only difference is the length of the subscription. And VPN Unlimited even offers a lifetime subscription!
In addition, they offer a 7-day free trial, so anyone can give it a try at no cost.
| | |
| --- | --- |
| Plan | Price |
| 1 month | $9.99 / month |
| 1 year | $5.00 / month – $59.95 billed annually |
| Lifetime | $199.99 one-time payment |
For an additional fee, you can also add on the MonoDefense bundle, which includes the additional utilities Passwarden, DNS Firewall, Smart DNS, and Authenticator.
Payments are accepted with credit cards, Payal (for a 10% discount), and BitPay. Through BitPay, users can connect a number of different crypto wallets and use various cryptocurrencies for payment.
They also offer VPN Unlimited for Teams, a service that will allow businesses to cover all their employees, even those using their own devices or working remotely. VPN Unlimited for Teams has a similar pricing setup, allowing monthly, yearly, and lifetime subscriptions for five, ten, and twenty users. Larger organizations can contact VPN Unlimited directly for service quotes.
With reasonable prices, a seven-day free trial of the full version, and a 30-day money-back guarantee, trying VPN Unlimited is risk-free. And lifetime subscriptions are rare for any product. So being able to pick up lifetime VPN access for $200 seems like quite a deal.
Reviewing the Core VPN Unlimited Features
You always want to make sure that a product has the features you need before you make a purchase. Here is a quick look at some of the key features available with VPN Unlimited.
256 Bit AES Data Encryption
Privacy is a key component of any VPN service. And though there is some concern that VPN Unlimited does temporarily store user data, the encryption levels should be enough to make users feel secure. VPN Unlimited uses 256-bit AES encryption, considered virtually uncrackable, and used by government and other organizations focused on data and privacy around the world.
Lifetime Subscription Option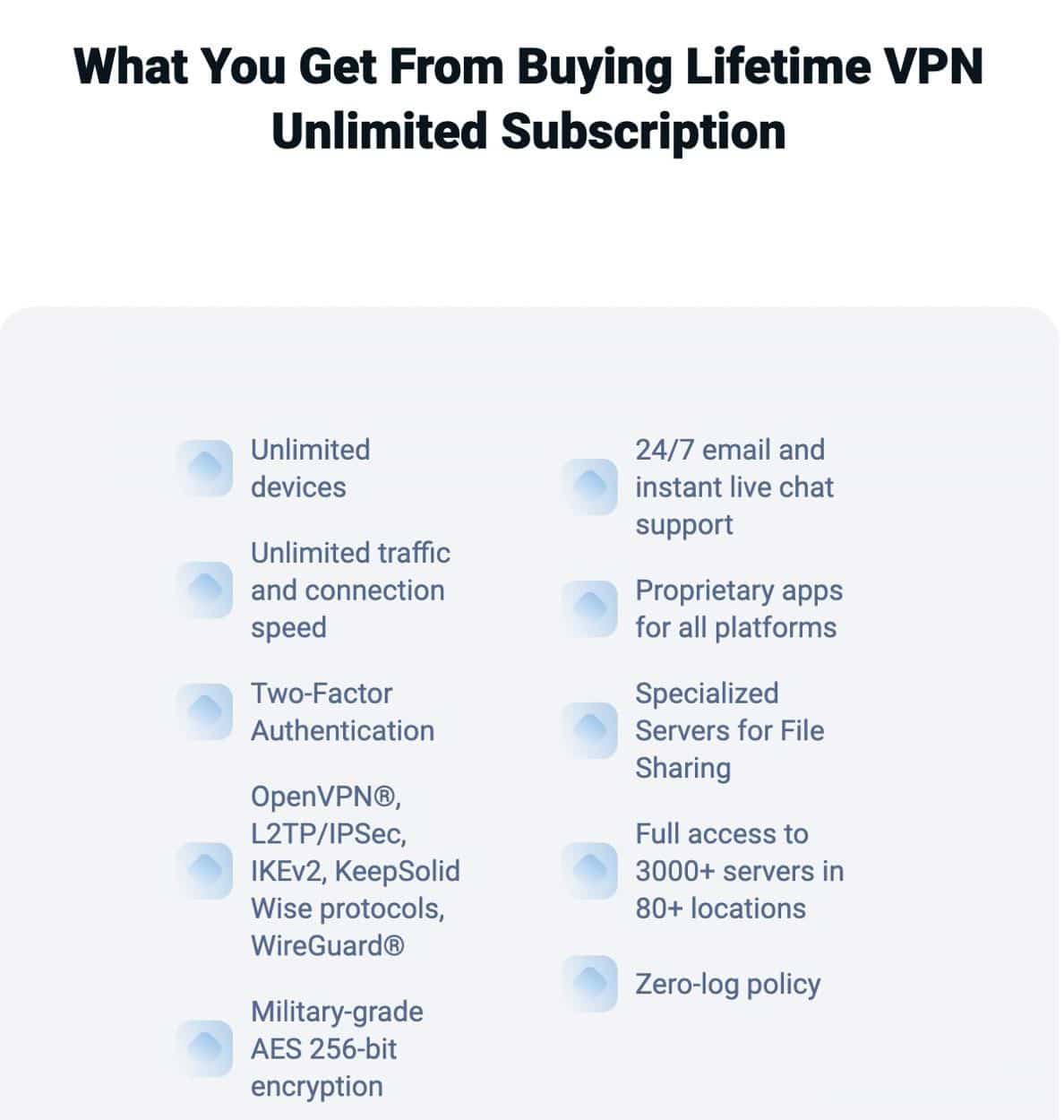 A lifetime subscription option is something kind of rare to find these days. But we have one here that offers free, unlimited VPN access forever. Coupled with 24/7 customer support, the lifetime subscription option may be a good choice for those who plan on using a VPN regularly.
Wide Range of Device Installs

The VPN Unlimited download options include installs for a wide range of devices. This includes desktop versions for Mac, Windows, Linux, Android, MacOS, and Windows mobile devices, browsers, routers, and even streaming devices such as Apple TV and Amazon Fire.
Coupled with the ability to install VPN Unlimited on multiple devices, this VPN service is ready to protect your entire household or business.
Cybersecurity Bundle
Though you can purchase VPN Unlimited as a standalone product, it is also offered as part of a larger cybersecurity bundle.

This bundle includes VPN Unlimited, Passwarden, DNS Firewall, Smart DNS, and Authenticator. Together, these apps provide data and traffic encryption, immunity to geo-blocking, malware protection, dark web monitoring, two-factor authentication security, traffic filtering, a password manager, and VPN features from VPN Unlimited.
Some other VPN services will offer a bundle deal with an antivirus program or a password manager, but you won't find many with this kind of comprehensive security bundle!
Streaming
With dedicated servers for many of the more popular streaming services, VPN Unlimited is ready to help you watch your favorite shows from other countries. They even offer a number of guides on how to access various streaming services through their app.
This includes access to Amazon Prime Video, HBO Max, Hulu, BBC, ESPN+, Disney Plus, Sony Crackle, Netflix, and more, putting it on par with highly-rated services such as NordVPN and SurfShark
Personal IP and Server
Users of VPN Unlimited also have the option of purchasing a personal, static IP address or even renting their own VPN server. Some users may want their own IP address to avoid being associated with public IP servers that may end up on blacklists.
Personal, dedicated IP addresses are not an uncommon service, but they also aren't offered by every service either. VPN Unlimited offers static IPs based in Canada, the Netherlands, the United Kingdom, and the U.S. for $14.99 a month ($12.50 if billed annually).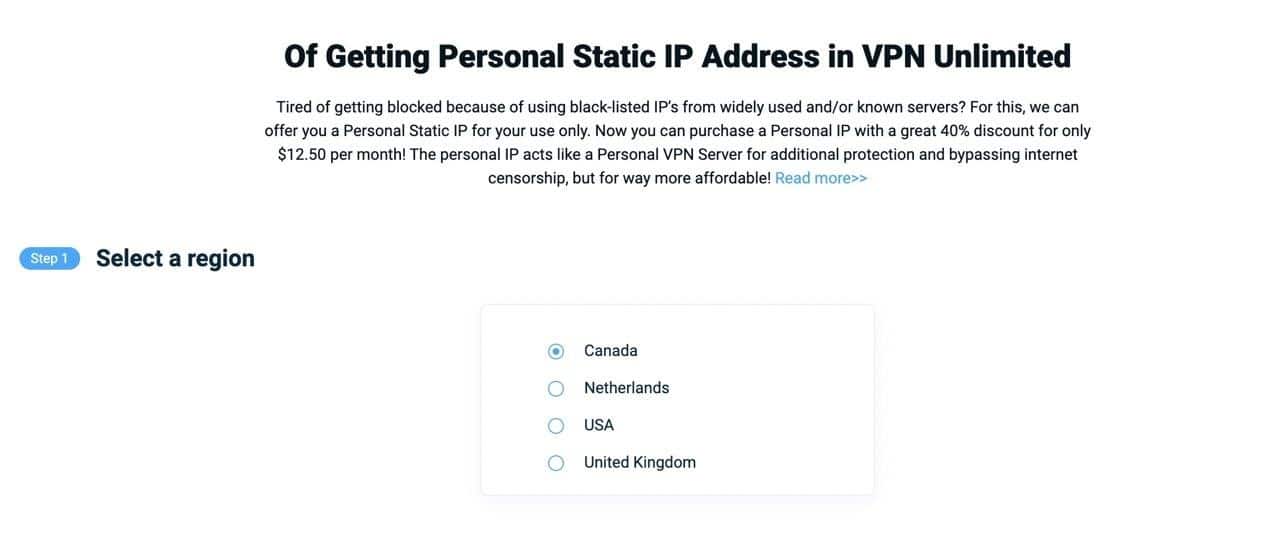 Or you could even go a step further and rent your own server, hosted in a location of your choice from a selection of sites around the world. This not only grants you your own personal IP address but also allows you to easily control VPN usage for your whole network.
Personal servers from VPN Unlimited are available in over 30 locations around the world for $28.99 a month. This is a business-level offering that you won't find with many other VPN services!
Is VPN Unlimited Safe?
VPN Unlimited claims that they have a no-logs policy, but it turns out that isn't entirely true. They do temporarily hold onto some user data, mainly to track device installs and make sure users aren't trying to use more devices than they are allowed.
However, they do not track IP addresses, browsing history, downloads, server usage, or data content
There is also some concern among those most concerned with privacy about the fact that VPN Unlimited is based in the United States. This means that the company itself is under U.S. jurisdiction and will be subject to any U.S. laws, which could include subpoenas for information.
However, VPN Unlimited says that they keep no logs of customer activity, so they won't have any information to provide anyway.
In addition, VPN Unlimited does use the AES-256 encryption standard, considered virtually uncrackable with current processor limitations.
Encryption
VPN Unlimited uses military-grade AES 256-bit encryption, making this a very secure service in regard to outside hack attempts. In fact, this is the best level of encryption available today and is used by governmental agencies and billion-dollar companies around the world.
Anonymous Surfing
VPN Unlimited hides your real IP address, keeping your identity and location secure from any sites you visit. And with their no-logs policy, you can be assured that your activity history will never be available to anyone else.
The VPN Unlimited proxy servers will act on your behalf to hide your personal information as you use the Internet normally.
Kill switch
Many (but not all) of the VPN Unlimited installs do include a kill switch option. A kill switch is a trigger that will disconnect you from the Internet if you lose your VPN connection for whatever reason.
This ensures that you don't accidentally expose your data and identity if something happens to the VPN service or you lose connection to it.
The kill switch isn't available on all devices, unfortunately. However, it is still available for Android, iOS, macOS, and Windows systems.
Customer Support
VPN Unlimited offers 24/7 customer support as well as a large selection of guides and instructions on their website. We never had to use their customer support service, but reports from user reviews are nearly unanimously happy with their customer support experience.
MonoDefense Bundle
For a little extra money, you can pick up VPN Unlimited as part of a complete cybersecurity bundle that will provide all sorts of additional protection and privacy features.
Accepts Crypto Payments
If privacy is a key concern, then you may not even want to use a credit card or other standard method of payment when making purchases. In this case, VPN Unlimited offers the option of paying for their service with a number of different types of cryptocurrencies through BitPay.
And while accepting crypto payments is actually fairly common among VPN services these days, not all do. So for those who are very privacy-focused, the ability to pay without providing credit card or bank information is an important feature!
Can be used in China
We don't have any staff in the country of China, so we weren't able to test this directly ourselves. However, other sources report that VPN Unlimited can, in fact, be used in China, letting users bypass the content filters and restrictions maintained by the Chinese government.
And while some other VPN services, such as NordVPN and SurfShark, also work in China, not all do. The Chinese government actively works to ban VPN applications, only officially allowing those who let the government add a backdoor to the software. But apparently, VPN Unlimited does work from locations in China. They even offer an entire help section of their website about using VPN Unlimited within China!
VPN Unlimited Compatibility
Compatibility is where VPN Unlimited really shines. There is a version of VPN Unlimited for almost every type of device in your house. From phones to desktops to smart TVs, even your router.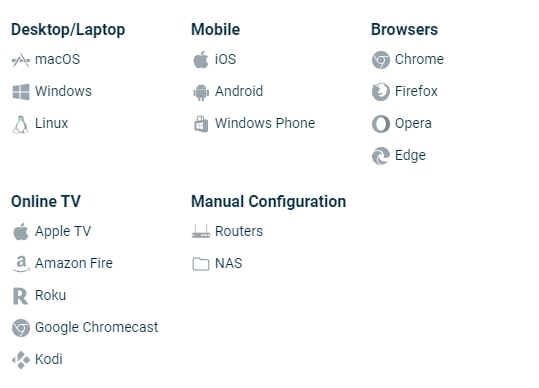 On top of that, they also offer the option of buying a personal, dedicated IP address or even running your own private VPN server, allowing you even more control over your privacy.
For those with a lot of devices, you can increase the number of devices allowed by paying an extra fee, with cheaper prices for annual subscriptions or for a lifetime addition.
Desktop
VPN Unlimited includes desktop installation packages for Windows, macOS, and Linux. In addition, you can install extensions for browsers, including Chrome, Firefox, Opera, and Edge.
Android
The Android install for VPN Unlimited supports any device with the Android system ver 7.0 and up. This is available through Google Play or directly from VPN Unlimited.
iOS
VPN Unlimited also supports iOS devices with iOS version 13.0 or later. The app is available through the VPN Unlimited website or through the Apple Store.
Routers
VPN Unlimited can be installed on your routers as well. The process varies based on the router type, but VPN Unlimited has created a number of guides to help you with getting it set up.
Smart TVs
You can even install VPN Unlimited on your Smart TVs. This includes Amazon Fire, Apple TV, Roku, Google Chromecast, and Kodi. With more people using Smart TVs for streaming and even Internet browsing, this is a nice option to have available.
VPN Unlimited vs. Competitors
Of course, everyone wants to know how one product matches up against similar products. After all, you want to make the best choice, right? Well, to help you out with your decision, here are a few key features that many people look for when choosing a VPN service.
| | | | | | | | |
| --- | --- | --- | --- | --- | --- | --- | --- |
| VPN App | Notable Feature | Cheapest Plan | Log Policy | Free Version? | Simultaneous Connections | Split Tunneling? | Kill Switch? |
| VPN Unlimited | Wide variety of device installs | $5 / month (1 year plan) | No activity logs | Yes, limited. Also seven-day free trial of the full version | 5 | Yes | Yes |
| CyberGhost | Large number of servers | $2.19/month (2-year plan) | No activity logs | 24-hour free trial of the full version | 7 | Yes | Yes |
| Express VPN | Good performance and speeds | $8.32 / month (1-year plan) | No activity logs | No | 8 | Yes | Yes |
| SurfShark | Unlimited connections | $2.73 / month (2-year plan) | No logs | Free trial from Google Play Store and App Store | Unlimited | Yes | Yes |
| PureVPN | Low prices | $2.29 / month (2-year plan) | No Logs | 7-day free trial | 5 | Yes | Yes |
| NordVPN | Fast speeds; well-known | $3.99 / month (2-year plan) | No logs | No | 6 | Yes | Yes (though not for Windows or Android) |
You can see that VPN Unlimited stacks up pretty well with its competitors. And with its competitive prices, a seven-day free trial, and a lifetime subscription option, VPN Unlimited is certainly worth consideration for anyone looking for a VPN service.
What is VPN Unlimited Good For?
Really, VPN Unlimited is good for pretty much all of your VPN needs. And packaged with the MonoDefense cybersecurity bundle, can easily provide for all of your privacy and security needs as well. But there are a couple of features that make VPN Unlimited stand out from the crowd.
Streaming
VPN Unlimited includes servers dedicated to helping you access various streaming services in other countries. This includes popular streaming sites such as Amazon Prime and Netflix and smaller sites such as Rai. tv and Popcornflix.
Installing Everywhere
With install options for a wide variety of devices and browsers, VPN Unlimited has you covered. Want to install VPN Unlimited on your PC? All good! Browser extension? They got you covered. Mobile devices? No problem. You can even install the VPN service on your router and smart TVs.
Keeping Forever
Lifetime subscriptions are hard to pass up. Especially if it's a service that you plan to use frequently. Knowing that a one-time payment can provide you with a lifetime of VPN usage plus 24/7 customer support makes VPN Unlimited an attractive prospect.
New Users
The install packages for VPN Unlimited are basic and easy to use. The interface is simple and minimalistic, making setting up and running VPN Unlimited a simple process for most people. Even users who aren't tech-friendly or are unfamiliar with using a VPN service should have no problem using VPN Unlimited.
VPN Unlimited Server Locations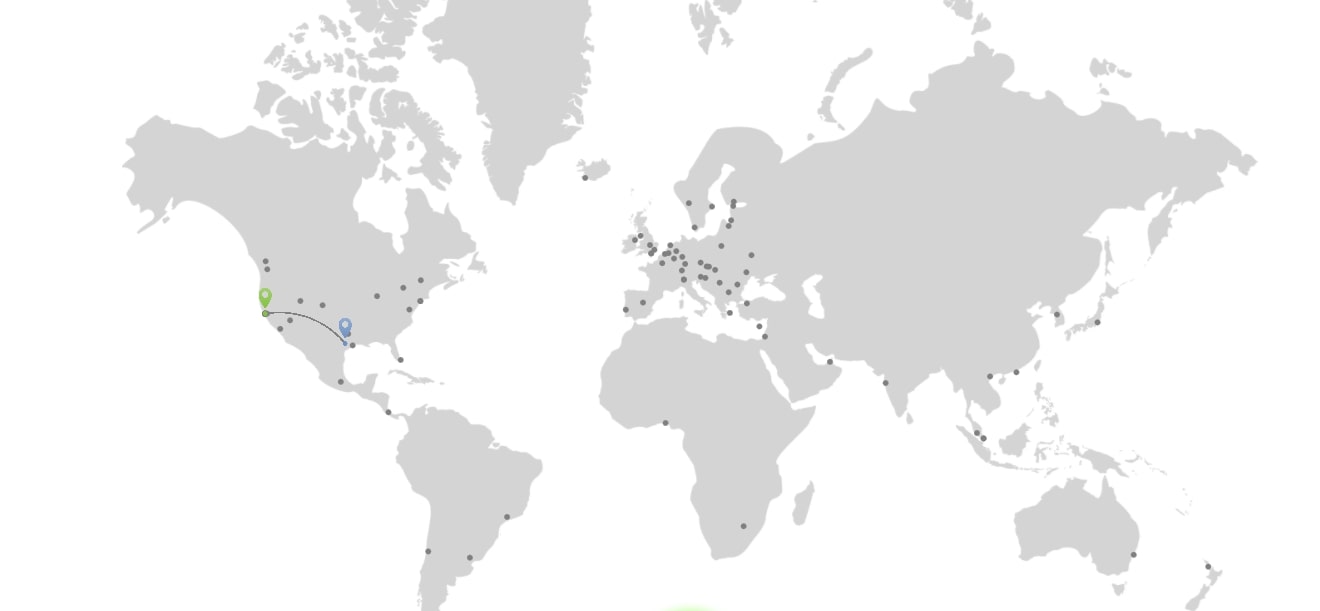 VPN Unlimited has over 3,000 servers in over 80 locations around the world. And though VPN Unlimited does offer servers in most time zones, many of them are heavily concentrated in Europe and North America.
Is VPN Unlimited Good?
Like most products, VPN Unlimited has a number of nice features, but it may not be the right app for everyone.
If you're planning to do a lot of torrenting, VPN Unlimited may not be the best choice. They only allow torrenting from a very limited number of servers, increasing the potential for slowdowns if the network traffic through those servers becomes congested.
They also have some issues with slower speeds when connecting overseas, which could possibly be fixed with expanded server coverage. Many other VPNs provide a better throughput than VPN Unlimited.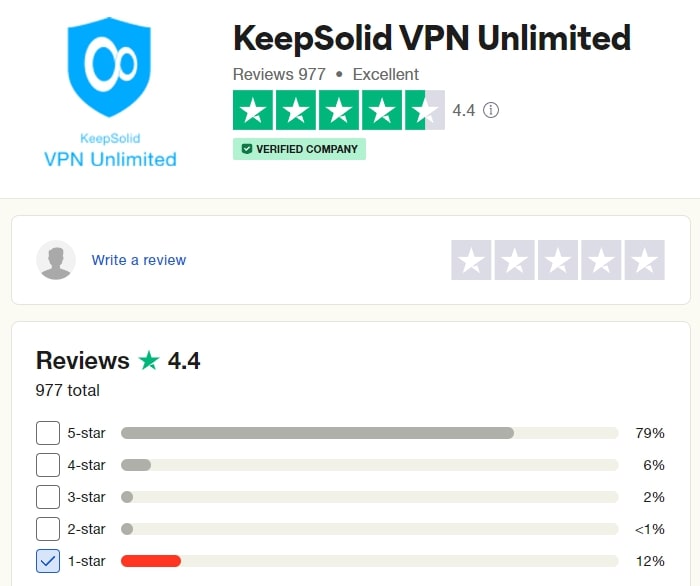 But, if you have a lot of devices and want to secure them all, VPN Unlimited's multiple install packages and device compatibility make it a good choice. The installs are all easy, and the interface for VPN Unlimited is clean and simple, making this attractive for those new to VPN usage.
In addition, their Unlimited plan could be a good fit for a growing business. With unlimited connections, you never have to worry about adding new devices to the local network. And the license is good for a lifetime subscription!
But you don't have to trust just our VPN Unlimited review. Other users have reviewed VPN Unlimited as well. Let's take a look at the ratings they give to VPN Unlimited and see what they have to say.
TrustPilot shows a pretty solid 4.4 out of 5 stars based on nearly 1,000 user reviews. The reviews show overwhelming satisfaction with the customer support that VPN Unlimited offers. And though the site shows 12% one-star ratings, closer examination reveals them to mostly be people having technical difficulties or who are unhappy with the default auto-renew feature in the subscription.
Additionally, VPN Unlimited has received a 4.3-star rating from users in the Google Play store and boasts 4.6 stars in the Mac App Store.
How to Use VPN Unlimited – a Quick Guide
Installing VPN Unlimited
Installing and running VPN Unlimited is pretty easy and takes only a few steps.
Desktop
Step 1: Download VPN Unlimited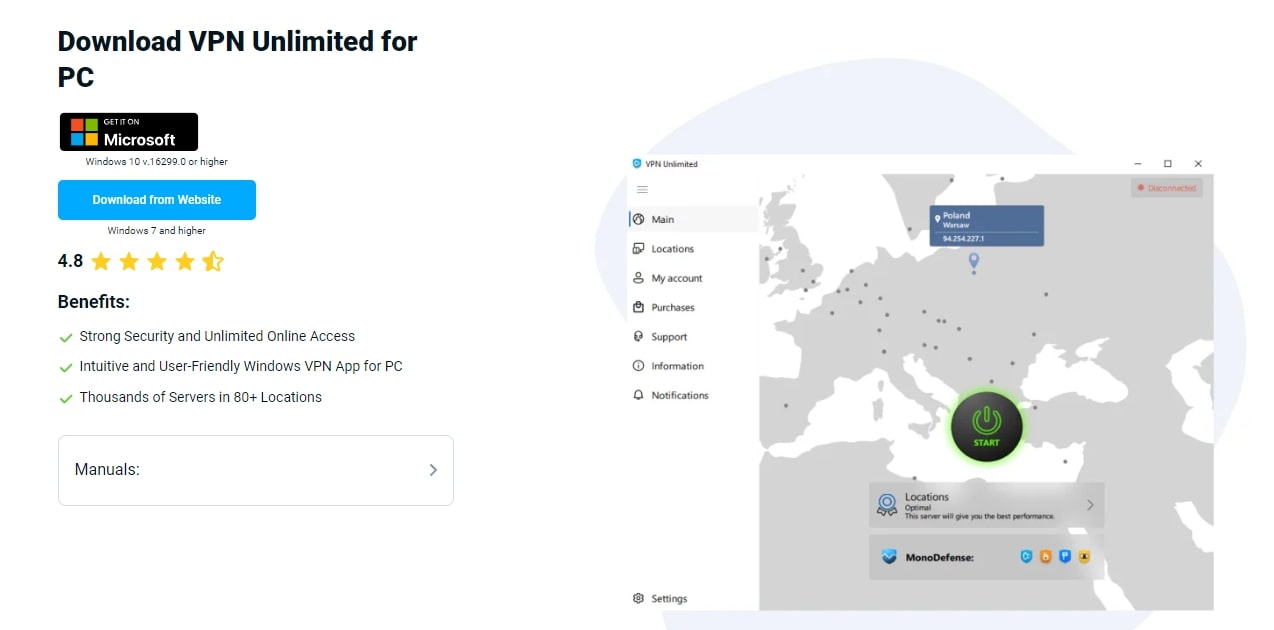 Go to the website and find the VPN Unlimited download page for the product you wish to install.
Step 2: Accept License Agreement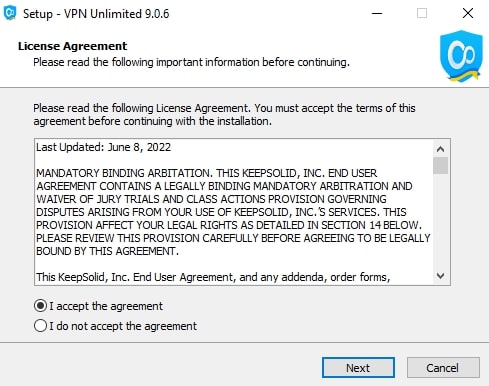 Once downloaded, double-click the install file to start the installation process and accept the license agreement.
Step 3: Create a Desktop Shortcut (Optional)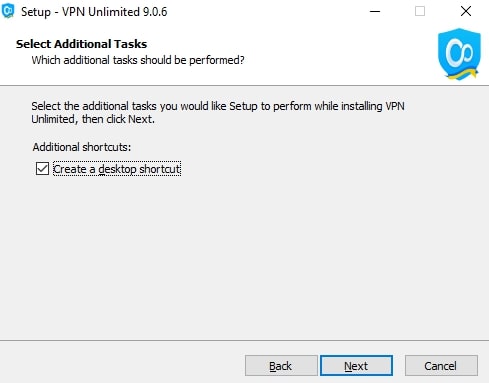 Choose whether or not you want a desktop shortcut created.
Step 4: Install VPN Unlimited
Click Install to begin the installation process.
Step 5: Install Other Programs (Optional)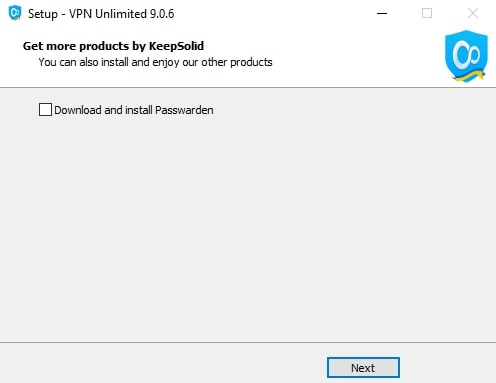 You'll also have the option of installing PassWarden, a password manager program made by KeepSolid, the team behind VPN Unlimited.
Step 6: Finish Installing
Then you're all ready to finish your install and launch VPN Unlimited.
Once installed, you simply start the VPN Unlimited app, pick a location, and then click the Start button.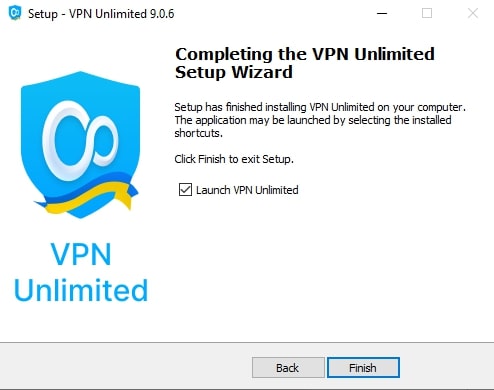 VPN Unlimited offers a number of server locations around the world, as well as specific servers for accessing streaming services such as Amazon Prime and Netflix. This is mainly useful for viewing programs that are available through a streaming service in one country but not in another.
Mobile Devices
Installing on mobile devices is even easier.
Step 1: Find VPN Unlimited in Your App Store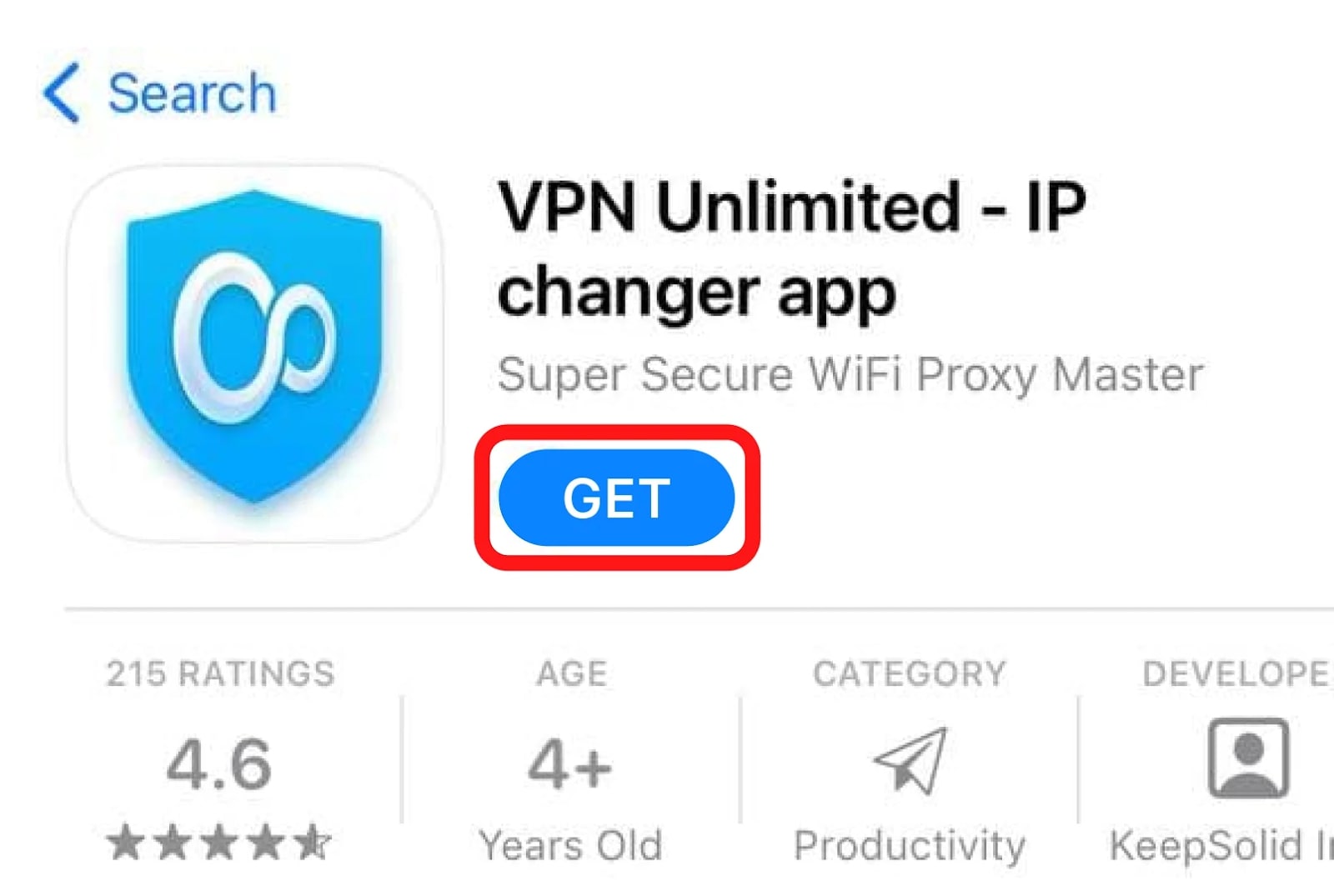 Visit the app store for your phone and find VPN Unlimited page (make sure that KeepSolid is listed as the developer)
Step 2: Install VPN Unlimited
Click Get or Install to install VPN Unlimited on your mobile device.
Step 3: Launch VPN Unlimited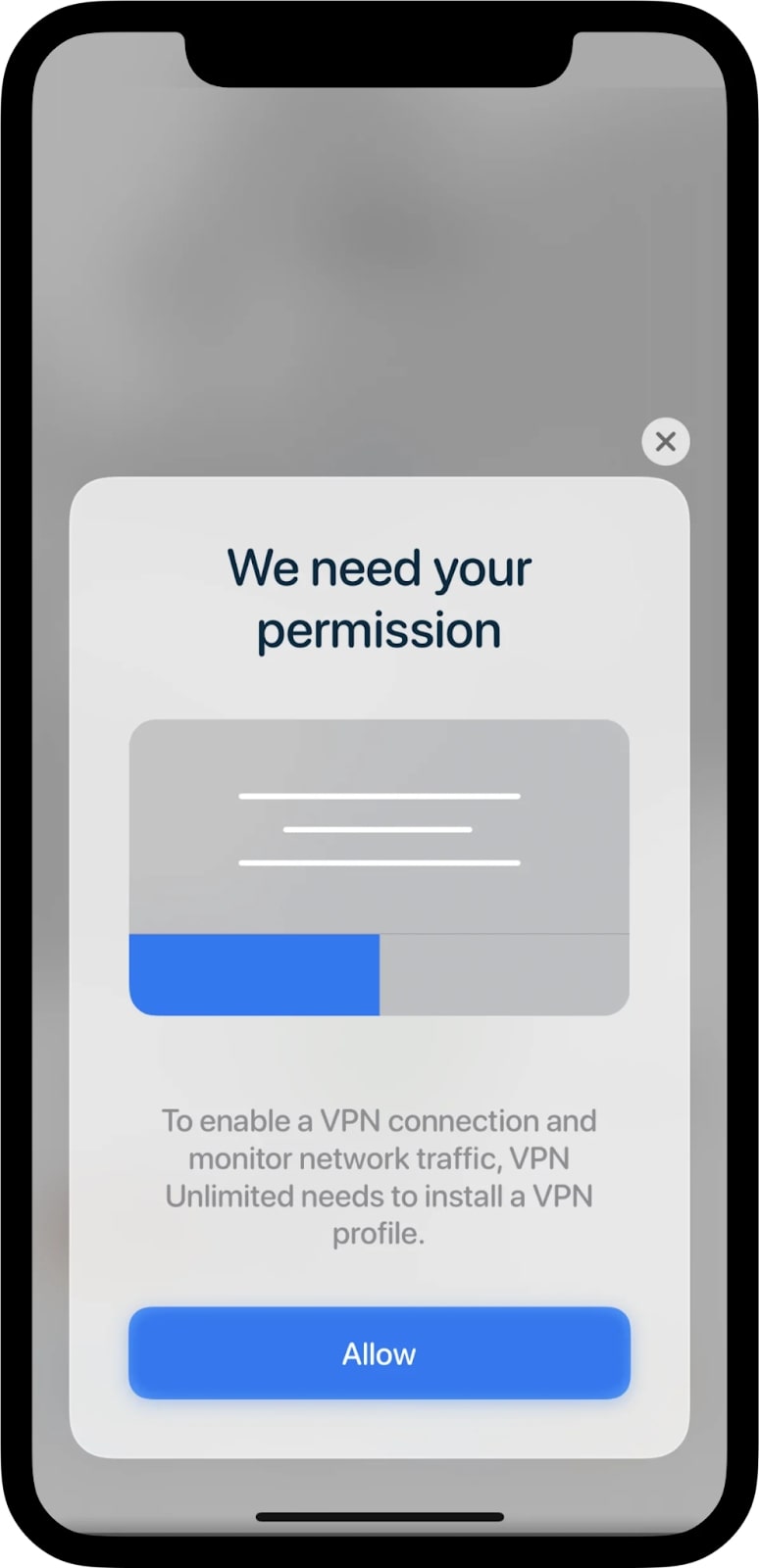 Launch VPN Unlimited, login, and give it permission to create VPN configurations.
Step 4: Use Your VPN
You're ready to access the Internet privately on your phone!
Other Installs and Assistance
VPN Unlimited conveniently provides a large selection of manuals and guides to help you through the installation process and troubleshoot any problems. We never had problems with any of the installs we tried, but it's great to have this resource available!
VPN Unlimited Testing Methodology
The testing methodology for VPN Unlimited and all of our VPN services includes installing across a wide variety of devices and testing against various streaming services and websites. This involves connecting through different servers around the world, visiting sites, and trying to use streaming services as if we were in a different country.
We also compare our reviews with those from other sites to ensure accuracy and ensure we have the most up-to-date info.
Our history with testing and reviewing VPN services provides us with a lot of experience in understanding what to expect from VPN apps and services, as well as identifying potential areas of concern or missing features.
Our testing and reviews are impartial. We take on the role of a typical user and create our review from that viewpoint, calling out issues and concerns a typical user might have. Functionality and features are tested in a real-life use manner.
Our Other VPN Guides
We bring you more than just basic VPN reviews. We also deep dive into finding VPNs for specific devices, services, and more! Here are a few of our other VPN articles to check out.
Is VPN Unlimited Worth it in 2023?
At only $100, the VPN Unlimited Lifetime subscription is certainly an attractive prospect. VPN Unlimited covers most of the bases. It provides access to streaming services in other countries, provides top-notch data encryption, and can be installed across a wide variety of devices.
Installing and running the VPN Unlimited service was a simple and smooth process. And with a basic, uncluttered interface, VPN Unlimited should feel comfortable for those who aren't tech-savvy or knowledgeable about VPNs. VPN Unlimited also includes free, 24/7 tech support and an extensive selection of guides to help with any issues.
Their additional services, such as the MonoDefense bundle and the options for having a dedicated IP or server just for your needs, are a very nice bonus as well.
However, if privacy is the main concern, then the fact that VPN Unlimited does track some user data might be enough to drive some people to look elsewhere.
But if all you need is a basic VPN service that has a lot of installation flexibility, then VPN Unlimited is certainly worth a closer look! You can always try the seven-day free trial of the full version and also get your money back within thirty days if you do buy the service and aren't happy with the results.
VPN Unlimited FAQ
How much does VPN Unlimited cost?
Is VPN Unlimited any good?
Is there a free VPN Unlimited?
What is the VPN Unlimited app?
How can I learn more about VPN Unlimited?
References