There's no shortage of virtual private network (VPN) services on the market, and it can be difficult to make a good choice. Windscribe is a first-rate VPN provider that offers solid encryption and swift connections and is highly configurable. It's ideal for people who want to preserve their online privacy and seamlessly stream content via the web.
In this Windscribe VPN review, we'll cover everything you need to know about the platform. We'll dive deep into its features, compatibility, and safety and see how it stacks against the competition. Our Windscribe VPN review will help you decide if it's your ideal choice to surf the web safely. Join us as we dive into this VPN provider.
What Is Windscribe?
Windscribe is a virtual private network (VPN) provider that lets users browse the web privately. It encrypts your browsing activity and blocks advertisements that ruin the browsing experience. You can unblock geo-restricted content by disguising your IP address, and you'll never miss any interesting content again.
Windscribe has native apps for PCs (Windows, Mac, and Linux) and mobile phones (iOS and Android). It's also available as a browser extension on Google Chrome and Firefox.
Windscribe Pros and Cons
Windscribe is a high-quality VPN provider, but it is not perfect. It has its pros and cons, like any other VPN provider, which we'll summarize below.
Pros
It unblocks geo-restricted content on popular streaming sites like Netflix, Hulu, Amazon Prime Video, etc.
It supports peer-to-peer downloading and torrenting.
It allows unlimited simultaneous connections for your devices.
Advanced encryption.
Widespread compatibility, with apps for all popular desktop and mobile operating systems.
Offers a free version with 10GB of monthly data usage.
Cons
It doesn't have live chat customer support.
The company is based in Canada, a member of the Five Eyes intelligence alliance.
Small server footprint compared to the competition.
Short refund period (three days).
How Much Does Windscribe Cost?
Windscribe costs $9 per month. This VPN offers a generous free plan that gives users 10GB of monthly data usage, unlimited connections, and access to 11 servers. However, you'll need the premium plan to unlock more advanced features, and you can choose from one of these Windscribe VPN plans:
Plan
Price
Features
Pro Monthly
$9/month
– Access to 66 server locations.
– Blocks ads and web trackers.
– Lets you control your tunneling protocol
Pro Yearly
$69/ year
– Access to 66 server locations.
– Blocks ads and web trackers.
– Lets you control your tunneling protocol
ScribeForce (for enterprises)
$3/user/month
– All Pro features
– Team management
– Share static IPs
Build A Plan
$1/location/month
– All Pro features
– You can choose specific locations
There's a one-day Windscribe VPN free trial for the premium plan. One day isn't generous, but it's understandable because Windscribe already provides a free version that anyone can use.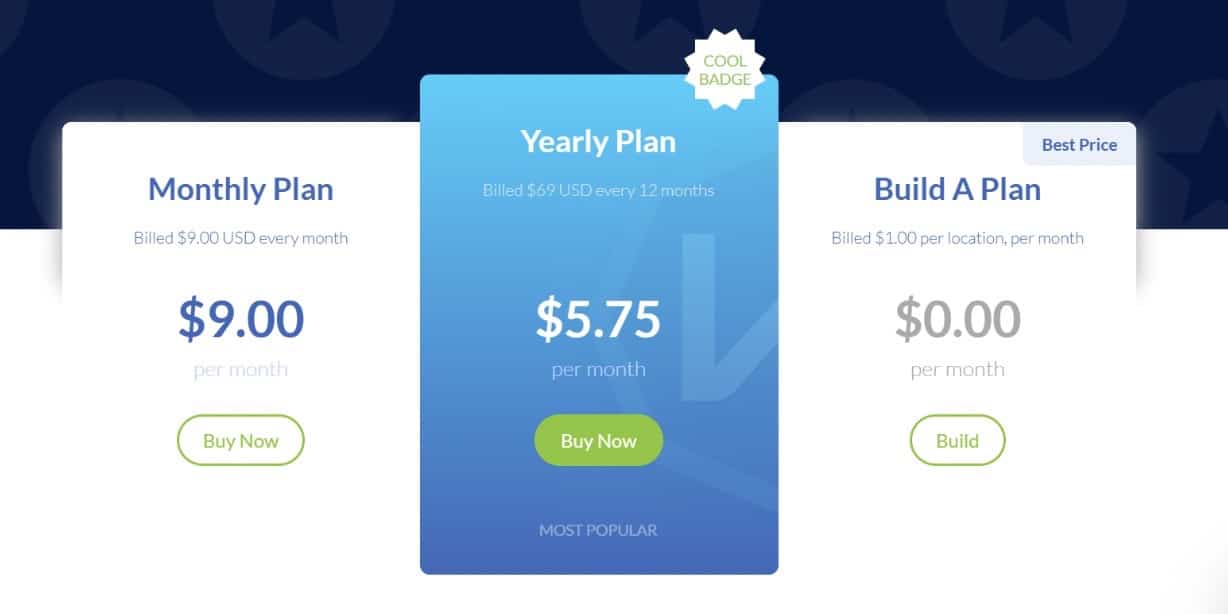 If you're unsatisfied with your purchase, you can request a refund from Windscribe within three days after payment. You must also have used less than 10 GB on the paid plan, or you won't be eligible for a refund. Windscribe's refund option is less generous than many competitors offer (14 or 30 days).
Canceling a Windscribe subscription is easy. You can log into your My Account page and look for the Cancel Subscription button. Click on the button and confirm the cancellation.
Reviewing the Core Windscribe Features
Here's a breakdown of Windscribe's key features based on our testing of this VPN.
Server Network
Windscribe has a server network spanning 64 countries. During testing, we could choose just the location we wanted and bypass geo-restrictions. Let's say you're browsing from Brazil but want to watch a video restricted to only U.S. residents. In that case, you can simply switch your server location to U.S. Central, East, or West and stream the content.
If you're confused about which location to choose, don't worry. Windscribe can suggest the Best Location based on where you are. A ping test determines the Best Location. Windscribe sends a ping from your device to all its servers and measures the time it takes to get a callback from each server.
It picks the server with the fastest response time, enabling you to surf the web at the best possible speed. During testing for this Windscribe VPN review, the platform chose France as the best location.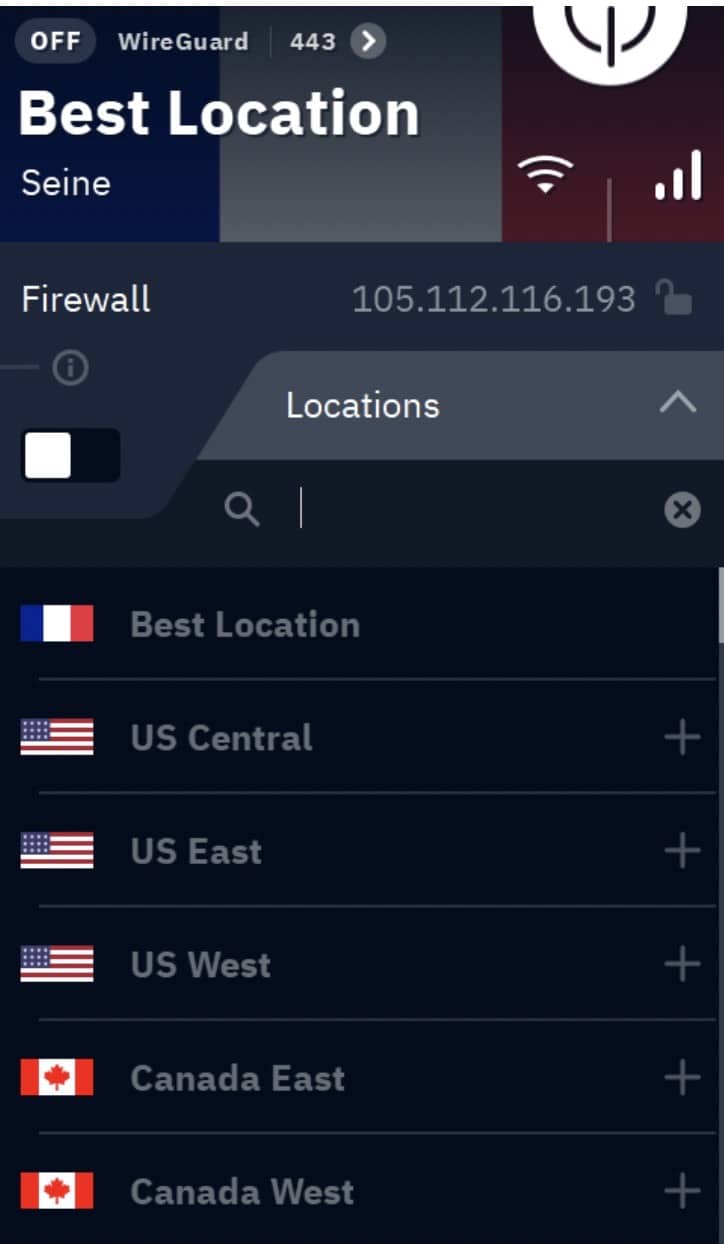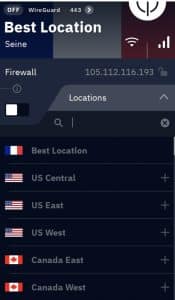 Windscribe has over 500 servers in over 60 countries. This number pales in comparison to several competitors. For instance, NordVPN has over 5,000 servers worldwide, and ExpressVPN has over 3,000 servers across 105 countries. Windscribe is reliable but needs to catch up with competitors that offer users more location choices.
R.O.B.E.R.T. Domain and IP Blocking
Windscribe offers a server-side domain and IP blocking tool called R.O.B.E.R.T. This tool lets you block specific categories of websites you never want to interact with. It puts you in complete control of your browsing experience.
R.O.B.E.R.T. has built-in blocklists for malware, social networks, ad+trackers, gambling, pornography, clickbait, crypto, and other VPNs. Let's say you switch on blocking for social networks; you won't be able to access the likes of Twitter, Facebook, Reddit, Instagram, etc. Similarly, if you block ad+trackers, you won't get served ads (loaded from external servers) when you visit websites, and these websites can't track your browsing activity to show you targeted ads.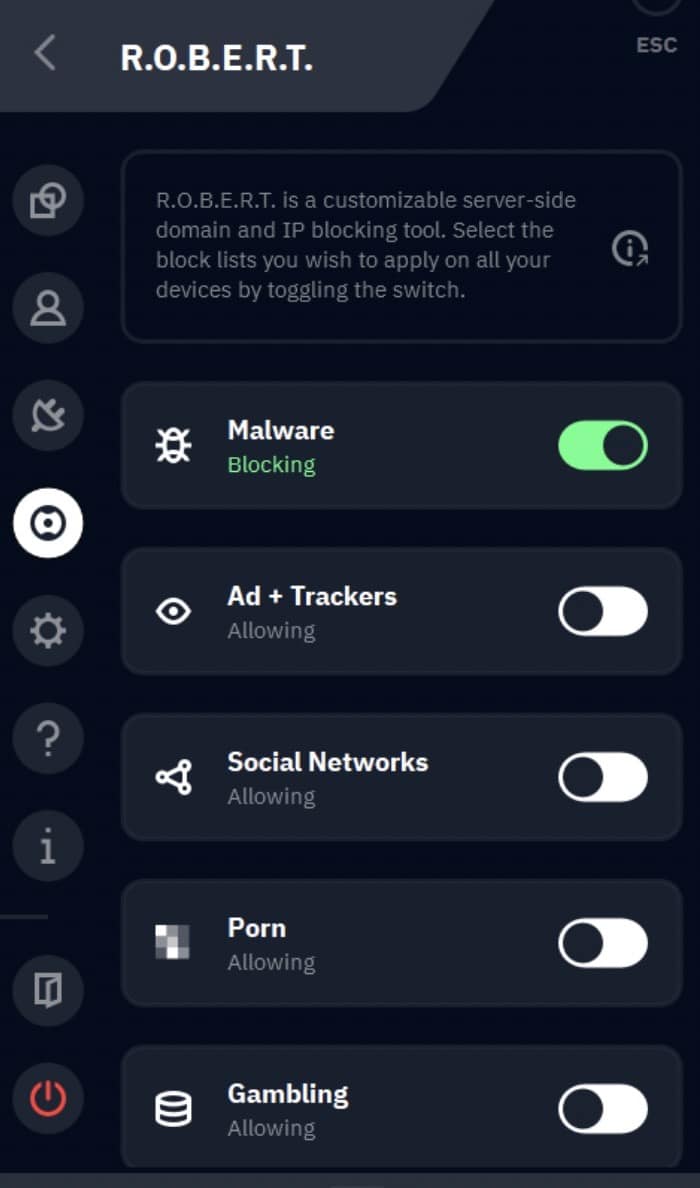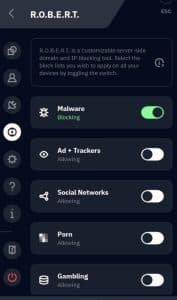 These blocklists aren't perfect, so the Windscribe VPN allows you to create custom lists. You can add specific domains you don't want to interact with, and Windscribe will terminate any connection from those domains.
This feature helps you avoid interacting with malware and unnecessary ads that ruin the browsing experience. It also makes you use less data, given that many websites have more ads and trackers than actual content.
R.O.B.E.R.T. lets you control your browsing experience, and this feature fortunately comes built-in with the Windscribe VPN. Otherwise, you may pay extra for another tool offering similar features.
Mobile and Desktop Apps
Windscribe has well-designed mobile and desktop apps. You can download Windscribe VPN on your Mac, Windows, or Linux PC. Installation was quick and easy during our test.
The desktop app has a firewall that lets you block all connections outside the Windscribe VPN tunnel. This feature's appeal is to prevent any leaks from your browsing activity. You can also use your desktop as a secure WiFi hotspot for other devices to connect to. Similarly, you can create a proxy server on your desktop for other devices.
You can control which VPN protocol through which your desktop connects to the internet. Windscribe supports IKEv2, WireGuard, OpenVPN UDP, OpenVPN TCP, Stealth, and Websocket Stealth.
IKEv2 is the default protocol. It's fast but easy for websites to detect.
WireGuard is the fastest option.
OpenVPN UDP is fast but easy for websites to block.
OpenVPN TCP is fast but hard for websites to block.
Stealth offers slower connections but is very difficult for websites to detect and block.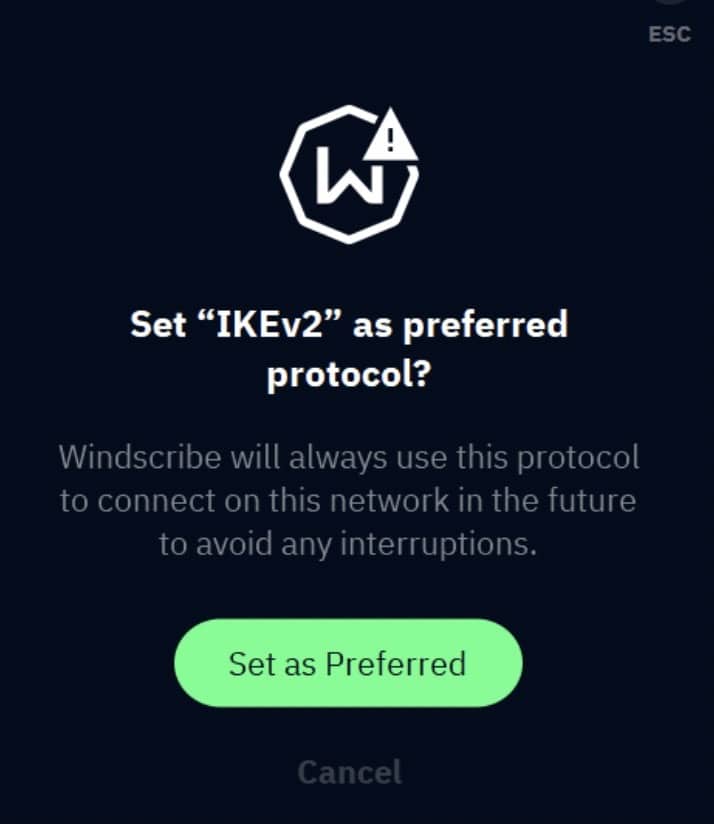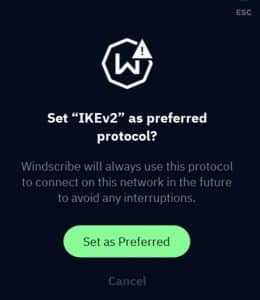 You can choose any of the above protocols depending on your circumstances. For instance, we chose WireGuard and IKEv2 to stream Netflix movies during our testing for this Windscribe VPN review. We chose them because they're the fastest options for data-intensive streaming.
The mobile app works similarly to the desktop app. You can download it from the Android Play Store or Apple App Store.
Browser Extension
You can download Windscribe as an extension on your web browser instead of an app on your desktop. You'll still enjoy online privacy and other features, but only while surfing the net from that specific browser.
The Windscribe extension is available for Google Chrome and Mozilla Firefox. You can download it from the official Windscribe website or the Chrome Web Store/Firefox Add-Ons store.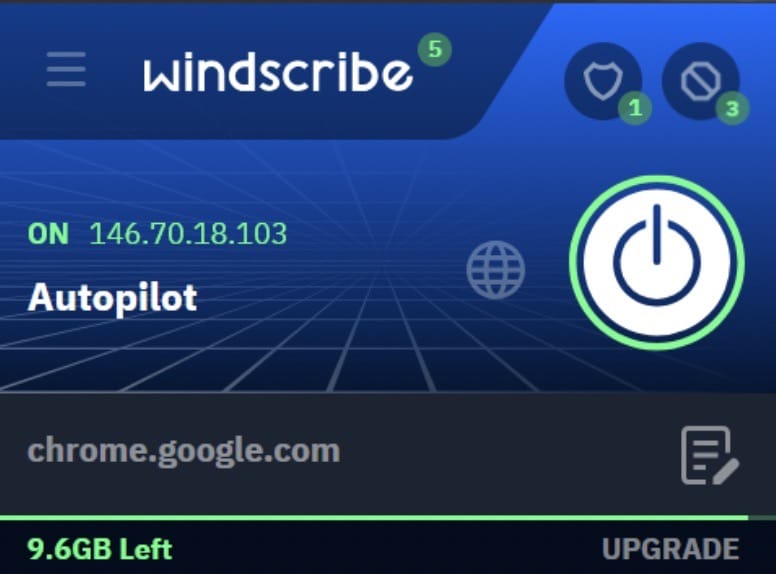 The Windscribe extension has an Autopilot feature to automatically pick the best location to maximize your browsing speed. If you meet a geo-blocked website, Autopilot will automatically pick another location to enable you to access it.
We were able to block ads and trackers while using the Chrome extension. We could also track and delete cookies stored to monitor our browsing activity.
The Windscribe extension offers a Split Personality feature that lets you frequently rotate your user agent to avoid browser fingerprinting.
Static IPs
You can request a static IP address from Windscribe. This way, you'll be assigned the same IP address whenever you switch on the Windscribe VPN tunnel. This feature requires extra payment for each static IP address you choose.
You can choose a data center static IP or a Residential IP that appears like it's from a home address. The former costs $24 annually, and the latter $96 annually for each IP address.
Static IPs reduce your chances of getting blocklisted by any website because someone else using the same IP abused their services. You'll face fewer CAPTCHAs, 2FA checks, and other obstacles when surfing the web with a VPN.
ScribeForce Team Accounts
Windscribe offers managed accounts for enterprises nicknamed ScribeForce. It's an ideal solution for organizations that want to adopt Windscribe VPN for all staff. Instead of having each staff subscribed to a personal account, a single administrator can handle all the subscriptions from one account and dashboard.
ScribeForce offers the same features as Windscribe Pro accounts. The difference is the centralized billing and management system. The IT administrator can generate and manage user accounts from a single dashboard.
ScribeForce accounts cost just one-third of typical Windscribe Pro accounts. It lets enterprises enjoy Windscribe's online privacy protection at a more affordable price.
Split Tunnelling
One of the main reasons we recommend Windscribe is that it gave us complete control over our browsing activities during testing. Enter Split Tunnelling, a feature that lets you choose which applications connect online via the VPN and which do not. This feature is important because some apps do not work with VPNs, e.g., banking apps. This way, you can create exceptions for those apps to connect directly instead of via the VPN.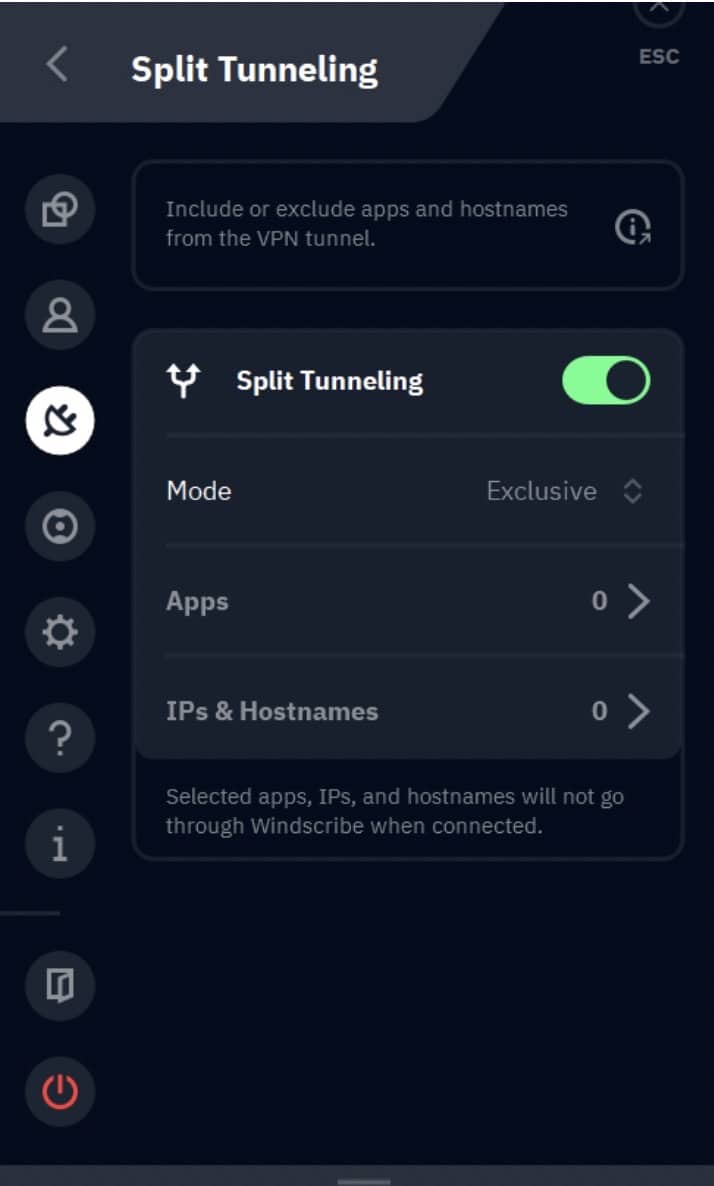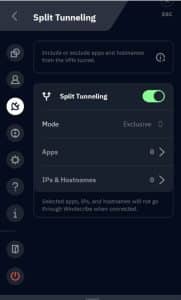 You can use this feature in two modes: Exclusive and Inclusive. In Exclusive mode, you simply choose the apps you want to exempt from VPN connections. In Inclusive mode, you choose the apps you want to be tunneled via the Windscribe VPN, and the rest connect directly.
Advanced Encryption
Windscribe has advanced security features to protect your browsing data. The desktop applications use AES-256, a virtually unbreachable encryption algorithm using 256-bit keys to convert plain data into ciphers. The desktop app supports forward secrecy, i.e., frequently changing the encryption keys to minimize the risk of data theft if someone scales through the virtually impossible obstacle of stealing a recent encryption key.
The Windscribe VPN Chrome extension uses 256-bit keys, as does the Windscribe VPN Firefox extension.
Port Forwarding
Windscribe's port forwarding allows you to remotely access private networks from your computer while protecting your privacy. For example, you can be at the office and connect to your home security camera. Your real IP address won't be exposed to the remote network you're connecting to (you'll use a disguised one).
Time and Location Warp
Windscribe allows you to spoof your timezone and GPS location to match the server you're connected to. This way, sites with anti-VPN measures won't be able to detect that you're connected from another location.
Is Windscribe Safe?
Windscribe takes security very seriously. As a VPN provider, it ensures that customers' browsing data is encrypted and can't be accessed by unauthorized third parties.
Let's examine several aspects of Windscribe's safety below.
Encryption Standards
As mentioned in the preceding section, Windscribe uses Advanced Encryption Standard (AES) 256, which protects browsing data with 256-bit keys and is virtually unbreakable. It combines this standard with SHA 512 hashing and a 4096-bit RSA key to secure user data.
Windscribe sets a high bar in data protection. The slight drawback is that it's based in Canada, a member of the Five Eyes intelligence alliance, and may have to give up some data if requested by a government agency.
Protocol Support
Windscribe supports six VPN protocols: IKEv2, WireGuard, OpenVPN UDP, OpenVPN TCP, Stealth, and Websocket Stealth. We discussed these protocols and their unique characteristics in the Features section.
You can switch between these protocols at any time. Each one has unique encryption keys generated whenever you switch them on.
Logging Policy
Windscribe is committed to a no-logging policy. It doesn't keep connection logs, session logs, or IP timestamps. Windscribe VPN logging is limited to when a customer last used Windscribe and their total bandwidth usage within the previous 30 days; this data is needed to enforce the free tier policy and is useless to any prying eye anyway.
DNS
Windscribe has internal DNS servers that route user queries. All DNS queries pass through the VPN tunnel, meaning they can't be leaked to your internet service provider (ISP) or a network administrator if you use a corporate device.
Using internal DNS servers is why Windscribe allows users to block entire categories of websites via the R.O.B.E.R.T. tool.
Multi-Hop
Windscribe supports multi-hopping, specifically double-hopping. You can route your online requests through two proxy servers on the Windscribe network. This feature provides better privacy and anonymity for users, as any intending prying eye will first have to figure out the two proxy servers you route requests through and gain access to them, which is virtually impossible.
Independent Audits
Windscribe open-sourced its desktop app and browser extension in 2022, allowing any third party to audit and verify their security. Its desktop and mobile apps have also been audited by Leviathan Security Group, a trusted, independent security assessment agency. Here are links to the desktop app code audit report and Android app code audit report.
Windscribe says it's also undergoing a full server stack audit but hasn't yet published a report.
RAM-Only Servers
Most Windscribe servers run entirely on random access memory (RAM). This means no data is stored on the server. The data is erased whenever a server reboots or shuts down, so there's almost nothing for anyone to spy on.
Proxy Gateway
You can use your Windows or Mac PC as a proxy gateway server for other devices. This way, other devices that don't support VPN protocols can connect to your PC and use Windscribe's VPN tunnels to surf the web securely.
Firewall
You can block any connection outside of Windscribe's VPN tunnel. Your internet connection will automatically terminate if the Windscribe VPN tunnel isn't activated. This feature prevents data from leaking if your VPN connection switches off temporarily.
Windscribe Device Compatibility
Windscribe is compatible with all major desktop and mobile operating systems. Let's examine the options it offers.
Windows
You can download Windscribe VPN for Windows on the official website. It's easy to install and set up. It offers a simple interface you can easily understand, with features arranged neatly across different sections.
Mac
The Mac app is the same as the Windows app, save for compatibility. It offers the same features and a simple interface that's easy to use. You can download the macOS app from the official website.
Linux
You can install Windscribe on Linux via a Debian or RPM package. The Linux app is still in beta mode, so you may encounter some bugs and abnormalities. If so, Windscribe encourages users to notify its support team about any bugs.
Android
You can download the Windscribe Android app from the Google Play Store or Huawei AppGallery. You'll enjoy the same protection that Windscribe offers to desktop users.
iPhone
You can download the iOS version of Windscribe from the Apple App Store. It's compatible with iOS 12.0 or later and is available in multiple languages. The iPhone app scores very high in ease of use.
FireTV
FireTV is a popular video streaming device sold by Amazon. You can download Windscribe VPN FireTV from the Amazon app store.
Browser Extension
Windscribe is available as a browser extension for Google Chrome and Firefox. The Windscribe extension is compatible with any device that can run these web browsers.
Windscribe vs. Top VPN Competitors
The VPN market is huge ($45 billion as of 2022), with space for enough competition. Windscribe is one of many reliable VPN services on the market. Let's compare its features with some of its major competitors:
| | | | | | | |
| --- | --- | --- | --- | --- | --- | --- |
| Top VPNs | Best Suited For | Starting Price | Log Policy | Free Version? | No. of Connections | Kill Switch? |
| Windscribe | Streaming and torrenting | $9 per month | No logging | Yes | Unlimited | Yes |
| ExpressVPN | Streaming | $12.95 per month | No logging | No | 8 | Yes |
| CyberGhost | Gaming | $12.99 per month | No logging | No | 7 | Yes |
| PureVPN | Anonymity | $12.45 per month | No logging | No | 10 | Yes |
| ProtonVPN | General anonymity | $10 per month | No logging | Yes | 10 | Yes |
You can get more information about how these competitors compare to each other here in our best VPN services page.
What is Windscribe Good For?
Windscribe excels in streaming and torrenting:
Streaming
You can comfortably stream content online with Windscribe. It has hundreds of servers across 64 countries, making it easy to bypass geo-restrictions. Windscribe could do better by expanding its server network, but it's still reliable for video streaming. You can stream popular movies, shows, sports matches, live events, etc.
Torrenting
Windscribe supports peer-to-peer downloads and torrenting. You can easily download and upload files via BitTorrent or other torrent networks while protected by Windscribe's advanced security features. This VPN preserves your identity and shields your internet activity from prying internet service providers (ISPs).
Windscribe Server Locations
Windscribe has hundreds of servers across 64 different countries. They include:
Africa: Kenya, South Africa, and Ghana.
Asia: Cambodia, Hong Kong, India, Indonesia, Japan, Malaysia, Philippines, Singapore, South Korea, Taiwan, Thailand, and Vietnam.
Europe: Albania, Austria, Azerbaijan, Belgium, Bosnia, Bulgaria, Croatia, Czech Republic, Denmark, Finland, France, Georgia, Germany, Greece, Hungary, Iceland, Ireland, Italy, Latvia, Lithuania, Luxembourg, Moldova, Netherlands, North Macedonia, Norway, Poland, Portugal, Russia, Romania, Serbia, Slovakia, Spain, Sweden, Switzerland, Turkey, Ukraine, and the United Kingdom.
Americas: Argentina, Brazil, Chile, Colombia, Ecuador, Mexico, Peru, and the United States.
Middle East: Cyprus and Israel.
Oceania: Australia and New Zealand.
Is Windscribe Good? A Look at Windscribe VPN Reviews
We didn't just base this Windscribe VPN review on our personal experience. We looked at third-party review sites to see how customers generally rate Windscribe and the platform maintained its good reputation.
Windscribe has a stellar 4.8 stars on Trustpilot and 4.4 stars on G2. Customers rate it highly in these areas:
Speed: Many reviews praise Windscribe for having fast connection speeds for video streaming and general online surfing.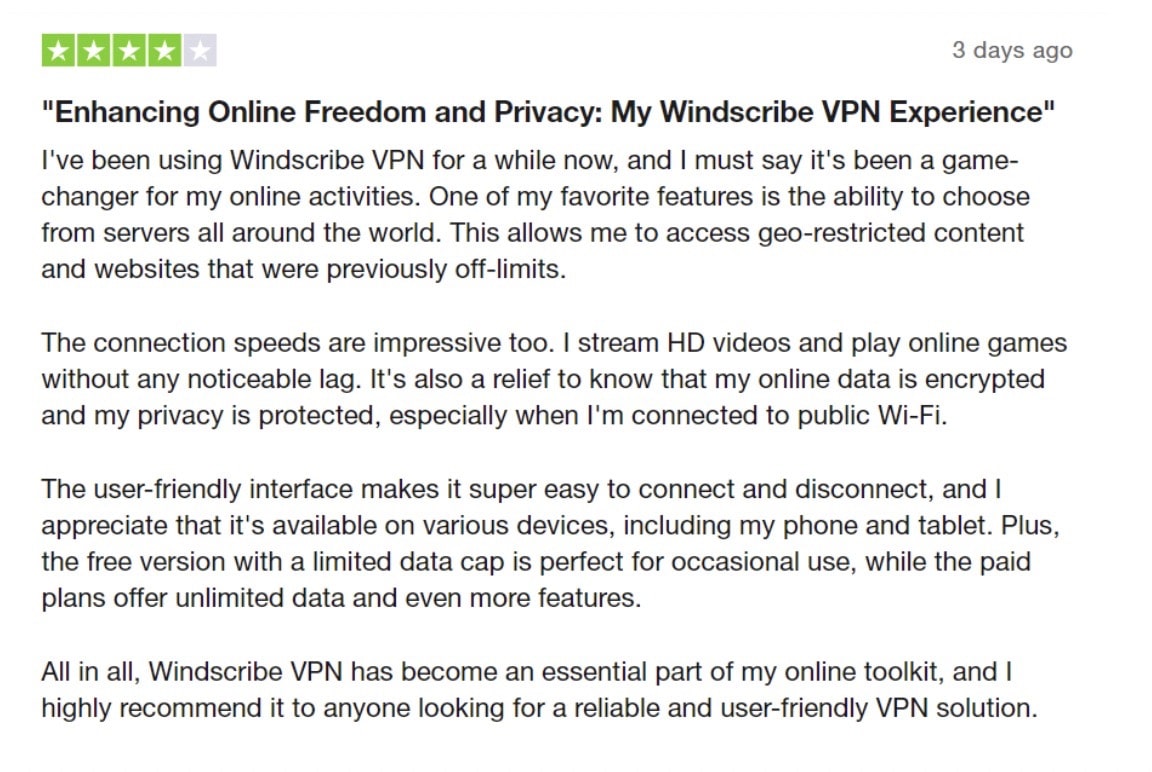 Free plan: Many customers praise the free plan that offers up to 10 GB of secure browsing monthly.
Ease of Use: Windscribe is highly regarded for its ease of use and navigability.
Windscribe has an overly positive rating with existing customers, making it an ideal VPN choice.
How to Use Windscribe – A Quick Guide
Here's how to set up Windscribe.
Step 1: Windscribe Download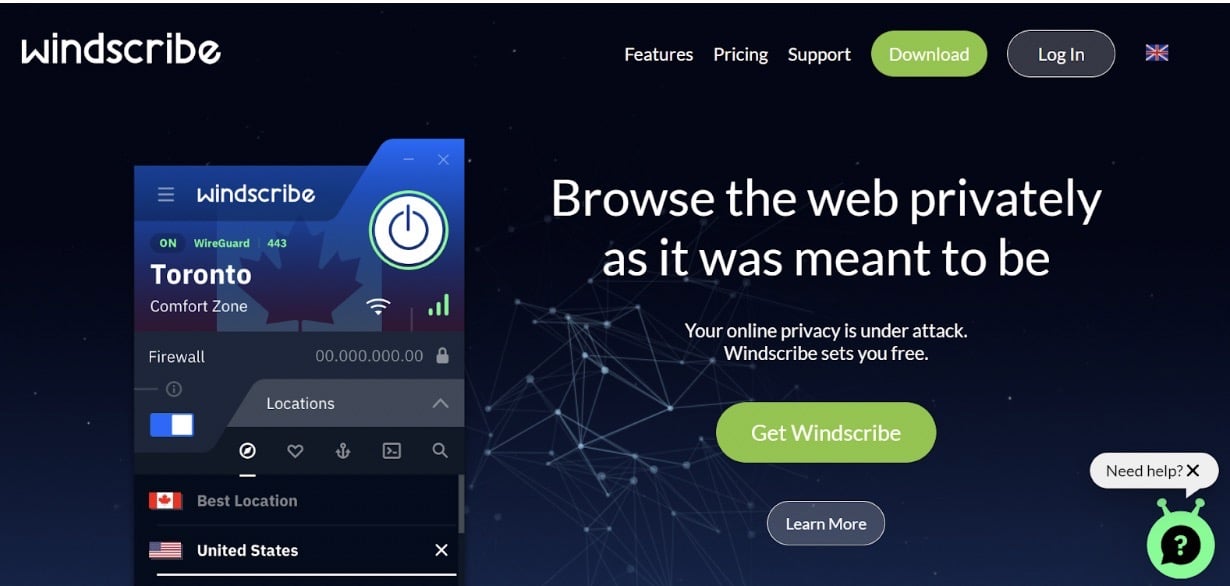 Head to https://windscribe.com/ and click the Download button on the top-right corner. Download the desktop app (Windows or Mac) or browser extension. If you're using a mobile phone, you can search for Windscribe on the Play Store, Huawei AppGallery, or App Store and click the download button.
Step 2: Install Windscribe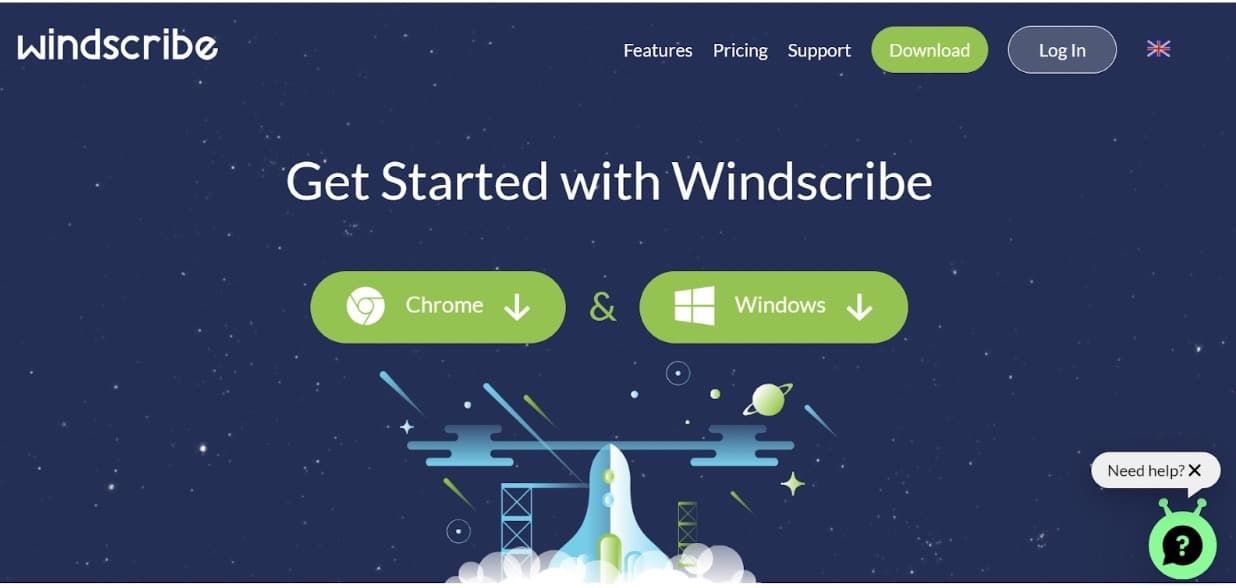 Launch the executable file (.exe) on your Windows or Mac PC to begin the installation process. Simply click Install, and the software installs within seconds. Installation is automatic if you're using a mobile phone.
Step 3: Create an Account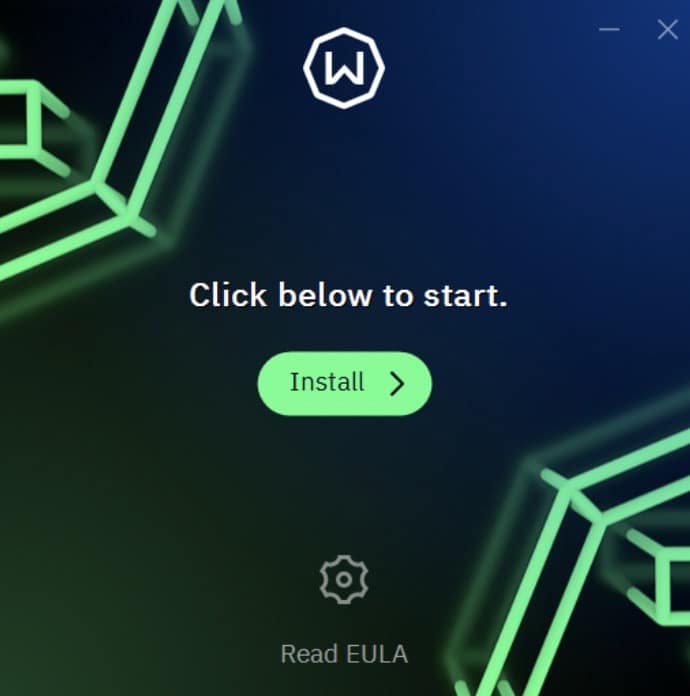 Click Get Started to create an account. You'll be redirected to the Windscribe website to do this. Enter your new username, password, and email (optional but needed to access the free 10 GB VPN plan).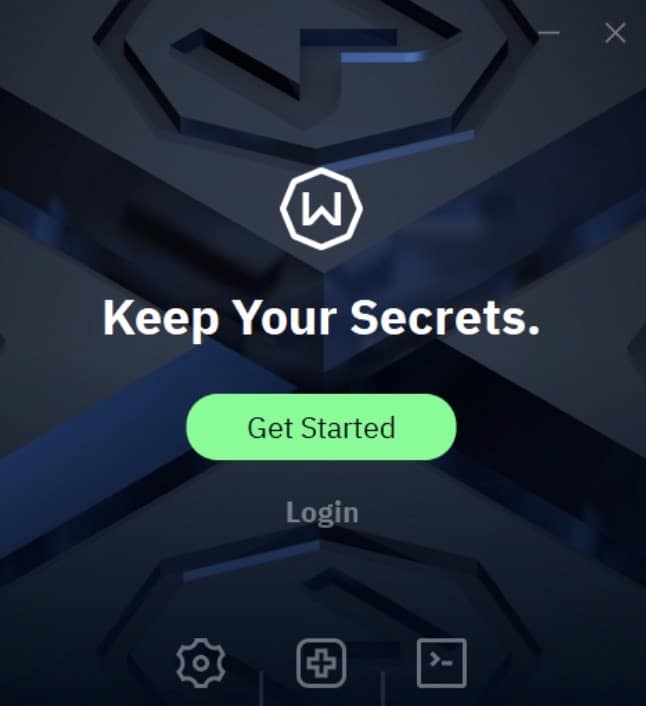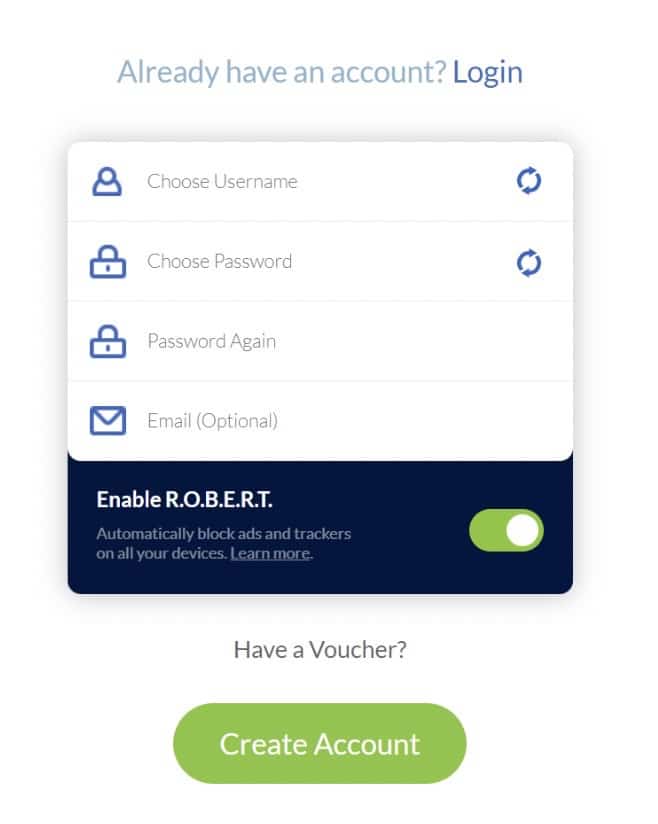 Step 4: Windscribe Login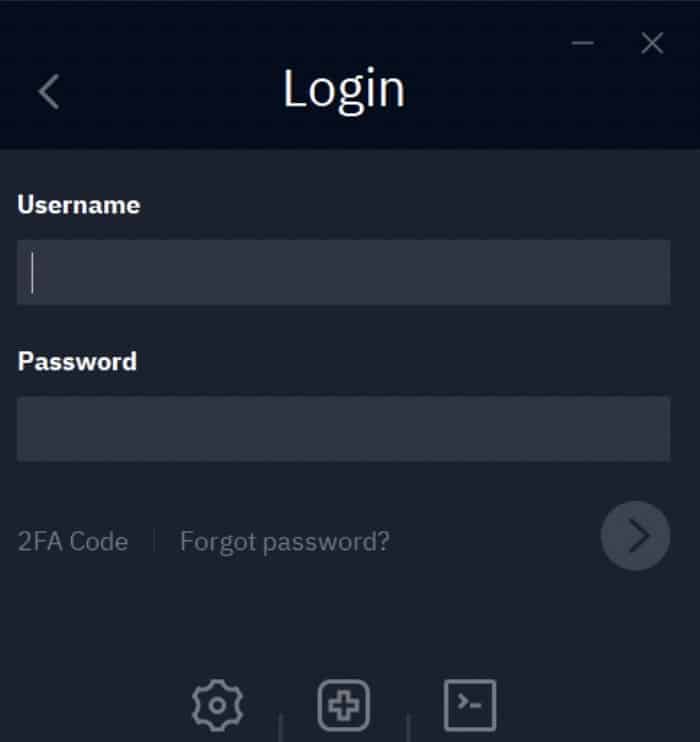 Head back to the app and log in with your newly created username and password.
Step 5: Establish a Connection
You'll be redirected to your VPN dashboard, and you can start using the app. Click the power button to establish a VPN connection. Click the Location dropdown menu to choose your server location or Best Location for Windscribe to pick one for you automatically.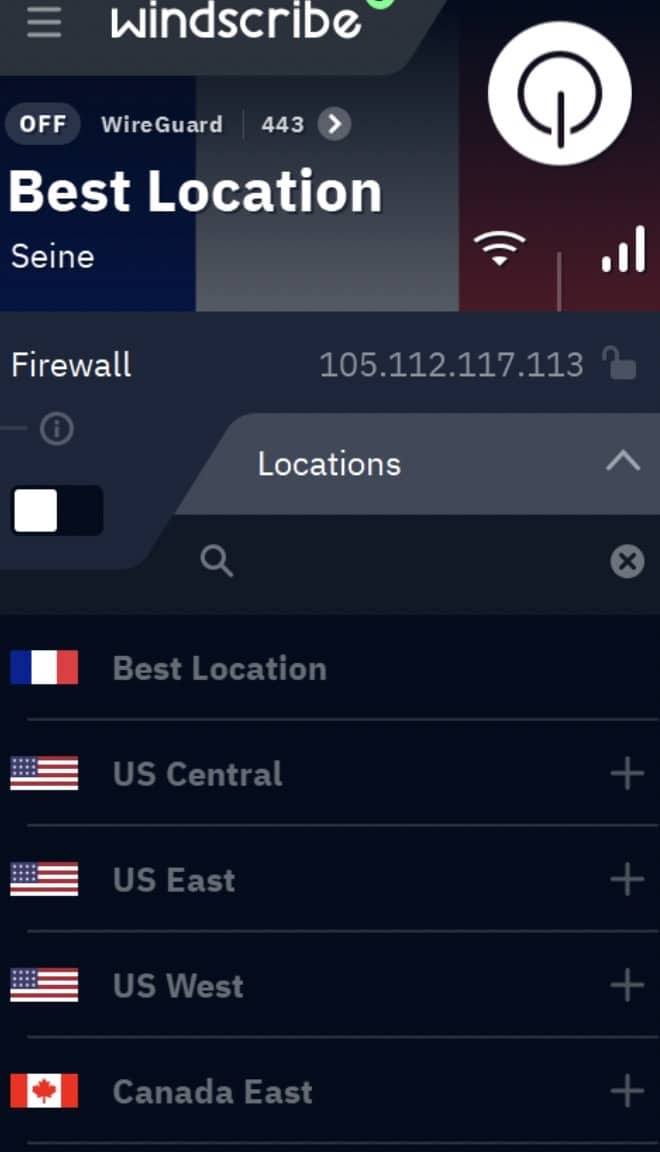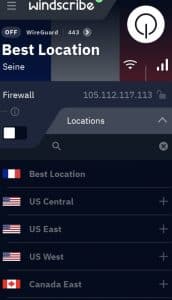 The setup process follows the same pattern on PCs and mobile phones. Follow these steps to set up the browser extension.
Step 1: Find Windscribe on the Chrome Web Store or Firefox Add-Ons

Add it to your browser and then launch the extension.
Step 2: Click Get Started to Sign Up

Step 3: Log in to Windscribe

How We Tested Windscribe
To provide a comprehensive Windscribe VPN review, we downloaded and tested it extensively on a PC, mobile phone, and via the browser extension. We thoroughly tested its features to see how reliable they were. We tested the speed and ease of use, which we discussed in this review.
Our cybersecurity team has deep experience reviewing VPNs and other security-related tools to spot flaws and anomalies. We compared Windscribe with several competitors, and it performed well.
A comprehensive review doesn't stop at our personal experience. We also consulted organic customer reviews to see what users say about Windscribe, and the feedback was largely positive.
With all this information, we compiled this detailed review to help you decide whether the Windscribe free VPN or paid version is the best choice.
Our Other VPN Guides
We have previously reviewed and compared many other VPN resources. Here are the links:
Concluding Our Windscribe VPN Review – Is Windscribe Worth it in 2023?
Is Windscribe an ideal VPN to choose? The consensus says yes. Our tests proved it to be a very reliable VPN provider you can trust. Customer reviews are also overwhelmingly positive, proving that Windscribe is one of the best VPN solutions.
Of course, Windscribe has some flaws, such as its short refund period and lack of live chat customer support. However, its pros make up for the cons. Windscribe is a smart choice to protect your online privacy and bypass geo-restrictions while surfing the web.
Windscribe FAQs
Is Windscribe a good VPN?
Can Windscribe VPN be trusted?
Is Windscribe VPN really free?
Is Windscribe better than NordVPN?
How much is Windscribe monthly?
References