Ecoterra (ECOTERRA) is likely a name you're familiar with at this juncture, as it has gained attention for its commendable purpose, particularly its carbon marketplace. While it encompasses additional applications and attributes, the global cryptocurrency community has shown remarkable enthusiasm for the carbon marketplace aspect.
This marketplace is demonstrating its efficacy as a potent weapon in the battle against climate change. With this in mind, we encourage you to explore it further. To kickstart the process, we're giving you all the information you need to start your journey with the Ecoterra platform.
What Does Ecoterra Do?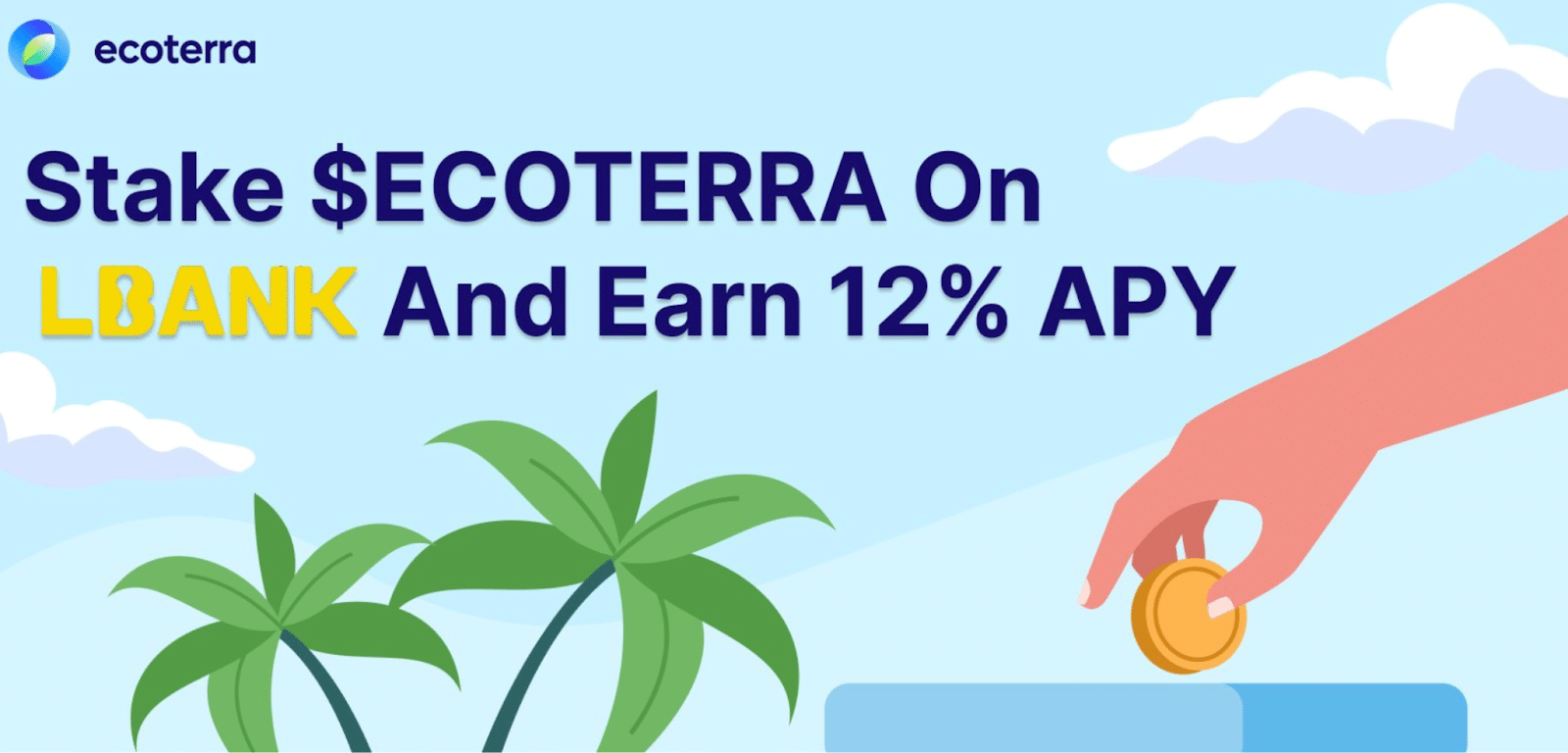 Ecoterra stands as a groundbreaking blockchain-driven platform actively involving individuals and corporations in recycling endeavors aimed at combating climate change. The focal point of this initiative is the Recycle2Earn program, a meticulously crafted scheme designed to incentivize recycling by bestowing participants with Ecoterra tokens. These tokens can be staked, allowing participants to passively receive dividends from Ecoterra's revenue streams and potentially witness their value appreciation.
The positive impacts of Ecoterra extend beyond individual consumers to encompass enterprises engaged in the creation and recycling of reusable materials. By responsibly disposing of recyclable packaging, environmentally-conscious consumers facilitate the collection and transportation of these materials to nearby facilities, where they undergo processing into valuable raw resources.
The primary goal of Ecoterra revolves around fostering collaboration between recycling ventures and product manufacturers, thus propelling a circular product lifecycle. Envisioning a shared marketplace, the platform envisions recycling enterprises vending their raw materials, which product-focused companies can acquire to create sustainable goods, thereby realizing this overarching vision.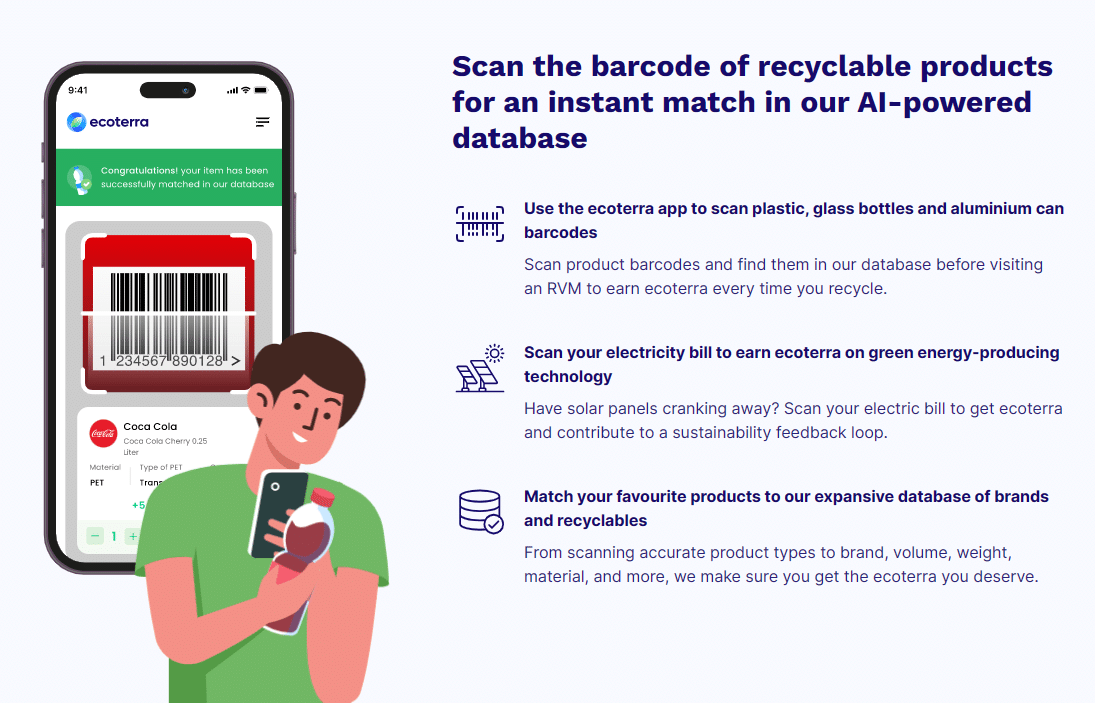 Undoubtedly the most captivating and prominent feature provided by Ecoterra, the Recycle2Earn app functions as the flagship product. This app acts as a transformative link between businesses and individuals, offering an exceptional opportunity to contribute positively to the world while reaping benefits. It's noteworthy that the software is currently accessible, and harnessing its potential provides an avenue to drive positive change. An important mention is that the first 5000 individuals to download the app will receive complimentary ECOTERRA tokens.
To begin exploring its offerings, all that's required is downloading the Ecoterra app. Utilizing the app's AI-driven repository of barcodes for various plastics, glass, and aluminum containers, you can leverage the barcode scanning tool to identify recyclable items. Furthermore, if your utility bill demonstrates the utilization of environmentally friendly energy-generating equipment, scanning it can earn you ECOTERRA tokens.
After recycling an item through the Reverse Vending Machine (RVM), simply submit the receipt through the app to observe immediate deposits of Ecoterra tokens into your account. Moreover, the application offers GPS localization of nearby RVMs, simplifying the recycling process and improving convenience. Each recycled item that corresponds with the app's database earns you Ecoterra rewards, thereby incentivizing eco-friendly actions.
Other Activities and Features Also Available
$ECOTERRA won't stop evolving!

Our ecoterra app is taking shape, and the Beta version is now available for testing at https://t.co/rTdtTuVcuK 🌿

We'd love to hear your feedback! Try it out and let us know what you like and any suggestions for improvement 🚀 pic.twitter.com/kgeysHzt2U

— ecoterra (@ecoterraio) August 10, 2023
In addition to recycling, the app presents a range of additional avenues to support environmental organizations. Users can engage in Ecoterra-associated environmental campaigns and tree-planting endeavors by making modest contributions. The app also lends support to verified cleanup projects and facilitates purchases of green energy. Furthermore, funding is allocated for educational initiatives aimed at promoting ecological awareness. Users also have the option to utilize their hard-earned ECOTERRA tokens to purchase sustainable and eco-friendly products available in the market.
The Ecoterra platform, alongside its Recycle2Earn app, offers consumers abundant opportunities to participate in eco-conscious endeavors. As the ecosystem continues to evolve, even more intriguing prospects are anticipated to arise!
As such, it's clear to see that Ecoterra is a comprehensive platform through which you can help save the planet. The project is working on something truly unique and impactful, and crypto investors can take their knowledge and assets and apply it towards the noble cause of environmental protection.
Conclusion
Ecoterra is at the forefront of an innovative cryptocurrency market trend, placing its primary focus on social and environmental equity. While potential platforms with similar aims may emerge down the line, Ecoterra distinctly shines as the most comprehensive and all-encompassing option. You basically earn for saving the planet and that's as good as it gets!