The best smartwatch can seamlessly track your health metrics, such as your oxygen levels and heart rate. In addition to various sports features, these smartwatches also come with functionality like calling, SMS, and notifications from your apps – and can work in a very similar way to a smartphone.
However, finding the perfect smartwatch can be a daunting task, given the sheer number of options on the market. That's why we've found and reviewed the best smartwatch devices for you based on criteria like pricing, connectivity, compatibility, sports modes, and battery life, among others. Read on to learn why smartwatches like the Xiaomi MI Band 5 and the Apple Watch Series 7 are in a league of their own.
Top 10 Best Smartwatches for Any Budget
The Xiaomi MI Band 5 is, in our book, the best smartwatch you can get right now. With features like 20-day battery life, fast charging, a bright AMOLED display, and as many as 11 sports modes, the Xiaomi MI Band 5 is a notch ahead of the rest. That said, the competition is certainly steep in this sector.
Best Smart Wearables Reviewed
We'll now discuss each of our top recommendations for the best smartwatch you can buy in detail, including their best features, pros, cons, and pricing. Time to gear up.
1. Xiaomi MI Band 5 — Overall, the Best Smartwatch in the US
The Xiaomi MI Band 5 stands out for its long battery life. The cells have a total capacity of 125 mAh, which should last you about 14 to 20 days, depending on how much you use it. The smart magnetic charger takes less than 2 hours to fully charge the device, so you can be on your way as soon as possible.
If you compare it with other devices that only last for 5 to 10 days in even their most efficient modes, the Xiaomi MI 5 is the clear winner in terms of long-lasting performance.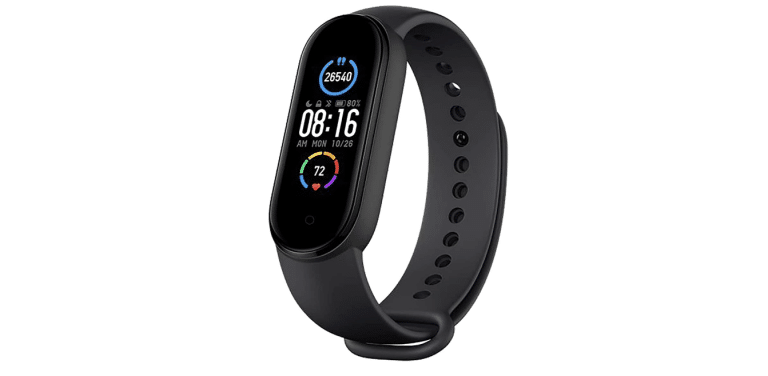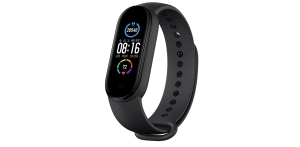 Another remarkable feature is the 24/7 heart rate monitoring. Instead of an uncomfortable chest band, you get a wristband that records your pulse and heart rate even when you're sleeping, enabling you to track the pattern of your heartbeats in different states of consciousness.
This latest version of the MI band uses an upgraded chip that guarantees more accurate health monitoring compared to the older MI Band 4.
Even in terms of display, the MI 5 is a huge upgrade over the MI 4. The display area is at least 20% magnified, which makes it easier for you to read messages and notifications directly from the dial.
The MI Band 5 is also one of the best wearable devices for athletic people. It's waterproof and can survive up to 50 meters of water. It also comes with a 5 ATM rating, meaning it's safe to wear while swimming. For use in the pool and in the bath, it passes with flying colors.
However, be careful around saunas and scuba diving. Since the material isn't designed to withstand such high pressures or temperatures, Xiaomi itself warns against wearing the band for activities like these.
| | | | | | |
| --- | --- | --- | --- | --- | --- |
| Price | Sizes | Compatibility | Battery Life | Waterproof | Charging Method |
| $49.98 | 1.85 x 0.71 x 0.47 inches | Android and iOS | 14 to 20 days | Yes (5 ATM) | Magnetic fast charging |
Pros
A bright 3-inch AMOLED display
A long 14-day battery life
The best Android smartwatch
Has more than 11 sports mode
Users cite Fitbit-like performance
Best waterproof smartwatch featured
2. Apple Watch Series 7 — Best Smartwatch for iPhone and the Apple Ecosystem
The Apple Watch Series 7 is perfect for those looking for a premium smartwatch, but even more so for existing Apple users. Let us explain: while most other smartwatches only connect to your smartphone, the Apple Watch Series 7 is the only one on the list to connect to an array of devices, including your Mac and Airpods.
This means you can control your music or access your emails on your laptop with just one click on the watch. Meanwhile, it can connect to iPhones from the 6s onwards.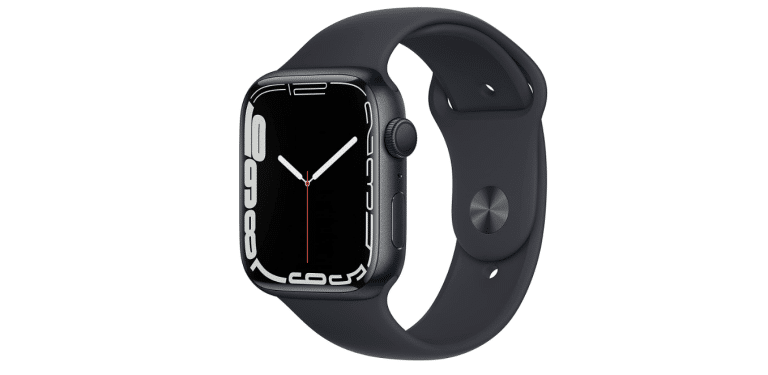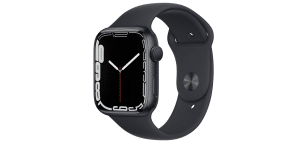 Note that Apple smartwatches can also connect to Apple Pay, enabling you to make fast payments on the go.
If you don't want to be limited by design options, you'll be delighted to know that the Apple Watch Series 7 comes in 13 different colors, including red, silver, blue, brown, and more. You can also choose between a metal and a rubber band or get both — one for casual wear and another for formal use — if your pocket permits.
The watch is a delight for fitness enthusiasts. It comes with a free 3-month subscription to Apple Fitness – a workout platform with the largest library of HD fitness and wellness content in the industry.
New exercises and routines are added every week, and there are lots to choose from, from kickboxing and dancing to pilates, HIIT, and yoga — there's something for everyone.
As with all Apple watches, the Series 7 is covered by a one-year warranty on hardware repair and up to 90 days of complimentary technical support. For additional protection, get AppleCare+, where you can choose extra repair and replacement coverage.
| | | | | | |
| --- | --- | --- | --- | --- | --- |
| Price | Sizes | Compatibility | Battery Life | Waterproof | Charging Method |
| $429 | 45 mm screen | iPhone, Mac, Airpods, Apple Play | Up to 18 hours | Yes (up to 50m) | Magnetic fast charging |
Pros
Incredibly durable – dust resistant and swim-proof
Works seamlessly with Siri
Well-known for accurate health tracking
Has a bigger screen with thin bezels
3. Fitbit Versa 3 — Versatile Smartwatch With Built-in Voice Assistant
The Fitbit Versa 3 takes smartwatches up a notch by integrating the device with Alexa, Amazon's voice assistant technology. And thanks to that, you can now set reminders, control other smart devices in your home, or have Alexa read out quick notifications by simply talking to your watch.
If you're not a fan of Alexa, you can access the same set of features with Google Assistant too.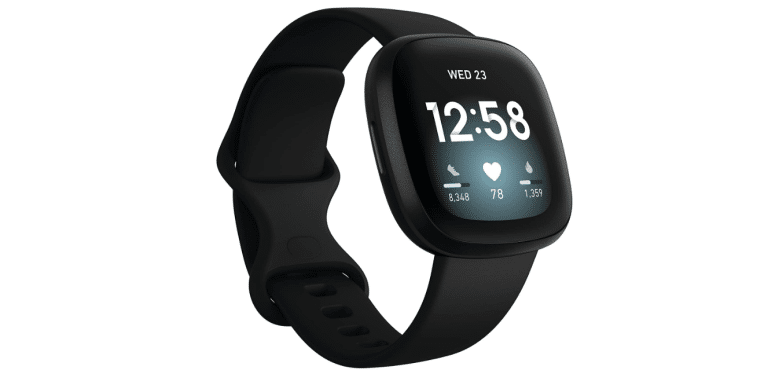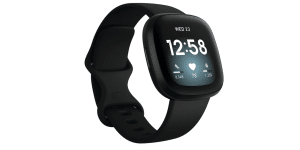 Battery life is pretty good. It lasts up to 6 days once fully charged. If you're in a hurry, just plug it in for 12 minutes, and you'll have enough battery to last the day. A combination of fast charging and a long-lasting battery make this Android watch a great pick for those who spend lots of time outdoors.
Another unique feature for fitness enthusiasts available with premium plans is the Daily Readiness Score. Based on your vitals and the previous day's routine, the watch will tell you whether you're ready to exercise on the present day or whether you should take a break to recover.
Along with that, you also get a personalized Sleep Score based on the time you spend in light, deep, and REM sleep. These numbers are then crunched to calculate your overall sleep quality, after which you get insights on how to improve it. After all, adequate sleep is crucial for a healthy lifestyle.
Every device comes with 6-month Premium membership by default. Under this, you get access to advanced analytics, insights, guided programs, and much more premium health content. Just remember to activate the subscription within 60 days of purchase.
| | | | | | |
| --- | --- | --- | --- | --- | --- |
| Price | Sizes | Compatibility | Battery Life | Waterproof | Charging Method |
| $150.95 | 1.59 x 1.59 x 0.49 inches | Android only | 6+ days | Yes (up to 50m) | Regular cable charging |
Pros
A unique Daily Readiness Score
Comes with a 6-month Premium membership
Supports 12-minute fast charging
Wearable technology and water resistant
4. Samsung Galaxy Watch 4 — Best Smartwatch For Android With Health Monitoring
The Samsung Galaxy Watch 4 is best known for its diverse range of features that monitor bodily functions such as sleep and heart rate. Sure, almost every branded smartwatch offers health monitoring, but if you're looking for a specialist, try this one.
For example, the Samsung Galaxy Watch 4 doesn't just monitor your heartbeat – it has built-in ECG tools that look for anomalies in your pulse. The watch can easily detect common cardiac concerns such as atrial fibrillation – an irregular heartbeat. You can also share these personalized heart reports with your doctor for their expert opinion.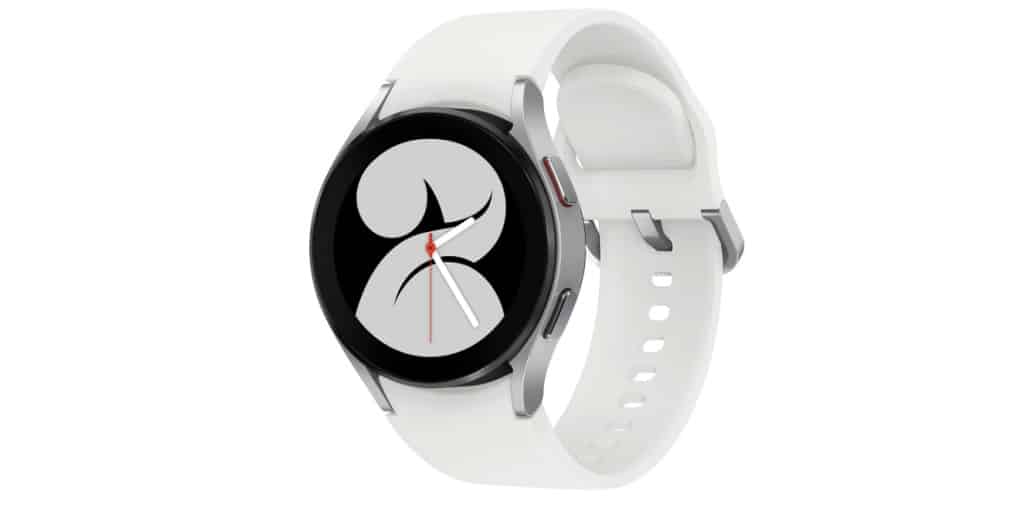 It's also one of the few devices that can give you accurate readings of your body composition at any time. This includes body fat, basal metabolic rate, skeletal mass, body water percentage, and BMI. Take these numbers to then create workout routines. Samsung can save you a lot of time in finding the right exercise for you.
Speaking of workouts, they're much more easily tracked and logged with the Galaxy Watch 4. It recognizes 6 of the most popular workout activities, including rowing, running, swimming, and many more.
With advanced tracking, your progress in all these activities will be accurately and automatically recorded. You can also connect to a live coach directly through the watch to keep you motivated throughout.
For those with a knack for running, Samsung offers something more. With its advanced running coaching technology, you get accurate VO2 MAX readings in real-time, which you can then use to understand your lungs and heart endurance and get the most out of each run. It's undoubtedly one of the best smartwatches for Samsung users.
| | | | | | |
| --- | --- | --- | --- | --- | --- |
| Price | Sizes | Compatibility | Battery Life | Waterproof | Charging Method |
| $141 | 1.59 x 1.55 x 0.39 inches | Smartphones (except iPhone) | 40 hours | Yes (up to 50m) | Regular cable charging |
Pros
Seamless Google connectivity
Known for its superior screen resolution
An excellent BioActive sensor to measure health parameters
Best Samsung smartwatch available in various models
Cons
iPhones are not supported
5. Motorola Moto Watch 100 — Ideal For Sports Enthusiasts With 26 Dedicated Sports Modes
The Motorola Moto Watch 100 comes with 26 specific sports modes, including running, cycling, jumping rope, and more. When engaged in any of these activities, the watch will accurately track your heart rate and automatically stop once you're done.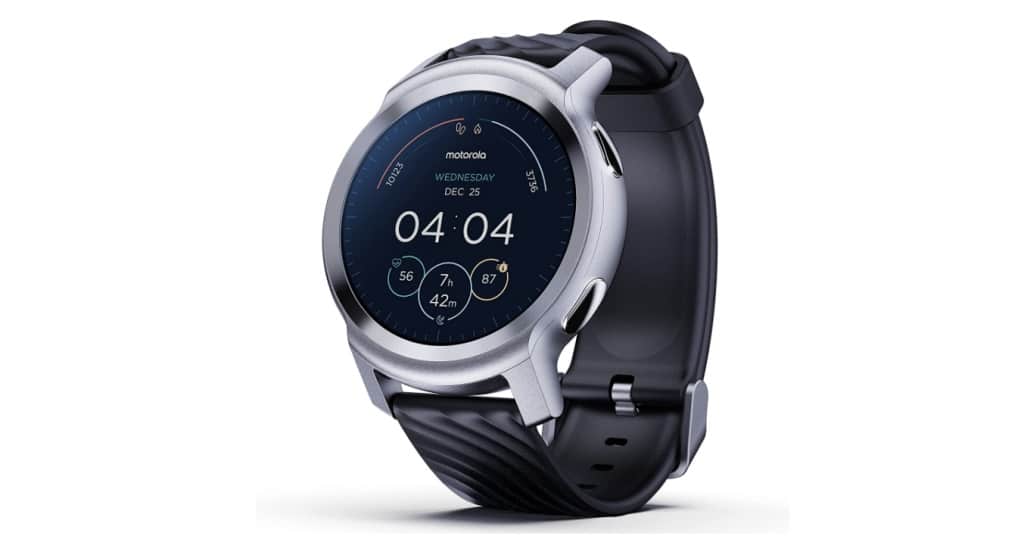 We like this watch for its price and features. It's known for its long battery life of 2 weeks, and the best part is that it only takes 60 minutes to reach 100% charge.
If you compare it with the Fitbit Versa 3, you'll notice that the latter requires 12 minutes of charging to last a day — 60 minutes for five days. The Moto Watch 100, on the other hand, gives you more than twice the battery life with the same charging time.
The watch is compatible with both Android and iOS and comes with a simple, easy-to-use interface that even beginners can wrap their heads around. What makes it perfect for outdoorsy people is it's lightweight, weighing only 29g. This ensures you can comfortably wear it all day to track your activities.
It also comes with a built-in step counter that keeps track of every step you take and calculates your total calorie expenditure accordingly. Taking into account these casual calorie expenses along with your workout routines is a great way to gain more insight into your overall fitness level.
If you want to take your activities outside, you'll certainly appreciate Motorola's built-in GPS. While the GPS might not be as good as some best GPS trackers out there, it is still good enough to accurately guide you 24/7 whether you're out on a walk, run or hike.
| | | | | | |
| --- | --- | --- | --- | --- | --- |
| Price | Sizes | Compatibility | Battery Life | Waterproof | Charging Method |
| $99 | 1.65 x 1.81 x 0.47 inches | Android and iOS | Up to 2 weeks | Yes (5 ATM) | Magnetic charging |
Pros
Best budget smartwatch
Has more than 25 sports modes
Boasts a 14-day battery life
The watch is splash-proof and sweat proof
Cons
Sluggish software experience
6. Fossil Men's Gen 6 — Fastest Charging Smartwatch That Gets to 80% in 30 Minutes
The Fossil Men's Gen 6 Smartwatch is best for those who don't want to waste time charging their watch. It comes with a magnetic charger that provides 2x faster charging compared to other smartwatches in the industry — just 30 minutes of charging will fill the battery up to 80%.
If you feel the battery running out during the day, you can switch to the "Smart Battery" mode to optimize usage and save power.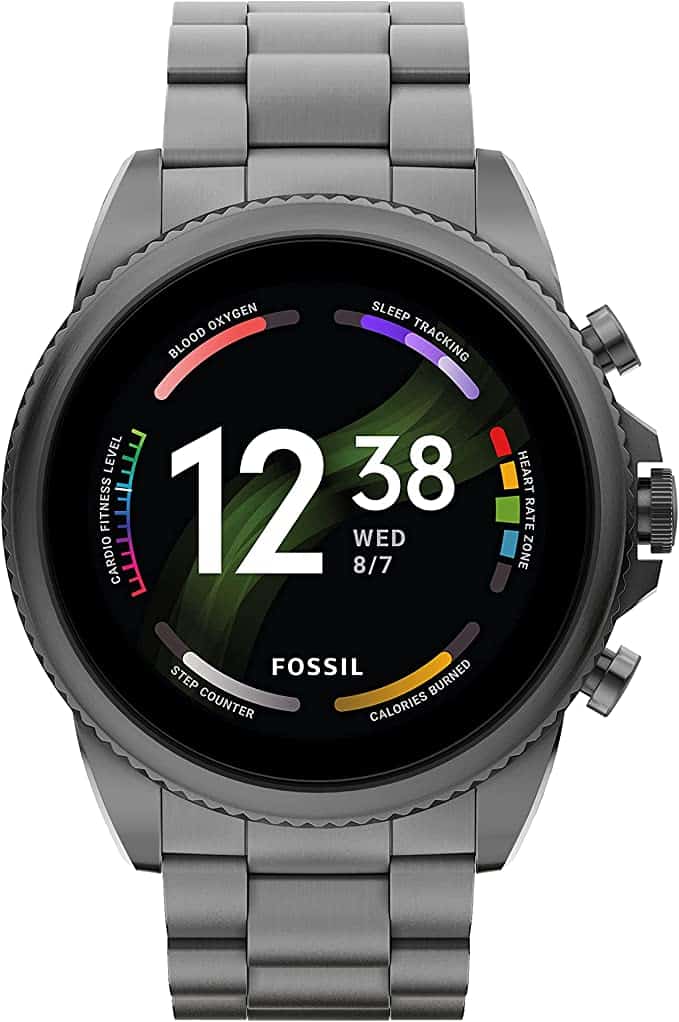 Just like the Fitbit Versa 3, this watch comes with Alexa built-in, enabling you to use the watch simply through voice commands.
However, we were a little disappointed with its 3 ATM water resistance rating. A 3 ATM watch can only withstand light splashes and rain, whereas 5 ATM watches like the MI Band 5 are built for swimming too. This is a slight disadvantage for people who have swimming as their primary workout.
Not to worry, there are plenty of other features that make up for this slight inconvenience. For example, it uses the latest Qualcomm 4100+ chipset, which boosts performance by at least 30%. You get more power, better connections, and up to a 4x more expansive Bluetooth range. And that's not to forget that Fossil watches are known for their feature-packed sturdy exteriors.
Even the new display is clearer and brighter. Fossil has added pixels and colors to this always-on display which adds to the style quotient and tremendously improves the user experience.
You can also choose from 1,000 watch faces and customize the look to your preferences. Note that the basic interface, menu placement, and time will remain the same with every theme.
| | | | | | |
| --- | --- | --- | --- | --- | --- |
| Price | Sizes | Compatibility | Battery Life | Waterproof | Charging Method |
| $319 | 44 mm screen | Android and iOS | 24+ Hours | Yes (3 ATM) | Magnetic fast charging |
Pros
Comes with Alexa built-in
Offers several personalization options
Precise health data monitoring
A sleek and easy-to-navigate watch
Cons
The crown can be too big for some people
7. Garmin Vivomove 3S — Hybrid Smartwatch With A Sleek Analog Look
The Garmin Hybrid Vivomove 3S is the perfect smartwatch for those who want the benefits of a smartwatch while keeping the professional look of an analog watch. From a distance, it looks like a regular watch with the sleek design and the two clock hands, but a closer look will reveal the smart display, which looks and works like any other regular smartwatch.
Another unique feature that could be a huge plus for wellness enthusiasts is the stress tracker. Stress is the number one contributor to health issues, and the best Garmin smartwatch helps you stay fit by constantly monitoring your stress levels based on your heart rate variation.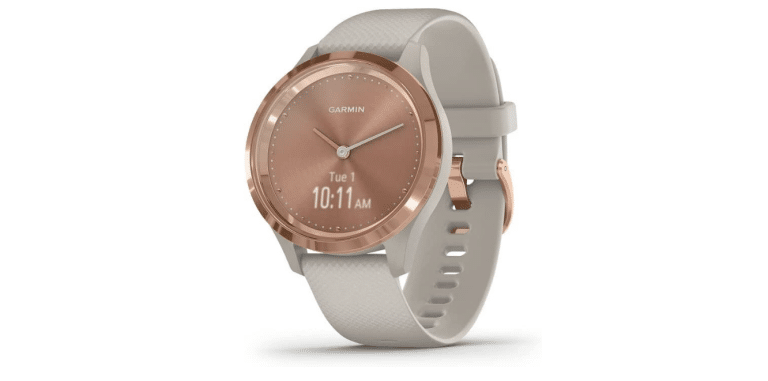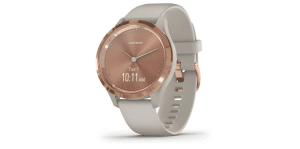 Other health and body monitoring functions include heart rate monitoring, sleep monitoring, and menstrual cycle monitoring — the latter is a unique addition when compared to other smartwatches.
Battery life is quite good. "Smart" mode will give you up to 5 days of battery life, whereas "Watch" mode provides an additional week.
The "Watch" mode will only tell you the time — the only other thing you'll get apart from time is notifications. This includes calendar events, step count, charging, and low battery.
The notifications will keep you informed while preserving your battery life and maintaining the classy look of your watch.
What's more, you get up to 15 color options to choose from. Starting from delicate feminine colors such as rose gold to manly colors like navy blue and black, the watch has it all.
Options also extend to the band material, where you can choose between metal or non-metallic options like plastic, rubber, and leather.
| | | | | | |
| --- | --- | --- | --- | --- | --- |
| Price | Sizes | Compatibility | Battery Life | Waterproof | Charging Method |
| $199.99 | 1.54 x 1.54 x 0.43 inches | Android and iOS | Up to 5 days on smart mode | NA | Regular cable charging |
Pros
A classic analog look
Lots of widgets to choose from
A unique hidden gesture-controlled touchscreen
Decent battery life of at least five days
Cons
Not the best for sleep tracking
8. AGPTEK LW11 — Best Smartwatch For Women
The AGPTEK smartwatch is perfect for women looking for something feminine – whereas most smartwatch designs are unisex since they are often made for sporty and active people.
This AGPTEK watch, on the other hand, brings all the benefits of a feature-loaded smartwatch in an all-new delicate design that amplifies the feminine energy within a female user.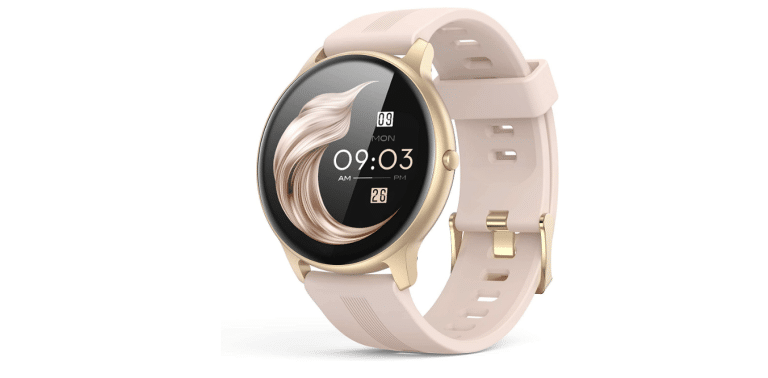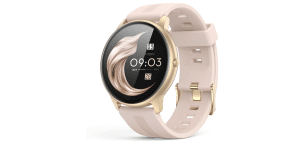 The watch quite literally doubles up as a second phone because there's nothing you cannot do with it. Whether you want to take calls and messages, listen to music, set a reminder, check your calendar, or read the weather report, you can do it all from the watch.
The display consists of a 1.3″/33mm touchscreen encased in a rose gold frame. It comes with five default dials to choose from and 30 more options in the app. The watch face is customizable, and you can pick any wallpaper you want, including your personal photographs.
You can also adjust the brightness level as per your comfort. Bring it down a notch under the sun or increase it during the night to get more visibility — work at your own pace and comfort.
Since this is a hybrid watch, the total battery span depends on how you use it. If it's on the "Smart" mode, it can last for up to 7 to 10 days. This, in our opinion, could be a minor setback for those more interested in operating the watch with its full catalog of smart features at all times. After all, many equally competent watches offer a long battery life.
To make up for it, AGPTEK has invested in the material and design of the watch, making it sturdy, anti-scratch, and prepared for the long run.
| | | | | | |
| --- | --- | --- | --- | --- | --- |
| Price | Sizes | Compatibility | Battery Life | Waterproof | Charging Method |
| $44.99 | 10.24 x 1.81 x 0.47 inches | Android and iOS | 7 to 10 days | Yes (IP68 rating) | Magnetic fast charging |
Pros
One of the best affordable smartwatches
Customizable watch faces
Supports various sports modes
A long standby battery life of 30 days
Cons
Not meant for showers and swimming
9. GRV FC1 — Budget Unisex Smartwatch With Health Monitoring Features
This GRV smartwatch is the cheapest smartwatch on our list and a great catch for women looking for a few extra body function monitoring features. While almost every smartwatch helps you track your heart rate and sleep cycle, GRV goes a step ahead and helps you track your period cycle as well.
You can enter your last period date, and based on that, this GRV watch will give you details of your whole cycle and an estimated date for your next period — quite a useful feature for women to have.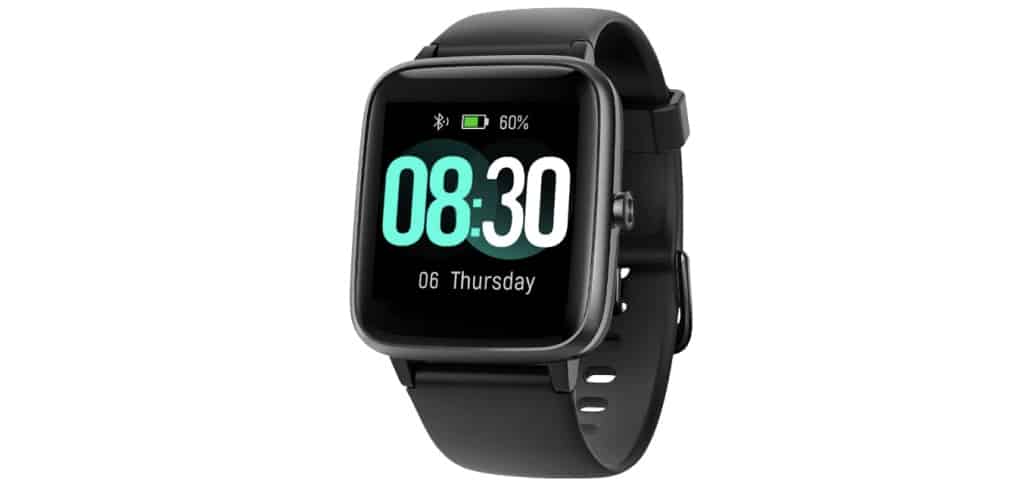 We loved the watch's reminder that lets you know when you've been sitting around for too long. You can also customize the settings and change the time gap for each reminder. For example, if you're working at your desk, you can set a reminder to ring every hour, reminding you to get up and take a quick walk.
You can set up to 10 alarms at a time which is a great perk for multitaskers who want to complete all their daily tasks on time.
The size and design of the watch make it perfect for wrists ranging from 6.2 to 9.2 inches, meaning both men and women can rock it. So if you're looking for a smartwatch to share with your partner or sibling, this one's a great pick.
Speaking of water resistance, the GRV smartwatch comes with an IP68 rating that allows you to safely use it while washing hands or in the pool.
However, despite having nine different sports modes, it cannot track swimming activities. We wouldn't count it as a con, though, since the watch is easily the best budget smartwatch on the market right now.
| | | | | | |
| --- | --- | --- | --- | --- | --- |
| Price | Sizes | Compatibility | Battery Life | Waterproof | Charging Method |
| $24.59 | 9.84 x 1.38 x 0.67 inches | Android and iOS | Upto 7 days | Yes (IP68 rating) | Regular cable charging |
Pros
Compatible with a wide range of devices
Available in 8 colors
Has 9 exercise modes, including GPS tracking
Best cheap smartwatch
Ideal smartwatches for men
Cons
Cannot record swimming data
10. Military K55 — Manly, Rugged, and Resistant Military Smartwatch
The Military Smartwatch is particularly for those looking for a manly, rugged look. As mentioned above, most brands are so focused on creating unisex smartwatches that hardly any of them cater exclusively to men.
So just like our pick for women's smartwatches, we bring something exciting and exclusive for men. This watch's biggest USP is the stunning display that comes with a metallic skull embedded right in the center.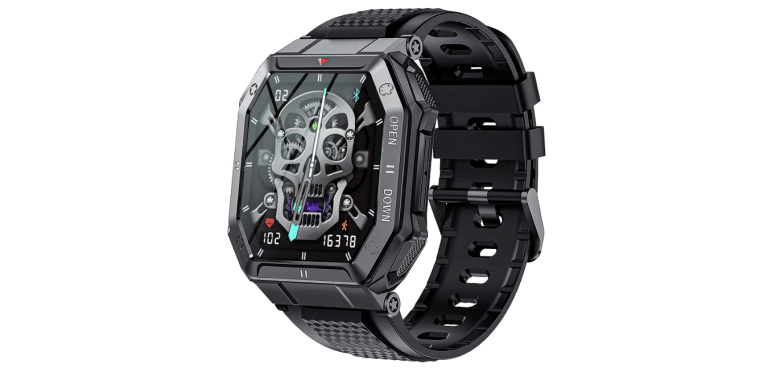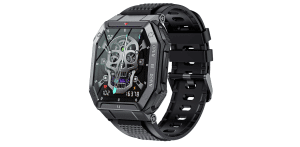 The metallic components are made of aluminum alloy and have undergone a series of military-grade tests to ensure they survive under extreme atmospheric conditions, including high temperatures and pressures. It's also resistant to dust, making it the perfect accessory for all outdoor activities.
The only downside is its water resistance. With an IP67 rating, it can only handle minor moisture contact, such as washing hands or walking in the rain. If you're looking for something to take with you to the sauna or swimming pool, this isn't the best watch for you.
On the plus side, you won't look like you're wearing the same day in and day out — the device comes with two bands, one black and one camo, at no extra cost. You can change them every few weeks to maintain a balance and add versatility to your overall appearance.
| | | | | | |
| --- | --- | --- | --- | --- | --- |
| Price | Sizes | Compatibility | Battery Life | Waterproof | Charging Method |
| $54.99 | 1.18 x 2.35 x 6.3 inches | iOS and Android | 5 to 7 days | Yes | Regular cable charging |
Pros
A robust military-grade smartwatch
Supports more than 24 sports modes
Effectively monitors heart rate 24 hours
Responsive activity tracking
Comparison of the Market's Top-Rated Smartwatches
If you're short on time and cannot read through each of our detailed reviews, this crisp comparison table is just what you need. We've compared our top recommendations so you can make a quick decision.
| | | | | | | |
| --- | --- | --- | --- | --- | --- | --- |
| Smartwatches | Price | Sizes | Compatibility | Battery Life | Waterproof | Charging Method |
| Xiaomi MI Band 5 | $49.98 | 1.85 x 0.71 x 0.47 inches | Android and iOS | 14 to 20 days | Yes (5 ATM) | Magnetic fast charging |
| Apple Watch Series 7 | $429 | 45 mm screen | iPhone, Mac, Airpods, Apple Play | Up to 18 hours | Yes (up to 50m) | Magnetic fast charging |
| Fitbit Versa 3 | $150.95 | 1.59 x 1.59 x 0.49 inches | Android only | 6+ days | Yes (up to 50m) | Regular cable charging |
| Samsung Galaxy Watch 4 | $141 | 1.59 x 1.55 x 0.39 inches | Smartphones (except iPhone) | 40 hours | Yes (up to 50m) | Regular cable charging |
| Motorola Moto Watch 100 | $99 | 1.65 x 1.81 x 0.47 inches | Android and iOS | Up to 2 weeks | Yes (5 ATM) | Magnetic charging |
| Fossil Men's Gen 6 | $319 | 44 mm screen | Android and iOS | 24+ Hours | Yes (3 ATM) | Magnetic fast charging |
| Garmin Vivomode 3S | $199.99 | 1.54 x 1.54 x 0.43 inches | Android and iOS | Up to 5 days on smart mode | NA | Regular cable charging |
| AGPTEK LW11 | $44.99 | 10.24 x 1.81 x 0.47 inches | Android and iOS | 7 to 10 days | Yes (IP68 rating) | Magnetic fast charging |
| GRV FC1 | $24.59 | 9.84 x 1.38 x 0.67 inches | Android and iOS | Upto 7 days | Yes (IP68 rating) | Regular cable charging |
| Military K55 | $54.99 | 1.18 x 2.35 x 6.3 inches | Android and iOS | 5 to 7 days | Yes | Regular cable charging |
How to Choose the Best Smartwatch for You
"What is the best smartwatch for you?" can be a difficult question to answer with the abundance of options available. Whether you're a tech enthusiast, a fitness enthusiast, or someone looking for a convenient lifestyle companion, there are several important factors to consider before purchasing a smartwatch, aka a smart bracelet or smart wristband.
Let's explore the seven most important factors that can help you make an informed decision when choosing a smartwatch.
Connectivity
Smartwatches offer various connectivity options that can enhance their functionality and convenience. Bluetooth connectivity is a standard feature that allows the smartwatch to synchronize with your smartphone, enabling you to receive notifications, control music playback, and even make calls.
However, advanced smartwatches may offer additional connectivity options such as Wi-Fi and cellular connectivity. Wi-Fi connectivity enables direct access to online services, apps, and streaming content without a smartphone connection.
On the other hand, cellular connectivity allows you to stay connected and perform tasks like making calls, sending messages, and accessing data directly from your smartwatch, even if your smartphone is not nearby. Evaluate your connectivity needs and lifestyle preferences to choose a smartwatch that offers the appropriate connectivity options to suit your requirements – for example, if you want to connect the device to your wireless earbuds.
Compatibility
The compatibility of a smartwatch with your smartphone is crucial for a seamless user experience. Ensure that the smartwatch you choose is designed to work with your device's operating system, whether iOS or Android. Compatibility allows for easy synchronization and integration between your smartphone and smartwatch, enabling you to access essential functions and features.
By selecting a compatible smartwatch, you can maximize its capabilities without limitations. Conversely, choosing an incompatible smartwatch may result in a lack of connectivity, limited functionality, and an overall frustrating experience.
Display
The display of a smartwatch significantly impacts its usability and visual appeal. Consider the type of display technology employed in the smartwatch, such as OLED, AMOLED, or LCD. OLED and AMOLED displays offer vibrant colors, high contrast ratios, and deep blacks, providing an immersive visual experience.
They also tend to be more power-efficient, contributing to longer battery life. Even the best gaming TVs come with OLED and AMOLED displays.
On the other hand, LCD screens may offer better readability in bright outdoor conditions and can be more cost-effective. It's important to evaluate factors like screen size, resolution, and visibility under different lighting conditions to ensure that the smartwatch's display meets your preferences and requirements.
Features and Use Cases
When selecting a smartwatch, it's essential to identify your specific use cases and prioritize the features that align with your needs. Smartwatches offer a wide range of functionalities beyond simply telling time. Consider whether you primarily want a smartwatch for fitness features, receiving notifications, managing calls and messages, or making contactless payments.
Look for features such as advanced fitness tracking sensors, heart rate monitoring, built-in GPS for accurate location tracking, water resistance for swimming, and compatibility with popular third-party apps relevant to your lifestyle.
By understanding your use cases and requirements, you can narrow your choices and find a smartwatch that caters to your specific needs, enhancing your overall experience and ensuring you maximize its capabilities.
Battery Life
Battery life is critical, especially when choosing devices like smartwatches or the best laptops. It's important to evaluate the battery life of different models and select one that can meet your specific requirements.
Some smartwatches offer all-day battery life, allowing you to use them continuously without recharging. Others may have extended battery features, such as power-saving modes or low-energy processors, which can prolong the usage time between charges.
Additionally, fast charging capabilities can be convenient, enabling you to recharge your smartwatch quickly. Consider your typical usage patterns, such as the frequency of notifications, fitness tracking, and app usage, to determine the battery life that best suits your needs. By selecting a smartwatch with sufficient battery life, you can ensure that it remains functional throughout your day and doesn't leave you stranded with a dead battery.
Health and Fitness Tracking
Selecting a smartwatch with robust tracking capabilities is essential for individuals prioritizing health and fitness. Look for smartwatches that offer comprehensive health monitoring features to help you stay on top of your fitness goals.
Basic features like step counting, calorie tracking, and heart rate monitoring are commonly available in most smartwatches. However, if you require more advanced tracking, consider features such as sleep tracking, stress level analysis, and guided breathing exercises.
Some high-end smartwatches offer additional functionalities like blood oxygen level measurement and electrocardiogram (ECG) monitoring, providing valuable insights into your overall health.
It's important to assess the accuracy and reliability of these health-tracking features by referring to reviews and user feedback. By choosing a smartwatch that aligns with your health and fitness goals, you can track your progress, receive personalized insights, and make informed decisions to improve your well-being.
App Ecosystem
The app ecosystem of a smartwatch is an important consideration as it directly impacts the functionality and versatility of the device. Different smartwatch operating systems offer varying app selections and compatibility.
Familiarize yourself with the app ecosystem of the smartwatch you are considering to ensure that it supports the apps you rely on and enjoy using daily. For example, if you are an iPhone user, the Apple Watch with its watchOS offers seamless integration with the iOS ecosystem and a wide range of apps optimized for the platform.
On the other hand, if you are an Android user, you can explore smartwatches running Wear OS, supported by various popular apps on the Google Play Store. Manufacturers like Samsung also have their app ecosystems, such as Tizen, which may offer unique features and compatibility with specific apps.
Prioritize a smartwatch that provides access to the apps you frequently use, whether for communication, productivity, fitness, or entertainment. This will greatly enhance the utility and enjoyment you derive from the device.
Price and Budget
Smartwatches are available at various prices, ranging from budget-friendly options to high-end, premium models. Determine your budget and evaluate the features and capabilities that are essential for you.
While higher-priced smartwatches often offer advanced functionalities, durability, and premium materials, more affordable options also provide decent performance and a range of essential features.
If fitness tracking is your primary focus, you may find a mid-range smartwatch that offers excellent health monitoring capabilities without breaking the bank. Additionally, watch out for discounts, deals, and promotions that may help you secure a smartwatch within your budget.
By carefully considering your budget and the value offered by different smartwatch options, you can find a device that strikes the right balance between price and features, ensuring a satisfactory purchase.
Smartwatch FAQs
Is an Apple or Samsung watch better?
What is a smartwatch good for?
Can you text on a smartwatch?
Can you place calls on a smartwatch?
Can I use an Apple Watch with Android?
Which smartwatch is best for fitness?
Conclusion – What's the Best Smartwatch to Buy in 2023?
Our list of the best smartwatches includes everything you could ask for. From premium smartwatches with advanced tracking options to budget watches, you'll find everything in this guide.
We believe the Xiaomi MI Band 5 is a great pick, whatever your requirements. With a long battery life of 14-20 days, backed by a bigger display and fast charging, this water-resistant health tracker is the perfect all-rounder and is perhaps the best fitness smartwatch on our list. The affordable price is just the cherry on the top you need.