The best smartwatch for Android will offer excellent connectivity options along with a bright display and intuitive features. You can seamlessly connect these watches with your phone for functions like heart-rate monitoring, step and calorie counting, and other health and fitness measurements.
The sheer abundance of smartwatches makes it difficult for the average customer to pick the perfect wearable, however. That's why we've done the hard work for you. We've researched and found the best smartwatch for Android based on criteria like connectivity, battery life, waterproof rating, sports modes, and customer support. Read on to discover why watches like the Samsung Galaxy Watch 5, Samsung Galaxy Active 2, and Garmin Venu are dominating the smartwatch segment.
The Market's Top Smart Watches for Android
Based on our research, the Samsung Galaxy Watch 5 is the best smartwatch available for Android phones you can get today. With features like a sleep tracker, multiple health tracking metrics, a long battery life, and an IP68 rating, it doesn't disappoint on any front. However, the choice was far from easy. See for yourself.
How to Choose the Best Android Wearable: Key Factors to Consider
While there're many ways to describe a smartwatch, picking one out for yourself might be difficult. We're here to help you with just that. Here are some things to consider while purchasing your first Android smartwatch.
OS and App Selection System
If you plan to get a smartwatch, check to see whether it'll work with your smartphone. For instance, if you own an iPhone, you'll want to be sure that the smartwatch you choose is compatible with iOS.
Premium smartwatches from manufacturers like Apple and Samsung can only be used with their products, unlike other models, which are likely to be more affordable and that are compatible with both Android and iOS devices.
Google's Wear OS-powered smartwatches are compatible with iPhones and Android devices. The same is true for Android users. Although many Android-compatible smartwatches are available, not all will function with your Android device. So do your homework and ensure that the smartwatch you're interested in is compatible with your phone.
Connectivity
Today's best smartwatches have WiFi, Bluetooth, and built-in GPS connectivity functions. Some pricier options offer a cellular LTE connectivity feature that enables you to set up an eSIM alongside your regular SIM card.
A smartwatch with GPS and cellular connectivity allows you to use it without being linked to a smartphone. This lets you make phone calls, go for runs, and navigate using the built-in GPS on the smartwatch rather than the smartphone. Another feature that simplifies pairing is NFC. NFC may also function on smartphones as a payment option for mobile payment services.
Design and Personalization
Design and customization are other crucial elements to consider while selecting a smartwatch. Since you'll be wearing the watch daily, it's important to choose something that not only looks good but also feels comfortable on your wrist. From sleek and minimalist designs to more vibrant and playful ones, there're many different design alternatives available.
You can also personalize your smartwatch, including changing the watch's face to switching the band. While some watches come standard with rubber straps and others with metal, upgrades are available as separate purchases. Take some time to look through various designs to discover something that matches your style.
Display
When it comes to purchasing a smartwatch, the display is unquestionably important. When looking for a smartwatch, you'll discover two types of displays: OLED and LCD. So, how do these two types of displays differ?
OLED displays consist of organic light-emitting diodes, meaning each pixel emits its own light. This produces a brighter display with improved contrast and more vibrant colors. OLED displays can cost more than LCD screens, though.
On the other hand, LCD displays use a backlight to illuminate every pixel simultaneously. This produces a less bright display, but it is also less expensive. Furthermore, make sure the touch screen is sensitive, and the protective glass is of the highest quality.
Many mid-range smartwatches have AMOLED displays, which are more reasonably priced than LCD ones. LCDs may have a shorter battery life than OLED or AMOLED displays, which use less power and offer greater indoor and outdoor readability. Getting a smartwatch with a display that can function indoors and outdoors, especially in bright sunlight, is recommended as well.
Features
High-end smartwatches provide a variety of extra features, including voice assistants, NFC payments, music playing, and more. Consider which features are crucial to you and whether the smartwatch you're looking at provides them.
ECG and body temperature functions are available on high-end phone watches for Android, while SpO2 and heart rate features are offered on most smartwatches today. In addition to heart rate monitors, certain models have GPS, making them more appealing for those who wish to go running or bicycling outside and track their distance and pace.
Similarly, answering messages directly on a watch is found particularly on higher variants, whereas the call accept/reject capability and music control are simply available. Again, storing files internally on the watch is a premium feature not available on all models.
Battery Life
Generally, wearables with color screens last a day or two between charges, so consider how frequently you'll need to charge your wearable. Feature-rich smartwatches with cellular support, built-in GPS, continuous heart rate tracking, and other biometric sensors normally need to be charged overnight and can only last for a day on a single charge.
However, turning off these features will extend the battery life to more than a day. Midrange and budget smartwatches typically have a longer battery life, with some models promising to function for several days without recharging. Choose a watch with fewer, more basic functions and good battery life for everyday use, and choose watches with a shorter standby time for other uses.
Pricing
Smartwatches have become more accessible in recent years, but they can still be pricy. They can vary significantly in price, ranging from budget-friendly options to more premium and feature-rich models. The price of a smartwatch often reflects the quality of materials, design, display technology, performance, and additional features offered.
It's crucial to set a budget and prioritize the features that are most important to you. While higher-priced smartwatches may come with advanced features and premium build quality, they may not always be necessary for everyone. It's possible to find reasonably priced Android smartwatches that offer a good balance between functionality and cost.
Ultimately, choosing the right price point for an Android smartwatch comes down to personal preferences, needs, and budget constraints.
WiFi Only vs. WiFi + Cellular Android Watches
When it comes to Android watches, there are two options to choose from: WiFi only and WiFi + Cellular models. Wi-Fi-only watches use WiFi to access the internet and provide features like notifications, app updates, and voice commands. They're less expensive and require a paired smartphone nearby for full functionality.
On the other hand, WiFi + Cellular watches offer cellular connectivity, allowing them to work independently without being connected to a smartphone. These watches can make calls, send messages, and access the internet even without WiFi.
However, they're more expensive due to the added cellular capabilities and require a separate data plan. The choice between WiFi only and WiFi + Cellular Android watches depends on your personal preference and the need for cellular connectivity on the go.
Reviews of the Best Watches for Android Phones
You're probably excited to get the best Android smartwatch on your wrist. Let's dive in as we'll now discuss each of our top recommendations in detail, including their best features, pros and cons, and pricing so you can make a well-informed decision.
1. Samsung Galaxy Watch 5 — Overall, the Best Android Smartwatch in 2023
The Samsung Galaxy Watch 5 is easily the best buy for people with an active lifestyle looking for a durable watch. The watch face is made of sapphire crystal glass, which has been tested and found to be 1.6x stronger than other watches in the Galaxy Watch 4 series.
The Watch 5's sensors can monitor your heart rate. They've gone through a recent upgrade that allows the device to get closer to your skin and read your heart rate more accurately, hence producing better reports. Although it's not a replacement for professional diagnosis, it's good enough to warn you about anomalies.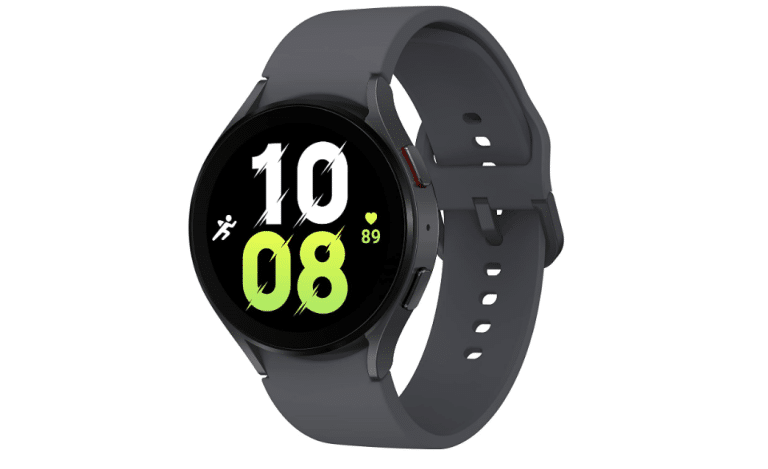 | | | | | | | |
| --- | --- | --- | --- | --- | --- | --- |
| Price | Sizes | Display | Battery Life | GPS | Waterproof Rating | Connectivity |
| $259 | 1.7 x 1.75 x 0.39 inches | 44mm | 50 hours | Available | 5 ATM & IP68 rating | Bluetooth or LTE |
This Samsung Galaxy wearable's health and wellness functions aren't limited to heart rate monitoring, though. It also comes with an advanced sleep coaching feature that gives you insights into your sleep quality through the night. Wearing the watch for at least seven days provides it with enough data to complete the survey, ensuring the results are meaningful and accurate.
Then, once you're connected to the latest version of the Samsung Health app, it'll create a four-week program recommending good sleeping habits for you to take onboard.
If you want to create a personalized workout and routine based on your body measurements and metrics, the Galaxy Watch 5 has another helpful feature up its sleeve – the body composition analysis tool (BIA).

It'll tell you all about your body fat, BMI, basal metabolic rate, body water percentage, and even skeletal muscle – everything you need to know about your body will be available on your wrist.
Overall, the Samsung Galaxy Watch 5 is a great investment, and there's not much to dislike. A 50-hour battery life might not stand out as the best in the segment, but considering the functionality the watch provides, there's really not much to complain about.
You can also take it swimming – as deep as 50 meters in water – thanks to a solid 5 ATM waterproof rating. And the IP68 rating for being dust and spill-proof is as good as it can get for any smartwatch on the market.
Pros
Water and dust resistant
Sturdy display
16GB internal memory
Straps can be easily changed
Cons
Notifications don't always show up on the screen
2. Samsung Galaxy Active 2 — Best Galaxy Smartwatch with Stress Management Features
The Samsung Galaxy Active 2's stress management feature is much praised, and with good reason. Created in partnership with the Calm app, it's intended to help you unwind.
It constantly monitors your stress levels and helps you regulate them with calming music, meditation practices, and other ambient audio. If you're feeling particularly anxious, you can find breathing and calming exercises. Along with anxiety and stress, it'll also help people who have trouble sleeping at night by reading out stories.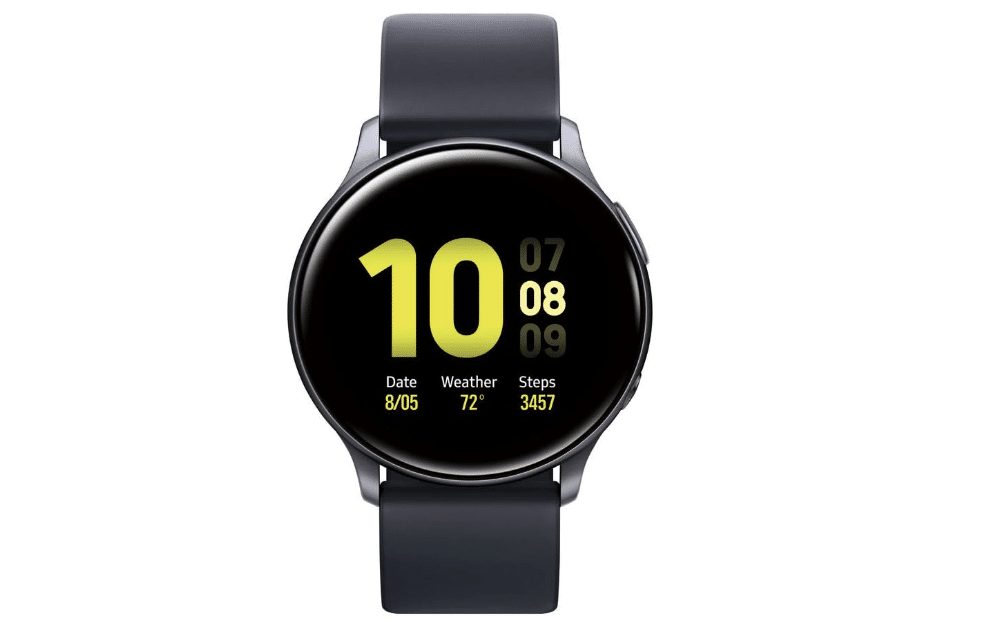 | | | | | | | |
| --- | --- | --- | --- | --- | --- | --- |
| Price | Sizes | Display | Battery Life | GPS | Waterproof Rating | Connectivity |
| $299.94 | 1.57 x 1.57 x 0.43 inches | 34 mm | 60 hours | Available | 5 ATM + IP68 | LTE, WiFi, Bluetooth |
If you don't want the same look on your watch day in and day out, you'll be glad to know that the Active 2 comes with up to 15 pre-installed watch faces to choose from, and you also customize some of them. Whether you want something to complement your sporty look or an elegant design for professional events, the Galaxy Active 2's wide range of watch face options covers both ends of the spectrum.
Speaking of the design of the watch, it's comfortable, sleek, and lightweight enough to wear all day. Weighing just 2.4 ounces, it works for everyone regardless of their physical build. The belt and base of the face are made of aluminum which not only makes the device durable but also helps conceal scratch marks.
We also love that this Samsung smartwatch for men and women can be integrated with Bixby, a popular virtual voice assistant. It works a lot like Google Assistant, helping you use your watch through voice commands. For example, if you want to read your latest messages, you can simply say, "Hey Bixby, read my messages," and it'll read out all your texts. The same goes for making a call or setting an alarm.
Pros
Lightweight and easy to carry for long periods
15 watch faces to choose from
Multiple connection options
Compatible with the Bixby voice assistant
Cons
Icons are small, making the interface less user-friendly
3. Garmin Venu — Best Fitness Watch for Men & Women for Offline Workouts
The Garmin Venu is a top choice for users looking for a fitness-centric smartwatch. It's no secret that fitness is the most common USP for almost every smartwatch, but the Garmin Venu offers something unusual – it helps you work out offline and without your phone.
Most smartwatches require a WiFi connection to access music and videos. That means if you're out of data or WiFi isn't working, a lot of watch functionality will become unusable. However, with the Garmin Venu, you can download songs in advance and play them later offline.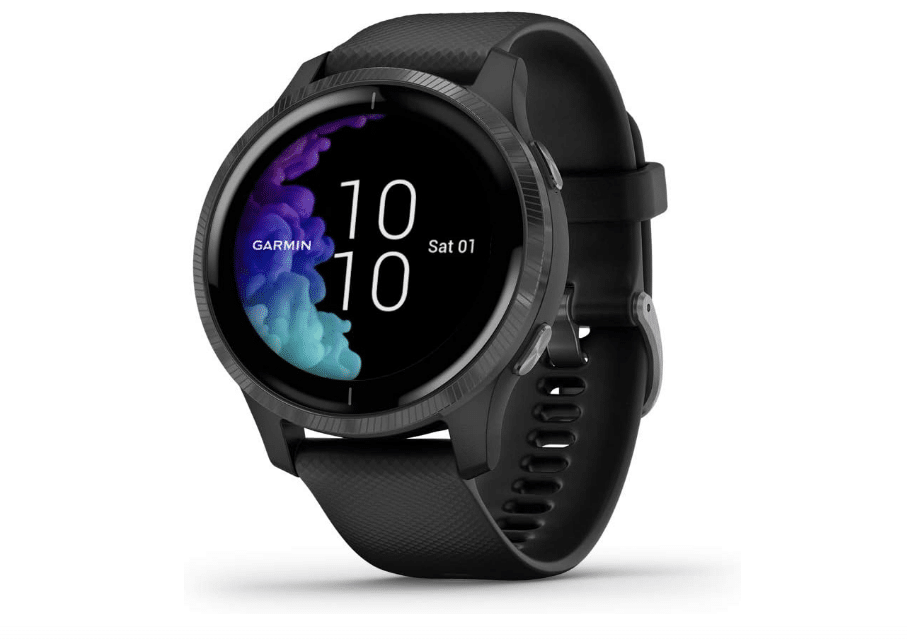 | | | | | | | |
| --- | --- | --- | --- | --- | --- | --- |
| Price | Sizes | Display | Battery Life | GPS | Waterproof Rating | Connectivity |
| $235 | 1.7 x 1.7 x 0.49 inches | 30mm | 5 days – but only 6 hours with GPS and music mode | Available | 5 ATM | WiFi & Bluetooth |
If you have a subscription to music platforms like Spotify or Amazon Music, you can even import your entire playlist and then play the songs through your headphones.
The same goes for your trackers and GPS. The watch comes with 20 preloaded GPS maps and indoor sports apps that will help you track activities like running, yoga, and swimming. You can complete an entire exercise routine without your phone or internet.
If you're a beginner, you can stream workout videos directly on your watch. However, the 30mm display is a bit small for enjoying video streaming – both the Galaxy Watch 5 and Active 2 come with bigger displays.
Our only real complaint is with the battery life, which only lasts five days on regular mode and 6 hours on GPS and music mode. Both of these numbers are considerably below some of our other top picks, such as the Amazfit GTR 3 Pro Limited Edition and Garmin Fenix 7S.
But on the bright side, the Garmin Venu provides a safety tracking feature that allows you to share your location with your contacts. You can either do so manually or turn on "Incident Detection" to share your location automatically.
Pros
Best watch for offline use
Reasonable battery life on regular mode
Lots of features for fitness enthusiasts
Samsung safety tracking and location sharing with saved contacts
Cons
Some users complain the manual is hard to understand
4. Fitbit Versa 4 — Offers Sleep Insights and Exercise Recommendations
The Fitbit Versa 4 is a benchmark in the premium fitness-centric smartwatch segment. For starters, it comes with a 6-month premium membership where you get to enjoy detailed daily insights on your sleep quality, stress level, body temperature, and more.
The most unusual feature on the premium subscription is the Daily Readiness Score. It collates all your data from the previous day, including sleep insights, heart rate, and activity levels, to tell you how ready you are to take on the next day. This feature is particularly useful for fitness geeks who want to know if their body is ready for the workout they have planned for the day.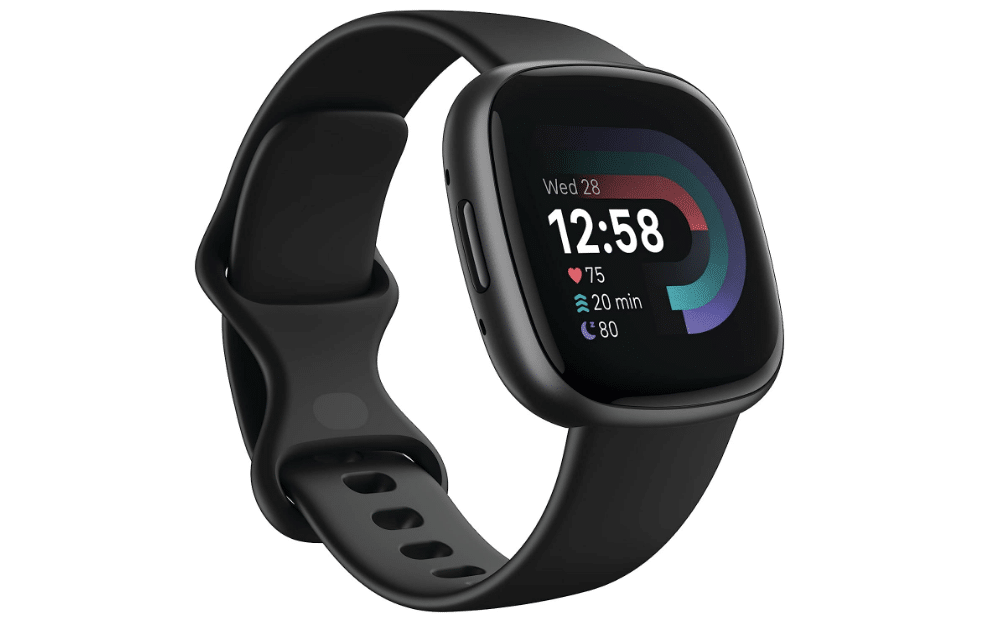 | | | | | | | |
| --- | --- | --- | --- | --- | --- | --- |
| Price | Sizes | Display | Battery Life | GPS | Waterproof Rating | Connectivity |
| $198.95 | 1.57 x 0.43 x 1.57 inches | 42mm | 6 days | Available | 5 ATM | Bluetooth |
Speaking of the design, Fitbit has added more physical buttons to the Versa 4 compared to the previous model, the Versa 3. Since smartwatches have a smaller display, it gets hard to navigate them entirely through the touchscreen buttons. That's because the icons are closely-bound, which doesn't leave enough space for you to make distinct taps with your finger.
That's why the Versa 4's button-centric design was so well-received. These buttons help out in many ways, such as switching on the watch or opening the app list. The best part is you can also assign custom functionality to these buttons by tweaking the settings.
The only minor drawback was the thick border surrounding the watch that further shrinks down the actual display size. But Fitbit does its best to make up for it with its OLED display. OLEDs are the latest upgrade over traditional LED screens and are known for creating clearer visuals with better contrasts – many of the best TVs make use of OLED screens.
One thing to remember – make sure you claim the free trial of premium membership within 60 days of purchase.
Pros
Multiple colors to choose from
All features are fitness-centric
Runs the Fitbit app for Android
Physical buttons for easier use
Provides you with a Daily Readiness Score
Cons
Only connects through Bluetooth (no WiFi or LTE connection)
5. Fossil Unisex Gen 6 — One of the Top Hybrid Smartwatches
The Fossil Unisex Gen 6 is one of the best hybrid watches out there. A hybrid watch is one that comes with the benefits of a smartwatch, such as calorie counting and sleep tracking but looks like a traditional analog watch.
What makes the Fossil Unisex a great choice is its elegant watch face. The display also provides additional details such as total steps, blood oxygen level, temperature, and so on, even in regular watch mode. This saves you the trouble of switching between multiple watch faces and modes, which can result in additional battery draining.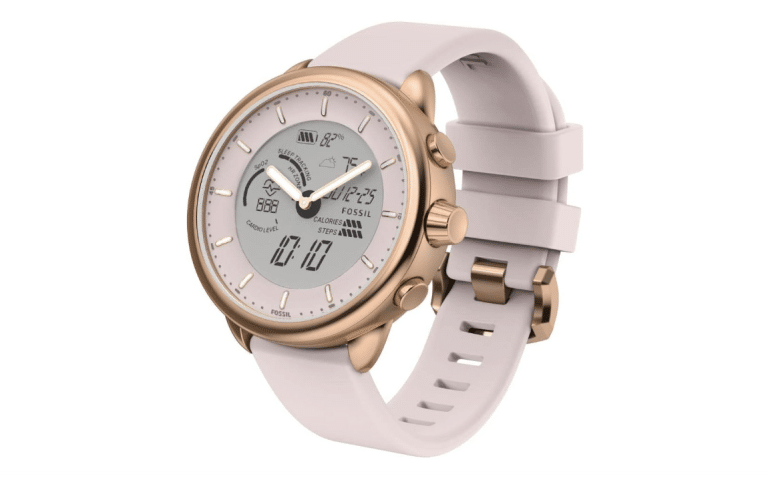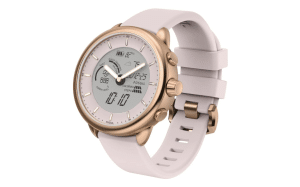 | | | | | | | |
| --- | --- | --- | --- | --- | --- | --- |
| Price | Sizes | Display | Battery Life | GPS | Waterproof Rating | Connectivity |
| $188.53 | 1.77 x 0.79 x 0.55 inches | 44mm | 14 days | Available | 3 ATM | USB & Bluetooth |
Another notable feature of its watch faces is the backlit display that helps you use the watch in the dark. It also comes with Alexa in-built, so with voice commands, you can change the music, read the news, or look up something online, all hands-free.
Plus, you can always customize the watch face as per your preferences if the default one doesn't meet your needs. The display isn't the only thing you can experiment with – feel free to try out different types of straps with its interchangeable strap design.
Simply said, instead of attaching the strap directly to the display (as it's done in many watches), the straps on this watch are attached to a small, enclosed handle-like structure which makes it easier to unhook the strap and put on a new one.
The best part is that the Fossil Unisex Gen 6 works with both Androids and iOS. So even if you change your phone, you'll have no trouble adjusting your smartwatch. It's undoubtedly the best hybrid smartwatch we've seen.
Pros
Built-in Alexa for voice commands
Excellent battery life, lasting two weeks
Backlit display for nighttime use
Works on both Android and iOS
Cons
3 ATM is not ideal for swimming
6. Google Pixel Watch — Great for Safety, Sends SOS Alerts Instantly
The Google Pixel's SOS feature makes it our top pick for security. Anytime you feel unsafe, this feature will alert your trusted contacts or 911 at the push of a button. Just remember that you have to keep your watch connected to your phone via Bluetooth or WiFi to make the call.
You can call emergency contacts without even unlocking the watch as long as it has been unlocked at least once before. This will help you react quickly in the face of sudden danger when there's not enough time to turn the watch on manually.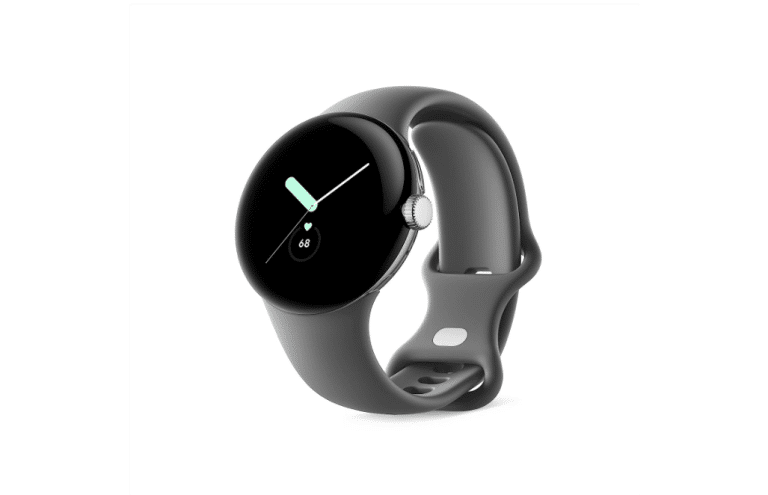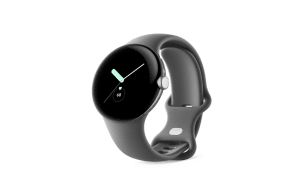 | | | | | | | |
| --- | --- | --- | --- | --- | --- | --- |
| Price | Sizes | Display | Battery Life | GPS | Waterproof Rating | Connectivity |
| $342 | 1.61 x 0.54 x 1.61 inches | 41mm | 24 hours | Available | 5 ATM | Bluetooth + LTE or WiFi |
The safety feature also extends to accidents and falls. If the watch registers a hard impact against the ground or any surface, the Fall Detection feature will vibrate loudly, ring, and ask if you want to call emergency services. If you don't respond within 60 seconds, it'll send an automated message to them stating that the Pixel watch has registered a fall.
The watch itself can also survive hard impacts. The scratch-resistant display is covered by Gorilla glass – toughened glass that's commonly used on electronic devices such as smartwatches, phones, and tablets. It's not unbreakable, but it'll soak up the majority, if not all, of the impact on the watch.
Furthermore, the watch is water-resistant and comes with a 5 ATM rating which means it can survive being submerged 50 meters underwater – similar to our #1 and #2 Galaxy Watches. You can go swimming with the Google Pixel watch on, or it may accidentally slip into a pool. It'll easily survive both instances with zero damage.
Along with Pixel phones, this watch can also be paired with Pixel buds, letting you control your music better. And you don't even have to do it manually – voice commands are enough to change, pause or rewind a song with Google Assistant.
The elegant design also makes it a great smartwatch for women.
Pros
Built-in SOS feature
Best women's smartwatch for Android
Native Fall Detection feature
Contactless payments with Google Wallet
Six months of Fitbit Premium included
Cons
LTE & WiFi connection isn't available in the same model
7. Amazfit GTR 3 Pro Limited Edition — Longest Battery Life on a Robust Android Smart Watch
The Amazfit GTR 3 Pro Limited Edition has one of the longest battery lives on an Android smartwatch. While the industry average is just six days to around a week, this watch can last up to 12 days with regular usage and up to 30 days on the battery saver mode. This makes it perfect for people who travel a lot or just aren't a fan of constantly having to charge their smartwatch – you can go on a week-long camp in the woods without worrying about charging your smartwatch.
What makes it even more suitable for active people is the built-in monitoring mode for 150 sports. Every sport affects your body differently. And these sports modes are programmed to understand differences and automatically calculate your workout progress for each activity individually and saving you the hassle of manually calculating your progress.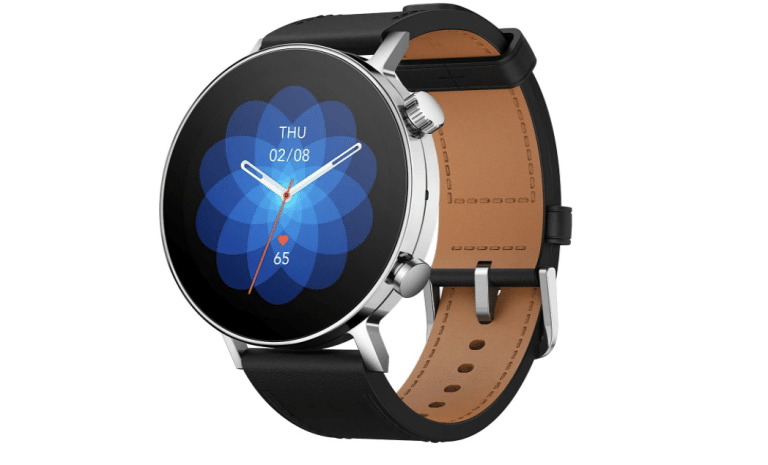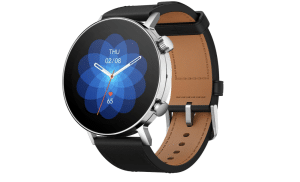 | | | | | | | |
| --- | --- | --- | --- | --- | --- | --- |
| Price | Sizes | Display | Battery Life | GPS | Waterproof Rating | Connectivity |
| $249.99 | 1.8 x 1.8 x 0.41 inches | 36.8 mm | 12 days | Available | 5 ATM | WiFi & Bluetooth |
Some of the popular workouts you can track using this watch include outdoor running, cycling, and swimming – a 5 ATM rating ensures that you can go as deep as 50 meters in the water before inflicting any sort of damage on your watch. Along with calories burnt, it'll also measure your oxygen consumption and recovery time to calculate the ideal training load and efficiency for you.
The soft premium leather straps make the Amazfit GTR 3 Pro ideal for fitness enthusiasts. You can wear it all day, yet you'll barely feel its presence on your wrists.
It's also one of the few watches that support independent playback. This means that you won't always need your phone to play music. You can store up to 470 songs directly in the watch and play them with the best wireless earbuds.
Pros
Impressive battery life
150+ sports modes
Six colors to choose from
Comfortable to wear
Cons
Sleep tracking isn't very accurate
8. Aptkdoe — Best Budget-Friendly Android Smartwatch for Making Calls
The Aptkdoe comes with one of the best calling features, making it ideal for users who are often on the phone. For example, smartwatches like the Fitbit Vera 4 only notify you about an incoming call. But with Aptkdoe's smartwatch, you can also make a call or check your call history directly from the watch itself.
If a contact isn't saved, you can dial the number as you would with a phone – a feature only a handful of smartwatches offer.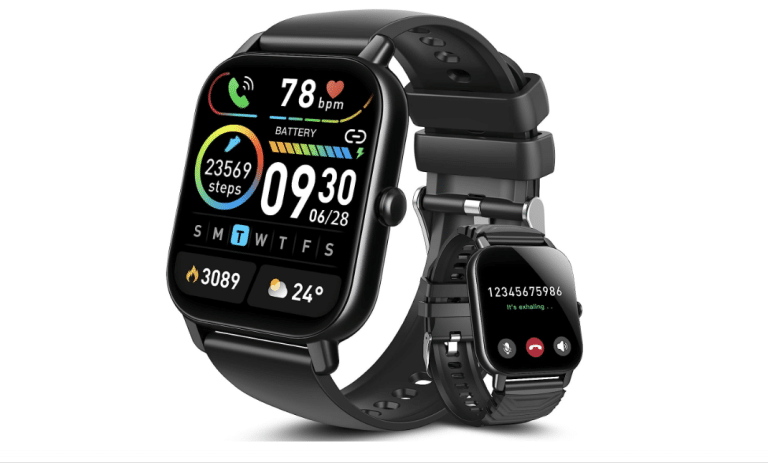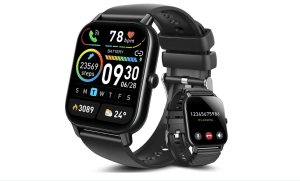 | | | | | | | |
| --- | --- | --- | --- | --- | --- | --- |
| Price | Sizes | Display | Battery Life | GPS | Waterproof Rating | Connectivity |
| $49.99 | 2 x 1.12 x 0.4 inches | 46.99mm | 7 days | Available | IP68 rating | USB |
The battery life is quite good. It takes about 1.5 to 2 hours to fully charge, and once charged, it can last up to seven days with regular daily use. As you can see, its battery life is much better than some of the other options, like the Ticwatch Pro 5, which only last for 80 hours.
Just like the Amazfit GTR 3 Pro, Aptkdoe also comes with a wide range of sports modes – 112, to be precise, which you can use to automatically track your performance in activities like yoga, aerobics, hiking, and cycling. This feature will allow you to monitor your heart rate and calories burnt during the activity.
Furthermore, if you're into running or jogging for your health, the Aptkdoe watch will give you accurate insights into your speed and total distance covered so that you don't need any other tool to measure your progress. To keep you active, the watch also comes with a sedentary reminder that'll remind you to stretch or take a walk if you have been sitting around for too long.
This smartwatch for men and women comes with a large 46.99mm display, which is larger than the 44m dial on the Galaxy Watch 5. It's not really the best watch for underwater activities or long swimming sessions with no ATM rating or even Bluetooth or WiFi connectivity, but the price at under $50 is great if you consider its unique calling feature and long battery life.
Pros
Fast charging
Best cheap smartwatch for Android
Make calls directly through the watch
Integrates with Google Pay and Google Wallet
Cons
Only connects through Bluetooth once you download the Smartwatch sync & Bt notifier
9. Ticwatch Pro 5 — Powerful Smartwatch with 2GB RAM and Fast Processing
The Ticwatch Pro 5 is one of the fastest smartwatches, thanks to Snapdragon W5+ Gen 1 wearable platform – a new-age smartwatch processor that's known to be faster and more power efficient. Since processors are the main functioning unit that executes your commands and oversees the functions of the watch, it's important to opt for a processor that can keep up with your demands.
Another significant contributing factor behind this watch's smooth processing is its 2GB RAM – the more RAM you have, the faster your device will be.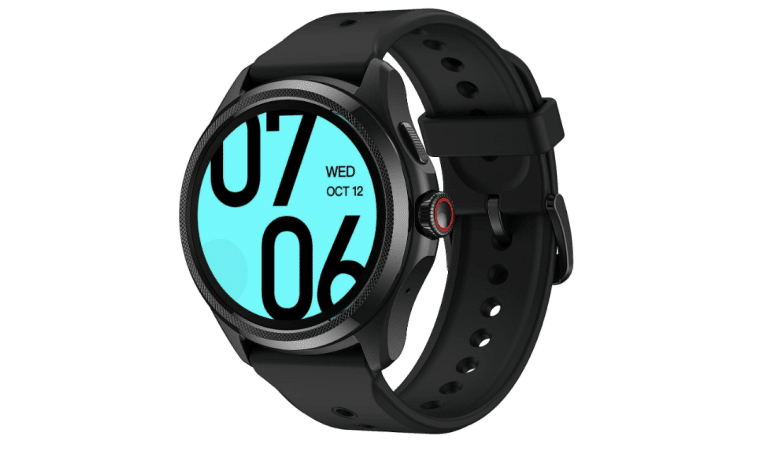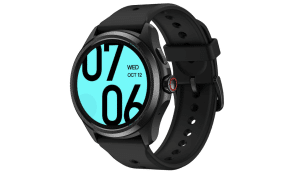 | | | | | | | |
| --- | --- | --- | --- | --- | --- | --- |
| Price | Sizes | Display | Battery Life | GPS | Waterproof Rating | Connectivity |
| $349.99 | 1.97 x 1.89 x 0.48 inches | 36.3 mm | 80 hours | Available | 5 ATM | LTE, WiFi, Bluetooth |
Other smartwatches on the list, such as Samsung Galaxy Watch 5 and Fossil Unisex Gen 6, have 1.5GB and 1GB of RAM, respectively. So if you're looking for a smartwatch with better processing speed and higher RAM, Ticwatch Pro 5 is a clear winner.
Although the battery lasts only 80 hours, we still love its fast charging that gets you from 0% to 65% in just 30 minutes. If you're running late, charge it for just 15 minutes, and you'll have enough battery to last through the day.
Another noteworthy feature is that it smoothly integrates with Google Pay and Google Wallet. If you're out on a walk with your phone in your bag, you don't have to go through the trouble of taking it out to make a transaction for a juice you buy on the sidewalk – the Ticwatch Pro 5 watch will be enough.
Pros
Best watch under $500
2GB RAM boosts performance
Crystal clear OLED display
Ultra-low power display to access critical information without charge
10. Garmin Fenix 7S — Charges Through Solar Power and Has 10 ATM Rating
The Garmin Fenix 7S is a unique watch that comes with solar charging technology. It doesn't require any special setup. If you're outside, it'll automatically start charging. Also, while the battery only lasts 11 days indoors, it'll last at least 14 days if you spend just 3 hours in direct sunlight per day.
Battery life drastically goes down if you're constantly using it in GPS mode. But even then, it'll last 37 hours indoors and 46 hours outdoors. Extended battery life is not the only benefit of solar charging – it also ensures you're never stranded outdoors with a dead battery.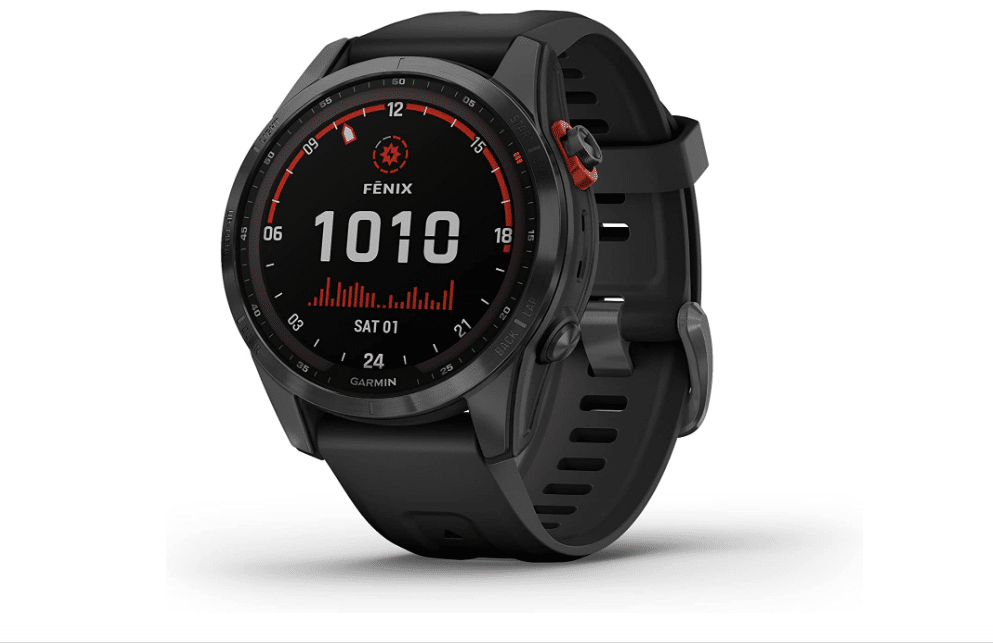 | | | | | | | |
| --- | --- | --- | --- | --- | --- | --- |
| Price | Sizes | Display | Battery Life | GPS | Waterproof Rating | Connectivity |
| $799.99 | 1.65 x 1.65 x 0.56 inches | 44mm | 14 days | Available | 10 ATM | WiFi & Bluetooth |
We highly recommend this watch for explorers and travelers because, along with a fantastic battery life, it also comes with terrific GPS features. Thanks to TopoActive maps, you get access to local maps you can use while exploring offbeat locations or popular sports locations like golf courses and ski resorts around the world.
In short, the GPS will get you to the location, and TopoActive maps will help you explore the location better. These two features ensure you never feel lost, no matter where you are.
It also provides the best water resistance with a stunning 10 ATM rating. The highest that most smartwatches go is 5 ATM. This means that while 5 ATM watches can survive 50 meters of water depth, the Garmin Fenix 7S can theoretically go as deep as 100 meters.
The only thing that was slightly concerning was the low number of sports modes. Most other watches, like Ticwatch Pro 5 and Aptkdoe, come with at least 100 and 112 sports modes, respectively. But with the Garmin Fenix 7S, you only get 30+ sports modes.
Pros
Can charge on solar power
Has its own payment portal
Comes with 16 color and design options
Integrates with TopoActive maps, perfect for explorers
Cons
Not at all budget-friendly
Compare the Market's Top-Rated Android Smartwatches
Here's a table outlining the key differentials between our picks. This'll help you skim through the essential metrics so you can make a decision.
| | | | | | | | |
| --- | --- | --- | --- | --- | --- | --- | --- |
| Best Android smartwatch | Price | Sizes | Display | Battery Life | GPS | Waterproof Rating | Connectivity |
| Samsung Galaxy Watch 5 | $259 | 1.7 x 1.75 x 0.39 inches | 44mm | 50 hours | Available | 5 ATM & IP68 rating | Bluetooth or LTE |
| Samsung Galaxy Active 2 | $299.94 | 1.57 x 1.57 x 0.43 inches | 34 mm | 60 hours | Available | 5 ATM + IP68 | LTE, WiFi, Bluetooth |
| Garmin Venu | $235 | 1.7 x 1.7 x 0.49 inches | 30mm | 5 days – but only 6 hours on GPS and music mode | Available | 5 ATM | WiFi & Bluetooth |
| Fitbit Versa 4 | $198.95 | 1.57 x 0.43 x 1.57 inches | 42mm | 6 days | Available | 5 ATM | Bluetooth |
| Fossil Unisex Gen 6 | $188.53 | 1.77 x 0.79 x 0.55 inches | 44mm | 14 days | Available | 3 ATM | USB & Bluetooth |
| Google Pixel Watch | $342 | 1.61 x 0.54 x 1.61 inches | 41mm | 24 hours | Available | 5 ATM | Bluetooth + LTE or WiFi |
| Amazfit GTR 3 Pro Limited Edition | $249.99 | 1.8 x 1.8 x 0.41 inches | 36.8 mm | 12 days | Available | 5 ATM | WiFi & Bluetooth |
| Aptkdoe | $49.99 | 2 x 1.12 x 0.4 inches | 46.99mm | 7 days | Available | IP68 rating | USB |
| Ticwatch Pro 5 | $349.99 | 1.97 x 1.89 x 0.48 inches | 36.3 mm | 80 hours | Available | 5 ATM | LTE, WiFi, Bluetooth |
| Garmin Fenix 7S | $799.99 | 1.65 x 1.65 x 0.56 inches | 44mm | 14 days | Available | 10 ATM | WiFi & Bluetooth |
Conclusion – Which is the Best Android Smartwatch to Buy in 2023?
Our list of the best Android smartwatches offers you a range of choices. Whether you're a fitness freak who needs a smartwatch with multiple sports modes and accurate health-tracking features or someone who's looking for better connectivity coupled with a casual wearable, we've got everything.
However, the Samsung Galaxy Watch 5 is an all-in-one option. Along with the brand trust of Samsung comes the promise of longer battery life, excellent connectivity options in LTE and Bluetooth, multiple accurate health-tracking features, and a sleek dial design – it's everything you could want in a smartwatch.
Android Watch FAQs
Are smartwatches worth it?
What is the best smartwatch to work with Samsung?
Which Android smartwatch can make calls?
Is there a smartwatch that works without a phone?
Does a smartwatch need a SIM card?