Chimpzee ($CHMPZ) is touted as one of the most wholesome Web3 projects in the industry, as it helps users earn a passive income while simultaneously raising sizable contributions to organizations helping save animals and protect the environment.
The project recently announced its next target to save the neglected animals struggling amid war-torn Ukraine.
This mission follows a string of successful charitable endeavors: Chimpzee has saved the last herd of desert-adapted elephants, helped protect the final few hundred black jaguars and protected 1,000 square meters of the Australian Rainforest.
You can do your part to help the neglected Ukrainian animals by participating in the presale to push it to the $1.65 million milestone while simultaneously benefiting from the passive income opportunities and the token's 50x potential.
Chimpzee Looks to Redefine How We Donate to Charity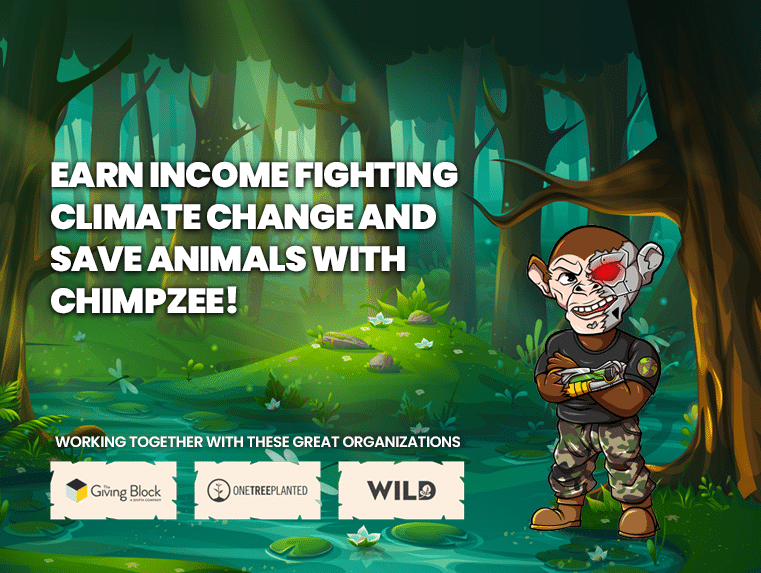 Chimpzee is a meme coin project built on philosophical foundations as it redefines how we donate to charity through the magical use of Web3 technology.
The entire premise behind the project is to provide investors with a method to earn passive income while making positive contributions to the world by saving animals and the environment.
The project wants to help raise public awareness and provide financial contributions to organizations that help endangered species fight deforestation, bringing more participation to these conservation initiatives.
The Chimpzee movement effectively combines passive income with climate protection and animal rescue.
The best part about the project is that it's already living up to its mission by making considerable contributions – even during its presale – which are fully verified and transparent through blockchain donations.
The team is fully verified by Cyberscope, meaning they're fully accountable for their actions, and Solidity Finance audits the project – one of the industry's most highly rated security firms.
Web3 Wealth With a Cause: Three Avenues to Passive Income

Chimpzee has built a first-of-its-kind ecosystem with a shop-to-earn and donate merchandise store, an NFT marketplace with trade-to-earn features, and a play-to-earn game to win $CHMPZ tokens.
These three avenues provide passive income in the ecosystem.
The Shop-to-Earn store is already in the process of being released, allowing users to buy merchandise that helps raise funds for charity while earning $CHMPZ rewards.
The NFT Marketplace is one of the world's first that shares a portion of trading fees with all holders on the platform.
The Chimpzee NFT Passports help tie all of these components together and are required for users to earn the most passive income through the ecosystem.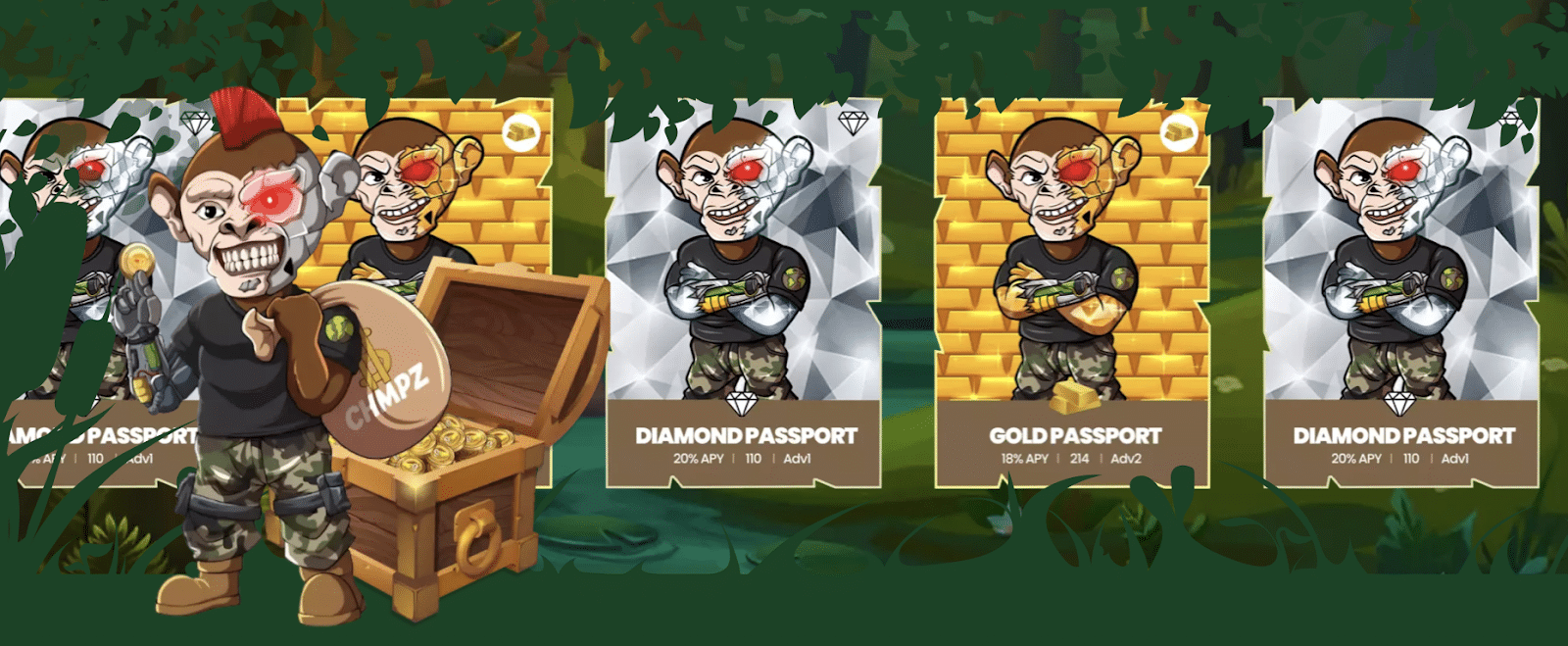 There are three tiers of Chimpzee NFT Passports that provide certain rewards, such as a higher APY for $CHMPZ staking, increased rewards and discounts in the Chimp Shop, a higher share of the trading fees on the NFT Marketplace, and increased rewards in the play-to-earn game.
The Chimpzee NFT Passports will be made available to all presale participants after the presale, who can use their $CHMPZ tokens to purchase.
All $CHMPZ tokens used to buy the passports will be burnt, reducing the overall supply.
Fully Transparent Donations Already In Full Force
Chimpzee has already made significant contributions that need to be mentioned.
For example, it donated $15,000 to WILD Foundation to help save the last 150 desert-adapted herds of elephants in the world;
Chimpzee Makes the News and Appears on CoinTelegraph!https://t.co/PpNr0ffR8s

— Official Chimpzee Project (@RealChimpzee) May 25, 2023
It also made another $20,000 donation to WILD Foundation to help provide funding for the Yawanawa people who are protecting the last 600 black jaguars in the Brazilian Rainforest;
Hey #ChimpzeeArmy! 🐵🌟

🎉We have just made a $20,000 donation to the @wildfoundation to support their remarkable efforts in saving and protecting the majestic black jaguar!🐆❤️

Join our #Presale and help us achieve our next donation!✨🌍https://t.co/Geog3EVuMC#EcoCrypto

— Official Chimpzee Project (@RealChimpzee) July 14, 2023
These donations were facilitated through The Giving Block, making the contributions fully transparent.
More recently, Chimpzee donated to Rainforest Rescue to protect 1,000 square meters of the Australian Rainforest;
CHIMPZEE MAKES DONATION TO RAINFOREST RESCUE TO HELP PROTECT 1000 SQ METERS OF THE AUSTRALIAN RAINFOREST! 👏

Rainforest Rescue put together this video to thank the Chimpzee Army for the donation and for helping to protect a part of their rainforest.

This is just another example… pic.twitter.com/C4nocmzVRc

— Official Chimpzee Project (@RealChimpzee) September 28, 2023
They've also made donations to One Tree Planted to help plant over 20,000 trees in the Guatemalan and Brazilian Rainforests;
What an amazing accomplishment! 🤩🌳 We are so happy to support you and get these trees planted🌱🌎

— One Tree Planted (@onetreeplanted) June 15, 2023
As you can see, Chimpzee is living up to its name in becoming a giving ecosystem that is making a solid impact on the world.
Next Target: Saving Neglected Animals From the Ukraine War
Chimpzee recently announced its next target to help save the animals that have been neglected in war-torn Ukraine.
Chimpzee is going to help save animals that have been left behind or forgotten in worn torn Ukraine. Our donation will help neuter hundreds of cats and dogs, abandoned during war in Ukraine, raising their chances of re-homing.

WE ARE MOVING CLOSER TO HELPING THESE FORGOTTEN… pic.twitter.com/3N6Mm2aBDq

— Official Chimpzee Project (@RealChimpzee) October 9, 2023
The donation that will be contributed will help neuter hundreds of cats and dogs, helping raise their chances of re-homing.
You can help in this endeavor by participating in the $CHMPZ presale and pushing the fundraising to the $1.65 million milestone.
The presale is currently in the thirteenth stage, selling the token for a price of $0.0011.
A bonus for the current stage can bring the price down as low as $0.00072 with a $1000+ investment.
Those investing in this stage benefit from the lower prices as the next stage will see $CHMPZ increase to $0.00125 later today.
Overall, this is one of the most impactful Web3 projects in the industry, already making a change in the world today.