In this GoDaddy website builder review, we'll explore this well-known tool that works for everyone, from individuals who want to build an online presence to businesses looking to upgrade their websites.
By the end of this GoDaddy website builder review, you'll have the information you need to decide whether it's right for you. Continue reading to dive into GoDaddy's key features, best applications, pricing, and user experience as we explore how it could help launch your ideal website.
Table of Contents
Table of Contents
What Does GoDaddy Do?
GoDaddy helps you establish and manage your online presence, including your website, social media, and messaging.
You can use it to both register and host a domain and create web pages. It's a no-code tool, which means no programming expertise is necessary—you can rely on the drag-and-drop interface to build a professional, customized website.
Aside from GoDaddy's core web development features, it also offers sales and marketing tools that you can use to launch your business online, manage payments and taxes, and promote your products or services.
The Key Reasons Why People Use GoDaddy
GoDaddy has a wide range of applications for individuals and businesses. In fact, you'll find that customers often mix and match its features according to their needs. Here's our breakdown of the main use cases:
Building a professional website — GoDaddy lets you create websites from scratch or revamp existing ones. Customization tools mean you can tailor your pages to your industry, whether you're a florist delivery service or a legal consulting firm.
Hosting — You can use GoDaddy domain hosting to ensure your website remains accessible to visitors, with a range of domains on offer, including ".net" and ".com" addresses. There's a lifetime privacy guarantee, so people won't find personal information attached to your site via public records unless you decide otherwise.
Marketing — You can develop your brand and advertise online to attract customers with a variety of tools, such as email templates and built-in SEO optimization. GoDaddy also gives you the option to hire marketing experts to work on your brand for you.
Selling online — Using GoDaddy's payment processing features, you can accept transfers from anywhere in the world. You can combine this with product listings and appointments to make a fully-fledged ecommerce site.
Acquiring business credentials — GoDaddy gives you a custom domain, email address, and even a phone number, so you can use your credentials to stand out and build trust with your clients.
Is GoDaddy Good? The Pros and Cons
Although GoDaddy has its weak points, like any software, the good more than outweighs the bad. The decision to use the platform mostly depends on your specific needs, but here's a list of the main pros and cons so you can see whether GoDaddy's strengths align with your priorities:
Pros
Beginner-friendly interface
Excellent customer support
Quick loading times
Robust security features
Flexible pricing plans
Cons
Limited options for customization
No ecommerce tools on the starter plan
With its ease of use and affordability, GoDaddy is one of the best website builders for small businesses. It allows you to develop professional sites regardless of your resources, industry, or budget.
The tradeoff for GoDaddy's simple, intuitive interface is that some advanced users may find it too basic for their needs.
They may prefer a more complex website builder with more customization options like Wix to achieve their specific vision for their web pages. You can read our complete Wix website builder review to get a stronger sense of how it compares to GoDaddy.
A Breakdown of GoDaddy's Pricing
GoDaddy is one of the cheapest website builders on the market. It not only has a low starting price of $9.99 but also has a free basic version.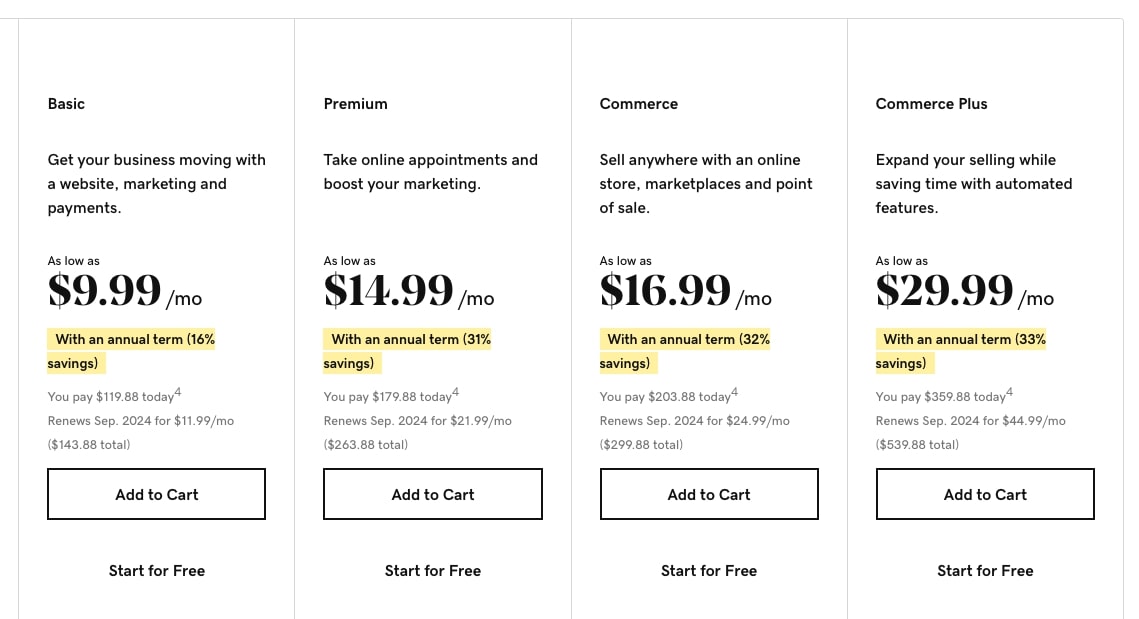 Free Website Builder
Individuals and small businesses looking to establish a basic online presence can benefit from using the GoDaddy website builder free of charge. Note that while you can create ecommerce sites, you can't access any of the sales features, such as listings or orders.
There are templates for a variety of aesthetics, so you don't have to spend hours on development, and you can also enjoy a small selection of marketing features, such as email campaigns and branded content creation, to begin customer outreach.
Basic
Despite being the cheapest package, GoDaddy's Basic account shares the same website building, payment processing, and point of sale (POS) features as its Premium and Commerce website builder plans.
We were also happy to see you could access a professional email address and add your business to Google Maps to give your website an established look.
While online payment options are limited, you can begin customer outreach through the one-time appointment, email, and subscription tools. For example, site visitors can message you through the built-in web chat.
The Premium plan allows you to manage customers more easily with its extra payment and appointment features. As your sales grow, you can schedule recurring meetings and reminders to reduce administrative work. You can also accept online payments and deposits for services.
Your email marketing campaign limit also jumps from 100 in the Basic plan to 25,000 so you can begin to scale your promotional work.
However, Premium lacks online store and marketplace features, so it's better for startups rather than established companies looking for a new base of operations.
Commerce
With the online store and marketplace tools in GoDaddy's Commerce plan, you can invest more in growth strategies. There are features like gift cards, discounts, and promotions to attract more customers to your business.
However, we found there's a cap of 50 orders per month, and you can only add 5,000 product listings. Although you can begin selling across sites like Amazon and eBay, this means you can't fully expand your sales operations on the Commerce plan.
Commerce Plus
For total flexibility and control, you can upgrade to Commerce Plus for automated bookkeeping tools. Using these features allows you to keep accurate records and avoid issues with your local tax authority. You also gain 1,000 orders per month and unlimited product listings to grow your sales.
Other GoDaddy Plans
You also have the option to choose one of GoDaddy's hosting plans, which bundle in its most popular features. It's important to note the lowest-cost plan doesn't include the GoDaddy website builder tool, but you could combine it with the free version.

All bundles give you access to a domain name with full protection, a personalized email addresses, the GoDaddy Studio content creation tool, and 24/7 support. The plans are best suited to the following use cases:
Starter Domain Bundle — This is ideal for new businesses wanting to experiment with their content and branding. They can also get easy, affordable access to credentials to begin developing a professional reputation.
Essentials Domain Bundle — We recommend this plan for more established businesses that are looking to grow as it offers marketing tools such as email campaigns and social media posting to help you reach more customers.
Ecommerce Domain Bundle — If your business lives on your website, choose this bundle. You can use features like product listings and inventory syncing to efficiently manage your online store.
If you'd prefer flexibility over cost savings, you can pick and choose the features you need from the following categories:
Domains
Email
Website builders
Hosting
Online store
Payments
Web security
Professional services
Marketing
All GoDaddy plans give you a choice between monthly or annual payments, with the latter offering a discount. The amount you save depends on the features you choose. GoDaddy users can also benefit from a lower rate for the first year while deciding if the platform is a good long-term fit.
GoDaddy has some of the most flexible pricing we've seen. As it has tiered prices across all its features, you can choose the plan that best fits your needs and budget, and you don't have to spend more on tools you're not ready to use.
We found the downside of GoDaddy's complex pricing to be that it required some time to understand all the potential combinations. That said, it was good to see you can cancel your monthly GoDaddy subscription at any time, which we found to be simple.
It takes around 24 hours, so you can perform checks and confirm your decision. These steps are essential because once you've canceled, you can't retrieve your account data or information.
A Look at GoDaddy's Core Features
GoDaddy has a variety of features to help you develop and manage a website in virtually no time. Here, we'll dive into the main ones and illustrate what you can use them for.
Themes and Templates
With over 200 GoDaddy website templates and themes to choose from, you're sure to find a design that suits your aesthetic. This number doesn't top Wix's selection of over 800 designs, but it's double what platforms like Webador and Squarespace offer. You can then use GoDaddy's intuitive editor to customize your site.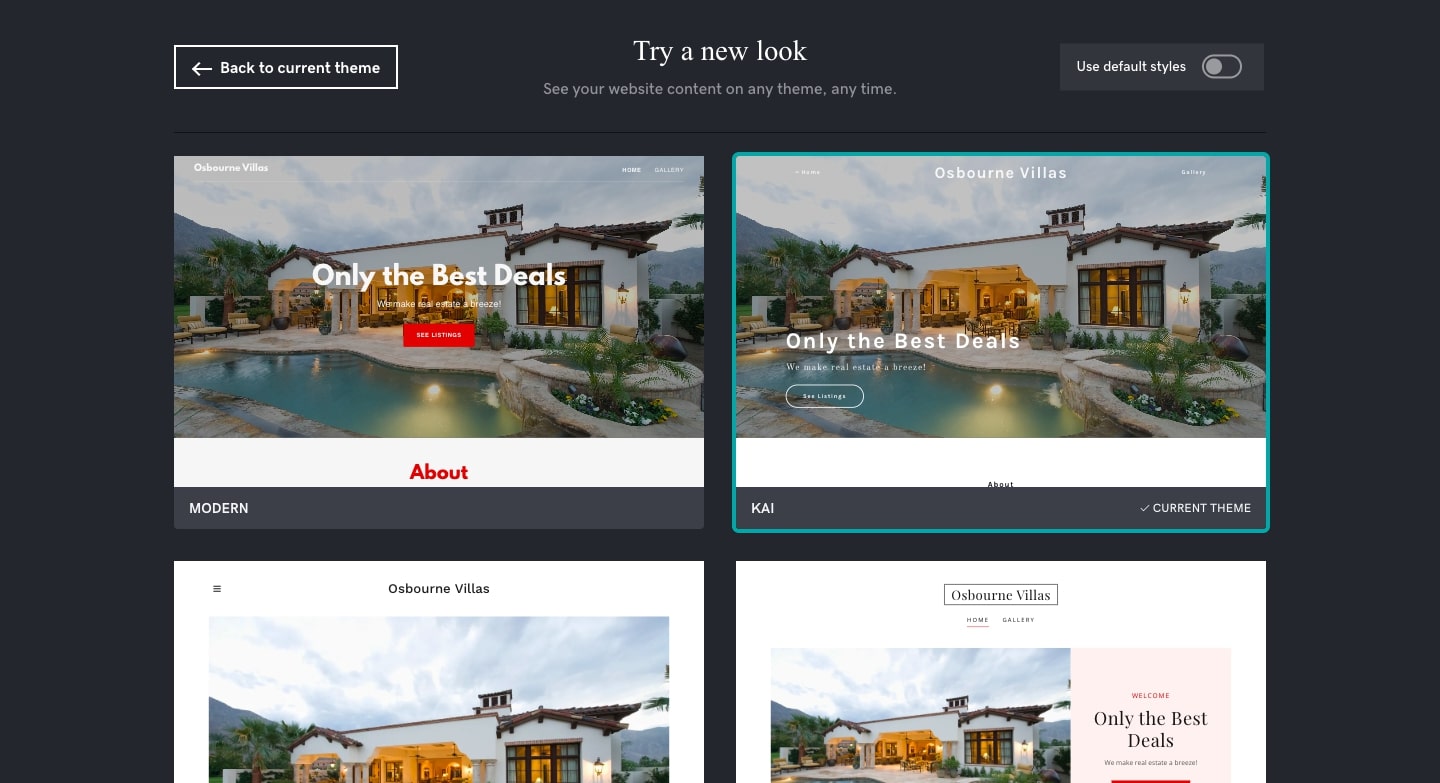 What we really liked is that GoDaddy also offers the option to use AI to create your webpage based on a few questions. This tool makes the website maker extremely beginner-friendly, as you can use AI-generated templates and just tweak the text and images.
Once you've created a page you're satisfied with, you can also duplicate and edit it. This way, you can save time producing web pages in a series, like blog posts or product listings.
The responsive GoDaddy web designs ensure your site looks and works well across a variety of devices – which is a crucial feature considering over 55% of website traffic now comes from smartphones and tablets.
Domain hosting
GoDaddy holds the honor of being one of the world's biggest and best website hosting services, with over 84 million domains. You can choose from hundreds of extensions based on your budget, website type, and location. There's also a domain extension search tool to help you filter website endings by industry and availability.
We found the platform also has quick loading speeds. During our GoDaddy hosting review, our test website took just 1.1 seconds to load—faster than Google PageSpeed Insights' minimum recommended speed of 2.5 seconds.
Marketing tools
GoDaddy's mission statement is to level the playing field for entrepreneurs of all kinds, and its marketing tools are a testament to that. We loved how we could access a wide range of features even with the cheapest plan and use the guides to get expert tips.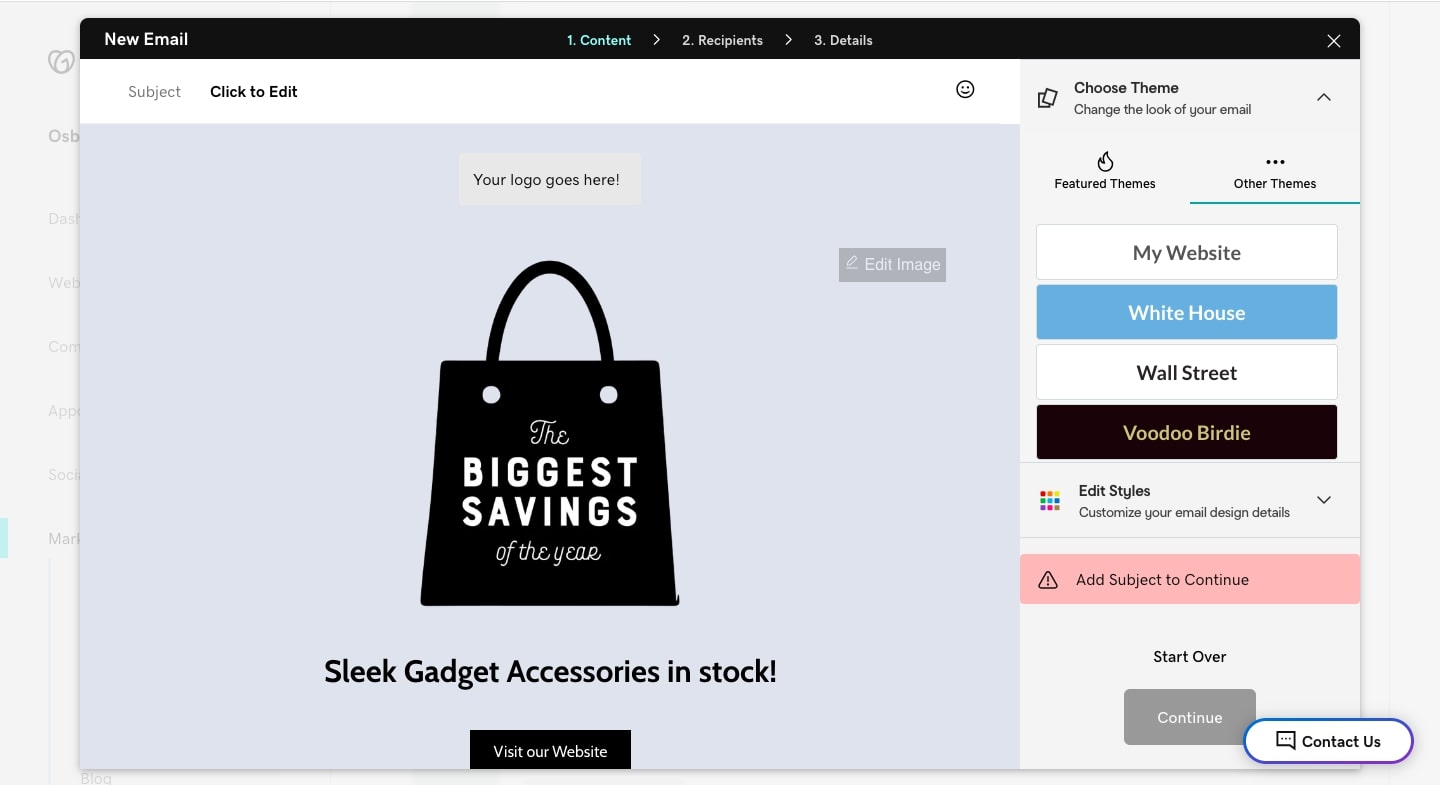 To start with, in terms of email marketing, you can choose from blank or pre-written templates and automatically populate details with sender information. You can also get up to 50 GB of storage for your messages alongside backups and archives.
It's worth noting that the starter plan only includes 100 emails a month, so it's not best suited to cold outreach, where you might need to message thousands of potential customers.
That said, there's also a built-in SEO optimization tool, so you don't need to leave the page but can do a GoDaddy SEO review and research the best keywords for your blog posts. You can simply click the tool on the side of the text box to reveal the words and phrases you need to include for search engine visibility.
What we found most useful was GoDaddy Studio, which lets users design everything from logos and social media posts to ads and videos. You can choose from hundreds of templates to create content and develop your unique brand.
Sales and Ecommerce tools
Is GoDaddy good for ecommerce? In a word, yes. GoDaddy not only lets you create a website for your shop but helps you manage it both online and offline. The website builder lets you add product listings and manage them from the GoDaddy dashboard.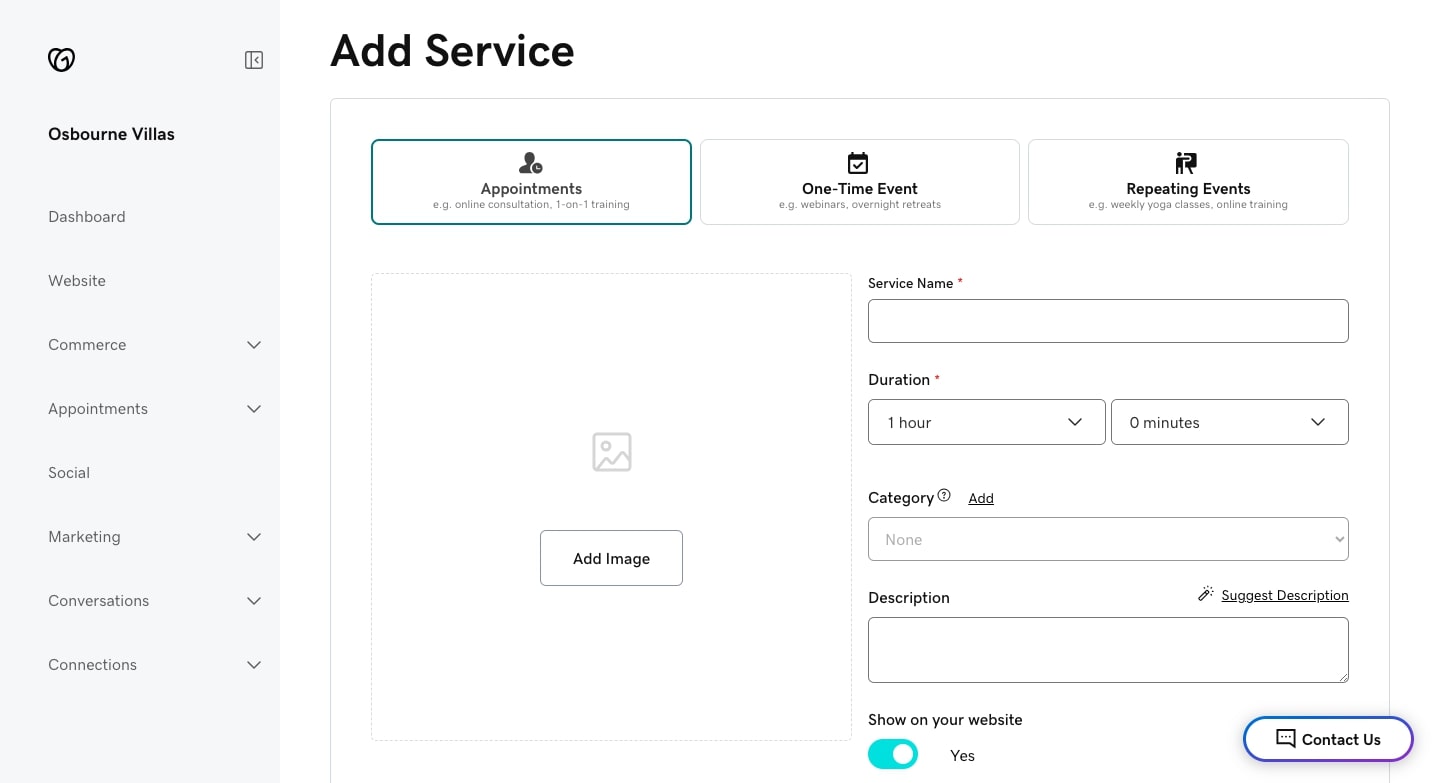 We also really liked that you can book in-person appointments with clients on a one-time or recurring basis, according to your availability, which is perfect for those who offer services like tax consulting.
Like the best ecommerce website builders, GoDaddy offers point of sale (POS) devices and payment processing. The charges start at the competitive rate of 2.3% + 30 cents per transaction, which is lower than POS platforms like Shopify and Square.
We found GoDaddy was less feature-rich than ecommerce website builders like Shopify, which has customer filters and abandoned cart recovery. However, we still think GoDaddy's worth it, especially for first-time store owners, because of its budget-friendly rates and domain hosting options for ecommerce.
Website security
GoDaddy has a range of security features to protect website data and build trust with visitors. We appreciated the flexible plans that let users decide the level of protection and privacy their website needs.
There's a choice of fully and self-managed SSL certificates to encrypt your site, which means if you're short on time or don't have IT knowledge, you can get GoDaddy to handle your encryption installation, maintenance, and updates for you.
GoDaddy also provides tools and services to prevent cyberattacks, such as firewalls, Content Delivery Networks (CDNs), and network monitoring. These prevent data breaches that could expose you and your visitors' online banking details.
GoDaddy is CCPA and GPDR-compliant, which means it follows the strictest standards for data protection and privacy. Many countries require this high level of security from the companies they trade with, which makes this feature essential for ecommerce sites and online stores.
Analytics
To complement its sales and marketing features, you can connect your Google Analytics account to your GoDaddy site. The plug-in monitors your website traffic and gives you data about everything from what visitors look at and where they came from to what keywords you rank for.
All you have to do is add your Google Analytics tracking ID to the websites on your GoDaddy marketing page. As long as your website is up and running, you'll be able to access data analytics. Although this requires more steps than Squarespace's built-in analytics tool, we found the GoDaddy plug-in to be simple to set up.
Guides and resources
One of GoDaddy's standout features is its customer support. There are lots of guides and video tutorials to help you set up your website and 24/7 phone support if you get truly stuck. These are accessible from the GoDaddy website whether you have an account or not.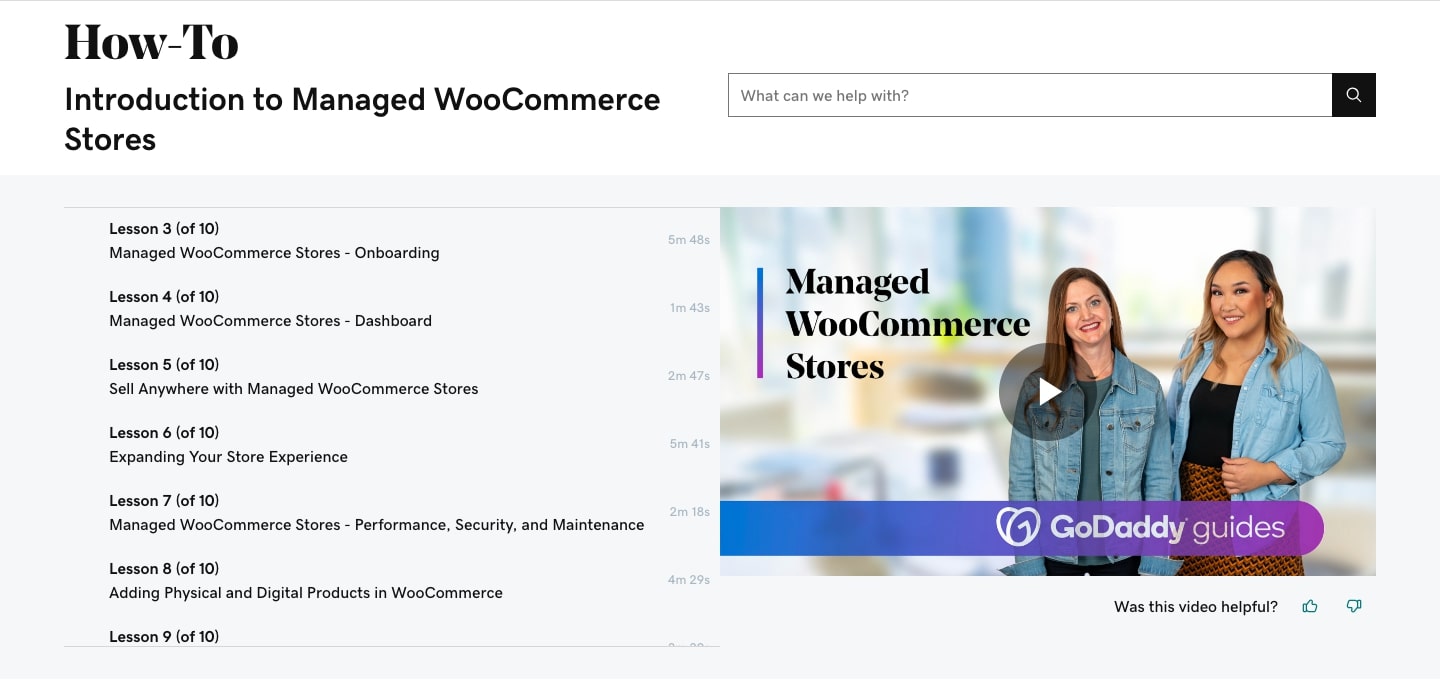 The How-To videos are available as courses or standalone tutorials. That means you can develop your skills or quickly solve a problem you've encountered. Each video is around three to five minutes long and uses experts to guide you through different scenarios.
GoDaddy vs. Other Leading Website Builders
When considering a website builder, it's important to know how it compares to the competition so you can make the most fully informed decision. For our GoDaddy website builder review, we've explored several similar platforms also on the market. Here's our breakdown of the main differences:
Website Builders
Best For
Starting Price
Free Custom Domain
Free version
Ecommerce on Starter Plan
GoDaddy
Small to medium businesses
$9.99/month
Yes
Free plan + 7-day trial
No
($16.99 plan)
Wix
Customized sites
$16/month
Yes
Free plan + 14-day trial
No
($27 plan)
Webador
Ease of use
$5/month
Yes
Free plan + 3-month free trial
Yes
Squarespace
Blogging
$11/month
Yes
14-day free trial
No
($23 plan)
Shopify
Online stores and ecommerce
$29/month
No
3-day free trial
Yes
As you can see, GoDaddy is one of the cheapest website builders on the market. However, we feel it more than matches its competitors for value with its ease of use and robust feature set.
It's worth noting that Squarespace and Shopify have more dedicated features for their respective target markets—bloggers and ecommerce. While both are strong offerings, we don't think they take GoDaddy out of consideration, though, as it has versatile sales and marketing tools of its own.
GoDaddy has wide appeal with its flexible pricing, high usability, and intuitive design. For a GoDaddy web design review that looks closer at how it compares to other platforms, you can read our in-depth ranking, review, and comparison of the best website builders.
Is GoDaddy Legit? A Look at GoDaddy Reviews
When platforms have low-cost or even free versions like GoDaddy, it's normal to have questions about their quality. However, GoDaddy has a long history of impressing its customers.
Founded in 1997, GoDaddy is one of the oldest hosting and web development platforms on the market. The team has learned how to adapt to its users' needs by adding features such as ecommerce in 2014 and marketing in 2019. GoDaddy has accrued a loyal customer base of over 20 million worldwide, which grows year on year.
GoDaddy website reviews reflect its high standing, with a 4.7 out of 5 on TrustPilot. Something we noticed in many GoDaddy reviews is how fast users are to praise its responsive customer support.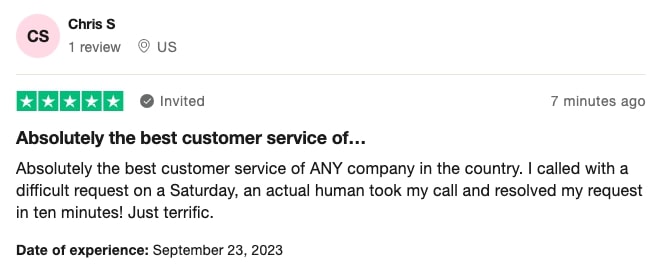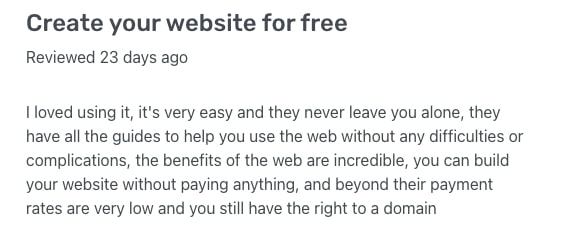 We also saw many GoDaddy reviews mention how the platform helped users efficiently set up their online companies.
They often state that GoDaddy hasn't just allowed them to produce a professional website but also improved aspects of running their business, such as developing a brand and managing communication with customers.


Some customers who review GoDaddy comment on its lack of customization options, though, and say these limitations restrict what they can do with their websites. However, as we've mentioned in this GoDaddy review, the basic features are what make the platform so appealing for beginners.
Why You Can Trust Our Review of GoDaddy
For our GoDaddy website builder review, we've conducted extensive research to ensure we can give you the most comprehensive, accurate analysis possible. Lots of our insights come from our hands-on experience using the GoDaddy platform.
We explored the GoDaddy free trial with all the premium features to assess the platform's offerings. To put the support tools to the test, we only relied on GoDaddy's own how-to videos and guides during our initial review.
During our test, we considered how GoDaddy compared to similar website builders on features, pricing, and usability. We also used our expertise and knowledge of its competitive set to see where GoDaddy outshone its competitors and where it fell short.
While first-hand experience gave us valuable insights, we appreciate a test run isn't a substitute for months of use. That's why we also dived into user reviews across reputable sites like Reddit, G2, and TrustPilot.
Features and services can significantly change, so we prioritized reviews from the past six months in our research.
How to Create a Website With the GoDaddy Website Builder
GoDaddy promises to help you build a website in minutes with its GoDaddy website maker. We put it to the test and discovered you can create a professional-looking website in your lunch break if you wanted to. Here are all the steps you need to take:
Step 1: Create an Account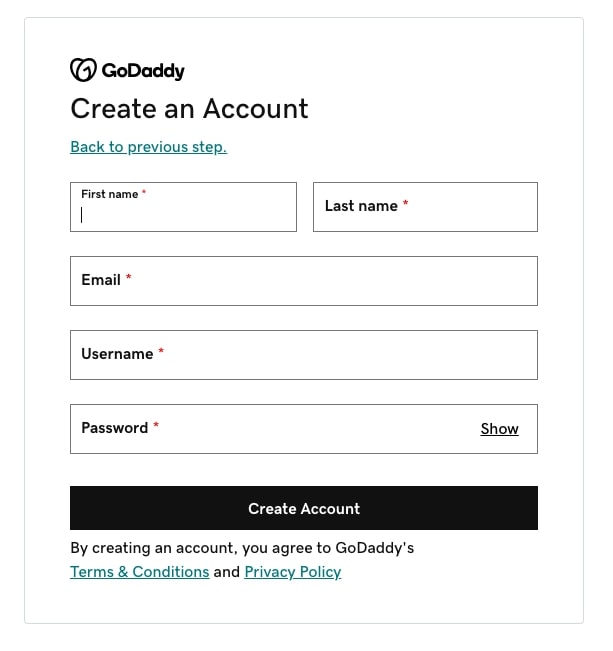 On the GoDaddy homepage, you'll see an invitation to build a free website. Click to start your account. GoDaddy asks for your basic details and performs a quick verification but doesn't require your credit card details.
You'll need a unique user name, but GoDaddy doesn't display this anywhere. It's simply used for identification and login purposes.
Step 2. Answer Questions About Your Business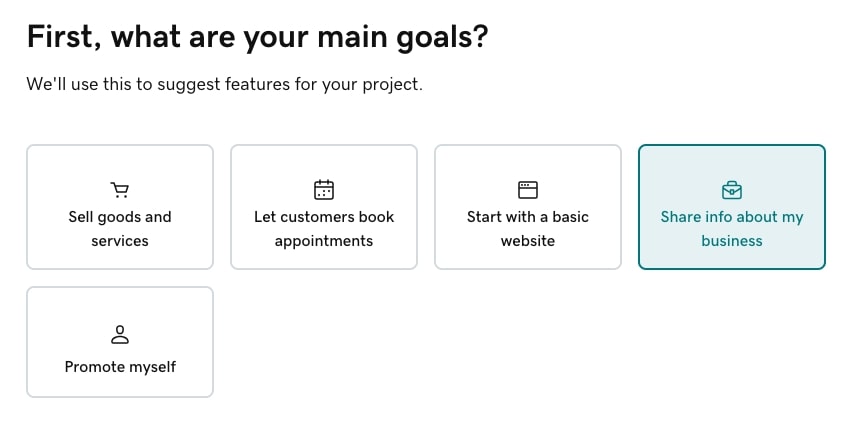 Once you've confirmed your account, the AI tool asks you a brief series of questions. All you have to do is input your business name, industry, and main goals. We found this quick and simple, but we feel the options may be limited for users with multiple priorities.
Your website name doesn't impact your AI-generated template. GoDaddy just uses this to create headers on the pages.
Step 3. Let the AI Build Your Site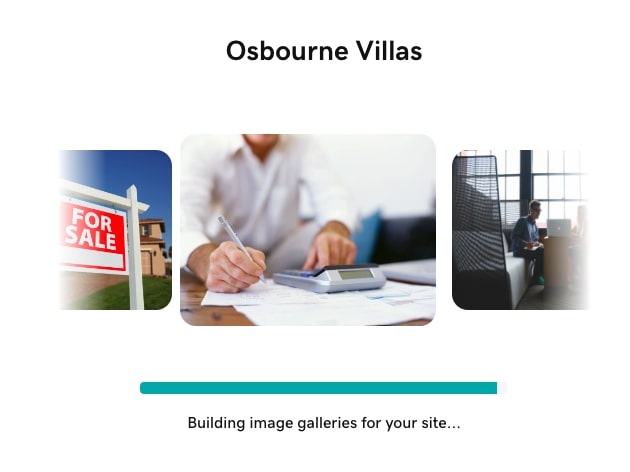 With the information you provide, the AI tool generates a template page. GoDaddy searches its library for the themes and formats that best fit your industry and main goals alongside some suggested text and images. This takes less than a minute, and you get a breakdown of the tasks the platform is performing.
Step 4. Take a Tour of Your Website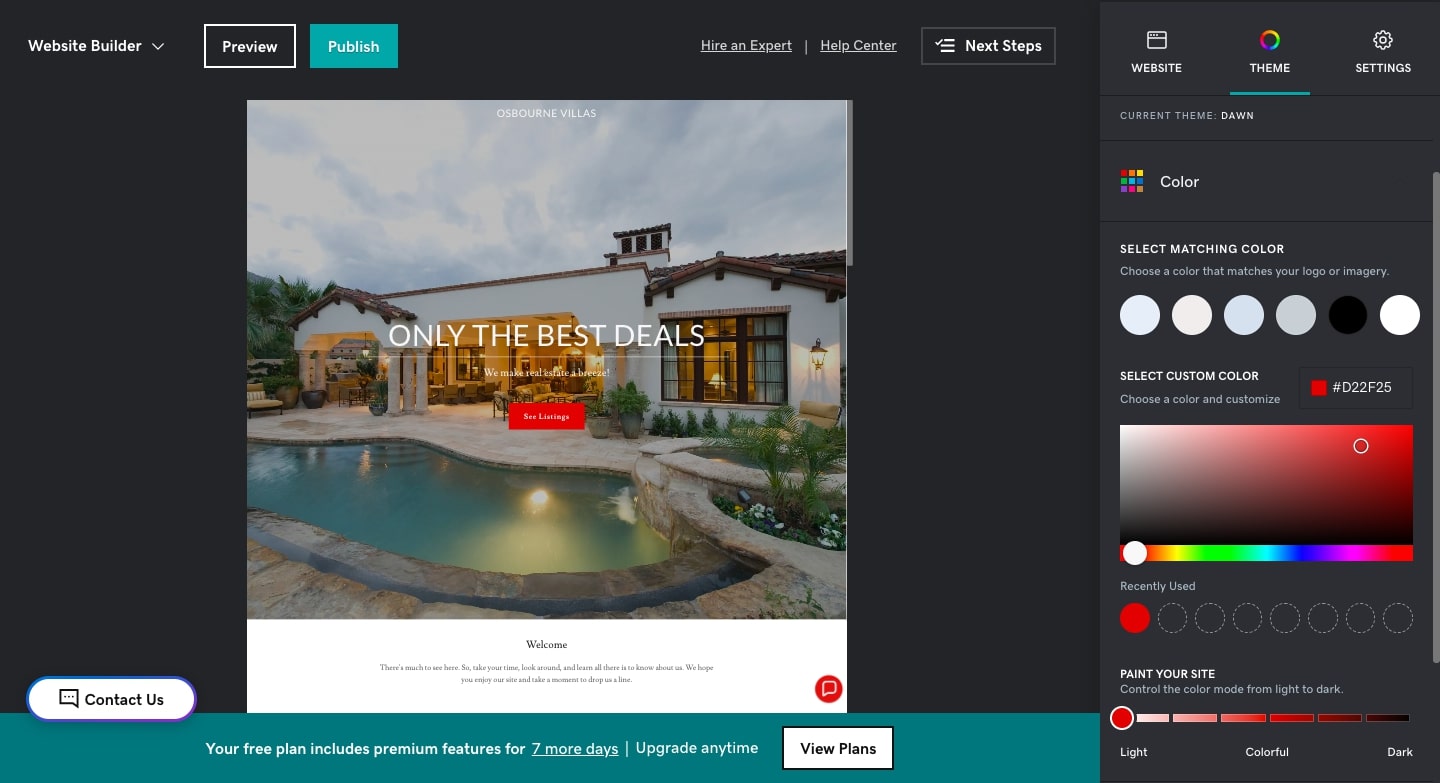 The GoDaddy site builder displays your website in editor mode and offers a tour of the features. You'll see it's selected suitable color schemes, fonts, and formats for your industry.
From there, you can learn more about the platform, preview your site, and experiment with the tools. GoDaddy also suggests the upgrades you may need to perform tasks like email outreach and branding when your seven-day trial of the premium features finishes.
Step 5. Personalize Your Content
Using the AI-generated site as a foundation, you can make as many edits as you need. You'll find you can quickly change the color scheme, images, and text from the drop-down menu on the right.
To move specific blocks, click on their icons and use the arrows to shift them up or down, left or right. Alternatively, you can use the layout tool in the sidebar to rearrange subsections quickly.
Step 6. Add New Pages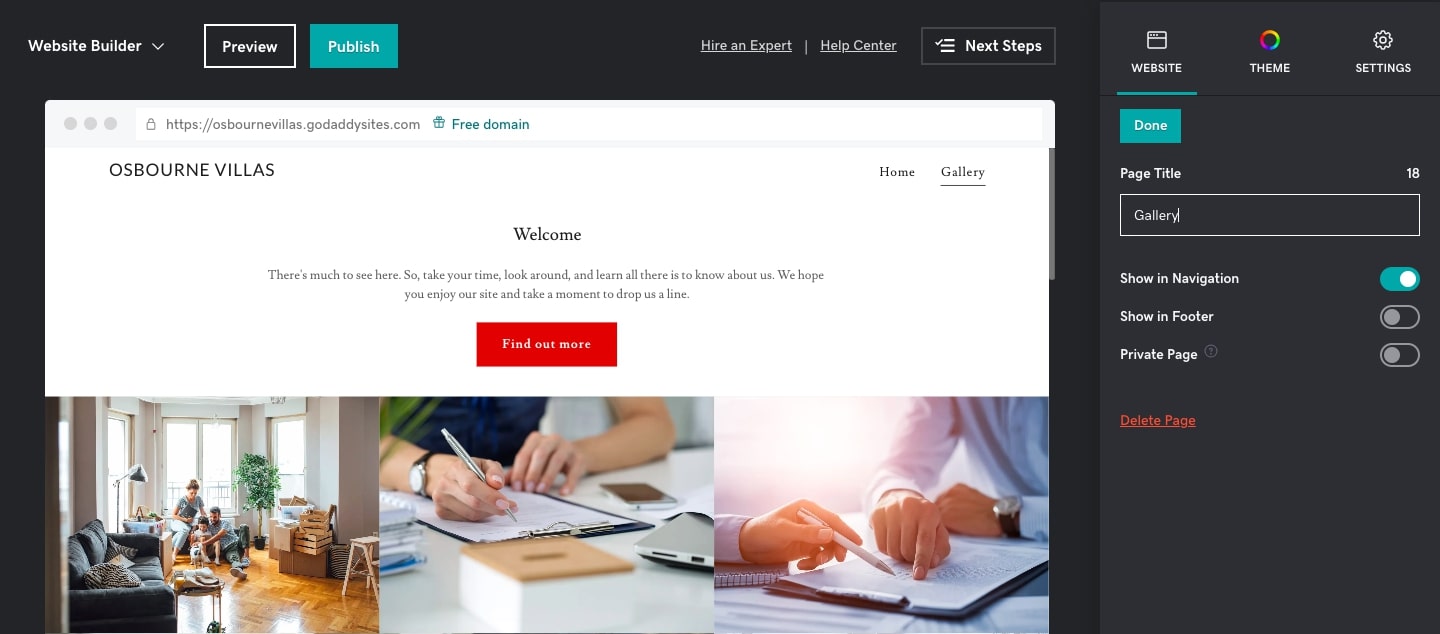 GoDaddy's AI generates your homepage with common website features like the heading, bio, and product images. If you click on the website tool, you can add blank or preformatted pages such as galleries or contact forms. The AI can automatically configure them and fill them with images and text, just like the home page.
With the website copy and images ready, we found you could create a GoDaddy website and present it to a client within fifteen minutes. The professional-looking templates and intuitive customization tools ensure the speed doesn't compromise the quality.
Other Website Builder Guides
If you'd like to learn more about website builders, then take a look at our other guides:
Concluding Our GoDaddy Website Builder Review
During our GoDaddy website builder review, we enjoyed the platform's straightforward yet sophisticated feature set and services.
The intuitive web builder, marketing, and sales tools allow you to take your business online within minutes. Once you're set up, you can easily manage your website from the GoDaddy platform and add extra features when you're ready for them.
While the GoDaddy website creator doesn't have Wix's level of customization, the simplicity is what makes it ideal for beginners. You can create a professional site with no prior development experience and still get a high-quality result. The basic features also allow users to benefit from faster-than-average loading speeds.
It's also got some of the best customer support of any software we've reviewed, with 24/7 contact, a range of guides, and tutorials. So, even if you hit an obstacle, you're sure to find the solution quickly.
With so many advantages, it's clear to see why GoDaddy is a popular choice, and we'd say it's well worth trying out.
GoDaddy FAQs
Is GoDaddy website builder really free?
What are the disadvantages of GoDaddy?
Is the GoDaddy website builder secure?
Do I own my website on GoDaddy?
Why is Wix better than GoDaddy?
How long does a GoDaddy website last?
What happens when the GoDaddy website builder expires?
References