In this Squarespace review, we'll help you discover what makes this website builder so popular among businesses and self-employed professionals looking to attract returning customers and develop a strong brand. Squarespace is also ideal for blogging and personal use, thanks to its simple drag-and-drop editor and beautiful pre-made templates.
Keep reading our Squarespace review to learn how it can help you quickly create well-designed, mobile-responsive websites. In addition, we'll look into the pros and cons of Squarespace, compare it to its competition, and break down its pricing structure to help you choose the best plan for your needs.
Table of Contents
Table of Contents
What is Squarespace?
Squarespace is an all-in-one website building and hosting platform that simplifies creating and managing a website for individuals and businesses.
Like most of its competition, Squarespace provides powerful tools for ecommerce, SEO, and blogging with its platform, allowing you to improve your website's visibility and improve sales.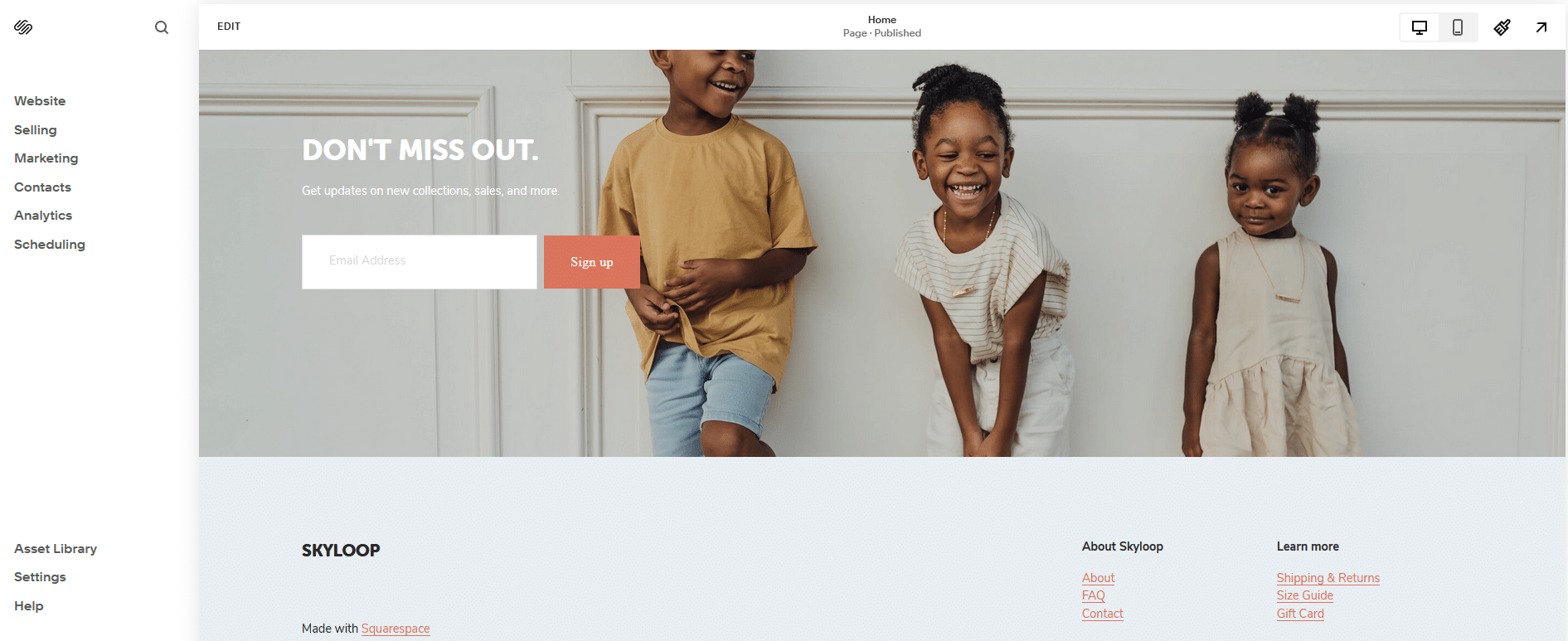 However, it stands out from other options for its impressively intuitive tools – something that's apparent from the moment you sign up for its services.
We found its interface refreshingly straightforward compared to other services we tested. One of the first things we noticed is that Squarespace allows you to create a site without the complexities of coding or web development.
Who Owns Squarespace?
Squarespace is an American company based in New York, founded in 2003 by Anthony Casalena as a blog hosting service. Casalena was the company's sole developer and employee for seven years, after which he started hiring, and the company had its first round of venture capital funding.
That year, Squarespace received $38.5 million, enabling it to continue to develop its software and hire more staff. By 2015, it had reached $100 million in revenue and 550 employees.
Squarespace kept improving its services and attracting more customers, winning numerous awards, including four Webby Awards, most notably the Best Web Services and Applications award in 2019.
Still led by its CEO and founder, Anthony Casalena, it recently acquired the Google Domains business, making it one of the biggest and best domain name registrars today.
How Does Squarespace Work?
The Squarespace website builder simplifies the process of creating a professional website. In our experience testing the platform, we found the process enjoyable and intuitive, and it offers well-designed templates you can use to match your vision.
You get a full preview of its drag-and-drop editor during the signup process, and you can then use this to customize the templates to your liking.
After you specify your goals for your website and the focus of your business or project plan, whether in music, marketing, gaming, or otherwise, Squarespace will provide a set of curated template options and tools. You can then freely add, arrange, or remove elements, including text, videos, images, and more.
In our hands-on test for this Squarespace review, we noticed the Fluid Engine feature, added in Squarespace 7.1, makes it simple to drag, drop, and resize almost every element directly on the site. This feature makes Squarespace an ideal fit for first-time users looking for a feature-rich but easy-to-use tool.
What is Squarespace Used For?
Squarespace is a versatile solution that suits everyone, from experienced web designers to individuals with no technical expertise. Its all-in-one platform offers tools for website creation, content management, and hosting, making it a popular choice for organizations and individuals looking to build an online presence.
However, it offers the most benefits to users looking for a reliable website-building service, which is the main focus of this Squarespace review. As such, its users often turn to Squarespace for:
Website Creation — Squarespace enjoys a reputation as a user-friendly service that offers lots of professionally designed templates for creating visually appealing websites.
Portfolio Websites — Creative professionals, artists, and photographers use Squarespace to showcase their work with customizable, elegant websites.
Blog Hosting — Squarespace offers a built-in blogging feature that's ideal for publishing, customizing, and managing.
Ecommerce — Many online businesses use Squarespace to set up and run online stores. Its platform provides tools for payment processing, product listings, and tax compliance.
Nonprofit Organizations — Squarespace offers built-in donation support that allows nonprofit organizations to build informational websites and accept online donations.
Small Business — Squarespace's simplicity makes it an excellent pick for businesses looking to sell products online and offer services to a broader audience.
Personal Websites — From freelancers to writers and self-employed professionals, Squarespace makes sharing your work and expertise a breeze.
Summarizing the Key Squarespace Pros and Cons
Squarespace is an excellent choice for individuals, businesses, and creative professionals seeking an easy-to-use website-building platform.
It offers exceptional blogging and ecommerce functionality. However, unlike most of its competition, Squarespace doesn't offer a free plan to test it out.
Pros
Advanced website analytics
Customer accounts on most plans
Schedule posts with blogging tools
Beautiful, mobile-friendly designs
Reliable 24/7 customer support
Cons
Doesn't offer a free plan
Based on our experience with its features and interface, we're confident it's an ideal pick for those who value professional aesthetics but don't have the expertise to create unique website designs. Although it doesn't offer a free plan, it has a 14-day trial period to explore its features and capabilities risk-free.
A Full Squarespace Plan Comparison and Review
Squarespace has four pricing plans that cost from $16 to $49 if you pay for an annual plan or $23 to $65 if you opt for a month-by-month subscription. Besides their pricing, these plans differ by the amount of features they offer, with the more expensive plans having more capabilities.
While its cheapest plan doesn't provide many ecommerce features, for example, its most expensive plan includes advanced shipping and discounts.
In this section of our Squarespace review, we'll provide a full rundown of each plan to help you make an informed decision.
Personal
The Squarespace Personal plan offers plenty of features for individuals and self-employed professionals looking to create a visually appealing website. It comes with unlimited bandwidth, video hosting, SEO features for site visibility, and more.
In addition, you'll get third-party extensions, 24/7 customer support, and a free SSL certificate – which is great for the cheapest plan. However, it's the only Squarespace plan to limit website contributor access, with a maximum of two, while the rest allow unlimited contributors.
Business
Opting for the Business plan gives you access to its fully integrated ecommerce solution with a 3% transaction fee, customer accounts, gift cards, and more features.
Squarespace Business is also the plan you'll need if you run a nonprofit organization and want to accept donations online. Opting for this plan unlocks additional integrations and apps that connect with your visitors and help you build your customer database and create leads.
Basic Commerce Plan
The Squarespace Basic Commerce plan offers numerous features to improve and track your ecommerce store's performance.
It lets you sync your products with Instagram, provides a secure checkout page on your domain, helps you encourage conversions with limited availability product labels, and more.
Advanced Commerce Plan
As the most expensive plan, the Advanced Commerce plan is ideal for businesses looking to get the most out of Squarespace. It lets you offer discounts that automatically apply to qualifying products at checkout, giving you complete control over your promotions.
It's also the only Squarespace plan to offer recurring weekly and monthly subscription charging for physical products in your online store.
With Advanced Shipping, Squarespace will automatically calculate real-time shipping rates for USPS, UPS, and FedEx. Squarespace lets you control these shipping options at the ZIP code level in the US (FSA level in Canada).
In addition, Squarespace will send automated email reminders to customers who abandon their cart during checkout.

Whichever plan you choose, Squarespace lets you use its platform free of charge for the first 14 days, which means you can test its features and interface risk-free. It also offers plenty of account control to users, including a way to turn off auto-renewal for your subscriptions and a renewal payment reminder if you leave them on.
Canceling the service is a breeze and is done directly via the platform and offers a full refund if actioned within the first 14 days of your first annual subscription.
However, it's worth mentioning that this will immediately take your website offline and that canceling your domain upkeep isn't done automatically when you cancel a Squarespace plan.
Is Squarespace Good Value for Money?
Squarespace offers exceptional value for money for users without technical website-building expertise. Although it lacks some industry-specific features found with more expensive products, Squarespace delivers well-rounded packages, professional templates, and great usability.
Unlike most of its competition, Squarespace provides unlimited storage and bandwidth, even with its cheapest plan.
Although providers like Wix and Webador offer services starting at as little as $4.50/month, their most affordable plans have limitations that make them non-ideal for promoting a business or blogging.
Squarespace is ideal for users seeking a balance between a website builder and an ecommerce platform, especially if they want to avoid the costs of Shopify and similar platforms.
For example, a small business opting for Shopify can expect to pay $69/month for an annual subscription. Squarespace offers very similar capabilities for $27/month, with advanced website analytics and no transaction fees.
Reviewing the Core Squarespace Features
In this part of our Squarespace review, we'll go into the details of its features that set it apart from the competition. Besides the Squarespace website builder functionality, we'll tackle its other features, such as for marketing, ecommerce, and hosting.
Drag-and-Drop Editor
Squarespace's drag-and-drop editor is a standout feature that simplifies the website-building process and allows you to customize its award-winning templates without any CSS, JavaScript, or HTML knowledge.
During our hands-on experience with this tool, we found it exceptionally intuitive and user-friendly, especially while adding, arranging, and customizing the website elements.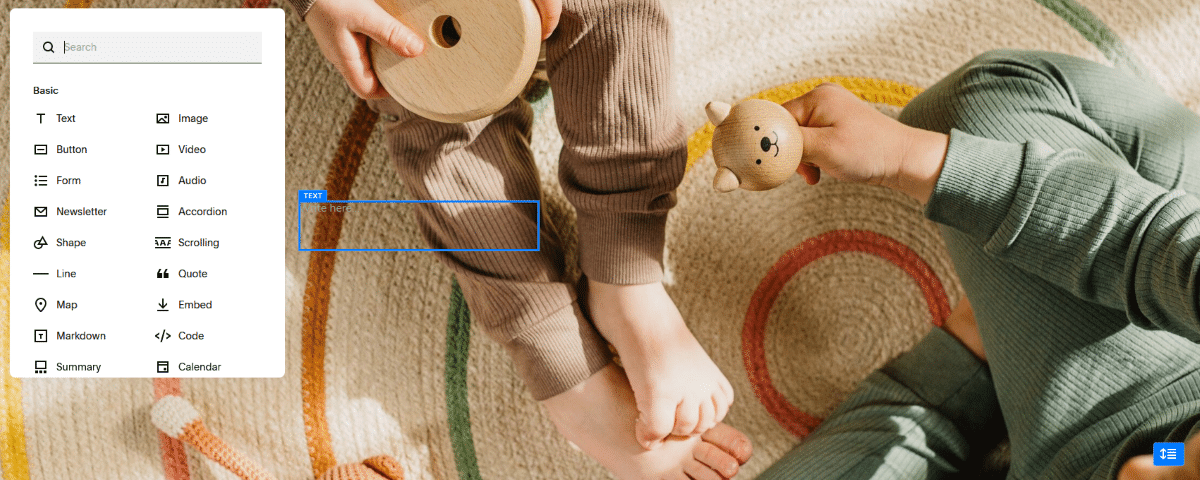 Thanks to its new Fluid Engine editor, you can control the design of your web page down to the pixel. It allows you to place blocks anywhere and even overlap blocks, meaning you won't be limited to a fixed grid.
We were impressed with how easy it is to resize and arrange blocks and that it displays changes in real-time as you edit, meaning you won't need to switch between editing and previewing.
Although Squarespace wasn't the best website-building tool for designing mobile layouts before its 7.1 update, it now offers a separate Mobile View. This feature lets you see how your website looks on mobile phones, allowing you to resize and reposition blocks for a smooth browsing experience.
SEO Features for Site Visibility
Squarespace offers search engine optimization (SEO) features to help your target audience find your website by increasing its visibility.
It's worth mentioning that Squarespace was the first website builder to integrate with Google Search Console to automatically verify your website and show you which keywords attract the most visitors.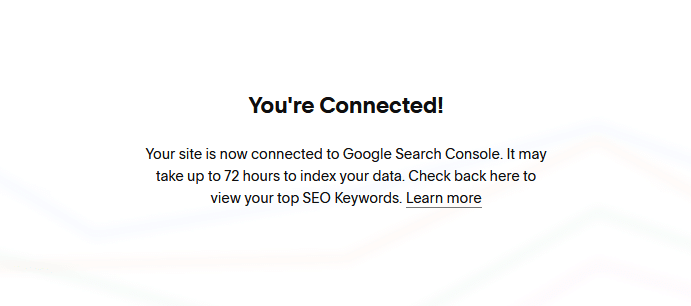 The platform provides a range of pre-made templates with built-in SEO page titles and description areas you can modify for search without changing the page content seen by visitors.
This level of control over on-page SEO elements allows users to optimize their content and improve their chances of ranking higher in search results.
In short, it's supremely easy to optimize and conduct a Squarespace SEO review for your site. Squarespace also provides a free SSL certificate to increase your website's security and improve its Google ranking.
We particularly liked how clean page and item collection URLs are, as clean URLs make the website easy to read and index for search engines.
Squarespace also minimizes the technical expertise you need to optimize your websites by automatically providing sitemaps using the .xml format, meaning you won't need to create one manually.
Although it provides limited customer support for SEO-related questions, you can attend the company's expert-led SEO site webinars, hire a vetted SEO professional directly through its platform, or get advice from the community on its forums.
Measuring Website Traffic
Squarespace offers in-depth website analytics tools to help you gain actionable insights into who's visiting your website and how they interact with your content.
Its analytics dashboard offers detailed statistics about your users' browsing behavior, geographical location, and device usage. Metrics such as unique visitors, referral sources, and page views can help you understand which content resonates with your audience.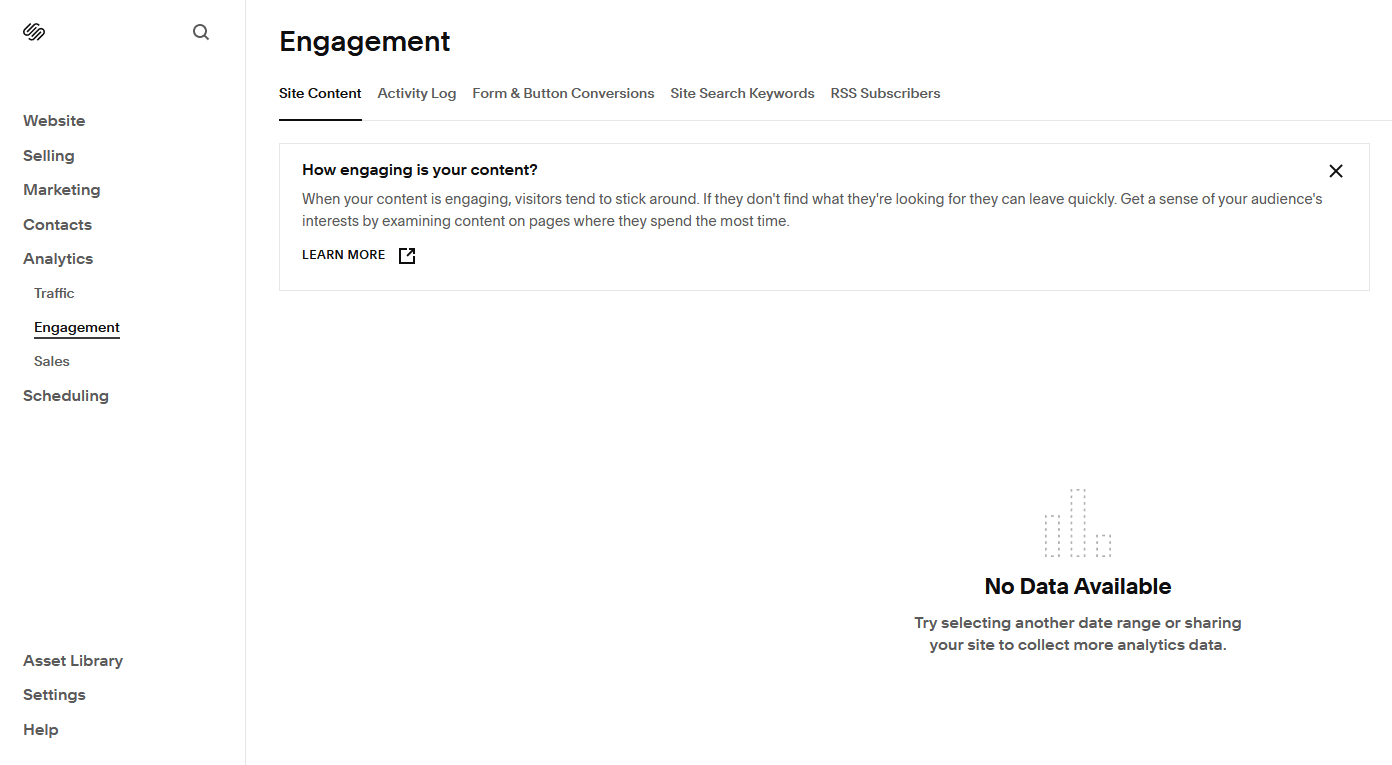 Although identifying popular content can help you make data-driven decisions to boost your website's traffic or store profitability, acting upon that information may require some familiarity with web analytics.
However, we were happy to find its traffic measurement features on the platform since they eliminate the need for a third-party tool, cutting costs and simplifying the process.
Ecommerce Features
Squarespace is an excellent option if you're looking to sell products or services online – and Squarespace ecommerce reviews from users are generally very favorable.
Unlike WordPress and most of its competition, Squarespace has ecommerce features integrated into the platform, meaning you won't need third-party plugins. In addition, it ensures your website is convenient and professional by providing a secure checkout page on your domain.

Although you can create an online store with its Business plan, it has fewer features than the Commercial plans. Another downside of the Business plan is that it imposes a 3% transaction fee on top of your payment processing fees, which the Commercial plans eliminate.
The standout features of Squarespace's Commercial plans include advanced merchandising features such as product waitlists, low stock alerts, and product suggestions.
In addition, they help you with in-person selling by keeping your customers, sales analytics, and stock in sync with the online version of your store. Its most expensive plan allows you to charge subscription-based fees, monitor abandoned carts, offer free shipping, and more.
Blogging
In our use of Squarespace's features, we found that it offers a comprehensive set of tools for novice bloggers and experienced content creators alike. Whether you're looking for a way to market your business, educate your audience, or run a personal blog, Squarespace can help you bring that vision to life.
We found it simple to categorize and tag posts, which can be invaluable for creators looking to help their audience find related articles and curated content.
Thanks to its massive library of templates, stock images, fonts, and built-in photo editing capabilities, Squarespace can help you cut costs and save time by eliminating the need to create a blog design from scratch or hire a professional designer.
It's worth mentioning that Squarespace offers knowledgeable and responsive customer support to help you with any blog-related challenges, from finding your RSS feed to finding the ideal blog post layout.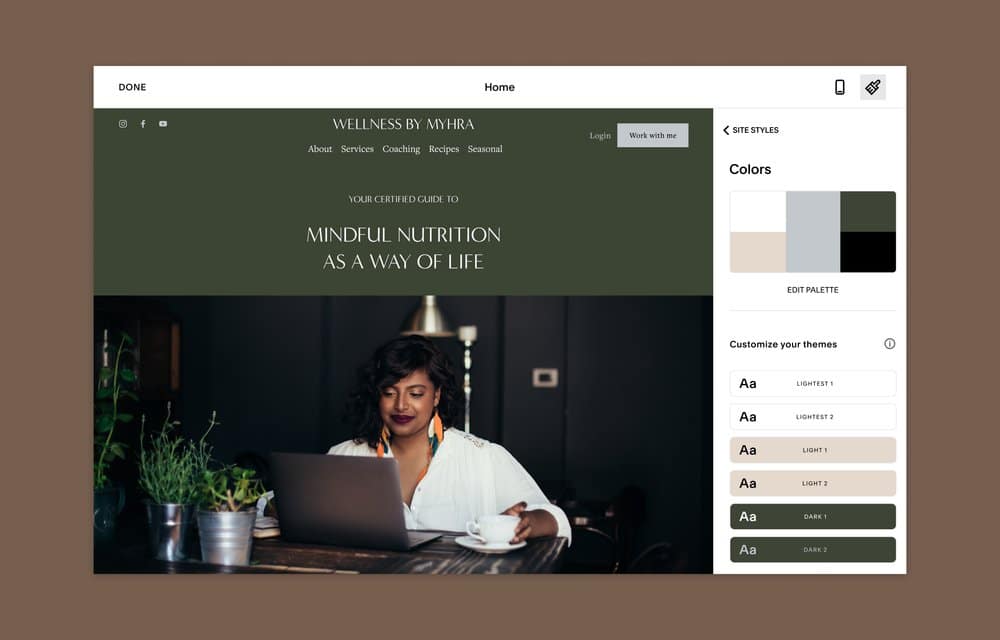 Besides its ease of use and intuitive platform, Squarespace offers lots of ways to generate revenue for creative, self-employed professionals. You can monetize your blog with videos, podcasts, paid newsletters, and other built-in features.
And thanks to the Member Areas add-on, you can add recurring membership subscriptions or one-time-payment memberships and share premium content with contributors.
Scheduling
Squarespace Scheduling is an invaluable add-on for businesses with multiple locations and professionals looking to improve customer relationships.
Although it comes with an additional monthly cost, it fits perfectly with any Squarespace plan and seamlessly integrates into your website. It lets you embed scheduling widgets directly onto your site, allowing customers to book appointments without leaving your website.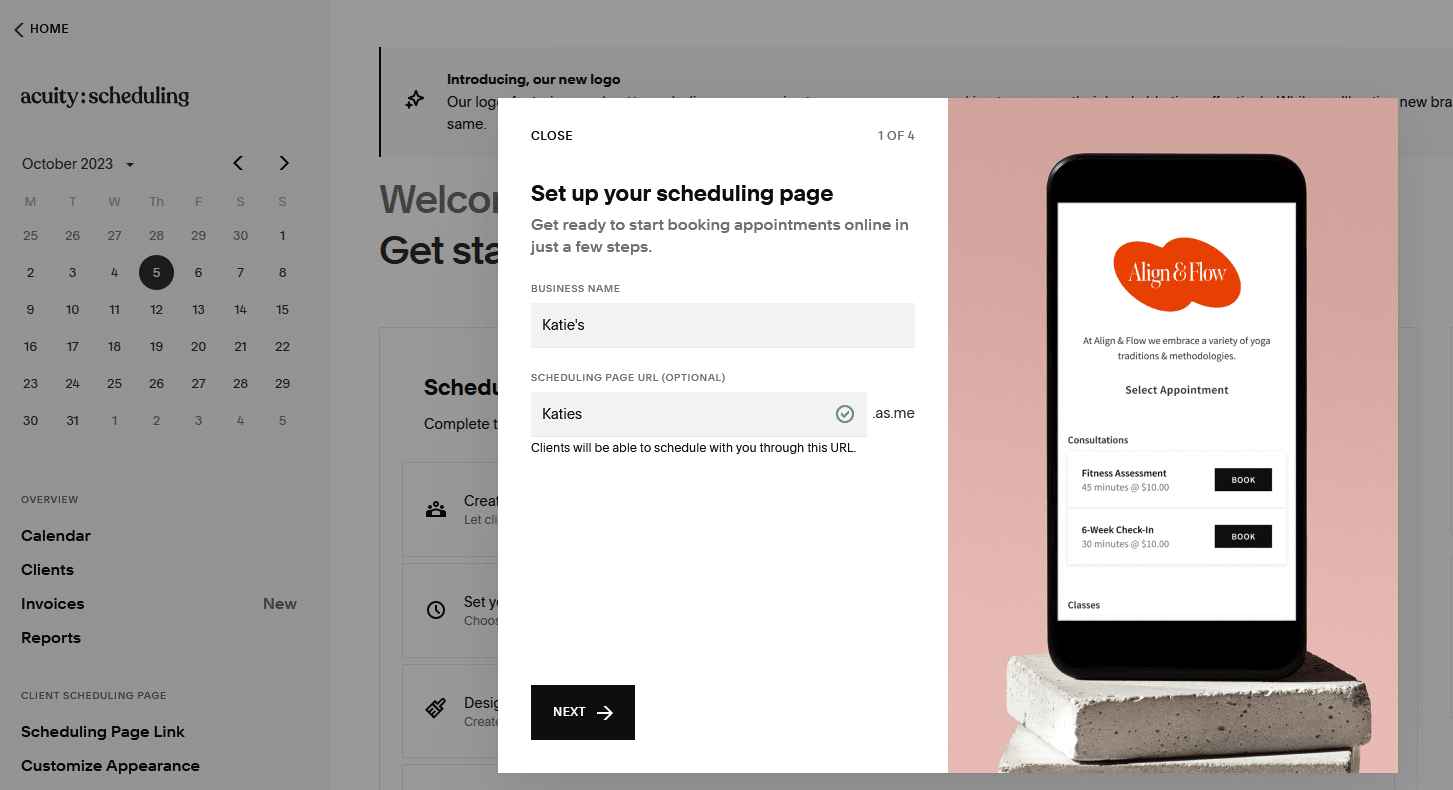 That means clients can quickly view your availability, book appointments, and even reschedule or pay online. In addition, you can connect it to Reserve with Google to accept appointment bookings directly in Google Maps and Google Search, promoting your availability.
Besides saving you time and making the process more convenient for your clients, Squarespace Scheduling can send automated reminders and notifications to both parties, reducing the risk of missed appointments or the need for rescheduling.
That makes it ideal for businesses like salons, spas, restaurants, and coaches, where efficient appointment scheduling is essential.
Marketing
Squarespace offers numerous marketing features with its website-building premium plans to help you promote your products and services.
Even with the cheapest plan, you'll have access to audience management features that allow you to collect and analyze visitor data, traffic sources, and behavior. That means you'll be able to maintain detailed user profiles and segment your audience.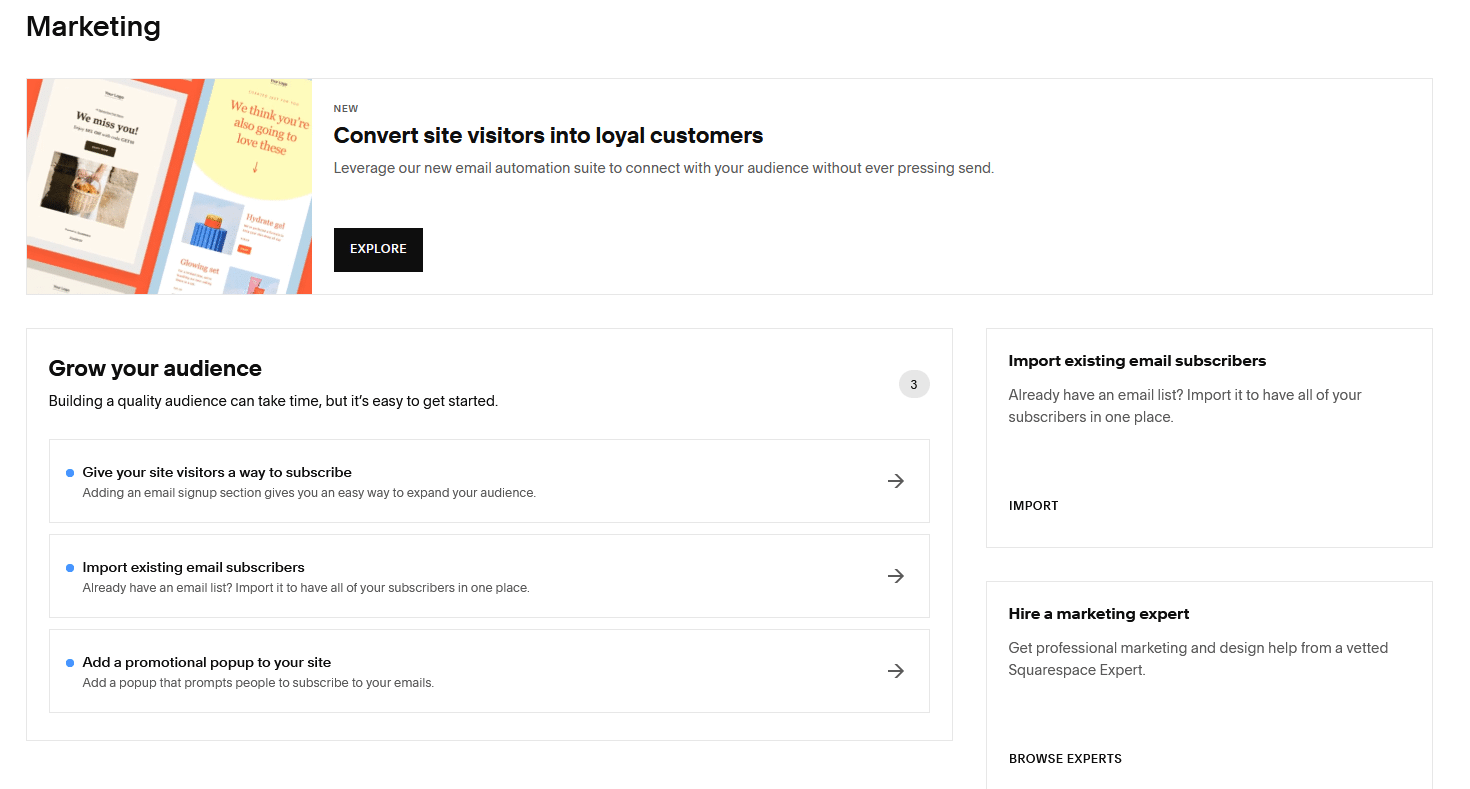 The cheapest plan doesn't come with Squarespace's promotional pop-ups and banners. These are great, and you can strategically place them around your website to collect email subscriptions, highlight announcements, and promote special offers.
While these features provide excellent actionable insights, you'll need Squarespace's Email Marketing add-on to launch a marketing campaign.
Besides boosting customer engagement, the email marketing features also reduce repetitive tasks by automating processes. For example, you can configure Squarespace to automatically send welcome emails to your subscribers or a new member discount code.
In addition, you'll have access to powerful email campaign analytics that show real-time performance using data such as open rates, clicks, and conversions, making it an excellent alternative to the best email marketing platforms.
The Squarespace Website Builder vs. Key Competitors
Choosing a website builder for your business or personal needs isn't as complicated when you know the key differences between the best platforms. Although Squarespace and its closest competition offer similar features and tools to simplify the website creation process, they also have some fundamental differences.
To help you make an informed decision, we've prepared a table that shows how Squarespace stacks up against its main competitors.
| | | | | | |
| --- | --- | --- | --- | --- | --- |
| Top Website Builders | Best Suited For | Starting Price | Domain Renewal Price | Free Version | Ecommerce on Starter Plan |
| Squarespace | Website Customization | $16/month | From $12/year | 14-Day Free Trial | No |
| Wix | SEO | $4.50/month | From $12.95/year | Free Plan | No |
| GoDaddy | Small Businesses | $8.50/month | Custom | Free Plan | No |
| Webador | Small Websites | $4.50/month | $4.5/year | Free Plan | No |
| Shopify | Ecommerce | $32/month | $15/year | 3-Day Free Trial | Yes |
Squarespace vs. Wix
Squarespace and Wix are excellent picks for both beginners and seasoned professionals because of their user-friendly tools for website building. Although they offer similar features, Squarespace is better for bloggers and businesses looking to boost online sales.
It also offers unlimited storage with all plans, while Wix offers a maximum of 50GB of storage, which may limit growth. However, Wix may be a better pick for beginners looking to achieve high-quality SEO, and it offers an excellent free-forever plan.
Squarespace vs. GoDaddy
GoDaddy is one of the best picks for professionals looking to create websites quickly at a low cost. While its artificial intelligence tools can provide curated content for your website's layout after you answer a few simple questions, you'll find better templates with Squarespace.
That means Squarespace is likely a better pick for businesses, online stores, bloggers, and others who want to create an attractive website.
Squarespace vs. Webador
Although Webador is another budget-friendly solution with a user-friendly interface, Squarespace offers superior customization and a better drag-and-drop editing experience.
It's also a one-stop solution for businesses looking to improve their customer relationships and online visibility. Although Webador offers fewer features than Squarespace, it's an excellent pick for individuals looking to create personal websites at an affordable price.
Squarespace vs. Shopify
Shopify is the best choice for professionals and businesses looking to create comprehensive online stores backed by powerful SEO tools, knowledgeable customer support, and a user-friendly interface.
It can't do much more than that for you, though, while Squarespace offers advanced features and ecommerce functionality at a lower price.
Squarespace's all-in-one platform offers a compelling blend of blogging, ecommerce, marketing, and website-building tools, and it stands out as the best provider for numerous website-building projects.
Although Shopify may be better for professionals looking to create industry-specific online stores, and Wix offers superior SEO tools, Squarespace will help you create the best first impression with its beautiful templates and granular customization tools.
To get more information, read our list of the best website builders for a more in-depth comparison of these tools.
Is Squarespace Good? What Others Have to Say
While we focused on Squarespace reviews that comment on its customer support, ease of use, and scalability, you should look for reviews from users with similar interests to yours for more use-case-specific answers.
Squarespace enjoys a favorable reputation, so our positive experience wasn't a surprise. We also reviewed user reviews on reputable websites to get a broader sense of first-hand experiences of Squarespace.
Reading through third-party reviews can provide valuable insights into the platform's long-term strengths and weaknesses.
On Trustpilot, most positive Squarespace reviews comment on its customer support and its massive library of well-designed templates. Some users commended the company for quickly replying to comments on platforms, such as Facebook, but others disliked its lack of phone support.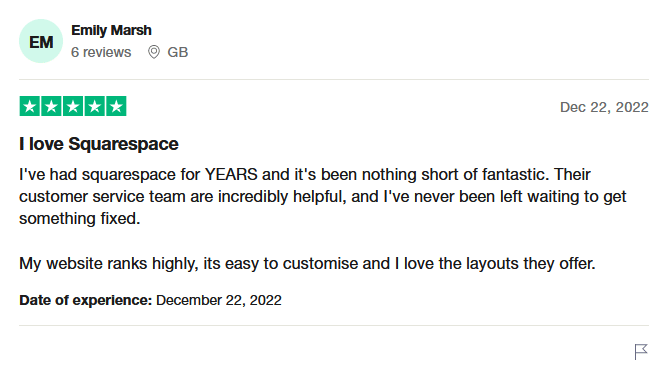 On G2, Squarespace has more than 1,000 reviews and a score of 4.4 out of 5 stars. While most reviews praise its simplicity and the power its Fluid Engine offers, some users wish it had a better "undo" mechanism for major changes.
Although its cheapest plan comes at a higher price point than some competitors, Squarespace users confirm it offers more value for money than others.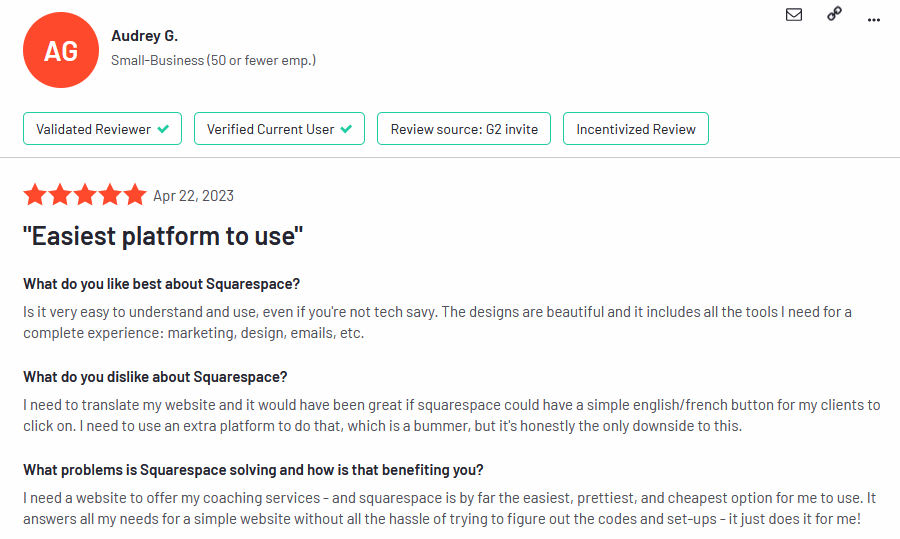 We also explored Squarespace reviews on Reddit threads, where users asked the opinions of Squarespace customers. This Squarespace web hosting review points to the platform's simplicity, frequent updates, and time-saving benefits.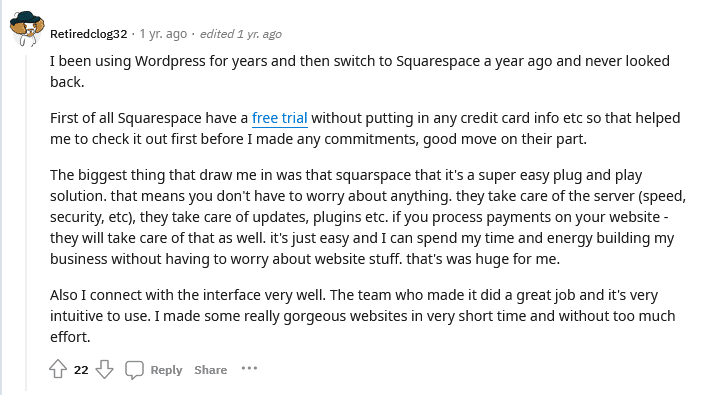 Our experience with Squarespace matches the opinions of its long-term users, who praise its feature-rich plans and ease of use. However, some users point out that Squarespace can get quite expensive if you opt for add-ons, such as Member Areas and Email Marketing.
How to Use the Squarespace Website Builder
Here, we'll provide a quick step-by-step guide to help you publish your first website using Squarespace.
Step 1. Pick a Template
Visit Squarespace's official website and click "Get Started" to start its account creation process. First, pick a template by browsing through its library and categories, select one, and Squarespace will ask you to create an account.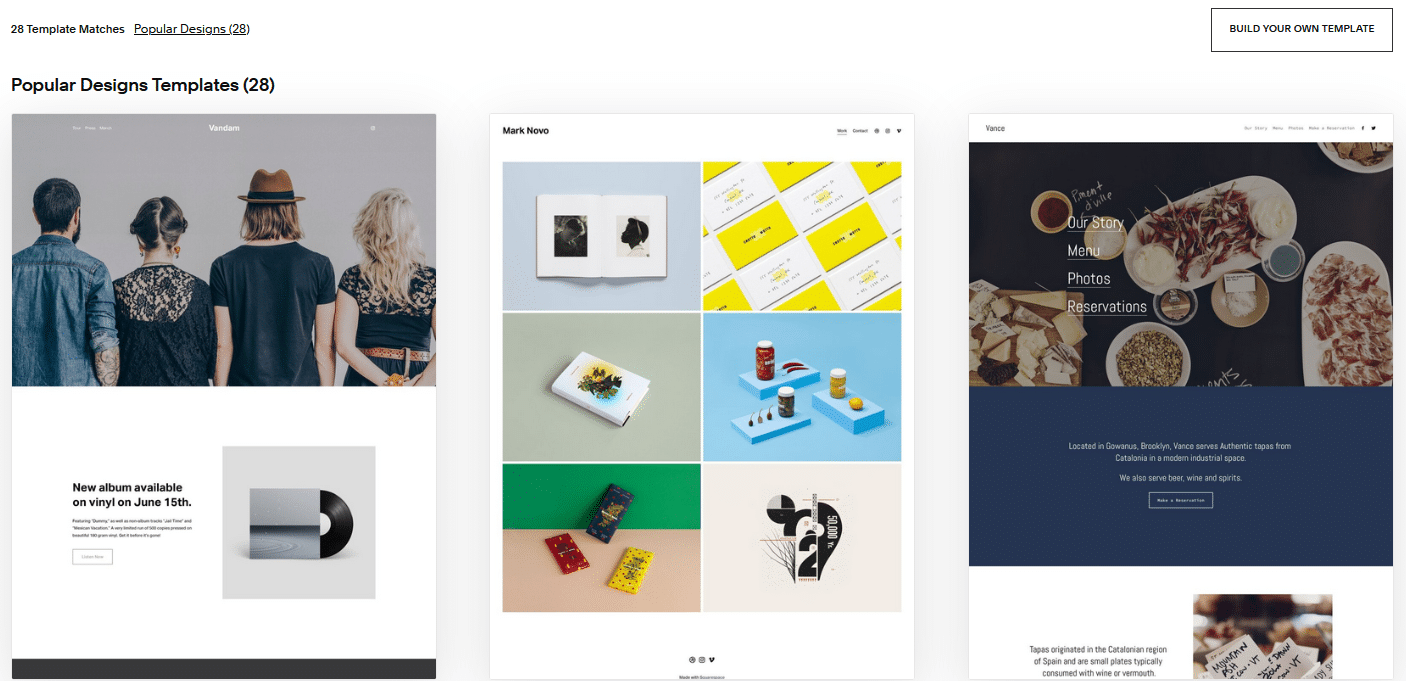 Step 2. Create a Squarespace Account
You can automatically create an account using Google, Apple, and Facebook or manually fill out the info by clicking "Continue with Email." You'll need to provide a first and last name, email address, and password to continue.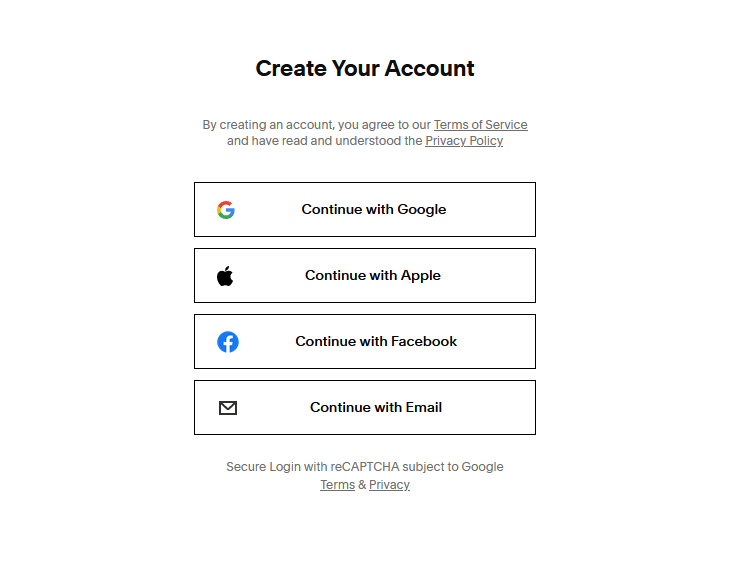 Step 3. Get Familiar With its Interface
Squarespace offers a brief interface tutorial, ensuring you know where to find each feature and add-on it offers. Here, you'll also get to name your website. In addition, entering a subsection, such as Squarespace Scheduling, will trigger a feature-specific tutorial the first time you open it.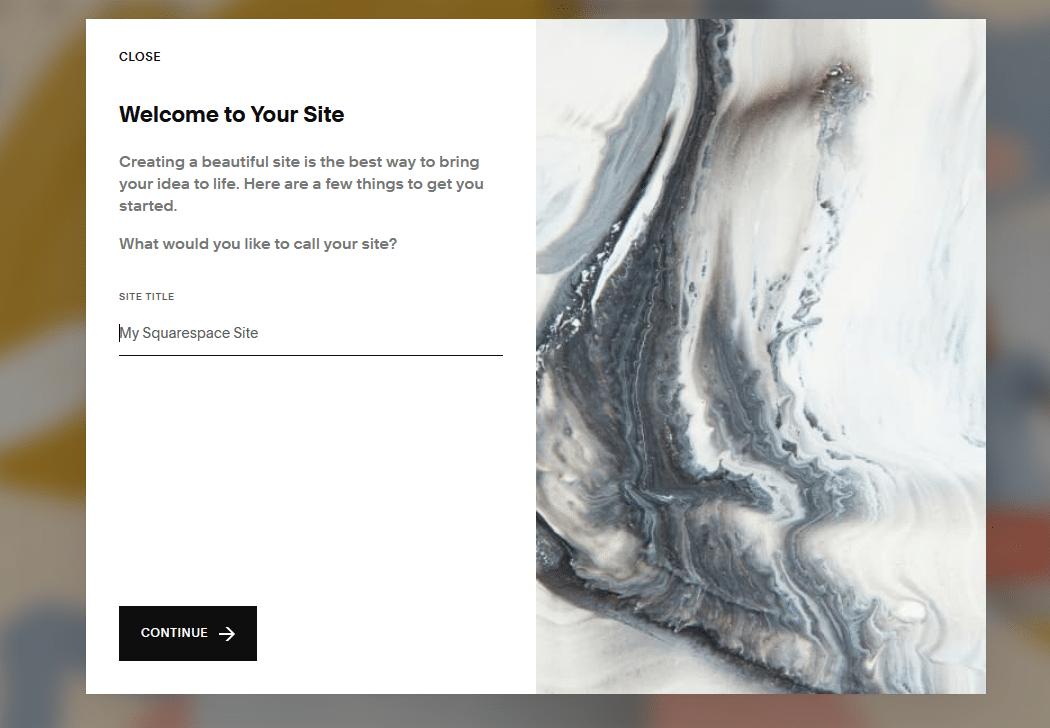 Step 4. Customize Your Website
You can immediately start making changes to the template you've picked. Squarespace offers dozens of different blocks to personalize its layout and feel, and you can preview its look on mobile phones by clicking on the smartphone icon on the top right.

Step 5. Search Engine Optimization
Once you're satisfied with the look of your website, you'll want to improve its search engine visibility. Navigate to "Settings" and find "SEO Appearance" under Marketing to start managing your SEO settings.
You'll also find other Squarespace features here, including hiring an SEO expert and verifying your website with Google Search Console.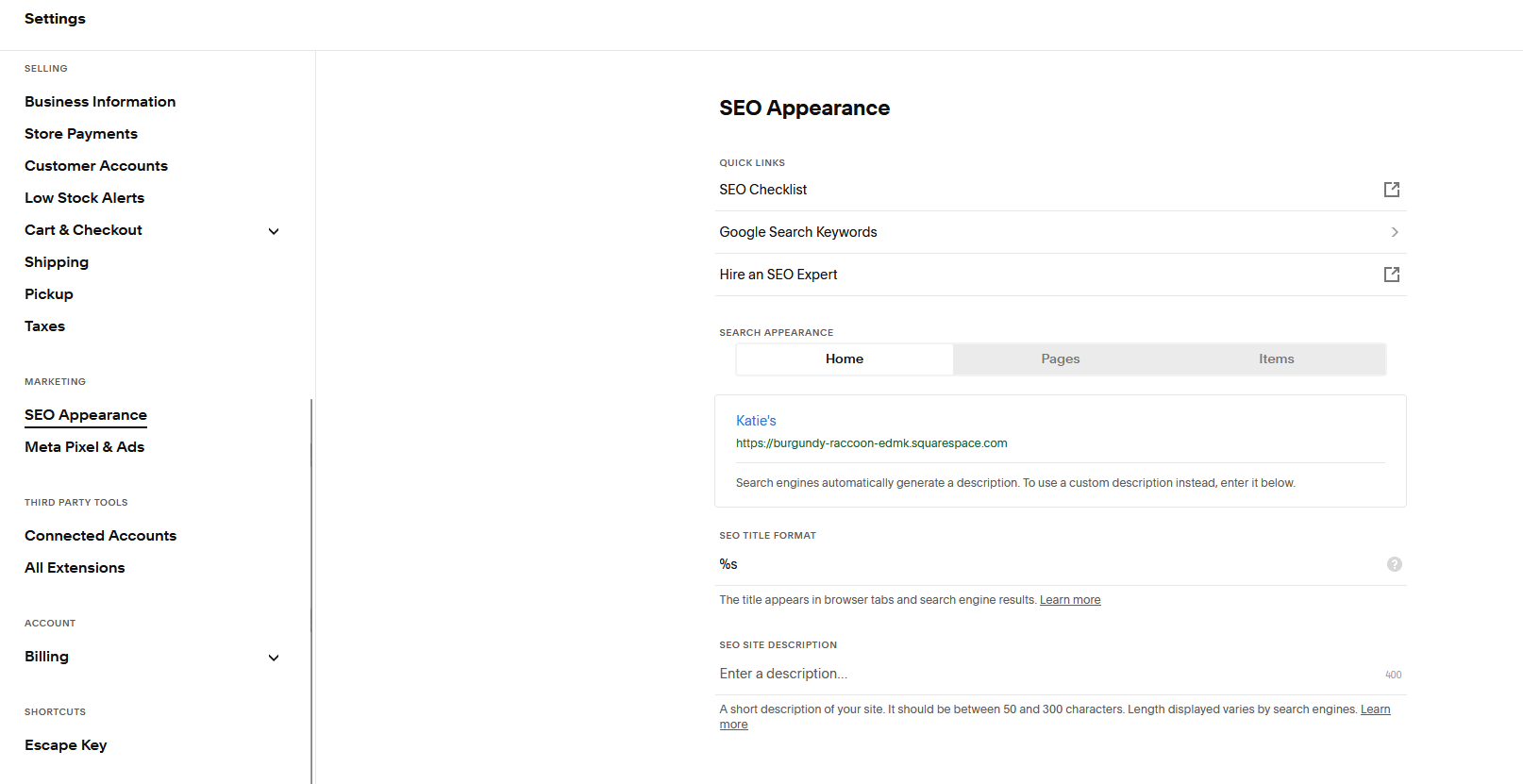 Step 6. Register a Domain and Hit Publish
While all the previous steps are available during the 14-day free trial, you must subscribe to one of the paid plans to publish the site.
Once you subscribe to a plan, go to "Domains" in "Settings" and register your Squarespace website with a custom URL. Perform a double-check of your website's layout, content, and SEO settings and select "Public" in the "Site Availability" section found in "Settings" to make your website visible to everyone.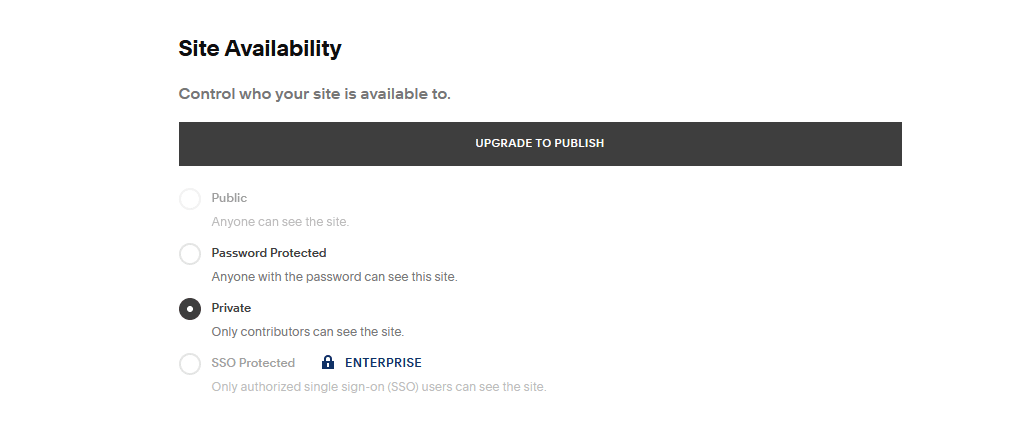 Our Other Website Builder Guides
Squarespace can help you build various websites, from blogs to online stores, which makes it a versatile and reliable solution. However, if you're looking for similar tools for specific purposes, you'll find an excellent lineup of solutions in the following articles.
Why You Can Trust Our Review of Squarespace
We took a multi-faceted approach to craft this Squarespace review to ensure a thorough and objective evaluation of its features and capabilities.
We were impressed with how Squarespace took us straight into the design of our webpage from the moment we clicked "Sign Up," and we've included the results of our practical tests throughout this review.
To provide you with a comprehensive overview of its strengths and flaws, we've also integrated insights from other Squarespace users into this review.
Sourcing information from popular platforms like Reddit, G2, and Trustpilot allowed us to present you with a well-rounded analysis of the tool, including feedback from users who have built hundreds of Squarespace websites.
This isn't the first website builder we've tested, either. We've previously reviewed various leading website builders like GoDaddy and Wix, so we can make meaningful comparisons between products and against industry benchmarks. Our objective is to provide unbiased information so you can make an informed decision.
Concluding Our Squarespace Review – Is Squarespace Worth it in 2023?
Thanks to its simplicity, allowing even first-time users to craft beautiful-looking websites, Squarespace is an exceptional tool for website building in 2023.
It has a solution for everyone, from bloggers to self-employed professionals and businesses, and its advanced features come at an affordable price.
It offers built-in ecommerce functionality with its more expensive plans, and you can add optional features, such as Member Areas, Scheduling, and Email Marketing, to improve your customer relationships and experience.
While some of its competition, including GoDaddy and Wix, may be cheaper, Squarespace offers an exceptional all-in-one platform that we say is worth the additional expense. You can create a free Squarespace website to test its templates and editing features today, thanks to its 14-day free trial.
Squarespace Website Builder Review FAQs
Is Squarespace a good website builder?
Is Squarespace easy to use?
Which is better, Wix or Squarespace?
Do professionals use Squarespace?
What are the disadvantages of Squarespace?
Can I make money on Squarespace?
Do I own my content on Squarespace?
How do I start selling online?
References: