In this Weebly review, we'll explore the features, functionality, and overall performance of the website builder. Weebly is well known for its user-friendly interface, which allows you to create professional websites effortlessly. Thanks to its partnership with Square, the platform provides both intuitive design tools and integrated ecommerce capabilities, which makes it a popular choice for anyone looking to establish an online shopfront.
Our Weebly review focuses on Weebly's website-building functionality, but we'll also cover how you can get started with the platform, and we'll be comparing Weebly with some of the other leading website builders on the market.
Table of Contents
Table of Contents
How Does Weebly Work?
Weebly is an integrated online website builder and host that serves as an all-in-one solution with e-marketing services and a built-in shopfront. Weebly provides a straightforward drag-and-drop interface to build your website, so no technical knowledge is needed.
All you need to do is pick the elements you want to present on your page, drag them where you want, and customize the settings to your requirements.
You can select from a variety of templates and customize your site by adding text, images, and multimedia content. Weebly's integrated hosting services ensure that as soon as your website is ready, it can be accessible online in seconds.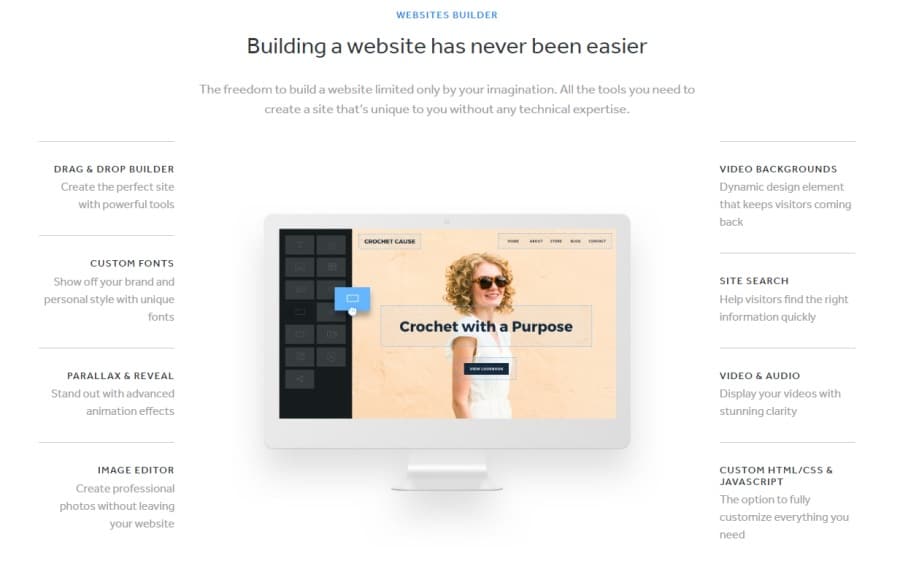 Weebly's ecommerce tools take your site to the next level. In minutes, you can set up a full online shopfront with a payment processor powered by Square and a customized sales flow. Most importantly, you'll be able to present a professional website without needing to learn how to code.
Weebly also simplifies the process of creating a website by providing various extra features, including blogging capabilities and search engine optimization tools. Whether you're an individual or in a small business, Weebly allows you to quickly establish a strong online presence without needing developers.
What is Weebly Used For?
During our Weebly review, we found that it's a versatile platform that's useful in a wide variety of contexts. Some of the most important ones are:
Website Development: The easy-to-use, drag-and-drop interface empowers novice users to build their first website. It's also powerful enough for full-time website developers to easily create stunning websites.
Hosting Services: As well as offering a website builder, it's also a web hosting service. You can get dependable, high-speed hosting services with a high level of security. Even if you already have a website, you can host it on Weebly's service.
Ecommerce: The integrated ecommerce tools are some of the best we've seen for a free service, facilitating the seamless creation and management of online stores, from building product listings to providing secure transactions in a single package.
Blogging: Both first-time and veteran bloggers will appreciate Weebly's straightforward interface, enabling them to craft engaging pieces using WordPress to share their content with a wider audience.
Marketing and Branding: The platform makes it easy to establish a distinctive online identity with customized branding, themes, and personalized domains. Built-in SEO tools also ensure you'll be getting the most out of your online presence.
The Pros and Cons of the Weebly Website Builder
If you're in a rush, we've boiled down our Weebly website review from the main points to a few key pros and cons:
Pros
Impressive site speeds and a quick process to publish sites
User-friendly drag-and-drop editor makes it easy to create and manage websites
Huge mix of free and premium themes, sorted by use case
Great mobile app for management on the go
Lots of choice for App Centre add-ons to expand the platform's functionality
Comprehensive ecommerce options, even on the free plan
Cons
Free plan restricts users to the Weebly subdomain, with Weebly branding
Blogging tools aren't as extensive as other platforms
Square payment processing is limited to seven countries – otherwise, you'll need to use Stripe or PayPal
Weebly is a fantastic option for individuals and small businesses looking for a user-friendly website builder to get started with, which offers robust ecommerce capabilities, reliable performance, and comprehensive mobile management features.
However, bloggers seeking advanced editing tools and users looking to sell in regions where Square's payment processing is limited may need to consider other options.
Is Weebly Free? A Complete Weebly Pricing Breakdown
We've looked into Weebly's plans, and unlike many website hosts, Weebly has a very straightforward pricing structure. There are four different plans, from a free option upwards. Weebly provides both monthly and annual payment options, with annual plans offering savings.

Free Plan
Weebly's free plan is for building basic websites with limited requirements. It offers essential features such as free SSL security, site analytics, the ability to integrate third-party code, and a basic ecommerce suite.
You can also leverage SEO tools and incorporate a live Instagram feed or other video backgrounds into your website. The plan includes access to community forums and chat and email support if you have any questions about building your first website.
While it's suitable for casual use, the free plan does have some limitations. The most notable is that several Weebly/Square ads will be displayed on your site, which you can only remove by upgrading.
You also won't be able to use a custom domain – so your online storefront would have to run on a "weebly.com" extension. Despite its limitations, the fact that the free plan allows you to sell online at all sets it apart from many other website builders in the market.
Personal Plan
The most important difference you'll find under the Personal Plan is that you can add your own custom domain to the site, which will significantly improve overall perceptions.
There are also several additions to your storefront, such as the ability to sell digital media and a customizable shipping calculator that dynamically generates shipping prices based on the number of items and item weight and value.
One thing you should look out for is that the Personal Plan still comes with Square adverts baked into your site. If you're serious about presenting a professional website, you should consider the Professional plan.
Professional Plan
The Professional Plan is where Weebly really shines. It's geared towards small businesses, so it's a little more expensive than the Personal Plan. It completely removes all Square ads and any storage limits on your site.
You even get a free domain included with your site, so you don't have to go through the hassle of registering elsewhere. Upgrading to the Professional Plan also gets you access to advanced site analytics, so you can access information on referrals, pageviews, time on site, and more.
Weebly also makes it easy to create a members-only section of your site with password protection. What's more, should you encounter any problems, the Professional plan gives you a direct phone line to Weebly support staff.
Performance Plan
Weebly's Performance plan is the most expensive option available. Geared towards enhancing the ecommerce experience, this plan includes the ability to accept PayPal payments, gather customer reviews automatically and boost your conversion rate with abandoned cart emails
This plan is best for established web stores and those aiming for big things. When you sign up for Weebly's Performance plan, you also get access to enhanced ecommerce insights based on your performance metrics.
Our Verdict
The free plan is good for experimenting but comes with limitations. If you're going to purchase a paid plan, we recommend heading straight to the Professional Plan.
Compared to its competitors, Weebly's pricing is very competitive. Most of its plans significantly undercut Wix's cheapest offerings, but Wix also offers a more generalized website builder suite.
Squarespace's ecommerce options are more in-depth, meanwhile, but come at a significant premium compared to Weebly. It's powerful but isn't the best choice if this is your first time building an e-store.
If you need a refund, Weebly offers a 30-day money-back guarantee, but you'll need to contact support manually to process it. Thankfully, you can do this entirely through the Weebly web suite by finding the refund page and then clicking through to a live chat.
We recommend Weebly as an all-in-one ecommerce solution, which offers a great set of tools at an affordable price. If you need in-depth hosting solutions or a high level of control over the backend of your servers, you should consider a specialized hosting service.
Reviewing Weebly's Features For Creating Websites
We'll now delve into the diverse array of features that Weebly offers for creating websites, spanning SEO, hosting, mobile responsiveness, and ecommerce.
Weebly Website Builder
The Weebly website creator is a true WYSIWYG editor that allows you to create professional websites without any technical experience. In our testing, we found the builder to be pretty intuitive and user-friendly.
The sidebar presents all the available elements for easy access. To add a new element, you just pick it and drag it onto the page. If you want to customize an element, click on it, and a popup will show you all the aspects you can change.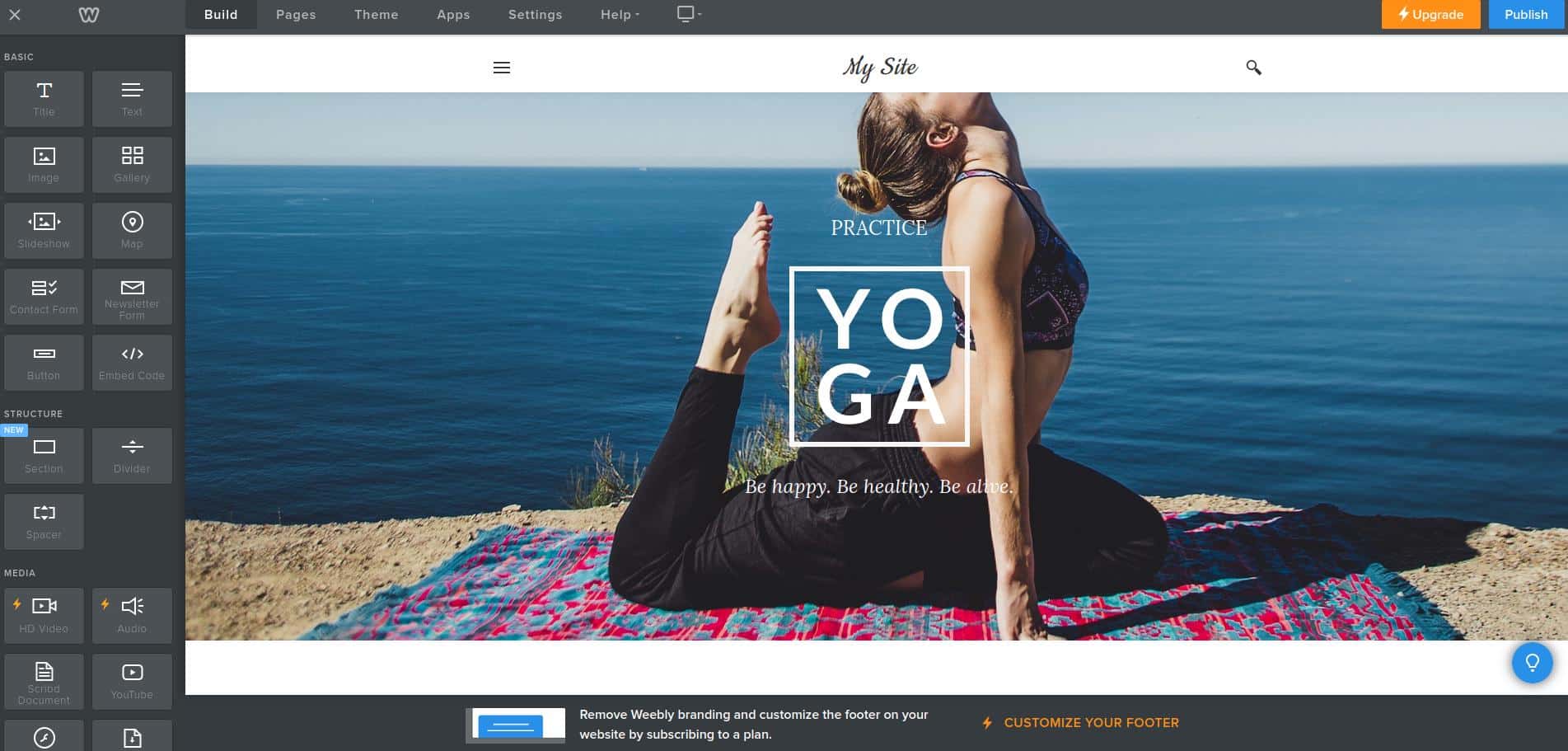 In terms of design, Weebly is a little behind the times compared to other editors such as Wix and Squarespace. However, after using the editor for a while, we agreed that this actually works in Weebly's favor.
Where most modern website builders overwhelm you with a thousand different options, Weebly's design is intuitive and clear. Every time we wanted to do something new with Weebly, it took about a minute to find the website element and customize it as we wanted.
You can easily switch between the desktop and mobile theme in an instant, giving you an overview of what your customers will see, no matter what device they're on. Mobile browsing makes up a significant portion of all website traffic and online sales, so it's great to see Weebly automatically accommodating mobile website design.
Ecommerce
Weebly's ecommerce tools provide a complete solution for businesses looking to grow online. With integrated tools for managing orders and cutting-edge mobile apps, it's easy to track performance and interact with visitors.
The platform supports various payment options, which is great for businesses and customers. Almost all of Weebly's ecommerce tools are available with the free plan, so you can take your time setting up your shopfront exactly as you want.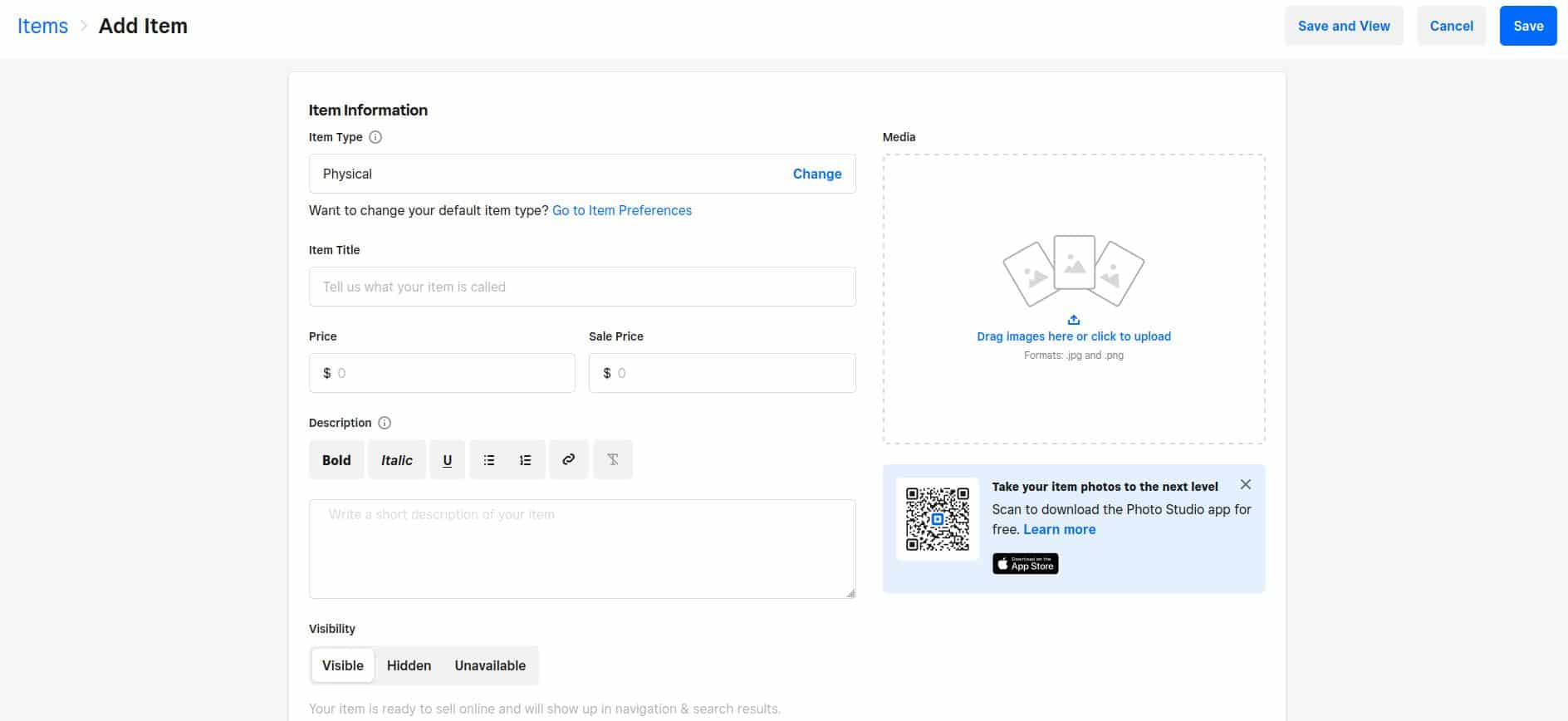 In our Weebly ecommerce review, we found that every aspect of the shopping cart is fully customizable, from payment flow to how the shipping calculator works. You can import items one by one using the Weebly web interface.
There's also a mass import function that takes CSV files if you already have an established stock list. Once you've started selling items, you can use Weebly to request item reviews from customers and display the best ones front and center on your site.
Weebly offers several payment processors to facilitate payments. By default, you'll be able to connect to Square, but you can also use PayPal and Stripe. PayPal integration comes with a paid plan, but Stripe is a Square alternative if you need to accept Android Pay in addition to major credit and debit cards.
Mobile Apps
Weebly's mobile apps allow users to build, edit, and manage their websites from mobile devices. The app is available for Android phones and tablets, as well as iPhones and iPads.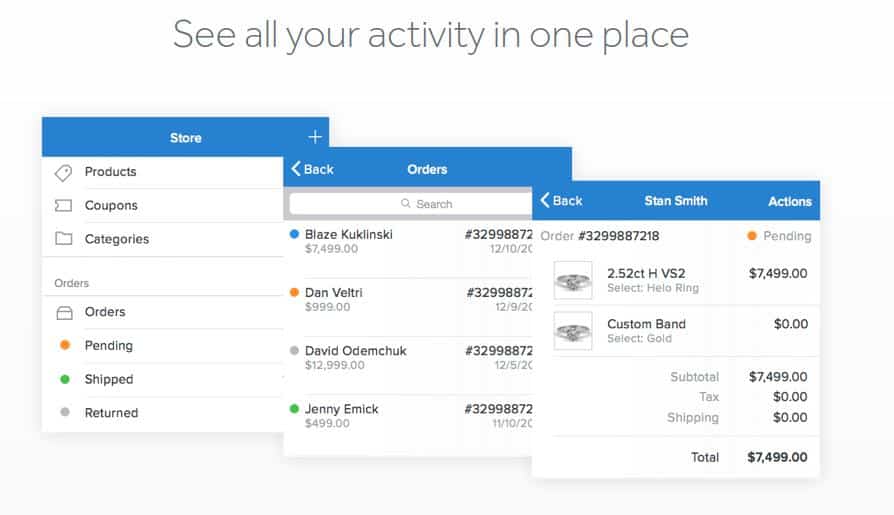 Using this, you can build updates and draft blog posts for your website while offline, so even if you're traveling, you can continue to update your site and sync your work for when you reconnect to the internet.
Our team was pleased with the convenience and flexibility this feature offers, which enables you to make quick updates on the go. A suite of analytics metrics allow you to monitor website performance and manage your support options while away from your desk.
SEO Tools
Weebly's SEO tools can help improve your website's visibility on search engines. We found the tools to be straightforward and easy to use if a little simple. High-end website builders now integrate AI-powered SEO, which automatically generates relevant keywords and meta descriptions for your site.
In comparison, Weebly assumes you know what you're doing and just gives you the interface you need to add your own. While Weebly's SEO tools aren't the best, they're certainly functional and straightforward.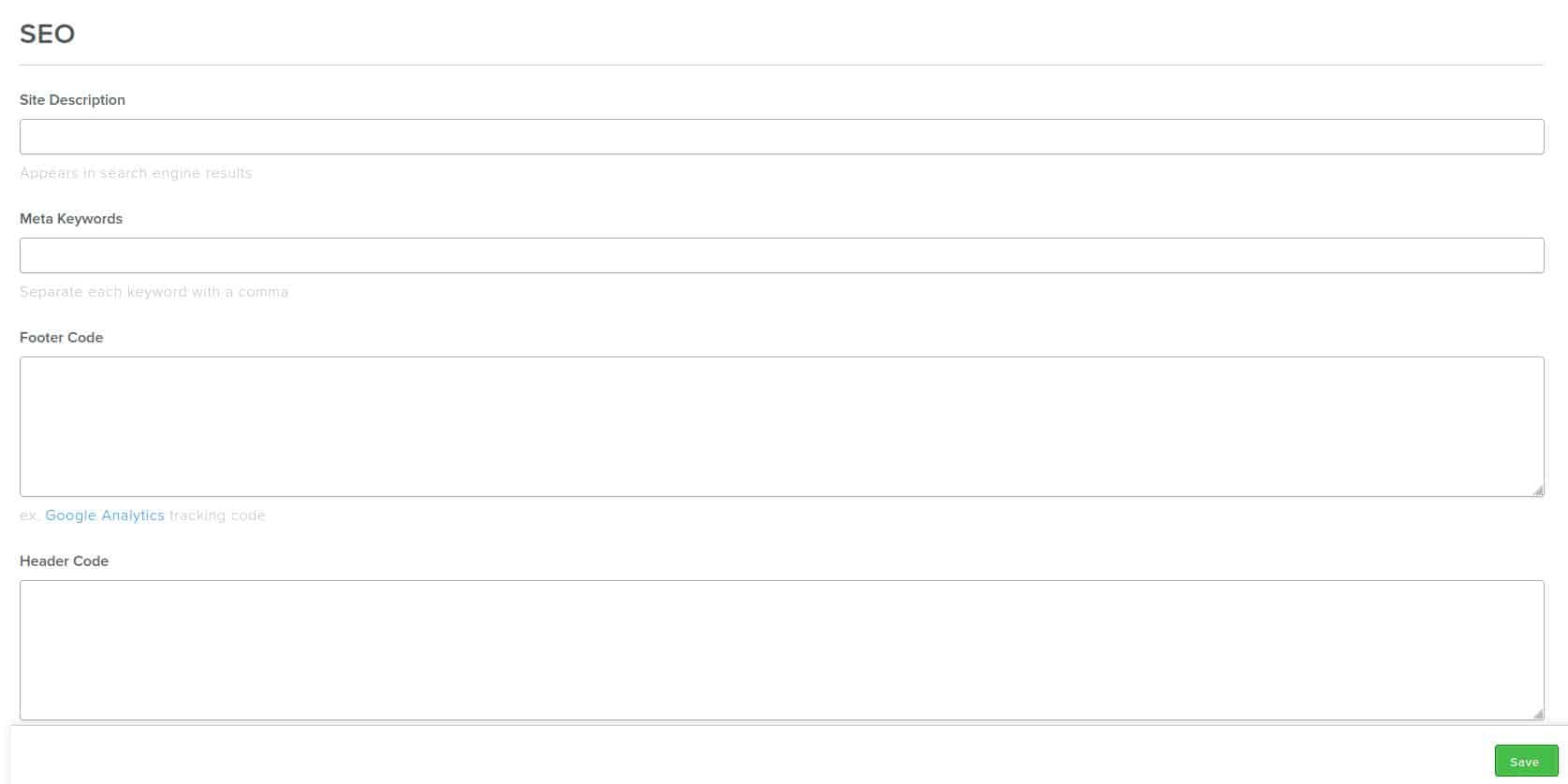 These SEO tools can be augmented by using the Add-On manager to add functionality, including email marketing tools, as well as integration with third-party SEO tools.
For new users, Weebly provides guidance on keyword usage and content structure through its support content, which can help you enhance your online presence and reach a wider audience.
Without bombarding you with complex terminology and concepts, Weebly walks you through the entire SEO process from start to finish. Once you've learned how to get started with SEO on Weebly, you can move on to integrating Google Analytics and mastering the tool.
Hosting
Weebly makes website hosting easy by taking most of the complex server configuration out of your hands, letting you concentrate on running the core of your website. This dedicated hosting infrastructure means your sites are optimized for exceptional site performance.
In our testing, we observed fast loading times and a seamless browsing experience on multiple devices. No matter how large your site grows, Weebly will keep up with you thanks to unlimited storage provision.
Hosting is built into all price plans, which includes SSL by default and integrated DDoS protection to protect your website from hacker attacks. Domain management is also quick and easy, thanks to Weebly working as a domain registrar so you can manage all aspects of your website from a single dashboard.
Weebly also offers mail hosting via a Google Workspace interface, which is automatically linked to the rest of your Weebly account. It's a handy solution for safe mail administration, and you can use your domain name in your email address.
Weebly vs. Other Leading Website Builders
In the table below, we've laid out Weebly's key details alongside information on other leading website builders so you can compare them head-to-head.
| | | | | | | |
| --- | --- | --- | --- | --- | --- | --- |
| Best Website Builders | Best For | Starting Price | Free Custom Domain | Domain Renewal Price | Free Version | Ecommerce on Starter Plan |
| Weebly | Experimenting with ecommerce websites | $10/month | Yes | $19.95 | Free Plan | Yes |
| Wix | Rapidly scaling websites | $16/month | Yes | Variable | No | Yes |
| GoDaddy | Web hosting with specific server requirements | $9.95/month | No | Variable | Free Plan | Yes |
| Webador | Cheap web hosting for personal sites | $5/month | Yes | Variable | Free Plan | No |
| Squarespace | Advanced ecommerce functionality | $16/month | Yes | Variable | 14-Day Free Trial | No |
Weebly has the best free ecommerce tools out of any provider on our list. If you're looking to get started in the world of ecommerce but don't want to commit to a paid plan, we wholeheartedly recommend Weebly over the other providers we've listed.
For very large businesses, we'd recommend checking out Squarespace for a more advanced ecommerce platform. For a more in-depth comparison of these tools, you can read our guide to the best website builders for more.
Is Weebly Legit? Looking into Weebly Reviews from Users
While conducting research on Weebly, we found that user reviews on platforms like G2 and TrustPilot generally describe positive experiences. There's a mix of Weebly free website reviews and Weebly Pro reviews online, and they offer a range of perspectives on the website builder's strong points.
A number of favorable reviews point to Weebly's usability, customizable design options, and free ecommerce integration. However, we also found that some users expressed a desire for more marketing resources and additional design flexibility without buying into premium plans.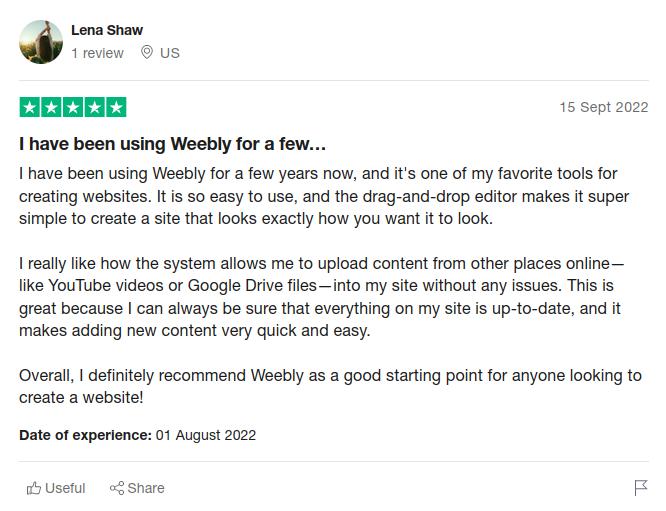 Weebly compares favorably for its intuitiveness and simplicity against complex and overwhelming website builders. Weebly website reviews consistently mention how effortless it is to navigate through the website-building process.
The drag-and-drop functionality makes it easy to create and edit content. Several users emphasized how Weebly's interface enabled them to save time, particularly for creating websites with unique features and designs.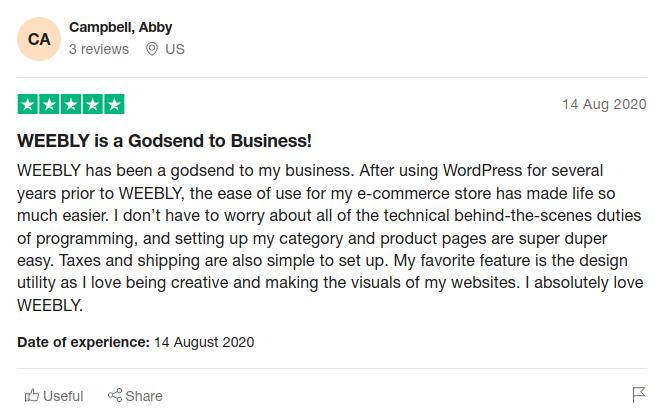 Weebly's customization options received both praise and suggestions for improvement. Users typically found the editing process convenient, with many mentions of how the platform facilitates the arrangement of content, such as text boxes and widgets, on their websites.
While most users also appreciated the varied layout designs and templates, covering a number of different use cases, some expressed a desire for more theme options and updated designs.
We found that Weebly's ecommerce capabilities were celebrated for their efficiency and user-friendly approach. Users who had integrated Weebly with Square's Point Of Sale terminals found the integration between these systems to be seamless and secure.
The platform's drag-and-drop ecommerce tools were particularly lauded, enabling small businesses to create professional and responsive online stores without technical expertise.
How to Create a Website With the Weebly Website Maker
Weebly is pretty simple to set up, and here's a quick guide to show you exactly how to set up a site from scratch, illustrating how easy it really is.
Step 1. Sign Up and Choose a Plan
The first step to creating a website with the Weebly website maker is to sign up for an account on the Weebly platform. Choose a suitable plan based on your website's requirements, and select whether you want a website with an online store.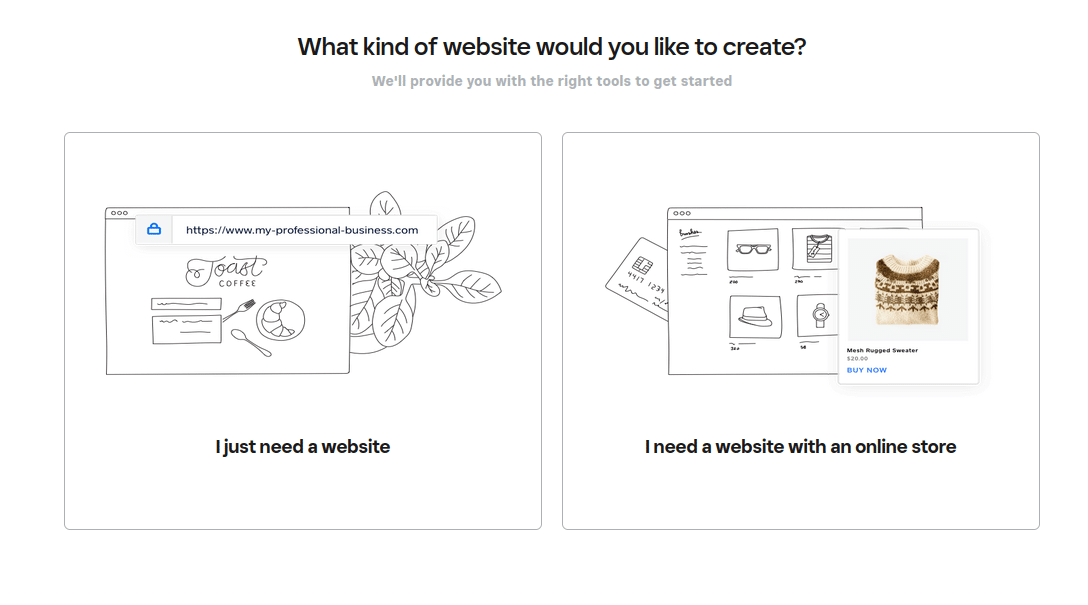 You'll be prompted for a few details about your site, including the name of your business and the address for tax purposes. You'll then need to make a few more decisions before you land on the website editor, where you can begin designing your site.
Step 2. Select a Template
When you're setting up your first site, you can select a template aligning with your site's purpose and your design preferences. Weebly provides a diverse range of professionally designed templates, allowing you to choose a layout that represents your brand.
Make your choice from the list of themes, but remember, you can swap it out for another one later if you change your mind.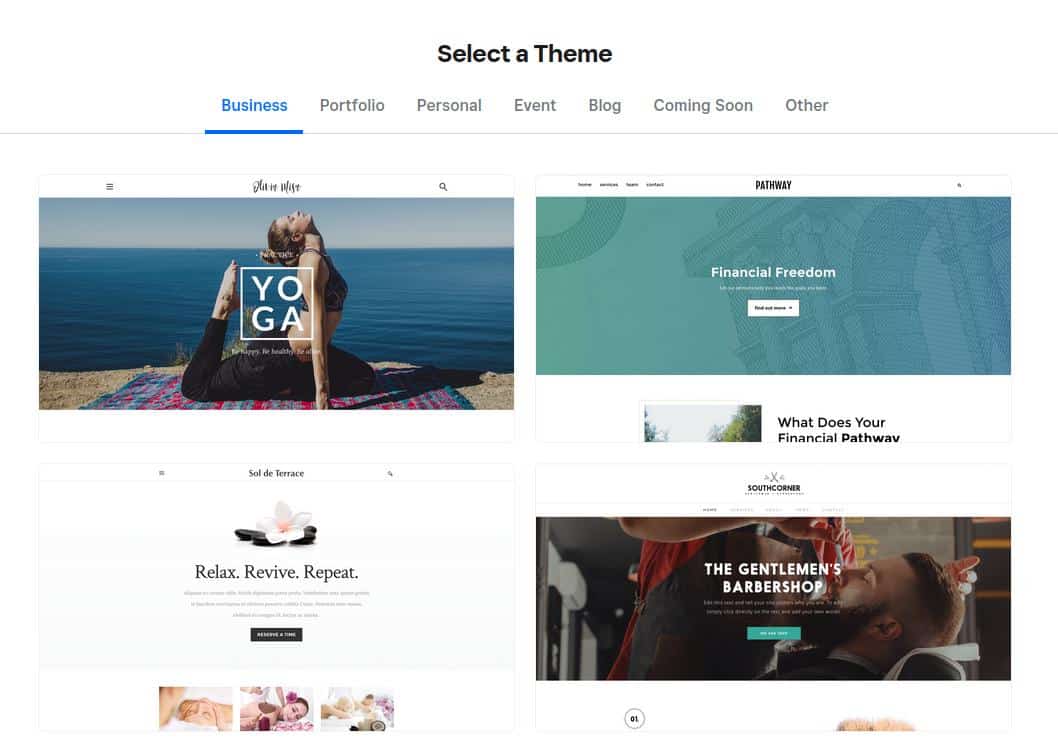 Step 3. Pick a Domain Name
The last step to take before you start editing your site is to pick a domain name. You won't be able to import your own domain name from elsewhere, so you're going to have to pick a unique Weebly site name that hasn't already been taken. Should you need a custom domain name, you'll need to upgrade to the Professional plan.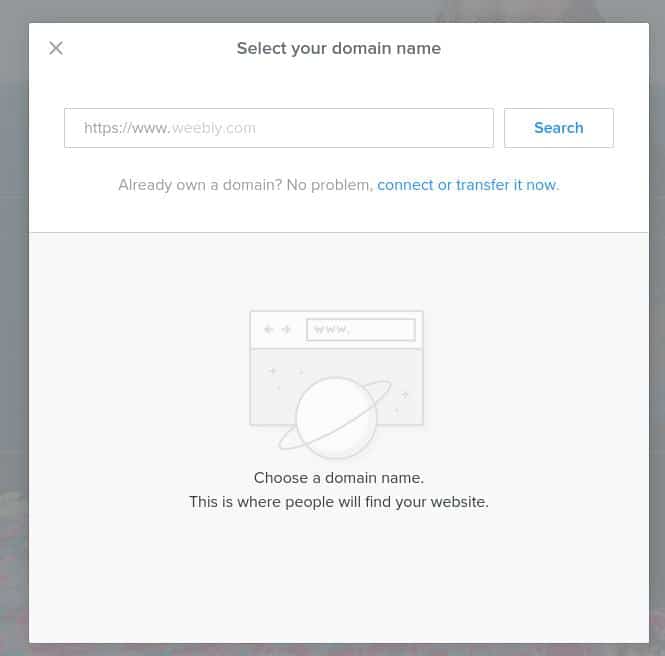 Step 4. Add Essential Pages and Content
Once you're in, you can begin editing your site pages. Our selected theme came with several pages already installed, including a shop page waiting for new items to be added.
Weebly's intuitive drag-and-drop interface allows you to add various elements, such as text, images, videos, and forms, to personalize your site's content. You can modify the design elements, including colors, fonts, and layouts, to create a visually appealing and unique website.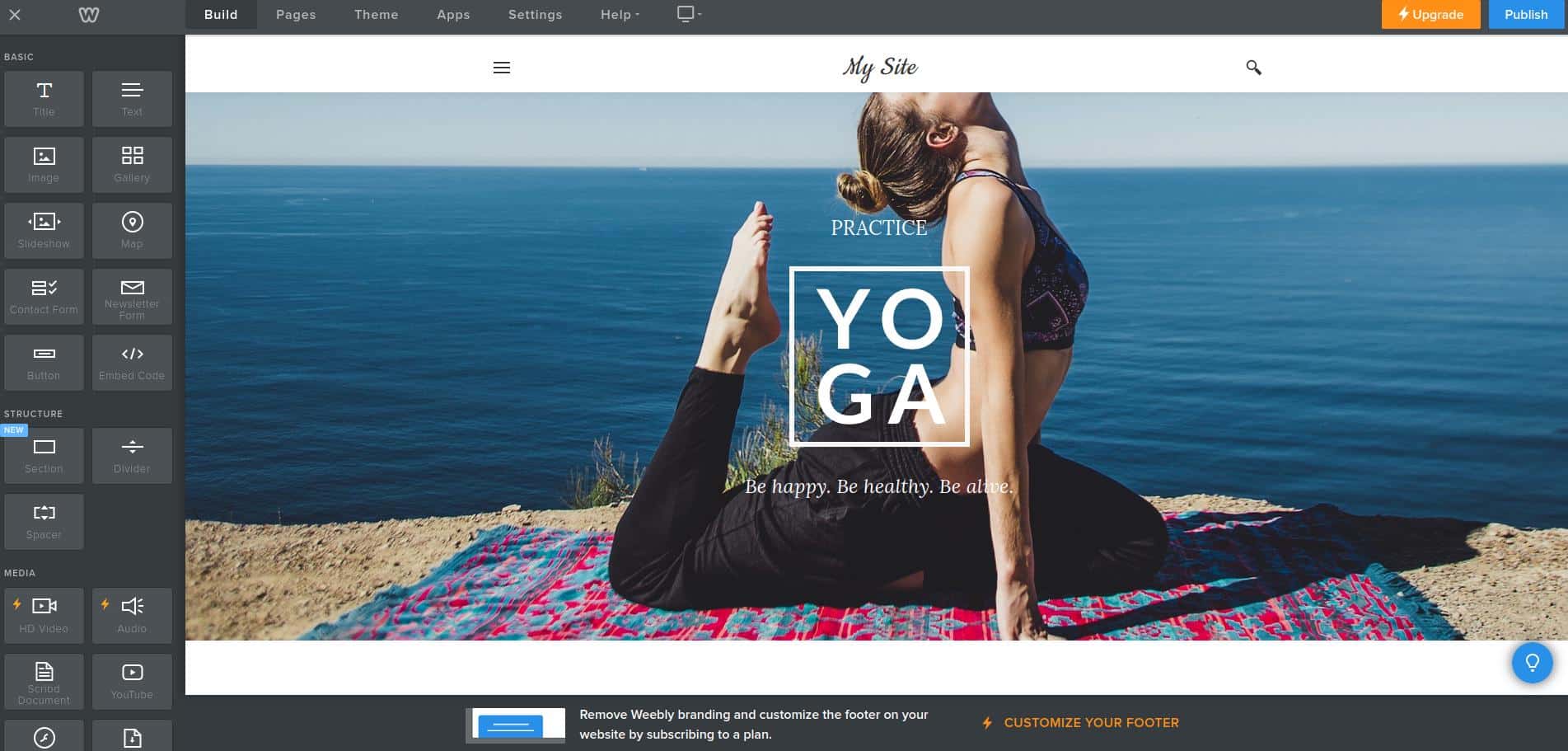 The elements can be accessed from the sidebar and are placed by just dragging and dropping before customizing it if needed.
Step 5. Incorporate Ecommerce Functionality
If you want to set up an online store, Weebly provides built-in ecommerce functionality. You can add product listings, set up a secure payment gateway, manage inventory, and customize the shopping cart experience to ensure a smooth and hassle-free online shopping process for your customers.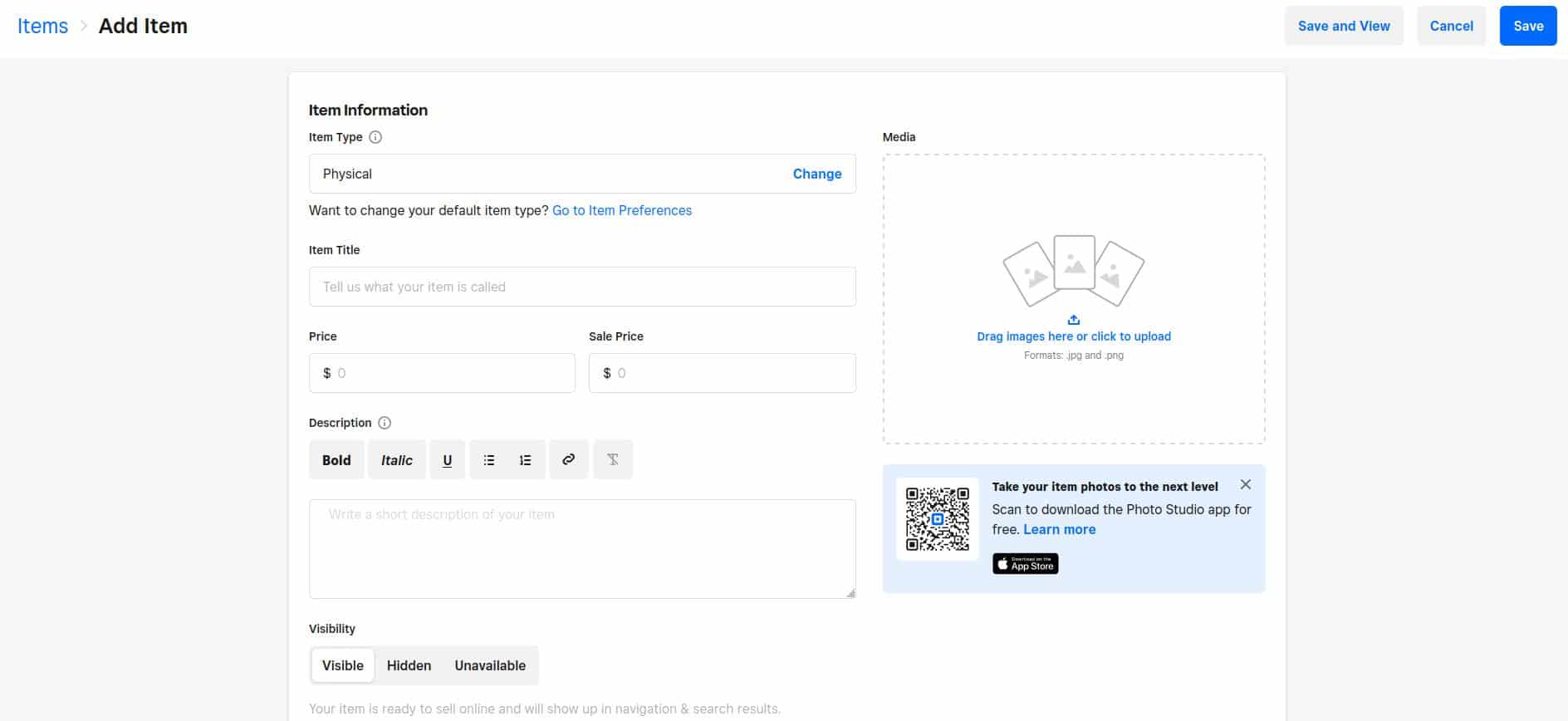 You can add an item to your site from the sidebar, double-clicking on it to get to the "Add Item" page. You can also access this page by exiting the website editor and going to your site dashboard, which lets you adjust all of your ecommerce settings.
Step 6. Preview and Publish Your Website
Before making your website live, use Weebly's Desktop Switcher feature to review your site's appearance and functionality across both desktop and mobile.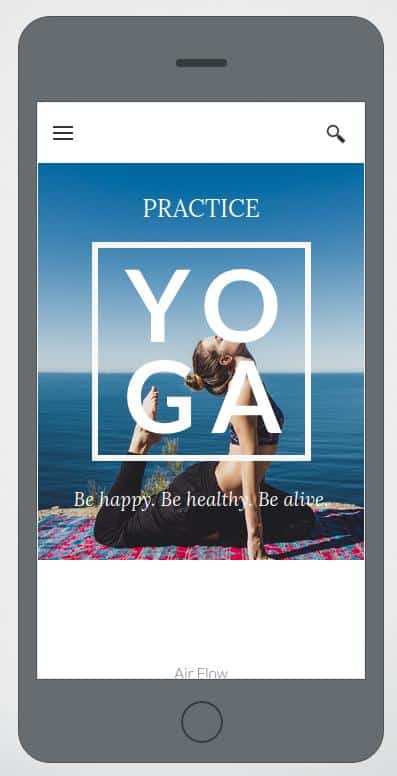 Once you're satisfied with the look, you can publish your website by clicking "Publish" in the top right. In moments, Weebly will set your website live, and you can access it by using the URL you registered at the start of the process.
Other Website Builder Guides and Resources
While Weebly is great for ecommerce websites, you might want to investigate some of the other options for website building out there. Here are some additional guides and resources that can assist you in your website-building journey
How We Tested Weebly
We conducted extensive practical testing of the website builder for our Weebly review with the free trial versions. We've investigated the various pricing plans Weebly offers and compared them to other popular industry website builders to get an idea of the value that Weebly offers.
During our testing, we focused on several key aspects, including website creation, customization options, ecommerce functionality, SEO features, and overall user-friendliness.
We've created multiple test websites using Weebly's drag-and-drop interface, examining the flexibility and ease of use for users with varying levels of technical expertise.
By exploring the platform's customization options, we assessed the extent to which users can personalize their websites to reflect their brand identity and unique style.
Furthermore, we thoroughly examined Weebly's ecommerce capabilities, testing features like product listing, inventory management, payment gateways, and integration with popular ecommerce tools.
Our aim with this testing was to gauge how effectively Weebly supports businesses in setting up and managing online stores and whether it caters to the diverse needs of ecommerce entrepreneurs.
To make sure we hadn't missed anything, we supplemented our research with insights from other Weebly users sourced from reputable platforms like Trustpilot, Reddit, and G2.
This allows us to provide a well-rounded overview of the platform, incorporating a diverse range of user perspectives and experiences to deliver a comprehensive assessment.
In addition to evaluating Weebly, we've also tested many other leading website-building platforms, including notable alternatives like Wix and Squarespace. This analysis enables us to understand Weebly's unique strengths and weaknesses in the context of its competitors.
Concluding Our Weebly Website Builder Review
Websites are a breeze to build and maintain with Weebly, and it's one of the top providers for ecommerce among professional website builders.
Using a Weebly free website, you can build a fully functional store and begin selling your products within hours of registering for the service. It's a great way to get started in the complex world of ecommerce.
While writing our Weebly review, we were constantly impressed with how seamless and intuitive Weebly's website design is. With its user-friendly interface, diverse customization options, and full ecommerce integration, Weebly caters to the needs of novices and experts alike.
The drag-and-drop functionality, coupled with a plethora of templates and design elements, makes it easy to create visually pleasing, responsive websites.
Weebly remains great value for money for first-time ecommerce users and casual bloggers. There are some areas for improvement, but Weebly's commitment to providing an accessible and feature-rich website-building experience remains unwavering.
Weebly Review FAQs
How easy is Weebly to use?
How much does Weebly cost?
What kind of website can you make with Weebly?
Between Wix and Weebly, which is the better deal?
Does Weebly offer a money-back guarantee?
References