In this Wix review, we'll explore the features offered by the popular website builder. Wix provides users with a powerful and user-friendly platform for creating and managing their websites. With its advanced design capability, easy setup, helpful customer support, and various plans, Wix is one of the leading website builders available today.
Our comprehensive Wix review will cover each of the website builder's features, including its templates, customization options, SEO tools, and mobile optimization features, among others.
Table of Contents
Table of Contents
What is Wix, and How Does it Work?
Wix is one of the best website builders available today, and it allows users to create beautiful websites with its simple drag-and-drop editor without needing coding knowledge or specialized web design skills.
You don't need any prior experience in building or managing websites, as Wix takes care of everything, from hosting services to server operations. Storing data securely in the cloud means it's available anywhere you go.
The platform offers hundreds of design templates to help get you started. More advanced features are on offer, such as marketing tools and the ability to add interactive booking widgets on your page with a single click.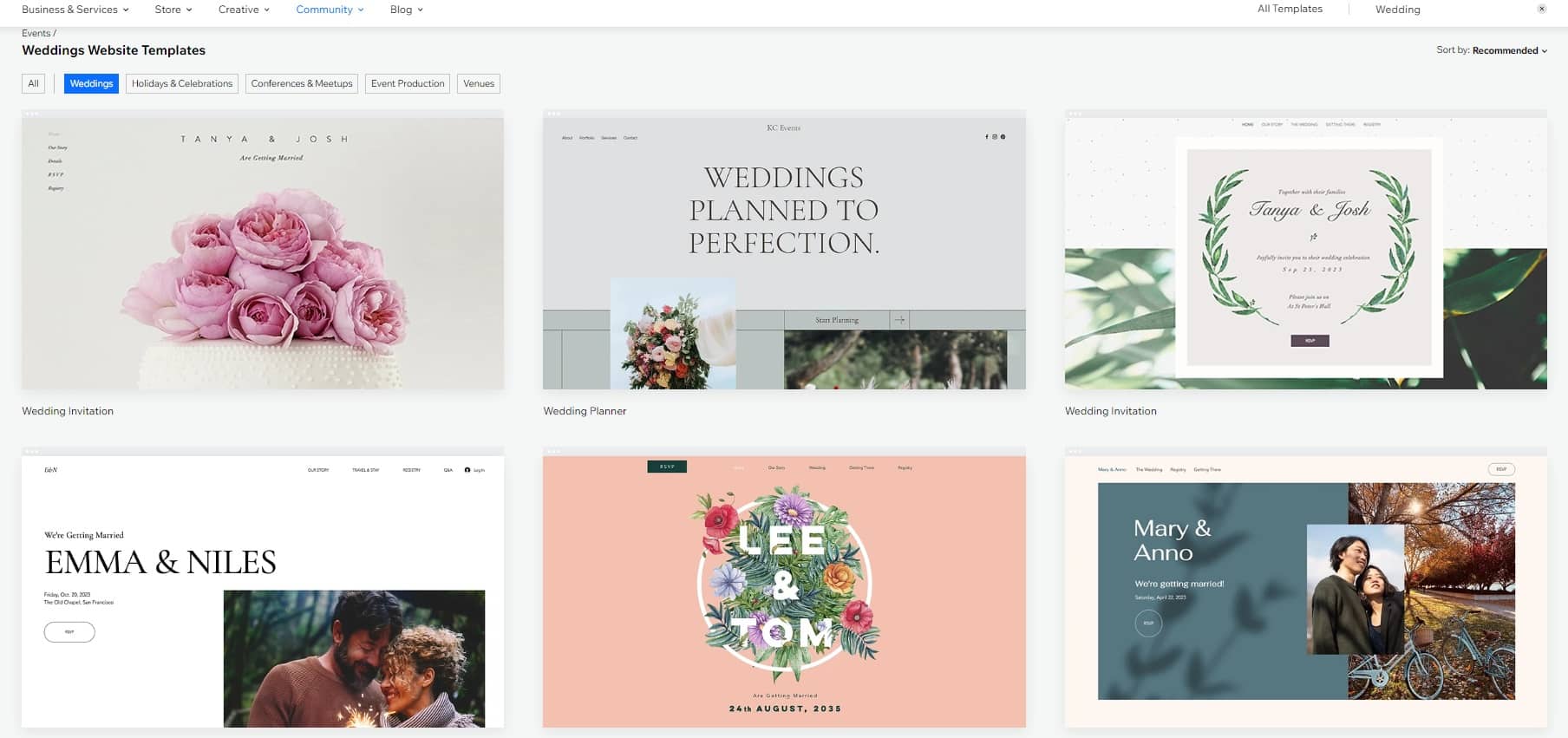 Wix's SEO capabilities, meanwhile, help you to optimize your webpages for higher rankings on search engines like Google and Bing, giving people greater chances of discovering your site through search.
Some of Wix's other powerful features include:
An online payment system
Automated email marketing tools for building campaigns
Analytics and insights for monitoring user engagement
These provide a comprehensive solution for individuals and businesses wanting to establish a strong online presence.
Who is Wix Best for?
Wix is considered one of the best website builders for small businesses and startups due to its accessibility and affordability.
Business owners can easily create an impressive website with Wix using the drag-and-drop editor and modular functionality, with hundreds of apps available to users to customize their websites.
Wix is a great choice for freelancers as it includes tools like contact forms, galleries, password-protected pages, and event calendars, all available at an affordable price.
Bloggers will find it easy to create stunning sites within minutes by using the templates on offer, and everything is mobile-optimized by default. You can also link your blog posts to your social media accounts to keep your followers updated on all your latest content.
Wix Review Pros and Cons
To establish Wix's strengths and weaknesses – and where it excels – we evaluated the service within the context of the broader website-building market.
Pros
Fast, responsive, and intuitive drag-and-drop website builder
Excellent library of templates that are responsive by default
Robust ecommerce capabilities
Scalable with numerous features and an extensive app store
Customize nearly every aspect of your website
Competitively priced, with plans beginning at $16/month.
Cons
Can't switch templates once site has been published
Complex editor can be overwhelming
Storage limitations on all Wix plans
Is Wix Free? Exploring Wix's Pricing
Wix offers four main paid plans – Enterprise, Business Elite, Business, and Core – with different features depending on your requirements and business size.
Additionally, Wix offers a free plan with basic website-building capabilities and limited storage and bandwidth – so you really can set about building a website for free. In this article, we'll explore Wix's pricing options and the features each plan offers to help you decide if the platform is right for you.

Light Plan and Free Plan
If this is your first time working on a website or you need a personalized domain name, then the Light plan may be all you need. It allows two collaborators to manage content and includes a one-year free domain voucher with annual plans only.
This plan offers 30 minutes of video upload capacity and some automated marketing tools for a very low entry price. This means anyone can take their business online without investing in more complex features they might not need, and it's a great deal for one of the cheapest website builders available.
Wix also has a free option. This option has limited storage and bandwidth and lacks access to the premium Wix features, but it provides enough functionality to get a site off the ground. It's suitable for those looking to establish an online presence with a basic site.
If you change your mind, canceling Wix is easy. Its standard terms require 30 days prior notice before canceling or switching plans, extending to 45 days in certain circumstances, depending on plan type and the amount of data stored.
Cancelations normally take two business days. However, if you're unsatisfied, you can request a refund within 14 days of purchase if no services were used. This safeguards the customer's interests while allowing total flexibility over their purchases and subscriptions.
Core Plan
The Core plan allows you to host 50,000 products on your Wix online store, with a range of payment processing options available and access to analytics and other marketing tools.
It also offers an abandoned cart saver tool and the ability to sell your products on marketplaces and social media channels – great for mid-sized businesses looking to get started without spending too much.
Business Plan
Instead of collaborating across several websites, you can make payments through Wix sites and have up to ten people managing or contributing content on the same site.
The Business plan has all the core features plus unlimited bandwidth, extra storage capacity – up to 100GB – automated marketing tools, and analytics/reports, making it popular among professionals such as photographers and videographers needing lots of storage space at an affordable price.
It provides all the functionality needed to maintain a complex website while freeing up resources by cutting out additional costs after setup. Perfect for small business owners ready to take their enterprise online without hassle.
Business Elite Plan
The Business Elite plan includes a one-year free domain voucher, priority customer care, and 15 collaborators, which gives you full control over as many sites or accounts as needed without compromising performance.
This plan suits ambitious businesses with multiple team members looking to expand their reach online.
Enterprise Plan
Designed specifically for larger businesses. Those with substantial sales volume can benefit from all Premium functions, unlimited site contributors, and a custom CMS quota with multi-site management with the Enterprise plan.
Centralized billing and single sign-on (SSO) are included, making it much easier to simultaneously manage multiple sites. It helps streamline common tasks such as logging in and out of accounts and making payments across sites quickly and conveniently.
Enterprise-grade security ensures your sensitive information stays safe. Other benefits like ultra-resilient multi-cloud hosting and privacy safeguards provide an extra layer of security for peace of mind.
This plan is best suited for ecommerce businesses looking to expand their online presence quickly and reliably without any additional skills required – and at a lower cost compared to other website builders.
Exploring Wix's Core Features
The possibilities regarding website design and customization are endless with Wix. Its core features make it the perfect platform for creating websites, regardless of your proficiency in web development.
Drag-and-Drop Interface
Wix's advanced HTML5 editor is at the heart of its site-building interface. To add content or rearrange an existing page, you simply need to click on the element in question before dragging and dropping it in place where required.
This makes layout customization straightforward, even for those with zero coding experience. After arranging items, users can customize these elements to fit a desired aesthetic and function. You can easily adjust options such as:
Sizing
Color coordination
Fonts
Text formatting
Backgrounds
This gives users the ability to incorporate more complex components into their pages, such as photo galleries and contact forms, without any difficulty, so you can start from scratch and build an aesthetically pleasing website in minutes.
Due gravity is also given to responsive designs, ensuring that all components automatically adjust themselves based on the end user's device, providing an optimal viewing experience.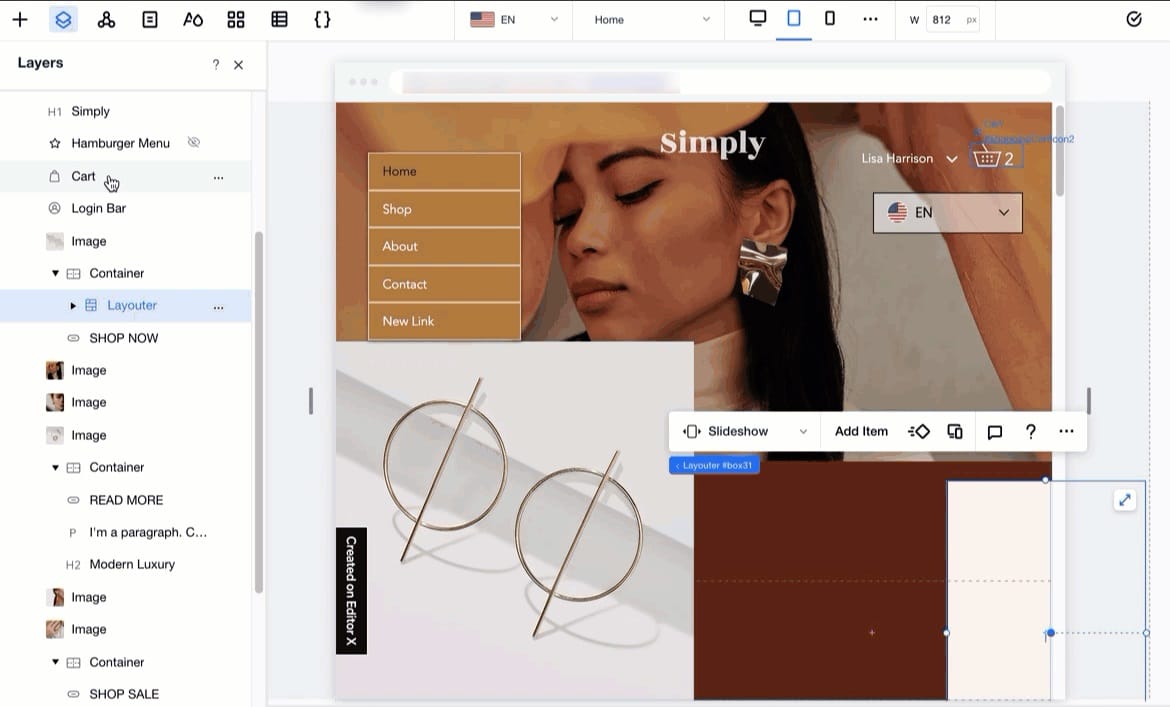 This ensures a consistent look and feel across all devices, reducing time spent on maintenance while ensuring compatibility with newer devices.
The drag-and-drop feature makes it easy to add compelling visuals, such as slideshows or video backgrounds, to grab visitors' attention.
You can also include page transitions, enabling smooth navigation between pages, as well as animated effects like parallax scrolling. Adding extra content to a page in Wix is simple.
In addition, there are more than 200 compatible plugins, giving users access to extra functionality without needing technical expertise, so you can add third-party apps, like PayPal, to accept online payments.
Mobile Optimization Capabilities
Wix offers a suite of tools to improve website and store performance on mobile devices for ADA compliance and provides analytics to create an accessible, optimized content experience for smartphone or tablet viewers.
You can ensure your website looks great across all platforms but, just as importantly, is geared for mobile. As it accounts for over half of online traffic, mobile optimization is essential.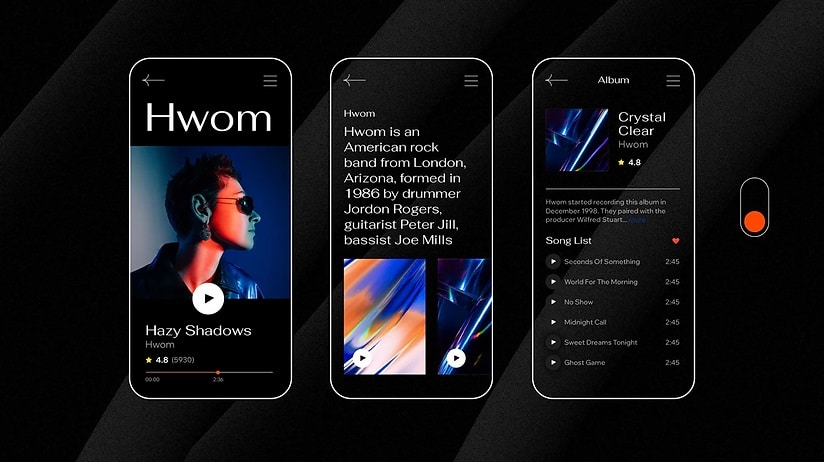 Wix web optimization tools for mobile include a tool that spots problems, such as incompatible plugins, and suggests an appropriate fix along with new layout configurations that may be more suitable for smaller screens.
To keep your site compliant with the ADA (Americans with Disabilities Act) and ensure accessibility, Wix provides an automated page checker, which reports on any potential issues based on standards set by organizations like the WAI.
These fixes are often simple changes to fonts and color schemes – to account for impaired vision – or simple updates to coding structure so content flows better on a smaller screen.
Keeping your interface engaging and simple helps visitors find what they're looking for more quickly than searching through unwieldy pages or flashy interactives that can slow down performance, rendering the site useless on devices with limited processing power.
Wix ADI (Artificial Design Intelligence) and AI Features
Wix ADI (Artificial Design Intelligence) is an AI-powered website builder that automates the process of creating a professional website tailored to a business's needs.
It's the industry's leading AI-powered website builder that takes your ideas and puts them together into a professional-looking design without any other intervention needed from you from start to finish.
By answering a few questions on your desired site, the AI-powered system will tailor a webpage for you within minutes.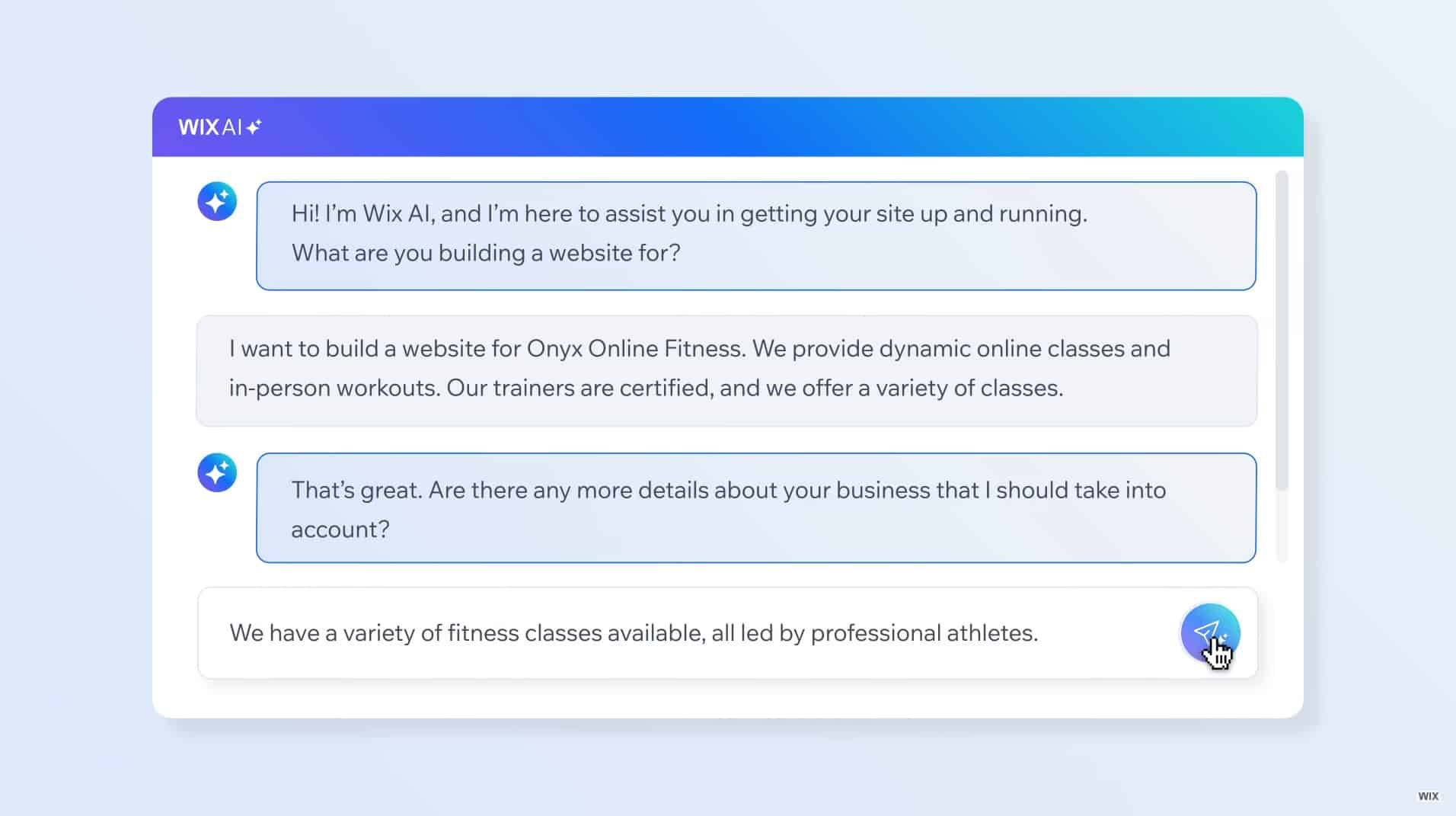 This process ensures you get what you want before even activating preset options or styles or further personalizing the site. Plus, all ADI-created websites automatically include SEO optimization.
Wix also offers powerful automation capabilities – from scheduling automated email marketing campaigns to integrating with payment gateways – so you can quickly set up key features and business functions without coding or complex technical tasks.
With Wix's AI technology, everyday tasks like managing appointments and bookings can be automated. This is incredibly useful if you're starting out because it saves time and money, with no need to hire developers or marketers to build campaigns from scratch.
This allows businesses of all sizes the ability to launch their online presence without needing a lot of experience or know-how about web development and designing tools.
Velo by Wix
For those looking to create a pro website from the ground up, Wix's Velo by Wix is a powerful platform. It combines an intuitive drag-and-drop editor with code editing features.
The integrated visual UI Editor lets you create beautiful sites with no code required. Simply drag elements around the page until you get exactly what you need.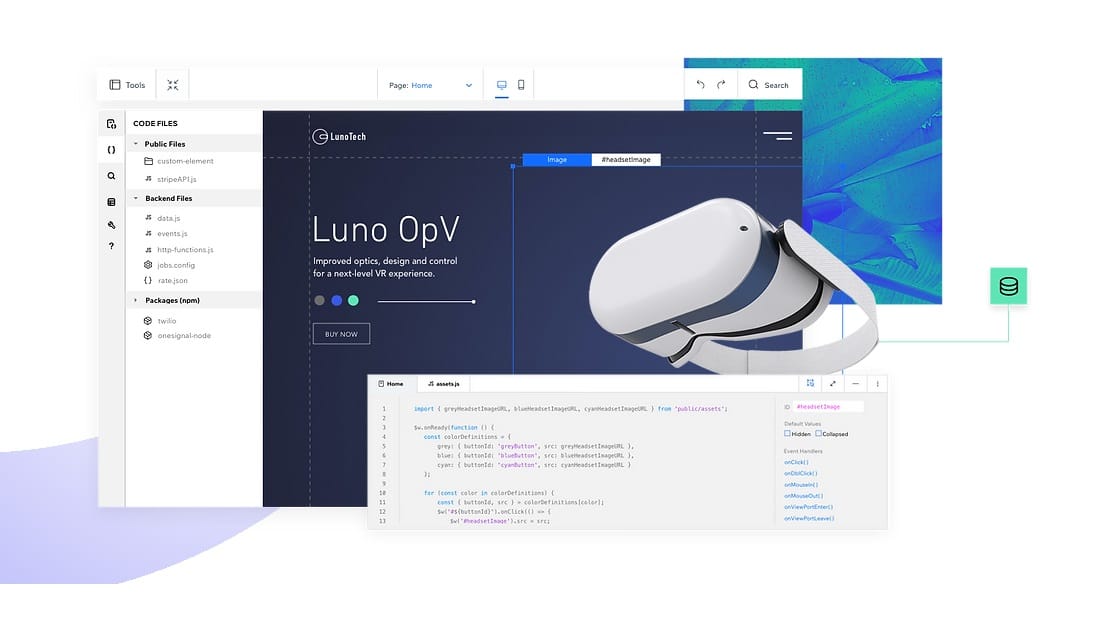 Meanwhile, developers can directly access more detailed settings to edit code using Velocity's APIs alongside standard JavaScript.
With this combination of construction methods – the Design Interface plus the Code Editor – everyone, from newbies to experts, can get what they want from their website designs.
Velo's zero-setup environment helps save developers time and eliminate potential frustration. With the easy deployment feature, you only need one click to get your site up and running online. When that's finished, you can easily scale it according to demand with Velo's technology.
Instead of spending months configuring servers, setting up databases, and connecting APIs – tedious but necessary development tasks – Velocity gives you what you want when you want it.
As it provides reliable, secure hosting and data compliance tools for GDPR out of the box, you don't need to worry about any nasty surprises down the line, either.
Integrations with third-party services like Sendgrid, Twilio, and Stripe can automate processes, eliminating manual tasks. Wix's advanced professional apps, such as Bookings, Stores, and its CRM, can help you easily manage business needs – making Velo a powerful option for any website developer.
Wix App Market
The Wix App Market offers powerful extensions for your website, with detailed descriptions and a simplified navigation system in the marketplace to help you find exactly what you need.
From tools like Google Analytics and lead capture plugins to ecommerce features and project management software, the Wix App market has it all. Each one has a detailed description that explains what it can do for you.
Thanks to a simplified marketplace navigation system, you won't feel overwhelmed when searching for something new. You can quickly search by category or keyword, so finding applications for your industry is easy.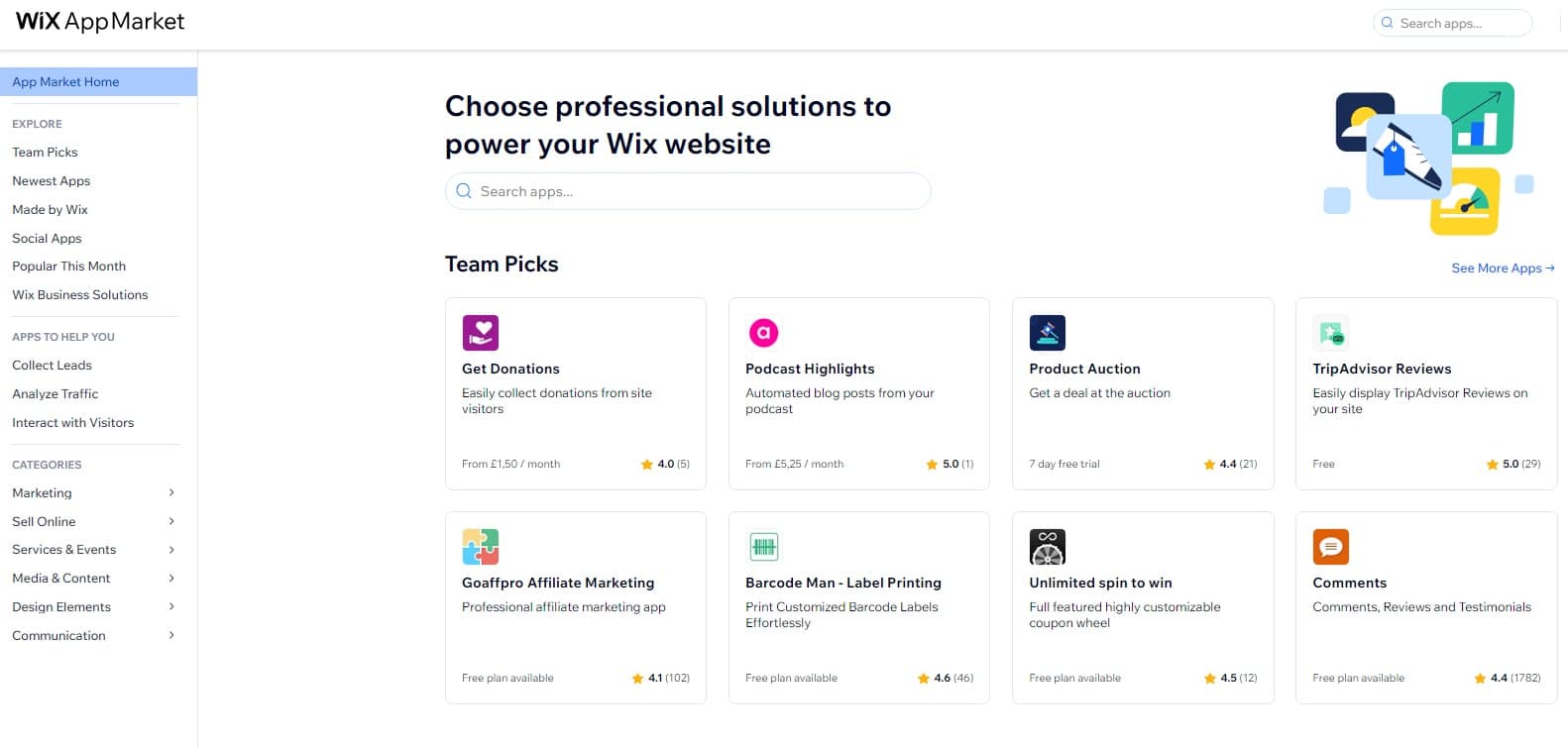 By installing these streamlined add-ons to your site, you can take advantage of enhanced performance capabilities.
These include automated marketing campaigns, translated chat support, and market intelligence tools for A/B testing and tracking – granting insights into how certain sites perform compared to others in their industry.
One thing to consider with these apps is that some are paid services, and others provide limited features with an upgrade or the ability to add more functionality as needed. Some developers offer trial upgrades, so double-check that the app meets your expectations before investing in a paid version.
Wix Ecommerce Capabilities and Payment Options
Wix provides powerful ecommerce capabilities with a range of third-party payment options, automated product descriptions, and pricing, shipping options, marketing tools, inventory tracking, and one-click upsells/cross-sells to ensure secure transactions for customers.
As one of the best ecommerce website builders, it's no surprise Wix has powerful capabilities and payment options, from creating product pages, setting prices in different currencies, calculating taxes based on location, and accepting payments via multiple methods, such as PayPal, credit card, and Stripe.
Integration with key ecommerce channels gives buyers access to many more payment options besides those already supported within your store. The store's checkout page can also be customized to include your branding alongside terms and conditions messages.
How Easy is Wix to Use?
Wix is an easy-to-use platform, offering a powerful drag-and-drop editor, AI assistant, and hundreds of templates, as well as secure ecommerce capabilities with major credit card acceptance for safe online payments.
When looking at some of the top website builders on the market today, Wix stands out as an intuitive and powerful platform with a great user interface.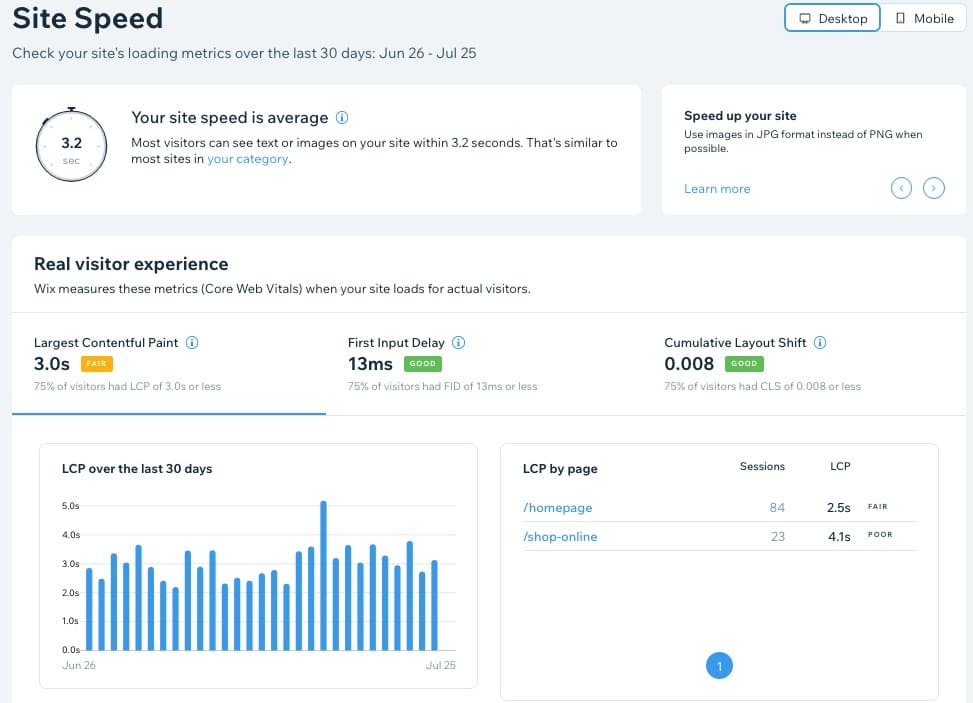 Wix proves itself as one of the most versatile web-building platforms with its user-friendly features that are ideal for beginners. The simple editor's features ensure users have enough flexibility to painlessly create a website with absolutely no coding knowledge.
There are powerful integration options, tailored design tools, and hundreds of ready-made templates to help you get started. The platform also includes an AI assistant, Wix ADI, which will generate a basic website within minutes based on answers provided to a few simple questions.
Many advanced website builders come with a drag-and-drop tool, but Wix's version is very light but packed with features that make it simpler, faster, and more intuitive than competing visual editors.
Wix vs. Other Popular Website Builders
Website building is a rapidly growing sector, and more and more people are now looking for a creative but hassle-free way of building great websites. Let's take a closer look at how Wix compares to other popular website builders:
Best Website Builders
Free Domain
Free Version
Ecommerce on Starter Plan
Top 3 Features
Wix
Yes
Yes
No
– Wix ADI
– Intuitive Editor
– Wix App Market
GoDaddy
Yes
Yes
No
– GoDaddy InSight
– GoDaddy Studio
– Website Security (SSL)
Webador
Yes
3 Months
Yes
– Free Plan
– Multilingual Websites
– Integrated Webshop
Squarespace
Yes
14 Days
No
– Award-Winning Design Templates
– Integrated Email Marketing
– Appointment Scheduling
Shopify
Yes
3 Days
Yes
– Abandoned Cart Recovery
– Shopify POS (Point of Sale)
– Dropshipping Integration
The Wix website editor helps individuals interested in creating visually appealing and professional websites thrive on the digital platform.
It stands out among other popular website builders by providing an easy-to-use platform that requires no coding experience or technical knowledge.
Wix's Security
Wix provides enterprise-grade security with every site, incorporating threat prevention, real-time detection, rapid response, and compliance with international privacy and security regulations.
Wix provides several layers of protection for its websites and member accounts. All sites have built-in SSL encryption, which ensures all the data transmitted from the site to visitors is secure and protected against unauthorized access or manipulation.
Wix also provides anti-DDoS defenses, which combat large-scale network attacks aimed at slowing down or disabling a website by overloading it with traffic. Its website security certificates include PCI DSS Level 1, Soc 2 Type 2, and several ISOs, and it's compliant with GDPR, CCPA, and LGPD.
Wix provides backups every six hours for all active sites. These can be accessed via the Dashboard should anything go wrong with any updates made on your website.
Passwords are securely encrypted within Wix's databases, with multi-factor authentication (MFA) required for account logins (when enabled). It uses an app, like Google Authenticator, as step two after entering your password to gain access to your account.
Every plan Wix offers comes with basic SSL encryption. You can access additional security benefits if you pay for the business or VIP plan. These include:
Password-protected members' areas
Secure checkout pages
Domain name privacy protection, with anonymous registration with Whois
No major security issues or breaches have been reported with Wix. Its systems are regularly monitored for malicious activity, and updates are issued automatically as new measures are developed.
Is Wix Legit? A Summary of Wix Reviews
Is Wix a good website builder? Wix reviews from users generally praise the service, highlighting its intuitive design, great results, and high-quality customer service.
Most reviews of Wix are positive. Many people have noted that they appreciate how intuitive the product is and have been using it for many years with great results. User reviews note the drag-and-drop capabilities and pre-made templates are particularly strong.
However, there have been issues purchasing apps. Here are some Wix.com reviews we gathered from Trustpilot:

In this Wix app review, the user notes they like Wix's drag-and-drop website building features but mention they found it initially difficult to contact customer support via email and experienced some bugs.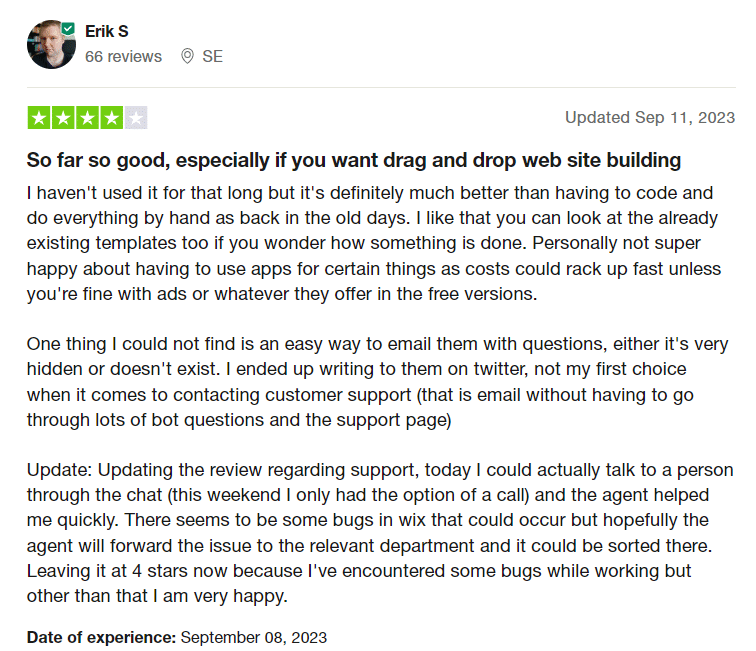 The following user praised the continual process of improvements to Wix's service and strong customer service.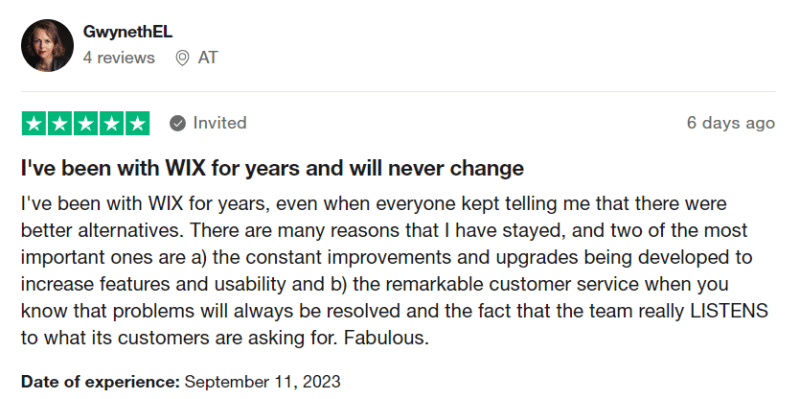 Overall, user reviews of Wix are positive, pointing toward its reliable customer service and strong SEO tools and scheduling capabilities.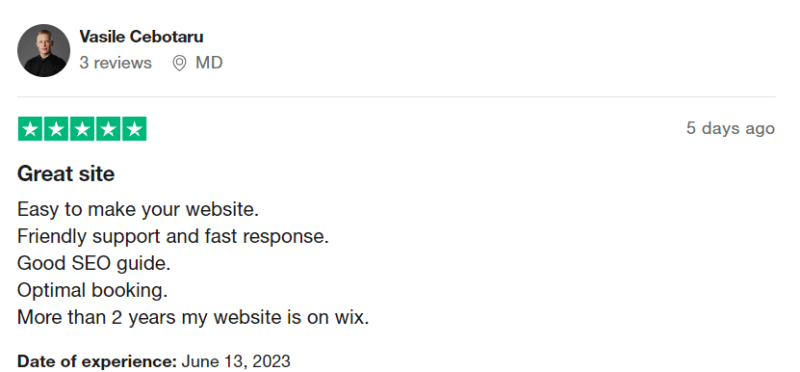 There have been some issues mentioned, though, such as app costs, which can add up over time, and difficulty finding contact information for customer services.
How to Create a Free Website: A Quick Guide With Wix
From creating an account to publishing your website, here's a quick guide on how to build a free website:
Step 1: Become a User
Go to Wix and use your Gmail account, email address, or Facebook account to create your profile.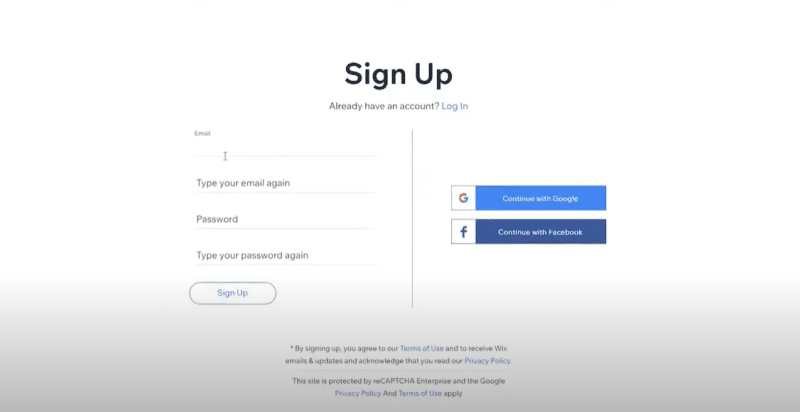 Step 2: Choose a Template
Wix offers hundreds of customizable templates divided into various categories based on industry. After selecting a template, customize it further using drag-and-drop tools such as colors, fonts, and images.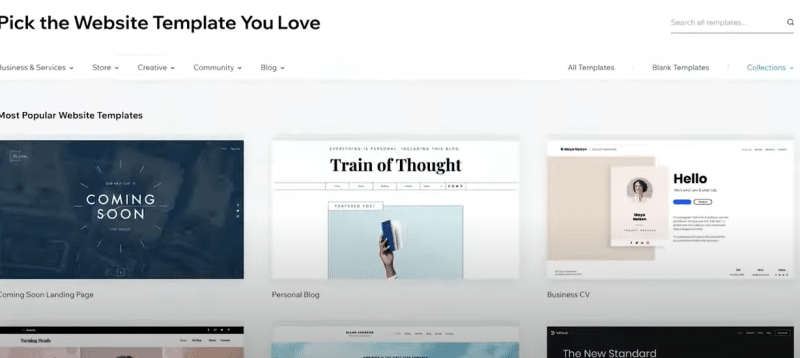 Step 3: Customize Your Website
With its free editor platform, you can easily customize existing content without requiring coding skills. Adding widgets like contact forms enables customers to reach out directly through your site, further elevating user experience standards to another level.
You also have access to resources from stock media libraries, which will help you create stunning visuals tailored specifically for each page on the website.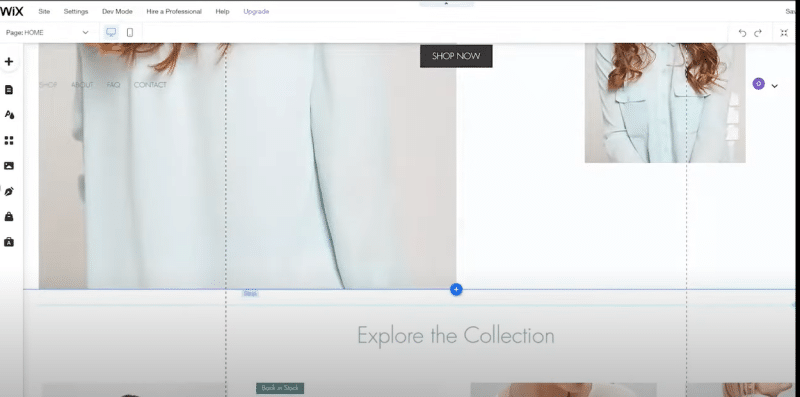 Step 4: Edit Your Content and Products
With this step, you can effectively edit your content, adding text, images, and video as needed. You can also manage your ecommerce inventory from within the website interface, making organizing orders easier.
Step 5: Set Up Your Domain
Having a domain registered means claiming ownership over its URL address, giving you more control over branding. Go ahead and purchase one directly on Wix, ensuring it reflects your industry and sums up the essence of your business.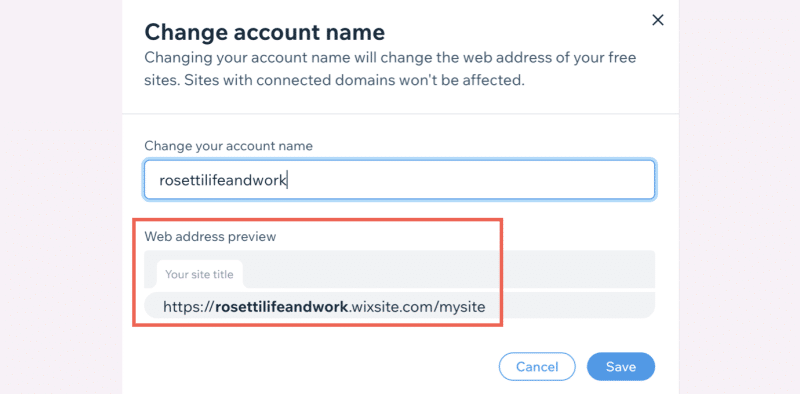 Step 6: Mobile Optimization
Making sure your site is easily accessible from mobiles is crucial. Use the Mobile Preview & Debug mode in Wix to see how it looks on these devices.
Step 7: SEO (Search Engine Optimization)
Organic search traffic is the key to success. Employing keywords strategically on your pages will elevate web rankings while providing the user with relevant results.
Make sure you carry out research before deciding which words and phrases should be implemented into page summaries for maximum exposure.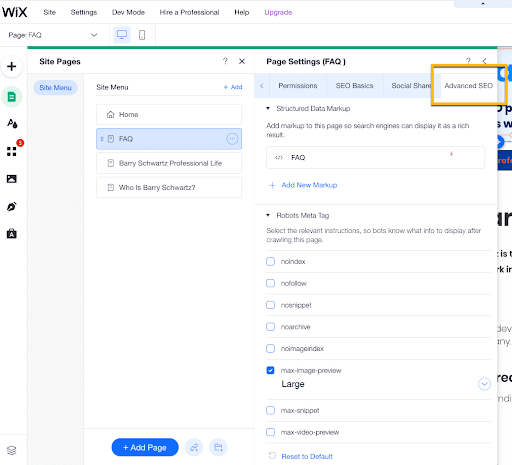 Step 8: Preview and Publish
Always make sure all assets are uploaded properly. Faulty images and videos could cause disruption or display problems.

Why You Can Trust Our Wix Website Review
Here at Techopedia, we take every published review seriously. We care about the community, so we've taken steps to ensure our Wix website review is as comprehensive as possible.
First, we used the tool practically by signing up for a free plan to see how the interface and tools work – exploring features such as mobile responsiveness, design options, and customer support.
In addition to this testing, enabling us to dive deeper into the product and its functionality, we also researched other website builders available on the market for comparison.
This gives us a balanced overview of what makes Wix unique while highlighting areas for improvement where Wix could do better.
Last but not least, checking review websites such as Trustpilot and other community forums like Reddit helps us accurately gauge the overall satisfaction of Wix users. At the end of this process, you can be sure our Wix website review is thorough, unbiased, and completely trustworthy.
Our Other Website Builder Guides
We rate Wix as the best website builder available, and it also features in our other guides, which explore the best website building tools, such as:
Conclusion: Is Wix Worth it in 2023?
Wix is a great website builder for anyone looking to build a website for free in minutes.
With its easy-to-use drag-and-drop system, extensive features and apps, ADI capabilities, wide selection of customizable templates, and reliable hosting services, Wix has something to offer everyone – regardless of your experience level or budget.
Whether you're creating a blog, an ecommerce store, or a marketing site for your business, Wix makes it easy to get started with no technical knowledge required – and Wix's SEO reviews are glowing.
With free and affordable premium plans, even those on limited budgets can set up impressive websites. So Wix is definitely worth trying in 2023.
Wix Website Builder Review FAQs
What is the downside of Wix?
Is it worth paying for a Wix site?
How much does a Wix website cost per month?
Can I earn money from Wix?
References