In the ever-evolving landscape of artificial intelligence, one organization has consistently stood out as a beacon of AI development: OpenAI.
Today, we delve deeper into its background story, answering the most commonly searched questions about the company.
Key Facts
OpenAI, co-founded by industry stalwarts in 2015, was envisioned as a beacon of ethical AI development.
Who created ChatGPT? 6 prominent tech visionaries from Silicon Valley.
Transitioning into a for-profit entity in 2019, OpenAI struck a strategic alliance with Microsoft, bolstering its research and outreach.
Retaining its private status, OpenAI avoids the typical pressures public companies face, ensuring undistracted pursuit of its mission.
With a unique operational dichotomy, OpenAI perfectly straddles its foundational mission and commercial aspirations.
Who are OpenAI's Co-Founders?
OpenAI's foundation is built on a constellation of Silicon Valley luminaries.
Initiated in the tech heartland of San Francisco, this AI research lab has always aimed big – driven by a group of tech visionaries united by their passion for artificial intelligence (AI):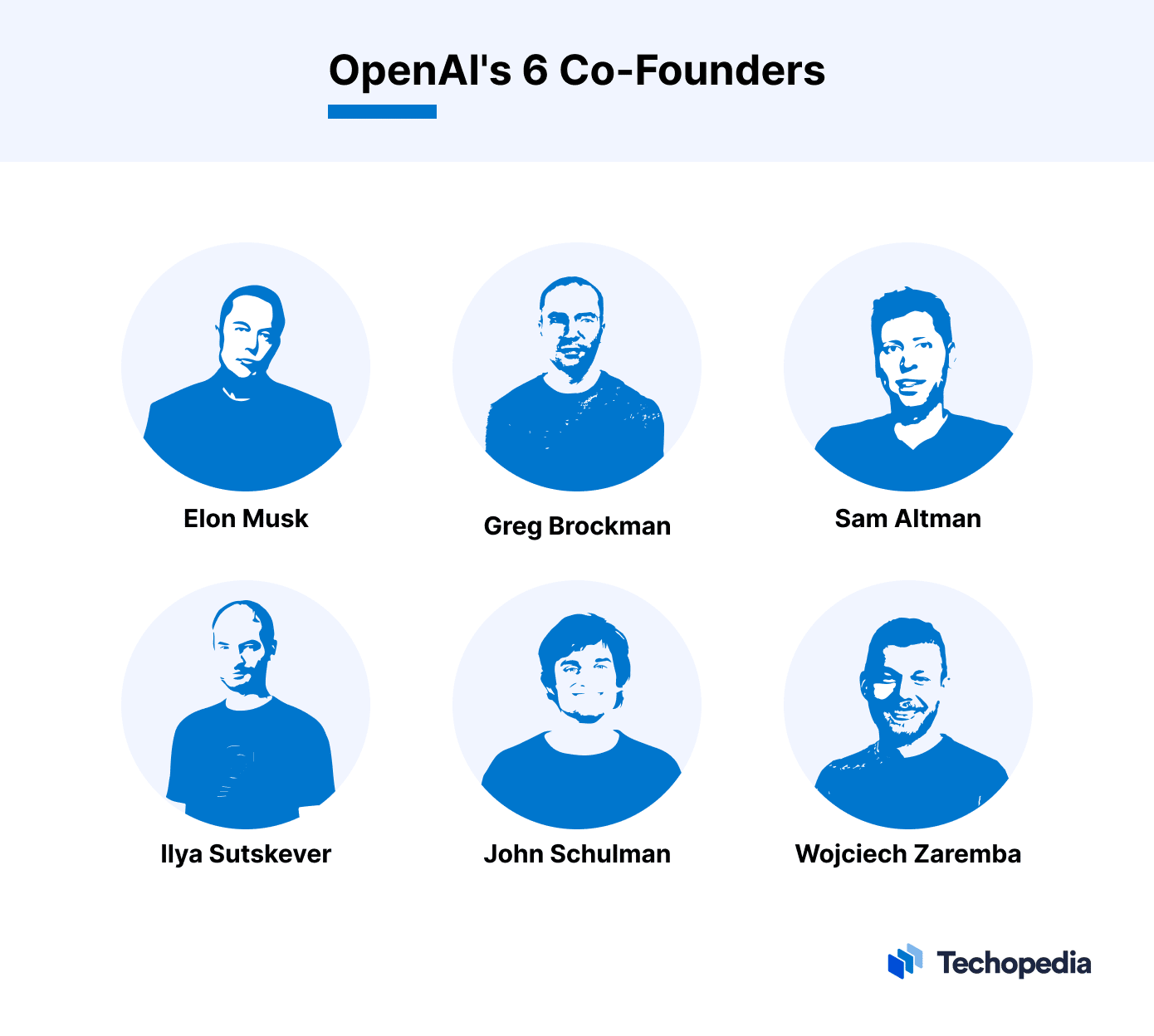 Elon Musk: While better known for his ventures SpaceX and Tesla, Musk's involvement with OpenAI was primarily financial. He has since departed from the board but remains an influential figure in AI discourse.
Greg Brockman: Previously the CTO of Stripe, Brockman is now the Chairman & CTO of OpenAI, ensuring the organization remains at the cutting edge of AI research.
Ilya Sutskever: A leading expert in machine learning (ML), Sutskever's journey includes impactful stints at Google and now as the Chief Scientist at OpenAI.
John Schulman: Before OpenAI, Schulman was primarily engaged in academic pursuits. He's been a critical player in some of OpenAI's leading projects, including ChatGPT.
Wojciech Zaremba: Having previously worked on AI at Google, Zaremba co-founded OpenAI, bringing his expertise, especially in reinforcement learning to the table.
Sam Altman: Formerly the president of startup accelerator Y Combinator, Altman joined OpenAI in its initial stages, serving as CEO.
Sam Altman's Brief Departure From OpenAI in November 2023
After the board dismissed Altman, Mira Murati, the company's chief technology officer, assumed the role of interim CEO. Subsequently, Emmett Shear, previously the CEO of Twitch, was appointed as the new CEO.
Microsoft CEO Satya Nadella promptly proposed a position for Altman to lead an internal AI division. Altman accepted this role, and OpenAI's president Greg Brockman also transitioned to a position at Microsoft.
The situation took another unexpected turn when, just four days later, Sam Altman resumed his position as CEO of OpenAI, despite having accepted a role at Microsoft only a few days prior.
i love openai, and everything i've done over the past few days has been in service of keeping this team and its mission together. when i decided to join msft on sun evening, it was clear that was the best path for me and the team. with the new board and w satya's support, i'm…

— Sam Altman (@sama) November 22, 2023
When Was OpenAI Founded?
OpenAI's revolutionary journey began on 11 December 2015. The company was founded not merely as a typical startup but rather as a countermeasure against the possible monopolization of AI by tech giants.
The goal was transparent and ambitious: develop "artificial general intelligence" that would be a boon to humanity.
Who Owns OpenAI Today?
To dig down into OpenAI history, the initial phase of OpenAI saw massive support from industry tycoons, including notable contributions from Elon Musk and Peter Thiel.
Their shared dream was to ensure AI's immense potential didn't end up concentrated in a few hands.
As the landscape evolved, Musk's AI ambitions were overshadowed, leading the visionary to make the strategic decision to resign from the board in 2018, avoiding any potential conflicts with his numerous ventures like Tesla and SpaceX.
The soaring ambitions and financial needs of OpenAI led to its metamorphosis from a nonprofit to a "capped-profit" for-profit entity in 2019.
This significant transition was supercharged by a colossal $1 billion investment from Microsoft, which also secured certain rights to license and utilize OpenAI's groundbreaking technology.
Today, the ownership pie is divided between Microsoft (49%), other stakeholders (49%), and the original OpenAI non-profit foundation, which staunchly preserves its autonomy as the leading firm continues to write OpenAI history.
OpenAI Inc. serves as the overarching non-profit umbrella, while the commercial aspirations are handled by OpenAI LP, its for-profit arm.
Is OpenAI a Public Company?
Despite its mammoth presence in the AI arena, OpenAI is not a public company. As a private entity, it remains immune from the rigorous regulations and quarterly pressures that public companies often grapple with.
However, there is significant market demand for OpenAI stock – so such a move can't be ruled out in the future.
The Bottom Line
OpenAI's innovative capped-profit model offers an intriguing blend of mission-driven research and commercial pragmatism. Its history shows the structure ensures a steady flow of funds, promoting cutting-edge research, while its foundational principles remain sacrosanct.
As the AI domain witnesses rapid advancements, OpenAI's flexible ownership and operational model equip it to seamlessly adapt and reorient, all while staying committed to democratizing AI's myriad benefits.
FAQs
What is the Ownership Structure of OpenAI?
How Does OpenAI's Ownership Impact Its Operations and Goals?
Are There Any Notable Investors or Partners in OpenAI?