Over the last few years, the crypto market has changed beyond recognition. But one thing remains the same. Bitcoin and Ethereum have been maintaining their dominance in the market unchallenged.
BTC and ETH Don't Live Up
Despite the ups and downs in the market, they boast high daily transaction volumes. However, the returns on investment from these assets haven't lived up to expectations for some time now. It doesn't come across as a problem to long-term investors who bought these coins before 2021 and plan to hold onto them for the next ten years or so.
Viewed as long-term holdings, they work just fine. They have the potential to bring substantial returns in the distant future.
But if you're looking at a closer picture, it's crucial to acknowledge their susceptibility to market volatility. It has been a persistent challenge. To give you a clearer perspective, Bitcoin and Ethereum have slipped 60.65% and 66.59%, respectively, since reaching their all-time highs in 2021.
While 2023 was expected to be the game-changer, things have not been so great.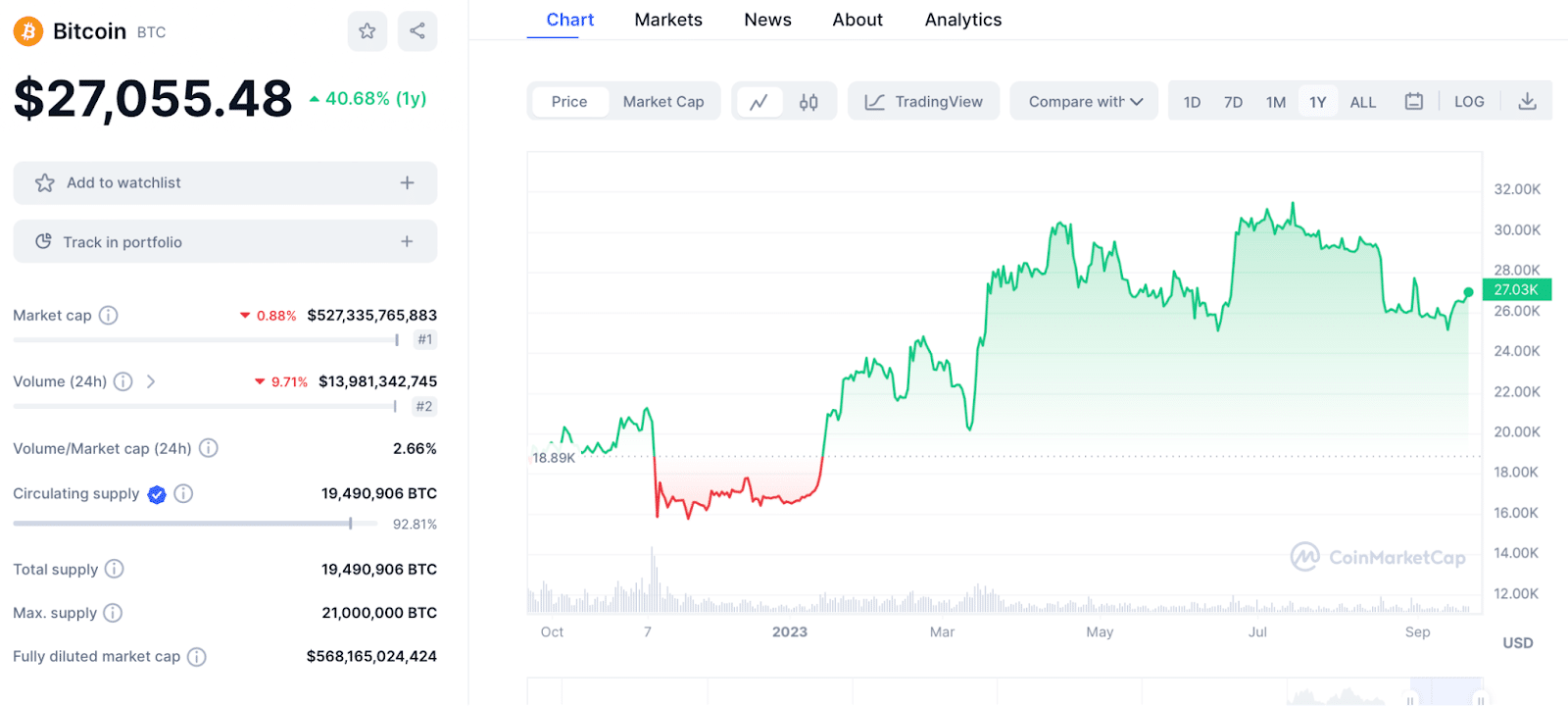 40% ROI is not a small amount. But for investors looking for more pronounced movements, this comes across as a disappointment. Given their large market caps, both Bitcoin and Ethereum have little room for growth.
Bitcoin-Halving and Bitcoin Price – What to Expect?
Bitcoin-halving is probably the most-anticipated event in 2024 as far as crypto investors are concerned. It will mark a pivotal moment in the market's history, as before.
It reduces the block rewards on the Bitcoin blockchain by half, which will have a distinguishable bullish impact on the majority of the market.
Both Bitcoin and Ethereum prices are expected to experience a 1X to 2X increase in the first half of 2024, in response to the reducing mining rewards on the Bitcoin network. The prospect makes BTC and ETH sound investments for the year, particularly for those who managed to capitalize on the lower prices during downturns.
Diversification is Key
Rollbit (RLB), one of the standout performers of 2023, was selling for a modest $0.001996 in October 2022. The token skyrocketed to an impressive $0.21 by August 2023.
RLB's phenomenal growth translates to a staggering 5442.40% return on investment (ROI) on the yearly chart. Pepe is another example, which climbed close to 7000% in May, although the meme coin has lost most of its value by now.
Despite that, the returns from new cryptocurrencies significantly outpace the potential gains one might expect from Bitcoin and Ethereum. This is especially true if you are investing in them at their current valuations.
It is important to have established cryptocurrencies like Bitcoin and Ethereum in your portfolio. But investors should also pay attention to diversifying their collection to new and underrated tokens that can bring exponential returns.
That explains why seasoned investors are liquidating a share of their BTC and ETH holdings to make their way into Chimpzee this month. The wildlife conservation cryptocurrency is predicted to enter the top-50 chart next year, owing to its large growth potential.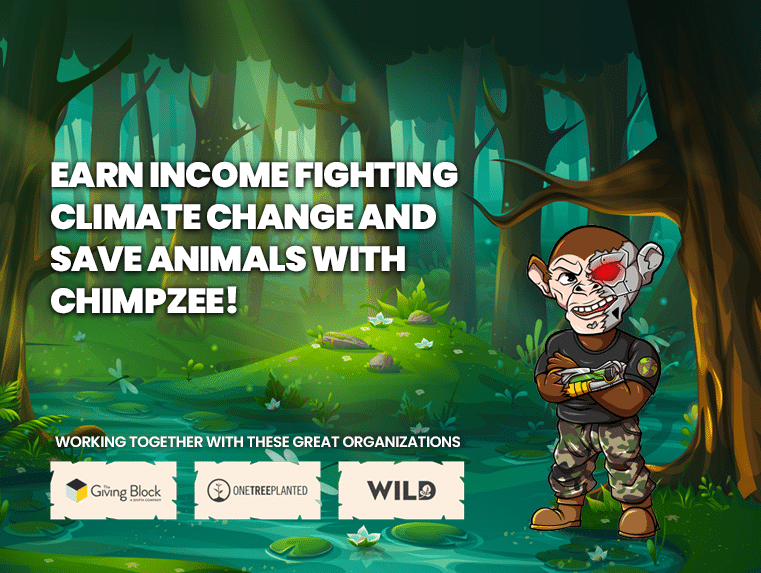 Abundant Financial Opportunities Apart From Price Appreciation
Chimpzee offers diverse means to earn passive income from its ecosystem, while breathing new vigor into wildlife conservation efforts. What distinguishes the project from its traditional counterparts is the integration of blockchain technology as it serves as a highly advanced tool for global coordination.
Blockchain ensures transparency and fairness in global initiatives such as wildlife conservation and climate action as all donations within the blockchain ecosystem are transparent and verifiable. It allows anyone, from any part of the world, to engage confidently in these initiatives.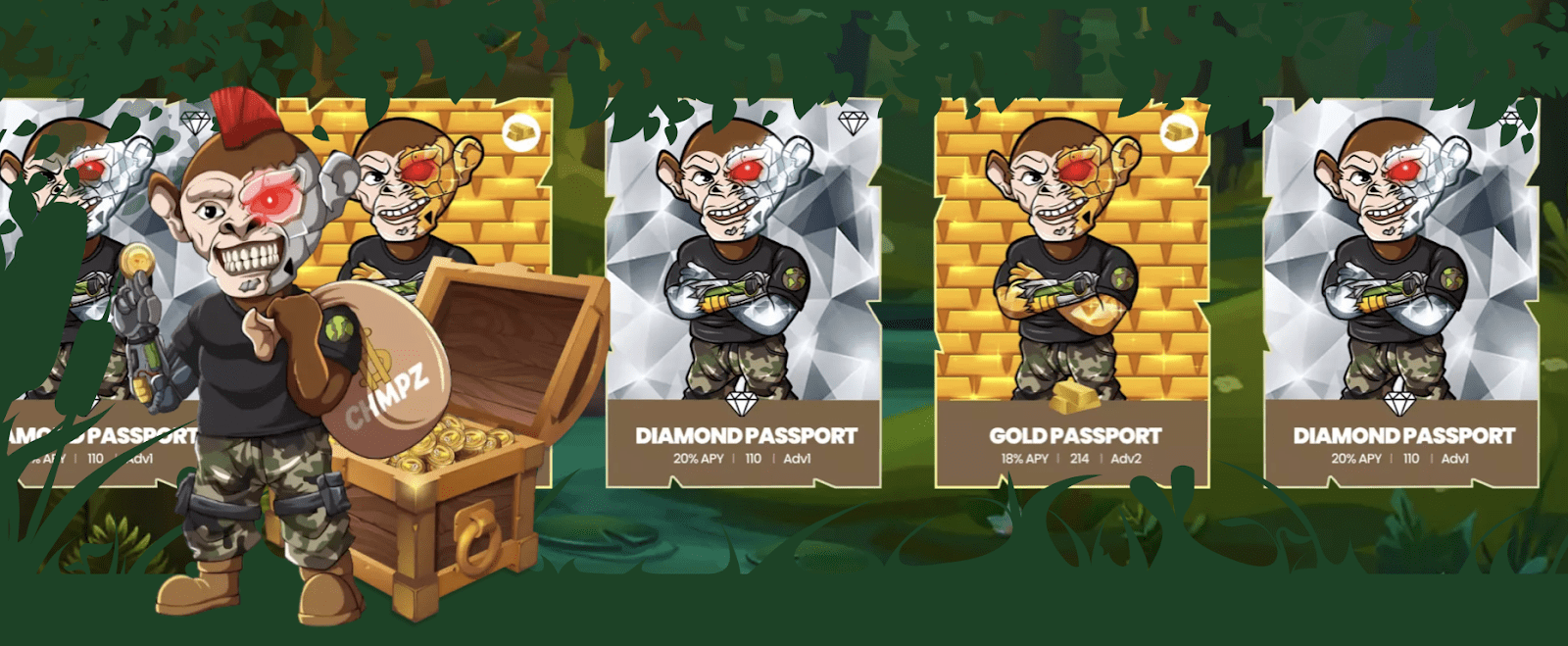 The project represents a significant paradigm shift in both Web3 and climate action.
In a novel approach, it integrates crypto incentivization into climate action and wildlife conservation for better efficiency.
Shop-to-Earn, Play-to-Earn, and Trade-to-Earn
The Chimpzee ecosystem hosts play-to-earn, shop-to-earn, and trade-to-earn arenas that reward users for their active involvement. These rewards are distributed in CHMPZ tokens, the platform's native cryptocurrency and a portion of the profits generated on these platforms is allocated as donations to wildlife conservation organizations.
Chimpzee has already joined forces with top organizations such as OneTreePlanted, WILD Foundation, and The Giving Block, and has begun making donations. With each new stage of the CHMPZ token presale, the project contributes to various wildlife conservation causes.
🌴🙉Help us protect 1000 sq meters of the Australian rainforest!
See what we have done.⬇️https://t.co/dziE26mS2t

👏WE ARE ALMOST THERE!👏

😍Receive up to 4X Bonus tokens! Limited Time!
⏱️Ends when we reach this raise goal!

🚨Don't miss out!🚨

➡️$150+ 142,858
➡️$250+ 273,811… pic.twitter.com/bRDZUbRf73

— Official Chimpzee Project (@RealChimpzee) September 20, 2023
Diminishing Supply, Rising Value
Chimpzee's tokenomics features a robust burning mechanism that reduces the token supply over time. In fact, a significant portion of Chimpzee's token supply has already been burned.
As the presale moves past new milestones, a fixed number of tokens will be burnt.
It provides early investors with a competitive advantage as the diminishing total token supply contributes to the long-term stability of CHMPZ token's price, acting as a buffer against the often unpredictable market volatility.
While the token derives its value primarily from its utility, the burning mechanism gives it immunity against external market fluctuations.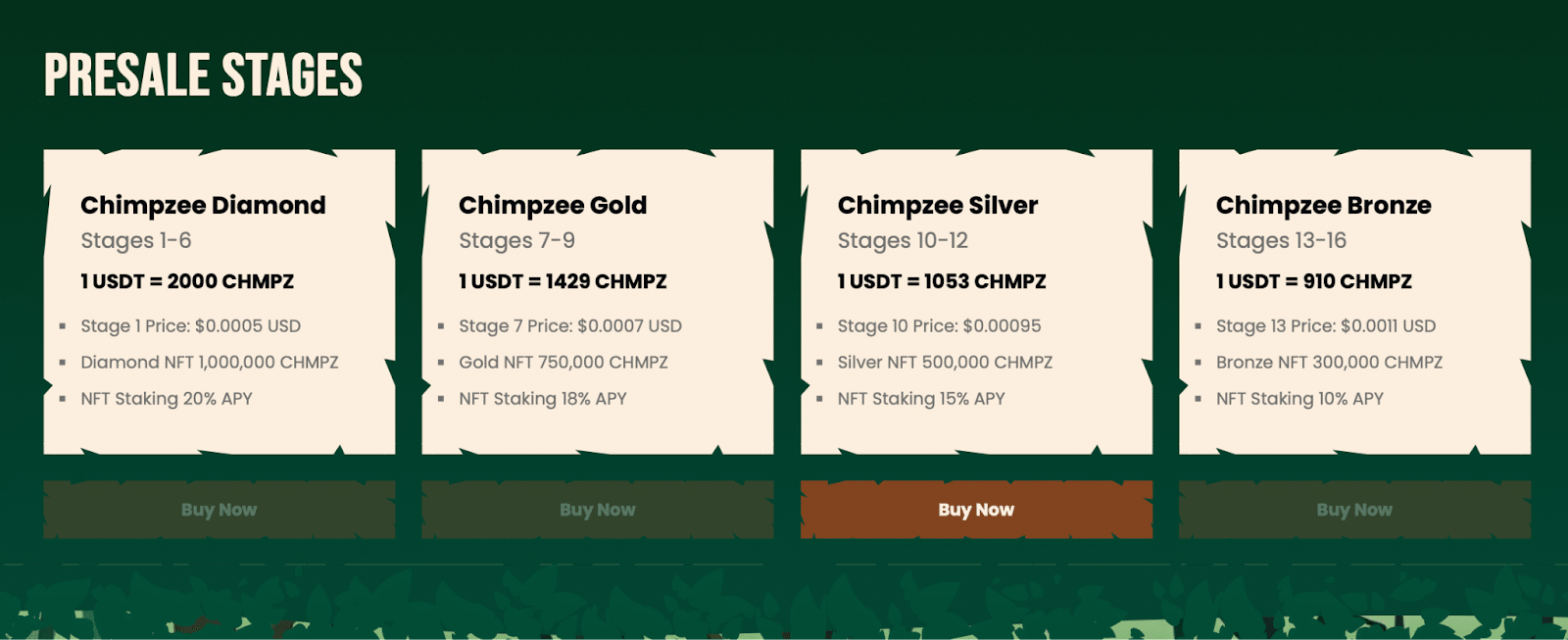 If you're investing in CHMPZ tokens, get in early to capitalize on the current bonus and discounts. For example, participants in the 12th stage of the presale are eligible for a 4X bonus on their coins for a limited time only.