As the crypto market bleeds red amid the SEC-Binance conflict, investors are flocking to the Chimpzee presale to offset their risks.
Chimpzee's unique wildlife conservation model empowered by a crypto incentivization system is predicted to be a game-changer. It comes with play-to-earn, shop-to-earn, and trade-to-earn platforms that encourage young generations to join climate action.
Why Has Chimpzee Captured Massive Attention?
Although the crypto market is inundated with dozens of cryptos every other week, few have tangible real-world utility or collectible value. Chimpzee's high market relevance in sustainability and wildlife conservation makes it one of the most promising cryptocurrencies of 2023. The green crypto project's goal is to slow down climate change and human encroachment on eco-sensitive areas.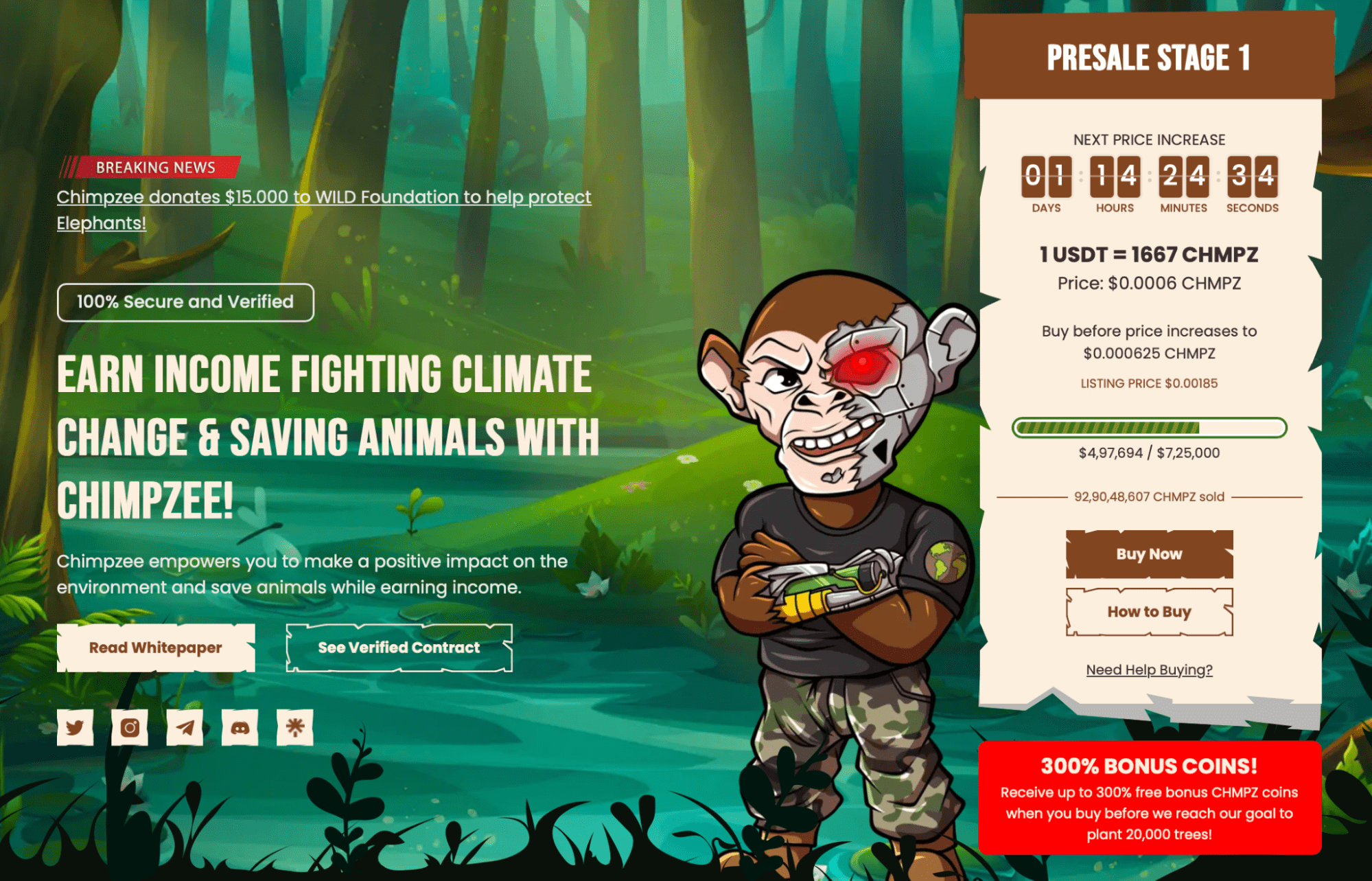 Although the relevance of a social mission in the crypto community is questionable, Chimpzee is an exception. It drives both crypto investors and wildlife activists and supporters to its mission through a crypto-based reward system. To understand how it makes a difference, we should first look into the problem.
Reckless human activities have sent an unfairly large number of species to the verge of extinction. With uncontrolled wildlife destruction, we are digging our own graves. Firstly, it disrupts the food chain. Equally or more importantly, it exacerbates climate change as forests play a crucial role in absorbing a significant portion of carbon emissions into the atmosphere.
The widespread climate crisis in turn expedites deforestation. With each passing year, the ramifications of deforestation are becoming more evident. It will get out of human control in a few more years.
How did things become this bad despite the myriad of government and non-government awareness programs? Their inefficiency roots back to human psychology, which tends to downplay distant threats.
Chimpzee believes that rewards and recognition are integral to reinvigorating climate action and wildlife conservation. For this, it introduces a three-pillared green ecosystem, the profits from which will be distributed to credible initiatives that align with its goals.
Three Passive Income Streams
Here is how Chimpzee executes its vision through a three-pillared ecosystem that consists of Chimpzee Shop, Chimpzee NFT Marketplace, and Chimpzee Zero Tolerance Game. Let's take a look at each.
The first pillar of the ecosystem is the Chimpzee store.
Here, you can earn exciting rewards in CHMPZ coins, the native crypto of the platform, every time you buy merchandise.
The shop-to-earn platform sets aside a small but significant portion of its profits. It is donated to organizations that share Chimpzee's mission.
The second pillar is the Chimpzee NFT Marketplace.
It is characterized by a trade-to-earn system and a unique profit-sharing mechanism.
The platform prioritizes eco-conscious projects and assets over flimsy collectibles and in-game NFTs.

The third pillar is the Chimpzee Zero Tolerance Game.
A gripping game that inspires young players to join climate action.
With each new level you cross in the game, you earn rewards in CHMPZ coins.
What can you do with the CHMPZ tokens you earn from these three platforms?
You can sell them in the open market to take advantage of their value appreciation. Or, you can use them to purchase merchandise from the Chimpzee Store or NFTs from the Chimpzee NFT Marketplace.
The platforms offer special perks and privileges to Chimpzee NFT Passport holders, including a larger share of the trading fee profit pool, exclusive discounts at the Chimpzee Store, and bigger rewards and advantages in the game.
Chimpzee Donates $15,000 to WILD Foundation to Help Protect Elephants
Upon reaching its second presale raise goal, Chimpzee donated $15,000 through TheGivingBlock to WILD Foundation. It is a well-established nonprofit organization dedicated to protecting wildlife around the world for decades. Chimpzee's donation will go toward protecting one of the last herds of desert-adapted elephants.
It will be used to safeguard Eco Guards, people who patrol the areas that these elephants migrate through by shielding them from poachers. The mission takes many hands, a lot of coordination, and most of all, time. It's important to remunerate the people who do the round-the-clock job to restore the population of elephants. Apart from that, funds are needed to maintain the town hall, supply trucks, cars, motorcycles, camels and equipment, and more.
The importance of the initiative can't be stressed enough. In the coming days, we can expect Chimpzee to join more wildlife initiatives as the CHMPZ presale crosses new milestones. The project also has plans to launch an Ambassador & Community Outreach Program, which will be an essential component of its overarching aim to safeguard the well-being of animals and the natural world.
Chimpzee NFTS: What You Need to Know 
Chimpzee will launch its NFT passports after the presale is over. Only people who enter the presale first stage will be able to buy and mint a Diamond NFT passport. It will be held in an exclusive whitelist event scheduled after the presale.
There are other types of NFT passports as well. But the purchasing and minting of NFT passports are reserved for presale participants. Similar to the Diamond NFT passports, they will be made available to participants after the presale is over in an exclusive whitelist event.
Another interesting aspect of the project is the AI mobile generator app, which will give people an opportunity to create a personalized NFT Passport for the same price of a Diamond NFT Passport with some of the same benefits.
Presale Stage-1 Will Sell Out Soon
The Chimpzee presale is one of the most promising crypto investment gateways of this year. It has the potential to reward early investors with a 10-12X price rise later this year.
The fact that it is on the radar of celebrities and brands looking to collaborate with crypto projects dedicated to green missions strengthens the predictions.
The earlier you join the CHMPZ presale, the better the perks and privileges, as shown below.

While the presale is priced at $0.000625 now in the first stage, you will need to pay a higher price as it moves ahead. The next price increase is $0.00064 and will continue to increase until it reaches the starting price of the next Stage. There will be four stages in total, as shown above, and the presale will end when the price reaches the listing price of $0.00185 . All unsold tokens from the presale will be burned.
Note: Receive up to 100% free bonus tokens during the presale and sometimes even more with special promotions.