E-commerce has become one of the fastest-growing industries in the world, even when compared to other fast-growing digital industries.
According to Statista, retail e-commerce sales worldwide in 2017 amounted to $2.3 trillion, and e-retail revenues are projected to soar to $4.88 trillion in the next two years.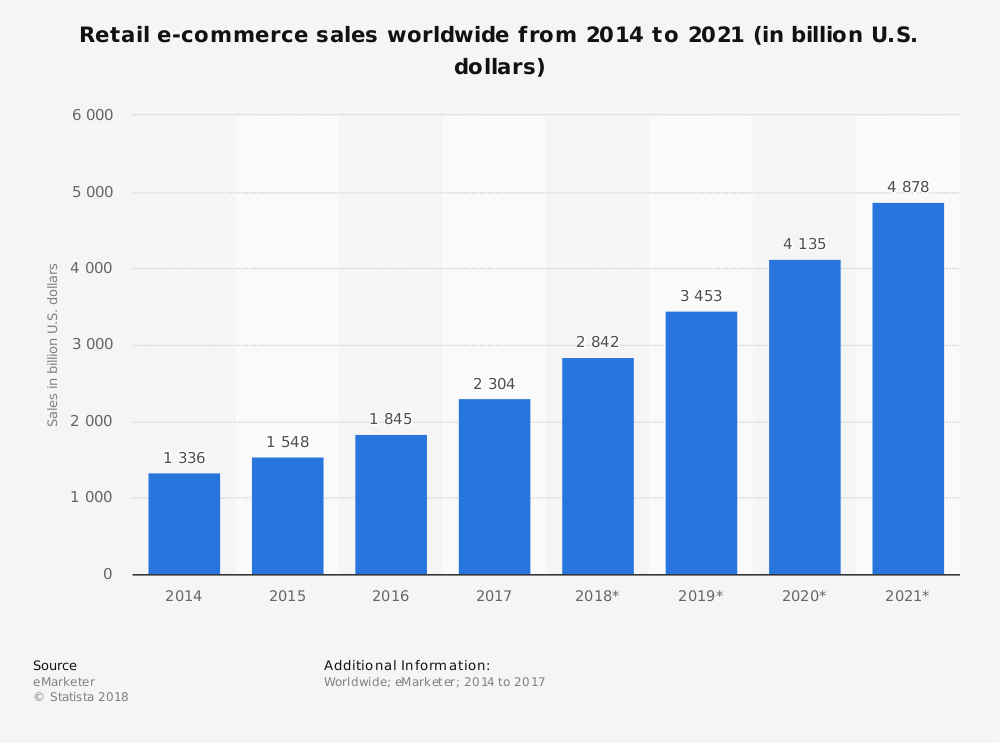 Image source: Statista

Numbers like these have seduced thousands of smart entrepreneurs to turn their attention to the e-commerce industry in a few different ways. Many launch their own e-commerce businesses, while others have explored business models that support other e-commerce stores rather than creating their own.
But it's almost become too easy and simple to start an e-commerce business, between all of the business courses advertised in your Facebook feed, dropshipping sites saying you can "get started in minutes," and specialized SaaS tools specifically marketed to sellers.
Because as easy as it is to get started, it's less easy to succeed, scale, and reach profitability with one.
How is the industry dealing with this challenge as e-commerce matures?
By evolving from e-commerce websites to headless commerce solutions. Oracle defines headless commerce as an approach that "separates the UI layer from the underlying backend services and connects the two through a set of web services. Contrast this with a more 'traditional' approach where the commerce system manages not only the services, but also the front-end UI." (Good customer experience is vital for business. Learn more in Improving Customer Experience With Digital Transformation, Big Data and Analytics.)
Headless commerce can exist both as an alternative to e-commerce websites as well as an enhancement to them. For example, traditional e-commerce platforms like BigCommerce are pivoting to a hybrid approach that provides both ease (via its hosted pure SaaS platform) and flexibility (via headless solutions).
This headless approach is the future of commerce online, as the reasons below help explain.
Headless Gives Business Owners Flexibility
First of all, one of the biggest benefits of headless commerce is how much flexibility it grants businesses to accommodate the way in which online commerce is maturing as an industry.
In the earlier stages of online commerce, entrepreneurs were jumping into an unknown. As such, all-in-one solutions that promised everything out-of-the-box was exactly what they needed. If a website had little to offer visitors other than a reasonably operational shopping experience, then that was a win.
But as those businesses grow and continue to build out their enterprises, they have the experience and understanding to get more ambitious with custom development. Now they want and need more flexibility. Headless commerce solutions easily provide this, especially hybrid solutions. Growing companies can pull together the collection of tools and platforms that best fit their business for different purposes, without worrying that it will all integrate smoothly.
For example, in the past, most commerce solutions provided very limited options in terms of website layout and functionality. But headless commerce lets businesses customize the UI of their websites, using the code frameworks and CMSs of their choice while retaining the commerce features they need.
One business using such a solution is Kodak: they use WordPress to host their products, blog content and merchandising. But BigCommerce's headless technology still powers everything relating to their store's checkout, compliance and security.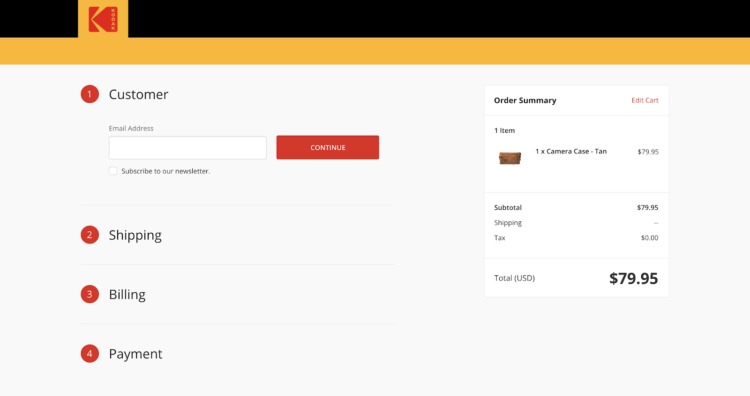 Image source: BigCommerce

As BigCommerce explains, "this also allows them to use integrated payment options like Amazon Pay, PayPal One Touch, Apple Pay and more without having to do the interaction work themselves. This saves time, saves money, increases security and allows for fast innovation and campaign launch to remain competitive in the industry."
APIs Provide Virtually Limitless Integration Opportunities
In addition to onsite flexibility and customization, headless commerce allows you to sell on platforms outside your own website, thanks to API-powered integrations. For this reason, headless commerce is sometimes called "API-first commerce" as well.
Ana Milevskaja, senior director of product marketing and demand generation at Elastic Path, summarizes some of the innovative opportunities this provides on the Get Elastic Blog.
"It offers a seamless way to go beyond the traditional webstore to shoppable videos, kiosks, magic mirrors, Alexa, virtual and augmented reality use cases," she writes. "In fact, there are trailblazing early adopters that use API-first commerce for checkout via Facebook chatbot. A major cruise line offers stylish wearable medallions that serve as a key to a room as well as the form of ID and payment for services on a luxury ship. Most recently, Marriott announced that Alexa will be the butler in select Marriott hotels to elevate customer experience."
This is another way e-commerce is evolving according to how customers use the internet. They're no longer primarily using their connections to browse websites from a computer. Today people browse online through computers, phones, smart devices and more.
Why wait for them to visit your website when they're already on Facebook Messenger and other channels that stores can connect to with APIs? By meeting your customers where they are and allowing them to shop and buy from there, you're making it easier and faster for them to convert. And in the age of multi-channel shopping, having the ability to scale with your presences on third-party platforms is pivotal, whether or not your attribution modeling is keeping up in sophistication.
This API-first approach is why some e-commerce companies are moving away from positioning themselves as platforms and towards being providers of "commerce as a service," a company that makes it easy to integrate with APIs, so merchants can sell in multiple places, while operating from one consolidated dashboard.
Essentially, with headless commerce, instead of building and managing a website store, a Facebook store, an Amazon store, and so forth, duplicating updates of every content asset and product availability for each platform, a business can manage one backend and know that all channels will be updated accordingly. (Want to start up your own online store? Then check out Preparations for the Creation of an Online Store.)
You Can Leverage Channels That Would Otherwise Be Competitors
When customers can buy products through Instagram or find even their favorite brands through Amazon, getting them to go to your website is an uphill battle that today's merchants are likely best off not fighting. Today, these direct sales channels aren't competitors; they're opportunities.
Instead of trying to compete with new commerce options that are easier for your customers, join them. Headless commerce lets you integrate the same store on say, your WordPress site, with platforms like Jet and eBay.
For example, phone mount company NatoMounts used BigCommerce's API integrations to make buying easier for mobile users, who constitute the vast majority of the brand's audience. "By building these integrations with companies like PayPal and Amazon, BigCommerce provides non-household brands, like me, instant credibility," says NatoMounts CEO Brandon Chatham about the impact that these easy channel integrations have on his business. "This equals a clear path to ~5% conversion rates on mobile with over 80% of sales on mobile."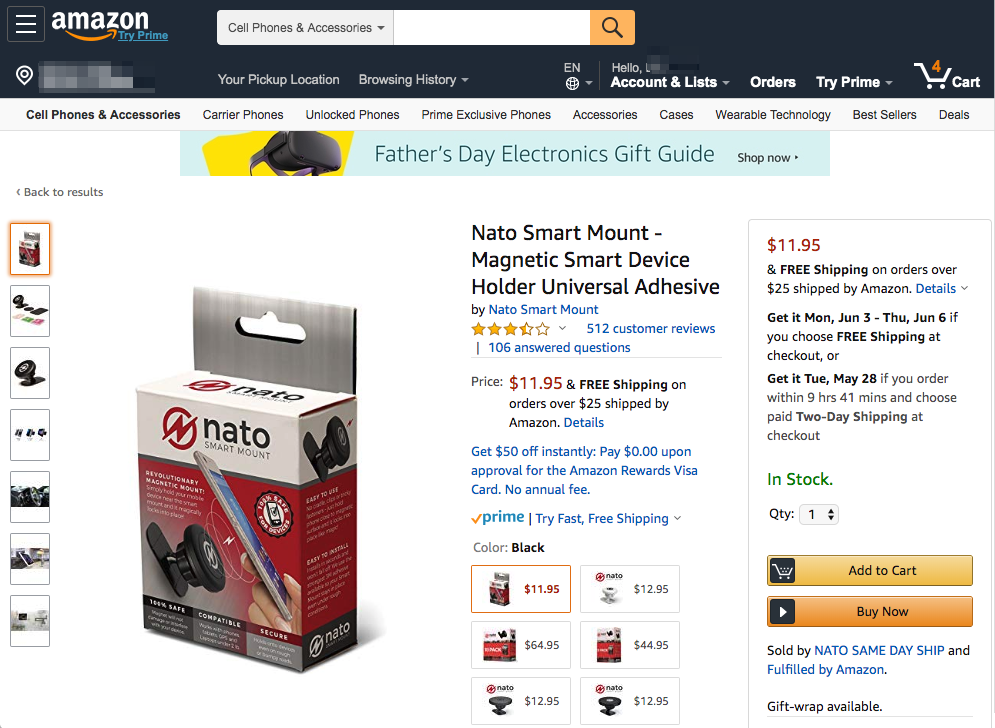 Image source: Amazon

Without these integrations, e-commerce businesses would need to throw their resources into trying to compete and make their onsite store a better or more standout experience than the huge companies behind these platforms.
Instead, headless commerce lets smaller brands tap into the selling power of the biggest online retail empires.
The Future of Commerce Adapts to the Future of the Internet
Ultimately, headless commerce better equips companies to adapt to the way consumers use the internet and shop on it. Whether it's integrating with Amazon, a chatbot, or a device that's not even for sale yet, a company can use the same technology for all of it, letting them reach customers anywhere.