What Is Polygon?
Polygon, previously known as Matic Network, is a Layer-2 blockchain protocol that runs parallel to the Ethereum blockchain to complement its operation. Launched in 2017, it brands itself as "Ethereum's Internet of blockchains," aiming to address problems with scaling on the Ethereum blockchain by processing transactions quickly.
Polygon is compatible with the Ethereum Virtual Machine (EVM) and offers users fast transactions and near-zero processing (gas) fees. As a sidechain, Polygon is a separate blockchain from Ethereum, but wallet addresses are the same on both blockchains.
Polygon can develop custom blockchains, enable communication between Ethereum and other blockchains, and help other blockchains to become compatible with the Ethereum chain.
It operates a modified proof-of-stake (PoS) consensus mechanism that enables validators to reach consensus with every block, unlike traditional PoS mechanisms that require validators to process many blocks to reach consensus. Ethereum made the transition from proof-of-work (PoW) to PoS in 2022.
Users can bridge their cryptocurrency from other blockchains over to the Polygon network and then interact with applications that were previously only accessible on the Ethereum blockchain.
The Polygon network has tens of thousands of decentralized applications (dApps), more than 3 million average daily transactions, and $5 billion in secured assets, according to its website.
What does Polygon/Matic mean?
Matic Network was launched with the aim of improving Ethereum infrastructure. The project rebranded in February 2021 as Polygon, the name referring to a shape with many angles and reflecting its goal to become a network connecting multiple blockchains. It retained the MATIC name for the native Polygon cryptocurrency.
History of Polygon
Here is a brief timeline of Polygon's development: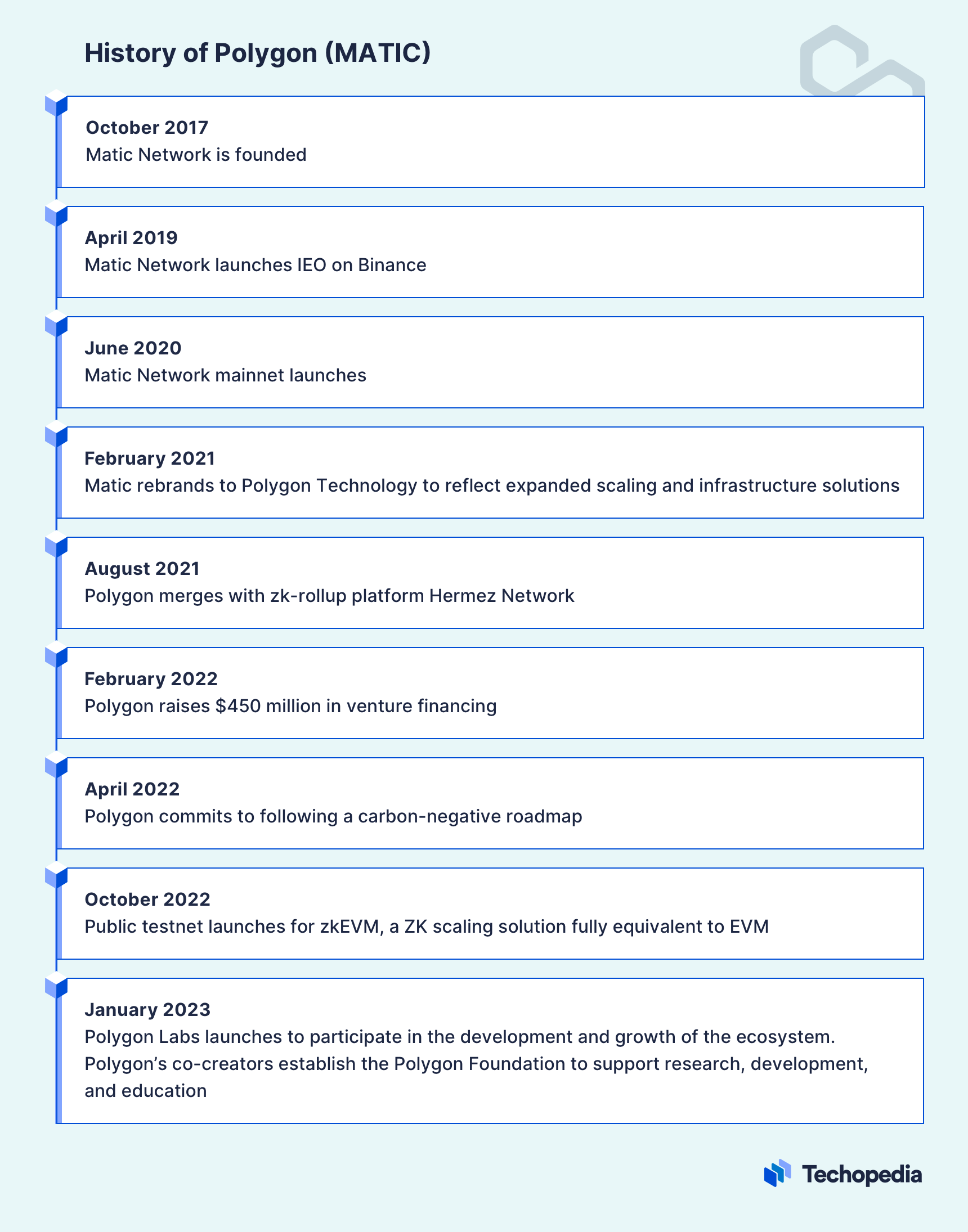 Who Created Polygon?
Polygon was co-founded by Jaynti Kanani, Sandeep Nailwal, Anurag Arjun, and Mihailo Bjelic, software engineers based in Mumbai.
What Is $MATIC?
MATIC is the Polygon blockchain's native cryptocurrency coin. It is based on Ethereum's ERC-20 standard, so it is compatible with other Ethereum-based cryptocurrencies.
What Is $MATIC Coin Used For?
MATIC is used to pay transaction fees on the Polygon network. Holders can also stake their MATIC coins to secure the network in exchange for rewards and buy non-fungible tokens (NFTs) from marketplaces that run on Polygon.
MATIC coin is also used for governance, granting holders the right to vote on changes to the Polygon network's development.
How Does Polygon Work?
Polygon runs as a parallel blockchain linked to the main Ethereum blockchain. It aims to complement and improve Ethereum by implementing additional features for security, modularity, and blockchain sovereignty to improve the user and developer experience.
Polygon's modified PoS consensus mechanism requires participants to stake their MATIC tokens – meaning they agree to keep them on the network and not trade or sell them – in exchange for the right to validate network transactions and add them to the blockchain. Validators receive more MATIC tokens as a reward for successfully validating each block. Delegators can stake their MATIC without becoming a validator by indirect staking through a trusted validator.
Polygon's mechanism is designed to process transactions efficiently while using the same underlying technology as the main Ethereum blockchain but with lower fees. Contract addresses on the Polygon blockchain are different from Ethereum, and tokens have to be bridged across the chains.
Pros and Cons of Polygon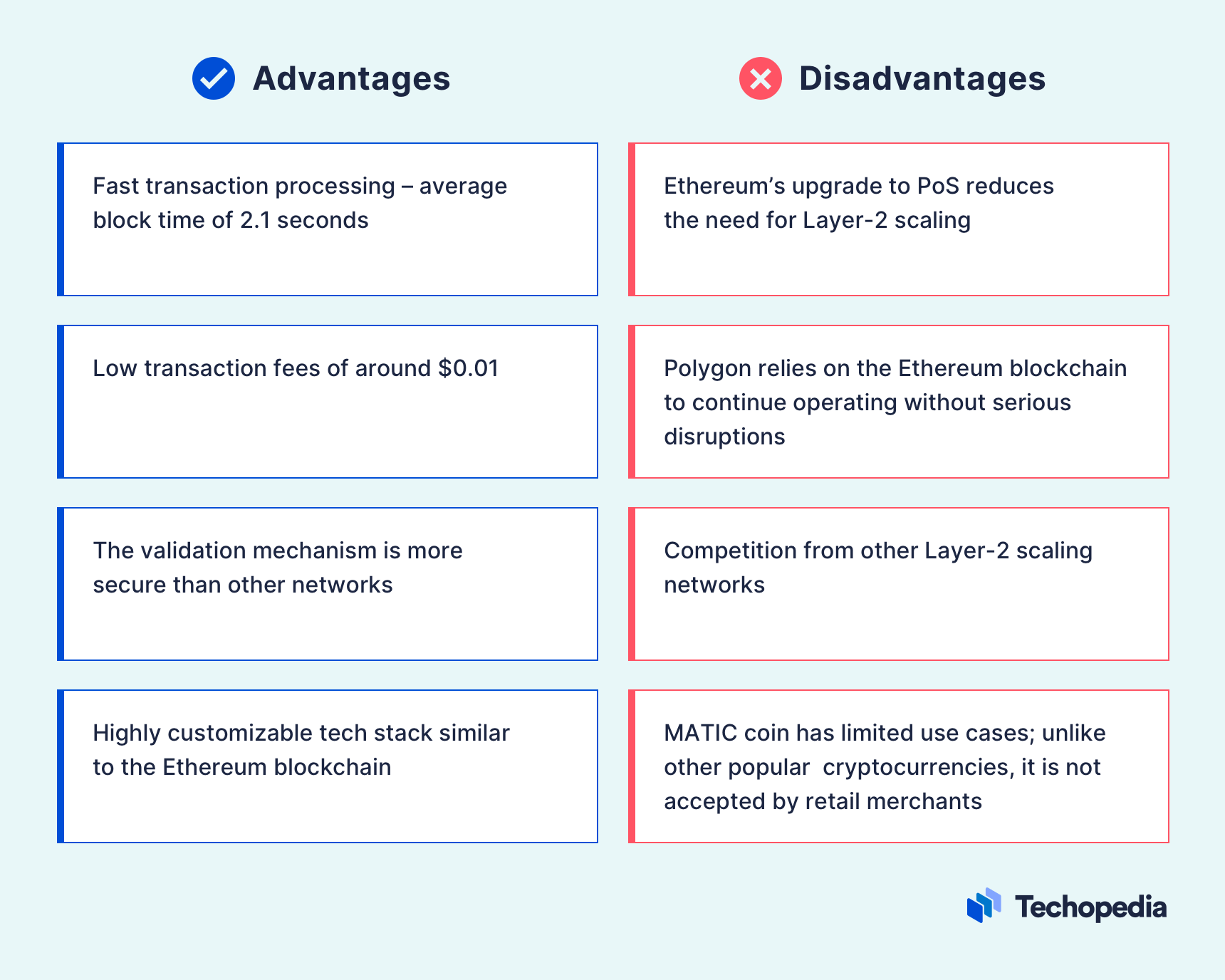 Future of Polygon and $MATIC
The future of the Polygon network is tied to the main Ethereum blockchain, although the developers have emphasized that they aim to eventually extend the protocol to other blockchains.
In 2021, Polygon Studios, launched as a subsidiary of Polygon Technology to focus on decentralized blockchain gaming and NFTs.
The MATIC price history reflects the volatile nature of cryptocurrency markets, trading between a low of $ 0.003049 in May 2019 and an all-time high of $2.91 in December 2021.
The direction of Polygon cryptocurrency's future price will depend on its use in transactions on the blockchain as well as overall crypto market sentiment.