What is ChainGPT (CGPT)?
ChainGPT is an artificial intelligence (AI) model that utilizes blockchain technology to execute various tasks, including smart-contract programming and crypto markets analysis.
Launched in June 2023 by Ilan Rakhmonov, a distinguished expert in advanced tech and blockchain, the AI model has a clear objective – to seamlessly integrate AI with Web3 capabilities.
Since its debut, ChainGPT has adopted a no-code approach, enabling individuals to harness the potential of smart contracts without needing technical expertise.
Techopedia Explains
ChainGPT caters to a spectrum of needs, whether creating codes, developing smart contracts, conducting market analysis, or troubleshooting. It is meticulously built to deliver a seamless blockchain experience.
Unlike traditional AI models that often demand extensive development updates, ChainGPT thrives on agility.
The AI model is designed to continuously source the latest information from the vast expanse of the internet and keep users updated in real-time.
This unique ability ensures that ChainGPT remains relevant and reliable in the ever-evolving landscape of technology and information.
The significance of its real-time updating utility cannot be overstated. In a world where evolving information can impact various sectors within the blockchain ecosystem, including crypto market growth and asset prices, ChainGPT's adaptive capacity becomes a crucial advantage.
Furthermore, ChainGPT offers up-to-the-minute pricing information for cryptocurrencies and helps in blockchain research tasks.
Its versatility extends to limitless use cases, enabling the creation of new applications or integration into existing ones through Software Development Kits (SDKs) and Application Programming Interfaces (APIs).
In October 2023, ChainGPT's promising utility was recognized by BNB Chain Grant, an entity of Binance dedicated to supporting projects contributing to its ecosystem. The AI model was selected as the winner of the October grant, a sign of what is to come.
📣 BNB Chain Awards ChainGPT a Grant!

Every month @BNBChain selects top projects that contribute the most to the BNB ecosystem and awards them with a Gas Grant.

🏆 #ChainGPT was selected for October's grant.

It's exciting to see the impact of ChainGPT AI 🙌 https://t.co/PuhxN1jLH6 pic.twitter.com/jQK0MkdVJq

— ChainGPT (@Chain_GPT) October 19, 2023
What is the CGPT Token?
ChainGPT features a native token, CGPT, designed to provide utility and reward participants in the AI model ecosystem.
The utility of the CGPT token is continually expanding, but its current applications include the following:
Product Offerings: The CGPT token powers the ChainGPT ecosystem, granting token holders access to a spectrum of AI tools and product offerings. This includes a chatbot, non-fungible tokens (NFTs) generator, AI Web3 Launchpad, AI-powered decentralized applications (dApps) dashboard, staking, and smart contract generators.
Governance: Holders of the CGPT tokens play a pivotal role in decision-making by participating in voting processes concerning new projects and developments within the AI model ecosystem.
Staking: ChainGPT is deployed on the Ethereum blockchain, which enables users to stake their assets to secure the network. In return for staking, newly minted CGPT tokens are rewarded to users as interest.
Rewards: CGPT serves as a mechanism for rewarding prompt engineers. These engineers earn CGPT as rewards for each suggested prompt that is utilized by users.
Use Cases of ChainGPT
ChainGPT provides a range of distinctive product offerings tailored to both crypto enthusiasts and developers, with its primary utilities highlighted below.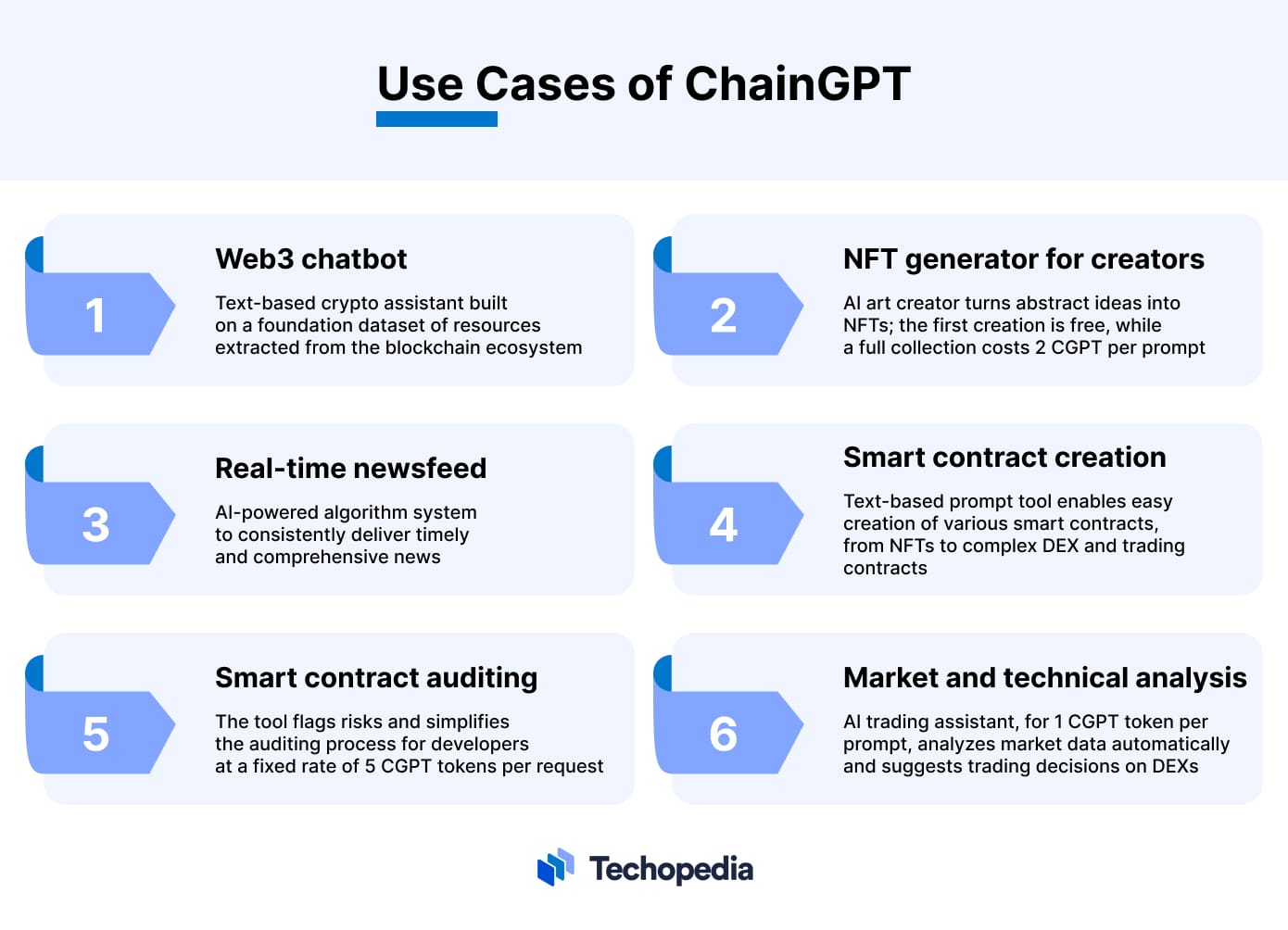 Web3 Chatbot
Solidifying its role as the ultimate digital companion for navigating the volatile digital landscape of crypto, ChainGPT integrates an active chatbot database that communicates in the most familiar digital format – text.
The AI model automatically generates human-like responses to users' prompts for free. All inquiries are met with detailed information and answers related to cryptocurrency and blockchain technology.
Unlike traditional models, the ChainGPT chatbot is built on a foundation dataset of resources extracted from the blockchain ecosystem. It continuously updates its historical knowledge of market data, technology, architecture, regulation, and more to remain relevant to all users.
NFT Generator for Creators
ChainGPT features an AI-powered NFT generator. The NFT generator interprets abstract imaginations and concepts through prompts, employing AI algorithms to create art that aligns precisely with the desired results.
This product is curated for creators and digital art collectors. Every generated art is tokenized on blockchains as NFTs in seconds. Although a single NFT creation is free, the generator can create an entire NFT collection through a basic prompt for a fee of 2 CGPT per prompt.
Real-Time Newsfeed
Navigating the continuously evolving 24-hour markets and substantial information flow within the crypto, blockchain, and Web3 sectors can be challenging.
In response to this challenge, ChainGPT has introduced an AI-powered algorithm system to consistently deliver timely and comprehensive news. The automated generated news summarizes key news and value points, removes excess information, enables users to learn about real-time events, and mitigates human bias.
Smart Contract Creation
Smart contracts are renowned fundamental blocks for building dApps. ChainGPT features a unique tool that enables developers to create smart contracts via a text-based prompt.
This tool harnesses an AI algorithm enriched with comprehensive knowledge about smart contract code, security measures, effective live contracts, libraries, and more.
Creating smart contracts on ChainGPT enables users to access a broader contract, from simpler types like NFT to more complex ones like decentralized exchanges (DEX), trading contracts, etc.
Another advantage is its low capital expenditure. Each smart contract generator prompt has a fixed rate of 1 CGPT token, compared to the conventional industry charge of hundreds and thousands of dollars.
Smart Contract Auditing
In the blockchain industry, the rule 'code is law' underscores the critical need to avoid errors when developing smart contracts or applications.
ChainGPT has developed a powerful smart contract auditor that seamlessly processes code as input and runs a series of evaluations based on its blockchain information set to detect potential threats before deploying contracts.
This tool acts as a pre-emptive security gateway for smart contracts and also saves time and capital usually required to run audits. With ChainGPT, developers can have a simplified smart contracts auditing process.
Like its smart contract generator, this tool is associated with fees. A fixed rate of 5 CGPT tokens per request is required to utilize the AI-enabled auditing functionality.
Market and Technical Analysis
Another impressive product ChainGPT offers is its AI-powered trading assistant, a bot designed to analyze market data automatically and suggest trading decisions on DEXs.
Some intrinsic functionalities embedded in the trading bot include technical, price, and sentimental analysis, indicator application, and live news updates. Together, they are built to maximize profit while minimizing risks.
To leverage this tool, users must pay a flat charge of 1 CGPT token per prompt. In addition, ChainGPT has built a state-of-the-art prompt marketplace for freelance prompt engineers to generate extra sources of income for every created prompt that gets used.
CGPT Tokenomics
The CGPT token has a market cap of $215,111, a fully diluted market cap of $8,000,000, and a circulating supply of 306,038,927.
Here is a breakdown of CGPT token sale and distribution:
Private and Public Rounds: The CGPT sale was conducted in two phases – private and public rounds. The private round involved selling tokens to a selected group of investors before the public sale opened to a broader audience.
Varying Price Points and Discounts: During the private and public rounds, CGPT tokens were sold at different price points, with associated discounts based on the round they participated in.
Total Raise: The CGPT token sale generated $2.032 million in funding. This amount represents the capital raised from investors purchasing tokens during private and public rounds.
Distribution Allocations: The funds raised were allocated for different purposes, including liquidity, team incentives, and various sale stages.
Vesting Periods and Cliffs: CGPT tokens allocated to different groups, such as team members, come with vesting periods and cliffs. Vesting periods refer to the duration during which tokens progressively become accessible to the holders, while cliffs signify a minimum period that must elapse before any tokens become accessible.
Unlike many other utility tokens, CGPT incorporates a burning mechanism. The burning mechanism is designed to gradually reduce the total supply of CGPT over time.
As transactions occur within the ChainGPT ecosystem, a portion of the AI model crypto involved in those transactions is permanently removed from circulation by being burned.
The burning is implemented as a fraction of the CGPT spent in each transaction. However, the percentage burned can vary based on the specific product or activity.
For example, when users participate in the ChainGPT Pad, 1% of the CGPT spent from the raised amount is burned. In contrast, for prompt marketplace fees, the burning percentage can be as high as 100%.
The Bottom Line
As an advanced AI language model, ChainGPT embeds innovative technology that offers intrinsic use cases related to blockchain.
The AI product constantly evolves and aims to integrate versatile features before the end of 2023 quarter four (Q4). This includes a robust mobile app, chatbot expansion, Web3 security extension, and more.
With blockchain technology consistently ushering in innovation and permeating various sectors, the potential use cases of language models like ChainGPT will become endless and drive more value to its native token, CGPT.