What is a Commodity Supercycle?
A commodity supercycle refers to a prolonged period of time when commodity prices stay considerably above or below their long-term trend. Usually, however, prices stay higher.
During this time, prices of several commodities, such as industrial metals, energy, and agricultural products like wheat, soar. Strong economic growth and higher demand for primary goods are some of the main drivers. Increased urbanization and globalization, especially in recent years, also support commodity supercycles.
How Long Does a Commodity Supercycle Last?
The exact number of years that mark the definition of a supercycle vary. Some experts consider commodity supercycles to be about 10-15 years or even more. Others are happy to consider shorter ones, such as the 2000-2008 one caused by China's increased industrialization.
In general, they can be anywhere from shorter 6-8-year cycles to over a decade or several decades. Grand supercycles take this a step further, with periods of 50-60 years at a time.
The reason it can be tricky to establish exact timeframes for commodity supercycles is that it depends greatly on the points of the cycle people consider for measurement.
Supercycles are phenomena that can take several years to become apparent. Then, they take many more years to play out and finally cool down. Hence, it may not be immediately clear when one has started or ended, thus leading to variations in length calculations.
This also depends greatly on the methods used to identify them. One of these is the asymmetric Christiano and Fitzgerald band-pass filter method, as used by the Bank of Canada.
How Do Commodity Supercycles Work?
Commodity markets are, in nature, quite cyclical. This is due to the long time it usually takes to develop new resources, like mines and oil fields. These can take several years and often even a decade to be fully functional.
Therefore, even if producers take immediate measures to increase production, such as opening a new mine, it can easily take years for it to translate into actual supply.
The primary cause of a supercycle is robust economic growth and increased globalization, such as during the Industrial Revolution. This leads to more demand for several commodities, such as metals, energy, and agricultural products, to support this growth.
Commodities Often Impacted by Supercycles: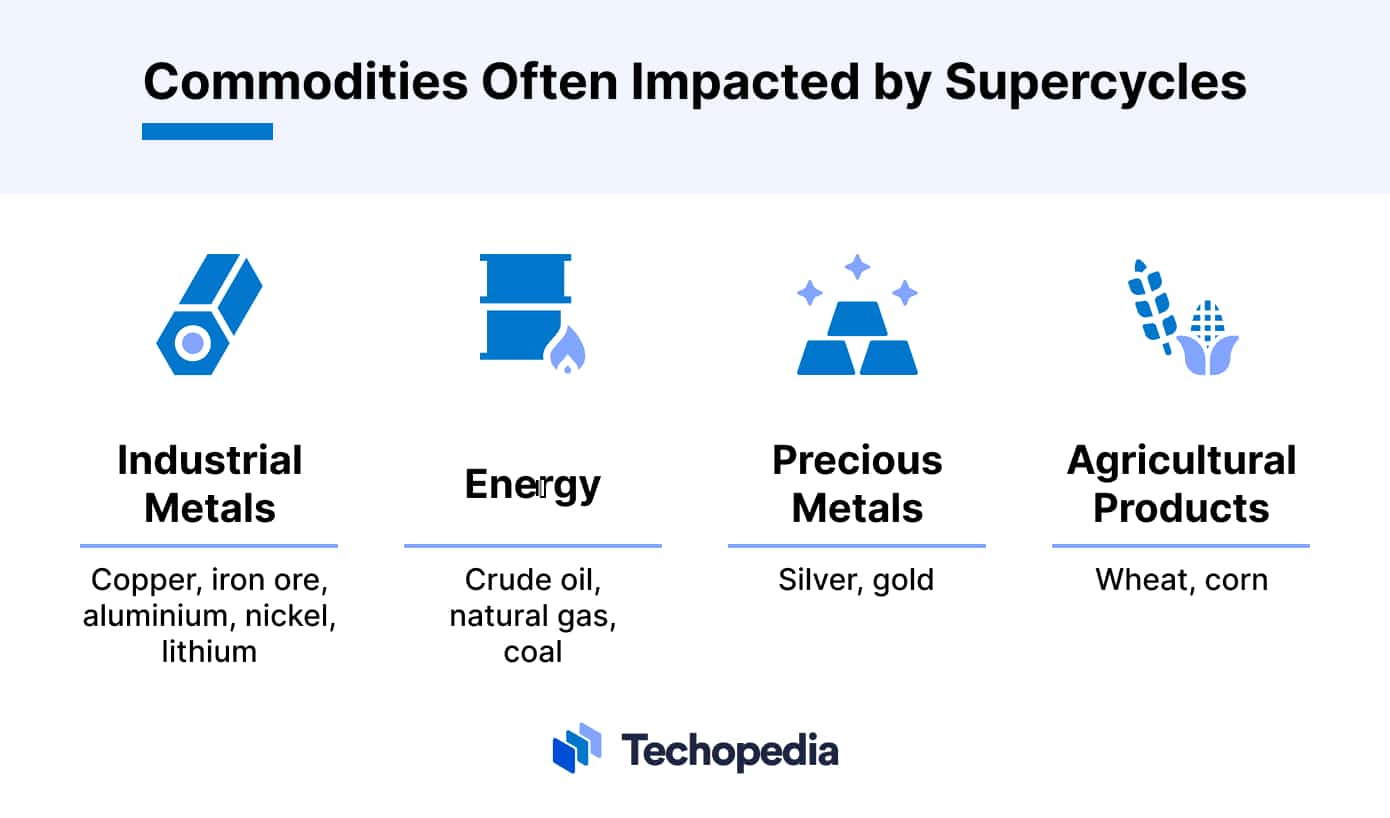 Industrial Metals: Copper, iron ore, aluminum, nickel, lithium
Energy: Crude oil, natural gas, coal
Precious Metals: Silver, gold
Agricultural Products: Wheat, corn
Manufacturers then try to rapidly scale up their production capacities to match soaring demand. However, because of the above-mentioned lag time, there is a period of supply constraints and unmet demand. This translates into higher prices, especially for key resources like metals or oil.
Eventually, when supply does catch up to demand, it can quickly turn into over-supply. This is especially true if the economy has also been going through other changes in the meantime, leading to lower demand.
As demand slows down, this marks the cooling of a particular supercycle until the cycle repeats itself.
Commodity supercycles may also spill over to other sectors, often leading to a general increase in prices or inflation. To combat this, governments can implement stronger monetary policy tightening.
In some cases, prolonged monetary tightening, amongst other factors, may lead an economy closer to recession. A supercycle would also slow down because of this.
Which Commodities are Usually Impacted?
Industrial Metals
Industrial metals, and copper especially, have long been considered a fore-warner for most kinds of economic change, such as inflation or recession, since it is so closely tied with a number of industries.
Similarly, copper is also usually one of the first metals to see strong demand at the beginning of a supercycle for the same reason.
Energy
Energy products are some of the most demanded, too, especially in developing economies. These economies typically see some of the strongest industrial growth, such as China and India.
This boosts the need for cheap and plentiful fuel, especially since developing countries are slower and more unwilling to invest in green energy.
Precious Metals and Agricultural Products
Precious metals, such as silver and gold, and agricultural products, such as wheat and corn, can see rising prices during a supercycle at times.
Past Supercycle Examples
In the past 150 years, around four largely accepted supercycles have emerged, during which the commodity price index has deviated at least 10% from its baseline:
| | |
| --- | --- |
| Decade | Key Factors |
| The early 1900s | Manufacturing, automobile, and shipping sectors were abundantly using oil, along with wider US industrialization. |
| The 1930s | More weapons were manufactured to arm militaries ahead of the Second World War. |
| The 1960s | Japan and Europe went through another wave of industrialization. |
| The early 2000s | China experienced industrialization and became a member of the World Trade Organisation (WTO). |
Although most of the above supercycles have the common theme of industrialization, they were also characterized by their own unique socio-economic and cultural factors.
As seen above, how much a commodity supercycle impacted a country depended on several factors. The development of an economy prior to the supercycle and its unique position in major events such as world wars were very relevant.
Geopolitical factors played a role too. The amount of resources a nation had would also drastically change how it reacted to a supercycle.
Are We in a New Commodity Supercycle?
Commodity prices rose considerably in 2021, according to the World Bank. Natural gas prices were up about 69% in the third quarter of the year, with coal being up 44%.
Agricultural prices were up 22%, while metal prices also increased 48% in the same quarter. This was mainly due to pandemic recovery.
However, the same momentum continued on to 2022. The Russia-Ukraine war further encouraged soaring metal and energy prices. The war has also caused supply bottlenecks.
Battery metals like lithium and cobalt also saw more demand as the green transition progressed. G-20 countries are also aggressively prioritizing renewable energy agendas following the Russian war.
This is both for climate goals, as well as to reduce dependency on Russian energy. Russia's retaliation against European and US sanctions, using energy, has also prompted this.
However, since pandemic demand was quite subdued, this rebound in metals and energy is not quite as impressive as it looks. As such, it may be a little early to assume that we are in a commodity supercycle right now.
One could be coming soon, though. This is mainly due to emerging market suppliers being reluctant to invest heavily in increasing supply following the pandemic. This includes mines, oil fields, or renewable energy, which are notoriously investment-heavy.
Consistent inflation, coupled with anxieties around the global economic slowdown, have also contributed to this dampened sentiment from suppliers.
Thus, signs of increased demand and stagnant supply have already been showing. This could be setting the stage for another commodity supercycle in a few years.