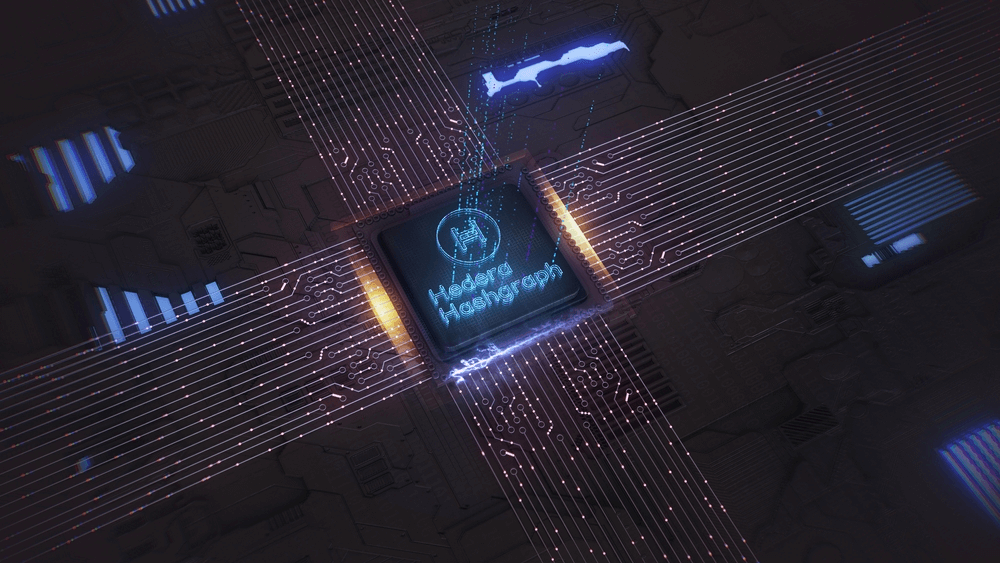 Navigating through the end of 2023, Hedera (HBAR) showed signs of recovery, correlating to broader crypto market trends. The coin was up by over 75% since its 2022 closing price. Despite the recent gains, HBAR is still down by over 88% of its all-time high.
Consequently, many buyers are looking for a Hedera price prediction in 2023. This article dives into Hedera's price history and offers a prediction up to 2030.
It explores the factors influencing its value, from in-network developments to global market sentiments, offering a comprehensive view of Hedera's price potential.
Hedera (HBAR) Price Prediction 2023 to 2030 – Overview
End of 2023

: Hedera is expected to reach up to $0.11, influenced by market trends and technological advancements. The crucial support level at $0.057 will play a significant role in determining its short-term movement.

End of 2024

: With ongoing network improvements and a recovering crypto market, Hedera's price could rise to around $0.2. These developments, including improved developer tooling and network resilience, are key drivers for this potential increase.

End of 2025

: Given its strategic upgrades and the growing blockchain market, Hedera might see its value reach approximately $0.33. The platform's continued journey towards decentralization and improvements in smart contract verification is important for this growth.

End of 2030

: Looking towards a longer horizon, Hedera could see highs of about $0.7, fueled by the expansion of the blockchain and broader user adoption. However, more conservative estimates like Coinpedia's suggest a potential high of around $0.363, reflecting the market's inherent uncertainties.
| | | | |
| --- | --- | --- | --- |
| Year | Potential Low | Average Price | Potential High |
| 2023 | $0.045 | $0.08 | $0.11 |
| 2024 | $0.1 | $0.16 | $0.2 |
| 2025 | $0.19 | $0.24 | 0.33 |
| 2030 | $0.5 | $0.62 | $0.7 |
Hedera Price History
Gauging a coin's upside potential requires understanding its price history and how it reacted to past market events. It's crucial to remember that past performance is not a reliable indicator of future results, but it does offer valuable context.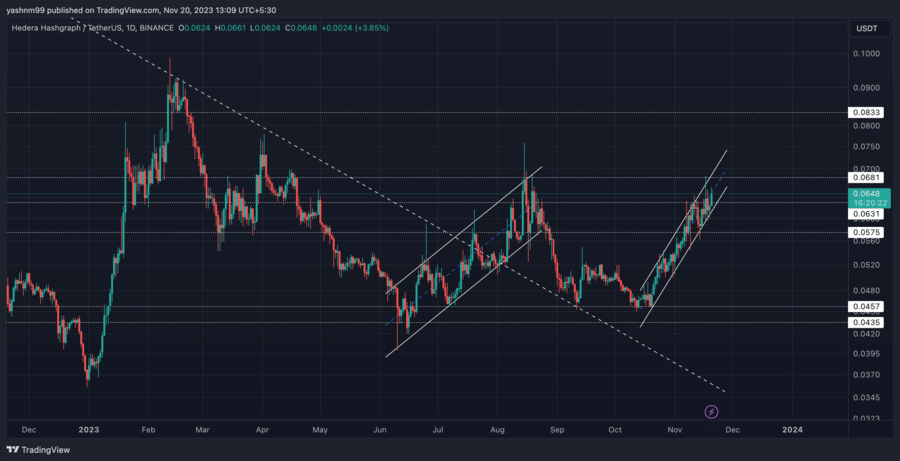 Initial Stability and Gradual Rise (2019-2020): Hedera's price was relatively stable after its launch, fluctuating between $0.01 and $0.08. This period was marked by the project's initial development phase and gradual community growth.
2021 – High Volatility:
Early 2021 Surge

: Starting at $0.03, Hedera's price rallied to nearly $0.45 by mid-March, riding the broader crypto market boom wave.

April Decline

: The price began to fall in April, aligning with the broader market downturn, and reached a low of $0.1559 by July 21st.

September Peak

: Hedera saw a resurgence, partly driven by growing NFT interest, peaking at an all-time high of $0.57 on September 16th. This coincided with the

Hedera Governing Council's announcement to allocate $5 billion in HBAR for ecosystem development

. The year closed with HBAR at nearly $0.3, showing the year's extreme volatility.
2022 – The Downturn:
Early 2022 Fluctuations

: The year started with HBAR reaching $0.33 but failed to sustain this level, often hovering below $0.3.

Mid-2022 Turbulence

: The

de-pegging of UST and the collapse of LUNA

in May, followed by the troubles of Celsius Network in June, further pressured the price, with lows of $0.075 and $0.058, respectively.

Coinbase Listing and Market Reactions

: September saw a brief surge due to Coinbase listing expectations, but the delayed launch led to a price fall. The eventual listing in October didn't significantly boost the price.

Year-End Impact of FTX Collapse

: The

FTX exchange collapse in late 2022

led to a market crash, dragging HBAR down to a year-end close of around $0.036.
2023 – Signs of Recovery and Recent Trends:
Early 2023 Recovery

: HBAR showed recovery signs, reaching $0.09 in February, its highest since May.

Silvergate Bank Impact and Subsequent Movements

: The

collapse of Silvergate Bank

worsened the mood, but the token later gained momentum, forming an "ascending channel" pattern, typically indicating a gradual uptrend with higher highs and lows.
Recently, HBAR has been finding support around the $0.057-0.06 level, with a breach below this potentially indicating a stronger bearish trend.
Quick Bullet Point Summary of Hedera's Price Action History:
2019-2020

: Steady price range between $0.01 and $0.08.

2021

: Reached a high of $0.5701 in September; fluctuated significantly throughout the year.

2022

: Affected by broader market events like UST de-pegging and FTX collapse; ended the year at $0.036.

2023

: Recovery to $0.06 in mid-November after forming an ascending channel, indicating a potential gradual uptrend with immediate support levels in the $0.057-0.06 range.
Hedera Price Prediction 2023
In assessing Hedera's price for 2023's end, we must consider the coin's current position and broader market influences.
Like other cryptos, Hedera is subject to market sentiment, regulatory news, and technological advancements within its ecosystem. We might see a brighter near-term outlook if Hedera buyers uphold momentum at the immediate support level of $0.057.
This support is critical; holding above it could signify buyer confidence. On the other hand, a break below this level could intensify bearish sentiment.
Despite the ascending channel pattern suggesting an uptrend, it's important to be cautious of potential reversals. Market trends, especially in the crypto space, can be unpredictable and influenced by external factors.
A crucial resistance level for Hedera lies around $0.068. A convincing move above this point could signal a shift in market dynamics, potentially setting the stage for a climb toward $0.11.
However, buyers should seek confirmation with a sustained close above this resistance before anticipating further upside.
The Bitcoin Fear and Greed Index, often a barometer for general crypto market sentiment, indicates a leaning towards buyers. This could positively impact altcoins like Hedera, provided the sentiment remains stable.
Considering these factors, Hedera's expected price can see potential lows near $0.045 and highs around $0.11 by 2023's end.
| | | | |
| --- | --- | --- | --- |
| Month | Potential Low | Average Price | Potential High |
| November 2023 | $0.045 | $0.075 | $0.095 |
| December 2023 | $0.048 | $0.08 | $0.11 |
Hedera Price Prediction 2024
As we look towards 2024, the crypto market shows signs of an upturn, and investors are actively looking for the best cryptos to trade.
2024 could be crucial for Hedera, influenced by several in-network developments and broader market trends. Its focus on improving its technical infrastructure and the broader market recovery are key drivers for its potential price increase.
Hedera's plans to modularize its services aim to simplify development, troubleshooting, and deployment. This could lead to more efficient network operations and attract developers seeking a user-friendly environment.
Also, enhancements in Hedera's network infrastructure, aiming to improve uptime and resilience, are crucial. These improvements hint at a commitment to network stability, a key factor for enterprise adoption.
Developer Tooling and Integrations In the Pipeline:
JSON-RPC Performance Improvements

: Upgrades to JSON-RPC (a simple way for computers to communicate with each other) are expected to boost scalability and performance, making the platform more attractive for large-scale applications.

Developer Portal Improvements

: Enhancing the developer portal experience can simplify testnet account management, potentially increasing developer engagement.

Local Node Improvements

: Optimizing local node performance will help in application development, testing, and deployment, further encouraging developer participation.

Decentralization and Disaster Recovery

: Hedera's focus on decentralization and disaster recovery improvements will position it as a reliable platform for maintaining uninterrupted network services.
These technical improvements could significantly impact Hedera's adoption and use case scenarios and attract more users.
Considering these factors and recovering broader market sentiment, HBAR could reach around $0.2 by 2024's end. On the other hand, Digital Coin Price, a well-known crypto analytics platform, predicts HBAR could reach around $0.14 by 2024's end.
Hedera Price Prediction 2025
As we enter 2025, Hedera's growth seems bright, given the planned network upgrades and developments.
Hedera is set to continue its journey towards greater decentralization. They plan to introduce permissioned, community-run mainnet nodes. This move decentralizes the network further and instills more trust among users and developers, potentially increasing network participation and adoption.
Also, another crucial upgrade involves enabling Hedera mirror nodes to display verified source code for deployed smart contracts.
This transparency is important for security, increasing confidence among developers and users. It ensures a safer environment for both development and retail experiences.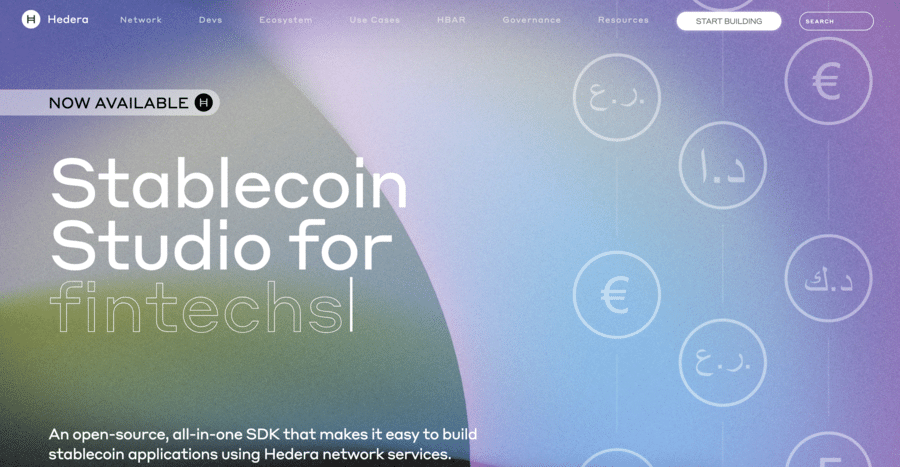 Hedera can become a more developer-friendly environment by enabling developers to track, diagnose, and improve deployed smart contracts. This could increase the number and quality of applications built on Hedera, further driving its adoption and use.
Considering these strategic upgrades and their potential to boost Hedera's network, HBAR could gain more traction among investors.
By the end of 2025, Hedera could reach highs of around $0.33. On the other hand, CoinCodex, a renowned crypto analysis platform, also takes a slightly optimistic approach and predicts HBAR could cross $0.2 by 2025.
It's vital to remember that these predictions depend on the successful implementation of the upgrades above and the continued positive sentiment in the broader crypto market.
Hedera Price Forecast 2030
As we look towards 2030, understanding the potential growth of Hedera within the rapidly expanding blockchain industry is crucial.
The global blockchain technology market, valued at $11.14 billion in 2022, is projected to skyrocket to $469.49 billion by 2030, with an expected Compound Annual Growth Rate (CAGR) of nearly 60%. This explosive growth provides a solid ground for platforms like Hedera to expand their utility and market presence.
Hedera's development to enable first-class support for its platform using popular Ethereum Virtual Machine (EVM) tools like Hardhat and Foundry is significant.
This integration will allow developers familiar with Ethereum's ecosystem to seamlessly transition and build on Hedera, potentially increasing the platform's attractiveness and user base.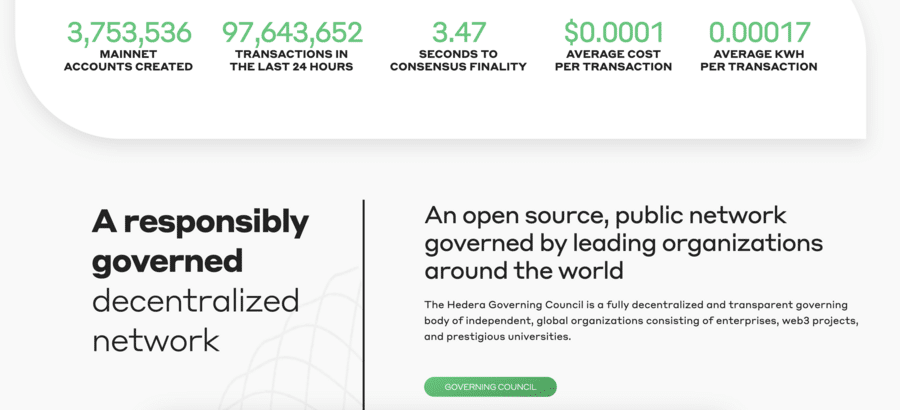 Also, improvements in streamlining the process for users to associate tokens with their accounts aim to improve both retail and business user experiences. Simplifying this process can lead to greater adoption and use of Hedera's token services.
Considering these strategic developments and the overall growth of the blockchain industry, Hedera shows potential for significant appreciation. By 2030, it is plausible for Hedera to reach highs of around $0.7, aligning with its anticipated advancements and market trends.
On the other hand, a more conservative estimate, such as Coinpedia's prediction of $0.363, shows cautious optimism amid potential market volatility and technological challenges.
Finally, considering the broader market and Bitcoin sentiment alongside other macroeconomic factors is important when looking for the best long-term investment.
Potential Highs & Lows of Hedera Price
Below is a quick overview of the Hedera price forecast from 2023 to 2030:
| | | | |
| --- | --- | --- | --- |
| Year | Potential Low | Average Price | Potential High |
| 2023 | $0.045 | $0.08 | $0.11 |
| 2024 | $0.1 | $0.16 | $0.2 |
| 2025 | $0.19 | $0.24 | 0.33 |
| 2030 | $0.5 | $0.62 | $0.7 |
What Do Other Analysts Predict For Hedera?
When exploring the diverse opinions of various analysts regarding Hedera's future, it's important to recognize these are based on educated analyses of past trends and potential future developments.
However, as with any predictions in the volatile crypto market, these should be viewed as possibilities rather than certainties.
Digital Coin Price, known for its data-driven predictions, has provided a detailed forecast for Hedera:
2023

: The prediction suggests a minimum price of $0.0579, an average of around $0.14, and a maximum of $0.14.

2024

: Prices are expected to range from $0.14 as a minimum to $0.17 as a maximum, with an average of $0.16.

2025-2027

: The platform predicts a gradual increase, with minimum prices hovering around $0.19-$0.25 and maximums reaching up to $0.30.

2028-2030

: A more significant uptick is anticipated, with 2029 seeing a potential high of $0.49 and 2030 stretching to $0.68.
CoinCodex's Perspective:
2023

: They predict a trading range between $0.05 and $0.062, indicating a potential decrease to $0.061.

2024

: Hedera is expected to trade between $0.047 to $0.074, possibly increasing by 15.11%.

2025

: A wider range is forecasted, from $0.067 to $0.21, suggesting a substantial increase of 236.42%.

2030

: A long-term view shows a potential low of $0.042 and a high of $0.29, marking a gain of 348.99%.
Changelly, with its focus on technical analysis, offers the following insights:
2023

: A minimum price of $0.065 and a maximum of $0.069 are anticipated, with an average of around $0.0677.

2024-2025

: Predictions show a steady increase, with 2024 expecting a maximum of $0.116 and 2025 reaching up to $0.159.

2030

: A more optimistic view, forecasting a maximum of $1.07 and an average trading price of around $0.915.
Coinpedia's year-by-year forecast:
2023-2027

: A gradual increase is anticipated, with 2023 seeing potential highs of $0.0865 and 2027 reaching up to $0.215.

2028-2030

: Takes a moderately optimistic view, with 2029 showing a potential high of $0.305 and 2030 reaching up to $0.363.
What is Hedera?
Hedera is a public network and governing body tailored to meet the needs of mainstream markets with its innovative Hashgraph technology. Its vision revolves around creating a trusted and secure cyberspace less reliant on centralized entities exerting excessive influence.
In contrast to traditional blockchain, where only one chain of blocks is maintained, Hedera's 'Hashgraph' mechanism integrates every container of transactions into its ledger, improving efficiency.
This means that unlike blockchain, which has branches to maintain a single chain, Hashgraph weaves all growth into the ledger. This approach ensures efficiency and supports more powerful mathematical guarantees and fairness.

Hedera's governance is particularly unique, featuring a council of leading global enterprises from diverse industries and geographies. This council represents Hedera's commitment to a decentralized yet structured approach, ensuring no single member or small group wields disproportionate influence.
The Hedera Governing Council, with its term-limited, rotating membership, oversees critical decisions regarding the platform.
Technical Innovations
Performance

: At its core, Hedera leverages the Hashgraph distributed consensus algorithm developed by Dr. Leemon Baird. This algorithm is incredibly efficient, enabling processing hundreds of thousands of transactions per second in a single shard – a network of fully connected nodes. Initially, Hedera aims to handle 10,000 crypto transactions per second, with consensus latency measured in seconds.

Security

: Security is paramount in Hedera's design. It achieves the gold standard of 'asynchronous Byzantine Fault Tolerance (aBFT)', making it resilient to common attacks such as Distributed Denial of Service (DDoS). This level of security, particularly at scale, marks a significant advancement in distributed systems.

Fairness

: Hedera ensures fair access and ordering of transactions. This means that the order in which the network receives transactions is fairly reflected in the consensus order, an important aspect for many applications.
Stability and Legal Controls
Both technical and legal controls highlight Hedera's stability. Technically, the Hashgraph technology prevents network nodes from forking the ledger, ensuring the platform's integrity.
Hedera's codebase governance and anti-forking measures maintain platform consistency, which is vital for mainstream adoption.
Regulatory Compliance
Hedera's technical framework includes features for controlled mutability of network state and the potential for additional data attachment to transactions.
These features cater to future needs like personal data erasure and optional verified identity mechanisms, aligning with regulatory compliance and consumer protection.
Hedera Overview
| | |
| --- | --- |
| Cryptocurrency | Hedera |
| Ticker Symbol | HBAR |
| Price | $0.0648 |
| Price Change 24H | +5.2% |
| Market Cap | $2,176,415,555 |
| Circulating Supply | 33,562,400,522 |
| Trading Volume | $58,409,682 |
| All-Time High | $0.569 |
| All-Time Low | $0.0098 |
What Factors Influence the Price of Hedera?
The price of Hedera, like any crypto, is influenced by a blend of specific project traits and broader market dynamics. Some key factors impacting Hedera's value:
Hashgraph Technology Adoption and Efficiency

: Unlike traditional blockchains, Hedera's unique Hashgraph mechanism can process transactions more efficiently and quickly. The more widely this technology is adopted for its advantages, the greater the potential impact on Hedera's price.

Governance Structure

: Hedera's distinct governance model, featuring a council of diverse global enterprises, lends credibility and stability to the project. Decisions made by this council, particularly those impacting scalability and performance, can significantly influence investor confidence and, consequently, Hedera's price.

Fair Access and Ordering of Transactions

: Hedera's commitment to fairness in transaction processing is crucial. Upgrades in this area can boost its appeal, especially for applications where transaction order is critical, thereby impacting its market value.

Regulatory Compliance and Legal Controls

: Hedera's focus on regulatory compliance and controlled mutability aligns with the growing demand for legally compliant and secure blockchain solutions. Progress in this area can improve its market position.

Technological Advancements in Distributed Ledger Technology (DLT)

: Breakthroughs in DLT can either enhance Hedera's competitive edge or challenge it, impacting its price.

Global Economic Conditions

: Macroeconomic factors such as inflation rates,

regulatory changes in crypto

, and investor sentiment towards technology stocks and cryptos can all influence Hedera's price.

Adoption by Enterprises and Industries

: Hedera's integration into various industry applications and its adoption by enterprises can increase its utility and demand, potentially driving its value.

Public Perception and Media Coverage

: How Hedera is perceived by the public and portrayed in the media, especially regarding its technological advancements and partnerships, can influence investor behavior and market price.
Best Place to Buy Hedera
Hedera is listed on Binance, which is the largest crypto exchange both in terms of daily trading volume and users. Along with 350 other cryptocurrencies, you can buy HBAR with a credit card or on the spot market with a 0.1% fee.
With Binance auto-invest, you can set up recurring purchases based on your investment amount and time frame, say each Monday at 15:00, and Binance will purchase HBAR for you. This is an excellent feature during bear markets to dollar-cost average your position.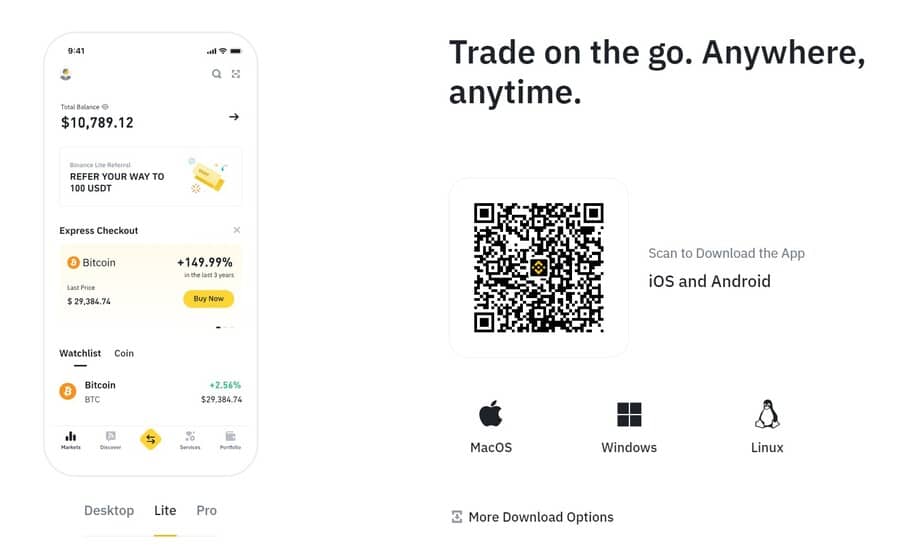 As a Binance user, you get access to Binance Lend where you can borrow against your crypto assets. This can be useful if you need liquidity fast but you don't want to sell your tokens. Moreover, you can use trading bots and copy trading to automate your trading.
Overall, with some of the lowest fees and a plethora of useful features, Binance is the best exchange to buy your crypto coins.
Don't invest unless you're prepared to lose all the money you invest. This is a high-risk investment and you should not expect to be protected if something goes wrong.
Conclusion
Hedera's unique Hashgraph technology, governance model, and commitment to security and regulatory compliance give it an edge over its competitors. However, its price history also reflects its vulnerability to broader market dynamics and investor sentiment.
Investors looking to buy Hedera should consider the above projections alongside current market conditions, Hedera's ongoing developments, and the inherent unpredictability of the crypto market before making any buying decision.
Due to this unpredictability, investors should consider diversifying their portfolios to reduce their overall risk. However, finding a promising crypto in a market with over 10,000 active projects can be tough.
As a result, we've highlighted some of the most promising cryptos known for their utility and expanding user base on our 'Best Cryptos' page. You can click the link below to learn more about these projects.
References
FAQs
How much will Hedera be worth in 2025?
Is Hedera a good investment?