If you want a crypto casino jam-packed with features, then Rollbit may be for you. As well as betting on games and events, users can buy, sell, and trade crypto and NFTs. However, there are a few considerations to make before getting started.
With that in mind, this Rollbit casino review explores the platform's ins and outs. We also provide some high-potential alternatives in case Rollbit is not for you.
What is Rollbit?
Rollbit is a crypto casino built on the Ethereum blockchain, presenting countless games and sports betting options, NFT functionality, and even leveraged crypto trading. The platform seemingly acts as a "jack of all trades," aiming to serve everyone from one dashboard.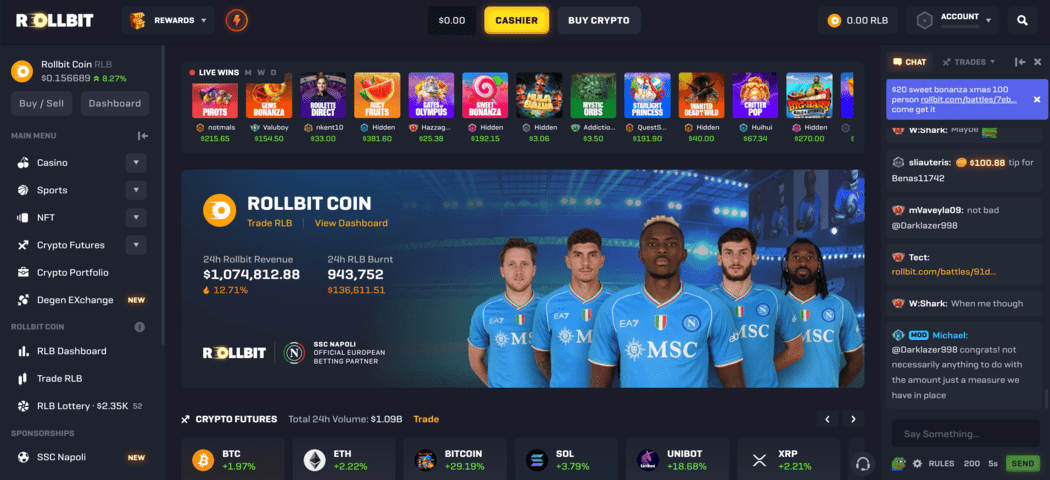 Rollbit is a decentralized platform that does not require KYC to sign up. However, players must still open accounts on the platform and may be asked to verify their identity later.
With that in mind, let's look at how Rollbit works.
Bitcoin casinos have increased what is possible in online gambling, and Rollbit takes this a step further.
First, Rollbit features 3,500+ slots and live games, as well as sportsbook events with options to bet in play and bet on eSporting events.
Rollbit has partnered with almost all the top gaming providers. It is backed by Pragmatic and Evolution Gaming, providing a top-notch user experience, making it one of the best roulette sites. However, it has also partnered with lesser-known providers that offer more niche casino games. Therefore, if there is a game or sporting event you want to bet on, you can probably find it on Rollbit.
Although Rollbit's all-encompassing casino and sportsbook features make it a solid crypto casino, its other features make it stand out.
For instance, Rollbit has an exhaustive NFT ecosystem, enabling users to buy and win NFTs. What's more, you can even loan your NFT for USDC, which also claims to offer the highest loan-to-value (LTV) rates on the market.
Finally, it boasts a Crypto Futures section, where users can trade up to 1,000x leverage on top cryptocurrencies like Bitcoin, Ethereum, and XRP. This is a massive amount of leverage, far more than some other exchanges. For instance, Binance offers up to 125x leverage.
As such, Rollbit also acts as one of the best high-leverage trading platforms, particularly considering it does not require KYC.
Rollbit has plenty of deposit options, including some top cryptos and several fiat deposit methods like Visa and Apple Pay. However, you can only withdraw via crypto at the moment.
Rollbit Pros and Cons
Pros
One of the best Ethereum crypto casinos
Feature-packed platform with thousands of betting options
No KYC required
You can deposit funds through many different methods
Seamless and intuitive user interface
Cons
Does not support fiat withdrawals
Incomplete bonuses mechanism
Is Rollbit Regulated and Licensed?
Rollbit was regulated in Curaçao, a Dutch island near Venezuela, which is known to be the hub of online gambling regulation. However, Rollbit's regulatory license was not renewed after releasing its crypto derivatives feature.
Nevertheless, the platform instills anti-money laundering standards per the EU's guidelines. This is why we mentioned earlier that despite not requiring KYC to sign up, players may be required to verify their identity later.
Rollbit also has a policy page for "responsible gambling." However, the platform does not offer tools to assist struggling users in this regard.
Still, many of its gaming providers are regulated and licensed. For example, Pragmatic Play is licensed by the UK Gambling Commission.
Is Rollbit Secure?
While Rollbit may no longer boast a regulatory license, this does not mean it has disregarded security. Our Rollbit casino review found that you can get started on the platform without inputting sensitive data like your name and address. This helps protect your privacy and prevents you from becoming a victim of identity fraud.
Furthermore, since the platform supports crypto deposits and withdrawals, Rollbit does not require sensitive financial data of its users. Instead, users can simply connect their wallets and deposit without revealing confidential data. However, the option for secure card and Apple Pay deposits is still available for those who require it.
Finally, Rollbit has received over 4,000 Trust Pilot reviews, averaging over four stars. This shows that the platform is battle-tested and reliable at facilitating crypto gambling.
Is Rollbit Fair?
When it comes to crypto casinos, one of the most important factors separating the good from the bad is whether they are fair. A fair casino gives all users an equal chance to win and does not bend the rules to boost profits.
But how can you identify a fair casino?
Provably Fair Gaming
Rollbit uses a technology known as "provably fair," which refers to utilizing cryptography to prove that a game is fair since game results have been predetermined. Essentially, this means Rollbit cannot alter a game's results, and users can verify this through a cryptographic "global seed" number.
The platform offers many provably fair games but does not stop there. It also incorporates provably fair technology into other elements of its platform, like its Provably Fair RLB Lottery, which shares 20% of the platform's profits as prizes.
Since provably fair technology relies on a predetermined set of results, a "house edge" must be set in advance. According to a blog post, Rollbit's edge varies between games but usually lies around 4%.
A Closer Look at Rollbit's Best Features
Now that we have examined the safety, security, and fairness of Rollbit, let's take a closer look at the platform's best features and how they work.
Live Casino and Games
If you love trying out new niche slots and games, Rollbit is worth a look. It boasts over 3,500 slots, some of its most popular being Sweet Bonanza, Wanted Dead or a Wild and Rollbot Bonanza.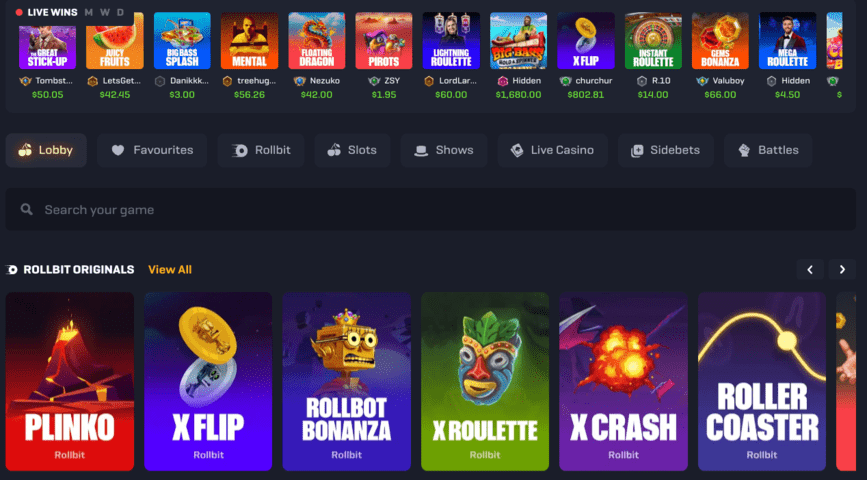 You can also filter slots to show only ones with bonuses available, adding to the excitement and helping you play more games with the same money.
Furthermore, the platform offers an exclusive feature called side bets, where users can place an additional bet to predict the outcome of their slot game. This feature 'ups the stakes', supercharging the user's win potential but also increasing the risk.
All the classics are available for its casino games, including blackjack, roulette, and you can even find games like Texas Hold 'em. This could make Rollbit a candidate for the best crypto poker sites.
Several variations of each are available, like X Roulette and Instant Roulette. X Roulette currently has a 95% return-to-player (RPT), but Instant Roulette is slightly higher at 96.51%.
For those looking to maximize their odds, blackjack may provide a better option, with Blackjack VIP M offering between a 95.9% and 99.29% RTP, depending on the user's strategy.
Our Rollbit review also found that it boasts many more features like bonus battles, challenges, live tables, and social clans.
Sportsbook
As well as a vast range of casino games, Rollbit is one of the top sports betting casinos. The platform offers countless sports and eSports betting markets and many related features to keep sports betting fresh and exciting.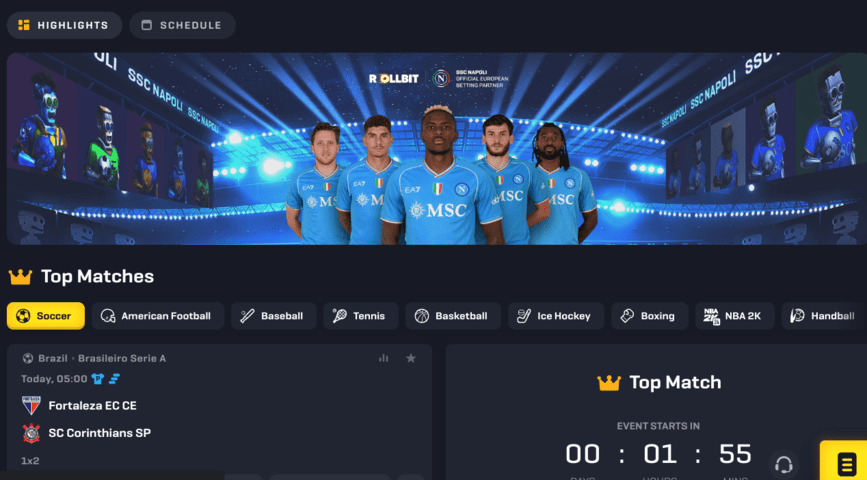 Some top sportsbook markets are soccer, tennis, basketball, and baseball. However, you can find almost all sports on the site, no matter how obscure. Additionally, an extensive array of 177 eSports markets are available, comprising games like FIFA, League of Legends, NBA 2K, and more.
NFTs
As mentioned, Rollbit also offers plenty of features relating to NFTs. First, there is an NFT marketplace where users can buy or bet on NFTs. The betting feature is unique to Rollbit and is not seen in traditional NFT marketplaces.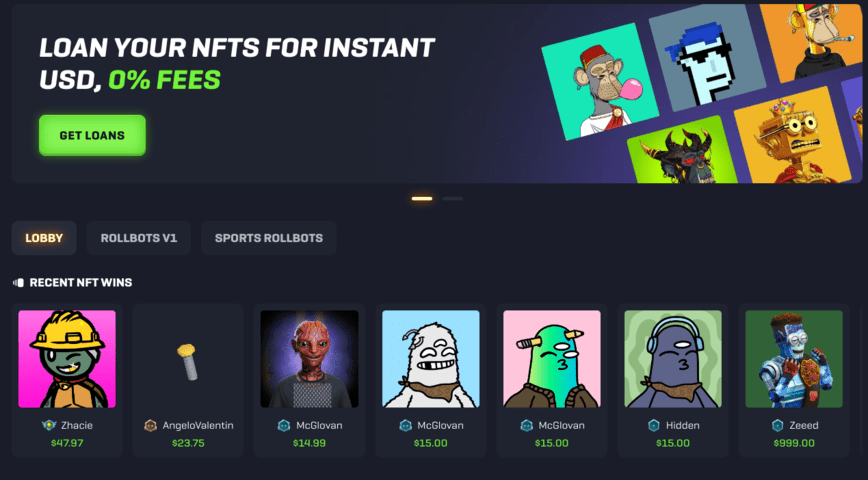 Users can also take out USDC loans, secured by the value of their NFT. According to Rollbit, the platform offers the most competitive LTV rates. The NFT loans feature aims to provide users access to liquidity without selling their assets.
However, it is worth noting that Rollbit's NFT loans are short-term and must be repaid within seven days.
The platform also offers NFT Lootboxes, where users can buy a mystery box loaded with NFTs. Many variations are available, starting at $0.09 and climbing to the thousands of dollars.
Finally, Rollbit has its own line of NFTs known as Rollbots. Holders of these NFTs receive many benefits, including platform revenue share, market stakes, lottery stakes, and more. However, Rollbots are in limited supply, with just 9,999 available.
Buying, Managing, and Trading Crypto
Rollbit seemingly aims to be a one-stop-shop for everything crypto, facilitating crypto investing and trading alongside its gambling and NFT services.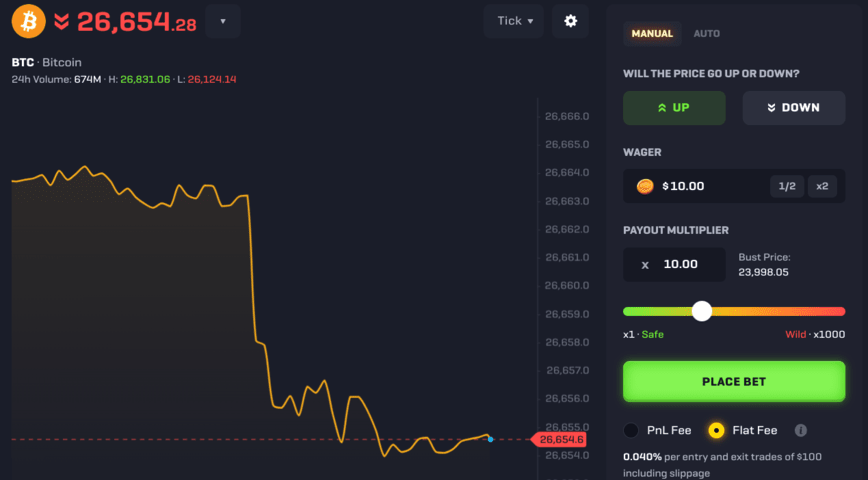 Its most popular feature is its gamified crypto futures mechanism, enabling users to trade up to 1,000x leverage on many top and emerging cryptocurrencies like Unibot.
Compared to other futures trading platforms, Rollbit is intuitive and simplistic, making it ideal for beginners. Users can also decide on the fee structure, which can be a PnL fee (a fraction of profits) or a flat fee (0.04%).
Additionally, investors can also build a crypto portfolio on Rollbit, with the platform offering spot purchases for all the top currencies.
For the adrenaline-junkie investors seeking high-risk high reward cryptos, Rollbit offers Degen EXchange. This section of the platform gives users exposure to new emerging projects that are highly volatile. This feature is comparable to Binance's innovation zone.
Some of the tokens in the Degen EXchange are Unibot, HarryPotterObamaSonic10Inu, and the Open Exchange Token.
Rollbit Deposits and Withdrawals
Rollbit has been actively developing its deposit capabilities, adding numerous methods to ensure a convenient user experience.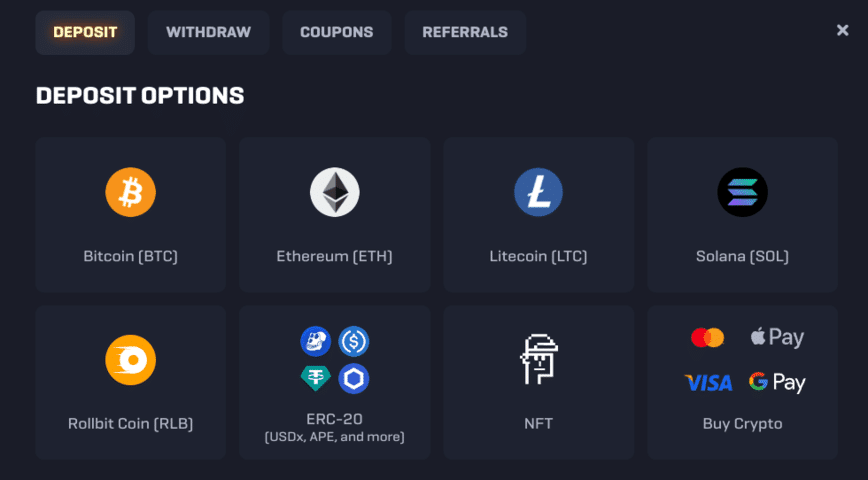 Users can deposit either crypto or fiat. The platform accepts Bitcoin, Ethereum, Litecoin, Solana, Rollbit Coin, and many top ERC-20 tokens. Regarding fiat payments, users can pay with Mastercard, Visa, Apple Pay, or Google Pay.
Users simply head to the Cashier tab at the top of the Rollbit dashboard to deposit crypto and then choose the crypto they want to deposit. Rollbit will then provide a wallet address; the user simply copies it, heads to their wallet, and sends the crypto to that wallet address.
The platform does not charge deposit or withdrawal fees, and there is no minimum amount to deposit.
Rollbit Withdrawals
One of the drawbacks of Rollbit is that it does not support fiat withdrawals. You can only withdraw crypto to a wallet or cryptocurrency exchange. If you wish to receive fiat, you must swap the crypto for fiat on an exchange and then withdraw it to your bank.
Withdrawal fees are also relatively low, with the minimum requirement for withdrawals of BTC and ETH being that you withdraw more than the network transaction fee. Meanwhile, Litecoin withdrawals cost 0.05 LTC, Solana's cost 0.01 SOL, and Rollbit's are 1 RLB.
Rollbit Bonuses
Rollbit offers a 5% rakeback of the house edge on every bet made on its platform. This means that if the RTP is 95%, and the house edge is 5%, the player will receive a 5% rakeback of the 5%, or 0.25% of the entire wagered amount.
However, holders of the Rollbot NFTs can yield up to 25% rakeback, depending on the NFT's level. There are seven levels altogether, ranging from Bronze to Vibranium. Users can level up by playing and winning more.
Finally, Rollbit offers races with $25,000 up for grabs daily. The player who wagers the most funds each day gets to take home a $10,000 prize with no strings attached.
Is Rollbit Legit?
Now that we have established the platform's best features and explored its bonus program, we must answer the question: is Rollbit legit?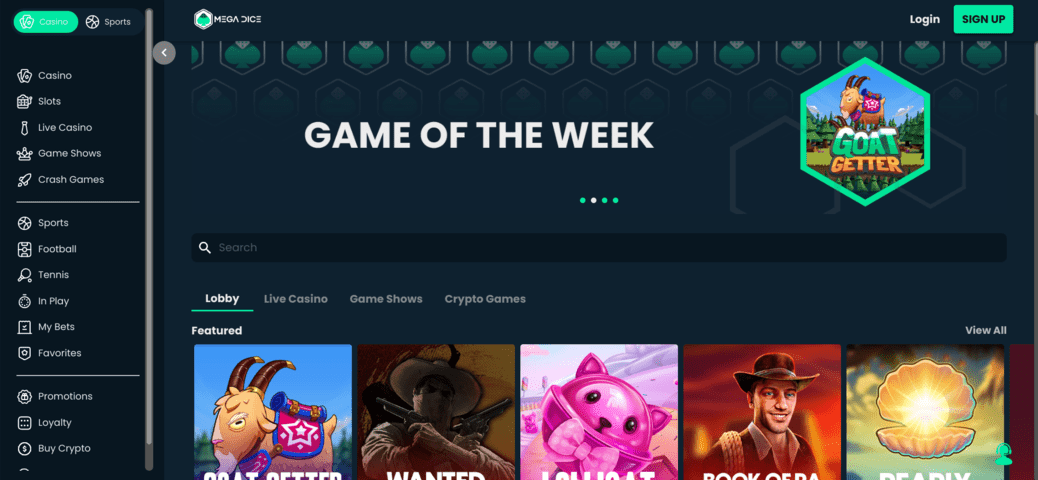 Simply put, Rollbit is a true powerhouse of crypto casinos in terms of its features while retaining a simplistic, user-friendly interface. Moreover, it harnesses the capabilities of all the top gaming providers, delivering quality and enough options to please all users.
It has also begun establishing itself as more than just a crypto casino, becoming a legitimate and innovative DeFi platform. From its groundbreaking NFT loans to its user-friendly 1,000x futures contracts feature, Rollbit boasts an impressive set of unconventional mechanisms.
Nevertheless, our Rollbit casino review has also established several issues with the platform. Firstly, some customer reviews noted that Rollbit's house edge is higher than the market average, sometimes higher than 5%. This means that some of Rollbit's games are unsuitable for those looking to maximize profits.
Furthermore, losing its regulatory license raises concerns regarding its safety and security. It has performed well so far, but this is still worth considering.
Another potential issue is that the withdrawal methods are limited to crypto. While this is not a deal breaker for most users, it affects those who might have used Rollbit as their primary fiat on/off ramp.
Best Alternatives to Rollbit
Although Rollbit is a solid crypto casino, there are plenty of others on the market offering their own unique advantages.
With that in mind, here are our reviews for the top three Rollbit alternatives for 2023.
Lucky Block
Overall, we found that Lucky Block is one of the best Rollbit alternatives. It is one of the top anonymous casinos, enabling crypto deposits without KYC. However, it is even more seamless than Rollbit since users can connect their web3 wallet (like MetaMask or Trust Wallet) directly to the site and deposit funds. Additionally, the platform supports an even greater range of crypto deposits, including popular coins like XRP and Dogecoin.
Furthermore, Lucky Block offers a far more generous rewards scheme than Rollbit, matching the player's deposit by 200% for up to $10,000. The minimum deposit to be eligible is just $20, and wagering conditions apply. New users also get 50 free spins when they sign up.
Like Rollbit, Lucky Block features many games and events to bet on. You can find over 4,000 games on the platform, including software and live casino games and slots. The platform is also supported by Pragmatic Play and several other top gaming providers, ensuring users enjoy the optimal crypto casino experience.
Another advantage that Lucky Block boasts over Rollbit is that it holds a Curaçao eGaming license, providing users with peace of mind knowing they are interacting with a secure and reputable casino.
Mega Dice
The next alternative to Rollbit is Mega Dice, a crypto casino offering plentiful rewards and bonuses to users and one of the top-rated options on leading review site bitcoincasinos.com.
Like Lucky Block, Mega Dice offers new users a 200% bonus of up to 1 BTC on their first deposit and 50 free spins. The sign-up bonus has a 40x wagering requirement that must be met before you can withdraw the bonus funds.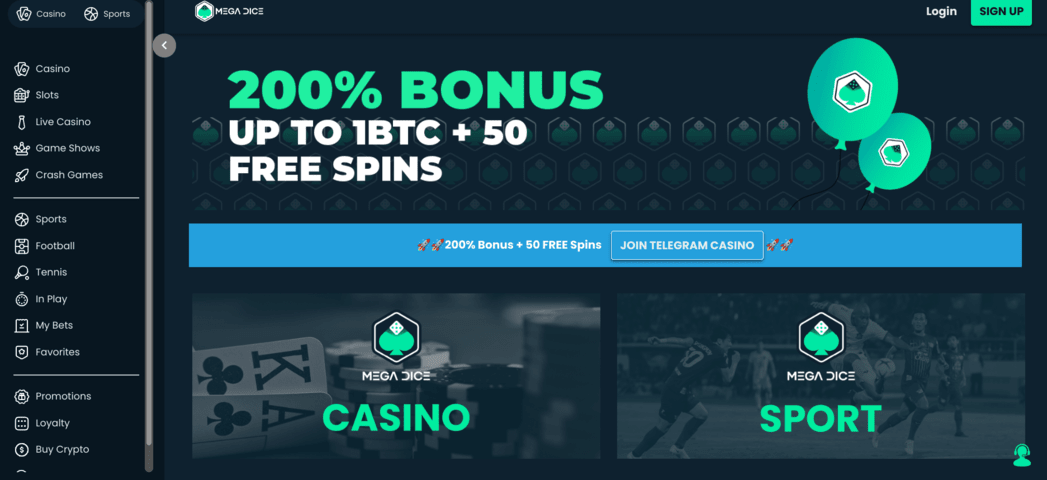 The platform is also KYC-free and has web3 wallet functionality, enabling users to anonymously deposit crypto and gamble without revealing their real-life identity. It accepts a range of cryptos and stablecoins and is one of the most popular Tether casinos. However, users can also buy crypto with fiat currency on Mega Dice, with the platform supporting Visa, Mastercard, and other internationally accepted credit and debit cards.
Mega Dice offers a comprehensive range of games and events to play. It includes all top casino slots and live casino games, sportsbook events, and game shows and is also one of the top crash gambling sites.
Another advantage to Mega Dice is its fully optimized mobile website. Furthermore, the platform has recently edged into the top Telegram groups by creating the first fully licensed Telegram casino.
Mega Dice is also licensed on the Dutch Caribbean island of Curaçao.
Like Rollbit and Lucky Block, Mega Dice is backed by the top gaming providers, including Pragmatic Play and Hacksaw Gaming, ensuring a high-quality, enjoyable, and fair user experience.
BC.Game
Our final top pick of the best Rollbit alternatives is BC.Game – a provably fair crypto casino with generous bonuses and a wide range of games and events. Users can make free deposits with bank/credit cards, bank transfers, and a range of cryptocurrencies.
Unlike the other crypto casinos we have discussed, BC.Game requires all customers to go through KYC verification to get signed up. While this hinders privacy and lengthens the sign-up process, it can also provide peace of mind that the platform is regulatory compliant.
It offers all the main casino games and sporting events as the other casinos but also provides a lottery and bingo games.
Regarding bonuses, BC.Game arguably fares strongest, with players enjoying up to a 360% deposit bonus of up to $20,000. Each new user gets bonuses on their first four deposits, with the first getting a 180% bonus, the second getting 240%, the third getting 300%, and the fourth getting 360%.
Wagering requirements differ on BC.Game to other platforms, but essentially, users unlock $1 of their bonus for each $500 they wager.
Like Rollbit, BC.Game also runs daily races, currently offering $10K in daily rewards.
Conclusion
Overall, Rollbit is a promising casino with numerous innovative features that differentiate it from other crypto casinos. Nevertheless, its functionality and user experience could be better.
With this in mind, we found that Mega Dice presents the best alternative, offering massive rewards and crypto wallet compatibility. Furthermore, it is the first fully licensed Telegram casino. Its sign-up bonus is also lucrative, offering up to 1 BTC and 50 free spins.
References
https://www.coindesk.com/markets/2023/03/31/crypto-casino-rollbits-token-drops-20-amid-licensing-concerns/
https://www.gamblingcommission.gov.uk/public-register/business/detail/46683
https://cointelegraph.com/press-releases/mega-dice-launches-worlds-first-ever-licensed-gambling-service-on-telegram
https://blog.rollbit.com/house-edge-and-rtp-explained/
FAQs
Does Rollbit offer bonuses?