Emerging cryptocurrencies offer exposure to new and undervalued projects that have the potential to explode. There are many emerging projects to choose from in this space, many of which are trading at bear market prices.
This guide ranks emerging cryptocurrency investments in 2023 for maximum potential upside.
List of the Best Emerging Cryptocurrency for 2023
Listed below are some promising emerging cryptocurrency investments to consider, including brand-new projects:
Wall Street Memes – The best emerging meme coin in 2023. Bolstered by a large community and notable endorsements, the project has amassed more than $5 million in just over three weeks of presale.
Ecoterra – A game-changing green crypto project incentivizing eco-friendly choices with its innovative Recycle2Earn ecosystem. By recycling, users can earn $ECOTERRA tokens, which can be invested in green initiatives or staked, fostering global eco-consciousness with immediate user benefits.
yPredict – The best emerging crypto platform harnessing the power of machine learning and data science to deliver unparalleled financial market predictions. Its native token, YPRED, lets holders trade, stake, earn, and subscribe to predictive models.
DeeLance – A platform set on revolutionizing freelancing with blockchain and Web 3, offering unmatched transparency and efficiency. It redefines the future of work with its native token, $DLANCE, and groundbreaking integration of NFTs and metaverse.
Launchpad XYZ – A gateway to the world of Web 3, providing an all-in-one platform for NFTs, cryptocurrency trading, analytics, and more. This user-friendly platform democratizes access to advanced technology, offering an immersive Web 3 experience.
RobotEra – Metaverse Real Estate Project With Tokenized Income
The Graph – Blockchain Indexing for Ultra-Efficient Storage
Aave – Liquidity Protocols for Decentralized Finance
Optimism – Layer-2 Blockchain for Low-Cost and Scalable Ethereum Transactions
NEAR Protocol – Web3 Blockchain Protocol With Limitless Scalability
PancakeSwap – Decentralized Exchange for BSC Trading and Earning
Trust Wallet Token – Proprietary Token of Trust Wallet (25 Million Users Globally)
Note: Our criteria for an 'emerging' cryptocurrency are projects that were founded under three years ago and carry a market capitalization of $2 billion or less. This ensures that we've selected the best cryptos with the most potential to generate sizable long-term gains.
Best Emerging Crypto to Buy – Our Analysis
Emerging cryptocurrencies often trade in a high-risk, high-return environment. Knowing which project to back can be challenging, so diversification is important.
Below, we analyze the 12 best emerging cryptocurrency investments of 2023.
1. Wall Street Memes – The Best Emerging Crypto WIth the Biggest Community and The Fastest-Selling Tokens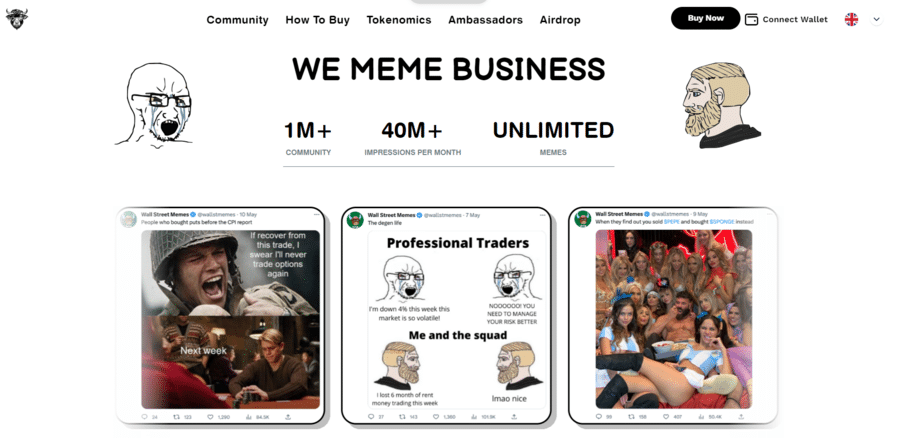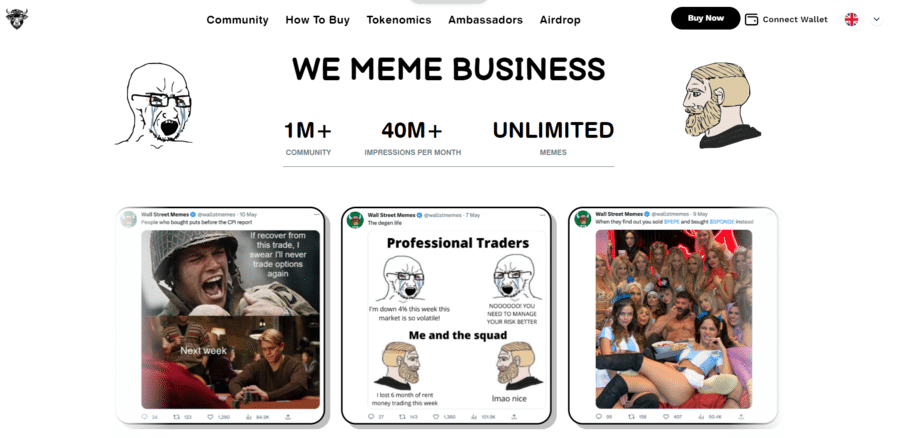 Wall Street Memes is one of the fastest-growing meme coins in 2023. The platform launched the presale of its native coin, $WSM, on May 26, and it has managed to sell more than a whopping $5 million worth of its assets in less than three weeks. This makes Wall Street Memes one of the best emerging cryptos to invest in 2023.
The craze around $WSM is partly due to the project developers' earlier successes with other blockchain ventures. The team launched Wall Street Bulls in 2021, a collection of 10,000 NFTs that got snapped up in just 32 minutes, bringing the developers a revenue of $2.5 million.
Taking inspiration from Wall Street's GameStop phenomenon in 2021, Wall Street Memes aims to leverage the power of its growing community to increase the value of its token and put control in the hands of its holders.
As it stands, the platform already has a large community of more than 1.1 million members on Reddit and Twitter, and its official Telegram channel is also steadily growing.
Adding to the project's popularity are endorsements from notable crypto enthusiasts. Most significantly, we've witnessed several interactions on Twitter between Elon Musk and the official Wall Street Memes account, which signalizes the entrepreneur's support for the meme coin, giving it additional merit.
According to WSM's whitepaper, there will be two billion tokens in circulation, half of which have already been released for presale. The finite supply produces scarcity, which may influence the token price positively in the future.
If you're up for it, now is a good time to invest in $WMS, as the token's price is still quite low — only $0.0277. Keep in mind that these are some of the earliest of the 30 scheduled presale stages, and the price of the token will increase with each stage movement.
| | |
| --- | --- |
| Presale Started | May 26, 2023 |
| Purchase Methods | ETH, USDT, BNB, credit card |
| Chain | Ethereum |
| Hard Cap | $30,577,000 |
| Min Investment | 100 $WSM |
| Max Investment | None |
2. Ecoterra – Green Crypto With Industry-Leading Recycling Rewards
Ecoterra, an emerging crypto in the green crypto sphere, aims to bridge the gap hindering users from embracing sustainable lifestyles. To tackle environmental issues, the platform has created the innovative Recycle2Earn ecosystem.
The project incentivizes users to recycle a wide range of items, leading them to adopt eco-friendly choices due to the immediate benefits they experience.
Currently, Ecoterra is in its presale phase, with tokens available at a minimal price of $0.004 USDT each. This allows early investors to capitalize on the lower prices during the presale phase.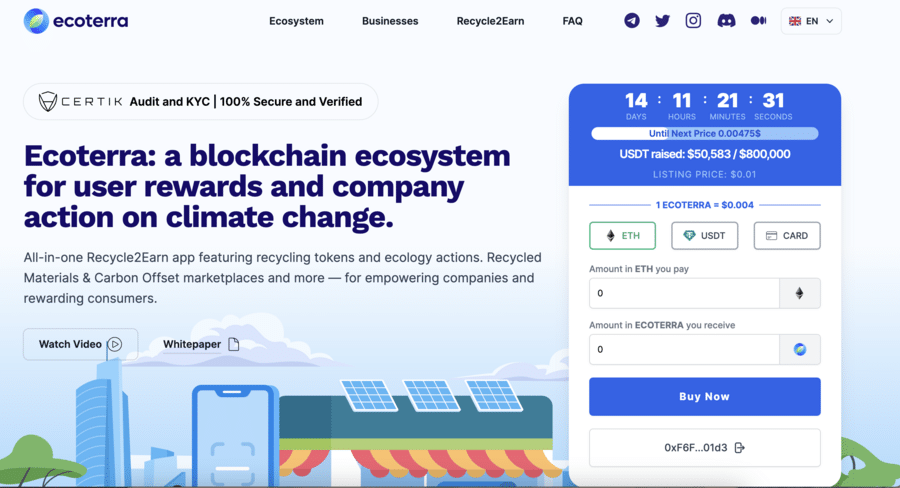 Users can earn $ECOTERRA tokens by scanning recyclable items using the Ecoterra app. These tokens can then be retained, staked, or invested in green initiatives.
The app, designed with user requirements, features a carbon offset marketplace, an environmental impact monitoring social platform, and a recycled materials market. This comprehensive strategy promotes eco-conscious behavior globally.

Ecoterra's whitepaper states that the app's AI-driven database allows users to easily identify recyclable items with a quick scan.
Subsequently, the app suggests the nearest RVM (Reverse Vending Machine) for appropriate disposal. To claim their rewards, users must capture an image of their receipt and upload it to the app once the recycling process is completed.
This flexible approach makes the platform compatible with RVM users and caters to various sectors, such as consumer goods, technology, apparel, and hospitality.
If Ecoterra's groundbreaking method of encouraging eco-friendly practices through monetary rewards appeals to you as an investor, consider joining the Ecoterra Telegram group to get the latest updates.
| | |
| --- | --- |
| Hard Cap | $6,700,000 |
| Total Tokens | 2,000,000,000 |
| Tokens available in presale | 1,000,000,000 |
| Blockchain | Ethereum Network |
| Token type | ERC-20 |
| Minimum Purchase | $10 |
| Purchase with | USDT, ETH, Bank Card |
3. yPredict – Best Emerging Crypto for Market Predictions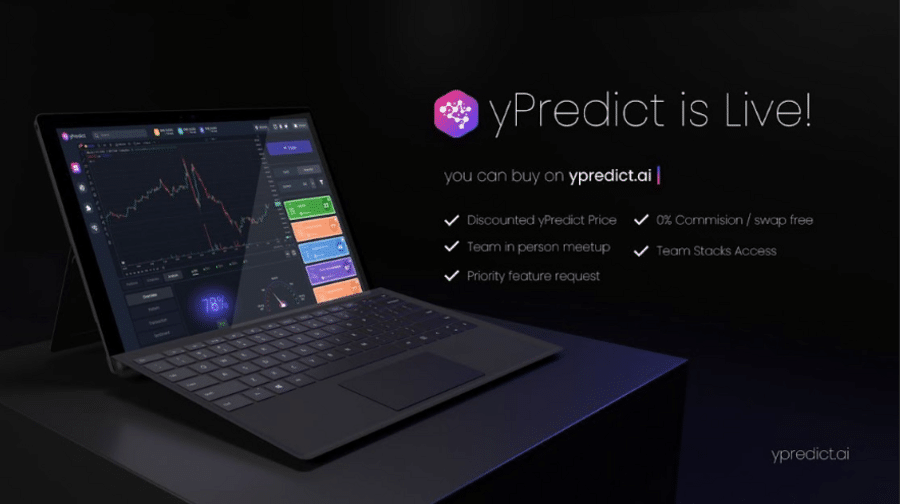 yPredict is third on our list of the best emerging cryptocurrencies in 2023. It is a brand-new analysis and research platform. According to its whitepaper, it will help users access reliable predictions and make better trading choices, especially in cryptocurrency markets.
The complexity of financial markets and the advancement of sophisticated trading bots and algorithms constantly change the situation in crypto, making it difficult for traders to predict market moves. yPredict aims to make this a thing of the past by offering tools ML experts and financial data scientists can use to make accurate, real-time, predictive models.
These developers can then sell subscriptions to their models on the platform's Marketplace, earning as much as 70% of each subscription cost in yPredicts native token — YPRED. What's more, holders can not only use YPREDs to buy subscriptions, but they can also get free access to the platform's analytic tools.
They are also encouraged to stake their assets and participate in a staking pool consisting of 10% of the platform's revenue. This revenue-sharing model takes precedence over fixed liquidity models some other platforms use, providing a more consistent income stream. You can learn more about staking and other passive income opportunities if you join yPredict's official Telegram channel.
The project is currently in its fifth presale stage out of eight. You can now get YPRED tokens for $0.07, but remember that their price will rise in subsequent stages until it reaches $0.12 at launch. Although it was only launched in February, yPredict has already raised over a million dollars, making it one of the most promising crypto projects of the year.
| | |
| --- | --- |
| Presale Started | February 2023 |
| Purchase Methods | ETH, MATIC, USDT, BNB, Card |
| Chain | Polygon |
| Hard Cap | $6,507,511 |
| Min Investment | 200 $YPRED |
| Max Investment | None |
4. DeeLance – Tokenizing Freelance Work to Reshape Web 3.0 Recruitment
DeeLance is an emerging Web3-based freelance and recruitment marketplace that recently commenced its presale and raised over $24,000 USDT in just two days.
By harnessing blockchains, DeeLance seeks to streamline and mitigate risk. It also enhances hiring processes, delivering simplicity, transparency, efficiency, and ownership to users.
The platform's native crypto, $DLANCE, operates on the Ethereum blockchain and features a three-stage presale. During Stage 1, the token is priced at $0.025 USDT, rising to $0.027 USDT and $0.03 USDT in Stages 2 and 3, respectively.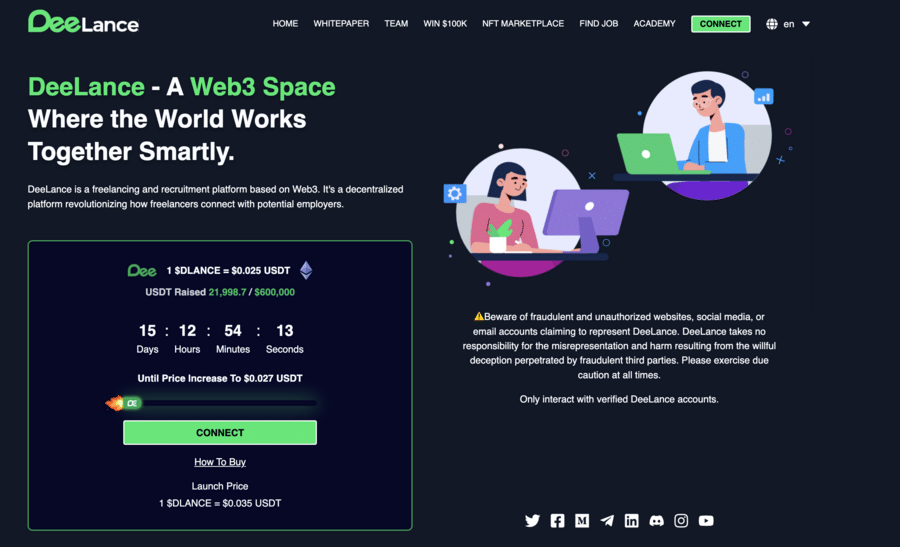 $DLANCE's value stems from its utility, as it serves as the exclusive currency for acquiring land in DeeLance's metaverse and facilitating transactions within the NFT marketplace. Additionally, it can be employed for leasing office space, advertising, and accessing various services within the ecosystem.
As per the DeeLance whitepaper, integrating decentralized networks, NFTs, and the metaverse, the platform aims to redefine recruitment. The platform boasts lower fees, rapid payments, and a secure escrow account system, ensuring payment security and ownership for freelancers and recruiters. NFTs guarantee digital work ownership, offering clarity and confidence to clients and freelancers alike.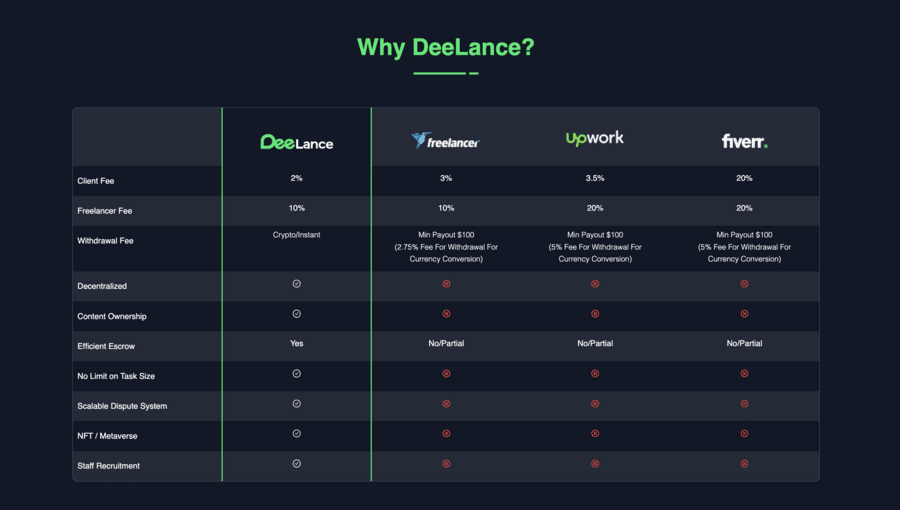 DeeLance features competitive fees—a 2% client fee and a 10% freelancer fee. Crypto payments are processed instantly, and there are no withdrawal fees or delays due to currency conversion. The platform supports unlimited task sizes, a scalable dispute resolution system, efficient escrow, content ownership, and enhanced staff recruitment capabilities.
DeeLance's innovative use of NFTs and metaverse integration paves the way for new business interactions. NFTs verify ownership and enable avatars to engage within the virtual realm.
In the DeeLance metaverse, clients and freelancers can connect, hire, provide services, and establish offices, unlocking a new dimension of commerce. Users can join the DeeLance Telegram group to receive the latest updates.
| | |
| --- | --- |
| Hard Cap | $6,000,000 |
| Total Tokens | 1,000,000,000 |
| Tokens available in presale | 300,000,000 |
| Blockchain | Ethereum Network |
| Token type | ERC-20 |
| Minimum Purchase | $10 |
| Purchase with | USDT, ETH, Card |
5. Launchpad XYZ – Emerging Crypto Gateway to the World of Web 3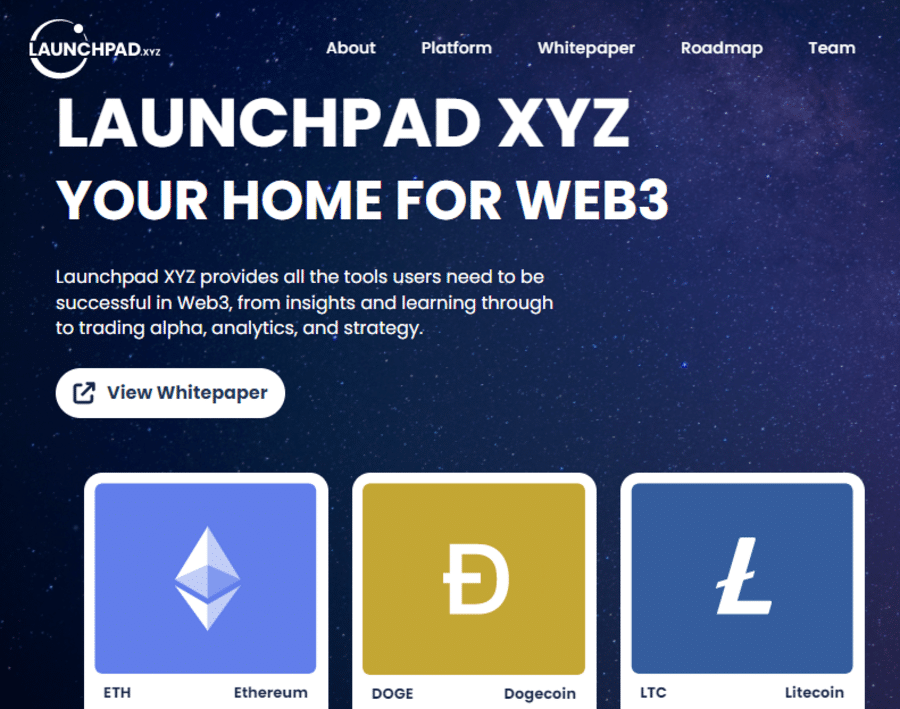 With its presale launched in April 2023, Launchpad XYZ is one of the most recently introduced crypto projects. The developers' objective is for the platform to become a one-stop shop for all Web 3 services and functionalities.
The reason why Launchpad XYZ is one of the best emerging cryptocurrencies this year lies in the fact that it can make Web 3 accessible to anyone. Thanks to its integrations, it can make this advanced technology easy to use without extensive technical knowledge.
The whitepaper states that this decentralized platform will let you search for and buy NFTs from any available market, trade cryptocurrency on its decentralized exchange, access analytic data for hundreds of tokens, and discover viable investment opportunities.
It will also let you explore its rich Metaverse Experience Library, earn tokens while having fun at its Play-to-Earn Hub, and subscribe to different services using only your Web 3 wallet address. These features make Launchpad XYZ unique, as no other platform currently offers such an all-encompassing approach to Web 3.
The lack of competition and its fantastic growth potential has made the project an instant hit, as reflected in its earnings. Only a couple of weeks after it launched the presale, the platform has amassed more than $390,000. Given that it's still in its first presale stage, the project's native token, LPX, currently stands at only $0.035.
Of course, its price is set to increase in subsequent presale stages until it reaches the listing price of $0.0565. If you want to stay informed about the price changes, you can do so via the project's official website or Telegram channel.
| | |
| --- | --- |
| Presale Started | April 2023 |
| Purchase Methods | USDT, ETH, Transak |
| Chain | Polygon |
| Hard Cap | $12.5 million |
| Min Investment | None |
| Max Investment | None |
6. RobotEra – Metaverse Real Estate Project With Tokenized Income
The next emerging cryptocurrency to consider is RobotEra. This is another early-stage project that is currently offering its native token, TARO, via a presale. So far, over $1 million has been raised, and at $0.02 per token, this offers a discount of 25% from the next presale stage.
In a nutshell, a lot of hype is building over the RobotEra metaverse. Once launched, users will enter the metaverse with a robot-themed avatar. The avatar can be personalized and it enables users to explore the many different factions of the RobotEra community. Users can buy plots of land in RobotEra with TARO tokens and then begin construction.
This means that users can develop real estate and build whatever they see fit. Examples include homes, apartments, shops, sports facilities, stadiums, casinos, and more. Each real estate project will be backed by an Ethereum NFT. Moreover, users can earn TARO rewards by monetizing their land. This includes selling the land for a higher price or renting it out to another user.
Moreover, this trending crypto project will also support virtual experiences in the RobotEra metaverse. Once again, this enables users to earn rewards, such as selling tickets to a digital art convention. Additional TARO rewards can be earned through play-to-earn games and staking. To buy TARO today at the lowest price possible, complete the purchase with ETH, USDT, or a debit/credit card.
7. The Graph – Blockchain Indexing for Ultra-Efficient Storage
The Graph is an emerging cryptocurrency project that specializes in blockchain 'indexing'. This concept is utilized by search engines like Google and it enables ecosystems to store and organize huge amounts of data in an efficient way. This is a crucial requirement for blockchains that host decentralized applications.
After all, each application within a blockchain network constitutes an individual transaction. Therefore, by integrating the Graph's indexing protocol, blockchains can avoid overload. In turn, the Graph enables blockchain to scale in a fast and cost-effective way. In order to benefit from its technology, blockchains need to hold GRT tokens, which are native to the Graph.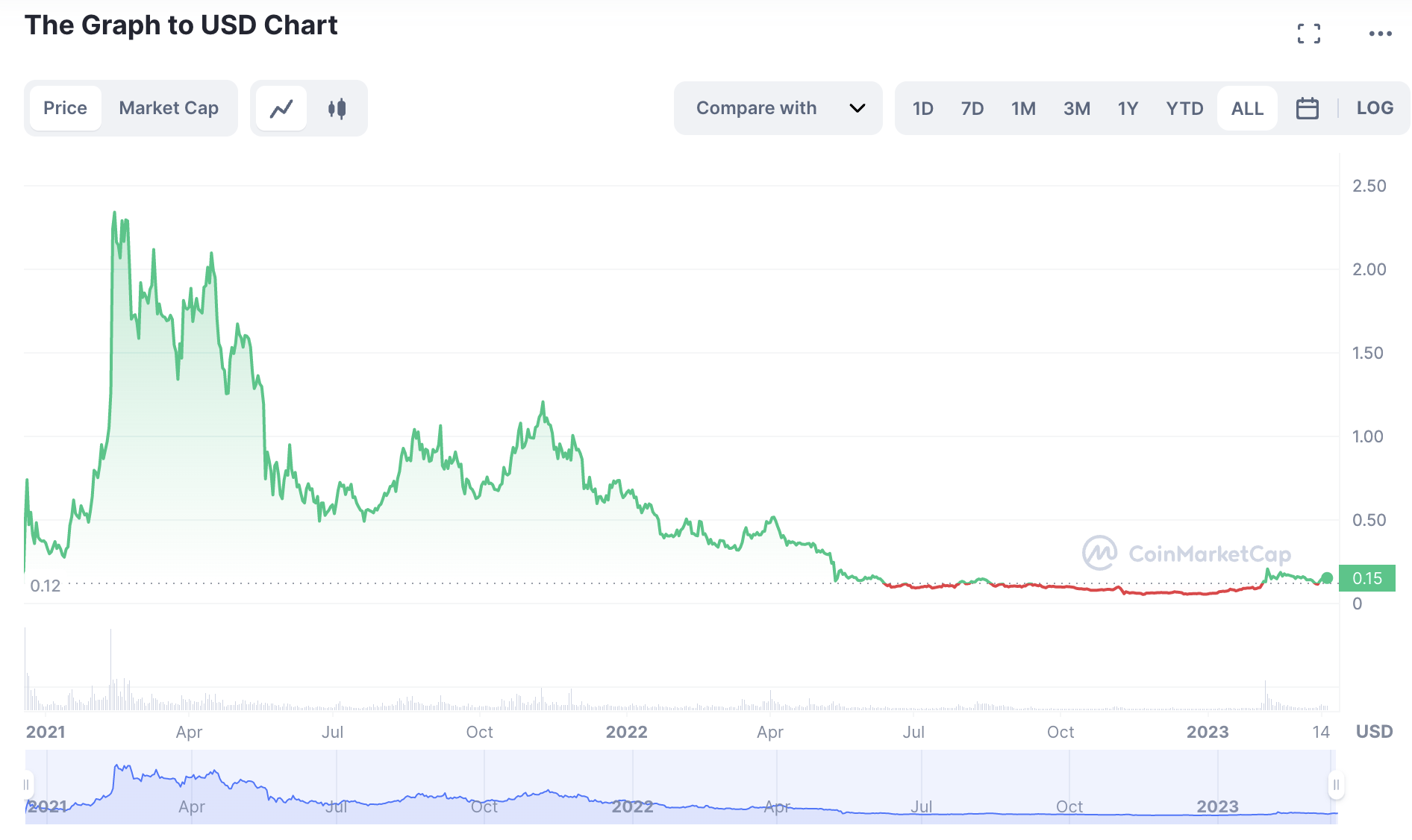 Although the market capitalization of GRT is over $1.3 billion as of writing, this is just a fraction of its former peak. For example, the Graph was valued at over $5.7 billion during the prior bull run. As such, buying GRT tokens today offers a discount of over 75%. If GRT is able to regain its all-time high of $2.30, this offers an upside of 1,400% based on current prices.
81% of retail investor accounts lose money when trading CFDs with this provider.
8. AAVE – Liquidity Protocols for Decentralized Finance
Aave is one of the best emerging crypto coins for gaining exposure to decentralized finance. Its ecosystem hosts liquidity pools that are compatible with a wide range of blockchain networks. This includes everything from Ethereum and Polygon to Avalanche and Optimism.
This cross-chain functionality means that Aave is now home to over $6.6 billion worth of locked liquidity. Its underlying product enables investors to deposit crypto into a liquidity pool and earn interest. The crypto is then used to fund secured loans. This means that to borrow funds via the Aave protocol, collateral needs to be deposited.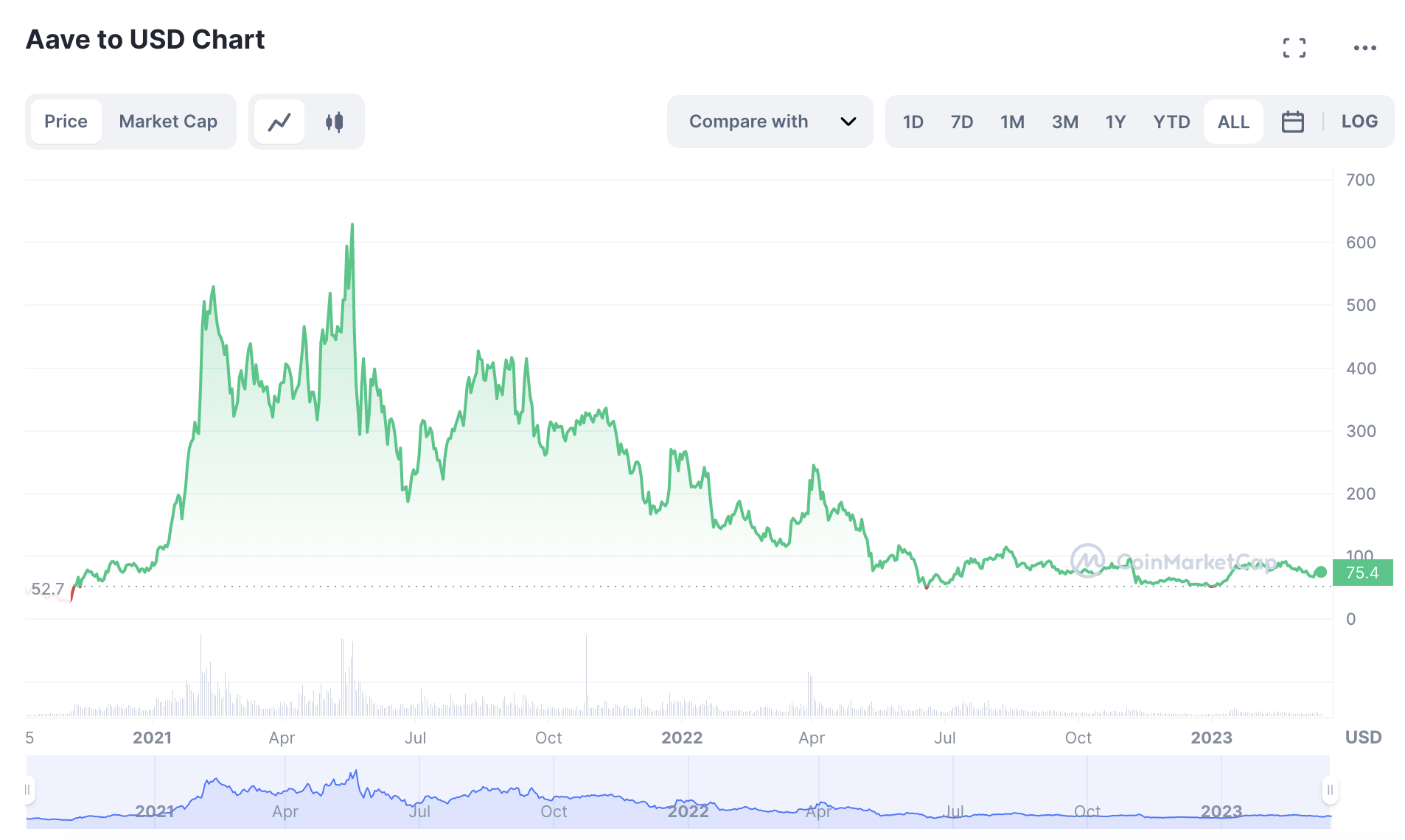 The utility and governance token of the Aave ecosystem is AAVE. This is an ERC-20 token that currently has a market capitalization of just over $1 billion. Moreover, the total supply of AAVE is just 16 million, so this will appeal to investors that seek a low-cap crypto coin. When compared to its 52-week high of $260, AAVE is trading at a 70% discount.
81% of retail investor accounts lose money when trading CFDs with this provider.
9. Optimism – Layer-2 Blockchain for Low-Cost and Scalable Ethereum Transactions
Optimism was launched in mid-2022 and remains one of the best emerging crypto assets in the market. The project has developed a layer-2 blockchain aimed specifically at the Ethereum network. Put simply, Optimism is an extension that enables Ethereum developers to deploy applications without scalability issues.
Moreover, Ethereum transactions that go through Optimism are considerably cheaper. Optimism claims that since it launched, its protocol has saved Ethereum users more than $1 billion in GAS fees. Plenty of notable projects are already using Optimism to ensure that scalability and cost-effectiveness are achieved.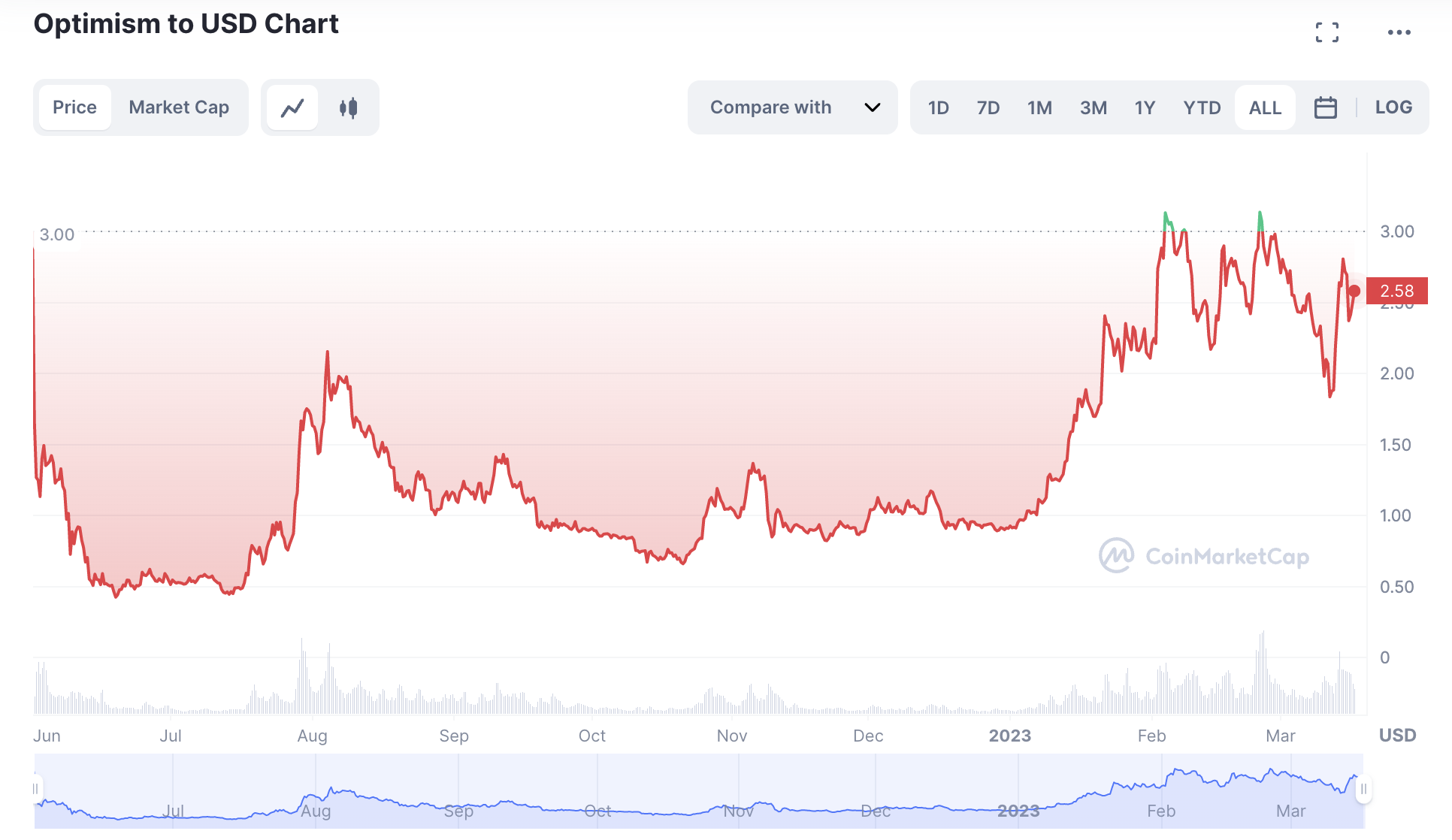 This includes Uniswap, 1inch, Synthetix, Lyra, MetaMask, Coinbase Wallet, and Binance. Optimism is backed by OP tokens, which are native to its blockchain. There is growing interest in OP, with the tokens generating year-to-date gains of over 170%. With that said, OP tokens are trading 40% below their 52-week highs of $4.57.
81% of retail investor accounts lose money when trading CFDs with this provider.
10. NEAR Protocol – Web3 Blockchain Protocol With Limitless Scalability
NEAR Protocol was launched in mid-2020 and remains one of the hottest blockchain projects in this space. Unlike legacy-one blockchains such as Bitcoin and Litecoin, NEAR Protocol has the potential to scale without limitations. In simple terms, this means that the blockchain can handle as many transactions per second as it requires.
This is achieved through dynamic sharding, which also facilitates fast and low-cost transactions. For example, NEAR Protocol transactions cost under a cent, regardless of the amount being transferred. Moreover, transactions average just 1.1 seconds to confirm on the blockchain.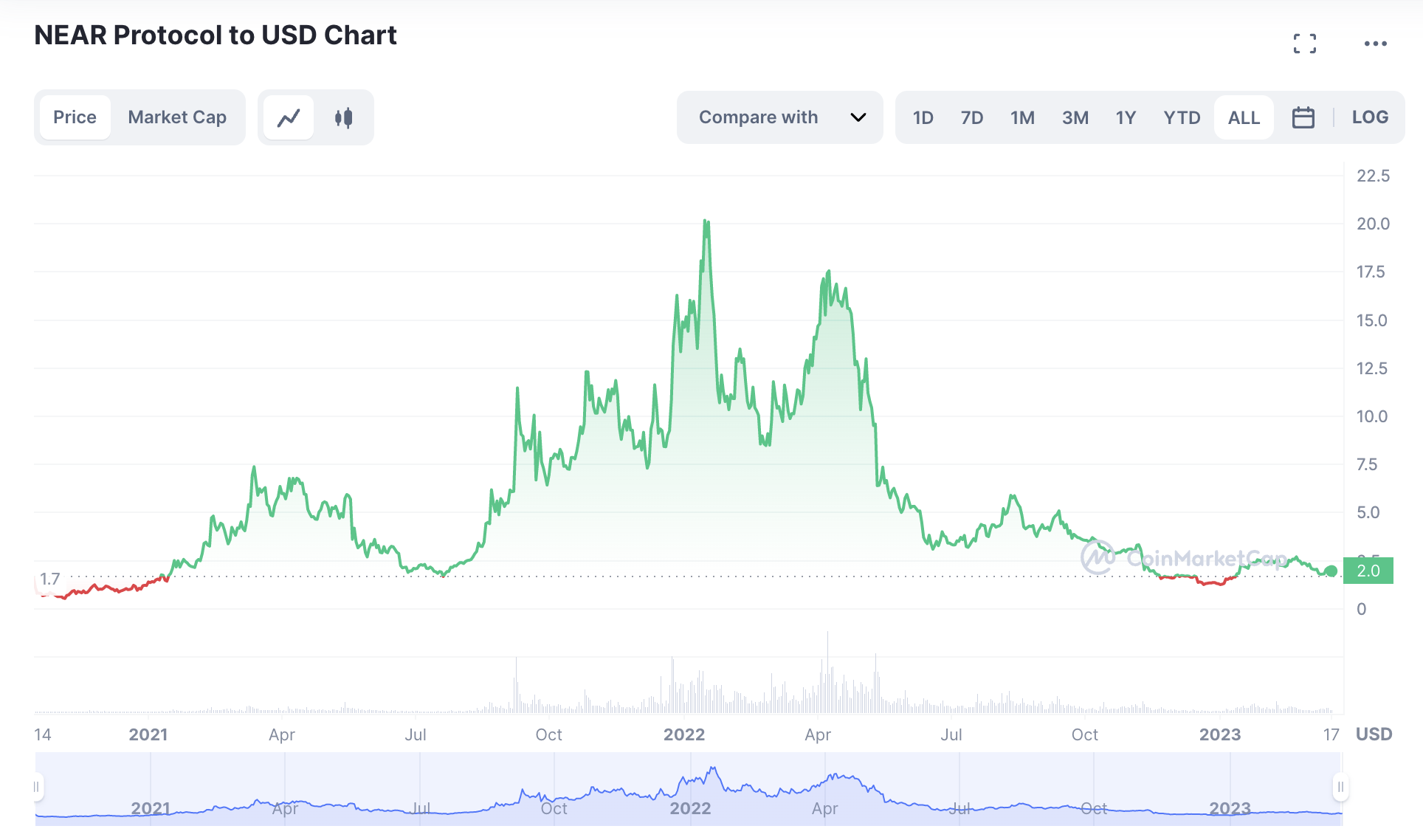 NEAR Protocol is backed by its own utility token, NEAR. When it was first launched, NEAR was trading at $1.70 before hitting an all-time high of $20 just 18 months later. However, NEAR has since retreated to $2, owing to broader market conditions. Nonetheless, investing in NEAR Protocol today offers a 90% discount from its previous peak.
11. PancakeSwap – Decentralized Exchange for BSC Trading and Earning
PancakeSwap is the go-to decentralized exchange for Binance Smart Chain (BSC) tokens. Its exchange enables users to swap BSC tokens without needing a seller at the other end of the trade. This is achieved through an automated market maker (AMM) mechanism, which is also used by Uniswap and AAVE. More than $3.4 billion is currently locked in PancakeSwap liquidity pools.
Additionally, over the prior 30 days, more than 1.6 million traders have used PancakeSwap, translating into over 22 million traders. As such, PancakeSwap continues to attract both trading volume and liquidity investments in both bullish and bearish markets. In addition to low fees and a user-friendly dashboard, PancakeSwap is popular for its attractive APYs.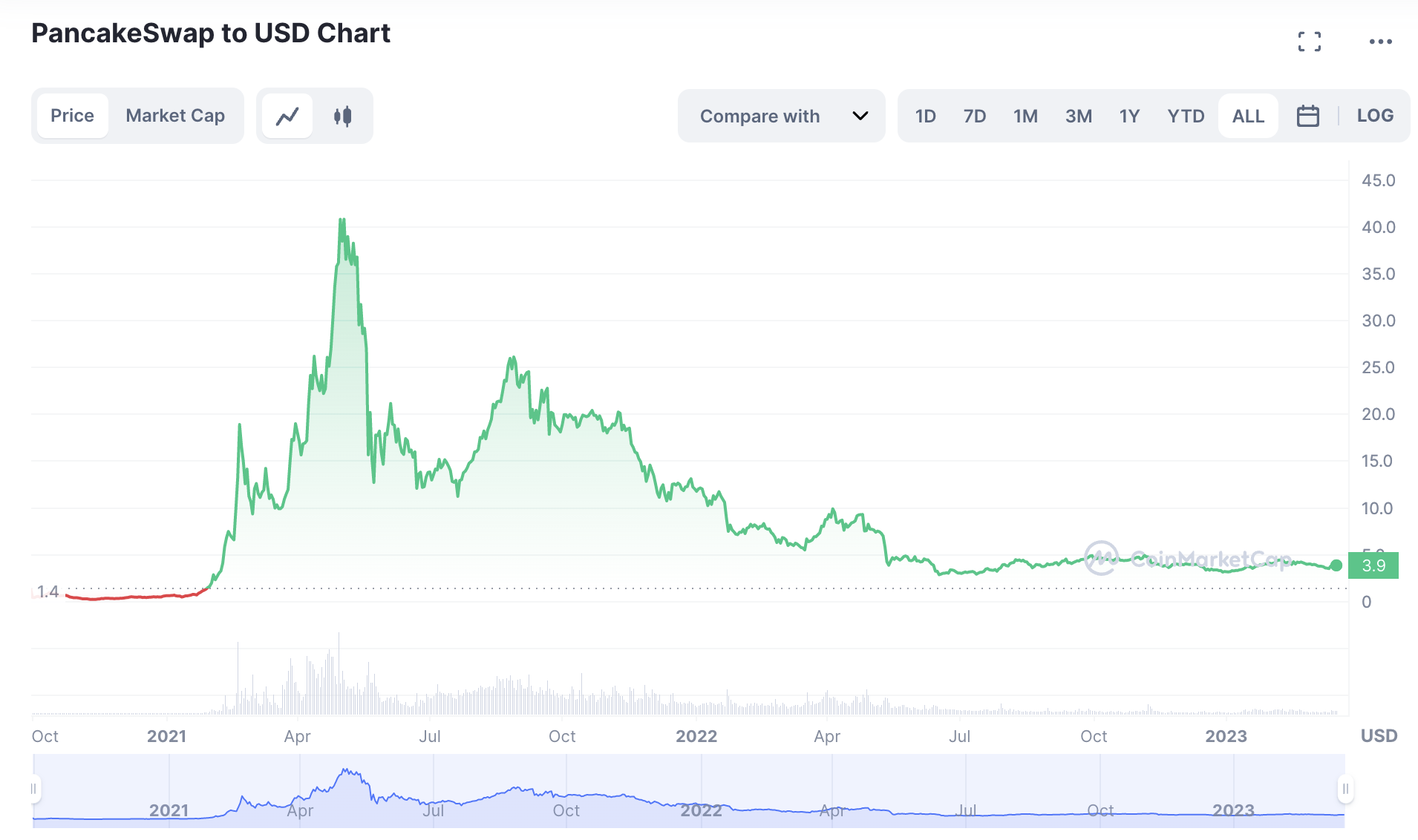 For example, depositing its native token, CAKE, into a liquidity pool offers an APY of up to 42%. Similarly, providing liquidity for the BUSD/BNB trading pair pays an APY of up to 17%. As of writing, CAKE is trading at just $3.85 – which is 90% below its former all-time high of over $40. Year-to-date, CAKE has increased by 20%.
12. Trust Wallet Token – Proprietary Token of Trust Wallet (25 Million Users Globally)
Trust Wallet is one of the most popular decentralized wallets in the crypto space. It is used by more than 25 million people globally and is owned by the world's largest exchange – Binance. The Trust Wallet app supports more than 4.5 million digital assets across over 65 blockchain networks.
Some of the most popular services available on Trust Wallet include decentralized trading, staking, yield farming, and NFT storage. Trust Wallet also enables users to buy crypto with a debit card, through third-party integration. Its ecosystem is backed by the Trust Wallet Token (TWT). This BSC-backed token was launched in late 2020 at just $0.0066.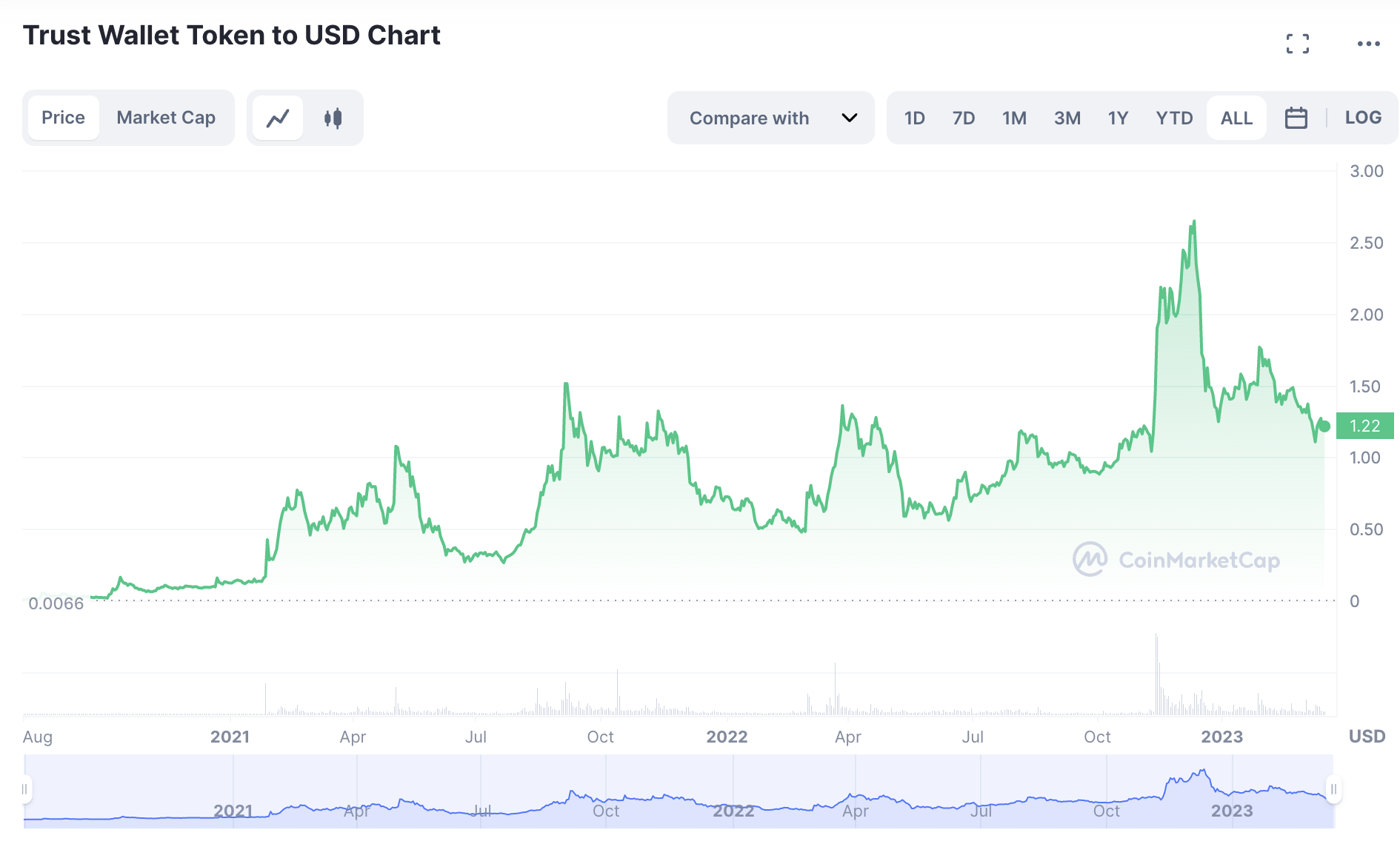 Toward the end of 2022, TWT hit an all-time high of over $2.70. This means that early backers of the Trust Wallet Token have witnessed growth of over 40,000%. With that said, the market capitalization of this emerging project is just $500 million. As such, TWT has lots of room to grow. Moreover, TWT is currently trading at a 50% discount when compared to its previous all-time high.
Tips on Sourcing the Best Emerging Crypto Tokens
Building a portfolio of emerging cryptocurrencies requires an appetite for high-risk, high-return assets. It also requires the best crypto portfolio allocation.
With that said, investors in this space will typically diversify across dozens of emerging projects to help mitigate the risk and maximize their potential in the next crypto bull run.
Keeping an eye out for new Coinbase listings is also a good strategy when looking for emerging cryptos with strong potential.
The reason for this is that it takes just one emerging cryptocurrency to explode and the returns can be monumental. This is especially the case with newly launched cryptocurrencies that enter the market with a small valuation. But finding the most profitable crypto to invest in is easier said than done.
For example, Wall Street Memes is currently raising funds via a presale campaign. After the presale, its $WSM tokens will likely trade on exchanges with a hard cap of $30,577,000. Considering its enormous popularity and the size of its community, we believe that Wall Street Memes can easily become one of the top cryptos on the planet by the end of this year.
Similarly, yPredict, Ecoterra, and DeeLance are also emerging cryptocurrencies running a presale campaign. Diversifying across these presales also offers access to train-to-earn and charge-to-earn concepts. As such, the investment portfolio is being spread across multiple blockchain niches.
Did you know that there are crypto YouTube channels that offer useful insights into finding the next best emerging cryptos?
Reasons to Invest in Emerging Cryptos in 2023
Emerging cryptocurrencies carry a higher level of risk when compared to established projects like Bitcoin and Ethereum. But equally, the investment returns on offer are also much higher.
Here's an overview of why emerging cryptocurrencies remain popular with growth investors:
First-Mover Advantage
Emerging cryptocurrencies enable investors to secure a first-mover advantage – this means that investors can gain exposure to a project at the earliest point possible.
In doing so, this typically offers the most attractive entry price. This concept is much the same as investing in Tesla in 2010 when the stock was trading at just $1.28.
For example:
Investing in the

$WSM

presale today costs only

$0.0277

The

$WSM

token will initially trade on exchanges at

$0.0337

after the presale finishes

This means that from the current presale price, the exchange listing offers a substantial upside of around

21%
But most investors will hold their $WSM tokens after the exchange listing, as much higher returns are possible. Did you know that the best crypto Discord groups often pinpoint emerging cryptos that have huge utility and potential?
Small Market Cap
Emerging cryptocurrencies carry a small market capitalization. This enables investors to target much higher returns when compared to large-cap projects.
After all, small-cap tokens have plenty of room to grow. Therefore, investing in an emerging cryptocurrency enables growth investors to target higher returns in comparison to the market average.
Conclusion
Growth investors will target emerging cryptocurrencies for the high-upside on offer. One of the most promising projects in this space is Wall Street Memes, with its vast community and endorsements from prominent figures like Elon Musk.
The platform's goal is to take advantage of its growing following to increase the value of its token, thus providing benefits for its holders.
If you're ready to invest in $WSM, head to the official site and buy some tokens before the next presale stage begins and the price rises.
FAQs
Which emerging cryptocurrency has the highest potential in the future?
Which is the best upcoming crypto?