What Is Pepe 2.0 ($PEPE2) Coin?
Pepe 2.0 ($PEPE2) is a cryptocurrency that is part of a growing trend of copycat versions of popular meme coins like Pepe coin ($PEPE). The original Pepe launched on the Ethereum (ETH) blockchain in April 2023. Pepe 2.0 made its debut two months later. According to the official website, the 2.0 version is intended to correct PEPE project missteps, which include launching the meme coin over the weekend and blacklisting some early investors.
Pepe 2.0 is being promoted as a way to give the traders and investors who missed out on PEPE's initial bull run another opportunity to potentially turn a small investment into a substantial fortune.
Notably, this FOMO marketing strategy has brought renewed attention to the original Pepe as well as Pepe 2.0, and both cryptos are experiencing higher trading volumes than expected.
PEPE saw an explosive surge in May 2023, with its market capitalization reaching as high as $1.6 billion at one point. Pepe 2.0 gained attention in late June 2023. It aims to emulate the original coin's market success and wants to "redo his billion-dollar run."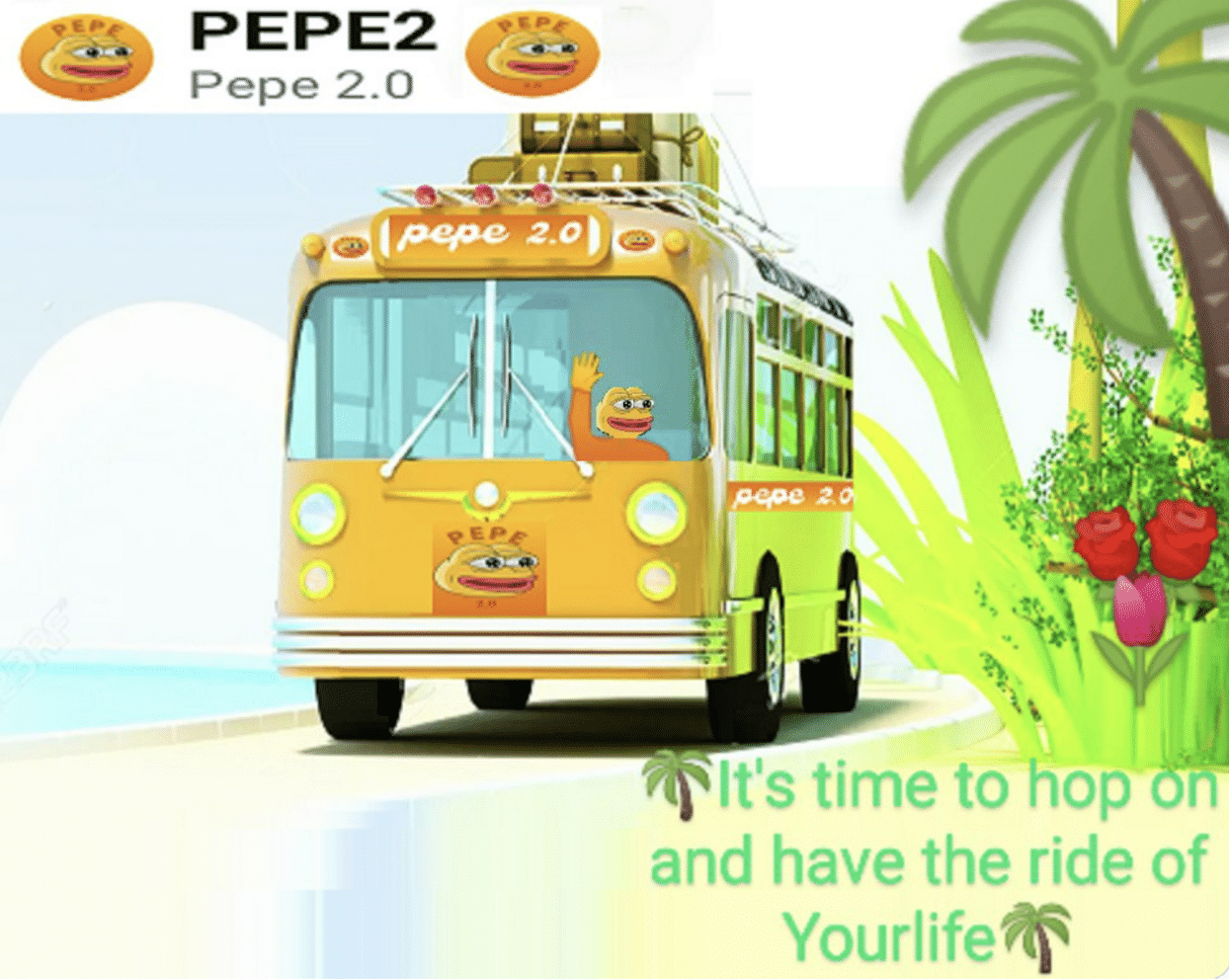 Pepe 2.0 Tokenomics
According to the official press release, the Pepe 2.0 project operates on a unique set of tokenomics designed to "reward holders while maintaining a healthy ecosystem." The website says that to demonstrate its commitment to security, Pepe 2.0 developers renounced ownership of the smart contract address. This action is intended to promote transparency and ensure the community retains control of the project.
Key details include:
Contract address: 0xfb66321d7c674995dfcc2cb67a30bc978dc862ad
Total supply: 420,690,000,000,000
Taxes: 1%
Security: Ownership Renounced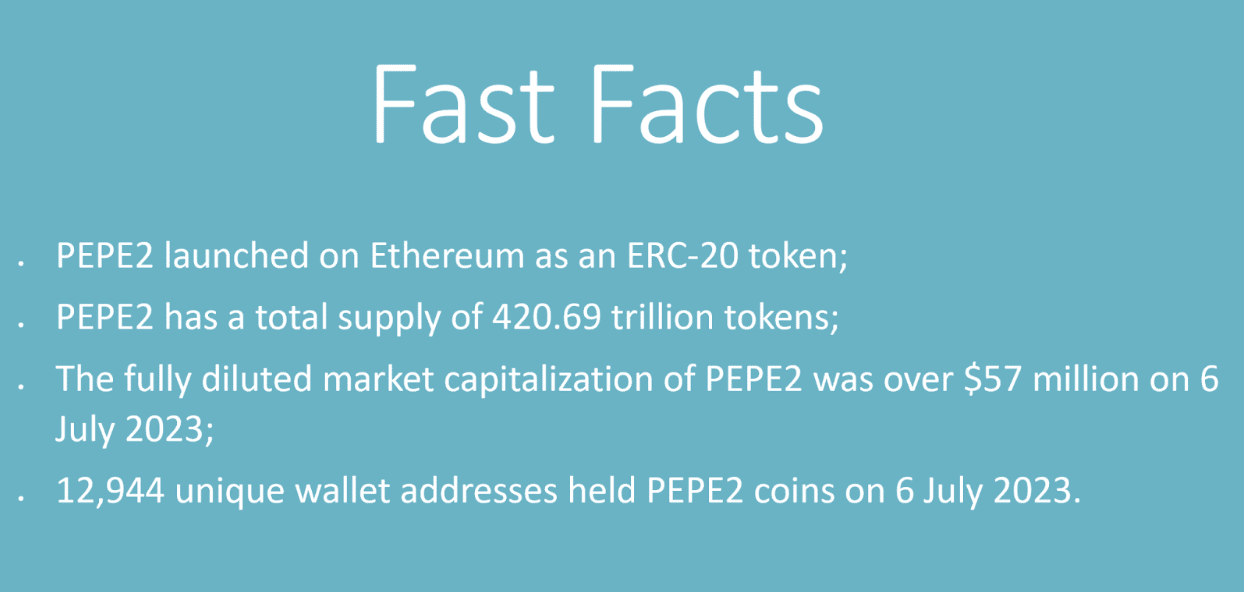 Pepe vs. Pepe 2.0 vs. Pepe 3.0
The original Pepe coin has a "no tax policy," which means that investors are not taxed when they buy, sell, or trade the coin. In contrast, Pepe Coin 2.0 is subject to a 1% tax which the official website says will be dedicated to various initiatives, including community development, liquidity pool support, and marketing efforts.
According to CoinMarketCap.com, Pepe 3.0 was made by a group of investors who missed both the PEPE bull run and the PEPE2 run and then said, "Well, third time's the charm, right?" Critics have been quick to point out that anyone can issue tokens for a minimal cost simply by calling a smart contract.
As such, it's especially important for traders and investors to carry out due diligence when investing in meme coins that may – or may not be – legitimate projects.
Is Pepe 2.0 a Good Investment?
PEPE2 coin saw its price go from $0.000000000004795 on 27 June to a record high of $0.000000171 by 6 July, an increase of 356,6114%.
One trader managed to turn their $900 investment in PEPE2 into $176,000 in a 24-hour window. @DamiDefi tweeted, citing on-chain data, that a wallet bought 8.3 trillion PEPE2 tokens on 28 June. As the Pepe 2.0 meme coin price rose, the wallet orchestrated an exit strategy to sell 2 ETH of PEPE2 roughly every three to seven minutes.
This might be the cleanest entry and exit I've seen a while!

This #crypto wallet got into #PEPE2 before anyone had heard about it.

Turning $900 to $176k in less than 24hrs!

Let's explore 🧵 (Plus I'll show you a proven take profit strategy when trading) pic.twitter.com/L64kzVekMQ

— Dami-Defi (@DamiDefi) June 30, 2023
How to Buy Pepe 2.0
To buy $PEPE2, traders and investors will need to set up a crypto wallet and acquire ETH to pay for gas fees. 
Where to Buy Pepe 2.0
PEPE2 meme coins can be purchased on both decentralized crypto exchanges (DEX) and centralized crypto exchanges (CEX). Most meme coins like PEPE2 first list on DEXs since the listing is open for all ERC-20 tokens. The link from the official Pepe 2.0 website directs users to the Uniswap website.
In terms of CEXs, as of 6 July, PEPE2 was listed on KuCoin, Gate.io, ByBit, Bitget, MEXC, LBank, BitMart, DigiFinex, BiTrue, and NovaDAX.
Prominent CEXs like Coinbase and Binance have not listed PEPE2 on their exchanges, as the new meme coin still has a low market capitalization.
The Bottom Line: Meme Coin Investment Risks
The crypto industry is known for project founders who prefer to remain anonymous for various reasons. Some choose anonymity to ensure that the project can continue to operate and evolve even without their direct involvement. Others' motivation for anonymity may be to empower the community. By removing the focus on specific individuals, the power and decision-making authority is distributed among the community members. Additionally, some founders choose to stay anonymous to avoid potential legal issues.
It is important to keep in mind that cryptocurrencies are a highly volatile market, and meme coins are often the target of pump-and-dump schemes. As such, before choosing to invest in any new coin or token, it is recommended to do your own in-depth research into the currency and the project behind it.