Who is Sam Altman?
Samuel Harris Altman is an American entrepreneur and investor known for his role as co-founder and CEO of OpenAI, the company developing popular artificial intelligence (AI) chatbot ChatGPT. Altman was previously president of technology startup accelerator Y Combinator from 2014 until 2019.
Altman is a prolific investor in technology startups and nuclear energy companies, having provided funding to 94 companies, according to Crunchbase.
He has invested in the likes of accommodation rental marketplace Airbnb, payment platform Stripe, and nuclear fusion startup Helion. Altman is also an advisor to the Stellar Development Foundation, which supports the development of the Stellar cryptocurrency, and co-founder of the WorldCoin cryptocurrency-based biometric platform.
Sam Altman's Net Worth
It is unclear how much wealth Altman has amassed from his various investments, with estimates ranging from $250 million to $500 million.
When he appeared before a U.S. Senate panel in May 2023, Altman confirmed that he had no equity stake in OpenAI.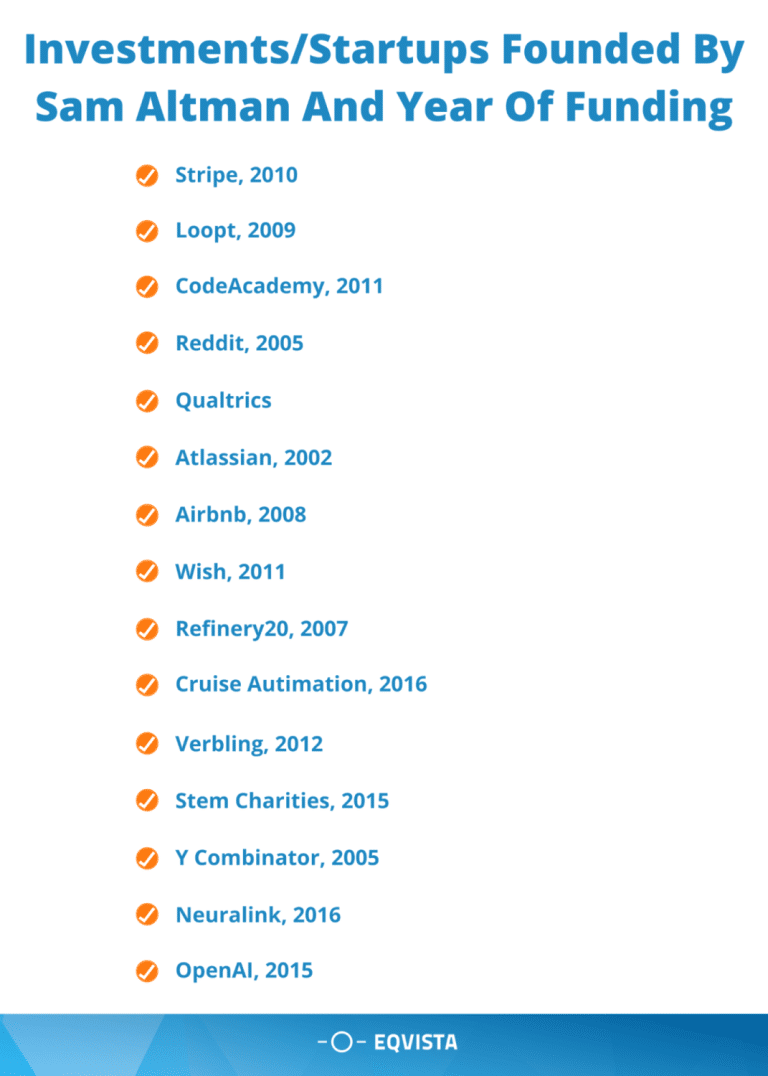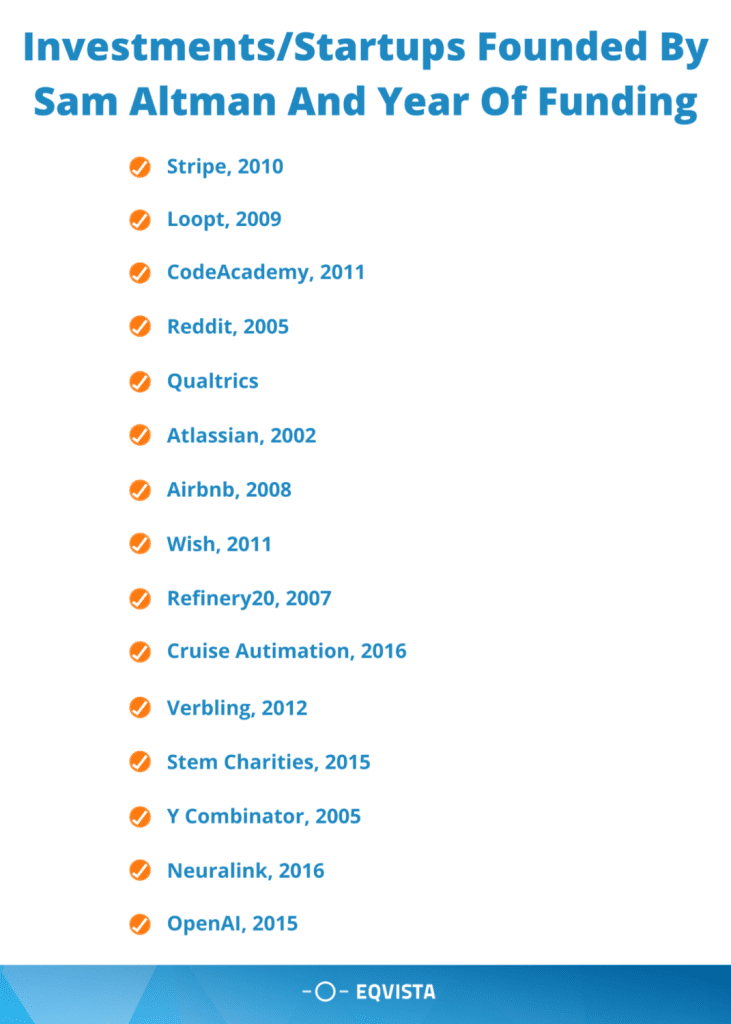 Sam Altman's Early Life and Education
Sam Altman was born on 22 April 1985, in Chicago, Illinois, in the U.S., and grew up in St. Louis, Missouri. His parents, dermatologist Connie Gibstine and real estate broker Jerry Altman gave him his first computer, an Apple Macintosh when he was eight years old.
He soon learned how to code, build websites, and develop software.
Altman attended John Burroughs School, a private college-preparatory school in St. Louis. He then studied computer science at Stanford University in California but dropped out with two of his classmates in 2005 to work full-time on the location-based social networking mobile app Loopt.
Sam Altman's Career Path
Loopt joined the first batch of startups to go through the Y Combinator program. Loopt raised over $30 million in venture capital and grew to a $175 million valuation.
However, a lack of interest in users willing to share their location with friends led Altman and his co-founders to sell the company for $43 million in March 2012 to Green Dot, a prepaid debit card provider and payment platform.
Altman then founded venture fund Hydrazine Capital with his brother Jack Altman and raised $21 million, including a large share of the $5 million he received from Loopt and an investment from billionaire entrepreneur Peter Thiel. Hydrazine invested in Y Combinator startups.
Altman joined Y Combinator as a partner in 2011, and in 2014, founder Paul Graham chose Altman to succeed him as president. Under Altman, Y Combinator led social media platform Reddit's $50 million Series B fundraising round.
In 2015, at age 29, Altman was featured on the Forbes 30 Under 30 list for venture capital investing.  He introduced a non-profit research lab, Y Combinator Research, providing $10 million in funding, and YC Continuity, a $700 million equity fund focused on investing in maturing YC companies.
In September 2016, Altman's role expanded to president of YC Group.
Meanwhile, Altman co-founded OpenAI in 2015 with Greg Brockman, Elon Musk, Jessica Livingston, Peter Thiel, Microsoft, Amazon Web Services, Infosys, and YC Research, committing $1 billion. Their stated goal for the company was to "advance digital intelligence in the way that is most likely to benefit humanity as a whole."
Altman transitioned to chairman of the Y Combinator board in March 2019 to focus full-time on OpenAI as its CEO after it shifted from being a non-profit into a dual structure with a "capped profit" company. By 2020, he was no longer involved with YC Group.
Altman's Role at OpenAI
Under Altman's leadership, OpenAI became the leading developer in the generative AI space. The company raised a $1 billion investment from Microsoft in 2019 and, in November 2022, launched ChatGPT.
The AI chatbot became the fastest-ever platform to hit the 1 million user mark – reaching the milestone in just five days.
OpenAI also developed the DALL·E text-to-image AI generator, which was initially launched in January 2021. The latest model, DALL·E 3, launched in September 2023, with the ability to understand "significantly more nuance and detail" than the previous versions.
In January 2023, Microsoft announced a "multibillion-dollar" investment in OpenAI for an undisclosed sum that was estimated at around $10 billion.
In April 2023, the company raised an additional $300 million from a number of venture capital firms, including Sequoia Capital, Andreessen Horowitz, Thrive, K2 Global, and Founders Fund – valuing it at $27 billion to $29 billion. In October 2023, talks for a planned stock sale indicated an $86 billion valuation.
Time magazine named Altman one of the world's 100 most influential people in its 2023 list.
In an interview with ABC News in March 2023, Altman said that "people should be happy that we're a little bit scared" of generative AI systems. "There will be other people who don't put some of the safety limits that we put on," he said. "Society, I think, has a limited amount of time to figure out how to react to that, how to regulate that, how to handle it."
OpenAI, by this time, had become two organizations – the non-profit OpenAI Inc and "capped-profit" OpenAI Global LLC. The return on any OpenAI Global investment was capped at 100 times, with OpenAI Inc as the sole controlling shareholder in OpenAI Global.
That means the profit-making business owes a fiduciary responsibility to the non-profit owner and executive, including Altman holds no shares in the company.
Sam Altman's Brief Departure From OpenAI in November 2023
On 17 November 2023, Altman was abruptly removed as OpenAI CEO by the board of directors, along with co-founder and chairman Greg Brockman. Altman and Brockman were quickly offered positions at Microsoft to develop a new AI venture.
The board stated that Altman "was not consistently candid in his communications with the board, hindering its ability to exercise its responsibilities. The board no longer has confidence in his ability to continue leading OpenAI."
The following day, the board was reportedly in discussions to bring Altman back to the company. However, by 20 November, Microsoft chairman and CEO Satya Nadella announced that "Sam Altman and Greg Brockman, together with colleagues, will be joining Microsoft to lead a new advanced AI research team."
We remain committed to our partnership with OpenAI and have confidence in our product roadmap, our ability to continue to innovate with everything we announced at Microsoft Ignite, and in continuing to support our customers and partners. We look forward to getting to know Emmett…

— Satya Nadella (@satyanadella) November 20, 2023
Meanwhile, hundreds of OpenAI employees demanded that the company's board resign and Altman be reinstated.
While it was immediately unclear exactly why Altman was fired from OpenAI, it was reported that there was a "misalignment" between OpenAI's for-profit and non-profit approaches.
Scoop: There are about to be a lot more major departures of top folks at @OpenAI tonight and I assume Altman will make a statement tonight. But, as I understand it, it was a "misalignment" of the profit versus nonprofit adherents at the company. The developer day was an issue. https://t.co/eIE4zctv4X

— Kara Swisher (@karaswisher) November 18, 2023
Under Altman, OpenAI's direction progressively leaned towards profit and product development. This shift sparked concerns among non-profit organizations that prioritize open-source development and AI safety.
However, on November 22, the dynamics changed once again. Just four days after accepting a position at Microsoft, Sam Altman made a surprising comeback as CEO of OpenAI, accompanied by the formation of a new initial board consisting of Bret Taylor, Larry Summers, and Adam D'Angelo.
We have reached an agreement in principle for Sam Altman to return to OpenAI as CEO with a new initial board of Bret Taylor (Chair), Larry Summers, and Adam D'Angelo.

We are collaborating to figure out the details. Thank you so much for your patience through this.

— OpenAI (@OpenAI) November 22, 2023