Is the China Narrative Back? Hong Kong Crypto firm CMCC Global has raised $100m for Titan fund aiming at blockchain equity, as data from Chainalysis reveals growth in East Asian crypto markets.
CMCC Global, a blockchain-centric venture capital firm supported by Hong Kong billionaire Richard Li, recently unveiled its latest initiative, the Titan Fund.
With a robust $100 million in backing, the fund has set its sights on early-stage start-ups within the buzzing sectors of gaming, the –metaverse, and non-fungible tokens (NFTs).
Billionaire Richard Li Backs Hong Kong's $100M Blockchain Investment
In a significant move that differs from many of its peers, Titan Fund will champion equity investments in blockchain companies over direct holdings of digital assets.
Block.one has shown immense confidence in the initiative, stepping in as the anchor investor with a $50 million pledge.
Other noteworthy contributors include the likes of Pacific Century Group, Jebsen Capital, Winklevoss Capital, and Yat Siu from Animoca Brands.
The Titan Fund is an institutional grade fund with State Street as the fund administrator and EY as the auditor.
Facebook and Gemini co-founder, Cameron Winklevoss, shared his optimism about the future of the fund in the growing East Asian crypto space, stating that this fund could stimulate growth in the sector.
"The Titan Fund will empower great entrepreneurs to build the next wave of Web3 and blockchain-powered fintech applications," said Winklevoss.
This sentiment is reinforced by the burgeoning track record of the Titan Fund, which has already ventured into numerous ground-breaking projects.
However, a closer look at the sector reveals a slight dampening in Hong Kong's crypto enthusiasm according to a recent report by Chainalysis.
Transaction volumes have seen a drop, with Hong Kong witnessing a $6 billion decline between July 2022 and June 2023.
This has led to a one-spot dip in Chainalysis' global crypto adoption ranking for the territory.
Chainalysis Sheds Light on Hong Kong and China's Resilient OTC Markets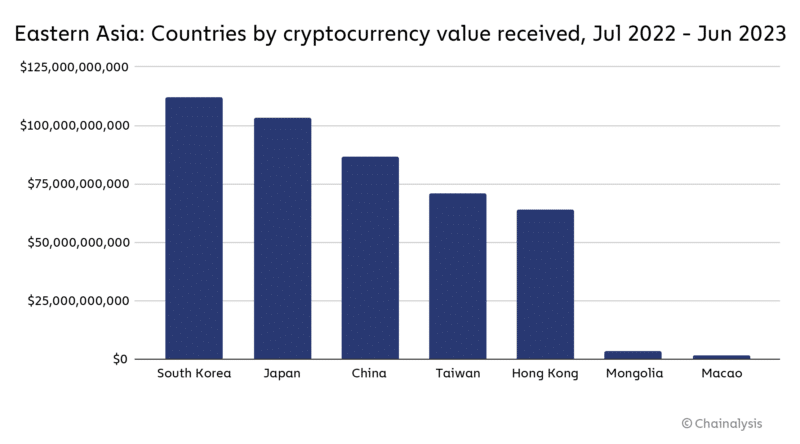 Despite the global downturn and China's firm stance on crypto regulation, Chainalysis reports that the Over-The-Counter (OTC) markets of Hong Kong and China remain impressively resilient.
Hong Kong alone managed to drive $64 billion in volume, shadowed closely by China's $86.4 billion, which is particularly noteworthy considering the vast population difference between the two regions.
Several analysts and industry experts speculate on a potential shift in China's crypto stance, citing Hong Kong's burgeoning status as a crypto hotspot.
The data also indicates a clear dominance by Hong Kong in larger institutional crypto transactions, starkly contrasting with China's larger share in retail crypto volume.
These ongoing developments have also piqued international interest, following the break-out 'China Narrative' in Spring 2023.
Observers have noticed a shift in the crypto epicenter towards the East, as regulatory uncertainties in the West, particularly actions by the US Securities and Exchange Commission, have nudged many key players towards Asia.
The Bottom Line
Both stories highlight the intricate dance of innovation, regulation, and market dynamics playing out in East Asia's crypto scene.
While Hong Kong rides on billionaire-backed initiatives to fuel its blockchain future, China's larger market paints a nuanced story of resilience and potential reconsideration of its crypto stance.
It's clear that as Asia continues its march towards becoming a global crypto hub, the world watches keenly.