The cryptocurrency world has experienced unprecedented growth and innovation since the launch of Bitcoin (BTC) in 2009. What began as an obscure digital experiment known only to a small group of enthusiasts has now evolved into a thriving global industry with countless cryptocurrencies and blockchain-based projects. As it continues to expand, it creates a highly skilled workforce capable of sustaining the blockchain technology that underpins it, giving rise to a new and dynamic job market.
Which industries and locations are the most likely to create roles in the cryptocurrency sector?
The Global Crypto Job Market
The cryptocurrency industry is a global phenomenon. Projects in development span continents, and they require talent to help develop, maintain, and promote them. Crypto jobs range from blockchain developers and cryptocurrency traders to marketing specialists and compliance experts.
Several factors are contributing to the growth of the crypto job market:
Investment and funding. As cryptocurrencies become more visible to the mainstream, more venture capital and institutional financing are flowing into the industry, increasing job opportunities.
Innovation. Blockchain technology continues to evolve, driving demand for developers, researchers, and technical experts.
Regulatory developments. More explicit regulatory frameworks are emerging in some countries, giving the industry a sense of legitimacy that helps to attract top talent.
Increased adoption. The growing acceptance of cryptocurrencies in various sectors, including finance, supply chain management, and healthcare, is driving the need for professionals.
The decentralized nature of blockchain technology means that employees can work on projects from anywhere in the world. This flexibility has opened up opportunities for individuals in regions with few technology companies to join the industry remotely.
Where Are Most Crypto Jobs Located?
Cryptocurrency jobs are found across the Americas, Europe, Africa and Asia-Pacific. More than half of the jobs in crypto — around 55% — are based in North America and Europe, data from K33 research shows.
However, according to research conducted by Coin Kickoff, many non-Western countries have high proportions of cryptocurrency roles relative to their populations. The countries with the highest number of jobs per million people range from Georgia to Singapore, Lebanon, Estonia, and Ireland.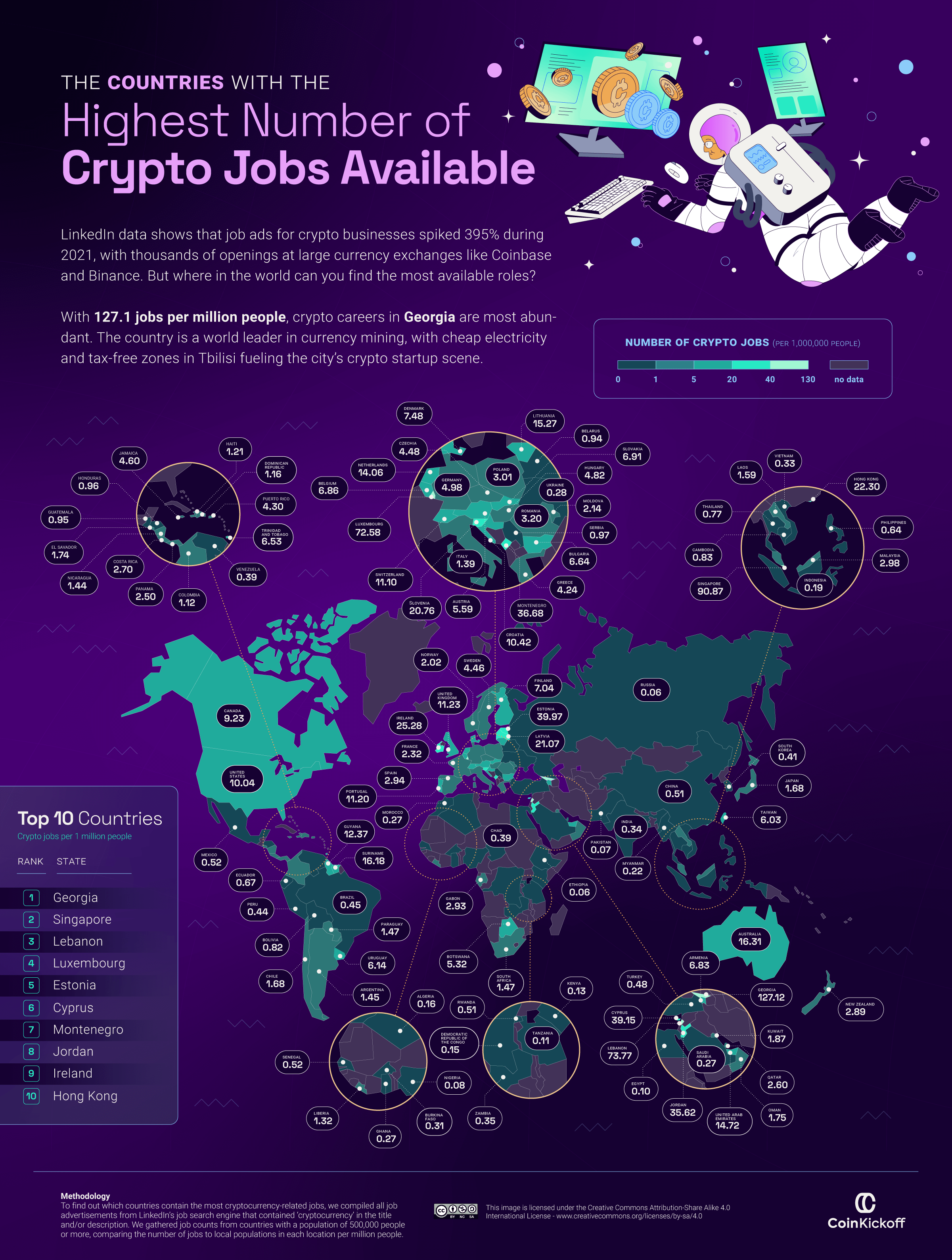 Thanks to its capital, Tbilisi's burgeoning technology hub, Georgia has the world's highest concentration of cryptocurrency jobs, at 127.1 vacancies per million people and 3.6 million residents.
Located at the crossroads of Eastern Europe and Western Asia, Georgia has become a crypto-friendly nation, with its low electricity costs enabling it to lead the world in coin mining. Binance, the world's largest cryptocurrency exchange, has opened a regional hub in Georgia and plans to add "dozens more jobs by the end of 2023". The country is one of the most innovative in the region, according to Vladimir Smerkis, Binance's regional director, who stated: "For Binance, Georgia is an important point on our map."
Singapore has the second highest number of crypto jobs relative to the population, with 90.86 vacancies per million people. Since 2013, the Monetary Authority of Singapore has closely regulated the industry, including a ban on promoting cryptocurrency exchanges. However, Independent Reserve data shows that Singaporeans are active crypto traders; given its attractiveness as a low-tax investment hub, it continues to compete with other Asian financial centers, such as Hong Kong, to attract crypto talent. Binance's job openings include several listings for roles in Singapore, particularly related to its Binance Accelerator Program. Binance launched the program in 2022 for students and early career interns to gain their first hands-on experience working in the Web3 industry.
The third highest proportion of crypto jobs is found in Lebanon, with 73.77 vacancies per million residents. Crypto adoption has increased in the country as it has experienced an ongoing economic crisis since 2019 that has seen the banking system collapse, hyperinflation run into triple digits, and unemployment soar. The Lebanese pound has been heavily devalued, plunging to a record low against the US dollar.
Lebanese workers are finding jobs outside the country that pay in Tether or Bitcoin and exchanging the digital currencies for US dollars to pay for groceries. Some are mining Bitcoin for income.
US Crypto Hotspots
The US ranks 23rd in its proportion of crypto jobs, with 10.04 vacancies per million residents. The crypto crash of 2022 damaged job stability, particularly in the US, in the wake of the FTX exchange's collapse. More than 20,000 jobs were lost in 2022, with layoffs at major US crypto employers like Coinbase continuing into 2023. However, Coin Kickoff's research indicates that crypto job listings are still being advertised in all 50 states and all major cities across the country.
The state of Wyoming has the most crypto jobs per capita, with 693 vacancies per million people. The state is actively seeking to attract blockchain-related businesses, with state legislators passing a series of laws and tax exemptions, and it is represented in the Senate by Republican Cynthia Lummis, who is known as the most crypto-friendly senator in Congress.
Vermont, Alaska, and North and South Dakota round out the top five states with the highest number of crypto vacancies.
Despite a study by Recap.io listing major US cities, including New York, Los Angeles, and Chicago, among the most crypto-friendly cities in the world, Coin Kickoff's analysis shows relatively low numbers of jobs per capita. Los Angeles has around 13.05 jobs per 100,000 people and New York around 13.97 jobs per 100,000, two of the lowest proportions of job listings of any US city. Yet, the Los Angeles suburb of San Bernardino has the highest proportion of roles, with 193.24 vacancies per 100,000 people.
Two suburbs of Dallas, Texas, are crypto vacancy hotspots — Frisco, with 185.03 jobs per 100,000 people, and Garland, with 177.65 jobs per 100,000 people. Texas has become an international hub for Bitcoin mining, and the state's crypto community is bullish about the sector's long-term future.
Industries Most Actively Hiring for Crypto Jobs
Blockchain technology has the potential to fundamentally change the way that industries ranging from banking to real estate do business. Some of the world's largest companies, including Microsoft, PayPal, and Starbucks, accept cryptocurrency payments.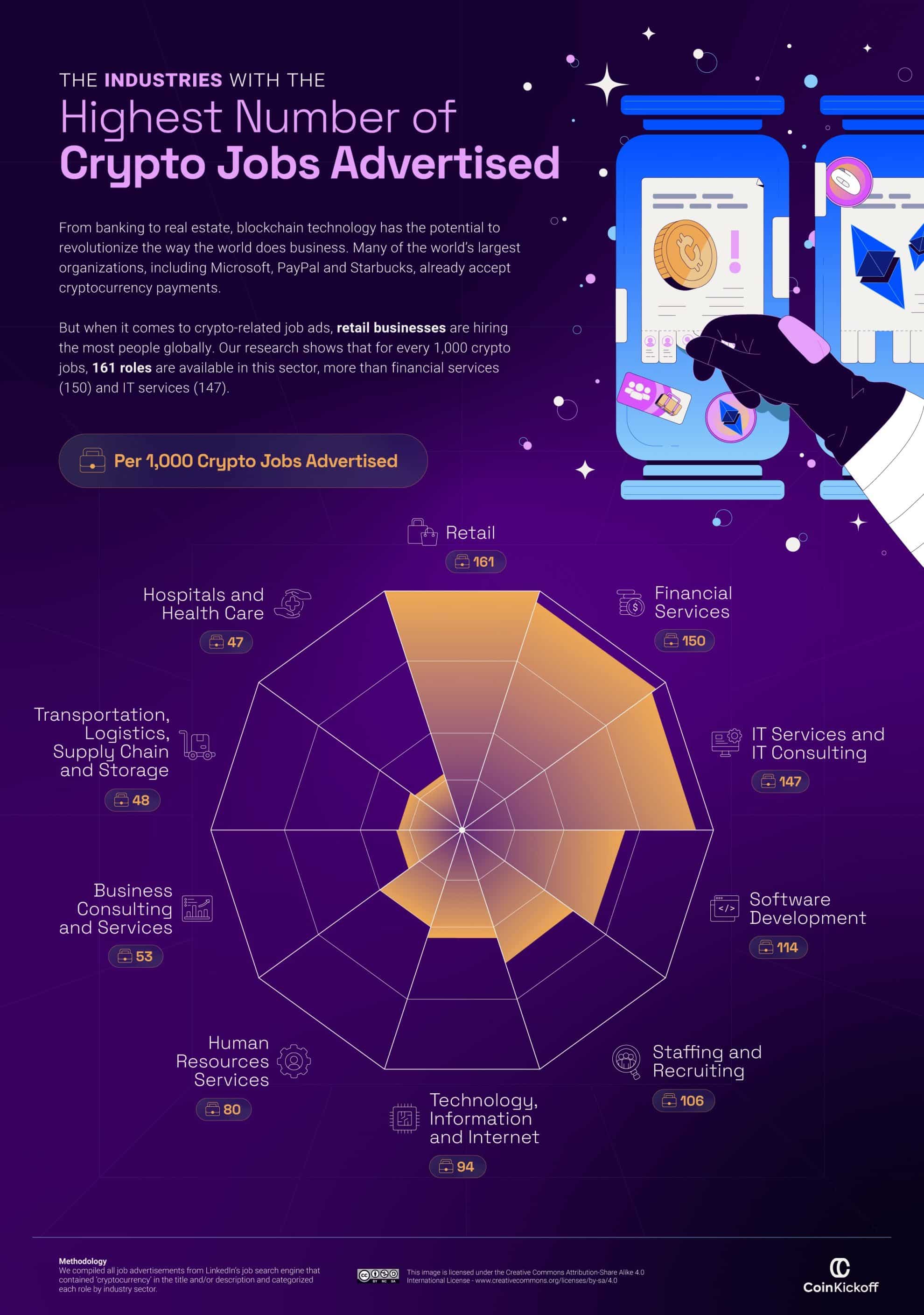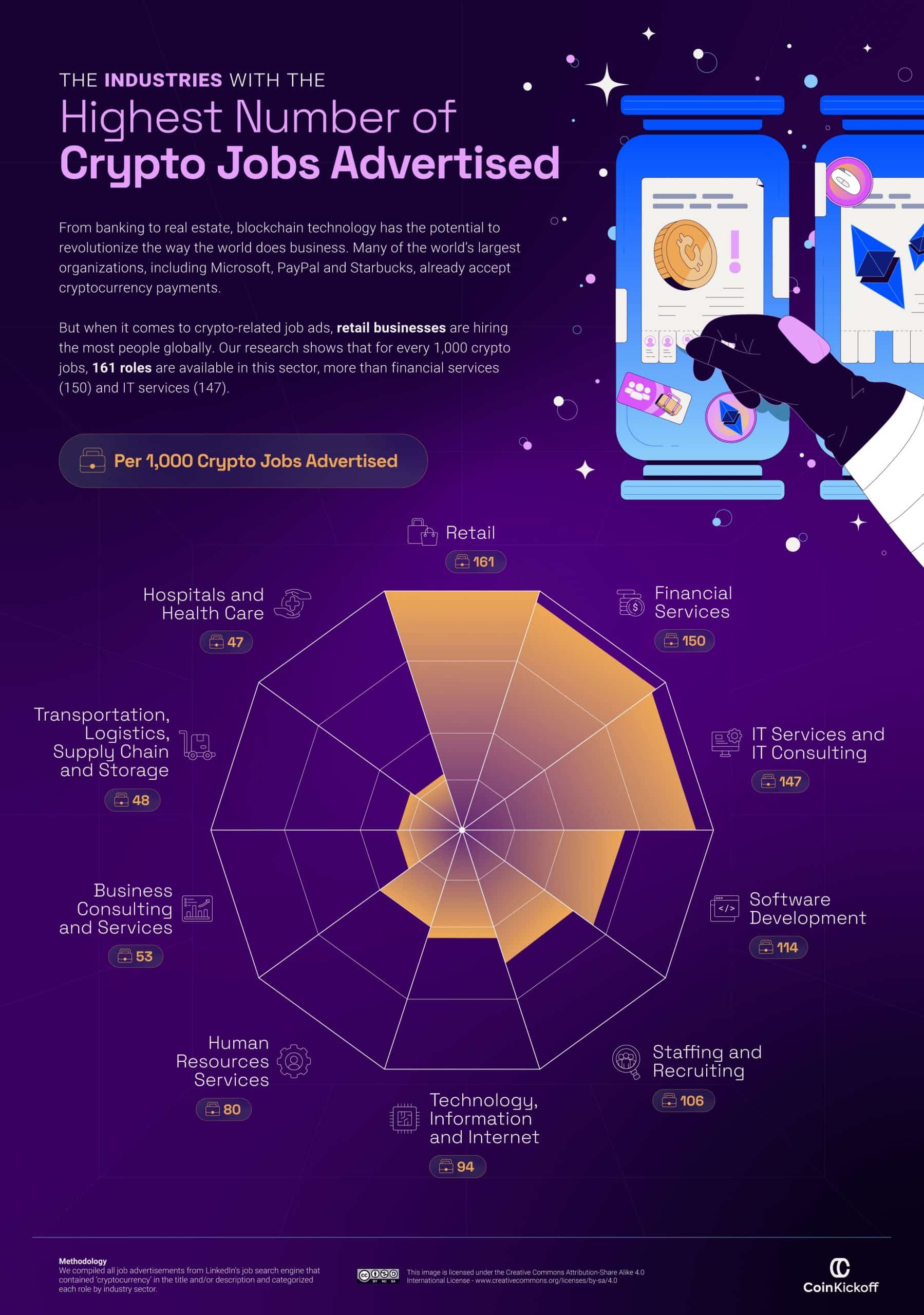 The benefits of using cryptocurrency to make retail payments have been touted from the beginning. After all, the very first Bitcoin transaction was the purchase of two Papa John's pizzas back in 2010.
As cryptocurrencies become more mainstream, more retailers consider accepting them as a payment method. Crypto transactions are fast and secure, help retailers reach a wider audience, and can save on transaction fees. Around 93% of merchants that accept cryptocurrency as a payment method reported a positive impact on their customer metrics, such as customer base growth and brand perception, according to a 2021 survey by US consulting firm Deloitte.
For this reason, the retail sector has the most cryptocurrency-related vacancies globally, with 161 out of 1,000 jobs advertised, even ahead of financial services with 150 and IT services with 147 roles.
In the US, cryptocurrency roles are most prevalent in financial services, with 156 vacancies for every 1,000 listings – higher than retail, which has 155 vacancies, and IT services with 150 listings.
As financial services evolve, uncertainty surrounding regulation is a primary concern for the cryptocurrency industry — particularly in the US, where Congress is increasingly discussing legislation and the Securities and Exchange Commission (SEC) has sued blockchain developer Ripple and crypto exchanges Binance and Coinbase.
The Bottom Line
The cryptocurrency industry has taken hold worldwide, with job vacancies advertised across Asia, Europe, North America, and Africa. Geographical boundaries do not limit opportunities, thanks to remote work possibilities, and locations that encourage innovation are attracting the most job listings.
Clarity on crypto regulation would help the industry thrive, encouraging innovation that would generate a growing number of jobs across various businesses.
Individuals who understand the complexities of blockchain development and cryptocurrency markets can excel in careers that have the potential to disrupt and reshape industries.