Asset tokenization, the digital representation of real-world assets (RWAs) on a blockchain, is gaining ground in the financial sector. The method utilizes smart contracts to manage transfers of digital tokens that represent and verify ownership of assets, offering streamlined transactions, transparency, and high levels of efficiency.
The concept has grabbed the attention of large institutions, hinting at a major shift in asset management practices.
Even Wall Street titans like JPMorgan and Citi are eyeing asset tokenization, and it's no surprise considering the surging demand for it during the most recent crypto winter.
#REALIO 🏙

BlackRock , JPMorgan, Deutsche Bank, SBI, ….. EVERY major Bank /Institution is targeting #RWA #tokenization which is a sleeping giant to be awakened in 2023!

Real estate is the #1 asset in the world
and valued at a total of USD 326 trillion worldwide.… pic.twitter.com/CPg8CzHs2b

— JA (@ja1405_ja) June 3, 2023
In this article, we dive into the growing interest and potential that asset tokenization carries. Along with highlighting the benefits, we also explore the challenges the sector faces, including the inherent volatility and security risks.
Asset Tokenization: Beyond Traditional Crypto, Exploring Liquidity
Asset tokenization revolves around recording RWAs in a digital format on a blockchain tied to smart contracts. These contracts, written in code and embedded within a blockchain network, control and execute transfers of digital tokens.
Tokenized assets are different from traditional cryptocurrencies because they are backed by RWAs rather than by speculation or sentiment.
The automatic execution of these contracts delivers tokens straight to investors. This provides a clear, accurate, and efficient transaction record, making all contractual terms and data available to the investor.
A principal advantage of this approach is increased liquidity, especially for assets typically described as illiquid. By tokenizing these assets, they become easier to trade and transact with, making the market more efficient and accessible.
Lucas Vogelsang from Centrifuge put it concisely when he said, "Tokenization lets you create liquidity for things that aren't liquid today."
The Tokenization Surge: RWAs Virtualized
There are countless examples of RWAs being represented by digital tokens. Assets like artworks, real estate properties, luxury goods – even treasury bills have been migrated onto the blockchain.
"We're trying to get everything to tokens," said Allan Pedersen, CEO ofMonetalis group, in a recent interview with CoinDesk. Pedersen's organization – which tokenizes RWAs to use them as collateral for the MakerDAO DeFi ecosystem – has already put $1.2 billion worth of treasury bills on the blockchain.
The tokenization transformation has already led to significant market growth, with the tokenized RWA market expected to reach a staggering $16 trillion by 2030, as forecasted by a BCG and ADDX 2022 report.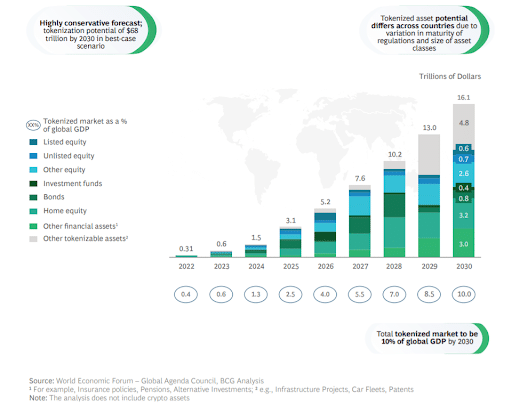 Crypto's next generation is being welcomed by leading business figures aware of the technology's powerful potential. Vogelsang, for one, has noted that asset tokenization has been key to Centrifuge tokenizing more than $400 million of RWAs. He said:
"Institutions see tokenization as highly promising and are looking to invest in tokenized assets, as well as tokenizing their own assets over the next two years."
As the financial sector hopefully moves toward more transparent, efficient, and accessible systems, it seems asset tokenization is gaining much-needed acceptance and adoption.
Tokenization: Pros and Cons
Tokenization is reducing the friction for issuers in the digital space, allowing them to simplify the creation, buying, and selling of securities. Tangible assets such as fine art or intangible ones like real estate find a ready market for trade, enhancing liquidity for sellers and investors.
The token itself is a digital record of ownership, including the rights of all parties involved. It can list original ownership, current dealers, and other relevant details. Smart contracts and automated mechanisms for transaction validation further cut down on costs and speed up the process, reducing the paperwork and time required for validation.
This allows for quick and uncomplicated transactions, significantly reducing the time taken for settlement and clearance. The easy management of these tokenized assets also improves overall market efficiency and optimizes the trading of goods and services.
Another significant advantage is the lowered threshold for investment, permitting a broader range of people to buy into tokenized assets. Utilizing blockchain technology, startups can access tokenized funds without requiring third-party involvement.
As security tokens are easy to make liquid, theoretically, investors can also trade them around the clock on global secondary markets.
The Rough Edges of Asset Tokenization
On the other hand, managing assets in a tokenized economy is not without risks. Investors may face significant losses due to low liquidity assets regardless of how quick and easy it is to buy and sell them. Market prices for such assets can be highly unpredictable, straying from the fair value of a company or investment opportunity.
Digital assets carry an inherent volatility risk, intensified by regulatory shifts, cyberattacks, and crypto heists. Payment, utility, and security tokens all face valuation challenges. Assigning objective values to some tokens can be complex as their prices may be more easily influenced by global supply and demand dynamics rather than traditional valuation methods.
Utility tokens, representing future access to a product or service, lack established valuation techniques. Security tokens are also susceptible to liquidity risk, especially those linked to private, non-public companies not listed on stock markets.
Additionally, tokenization platforms are usually developed on open-source software, exposing digital assets to the possibility of theft, programming errors, and cyberattacks. A digital asset may also become unstable due to a hard fork, restricting its use as a long-term medium of exchange.
Credit and counterparty risks, including the bankruptcy of the underlying issuer, pose another significant threat to tokenized securities, much like private equity or debt investments.
Operational risk also arises if digital assets are sent to an incorrect distributed ledger address, leading to an irreversible loss of funds.
Consequently, users must be extra careful to verify the destination blockchain address accurately before confirming a transaction.
Final Thoughts on the Rise of Asset Tokenization
Asset tokenization is gaining interest from individuals and institutions, altering perceptions of the crypto market. Critics who view cryptocurrencies as volatile and unbacked are finding this outlook challenged by the emerging trend, with RWAs that include everything from cars to bonds being tokenized.
These assets can then be easily traded using cryptocurrencies, a natural step after users become comfortable with using blockchain apps.
The process offers clear transaction records and easy availability of data, which brings more transparency to the process of buying and selling assets. Tokenization not only offers the potential to increase liquidity but makes markets more accessible and efficient, likely making it the future of digital asset management.
Asset tokenization is not without risks, however, including unpredictable market prices and inherent volatility.
Despite these challenges, the adoption of this new approach to trading assets is growing. With its ability to simplify transactions and make markets more accessible, asset tokenization could be a huge game-changer for many types of markets around the world, pointing towards a path of widespread institutional adoption of cryptocurrencies as a way of trading these assets.