Searching for a list of new cryptocurrencies that have the potential to explode in the coming months and years?
In this guide, we reveal the 9 best new cryptocurrency to invest in for 2023. 
We also explain the fundamentals of finding new cryptocurrency releases for 2023 and what research methods to employ when selecting top-rated projects. 
Top 9 Best New Cryptocurrency to Buy 2023
When searching for the best new cryptocurrency to invest in, diversification and risk management are key. 
As such, we have hand-picked a list of the 9 best new cryptos to watch today:
Love Hate Inu – Overall Best New Vote-to-Earn Crypto on Presale
Fight Out – Earn Real-World Crypto Rewards with this Play-to-Earn Platform   
C+Charge – EV Charging Stations Meet Carbon Credits via the Blockchain
RobotEra – Build a Portfolio of Virtual Real Estate Holdings in the Metaverse  
Lucky Block – Gain Exposure to the World's Premier Crypto Casino and Sportsbook 
Tamadoge – P2E Ecosystem With Virtual Pet Breeding and Battle Rewards  
The Graph – Proprietary Indexing Protocol for Blockchain Data
Ape Coin – Native Token of the Otherside Metaverse
Cronos – Crypto Exchange-Backed Token With Multiple Use Cases
Analyzing New Crypto Coins to Invest in
When selecting the best new crypto to buy for an investment portfolio, it is wise to read through the project's whitepaper to assess its roadmap objectives, and how realistic these goals are. 
We would also suggest assessing the upside potential of the new cryptocurrency in question to determine its future value and how much risk will need to be undertaken. 
Below, we analyze the 9 best new cryptocurrency to invest in for 2023.
1. Love Hate Inu – Overall Best New Vote-to-Earn Crypto on Presale
The benefit of investing in new crypto projects is that they can potentially offer enormous growth opportunity since they are available at low prices. In the case of Love Hate Inu ($LHINU), this new vote-to-earn crypto is available to buy during round one of its presale stage and looks to be one of the best crypto ICOs of 2023. 
More than the cheap price, Love Hate Inu's crypto token can be staked to earn free token rewards on this crypto-based online voting platform. Users can share their opinions on multiple meme polls and earn more rewards depending on their frequency of use. With such a unique selling point, could LHINU be the best meme coin to buy in 2023?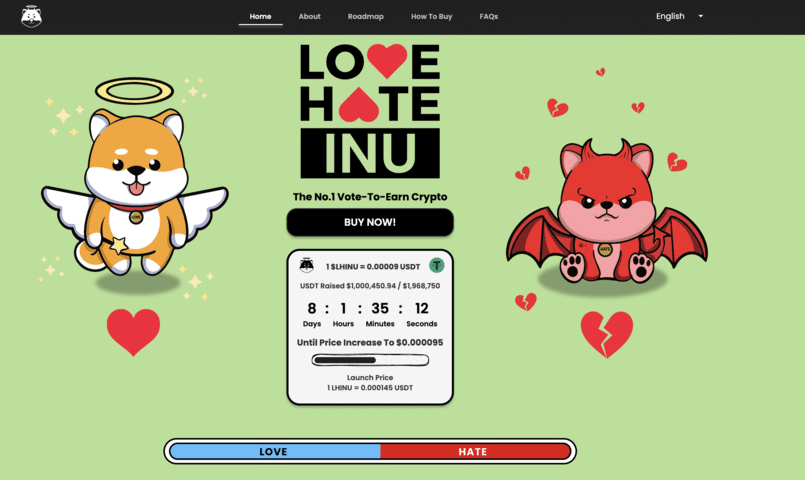 Moreover, since $LHINU, the native token, is used to take part in these polls, Love Hate Inu guarantees complete anonymity in the voting process. The votes are also secure against any fraud or manipulation since Love Hate Inu uses a real-time staking mechanism. 
A well-laid out platform roadmap has made the future of this project crystal clear. By Q3 2023, users will be able to access the voting algorithms to place their votes. The following quarter, members can create their own polls through the vote submission platform. 
As part of Love Hate Inu's long term objective, it looks to sign multiple crypto partnerships and integrate metaverse elements into its ecosystem. As for the current presale, Love Hate Inu has gotten off to a great start by raising over $1.28 million USDT in just 10 days. Could LHINU be the best emerging crypto to buy in 2023?
From the total supply of 100 billion coins, 90% have been listed across eight presale rounds. Currently, on round two, this new crypto can be purchased for a meager $0.00009 per token – making it one of the best penny cryptos to invest in right now.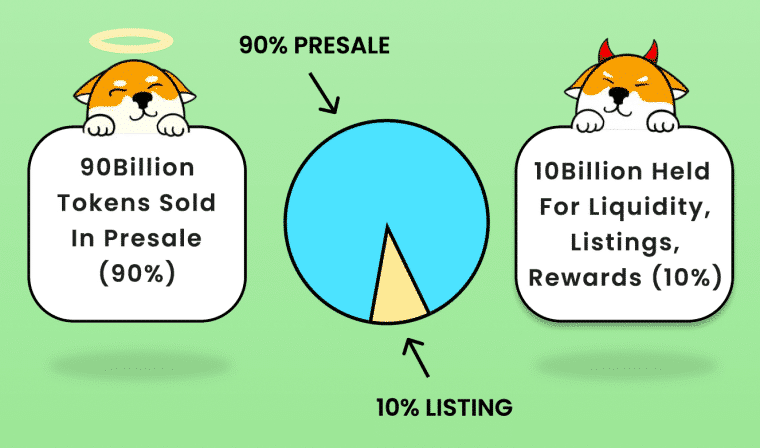 Investors may want to buy $LHINU now since the presale price will eventually jump to $0.000145 by the final round. By Q2 2023, Love Hate Inu will prepare to list $LHINU on crypto exchanges. 
Read the Love Hate Inu whitepaper and join the Telegram channel to learn more about this new crypto project. 
| | |
| --- | --- |
| Presale Started | 8 March 2023 |
| Purchase Methods | ETH, USDT, Credit Card |
| Chain | Ethereum |
| Hard Cap | $10,068,750 |
| Min Investment | 10 $LHINU |
| Max Investment | None |
2. Fight Out – Earn Real-World Crypto Rewards with this Play-to-Earn Platform 
Fight Out is also one of the newest best cryptocurrencies to invest in for 2023. This is a play-to-earn (P2E) cryptocurrency platform that follows a train-to-earn model. On Fight Out, users can earn rewards by competing in various P2E elements and working towards their fitness regime. 
Fight Out is building an entire ecosystem that not only includes its earning mechanism but a fully-fledged metaverse. With $FGHT, the native token, users can earn rewards and monitor their fitness and workouts on the Fight Out app. This will enable fitness fans from across the world to engage in group training classes and even competitions.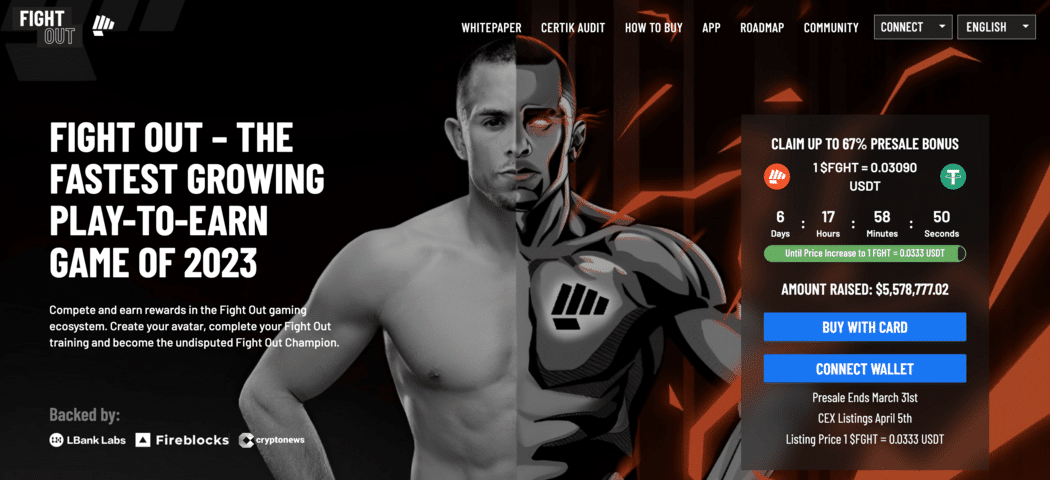 Those that prefer working out on a DIY basis will not be disappointed, with Fight Out having the capacity to track any exercise routine imaginable. This includes everything from treadmill workouts and weight lifting to boxing and pilates. Users will also be able to compete in P2E games such as Player v Player challenges, MMA fantasy battle games and more digital competitions. Therefore, FGHT is one of the best gaming coins to buy in 2023. 
This ensures that the Fight Out ecosystem is both sustainable and self-sufficient in the long run. As such this innovative train-to-earn project is considered to be one of the best long term crypto investments in 2023. Subscriptions to the Fight Out fitness app can be paid in the project's primary utility token – FGHT. With that said, Fight Out is also home to an in-app currency called REPS. This is the currency that users will earn after completing each exercise routine. 
REPS can be used to purchase in-game boosters, apps, and NFTs, not to mention exclusive Fight Out merchandise. REPS can also be converted into FGHT, with the latter penciled in for an exchange listing in Q2 2023. Another core feature of the Fight Out roadmap is an ambition to partner with reputable gym chains. 
Another important feature of Fight Out is that each member can mint their own NFT Soulbound Avatars after signing up. The avatars cannot be traded, and increase in value depending on how hard you train. Currently on presale at $0.02850, the price of $FGHT will increase on a weekly basis.
Users can also purchase $FGHT tokens and earn 25% bonuses, depending on their purchase amount. A further 42% in token bonuses can be availed by staking $FGHT for a maximum period of 36 months.
The proposed exchange listing for FGHT tokens is scheduled to open trading at $0.0333. 
| | |
| --- | --- |
| Presale Started | December 14 |
| Purchase Methods | ETH, USDT, Transak |
| Chain | Ethereum |
| Min Investment | N/A |
| Max Investment | N/A |
3. C+Charge – EV Charging Stations Meet Carbon Credits via the Blockchain
Another area of the blockchain technology space that is set to experience rapid growth in the coming years is green energy and sustainable practices, such as electric vehicles (EV). C+Charge is one of the hottest crypto presales right now and has the potential to dominate the niche market of EV charging stations, which makes its native token – CCHG, one of the best new crypto to invest in.
In simple terms, C+Charge is on a task to partner with the world's largest EV charging station manufacturers and distributions. In doing so, EV owners that use one of the partnered C+Charge stations will be entitled to a rebate on each transaction – with the funds distributed in carbon credits.

This is a big deal for EV owners, considering that in the current state of the market, carbon credits are only accessible by car manufacturers, such as Tesla, and charging station networks, like Electrify America. This means that although the consumer is contributing to the green energy cause, they receive nothing in the way of carbon credit recognition. 
This is where C+Charge comes in, with 1% of all transactions being utilized to purchase carbon credits, before transferring the rewards to the rightful EV car owner. Everything is facilitated via the Ethereum blockchain, which connects to the native C+Charge app. The app – which will be available on iOS and Android, offers a 360-degree overview of carbon credit earnings. 
Not only that, but C+Charge stakeholders can use the app to locate their nearest charging station and even complete payment via the CCHG token for additional rewards and benefits. Considering that carbon credit trading is now a multi-billion arena, C+Charge has everything it needs to become the best new cryptocurrency to invest in for 2023 and beyond. 
Now for the presale – C+Charge launched its fundraising campaign in the days prior to writing. The presale will last for an additional 56 days or until the hard cap target is reached.
| | |
| --- | --- |
| Presale Started | December 16 |
| Purchase Methods | BNB, USDT, Transak |
| Chain | Binance |
| Min Purchase | N/A |
| Max Purchase | N/A |
4. RobotEra – Build a Portfolio of Virtual Real Estate Holdings in the Metaverse 
RobotEra is one of the latest new crypto projects to grab the metaverse concept by the horns. The team behind RobotEra argues that the metaverse is set to play a major role in the future of web3, but in its current form, the industry still requires a major see-change. RobotEra will achieve this goal in several different ways. 
First and foremost, there is a fun element to the RobotEra metaverse, considering that each user is represented by their own robot-centric avatar. Personalization and creativity are embraced by the project, with users having the ability to customize their robot in any way they see fit.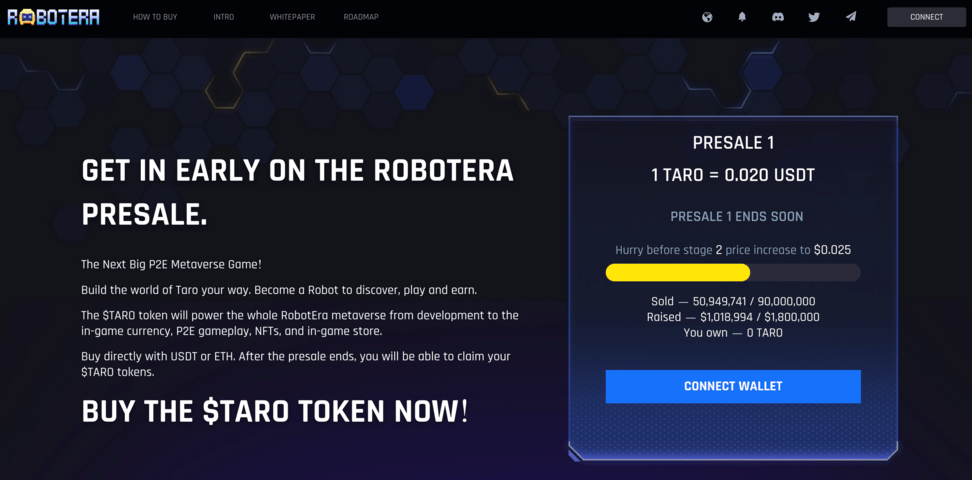 Moreover, the RobotEra metaverse does not believe in limitations like many of its competitors. On the contrary, RobotEra enables users to explore never-ending worlds and universes, and even claim a stake in metaverse land. Regarding the latter, this concept enables users to actually purchase and own virtual real estate. 
All transactions are transparent and subsequently facilitated by the Ethereum blockchain. When buying a plot of land, this will be represented by an NFT, which the user can store in a private wallet such as MetaMask. Not only that, but in line with the creative mindset of the RobotEra team, users can then build projects on the land they have purchased. 
One example of many could be a fully-fledged stadium that is designed by the user. The user can then host virtual Metaverse events, such as a concert, and subsequently sell tickets to other RobotEra users. And of course, the value of the virtual real estate will be subjective, meaning that so-called 'hot' plots of land have every chance to rise in value. 
RobotEra will eventually run in an autonomous manner, so an entire economic community will grow, and thus – there will be plenty of other opportunities to generate income. To invest in this new cryptocurrency today, head over to the RobotEra presale dashboard to secure the lowest price possible of $0.02. Stage two will increase the price  up to $0.25.  
| | |
| --- | --- |
| Presale Started | Q4 2022 |
| Purchase Methods | ETH, USDT |
| Chain | Ethereum |
| Min Investment | 1,000 TARO |
| Max Investment | N/A |
5. Lucky Block – Gain Exposure to the World's Premier Crypto Casino and Sportsbook 
When exploring the newest crypto coins in the market, another core industry to consider is online and mobile gambling. After all, this industry generates many billions of dollars in revenue each and every year. In this regard, we found that one of the best new cryptocurrency to invest in is Lucky Block.
After nearly a year in the making, Lucky Block released its much-anticipated casino and sportsbook in late 2022, which has been rated as one of the best Bitcoin casinos. Hundreds of thousands of bets have already taken place, with new players signing up on a daily basis. Lucky Block is different from a traditional, fiat-based online casino, insofar as it supports anonymous gambling.
This means no personal information when signing up and no KYC documents when making a withdrawal. There are no limits on withdrawals and payouts are processed instantly. We also found that Lucky Block has partnered with over 80 leading software developers, such as NetEnt, Pragmatic Play, and Hacksaw Gaming.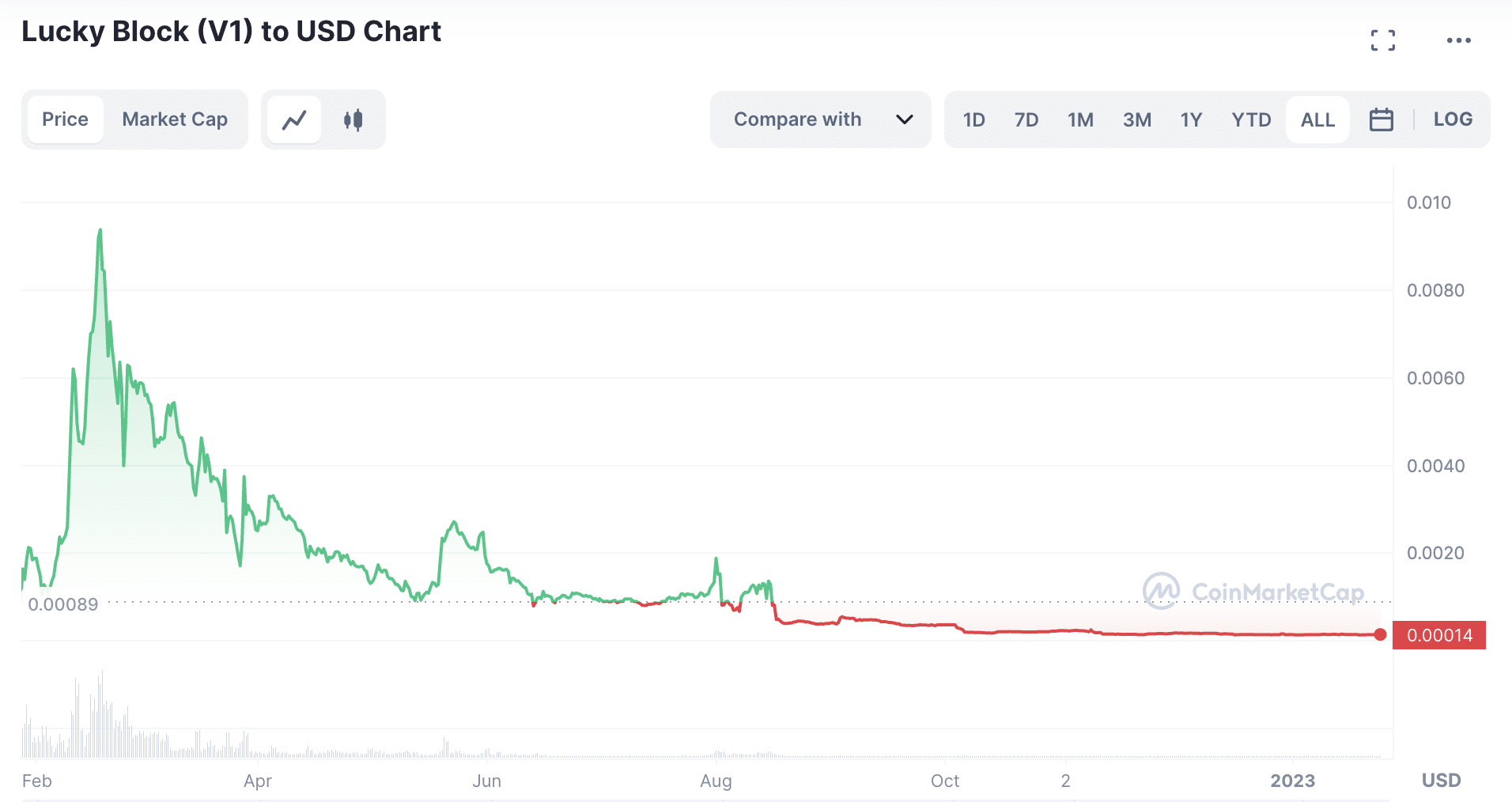 This translates into thousands of casino games. Whether it's live dealers, classic table games, slots, or dice – Lucky Block has it all. This is in addition to the Lucky Block sportsbook, with offers thousands of markets throughout the week at top-rated odds. Lucky Block is backed by its own native cryptocurrency and one of the best altcoins to buy – LBLOCK.
In the coming weeks, LBLOCK will be supported by Lucky Block for the purpose of making deposits, bets, and withdrawals. This ensures that LBLOCK has a real-world use case. Moreover, LBLOCK, as per the wider bearish cycle, is available to buy at a huge discount right now, with some analysts arguing that the token is heavily undervalued.
6. Tamadoge – P2E Ecosystem With Virtual Pet Breeding and Battle Rewards 
Tamadoge is one of the newest cryptos to consider from the blockchain-based gaming scene. Tamadoge is building a fun and immersive ecosystem that enables players to mint and own a virtual pet. Each pet is unique and will have randomly-generated traits, each of which will enable the player to complete certain tasks.
For example, players can breed their pets to create a new NFT, or engage in training to improve its characteristics. The virtual pet will also need to be fed and cared for. The ultimate objective in this play-to-earn game is to accumulate Tamadoge points, which can then be converted into TAMA tokens.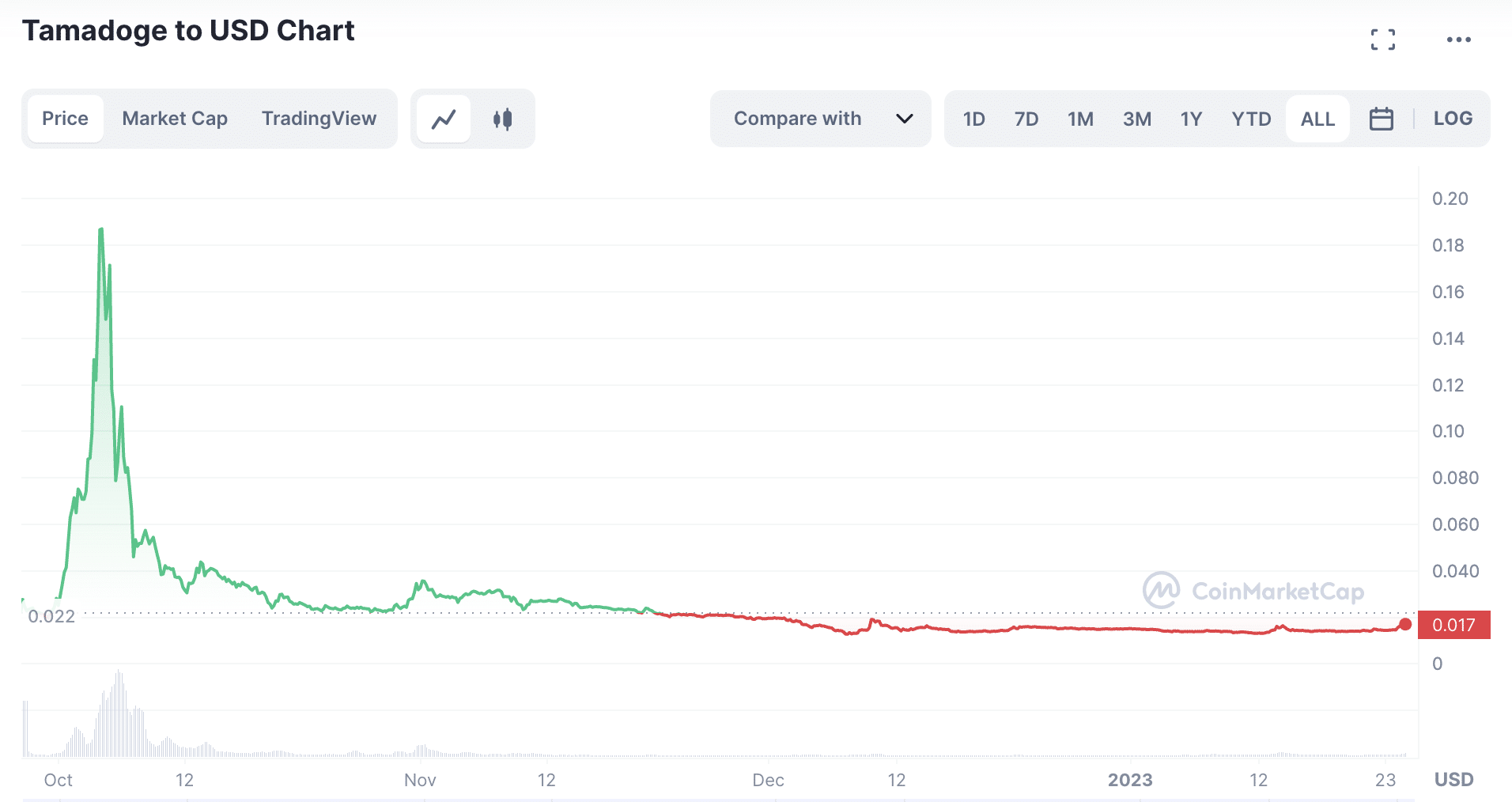 TAMA is the ERC-20 token that fuels the Tamadoge ecosystem. Tamadoge is also in the process of building its much-anticipated Tamaverse. This is the project's native metaverse, which will eventually incorporate web3 technologies such as augmented reality. Tamadoge raised $19 million during its 2022 presale, albeit, this is still one of the best new cryptocurrency to invest in.
Tamadoge is at the very start of its play-to-earn journey, meaning that there are still plenty of roadmap objectives for the team to work on. This does, however, present a notable opportunity to invest in one of the newest cryptocurrencies in the market at an attractive entry price, before the mainnet launch. As of writing, the market cap stands at just $16 million.
7. The Graph – Proprietary Indexing Protocol for Blockchain Data
The Graph was founded in late 2020 and as such, is still considered one of the newest crypto coins in the market. This project has built a proprietary suite that enables any blockchain protocol to engage in data indexing. In more simple terms, The Graph can be utilized by decentralized networks to help by 'overload'.
This means that transactions can be stored and handled without increasing the network demand and ultimately – fees. As of writing, The Graph is fully-compatible with Ethereum and IPFS, but expect further partnerships in the coming months and years. The Graph is backed by its own native token – GRT.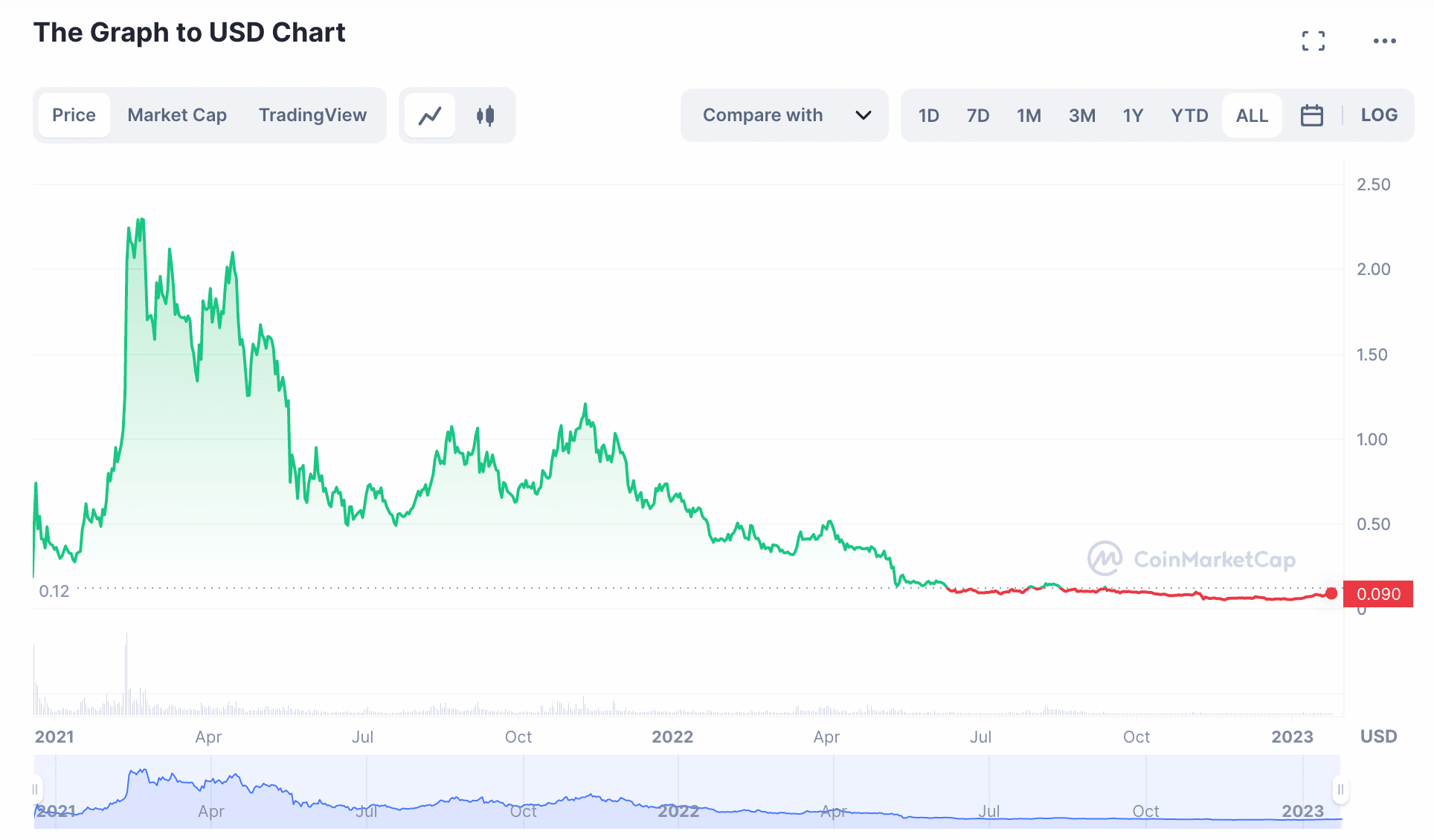 When GRT was launched in late 2020, it went on a parabolic run, only to then succumb to the broader crypto bear market that began less than a year later. As of writing, this means that investors can purchase GRT tokens at under $0.10. When compared to its 52-week high, this offers a discount of over 80%.
8. Ape Coin – Native Token of the Otherside Metaverse
Although Ape Coin was launched in 2022, this new crypto project is backed by the same team that developed the hugely successful Bored Ape Yacht Club NFT collection. This proves that the Ape Coin development team knows how to bring a new product to the crypto market.
Ape Coin is an ERC-20 token that has real-world utility, insofar as it fuels the Otherside metaverse. Within the Otherside metaverse, investors can buy plots of land, build virtual real estate, and even watch live concerts. Everything that takes place within the Otherside metaverse is conducted in Ape Coin.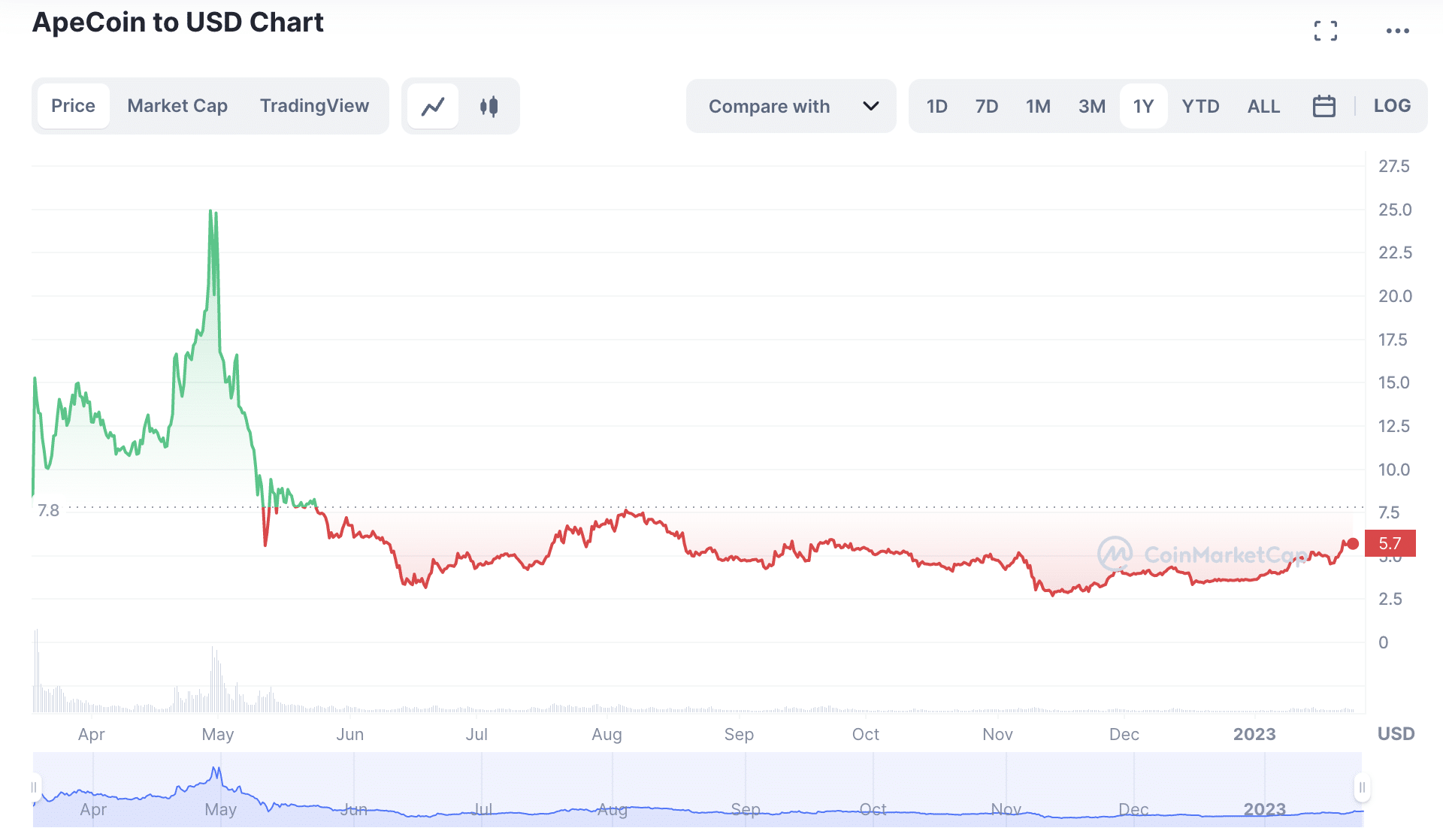 Ape Coin has actually performed reasonably well in the current bear market. Although the digital asset is down 27% as of writing – compared to its original listing price, many cryptocurrencies have declined by over 80% during the same period. As such, Ape Coin is one of the new crypto projects to keep an eye on.
9. Cronos – Crypto Exchange-Backed Token With Multiple Use Cases 
Cronos is a relatively new cryptocurrency that backs the Crypto.com exchange. As such, the primary objective when investing in this digital asset is to gain exposure to the Crypto.com ecosystem. Cronos operates on a hybrid blockchain network that incorporates both Ethereum and Cosmos.
As a result, Cronos transactions are fast, cheap, and scalable. In terms of use cases, Cronos can be used by developers that wish to launch Solidity-based applications in a seamless way. This offers an alternative to the primary Ethereum framework, which remains overloaded. Cronos is also open source, which ensures that the underlying network can be audited in a public setting.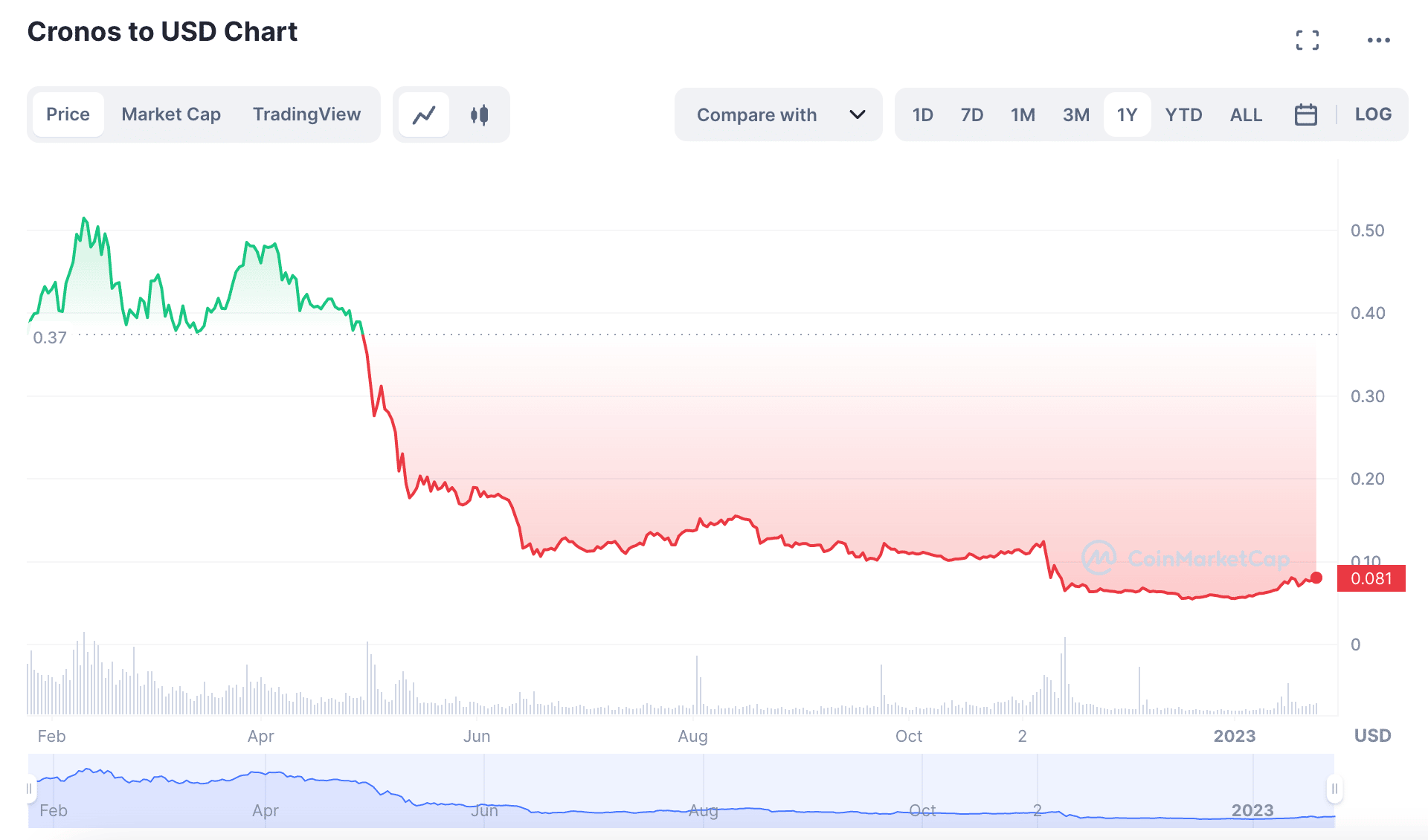 Cronos has also stepped into the world of DeFi, with users having the ability to earn rewards and obtain loans. The Cronos network can also facilitate NFT ownership and trades. As of writing, Cronos is trading at under $0.10, which is just a fraction of its former all-time high of $0.90.
How We Selected the Best New Crypto to Buy
There are many thousands of cryptocurrencies in the market, with new entrants being listed each and every day. Some of which join the queue for the most-anticipated upcoming Binance listings. Naturally, this means that choosing the best new cryptocurrency to invest in can be a cumbersome and time-consuming task.
To fast-track the process, consider the following key points when creating a list of the best new cryptocurrency releases.
Whitepaper and Objectives
The most important part of the research process is to read the new cryptocurrency project's whitepaper from top to bottom. A good whitepaper should outline the objectives of the project and what problems it is aiming to solve.
The goals of the team should be clearly presented in a roadmap, with each objective represented by a target date. Additionally, to find the very best new cryptocurrency to invest in, research on the development team should take place.
If the project is legitimate, it will have a fully transparent and KYC'd team with LinkedIn profiles easily accessible. On the other hand, if the team behind the project is anonymous, this is a major red flag to consider.
Presale Availability and Pricing 
One of the most attractive aspects of new cryptocurrencies is that in the vast majority of cases, the project will begin its journey with a presale campaign.
This enables the project to raise capital before the cryptocurrency is listed on an exchange. From the perspective of investors, presales offer discounted pricing for those who complete their investments early.
As we noted earlier, the likes of Love Hate Inu, Fight Out, C+Charge, RobotEra, and Calvaria are all hosting their respective presales right now at preferential pricing.
Low Market Capitalization   
When creating a shortlist of the best new cryptocurrency to invest in, we prefer projects that will be listed with a small market capitalization.
The reason for this is that the smaller the market capitalization, the more room there is for the respective cryptocurrency to explode in value.
For example, if a newly launched cryptocurrency is listed with a market capitalization of $10 million, this means that growth of 20x would still only amount to a valuation of $200 million.
Innovation and Market Niche   
We also prefer new cryptocurrencies that have an actual purpose, in a high-growth market.
For instance, Love Hate Inu is the first crypto platform to offer online voting options and rewards through the $LHINU token.
We also like that Fight Out is innovating the fitness industry through a play-to-earn mechanism that rewards physical activity.
C+Charge is also innovating, through its EV charging station rewards system that distributes carbon credits to car owners.
Ultimately, if a cryptocurrency project that not offer anything new or innovative, then it should probably be avoided.
Why New Cryptocurrencies Can be a Good Investment
The main motivation when searching for the best new cryptocurrency to invest in is to maximize potential returns. For instance, most of us missed Bitcoin at below $1,000, and the same for Ethereum at $1.
In other words, new cryptocurrencies are yet to reach mass awareness, so investing early offers the best possible entry price.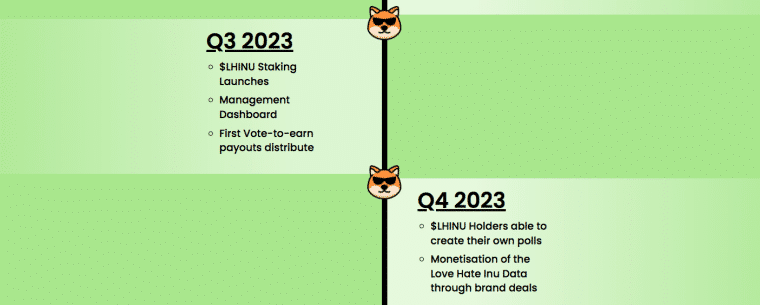 In turn, this offers the opportunity to target significant returns, especially when the project begins with a small market capitalization.
New cryptocurrencies are usually accessible via a presale launch. Once again, this offers an early-mover advantage through discounted prices.
How to Find New Cryptocurrency Releases
The most challenging aspect to consider when exploring the next new cryptocurrency to invest in is knowing how to locate upcoming projects.
Here are some of the ways to find new cryptocurrency releases online:
Reddit: Ever found yourself searching for the best crypto on Reddit for 2023? One of the most effective ways to find new cryptocurrencies is via Reddit. The marketing team behind the project will almost always publish information on the upcoming presale, knowing full well that Reddit is utilized by millions of cryptocurrency investors globally.
YouTube: Another popular way to find top new cryptocurrencies is YouTube. For instance, the Jacob Crypto Bury YouTube channel is a great source of information on new project releases and presales. Jacob reviews plenty of projects and has enjoyed great success in recent months in finding high-growth presale opportunities.
CoinMarketCap: When a new cryptocurrency lists on an exchange for the first time, this usually syncs with CoinMarketCap. By hitting the 'Recently Added' button, this brings up a list of new crypto listings.
Telegram: Sometimes you can find unique cryptos via the best Telegram crypto signals.
And of course, reading through guides like ours also offers insight into the best new cryptocurrencies to keep an eye on.
Where to Buy New Cryptocurrency
To gain exposure to the next new cryptocurrency to invest in, the trade will need to be completed online.
The specific place to invest will depend on whether the cryptocurrency is already listed on an exchange or if it still in presale mode.
Where to Buy New Presale Crypto
If the chosen new cryptocurrency is currently engaged in its presale campaign, then there is no requirement to use an exchange. The reason for this is that the token will not be listed on an exchange until the presale is over.
In the case of Love Hate Inu, Fight Out, C+Charge and RobotEra, the presale dashboard is hosted directly on the respective website of each provider.
Therefore, investors simply need to connect their crypto wallet to the presale website and exchange either ETH or USDT via a real-time transfer.
Scroll down for a step-by-step walkthrough of how to invest in the Love Hate Inu presale.
Where to Buy Other New Cryptos
When buying a new cryptocurrency that has already been listed, the purchase will need to be made on a supported exchange. One of the top crypto exchanges for buying the best new coins is eToro.
Here's why:
eToro – Best Place to Buy New Crypto Coins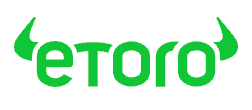 eToro is a regulated online broker that holds licenses with the SEC, ASIC, CySEC, and the FCA. This popular trading site is now used by over 27 million people from all corners of the world. eToro hosts dozens of new cryptocurrencies, including many of the projects we discussed today – such as The Graph and Cronos.
eToro is known to 'listen' to the market, meaning that it regularly adds new crypto coins as per demand. For example, when Ape Coin was first listed, the digital asset was available for trading at eToro on the very first day. Not only does eToro offer a safe and regulated place to buy new cryptocurrency, but its fee structure is super-competitive.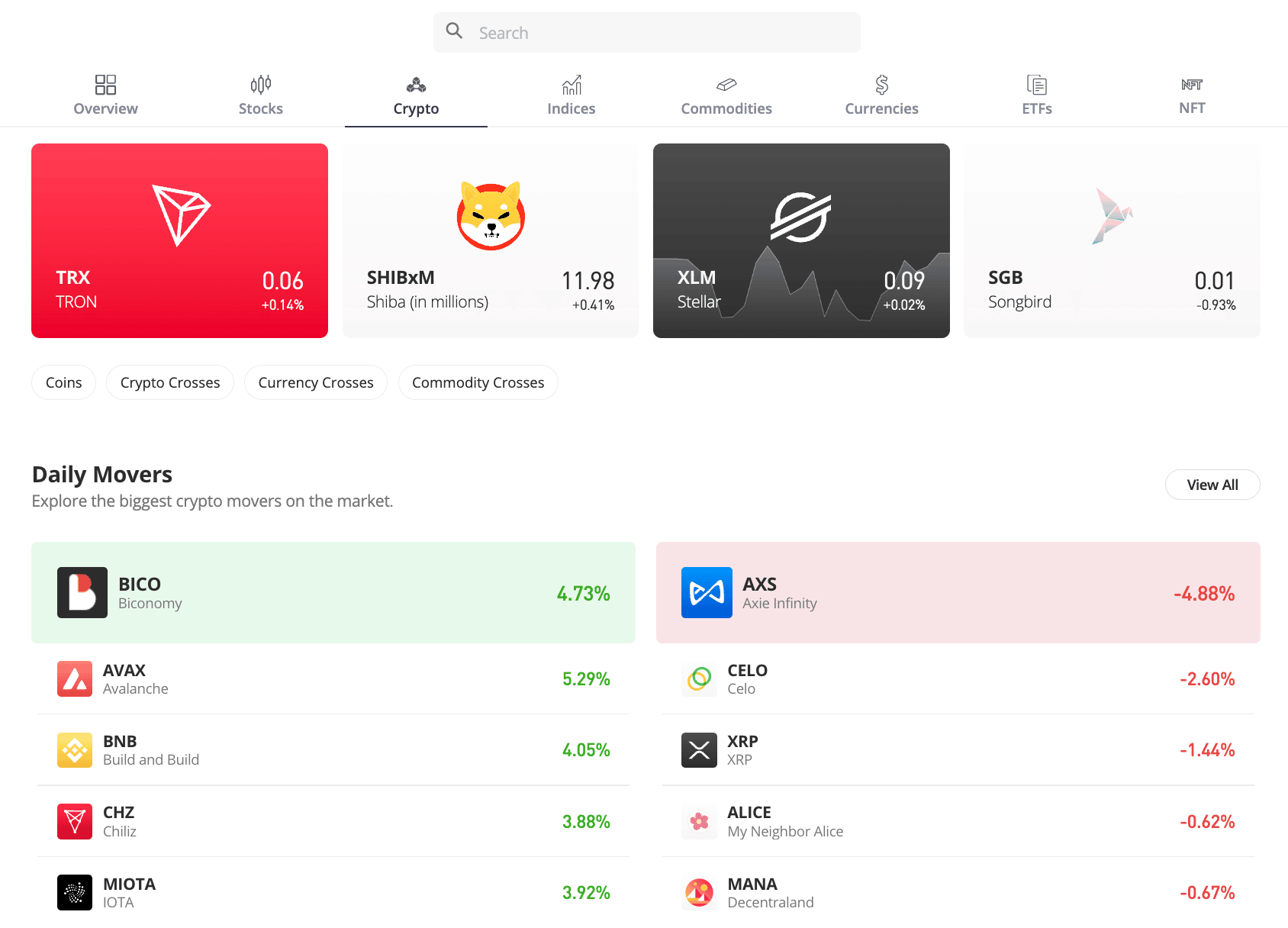 For example, deposits and withdrawals made in US dollars are free of charge, including debit/credit card and e-wallet payments. Other currencies – such as GBP, EUR, and AUD are supported too and attract an FX fee of just 0.5%. Irrespective of the new crypto being purchased, a flat commission of 1% applies to all buy and sell orders.
eToro also offers a safe crypto wallet app that is ideal for storing new cryptocurrencies. The eToro wallet app for iOS and Android is licensed by the GFSC for additional security. eToro is also the best place for beginners to invest in new cryptocurrencies, considering its minimum deposit requirement is a mere $10 ($50 in some countries).
How to Buy New Cryptocurrency
Complete beginners with an interest in new cryptocurrency to invest in might be entering the world of presales for the very first time. While this can be intimidating, the process is both simple and seamless.
To offer some insight into the investment process, the steps below explain how to buy LHINU tokens via the ongoing presale.
Step 1: Get a Crypto Wallet
First, presale investors will need to ensure they have a suitable crypto wallet installed.
Those looking to invest on a laptop device can opt for MetaMask
Those looking to invest on a smartphone device can opt for the Trust Wallet app
Download the chosen wallet and install it. Set the wallet up by creating a password/PIN and writing down the backup passphrase.
Step 2: Get ETH/USDT and Transfer to Wallet
The next step is to transfer Ethereum (ETH) or Tether (USDT) to the crypto wallet. These are the two cryptocurrencies supported by the LHINU presale.
Both ETH and USDT can be purchased from any crypto exchange and transferred to the wallet accordingly.
Step 3: Connect to Love Hate Inu Presale
Next, visit the Love Hate Inu presale website. Click on 'Buy Now' and choose the respective wallet provider.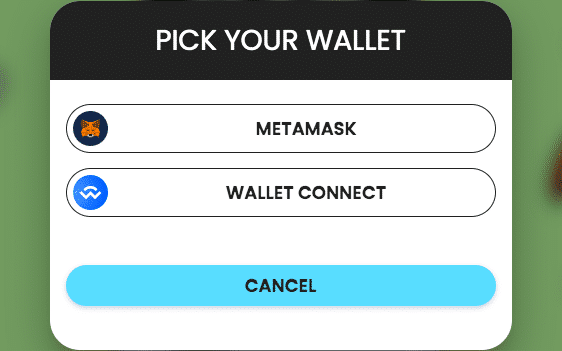 Note: Those opting for Trust Wallet will need to select 'Wallet Connect', before scanning the on-screen bar code.
Step 4: Invest in LHINU Presale
Once the wallet is connected, the LHINU presale dashboard will populate an order box asking for the number of tokens to buy.
Type in the required quantity and confirm the investment. Both MetaMask and Trust Wallet will ask for authorization on the transaction before transferring the ETH/USDT.
After the presale, go back to the LHINU website and claim the tokens.
How Often are New Cryptos Released?
New cryptocurrencies are released fairly frequently, with new projects launched every day. In fact, the pace of new cryptocurrency releases has accelerated significantly in recent years, with the rise of decentralized finance (DeFi), NFTs, and other innovative blockchain-based projects.
It's worth noting, however, that not all new cryptocurrencies are destined for success. Many new projects fail to gain traction or prove to be scams, while others may have promising technology but fail to attract enough users or investors to succeed.
Therefore, it's important to approach new cryptocurrencies cautiously and do thorough research before investing.
How to Make Sure New Cryptos are Safe and Legit
When investing in new cryptocurrencies, it's important to do your due diligence to ensure the project is safe and legitimate. Here are some key steps you can take to research a new cryptocurrency before investing:
Read the whitepaper: The whitepaper is a document that abstracts the project's goals, technology, and roadmap. It's important to read the whitepaper carefully to understand the project's objectives and whether it has a clear and realistic plan for achieving them.
Check the team: Research the team behind the project to see if they have a track record of success and expertise in the relevant fields. Look for team members with experience in blockchain development, finance, and other relevant areas.
Look for partnerships and collaborations: Partnerships with established companies or collaborations with other blockchain projects can be a good sign of a legitimate project. Check whether the project has any partnerships or collaborations and what they entail.
Check the community: Look for online communities and forums related to the project to see what people say about it. Check for active discussion and engagement from the team and community members. This can give you an idea of the project's level of interest and support.
Verify the security measures: Look for information on the security measures the project has in place to protect users' funds and data. Check if a reputable third-party firm has audited the project to ensure its security and legitimacy.
Conclusion
Finding the best new cryptocurrency to invest in is no easy task. To help clear the mist, this guide has provided insight into 9 of the best new cryptocurrency releases for 2023.
One of the newest crypto to watch that we like the look of is Love Hate Inu. This project is building an ecosystem that will support online voting opportunities on meme polls, with $LHINU, the native token. This new crypto is available to buy on stage one of its presale for just $0.00009 per token.
FAQs
What are the newest crypto coins?
Where do I find newly released crypto?
What's the newest crypto to invest in?
What is the next big cryptocurrency?