Searching for the best new cryptocurrencies can be a minefield as thousands of new projects are released every year, all promising huge returns for investors and unique solutions for the future.
However, history tells us that only a handful of these projects will achieve what they set out to, with many never managing to fulfill their promise or potential and a small minority even set up to simply scam unknowing investors.
In this guide, we reveal our picks for the best new cryptocurrencies to invest in for 2023, explain the fundamentals of finding new cryptocurrency releases, recommended research methods to employ when searching for top-rated projects and red flags to avoid.
The Best New Cryptocurrency to Buy Right Now
When searching for the best new cryptocurrency to invest in, diversification and risk management are key. Different investors will also have a different tolerance for risk and reward and they should understand that new cryptos can be highly speculative, as there is no established market for them.
Below is a brief outline of the best new cryptos to watch today:
Bitcoin Minetrix – Brand new crypto presale project that allows investors to take part in the Bitcoin mining ecosystem from just $10. More than $100k raised in the first hour of its presale, Bitcoin Minetrix is the world's first stake-to-mine crypto project.
Meme Kombat – Novel meme coin project that allows users to bet on the outcome of their favorite meme tokens as they battle it out in an AI/blockchain-enhanced arena with cutting-edge illustrations. Offers an estimated 112% APY at the present time with multiple betting options on meme outcomes.
Bitcoin BSC – Designed with a Bitcoin theme but launched from the much more powerful BNB Smart Chain, this presale could make waves in 2023 and has already raised $5 million in just three weeks. With 120-year staking rewards, an eco-friendly infrastructure, and a price of just $0.99 to mirror Bitcoin tokenomics in 2011.
TG.Casino Token – Licensed Telegram casino allowing for KYC-free onboarding and instant crypto deposits/withdrawals that aims to revolutionize the entire online gambling market. Offers a gigantic 2,300% APY yield at the present time with multiple incentives and bonuses.
Launchpad XYZ – New crypto platform aiming to become a one-stop shop for all things Web3 to help new users and brands onboard faster into the space and speed up mass adoption. Around $1.75 million has been raised so far.
yPredict – AI-powered trading tool that allows crypto traders to gain an edge in the market by providing a range of data points, insights and tools to utilize, as well as allow builders to sell predictive models. $YPRED presale has raised over $3.9 million.
eTukTuk – With this new sustainable Binance Smart Chain-based token, which incentivizes TukTuk drivers from developing countries to switch to EVs, members can play a role in helping reduce carbon emissions and air pollution from the atmosphere. Presale now open.
Chimpzee – A presale project that brings more energy to wildlife conservation and climate change through a unique crypto incentivization model. More than $1.35m has now been raised in its presale.
Scorpion Casino – Bet with crypto on this pioneering crypto casino and earn passive income just by holding the native token in your wallet. Over $1 million has now been raised in the presale.
Wall Street Memes – Meme token from a project with an existing one million-strong community across its social media channels that sold out their first NFT collection, Wall St Bulls, within minutes. Now expanding into a new cryptocurrency project, their $WSM token has enjoyed one of the best crypto presales ever – raising more than $25 million – before seeing huge volume in its IEO on OKX.
XRP20 – A new concept that builds on Ripple but enhances it with DeFi staking, a deflationary economy, and a far lower entry price aimed at retail investors who want a second chance. The $3.7 million presale sold out in just two weeks with the tokens now available on exchanges. Staking pool is currently offering an estimated APY of 46%.
BTC20 – An enhanced PoS ERC-20 token that is offering a BTC themed coin with next-gen features such as crypto staking rewards, increased sustainability, and additional token utility. The project has seen huge price increases since it launched with a fully diluted market cap of more than $25 million.
Pikamoon – Exciting play-to-earn game that mixed Pokemon with FIFA Ultimate Team and Fortnite. The PIKA token gives you easy access to NFTs and other valuable blockchain assets, its presale is now in the final stage with over $4 million raised.
Conflux – Permissionless protocol that experienced significant price appreciation in 2023. Aiming to create a low cost, scalable, fast infrastructure to power a global Web3 economy.
Frax Finance – Self contained DeFi economy using innovative decentralized stablecoins as a currency with lending protocol and automated market maker capabilities.
The Graph – Protocol that enables any blockchain protocol to engage in data indexing, allowing transactions to be stored without increasing network demand or fees.
Theta Network – Ethereum based decentralized streaming network for Web3 media platforms with 1,000 TPS, zero carbon emissions, and digital rights management for NFTs.
Cronos – DeFi crypto that acts as a utility token for Crypto.com, one of the largest and most-trusted centralized exchanges on the market.
Analyzing The Top New Crypto Coins to Invest in
When selecting the best new crypto to buy for an investment portfolio, it is wise to thoroughly read through the project's whitepaper to assess its roadmap objectives, and how realistic these goals are.
Ask if a project has the long-term potential to act as a solution for a real-world problem, or if the developers have a proven track record in developing Web3 solutions – also assess the upside potential of the new cryptocurrency in question to determine its future value and how much risk will need to be undertaken.
Below, we analyze over a dozen of the best new cryptocurrency coins to invest in for 2023.
1. Bitcoin Minetrix – Overall Best New Crypto to Buy Now and World's First Stake-to-Mine Token
Our overall best new crypto to invest in is Bitcoin Minetrix ($BTCMTX) which is the world's first stake-to-mine project and allows token holders to mine Bitcoin for just $10.
The project utilizes cloud mining but does it with a difference – with holders able to stake BTCMTX to generate mining power and earn BTC without the need to invest in mining rigs or suspect cloud mining firms.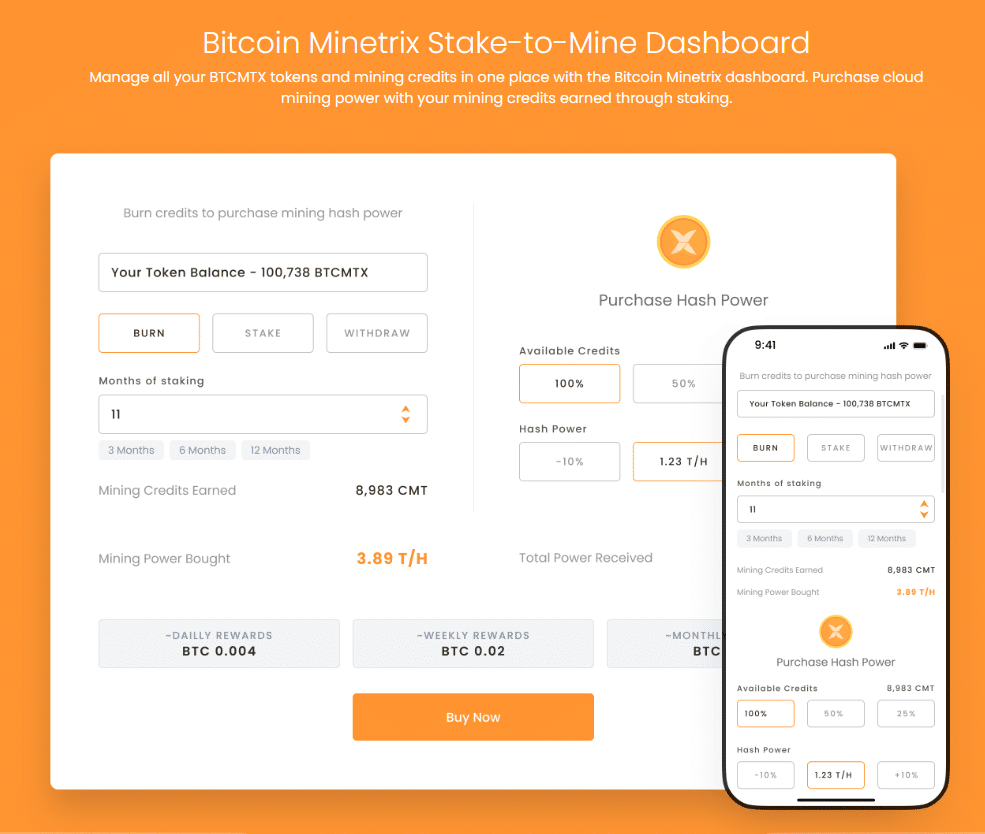 The Bitcoin Minetrix presale has only just launched but more than $100,000 was invested in the first hour, with excitment already building over the potential of the protocol.
It works by investors staking their BTCMTX to generate cloud mining credits – non-tradeable ERC-20 tokens that are burnt in exchange for mining power and allocated mining time.
This generates mining hash rate which can be used to mine BTC, which is then transferred back to an individual's wallet.
The project has already seen huge interest in its staking pool, with more than 400,000 tokens locked inside and generating a huge APY of 100,000% – although this will obviously decrease as more tokens are locked.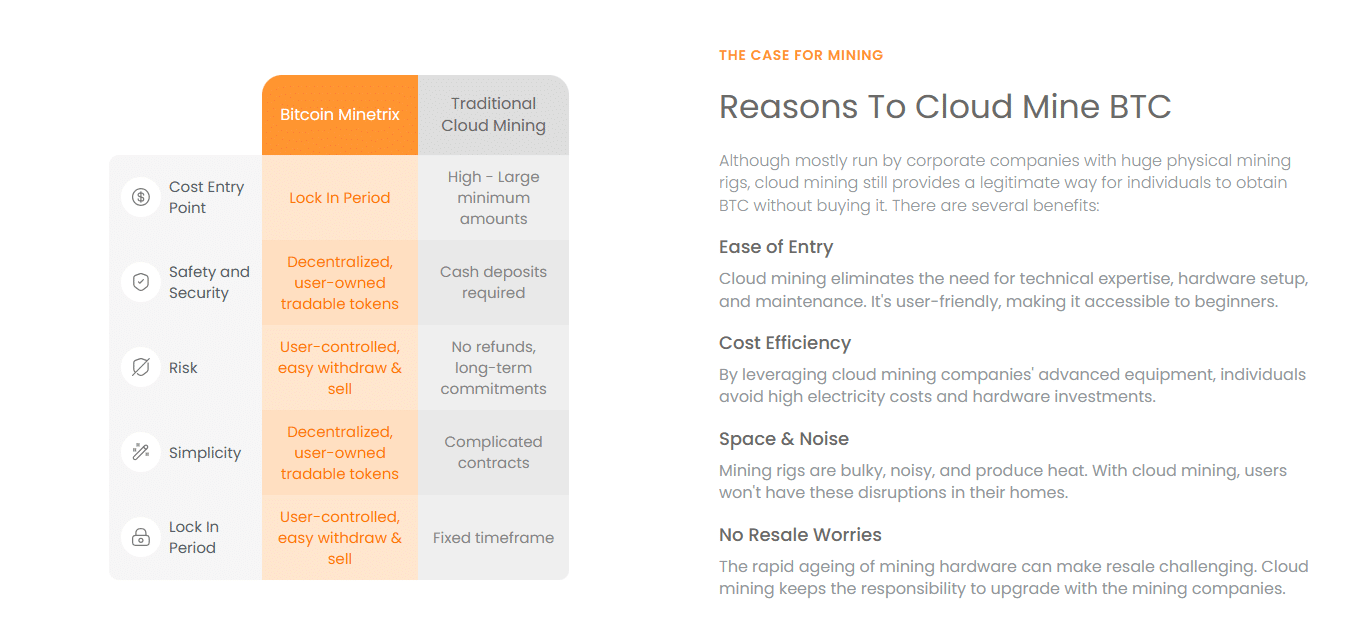 It also has distinct advantages over other cloud mining firms as token holders have power over their investment. Rather than pay up front fees to suspect cloud mining firms – which often produce complicated contracts with hidden fees – BTCMTX can be staked and unstaked whenever, with investors then free to sell tokens on an exchange. The smart contract has also been fully audited by Coinsult.
No technical expertise, expensive hardware or huge energy costs need to be covered, with the barrier-to-entry broken to just a $10 minimum presale purchase.
The project has a max supply of 4 billion tokens, with 2.8 billion (70%) available through the presale with a soft cap of $15.6m and a hard cap of $32m.
Tokens cost just $0.011 in the first of 10 presale stages – more info can be found in the whitepaper or the X channel or Telegram group.
| | |
| --- | --- |
| Hard Cap | $32,000,000 |
| Total Tokens | 4,000,000,000 |
| Tokens available in presale | 2,800,000,000 |
| Blockchain | Ethereum Network |
| Token type | ERC-20 |
| Minimum Purchase | $10 |
| Purchase with | USDT, ETH, Card |
2. Meme Kombat ($MK) – New ERC20 PoS Meme Token Offers 112% APY With Active Betting On Fight Outcomes
Meme Kombat ($MK) is a brand new ERC20 presale where all your favorite meme tokens gather together to engage in combat – and you can bet on the outcome. Meme coins are known for being high risk and high rewards, with lots of volatility – Meme Kombat is bringing them all together for players to wager on in their Battle Arena.
The concept of bringing together meme coins – which can be among the best-performing cryptos of all time, such as Doge, Shiba Inu, Pepe, etc – can be regarded as an ingenious one. Meme coins often have their own devout "army" of followers who are known for their loyalty. Creating a single ecosystem for their interaction might prove popular among investors and fans.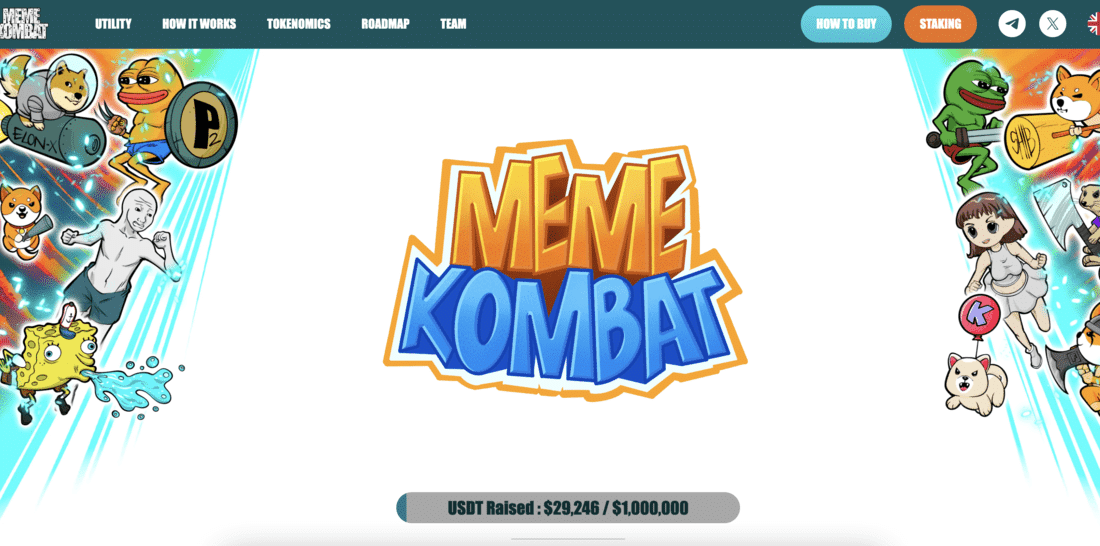 The campaign also offers the benefit of being able to bet on the outcome of meme combat. If you get good enough at it, it might become an additional revenue source. At present, the token is offering an estimated 112% APY, which is an additional incentive. AI is used to bring higher levels of user engagement and interactivity, as the gameplay is enhanced considerably.
The Battle Arena will use blockchain technology for transparency and efficiency, with all results and outcomes immutable and fair.
The project offers a number of betting opportunities on meme combat, not just static win vs lose wagering. It has an intuitive interface and users can check out upcoming battles, analyze odds as well as strategies, and place their bets directly.
Live bets can be placed upon real-time battles and there are a number of betting options such as direct, PvP, and PvGame, with side markets also available. The doxxed team is also expected to develop more markets, themes and bring new characters further along the roadmap.

AI is used for dynamic visualization and randomized sequencing to enhance the gameplay. This AI is particularly useful in terms of the recreation of some of the public's most famous memes. The AI rendering of lifelike memes in interactive combat is a core selling point of this cutting-edge presale campaign – it enhances the gameplay and makes it more exciting for spectators.
With regard to the token distribution, there are 12 million $MK, with 6 million available in the presale at a price of $1.667, for a hard cap of $10 million. For more information on Meme Kombat, read up on the Whitepaper and keep in touch with the campaign socials, such as Telegram and Twitter.
| | |
| --- | --- |
| Hard Cap | $10,000,000 |
| Total Tokens | 12,000,000 |
| Tokens available in presale | 6,000,000 |
| Blockchain | Ethereum Network |
| Token type | ERC-20 |
| Minimum Purchase | $5 |
| Purchase with | USDT, ETH, BNB |
3. Bitcoin BSC – New Bitcoin Variant At $0.99 on the BNB Smart Chain With Staking Rewards, $5m Raised in Three Weeks
Bitcoin BSC ($BTCBSC) has only just launched in early September 2023, and will appeal to those who regret missing out on early-stage investment in the most successful cryptocurrency in history – Bitcoin.
Bitcoin BSC was created to reflect the tokenomics and philosophy of Bitcoin, but on a much more streamlined blockchain, and has already been a huge hit with buyers, with more than $5 million raised in just three weeks since it launched.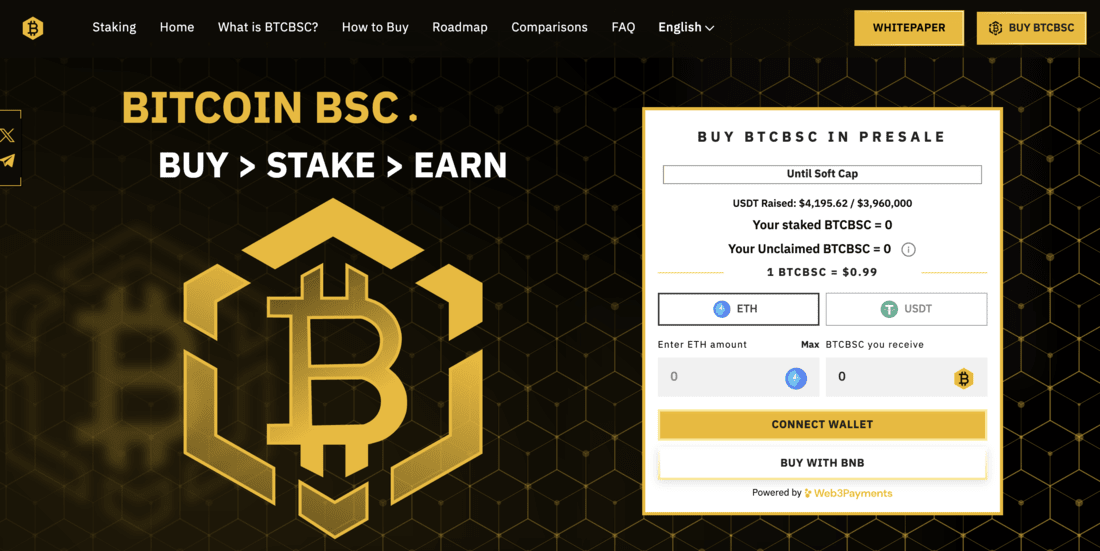 So while BTCBSC has a price of $0.99 and an initial circulating supply of 6.125 million tokens, just like Bitcoin in 2011, it has been launched from a much improved BNB Smart Chain. This allows for smart contract functionality, added security, staking rewards, and reduced transaction costs. Additionally, it is a much greener version of Bitcoin due to it being proof-of-stake and not proof-of-work.
Bitcoin has experienced significant negative press due to its environmental impact, but this criticism cannot be directed at Bitcoin BSC. In many ways, it takes the best elements of Bitcoin and places them on a modern blockchain to allow people access to a token that could go parabolic if investors show interest.
It's important to reiterate that this token bears no official relationship to Bitcoin and is a separate endeavor, even if it takes many aspects from it in terms of its design. It is not a fork of the original coin, like Bitcoin SV or Bitcoin Cash. It also offers items that are completely unique, such as the 120-year vesting period and the fact that 69% of the 21 million token supply – which also mirrors Bitcoin – are allocated towards staking.
At the time of writing, more than half a million tokens have been locked into the staking pool, which is currently offering an estimated annualized yield percentage (APY) of 104%, although this will reduce as more tokens are staked.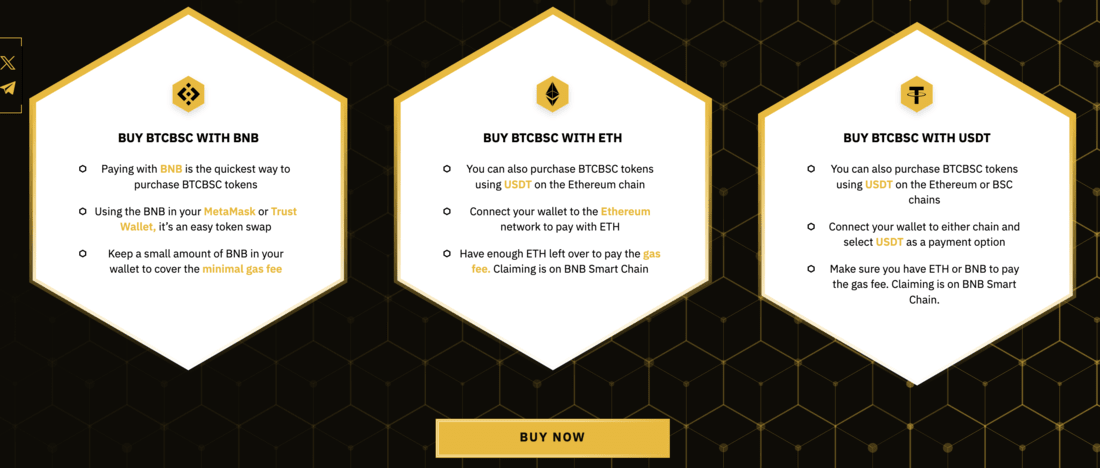 Of the remainder, 29% are allocated towards the presale and 2% to DEX liquidity. This is a very unique tokenomics infrastructure, and the team does not seem to have kept any tokens for themselves, which is a positive indicator.
Taking part in this presale has been made quite straightforward. Wallet Connect and MetaMask can be used to facilitate the purchase, using ETH, USDT, BNB, or Card. The minimum purchase is $10 and further information can be gleaned from whitepaper, Twitter, and Telegram pages.
| | |
| --- | --- |
| Hard Cap | $6,063,750 |
| Total Tokens | 21 million |
| Tokens available in presale | 6,125,000 |
| Blockchain | BNB Smart Chain |
| Token type | BEP-20 |
| Minimum Purchase | $10 |
| Purchase with | USDT, ETH, BNB, Bank Card |
4. TG.Casino ($TGC) – New Telegram Casino Provides 2,300% APY And $200K Raise
TG.Casino ($TGC) is a licensed Telegram Casino that allows never-before-seen ease in terms of client onboarding and usability. It's a Web3 KYC-free casino where all you need is a Telegram account to deposit some crypto and bet on the outcome of all your favorite games – legally.
The casino has just launched a high-potential presale for its native token, which offers incredible staking rewards and the chance to be part of a profit-sharing system.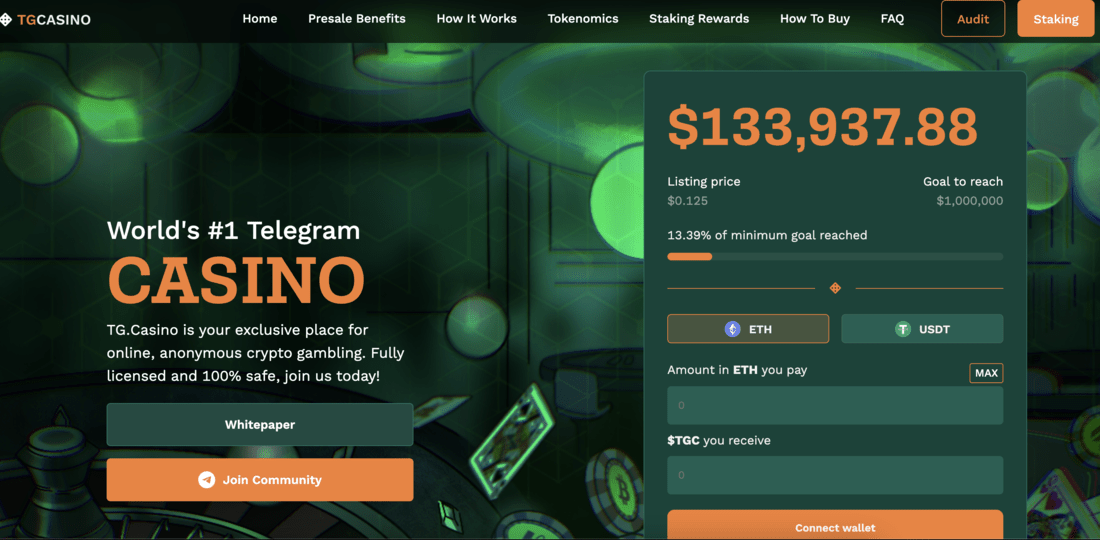 Staked tokens are currently offering an estimated 2,300% APY, which is a major incentive to investors concerned about yield. These rewards will come down with time, probably to double digits, but remain sky-high for the foreseeable future.
What's on offer with TG.Casino is more than just high yields and much greater access and usability. It is redefining the casino industry in its entirety, with additional rewards and incentives to users where they are the ones that benefit, not a small group of unknown individuals.
In a way, users can be regarded as indirect owners, as the more the casino makes, the more the coin appreciates (in theory). Traditionally, the casino industry has been very closed off.
Profits within the TG.Casino are used to buy back and burn the token, resulting in further appreciation, as well as for additional bonuses and rewards to customers. Those who stake tokens will see 60% of the purchased tokens distributed to them as a reward, with 40% sent to a burn address to make the supply deflationary.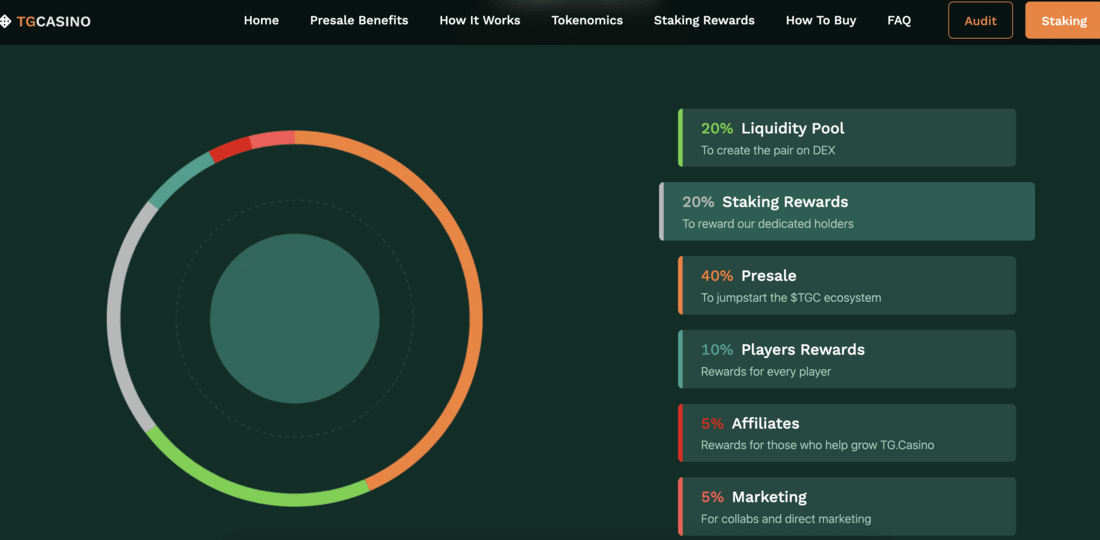 The integration of blockchain technology into the casino market also serves to make it more transparent, democratized, and efficient. Rewards can be automatically distributed and withdrawals/deposits facilitated through Telegram. No additional software needs to be downloaded, and there is no need to maintain an email/password account. It is, in many ways, the future of online gambling.
To take part in this popular gambling token's presale, only ETH, USDT or BNB are accepted. Those who invest more than $5,000 will acquire an exclusive NFT as well as more perks when the presale is completed.
There are a total of 100 million $TGC tokens with 40% available in the presale, 20% to liquidity, 20% to staking, 10% to rewards, 5% to affiliates, and 5% to marketing.
The price per token is $0.125 with a hard cap of $5 million. So far, the project has raised more than $130,000 within 24 hours of launch, showcasing investor interest. For more info regarding the tokenomics and the project in general, reach out via Telegram or Twitter, and read the Whitepaper in detail.
| | |
| --- | --- |
| Hard Cap | $5,000,000 |
| Total Tokens | 100 million |
| Tokens available in presale | 40 million |
| Blockchain | Ethereum |
| Token type | ERC-20 |
| Minimum Purchase | $5 |
| Purchase with | USDT, ETH, BNB |
5. Launchpad XYZ – One-Stop Shop for Web3 Users to Speed Up Mass Adoption of Crypto
Launchpad XYZ is aiming to help speed up and solve one of the big issues in the whole Web3 space – mass adoption.
New users can often find operating in Web3 – whether that is to purchase crypto tokens or NFTs or play crypto games, for example – overwhelming and intimidating. Despite the huge number of excellent crypto apps available, mass adoption is still some way off but Launchpad XYZ is seeking to help reduce that time by offering an all-encompassing Web3 portal.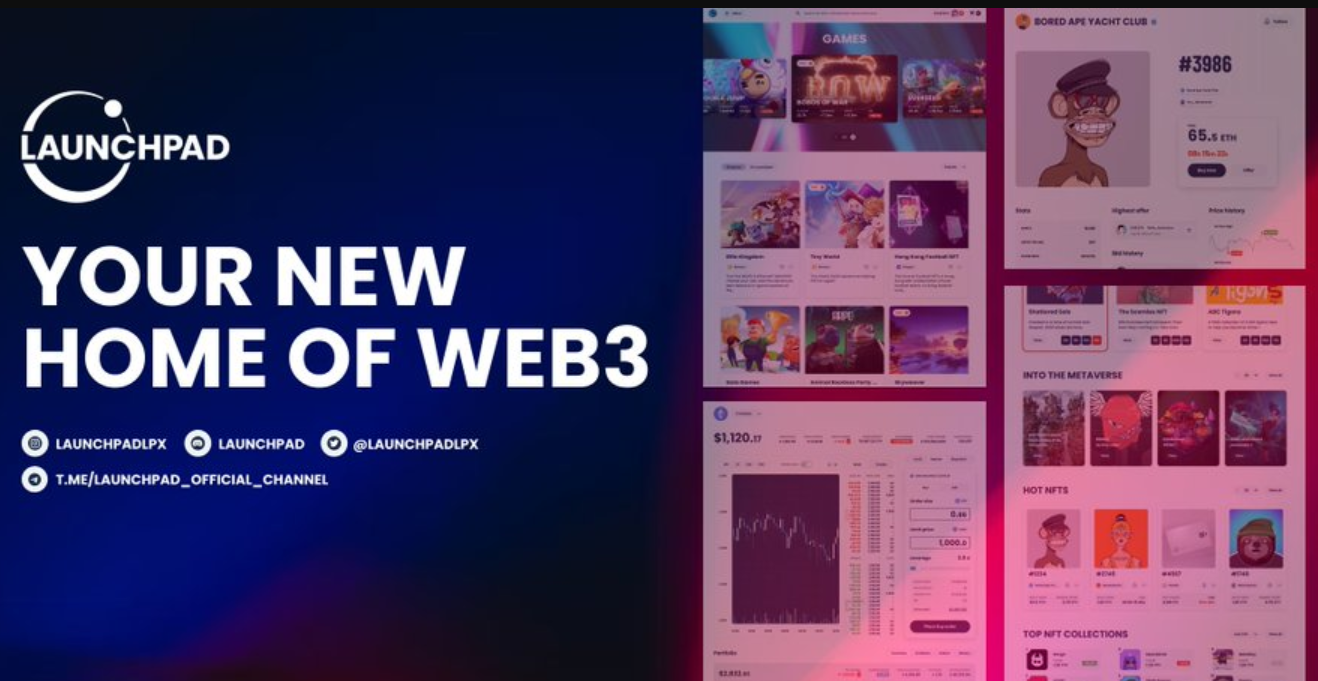 Launchpad XYZ will aim to provide its users with an unbiased view on all angles of Web3 – from data and insights on crypto tokens and the latest NFT collections and information about new crypto games and presale projects, as well fractionalized assets.
The platform will also offer its own Web3 wallet, a decentralized exchange and a trading terminal, as well as utilize artificial intelligence and wants to appeal to both retail customers and huge multinational companies looking to easily onboard into the space.
The only downside of the project is because of its scale its development is more suited to mid and long-term investors, with some parts of its functionality not expected until late 2024, according to the roadmap.
However, one of its main features – an alpha Telegram signals group – is already open and recently provided its members with 7,000% gains for a call on LINQ.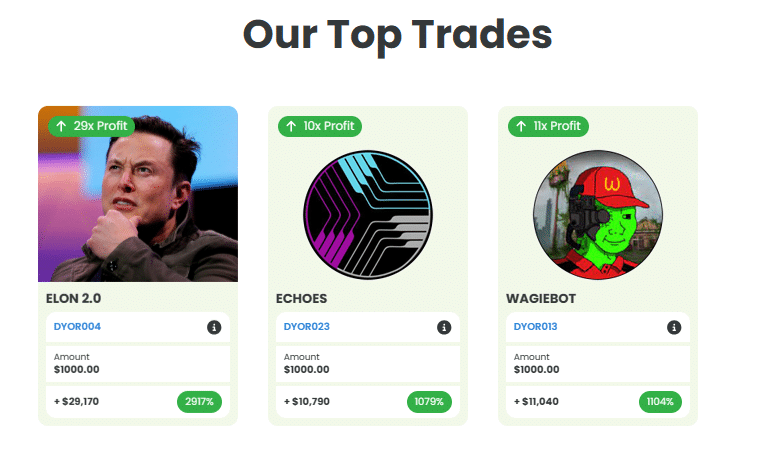 Launchpad XYZ has been developed by a doxxed and KYC-verified team with huge experience across a range of industries, with its presale having raised around $1.75 million.
The token is available for $0.0445 and, at the time of writing, new buyers can earn a 20% bonus. Of the 1 billion LPX supply, 25% (250 million) is available in the presale with no vesting period and a hard cap of $12.5 million.
Read through the Launchpad XYZ whitepaper or join the Telegram group for more information and the latest news.
| | |
| --- | --- |
| Presale Started | 26 April 2023 |
| Purchase Methods | ETH, USDT, BNB, Card |
| Chain | Ethereum |
| Hard Cap | $12,500,000 |
| Min Investment | 10 $LPX |
| Max Investment | None |
6. yPredict – AI-Powered Tool Providing Insights and Data to Traders
yPredict is a crypto presale project that utilizes the power of artificial intelligence and machine learning.
yPredict is geared towards crypto traders as it will use AI to provide a broad range of data points and insights to help them make better-informed decisions and maximize their profit-earning potential.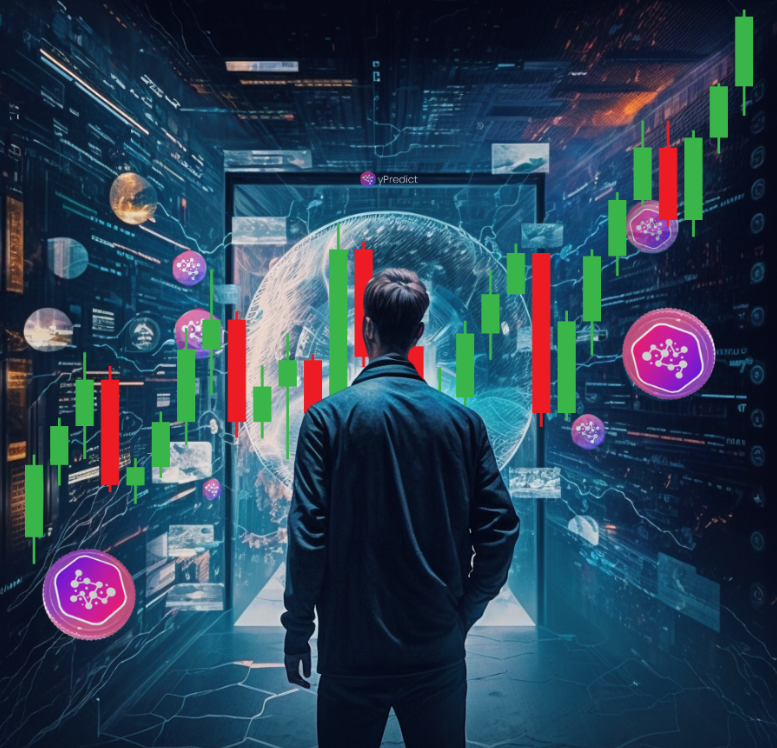 The project, which is now in stage five of its $YPRED token presale, will also offer a marketplace for AI and machine-learning developers to sell their own predictive models. Developers will be able to generate revenue from the models, depending on their success rates.
The majority of trades across all financial markets are now executed by algorithms and they are essential if a trader wants to keep up and make profitable decisions. ypredict provides a range of data points and analytical information to improve a trader's knowledge base.
As well as trading tools, they use AI to offer pattern recognition from more than 100 chart patterns, sentiment analysis of news and social media, indicator analysis from hundreds of technical indications and transaction analysis for assets within preset metrics.
The project runs on a freemium pricing model, with three tiers of membership (free, active pro) available to give YPRED tokens their utility, with each tier offering users access to a different level of features.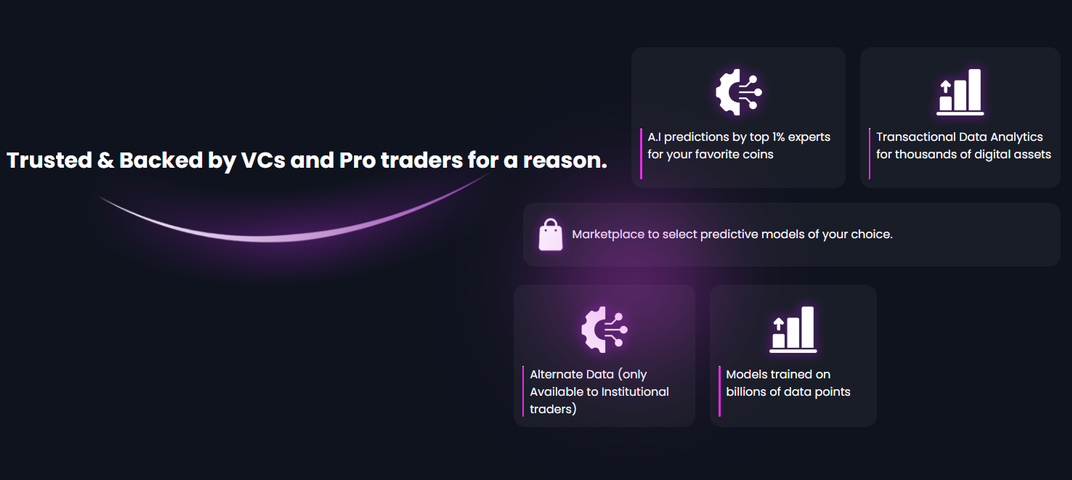 YPRED is also one of the best AI coins to buy because of its high-potential presale, where more than $3.9 million has been raised so far. The tokens are currently priced at $0.1 in stage 7 but will rise by 20% when they list for $0.12, with a listing on BitMart already confirmed.
The developers, who are doxxed and KYC-verified, have made 80% of the 1 billion token supply with a hard cap of $6.5 million and 50% unlocked at the token generation event.
The project has been built on super-fast layer-2 solution Polygon, with the token smart contract audit carried out by Coinsult.
The yPredict whitepaper has more information on the AI-powered tool, or or join the Telegram group for the latest news.
| | |
| --- | --- |
| Presale Started | Q1 2023 |
| Purchase Methods | MATIC, ETH, USDT, BNB, Card |
| Chain | Polygon |
| Hard Cap | $6,500,000 |
| Min Investment | 200 YPRED |
| Max Investment | None |
7. eTukTuk – Platform Creating EV Charging Stations and Offering Staking Rewards
Powered by the Binance Smart Chain, eTukTuk aims to play a role in helping developing economies reduce their carbon emissions and air pollution.
The project will encourage and incentivize TukTuk drivers to ditch traditional engines for electric vehicles (EVs).

With the increase in air pollution around the world, there is a growing need for renewable forms of energy to power TukTuks and other vehicles. Currently, there are more than 270 million Internal Combustion Engines (ICEs) that emit more carbon dioxide than cars.
With the help of $TUK, the native token, eTukTuk wants to help TukTuk drivers make the help to zero-emission vehicles (ZEVs). eTukTuk will set up Electric Vehicle Supply Equipment (EVSE) in urban and suburban regions of developing nations.
The platform also aims to set up solar-powered charging stations. By using the Binance Smart Chain, eTukTuk is using an energy-efficient solution and allows users to access low-cost and quick transactions.
With eTukTuk, TukTuk drivers will be able to take home 400% of additional revenue by making the switch to EV charging stations. To develop the EVSE and charging stations, eTukTuk will take the help of territory partners.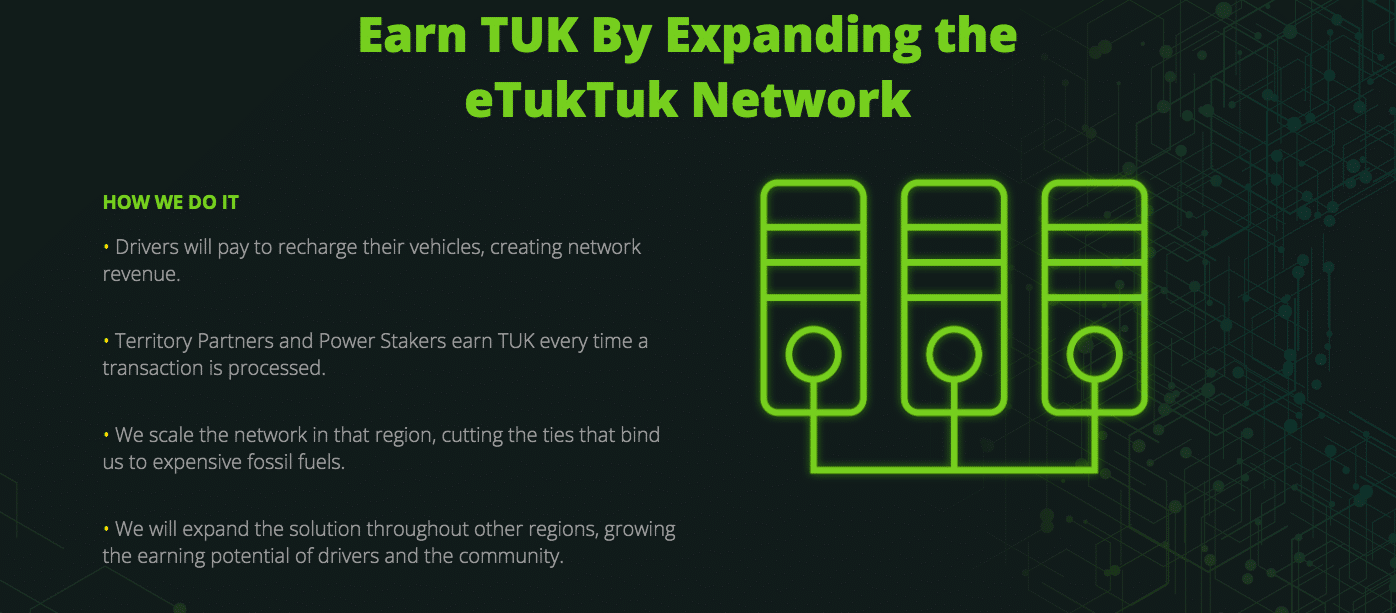 A territory is an area where these plants will be set up. Territory partners will help setting up, and in the operations of these charging stations.
Token holders will be able to engage in power staking on the ecosystem. Users will stake tokens to power nodes, which will help run the EVSE and charging stations. As more transactions increase on the charging stations, staked token holders will be able to take home a higher APY (Annual Percentage Yield).
$TUK has a total supply of 2 billion tokens with the presale having just launched in early August.
Read the eTukTuk whitepaper and join the Telegram channel to receive regular developments on this crypto project.
8. Chimpzee – Green Crypto Project Dedicated to Wildlife Conservation
The success rate of a cryptocurrency largely depends on community support. That in turn depends on brand and celebrity adoption. Remember when SAND and MANA skyrocketed as brands and celebrities rushed to buy virtual plots on Sandbox and Decentraland metaverses? Here is another project that will capitalize on a similar hype.
Chimpzee is a green crypto dedicated to wildlife conservation and climate action. It uses a first-of-its-kind crypto incentivization model to bring new energy to its mission. The market relevance of the project lies in the fact that around one million animal and plant species will soon disappear from Earth if we don't make conscious efforts to regenerate forests.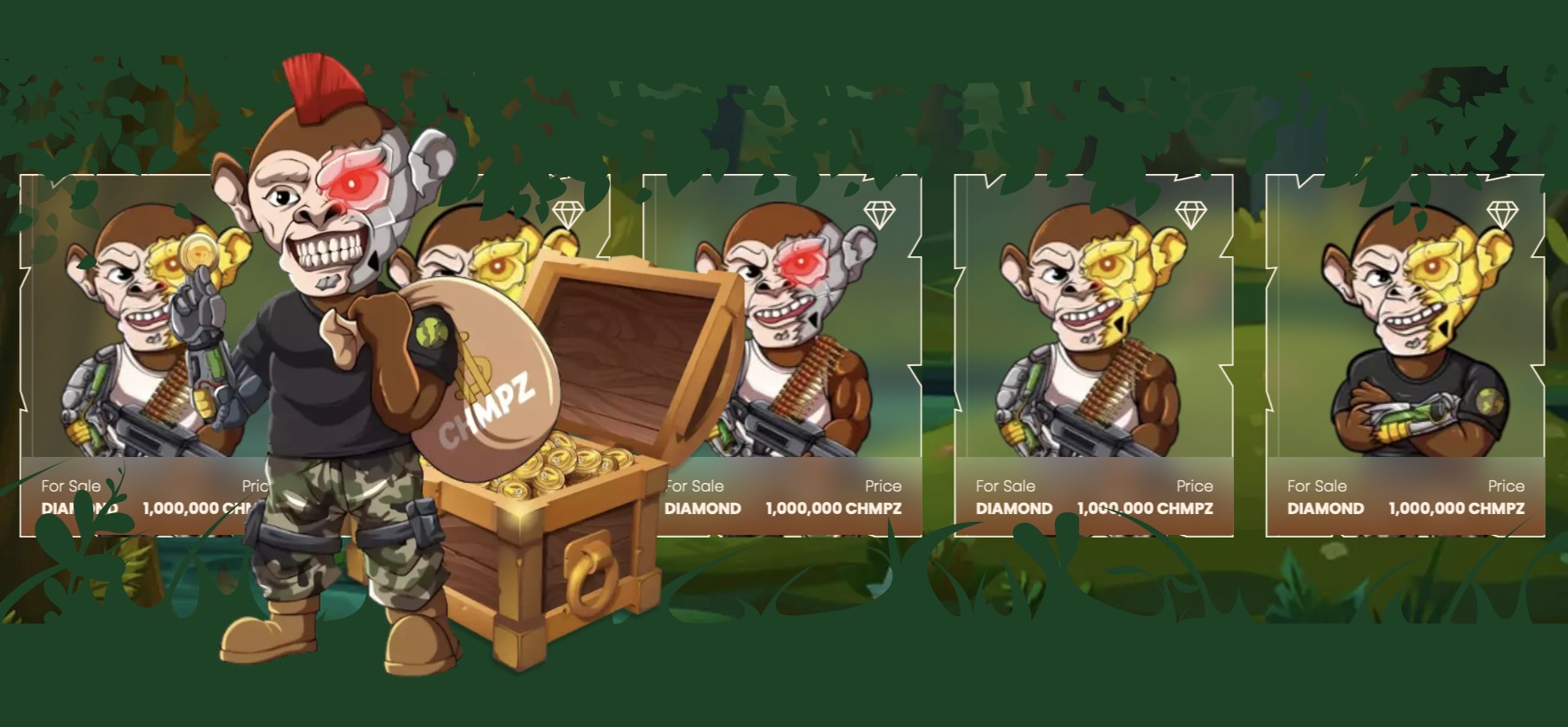 Conscious efforts need a clear understanding of how climate change and wildlife destruction aggravate each other, leading to human extinction in time. But that's not enough, as the many traditional initiatives dedicated to the cause prove. Chimpzee believes that the cause requires more engagement and incentivization. For this, it brings blockchain, cryptocurrencies, and NFTs into the picture.
The project donates 10% of its total coin supply to credible initiatives working for similar causes like The Giving Block, OneTreePlanted, and WILD.

Users can earn crypto passive rewards from the ecosystem by engaging with any of its three pillars.

The first of these is the

Chimpzee Shop

, which donates a share of profits generated from the sales of unique merchandise to allied organizations. Buyers are rewarded with CHMPZ coins for their support.

The

Chimpzee NFT Marketplace

is the first trade-and-earn platform in the world that shares a portion of trading fee profits with users. It gives priority to environment-focused NFTs.

The

Zero Tolerance Game,

on the other hand, fuels more engagement by featuring a gripping play-to-earn epic quest that allows you to earn CHMPZ coins and premium prizes.
The key asset of Chimpzee is the Chimpzee NFT passports, which give you membership in the community and the biggest rewards and highest earning potential.

It comes with attractive benefits that will be revealed along the way, although the NFTs have not yet launched.
Investors can now buy the native CHMPZ coins and receive free bonus coins only during the presale, which has raised more than $1.35 million.
| | |
| --- | --- |
| Token symbol | CHMPZ |
| Total supply | 200 Billion |
| Presale supply | 40 Billion |
| Network | Ethereum (ERC20) |
| Purchase methods | ETH, USDT, Credit Card |
9. Scorpion Casino – Bet with Crypto on This Pioneering Crypto Casino
The popularity of sports betting and casino platforms is steadily increasing, aided by the widespread accessibility provided by the internet. However, these platforms currently rely on centralized technologies, which bring about numerous limitations.
Fortunately, blockchain technology has the potential to address these shortcomings by introducing fairness and transparency into the equation. Scorpion Casino is actively utilizing blockchain to achieve this very goal. More than $1m has now been raised in the presale.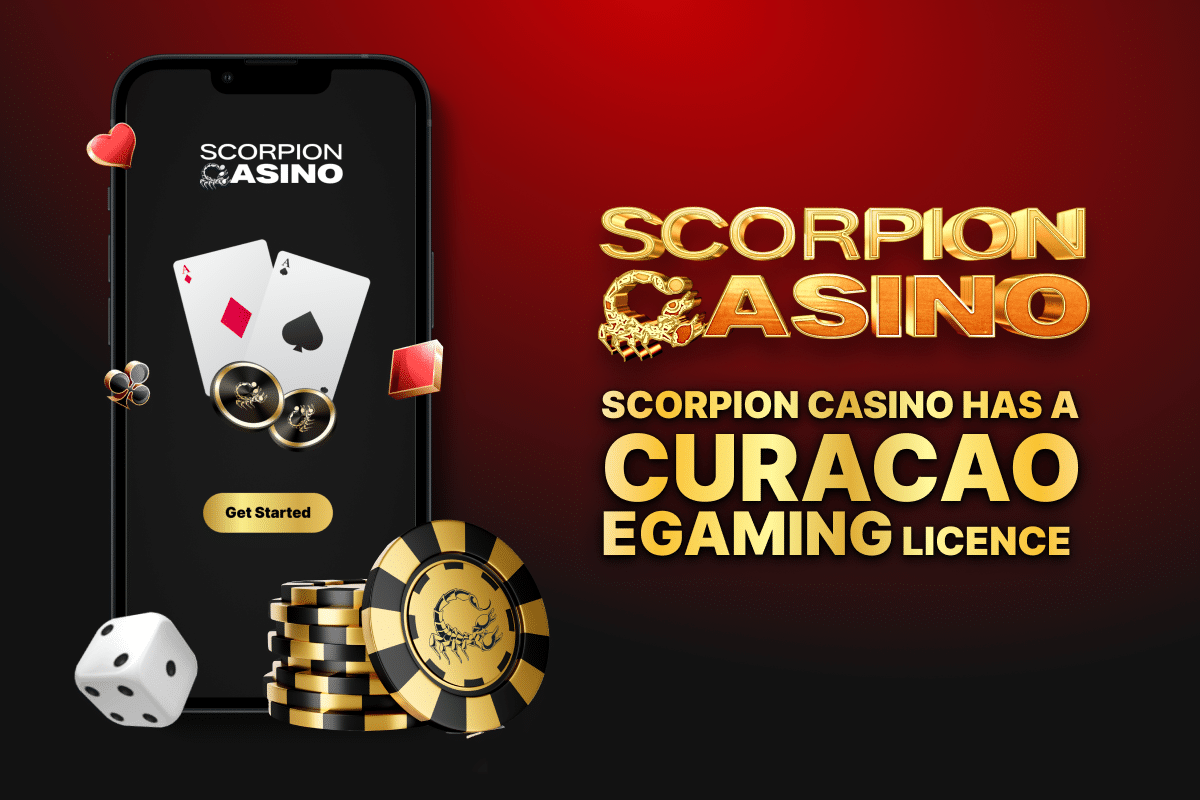 Scorpion Casino's ecosystem revolves around the Scorpion Casino platform, the affiliate system, and the SCORP token. The platform itself is a licensed cryptocurrency-based betting and casino platform.
On the other hand, the affiliate system functions as a referral and reward mechanism, while the SCORP token serves as a governance and reward token for users.
The Scorpion Casino offers a diverse selection of games, boasting over 200 casino games and 160 live games. These games are licensed and undergo fair play verification, ensuring a trustworthy experience. Players can indulge in popular games like slots, blackjack, roulette, poker, and live casino offerings.
The casino has established partnerships with major providers such as Evolution, NetEnt, Play N Go, Novomatic, EGT, and AMATIC. Additionally, sports enthusiasts can engage in a wide range of sports betting options, including football, tennis, American football, horse racing, basketball, golf, boxing, and MMA.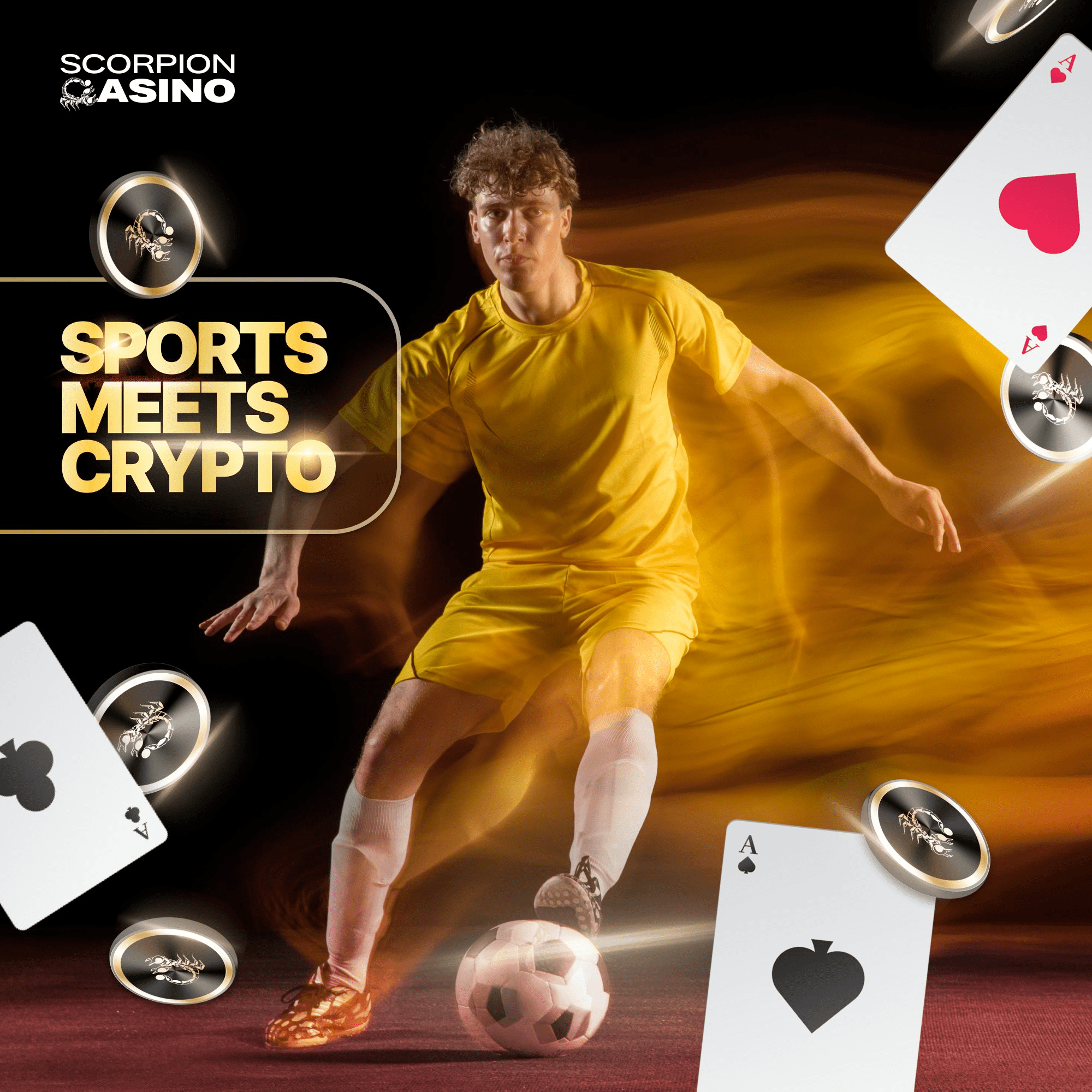 The SCORP token assumes a central role within the ecosystem, providing users with four significant benefits. Firstly, it serves as the exclusive payment method within the ecosystem. Moreover, token holders can earn passive income through their holdings. The token also grants weekly bonuses and free games to enhance the user experience and is intricately involved in the affiliate system.
The SCORP token has a total supply of 1 billion, with 280 million SCORP allocated for the presale phase. Additionally, 300 million SCORP tokens have been set aside for affiliate rewards, further incentivizing participation.
The Scorpion Casino team has laid out a roadmap detailing upcoming developments, including live affiliate events, partnerships, marketing campaigns, and collaborations. The latter half of the year will focus on scaling the platform to achieve significant growth and expand its offerings, aiming to create an even more robust and engaging platform.
10. Wall Street Memes – New Meme Token With a Large Community
Wall Street Memes, a towering social media presence with a combined following of over a million traders across its channels, has taken a new turn with the introduction of its new crypto token, $WSM.
Born out of the Wall St Bulls legacy NFT project, which sold out its mint in minutes, $WSM enjoyed one of the best meme coin presales ever, raising more than $25 million and is now available to trade on OKX – where it has seen huge volume.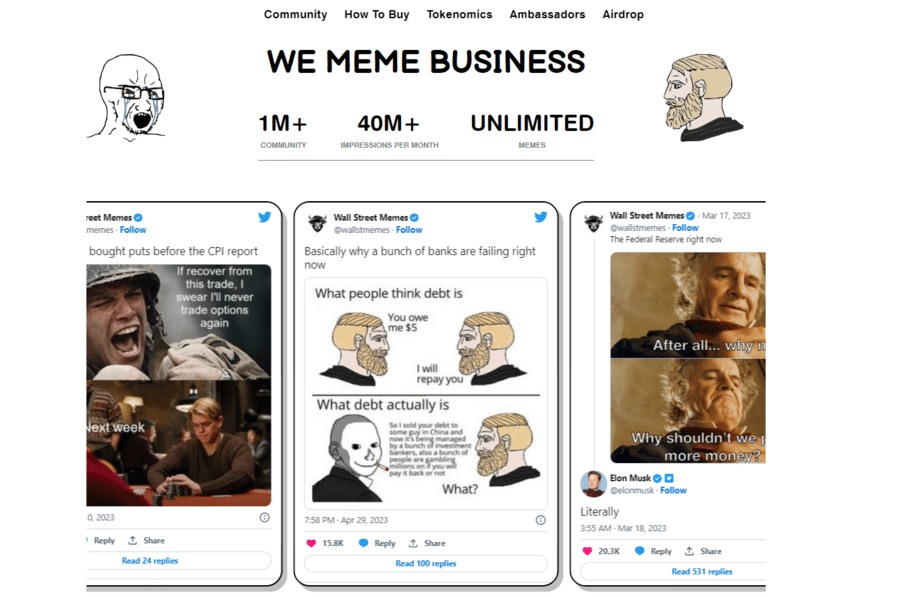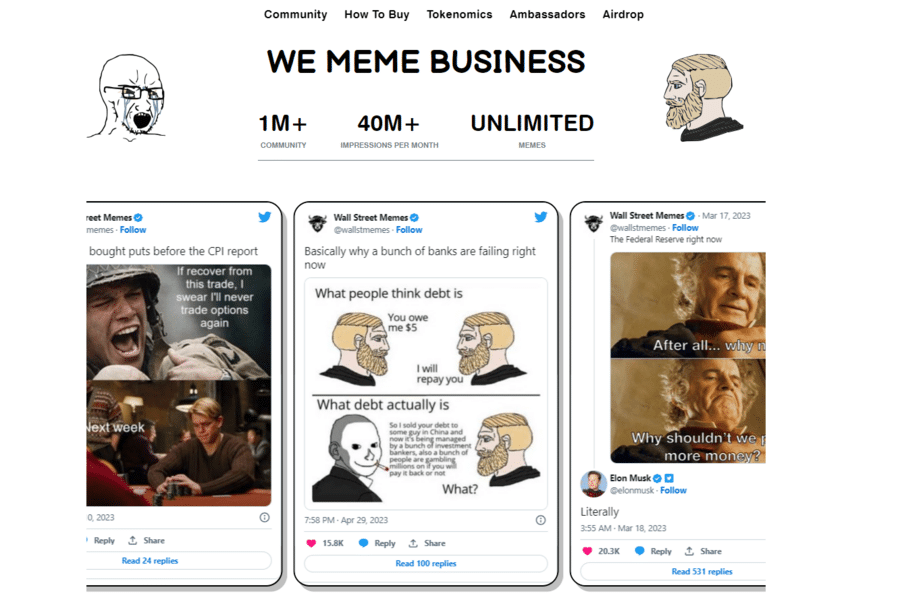 Wall Street Memes also offers token holders the opportunity to earn passive rewards through its staking mechanism, with the token set to be listed on a tier-1 CEX for its IEO – with details to be revealed soon.
One can't overlook Wall Street Memes' strong digital footprint and established rapport with its community – Elon Musk has engaged with their Twitter account on multiple occasions.
The platform's broad reach and popularity could hint at future listings on tier 1 exchanges for the new cryptocurrency, potentially even the likes of Binance.
Presales carry inherent risks, as do meme coins, but also high potential upside – particularly when a robust community supports a project. Wall Street Memes' impressive fan base and demonstrated success with the NFT market could make $WSM be one of the best new cryptocurrencies to watch this year.

Wall Street Memes' entry into meme coin season is also timely. The brand has demonstrated an ability to adapt and grow, staying current with trends like Bitcoin Ordinals NFTs and the evolving crypto landscape.
Additionally, the team plans to host an airdrop to celebrate the start of the $WSM presale. Holders can participate by joining its Discord and completing simple tasks. Five winners are set to share a slice of $50k.
The $WSM token distribution is designed with the community in mind. Its total supply is 2 billion $WSM, with 50% dedicated to the presale, which is open to all and fair. The remaining half is divided between community rewards and exchange liquidity, meaning there is no team allocation.
To stay informed about the project's development, including details on the IEO, join the Wall Street Memes Telegram Group.
11. XRP20 – The Second Coming of Ripple With Staking Rewards, A Burning Mechanism, and 30X Lower Price Entry
XRP20 is a Ripple derivation that aims to replicate the environment of Ripple but with many enhancements to allow for retail investment and increased usability for laypeople. It has been designed to help individuals to get in on a viable project early, as opposed to Ripple which was previously only available to financial institutions, throughout its ICO.
XRP20 aims to build its own XRP20 army of ardent followers. Ripple is a trending project right now because of its victory against the SEC, regarding the legal status of its token offering, which was not deemed to be a security, after years of legal debate. The project sold out its $3.7 million presale in just two weeks and has now launched on exchanges.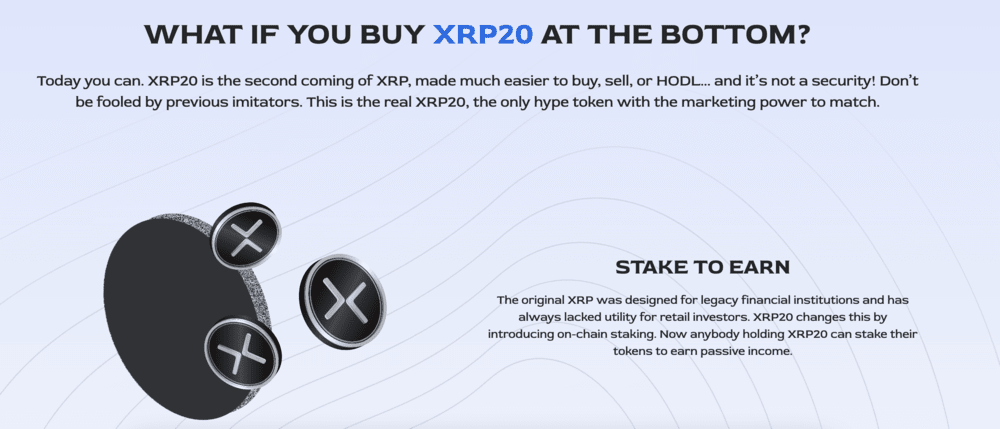 The XRP token is soon to be relisted on Coinbase, which could herald an increase in trading volume as well as renewed investor interest following a recent dip.
XRP20 might jump on this trend by association, but it has a lot more to offer than the original XRP token, especially when it comes to staking rewards, which were not a feature of the original XRP. With XRP20, anybody holding the token can stake their tokens to earn passive income.
Like with BTC20, the staking is expected to have a considerable influence on price. At the time of writing, the staking pool has already had more than 25 billion tokens locked into it.
The XRP20 dashboard reveals that at the current rate, 3,750 XRP20 tokens will be rewarded per Ethereum block, with an estimated annualized percentage yield of 46%. These figures are expected to drop the more tokens that are staked, but it still represents an extremely good reason to hold tokens over the long term.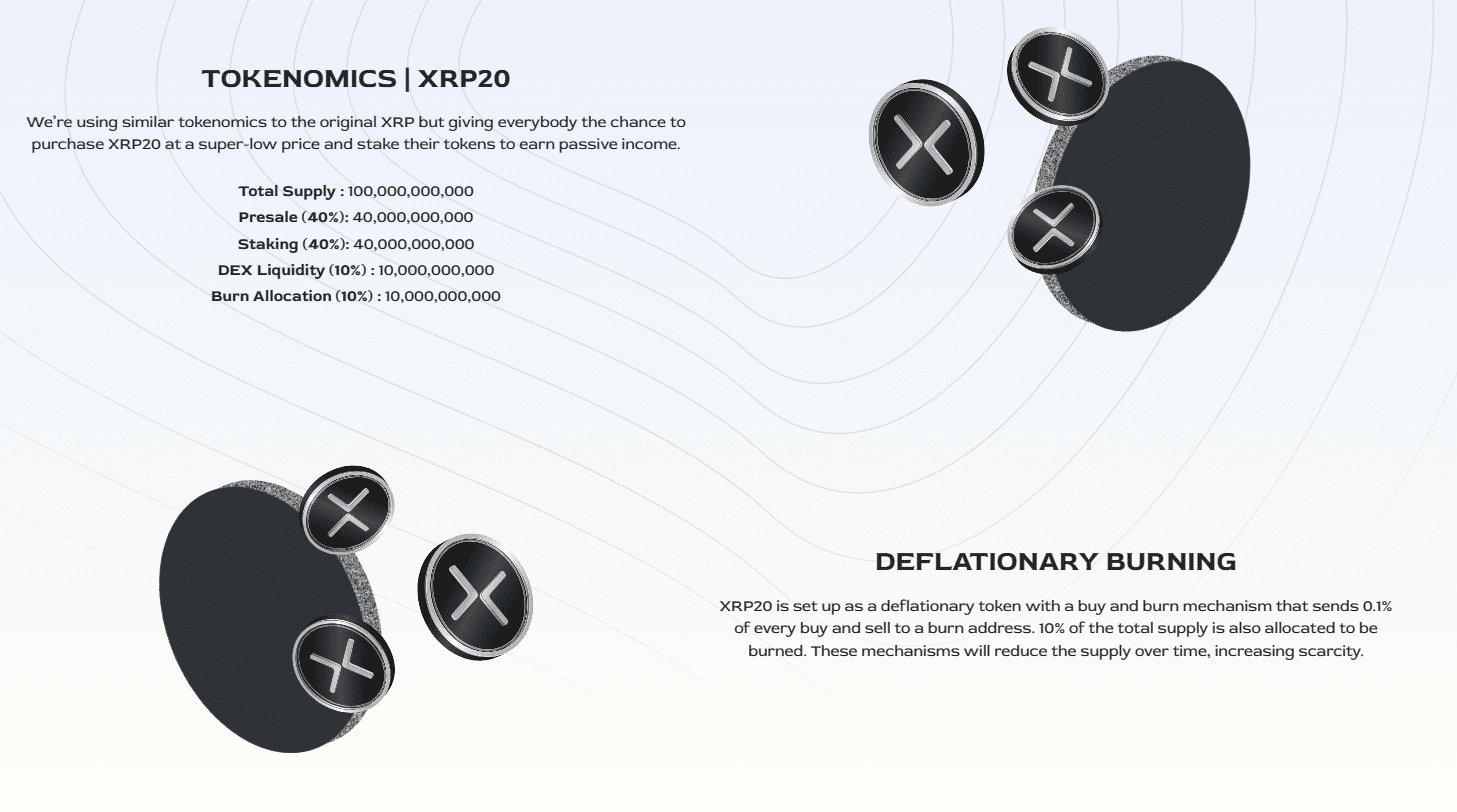 XRP20 also has another advantage over XRP in that it provides a burn mechanism where 0.1% of each transaction is automatically sent to a burn address. Over time, this will lead to a reduced supply and increased scarcity. 10% of the total supply is also withheld for burning. So you have two additional improvements on the initial XRP coin – a deflationary ecosystem as well as tokenized rewards.
During the presale, XRP20 was available for a price that is 30 times less than XRP at its lowest point, which was $0.0028. XRP currently trades at nearly $0.60, largely due to the market reaction to the court hearing. So the XRP20 project emerges at a time when Ripple is heavily trending, which could lead to popularity by association. XRP20 also has features that set it apart and enhance its functionality.
All of these factors can combine to provide a very interesting scenario for XRP20 in 2023 and beyond. There is a total supply of 100B tokens with 40B available in the presale. 40% go towards staking initiatives, 10% towards a DEX allocation, and 10% for burn allocation.
Further details can be found on the Telegram channels, with a date for its IEO expected to be revealed soon. Keep in mind that XRP20 has no affiliation with Ripple Labs and that research is required before any financial allocation. Prices can also go up or down.
12. BTC20 – Enhanced ERC20 PoS Token Offering Staking Rewards, Smart Contracts, & Environmental Sustainability
BTC20 is an innovative ERC-20 crypto token built on the Ethereum network, utilizing Proof-of-Stake (PoS) consensus. It offers individuals a unique opportunity to generate passive income by receiving a significant share of the rewards distributed through our Ethereum-based staking contract.
Inspired by Bitcoin's early days in April 2011 when it was priced at $1 and had a circulating supply of 6.05 million tokens, BTC20 allowed crypto enthusiasts to acquire the asset for $1 during its presale and take advantage of the staking power. The presale sold out in just two weeks and the project now has a fully diluted market cap of around $25 million following a strong early performance.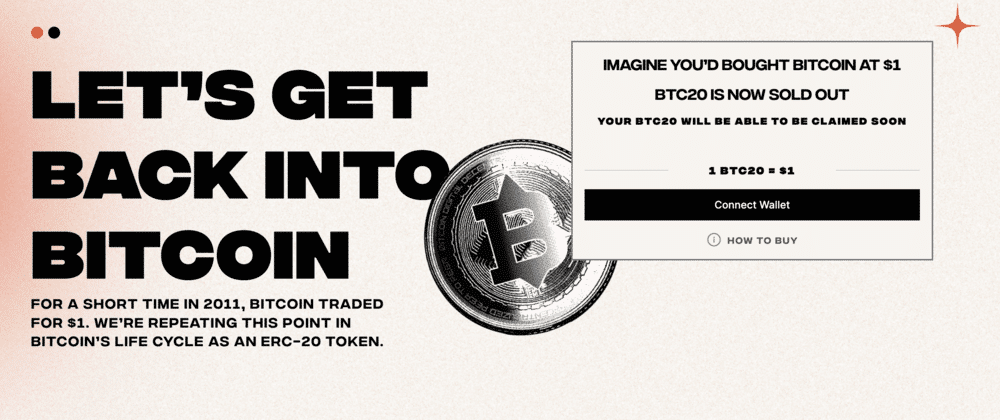 After launching on Uniswap, BTC20 quickly reached huge trading volume which saw the price of tokens pump by around 600% to an all-time high just shy of $6.
The price has since settled but with around 70% of tokens now staked – showing huge investor confidence – it would not take a lot for another move upwards given the number of tokens that are actually circulating. The current estimated APY is 60%.
With a total supply of 21 million tokens, mirroring BTC's overall supply, BTC20 offers a more user-friendly experience compared to BTC due to Ethereum's popularity as the most widely-used blockchain after Bitcoin, owing to its smart contract capabilities and versatility.
The remaining supply of 14.95 million tokens, accounting for 70% of the total, will be securely locked in a smart contract staking mechanism that spans over 120 years. This strategic approach ensures the long-term viability and price stability of BTC20, as tokens will be gradually released. By utilizing Ethereum smart contracts, the 120-year token vesting period guarantees price stability and potentially attracts additional investments as the ecosystem grows and evolves.
Through the BTC20 staking mechanism, participants who stake their tokens will earn higher rewards in proportion to the amount staked. This design fosters a community-driven approach where the collective actions of stakers contribute to the prosperity of all participants. By engaging in staking, users can benefit not only from the inherent value of BTC20 but also from the rewards distributed through the staking contract.
The BTC20 token economy extends beyond the staking rewards program, encompassing various potential future use cases such as strategic partnerships, utility within decentralized applications, and governance rights within the BTC20 ecosystem. These additional applications aim to provide increased value and utility to token holders, further strengthening the resilience of the token economy.
More information about the project can be found through either the BTC20 whitepaper, Telegram, or Twitter.
13. Pikamoon – Fantastic P2E New Cryptocurrency to Invest in 2023
Claiming the next spot on our list of the best new cryptocurrency to invest in 2023 is Pikamoon. This innovative blockchain project introduces a metaverse inspired by the iconic Pokemon franchise. It focuses on turning one of the most beloved elements of the digital realm, gaming, profitable.
This distinctive theme and strategy has helped generate a presale revenue of over $4 million so far, with the presale now in its final stage and ending imminently.

According to its whitepaper, Pikamoon's developers leveraged blockchain technology to build a unique adventure-themed metaverse. The gaming hub allows players to progress through levels by exploring the continent of Dreva, battling other players, collecting Pikamoons, and more. Still, this well-crafted storyline and crisp graphics and audio aren't the only benefits gamers will enjoy.
With each new victory, users will earn PIKA, the network's native crypto token. These coins represent the very essence of the Pikamoon platform. Besides powering the system, they're a way for users to interact with the platform. Holders can use them to expand their in-game empire by purchasing land, weapons, boosters, or potions for their avatars. On top of that, users can turn a profit by selling coins on an exchange or gaining free access to the limited-edition Pikamoon NFTs.
Whatever you choose, you can rest assured that blockchain encryption will keep your assets safe. Ethereum, the chain that Pikamoon is built upon, stores information using specialized trie data structures. The connections between blocks in the system are designed to prevent third-party interference, which means you won't have security or ownership issues ever again.
If these features sound enticing, you'll be pleased to learn you can enjoy them at a reduced rate. Buy PIKA for $0,0004 per token, follow its Telegram channel, and join one of the fastest-growing communities in the crypto market.
| | |
| --- | --- |
| Presale started | April 2023 |
| Purchase methods | USDT and ETH |
| Chain | Ethereum |
| Min investment | N/A |
| Max investment | N/A |
14. Conflux – Top Performing Crypto Protocol of 2023 With a Global Focus
Conflux ($CFX) is an open protocol for dApps, finance, and Web3 projects. It's fast, low-cost, public, and permissionless, aiming to be the glue that binds Web3 together.
Known as the "Chinese Ethereum", Conflux is one of the best performing crypto assets in 2023, gaining nearly 800% from February to April 2023. Currently, it's up over 200% on a yearly basis. The current price is $0.17 per token.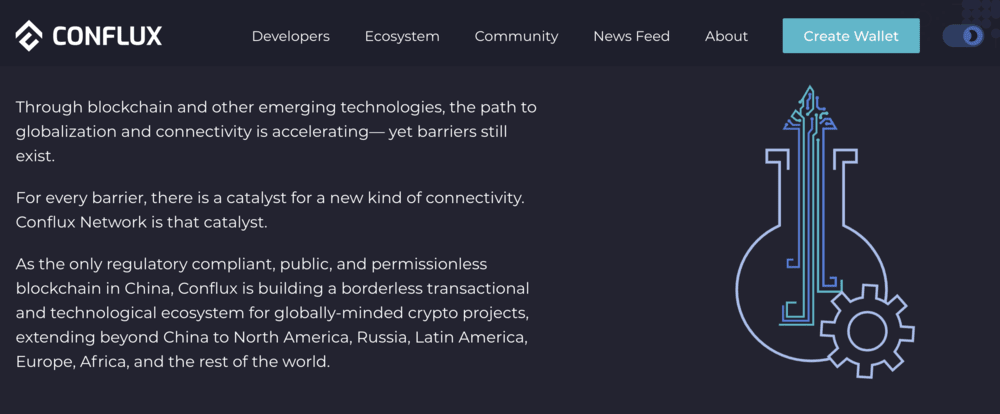 Conflux claims to be the only regulatory-compliant, public, and permissionless blockchain in China. Though based in China, the aim is to create a global economy where transactions are lightning fast and ultra low cost.
Conflux combines a tree-graph structure with proof-of-work verification to enable safe asset and data transfer between protocols and applications. The network's directed acyclic graph topology enables simultaneous processing of blocks and transactions, which reduces confirmation times and significantly increases throughput.
With a market capitalization of $565.2 million, CFX has a total token supply of 5 billion, and a fully diluted market cap nearing $1 billion. It has the potential to be a 10x coin in 2023, if things fall into place.
15. Frax Finance – Comprehensive & Self Contained Ecosystem for Stablecoins and Decentralized Finance
Frax is a self-contained DeFi ecosystem focusing on stablecoins. The Frax protocol currently issues three stablecoins – FRAX, FPI, and frxETH. FRAX is a stablecoin pegged to the US dollar on a one to one basis, like many other stablecoins (BUSD, USDT, USDC, etc). Its price is set to $1.
FPI is interesting in the sense that it's a coin tied to a basket of goods. Instead of the Consumer Price Index (CPI), we have the Frax Price Index (FPI). Currently, 1 FPI is worth $1.083. FPI creates its own unit of account separate from any nation-state-denominated money. It is fully backed and crypto collateralized.
frxETH is a replacement for wrapped Ethereum, and can be used for smart contracts within the Frax ecosystem. Currently the price of frxETH is $1,875, the same price as ETH.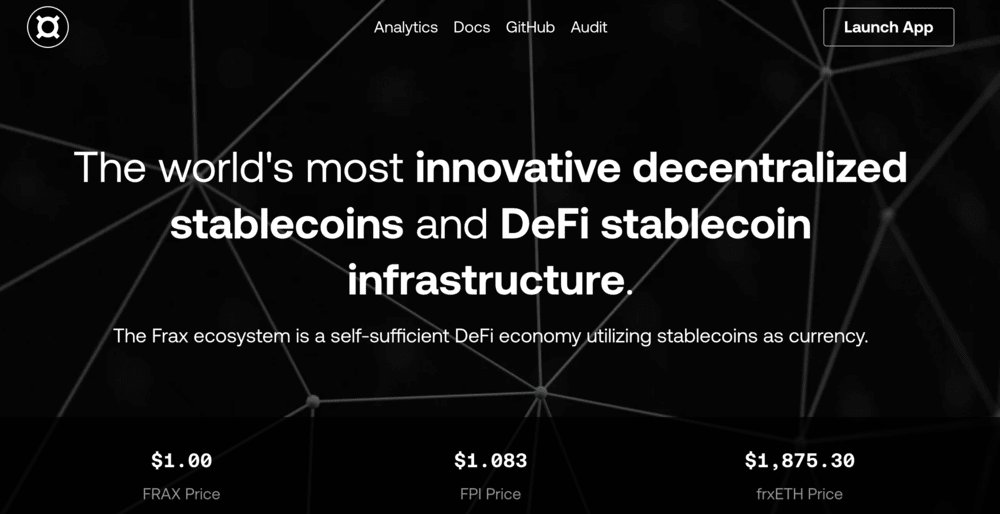 Frax offers more than simply stablecoins. It has several protocols that support its ecosystem. Fraxswap is a permissionless time weighted automated market maker (TWAMM). Fraxlend is a non custodial lending platform for ERC20 tokens. Fraxferry allows for the transfer of Frax tokens cross chain without the need for bridges or third party applications. The base governance tokens is Frax Share token (FXS), while Frax Price Index Share (FPIS) governs the FPI.
FXS is the prime utility token and is meant to be volatile, not stable, as stated in the Frax project documentation. Frax openly endorses a community managed ecosystem where token holders vote with their coins. FXS supply is set to 100 million tokens. More technical information is available from its customized dashboard, Frax Facts.
Frax is a complete ecosystem for stablecoins and has undergone multiple audits. At the time of this writing, the FXS price is $6.21 and it is 83rd by market capitalization.
16. The Graph – Proprietary Indexing Protocol for Blockchain Data
The Graph was founded in late 2020 and as such, is still considered one of the newest crypto coins in the market. This project has built a proprietary suite that enables any blockchain protocol to engage in data indexing. In more simple terms, The Graph can be utilized by decentralized networks to help by 'overload'.
This means that transactions can be stored and handled without increasing the network demand and ultimately – fees. As of writing, The Graph is fully-compatible with Ethereum and IPFS, but expect further partnerships in the coming months and years. The Graph is backed by its own native token – GRT.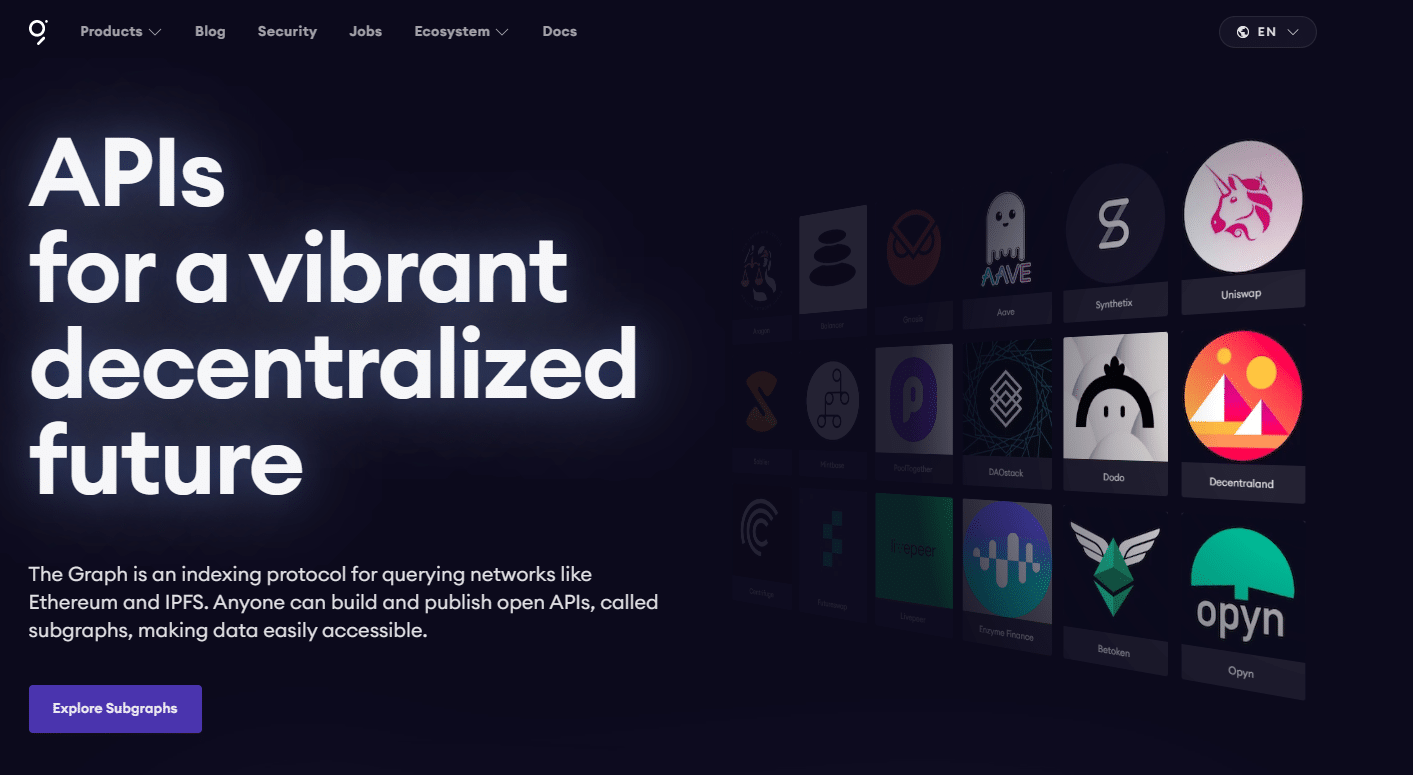 When GRT was launched in late 2020, it went on a parabolic run, only to then succumb to the broader crypto bear market that began less than a year later.
However, as an AI-related coin, the project had an extremely strong start to the year and although it has dipped, is still more than 70% from its price in January. GRT is currently priced at $0.11.
17. Theta Network- Next generation content delivery network built on Ethereum to support Web3 media platforms
Theta Network (THETA) is a decentralized blockchain infrastructure that will support Web3 media platforms and many other initiatives. It can greatly reduce content delivery network (CDN) costs and rewards users for contributing their storage, in the TFUEL cryptocurrency. TFUEL is the operational currency while THETA is the governance token.
Theta Network enhances high-quality video streaming by leveraging a global pool of users who contribute their bandwidth/computing resources. It also provides an infrastructure for developers to build upon.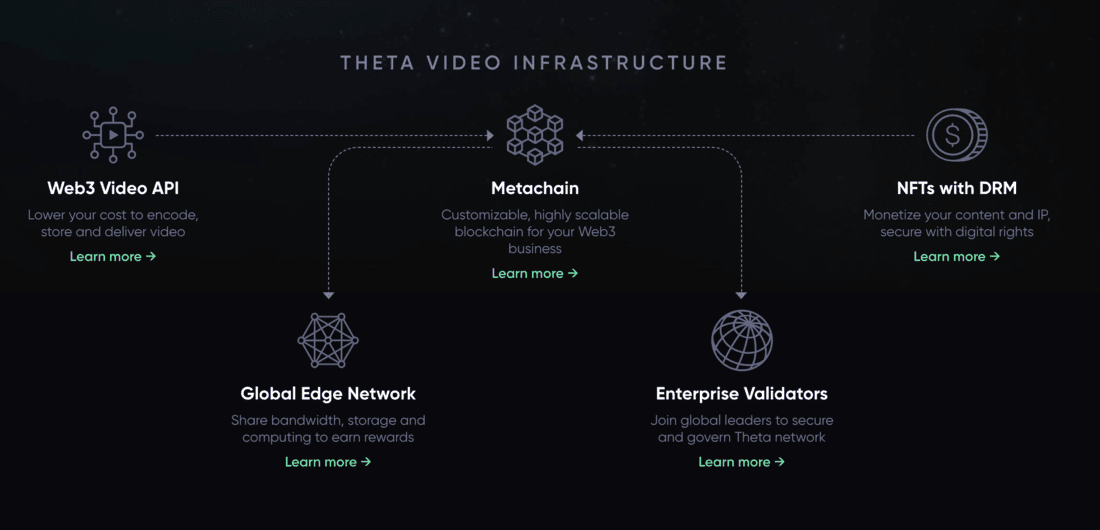 It's a dual network consisting of both a blockchain and a Theta Edge network. The Edge Network allows for the storing and distribution of media assets. It offers a decentralized video on demand, where users can add decentralized video to any website or application (without any central servers or video hosting software). It also offers NFT based digital rights management.
The Theta blockchain has smart contract capabilities as well as EVM compatibility. It delivers 1,000 transactions per second and has a miniscule carbon footprint. In late 2022 it released Theta Meta Chain, with the aim of permissionless horizontal scaling of the Theta blockchain to achieve potentially unlimited transactional throughput, and 1-2 seconds block time finalization.
This could be an excellent investment for 2023 due to the fact that online censorship is increasing – many individual content creators are being de-platformed by centralized media agencies.
Aside from this, the blockchain is fast and it could help to vastly reduce CDN costs. Centralized CDNs like Youtube and Twitch can face geographical restrictions and users can experience lags while streaming due to bottlenecks
Theta Network can solve such bottlenecks through the use of blockchain technology, which provides a superior architecture. The platform also has validator nodes run by some of the world's biggest countries, including Google, Samsung, and Sony.
Currently, THETA is trading at $0.75.
18. Cronos – Crypto Exchange-Backed Token With Multiple Use Cases
Cronos is one of the best DeFi cryptocurrencies that backs the Crypto.com exchange. As such, the primary objective when investing in this digital asset is to gain exposure to the Crypto.com ecosystem. Cronos operates on a hybrid blockchain network that incorporates both Ethereum and Cosmos.
As a result, Cronos transactions are fast, cheap, and scalable. In terms of use cases, Cronos can be used by developers that wish to launch Solidity-based applications in a seamless way. This offers an alternative to the primary Ethereum framework, which remains overloaded. Cronos is also open source, which ensures that the underlying network can be audited in a public setting.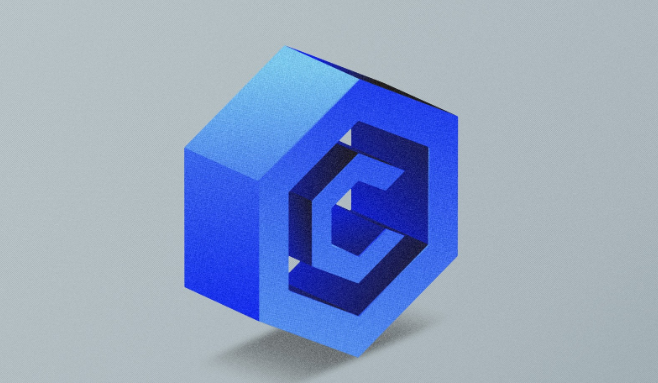 Cronos has also stepped into the world of DeFi, with users having the ability to earn rewards and obtain loans. The Cronos network can also facilitate NFT ownership and trades.
Cronos had a strong first three months of the year but increasing regulatory pressure from the SEC on rival exchanges has seen the token dip to around $0.50.
How We Selected the Best New Crypto to Buy
CoinMarketCap data shows there are around 25,000 cryptocurrencies in the market, with dozens of new entrants being listed each and every day.
New cryptos have the potential to turn small investments into huge gains, with the recent success of PEPE (below) – which grew 7,000% in just two weeks in April and May – sparking a meme coin frenzy that saw the likes of WOJAK, SPONGE and other coins enjoy soaring price action.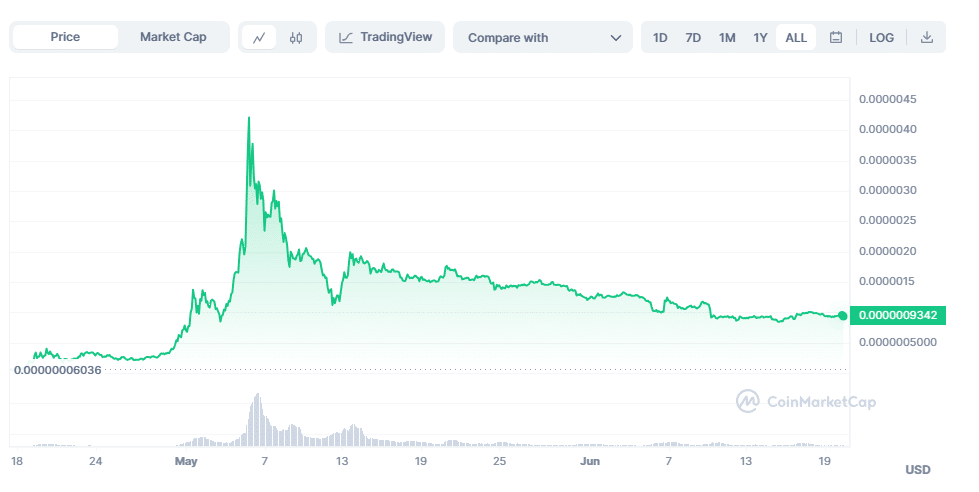 However, the data also shows us that the vast majority of these tokens will turn out to be failures rather than successes, despite whatever potential they may seem to possess, especially over a longer period. The top 10 tokens make up almost 85% of the total liquidity in the crypto market, with Bitcoin (48.47%) and Ethereum (19.36%) alone making up over 67% of that at the time of writing.
Those top 10 tokens have held their place as investor favorites for a long time, making the search for new cryptos that will actually deliver significant profits a cumbersome and time-consuming – but potentially lucrative – task.
Timing is also important for new cryptos, as many enjoy an extremely short shelf life of relevance before struggling to return to their all-time highs. PEPE, so far, has been a prime example of this – having reached a market cap of almost $2 billion in early May, the market cap is now just $365 million only six weeks later. Those who bought before the first pump would have made incredible gains but those buying after May 5 will have bought a token that has since dropped in price by more than 75%.
That's not to say that PEPE won't pump again, but as a meme coin with limited utility, it is unclear what may act as a catalyst for significant volume and gains or when that could happen.
It is essential investors do research and conduct due diligence because, as mentioned above, no matter the potential of new crypto coins, not all will succeed in becoming worthwhile investments. To fast-track the process, consider the following key points when creating a list of the best new cryptocurrency releases.
Whitepaper and Objectives
The most important part of the research process is to read the new cryptocurrency project's whitepaper from top to bottom. A whitepaper is an informational document that should provide a comprehensive overview of a new crypto project – a good whitepaper will fully outline the objectives of the project and what problems it is aiming to solve. The Bitcoin whitepaper is the most famous in the space and is a great example, with fully realized ideas backed by high-level scientific knowledge, research and references.
The goals of the team should be clearly presented in a roadmap, with each objective represented by a target date. A roadmap acts as an outline for the future development of the project, staged targets the developers want to hit and a rough schedule of when they expect to hit them. Again, a higher level of detail and clear objectives is a good sign to look out for compared to a vague roadmap that only offers limited targets and unclear methods on how they may get there.

Additionally, to find the very best new cryptocurrency to invest in, research on the development team should take place. If the project is legitimate, it will have a fully transparent and Know Your Customer (KYC)-verified team with LinkedIn profiles easily accessible.
This list has included a mixture of new meme coins and utility-driven projects and they are judged on a different criteria. Meme coins are a highly speculative asset class and much riskier than other crypto niches – with the returns potentially being much higher.
If the team behind a project is anonymous, this should usually be considered a major red flag – however, this is the norm with meme coins and, therefore, other factors come into consideration. Wall Street Memes, our top pick on this list, has anonymous developers but has a proven track record of success in Web3 with its NFT collections. It has also fostered a huge social media community of more than a million followers over a long period, so the chances of it being a scam or rug pull are extremely slim.
Presale Availability and Pricing
One of the most attractive aspects of new cryptocurrencies is that in the vast majority of cases, the project will begin its journey with a presale campaign, which can also be called an initial coin offering (ICO).
This is the first time crypto tokens are sold to the general public and presales are attractive for numerous reasons. For the project itself, it allows them to raise capital for development before the token is released on exchanges, where price often shows huge volatility.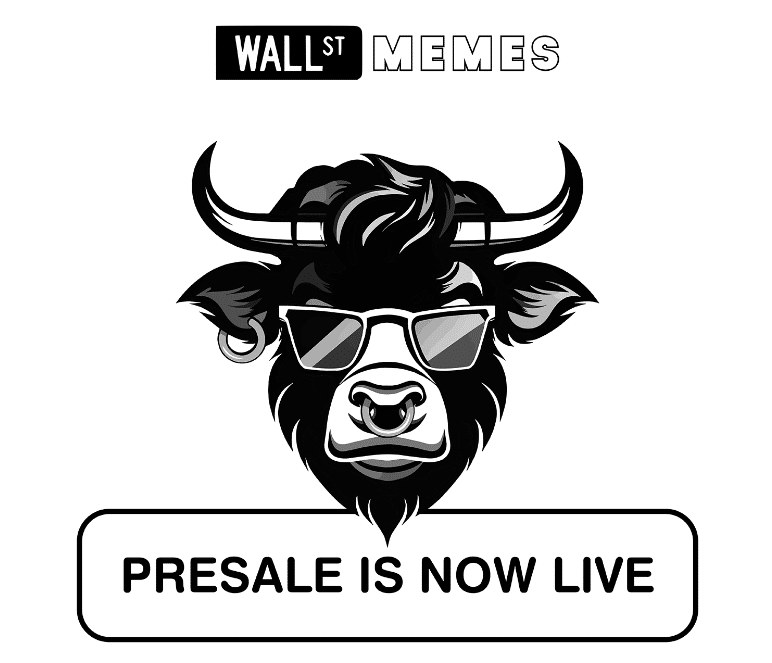 For investors, they can buy tokens at a fixed price, with no chance of loss, before the tokens list – with projects often offering tokens at a heavily discounted price to attract investment and build hype and support in the community.
The yPredict presale, for example, is currently selling $YPRED tokens for $0.10 each during stage 7 of its 8-stage presale, at the time of writing. Tokens will list for $0.12, meaning those who buy now can see immediate paper gains of 20% by the time the tokens reach exchanges. Furthermore, $YPRED tokens were available for $0.036 in the first stage of the presale, showing how lucrative it can be to find presales early – those who bought in that stage will have seen a paper return of 233.33% by the time yPredict holds an initial exchange offering (IEO).
Low Market Capitalization
When creating a shortlist of the best new cryptocurrency to invest in, we prefer projects that will be listed with a small market capitalization.
Low-cap coins are generally those valued below $1 billion, but when finding new crypto coins, smaller market caps are generally better. The reason for this is that the smaller the market capitalization, the more room and potential there is for the respective cryptocurrency to explode in value.
For example, if a newly launched cryptocurrency is listed with a market capitalization of $10 million, this means that growth of 20x would still only amount to a valuation of $200 million.
In comparison, for Bitcoin to grow 20x from its current price of $27k it would need to reach a price around $550,000 per token and its market cap would need to be an unrealistic $12 trillion – more than four times the current value of the world's most valuable company, Apple.
Typically, investors put their money into new coins because they want to see rapid and exponential gains, investing in established tokens, such as Bitcoin, will see smaller growth but also represents less of a risk of losing funds.
Innovation and Market Niche
We generally prefer new cryptocurrencies that serve an actual purpose, as that can lead to gains in the long term once a project is fully developed and brings its product to the wider market.
Bitcoin Minetrix is the world's first stake-to-mine project, allowing investors to take part in the Bitcoin mining ecosystem from just $10.
Launchpad XYZ wants to drive mass adoption of Web3 by offering an all-encompassing portal to all sectors of crypto through one platform and appeal to both retail and institutional users.
yPredict is also using AI technology but to offer crypto traders a range of tools and data to improve their decision making.
Ultimately, if a cryptocurrency project that not offer anything new or innovative, then it should probably be avoided but, again, meme coins are an exception to this rule as long as the investor understands they offer a much higher risk-reward level and often have an extremely short life cycle for returning profits.
Immediate Red Flags to Avoid with New Cryptos
Poorly written or incomplete whitepapers.
Vague roadmaps.
Anonymous teams (although meme coins can be an exception).
Lack of community interest/hype on social media.
Why New Cryptocurrencies Can be a Good Investment
The main motivation when searching for the best new cryptocurrency to invest in is to maximize potential returns.
For instance, most of us missed Bitcoin at below $1,000, and the same for Ethereum at $1. In other words, new cryptocurrencies are yet to reach mass awareness, so investing early offers the best possible entry price.
In turn, this offers the opportunity to target significant returns, especially when the project begins with a small market capitalization.
New Cryptos Can See Rapid Price Explosions
Coins that have been on the market for a while tend to stagnate as money is taken out of them and investors lose trust in their potential to pump again – especially if external factors cause their price to drop.
New coins represent exciting new avenues for investment and unrealized potential that can get investors and buyers excited – as has been shown by PEPE and other meme coins recently. Crypto is also extremely cyclical and the market follows trends, meaning being late or missing a trend can leave investors holding tokens that have hugely declined in value.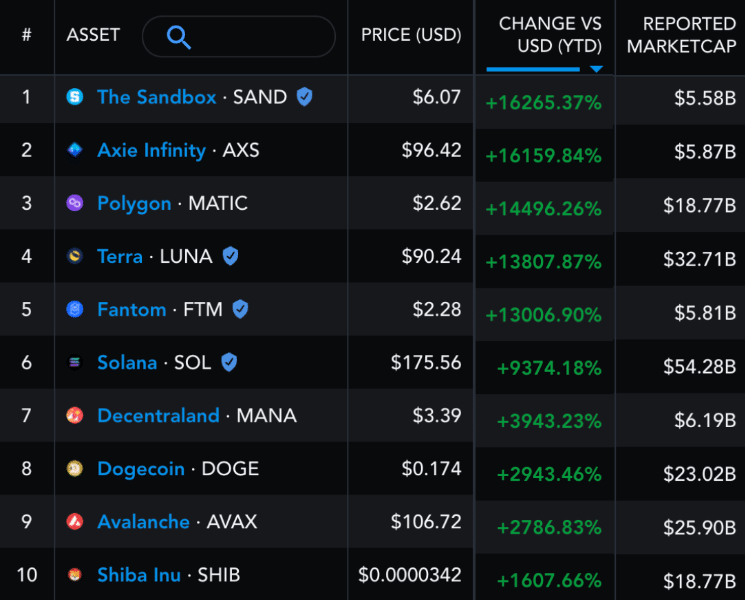 During the bull run 2021 it was crypto gaming, the metaverse and so-called 'Ethereum Killers' that dominated the top-gaining cryptos of that year. Once a project loses momentum it can be difficult to recover. Data from blockchain analytics firm Messari found that metaverse projects such as The Sandbox, Axie Infinity and Decentraland were among the top gainers that year, with ETH killers such as Polygon, Terra, Fantom, Solana and Avalanche also in the top 10 with Dogecoin and Shiba Inu making the list.
Macroeconomic conditions and the extended bear market have enormously hurt the value of all of those tokens, with some more than 95% down from their all-time highs.
Chances of a major recovery also appear slim. The metaverse was once the talk of the world and drew investment from major global brands and Big Tech companies with Facebook even renaming themselves Meta. It has since become a rapidly declining investment niche – with the sector declared 'dead' after Mark Zuckerberg switched focus to artificial intelligence. At their peak, The Sandbox, Decentraland and Axie Infinity had a combined market cap of around $18 billion but that figure now stands at less than $2 billion.
Ethereum remains, by far, the most popular network for dApp builders, with a near-60% market share, according to data from DeFiLlama. That's before mentioning that Terra co-founder Do Kwon has been sentenced to four months in jail in the fallout from the collapse of LUNA.
That is to say that while investing in old tokens can reap benefits, new tokens can lead to much quicker profits, especially during a bear market when most of the industry is fearful.
New Tokens Have More Potential than Established Coins
New crypto tokens usually launch with small market caps and much more potential for quick and early gains. As we outlined above, the chance of a new project with a small market cap making 10x or 20x gains is much more likely than Bitcoin doing the same, due to the sheer size of BTC's current market cap.
Tron (TRX) could be used as another example. Currently ranked as a top-15 crypto, it has been a long-time investor favorite with huge potential as a fast, efficient and scalable network for dApp builders.
While we are not doubting the potential for Tron to make significant returns during the next crypto bull run, it is a fact that huge amounts of capital will need to pour into its ecosystem to see large profits from the current price.
Its market cap is currently around $6.2 billion – meaning a 10x return would see it above $60 billion, a market cap that only Bitcoin, Ethereum and leading stablecoin Tether (USDT) currently hold.
On the other hand, Tamadoge (TAMA) has a market cap of $13 million at the time of writing, meaning a 10x return would be made with a market cap of $130 million – a not insignificant amount but more attainable than Tron having to find $54 billion while others trade TRX and those already holding take profits.
The project, and its CEO Justin Sun, is in the crosshairs of the SEC for alleged fraud and other securities law violations, which is likely to affect its future price potential.
How to Find New Cryptocurrency Releases
From the best Telegram crypto groups to the most popular Discord channels, finding new cryptos is easier said than done. The most challenging aspect to consider when exploring the next new cryptocurrency to invest in is knowing how to locate upcoming projects.
Here are some of the ways to find new cryptocurrency releases online:
Twitter: The Elon Musk-owned social media site is viewed by many as the home of crypto, with tens of thousands of Tweets discussing price action and new projects. Users can follow large influencer accounts to find new crypto gems, although they should tread carefully and do further research as some can be shills or scams.
Reddit: One of the most effective ways to find new cryptocurrencies is via social media site Reddit, which has huge crypto-centric communities including r/cryptocurrency. That subreddit has more than 6.5 million followers posting about various things in the crypto space, with the potential of new coins often a topic for discussion.
YouTube: Another popular way to find top new cryptocurrencies is YouTube. For instance, the Jacob Crypto Bury YouTube channel is a great source of information on new project releases and presales, although there are many hundreds of crypto influencers and analysts on the site. Jacob reviews plenty of projects and has enjoyed great success in recent months in finding high-growth presale opportunities.
CoinMarketCap and CoinGecko: Data aggregation sites such as CoinMarketCap and CoinGecko not only list price information for thousands of tokens, they offer info on new and trending coins in the space, as well as having their own ICO calendars.
DEXTools: DEXTools is similar to the above data aggregation sites but has much more of a focus on brand-new and small market cap tokens.
ICO and Presale Calendars: There are numerous websites that solely act as ICO and presale project calendars, offering information on upcoming projects. Sites such as ICOLink, ICOMarks and CoinCodex are vital for any investor looking for new projects. However, investors should also tread carefully as some websites allow projects to pay for placement at the top of their rankings.
Telegram and Discord: Sometimes you can find unique cryptos via the best Telegram crypto signals and being part of crypto communities on the site. Other users may have heard about a new coin with potential and pass on the information to members of the community.
Of course, as we have mentioned throughout this article, when hearing about or finding new tokens it is absolutely vital potential investors conduct further research on a project, even if it appears legitimate at first glance.
Is it Better to Buy New Crypto or Established Cryptos Like Bitcoin?
While established projects can have lower potential than new coins they also come with fewer risks as they have a long-standing supporter base and, mostly, have a proven use case within the market.
Bitcoin and Ethereum remain investor favorites and should be a part of any crypto investor's portfolio – we would always recommend a diverse portfolio with a mixture of low, medium and higher-risk assets.
BTC has seen increased institutional adoption in recent times with the likes of BlackRock, the world's largest asset manager, applying to offer a Bitcoin ETF, while Ethereum is still the most used network for decentralized app builders and developers.
Where to Buy New Cryptocurrency
To gain exposure to the next new cryptocurrency to invest in, the trade will need to be completed online.
The specific place to invest will depend on whether the cryptocurrency is already listed on an exchange or if it still in presale mode.
Where to Buy New Presale Crypto
If the chosen new cryptocurrency is currently engaged in its presale campaign, then there is no requirement to use an exchange. The reason for this is that the token will not be listed on an exchange until the presale is over.
In the case of Wall Street Memes, Launchpad XYZ and yPredict, the presale dashboard is hosted directly on the respective website of each provider.
Therefore, investors simply need to connect their crypto wallet to the presale website and exchange either ETH or USDT via a real-time transfer.
Scroll further down for a step-by-step walkthrough of how to invest in the Wall Street Memes presale.
Where to Buy Other New Cryptos
When buying a new cryptocurrency that has already been listed, the purchase will need to be made on a supported exchange. One of the top crypto exchanges for buying the best new coins is eToro.
Here's why:
eToro – Best Place to Buy New Crypto Coins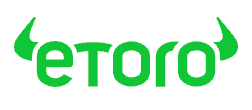 eToro is a regulated online broker that holds licenses with the SEC, ASIC, CySEC, and the FCA. This popular trading site is now used by over 27 million people from all corners of the world. eToro hosts dozens of new cryptocurrencies, including many of the projects we discussed today – such as The Graph and Cronos.
eToro is known to 'listen' to the market, meaning that it regularly adds new crypto coins as per demand. For example, when Ape Coin was first listed, the digital asset was available for trading at eToro on the very first day. Not only does eToro offer a safe and regulated place to buy new cryptocurrency, but its fee structure is super-competitive.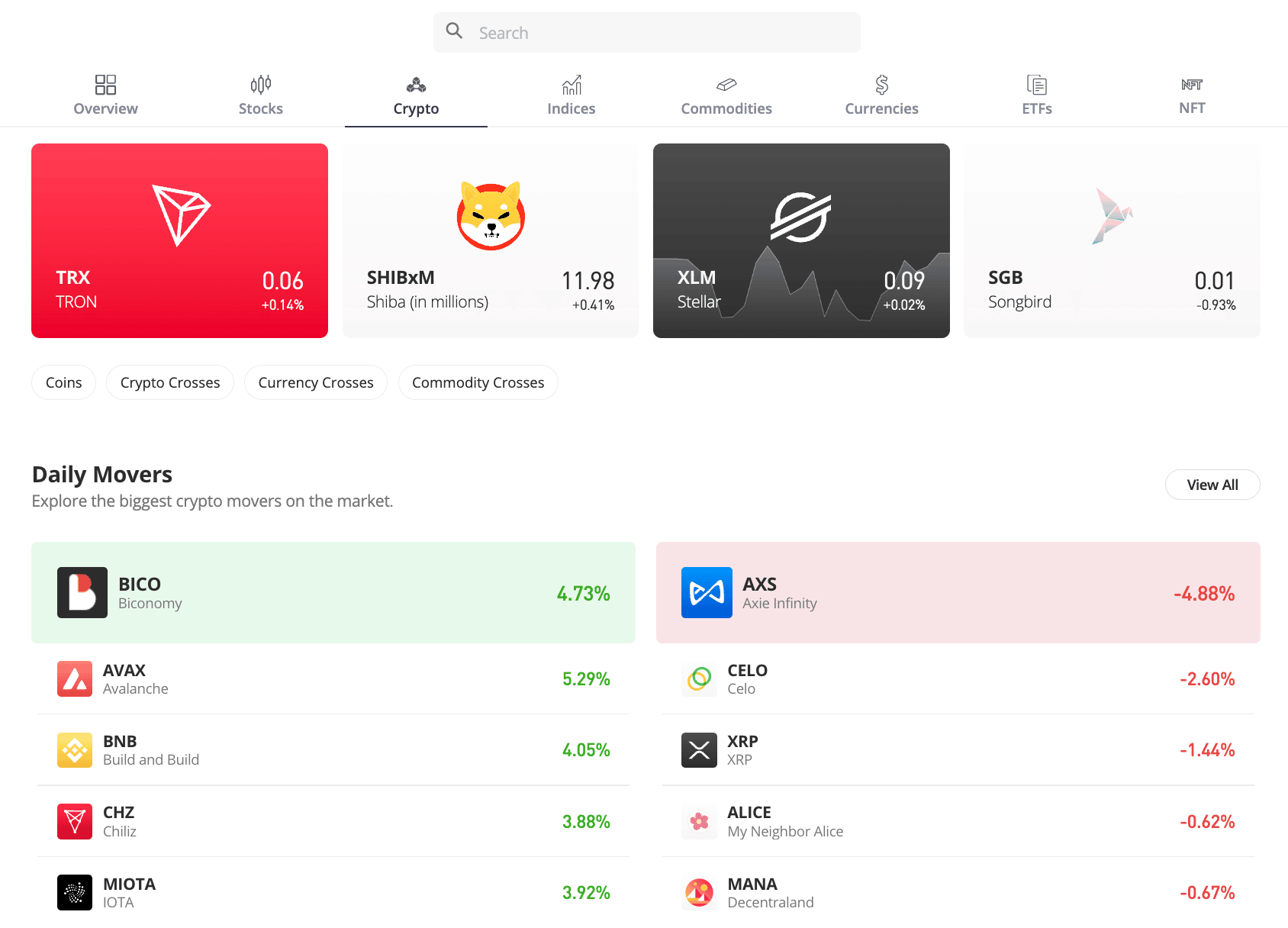 For example, deposits and withdrawals made in US dollars are free of charge, including debit/credit card and e-wallet payments. Other currencies – such as GBP, EUR, and AUD are supported too and attract an FX fee of just 0.5%. Irrespective of the new crypto being purchased, a flat commission of 1% applies to all buy and sell orders.
eToro also offers a safe crypto wallet app that is ideal for storing new cryptocurrencies. The eToro wallet app for iOS and Android is licensed by the GFSC for additional security. eToro is also the best place for beginners to invest in new cryptocurrencies, considering its minimum deposit requirement is a mere $10 ($50 in some countries).
How to Buy New Cryptocurrency – Bitcoin Minetrix
Complete beginners with an interest in new cryptocurrency to invest in might be entering the world of presales for the very first time. While this can be intimidating, the process is both simple and seamless.
To offer some insight into the investment process, the steps below explain how to buy $BTCMTX tokens via the newly launched Bitcoin Minetrix presale.
Step 1: Get a Crypto Wallet
First, presale investors will need to ensure they have a suitable crypto wallet installed.
Those looking to invest on a laptop device can opt for MetaMask
Those looking to invest on a smartphone device can opt for the Trust Wallet app
Other WalletConnect options are also supported. Download your chosen wallet and install it. Set the wallet up by creating a password/PIN and writing down the backup passphrase – don't share this with anyone.
Step 2: Get ETH/USDT/BNB and Transfer to Wallet
The next step is to transfer Ethereum (ETH), BNB or Tether (USDT) to the crypto wallet. These are the two cryptocurrencies supported by Bitcoin Minetrix.
ETH, BNB and USDT can be purchased from any crypto exchange and transferred to the wallet accordingly, or directly on the wallet via a third-party app such as MoonPay.
Note that some ETH will be needed to cover Ethereum gas (transaction/network) fees.
Step 3: Connect to Bitcoin Minetrix Presale
Next, visit the Bitcoin Minetrix presale website. Click on the orange 'Connect Wallet' and choose your crypto wallet provider.
Step 4: Invest in $BTCMTX Presale
Once the wallet is connected, the $BTCMTX presale dashboard will allow users to select which token to use and populate an order box asking for the number of tokens to buy.
Type in the required quantity and confirm the investment. MetaMask and Trust Wallet will request the transaction's authorization before transferring the ETH/USDT/BNB.
When the whole presale is complete, return to the BTCMTX website and claim the tokens.
How Often are New Cryptos Released?
New cryptocurrencies are released fairly frequently, with dozens of new projects launched every day. In fact, the pace of new cryptocurrency releases has accelerated significantly in recent years, with the rise of decentralized finance (DeFi), NFTs, and other innovative blockchain-based projects.
It's worth noting, however, that not all new cryptocurrencies are destined for success. Many new projects fail to gain traction or prove to be scams, while others may have promising technology but fail to attract enough users or investors to succeed.
Even if a project has all the ingredients to be a success, there is no guarantee it will be with the market ultimately deciding. Therefore, it's important to approach new cryptocurrencies cautiously and do thorough research before investing.
How to Make Sure New Cryptos are Safe and Legit
When investing in new cryptocurrencies, it's important to do your due diligence to ensure the project is safe and legitimate. Here are some key steps you can take to research a new cryptocurrency before investing:
Read the Whitepaper
As outlined in more detail above, a project's whitepaper is a document that provides an overview of its goals, technology, roadmap, team, tokenomics and more.
It should be comprehensive and provide all the information needed for an investor to learn exactly what the project is offering and why tokens should be purchased.
It's important to read the whitepaper carefully to understand the project's objectives and whether it has a clear and realistic plan for achieving them.
Check the Team
Research the team behind the project to see if they have a track record of success and expertise in the relevant fields. Look for team members with experience in blockchain development, finance, and other relevant areas.
Being doxxed and Know Your Customer (KYC)-verified is a huge plus, as it means the developers are public, can be contacted and allows investors to have some recourse if they are scammers – going public usually means they are not.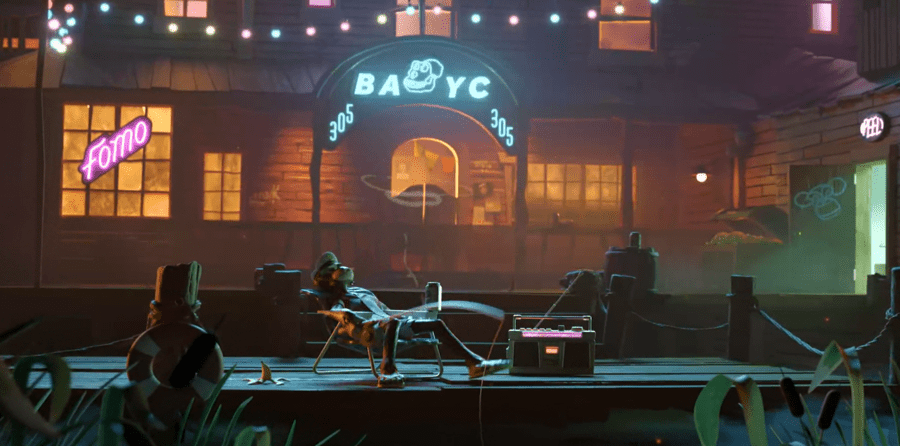 Furthermore, some developers and teams become so popular and trusted in their own right that they will attract followers who bet on them being successful. Yuga Labs, creators of the Bored Ape Yacht Club NFT collection, is one such example, with the community drawn to its other projects – Mutant Ape Yacht Club, ApeCoin, and the Otherside Metaverse – based on the success of BAYC.
Meme coin projects tend to have anonymous developers and although it is a red flag in other crypto niches, it is common here. However, that makes it even more important for investors to ensure that the tokenomics of a meme coin are sound, their smart contracts have been audited and project is legitimate.
Look for Partnerships and Collaborations
Partnerships with established companies or collaborations with other blockchain projects can be a good sign of a legitimate project – other firms would not be willing to work with illegitimate projects and, one would hope, will have done their own due diligence and research before entering into a partnership.
Check whether the project has any partnerships or collaborations and what they entail, as well as analyze how that might improve a new crypto's chances of success.
For example, the price of The Sandbox tokens and metaverse land went through the roof in the last bull run after it was announced the likes of Gucci and Adidas – globally recognizable brands – were partnering with the project and buying up land.
Not all partnerships will be so high-profile, but as long as they are relevant to the project and add value they are important.
Check the Community
Look for online communities and forums related to the project to see what people say about it. Telegram and Discord can be excellent players to get an up-to-date impression of how other members of the crypto community feel about a project.
In some groups there will be a huge sense of anticipation or excitement around a project while others might be full of FUD (Fear, Uncertainty, Doubt). Whether FUD is warranted or not does not always matter – it can have a huge outcome on price, with sentiment often driving the early price action of new projects, especially when their protocols are still in development.
Verify the Security Measures
Look for information on the security measures the project has in place to protect users' funds and data.
Check if a reputable third-party firm has audited the project to ensure its security and legitimacy – blockchain analytics firms such as CertiK represent the gold standard, while investors can also use resources such as TokenSniffer to check a project's contract.
Conclusion
Finding the best new cryptocurrency to invest in is no easy task. To help clear the mist, this guide has provided insight into some of the best new cryptocurrency releases for 2023.
Investors should conduct thorough independent research before investing in any crypto have a firm handle on their tolerance for risk, with new cryptos offering a greater risk-reward ratio than established projects.
Also look out for the signs of good and bad crypto projects – fully formed concepts deliver unique solutions, clear and concise roadmaps and strong developers with a background of delivering good products.
One of the newest crypto to watch that we like the look of is Bitcoin Minetrix, which is the world's first stake-to-mine project and allows investors to take part in the potentially lucrative Bitcoin mining ecosystem from just $10.
References
FAQs
What are the newest crypto coins?
Where do I find newly released crypto?
What's the newest crypto to invest in?
What is the next big cryptocurrency?