In today's rapidly evolving technological landscape, diverse teams lead to more creativity, better problem-solving, and improved decision-making processes. Despite the progress made in women's workforce participation, the number of women in tech has remained relatively stagnant for decades.
To shed light on the current state of female representation in the tech industry, we have compiled over 60 women in tech statistics. Explore these findings to gain valuable insights into the challenges, opportunities, and experiences of women in tech.
Women in Tech Statistics Highlights
At 32%, the share of women working in tech is now lower than it was in 1984, when it was 35%.
The percentage of women in tech leadership roles has fallen to 28% in 2023.
50% of women in tech roles leave them by the age of 35.
32% of women in technical and engineering roles are often the only woman in the room at work.
In 2022, all-women startup teams received an all-time low of 1.9% or $4.5 billion out of $238.3 billion, in venture capital funding.
The Role of Women in Tech Statistics
Women in Tech Work Roles Stats 
The proportion of women working in tech is now smaller, at 32%, than it was in 1984, at 35%. 
Women remain deeply underrepresented in technical roles and are less likely than men to work in engineering and technical fields. In fact, 32% of women in technical and engineering roles are often the only woman in the room at work.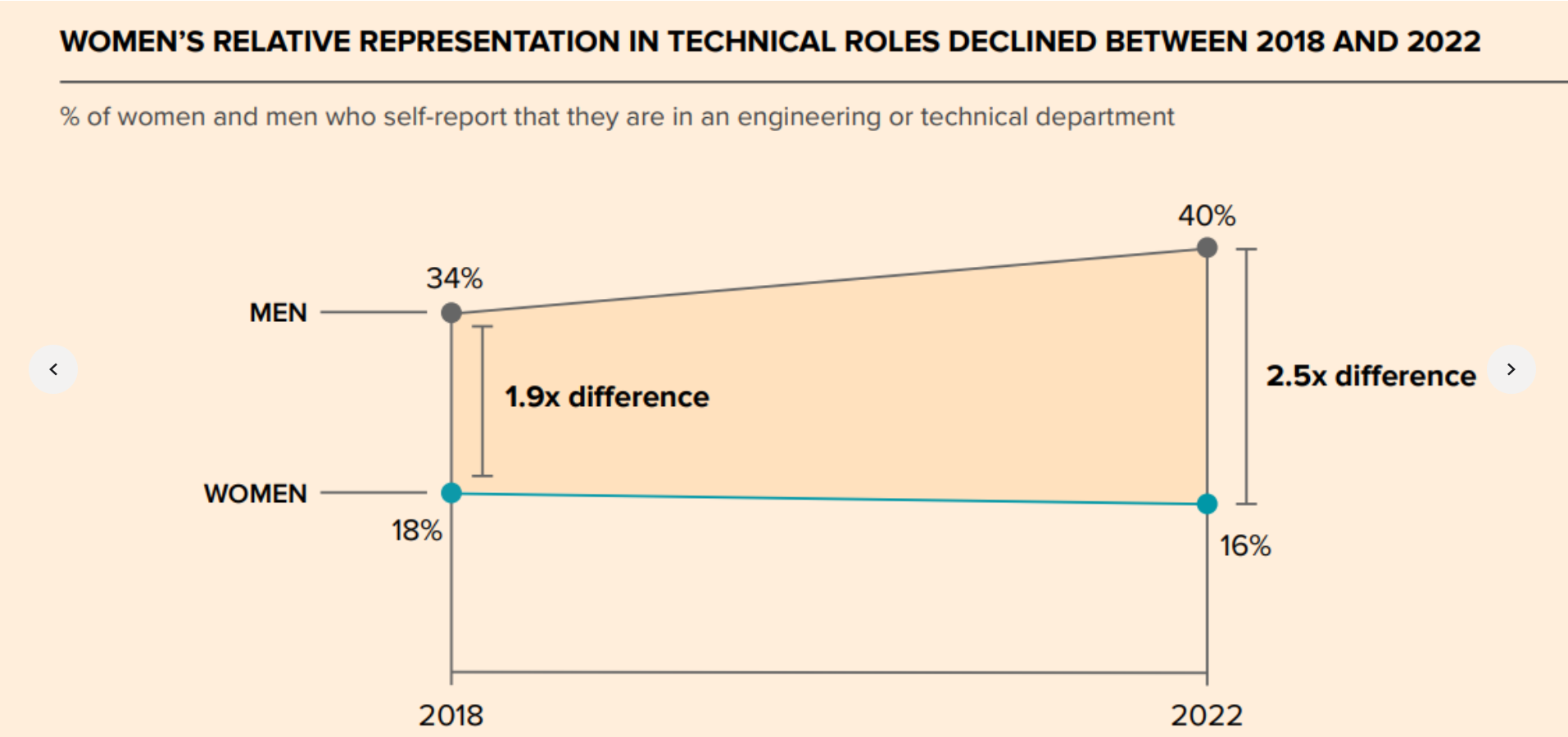 There is a 10 percentage point difference between men and women undergraduate computer science (CS) degree holders.
Undergraduate degrees in computer science are held by 37% of all developers, meaning just under 30% of CS degree holders are women.
According to McKinsey, 50% of women in tech roles leave them by the age of 35. 
Key reasons include gender-based microaggressions and 'bro culture'. In 2021, a Trust Radius report found that an average of 72% of women in tech have worked at a company where 'bro culture' was pervasive.
According to SlashData's 2023 State of the Developer Nation report, 22% of all developers identified as female in Q1 2023.
This is up from 19% in 2021 and was driven primarily by the increasing presence of women in tech in certain regions across the globe. Specifically, in the Middle East and Africa, where the percentage of women in tech has doubled to 20% since 2021.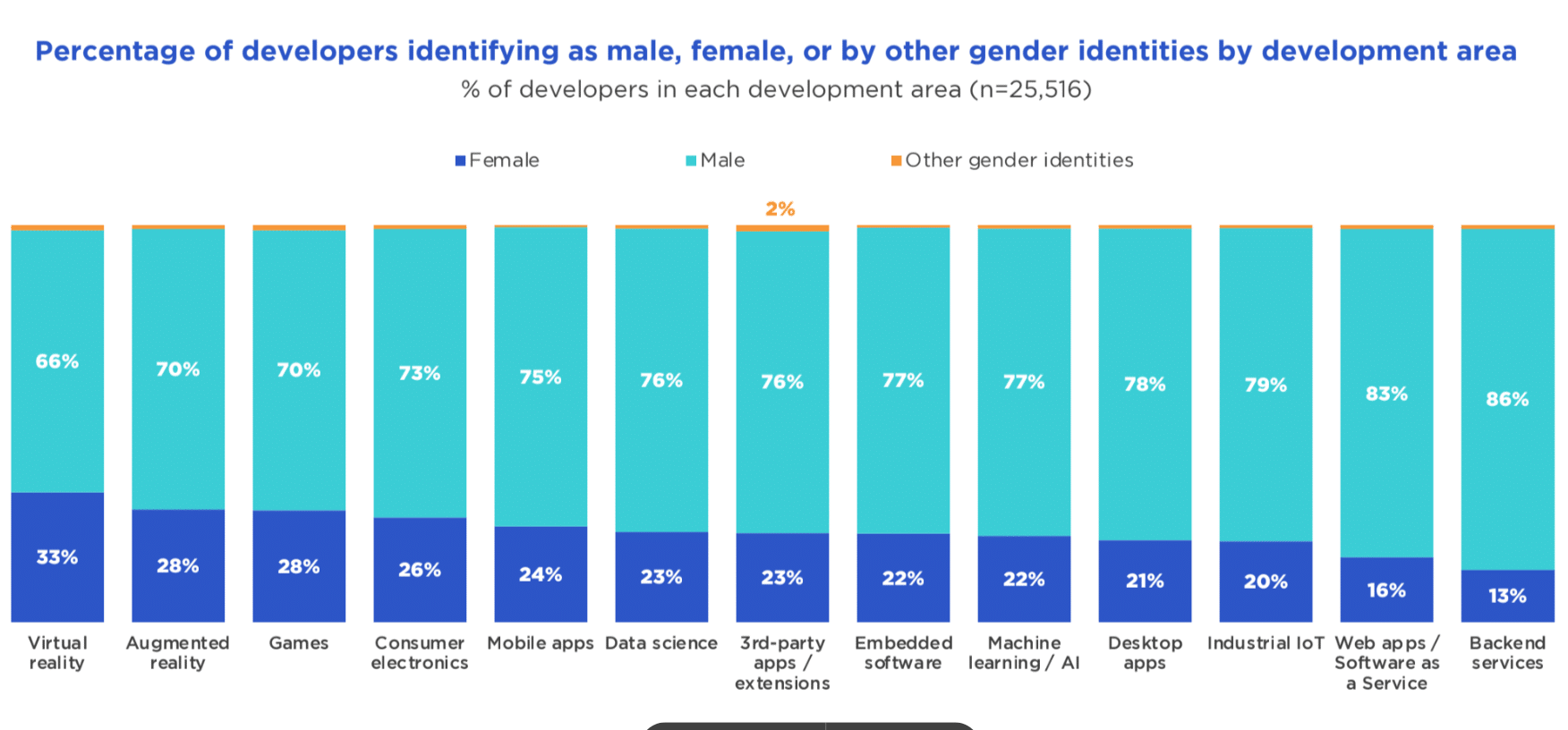 The same report found that:
25-34-year-old female coders had the highest representation at 25%.

Younger female developers (18-24) worked for smaller companies.

Older female developers (45+) were more inclined to work for larger organizations with over 10,000 employees.

Women were promoted at a lower rate than men.

Mid-market companies (251-1,000 employees) and enterprises (1,001-10,000 employees) had the highest percentage of women in management positions (20% and 29%) than at other organization sizes (13% on average).
Women in Tech Leadership Stats
Women in tech leadership are just as ambitious as men, however, they face challenges that make it harder to advance. McKinsey & Company and LeanIn.Org surveyed over 333 companies and more than 40,000 employees in 2022 and found that:
Female leaders were twice as likely as male leaders to be mistaken for someone more junior. 

37% of female leaders had a coworker get credit for their idea, compared to 27% of male leaders.

Female leaders experienced microaggressions that undermined their authority.

Female leaders found it harder to advance.

Female leaders were far more likely than male leaders to have colleagues question their judgment or imply that they weren't qualified for their jobs.
The share of female leaders in tech companies worldwide peaked at 14% in 2022. 
While the leadership gap is apparent across most industries, it is wider amongst tech companies.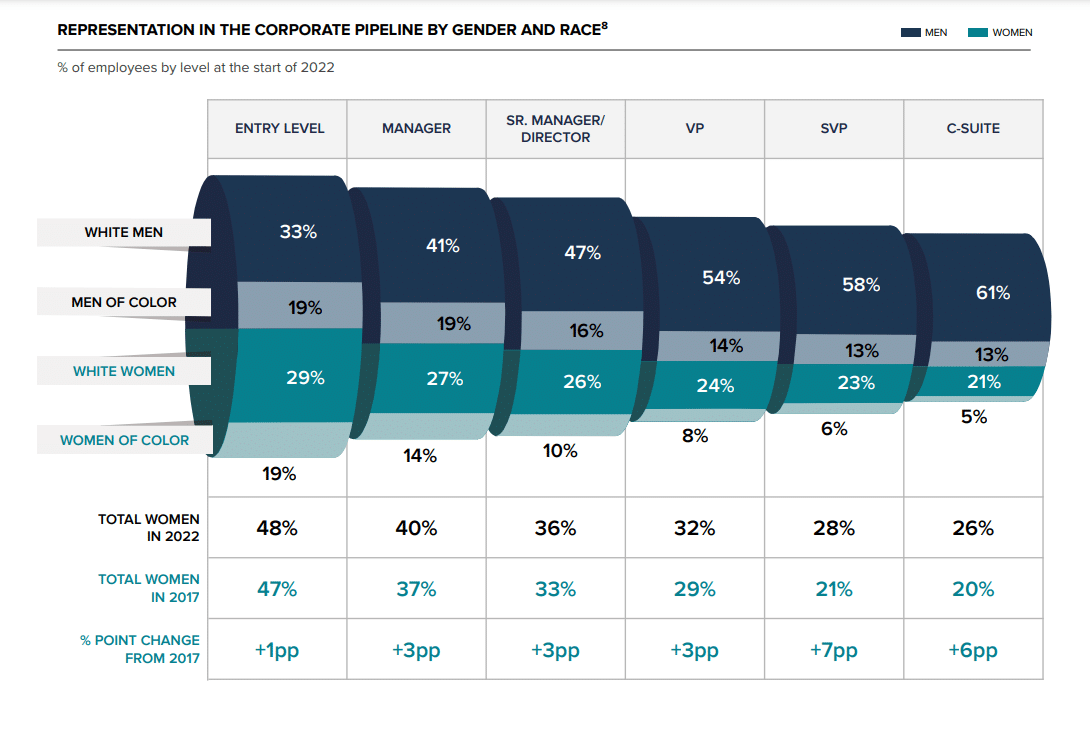 Although female CEOs now run more than 10% of Fortune 500 companies for the first time in history, the percentage of women in tech leadership roles is stagnant at 33%. 
Analysis by McKinsey and LeanIn.Org revealed that women are leaving leadership positions at higher rates. In 2023 alone, high-profile female tech leaders such as Meta's Marne Levine and YouTube's Susan Wojcicki stepped down. It is even more concerning that none of the 'Big Five' US tech companies — Alphabet, Apple, Meta, Amazon, and Microsoft — have ever had a female CEO. 
Between 8% and 9% of women list their role as CIO, CTO, or IT manager and identify as technical team lead.
This is compared to 11% of men who list their role as CIO, CTO, or IT manager, and 14% who identify as technical team leads.  
According to DDI's 2023 Global Leadership Forecast, which surveyed 1,827 human resources professionals and 13,695 business leaders from over 1,500 companies around the world, the share of women in tech leadership roles has fallen to 28%.
The decrease was driven primarily by:
Pandemic-related issues around caregiving responsibilities.

The insular nature of the industry.

A disproportionate amount of inequity, stress, and burnout in the workplace.
Women in Tech Founder Stats
Startup Genome surveyed over 5,469 respondents across 67 global ecosystems between September 2016 and November 2022 and found that an average of only 15% of tech startup founders were female.
Additionally, 31% of respondents reported having at least one female founder. The results confirm that women remain a minority among tech startup founders.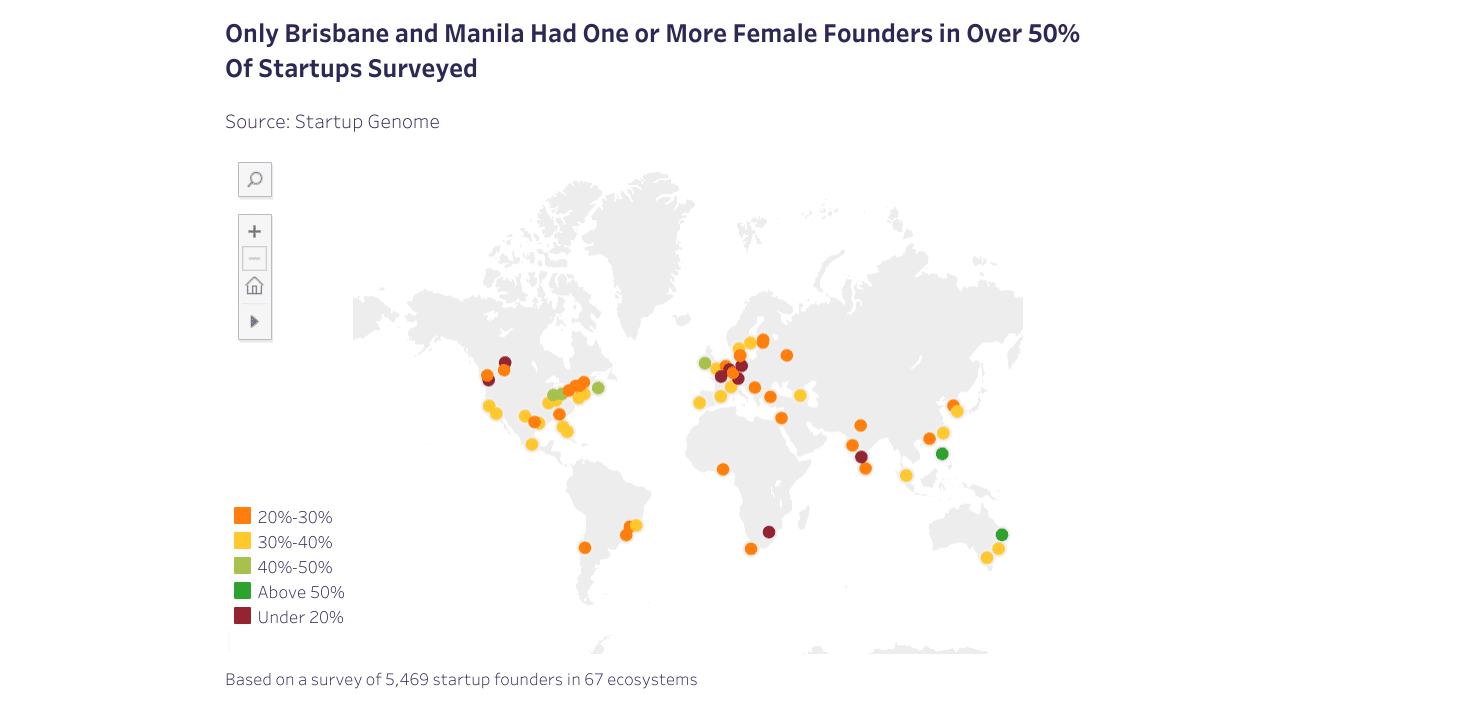 According to the same report, Oceania had the highest overall percentage of female founders, at 21.6%.
North America came in second place with an average of 15.7% followed by Asia at 14.9%. Sub-Saharan Africa had an average of 14%. MENA was the region with the lowest percentage of female founders, at just 10%.
In 2022, all-women startup teams received 1.9% (or around $4.5 billion) out of approximately $238.3 billion in venture capital allocated.
This represents a significant drop from the 2.4% all-women teams raised in 2021. According to TechCrunch, aside from 2016, the last time all-women-led startups raised such a low percentage of funds was in 2012.
Women in Tech Data by Country
Women in Tech in North America Stats
In 2022, women held just 16% of engineering roles and 27% of computing roles in companies in the US.
According to a joint report by Lean In and McKinsey, engineering and technical roles are among corporate America's most lucrative and fastest-growing jobs. However, women in these roles face negative day-to-day experiences and are often deprived of advancement opportunities. Left unchecked, the gap in both representation and earnings between women and men will continue to widen.
According to the CompTIA State of the Tech Workforce 2023 report, women comprise 49% of the US workforce and 26% of tech occupations. 
This is down from an estimated third of all employees in the US in 2019.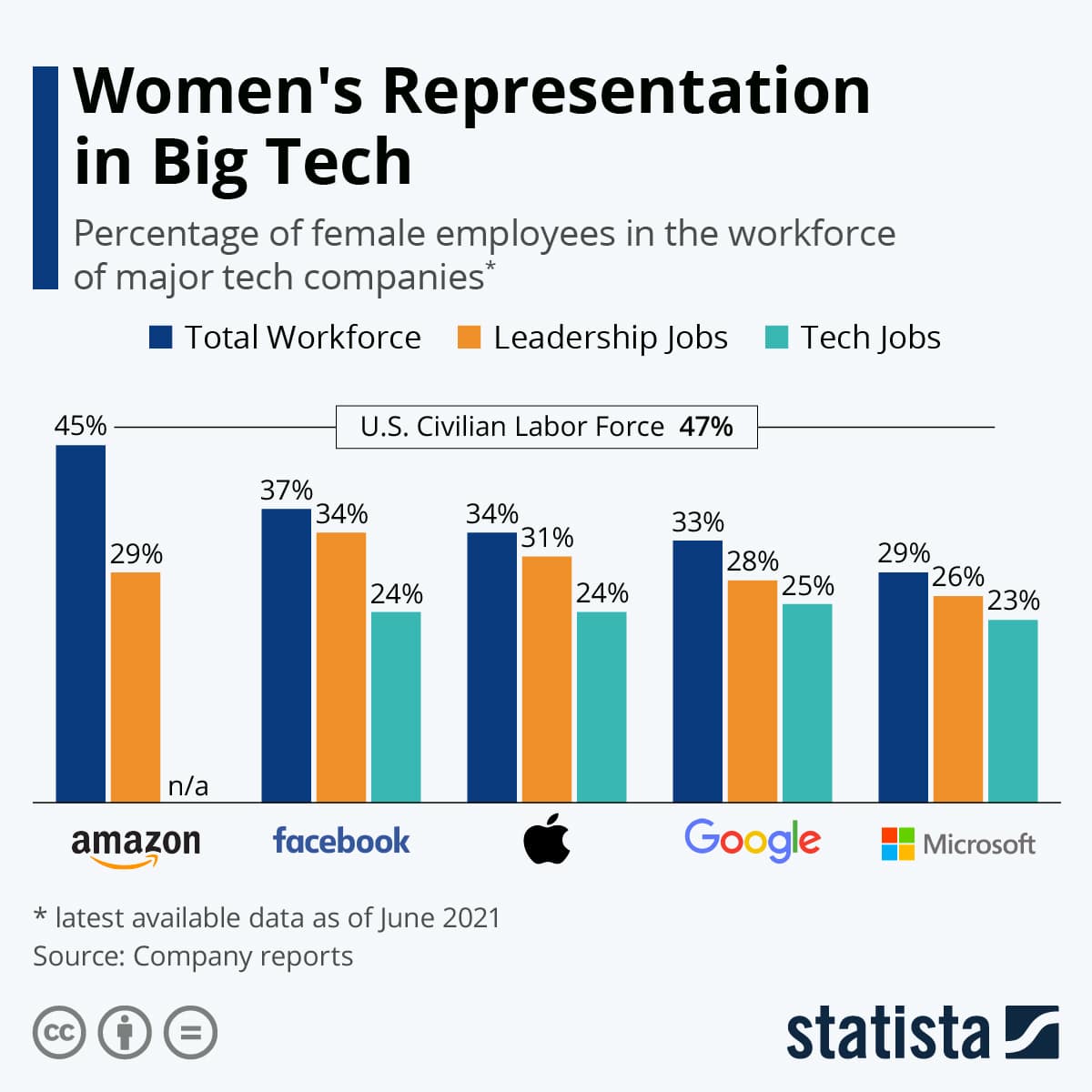 Washington DC had the highest tech gender balance in the US,  with close to 40% female tech employees.
Other examples of states with high levels of tech workforce representation include:
Mississippi – 30%

Maine – 30%

South Carolina – 29%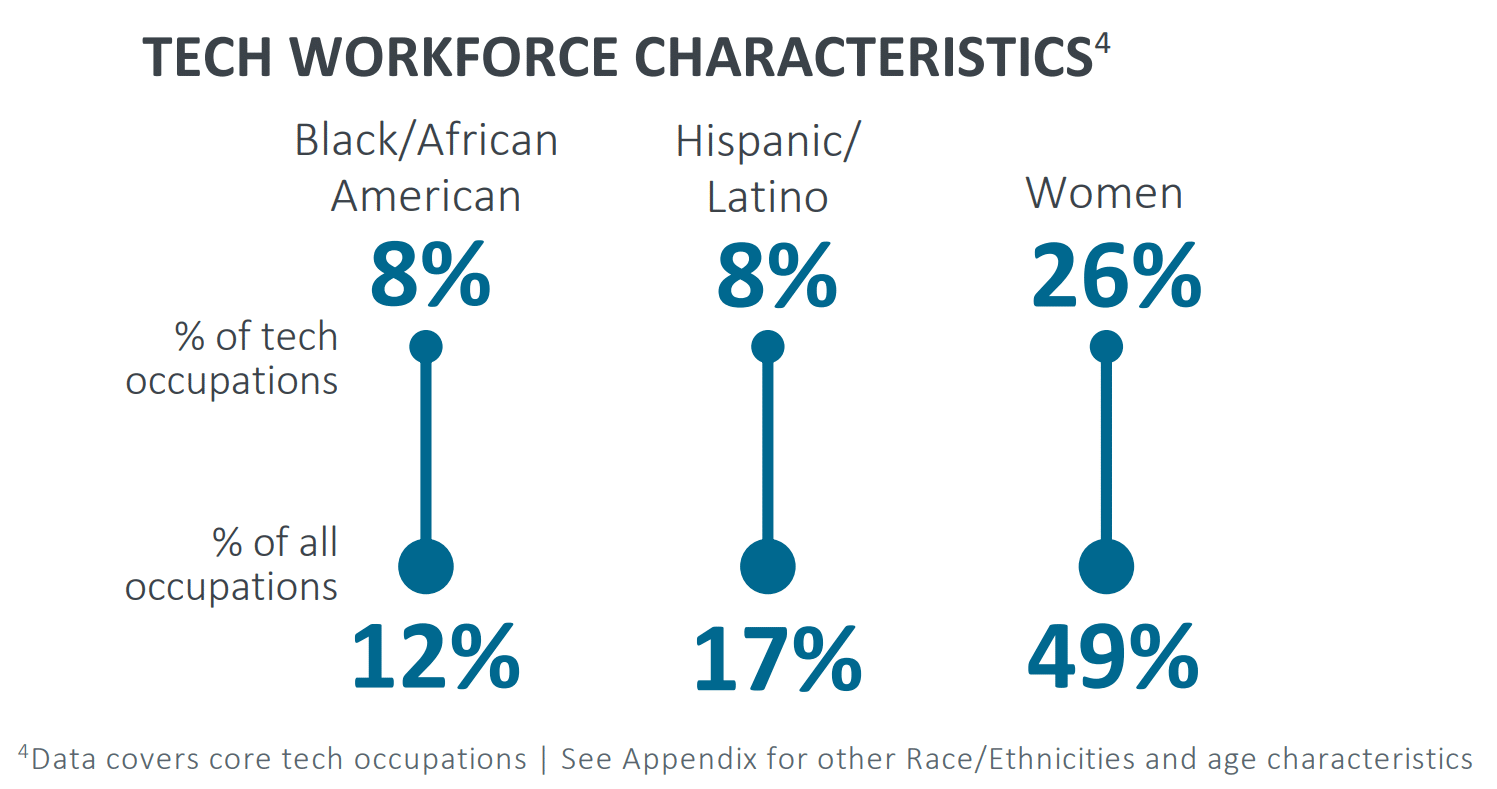 As of 2023, women made up just 23% of the Canadian tech industry.
A 2021 Statistics Canada report revealed that women were 30% less likely to enroll in a postsecondary STEM program. The same report found that Canadian women were also 37% less likely to enroll in a bachelor's degree STEM program. Among bachelor's degree students, the largest gap in STEM enrolment was in engineering programs.
Women in Tech in the EU Stats
According to McKinsey, women only occupy 22% of all tech roles across European companies.
If current trends continue, the share of women in tech may drop to 21% by 2027. The report further estimates that the EU could double the number of women in tech to about 45% or around 3.9 million by 2027. This would close the talent gap and increase the region's GDP from around €260 billion to €600 billion.
Only 23% of women studying STEM majors end up in tech roles.
This is compared to 44% of men. Furthermore, women's graduation rate in STEM disciplines is declining. An initial 18% drop in the number of women in STEM classes happens between primary school and university, and a further 15% drop occurs during the transition from university to the workforce.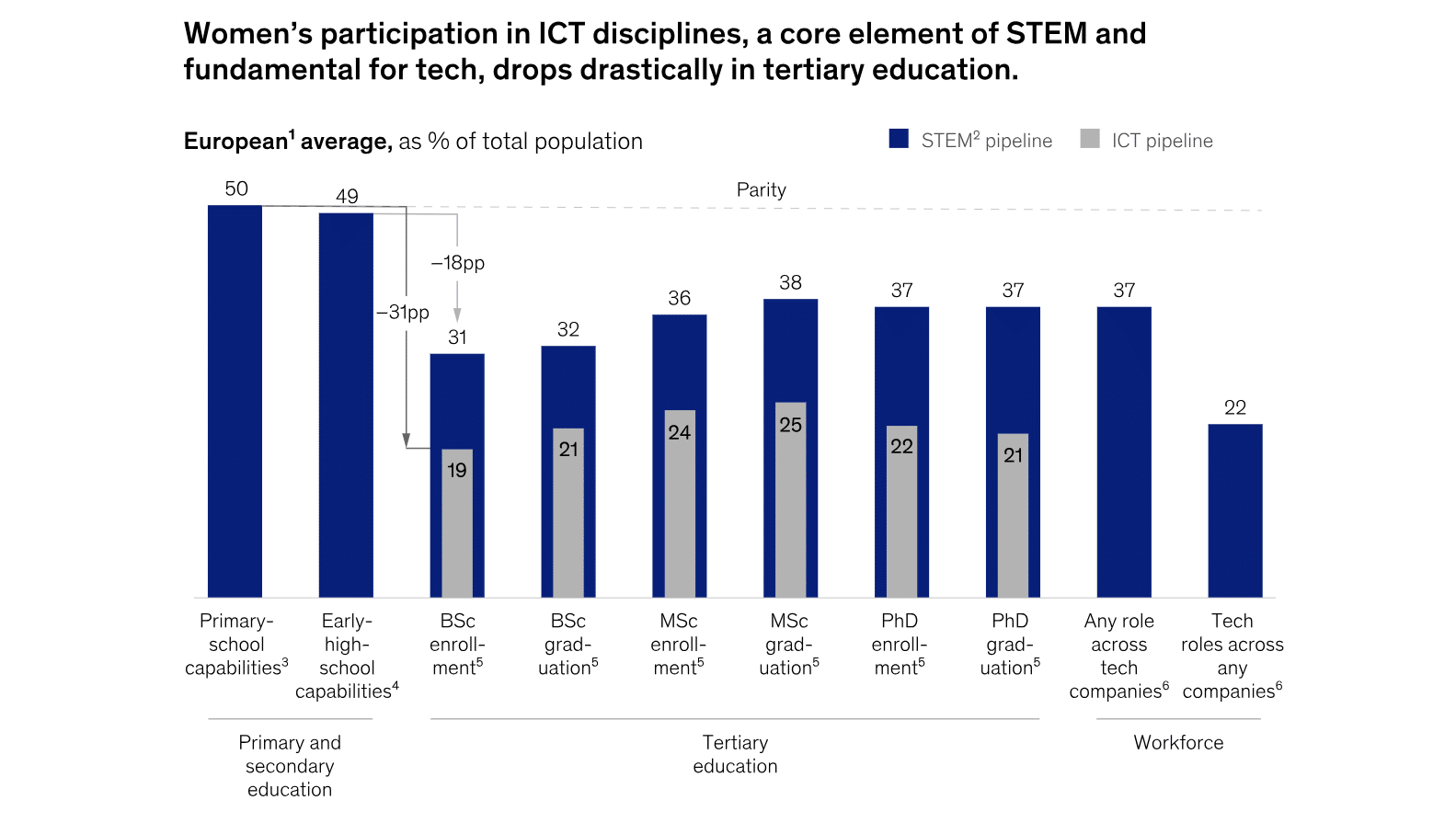 37% of women said they experienced discrimination while working in the European tech industry in 2022.
This is compared to only 12% of men. 
As of 2022, women in the EU were most represented in product manager roles, at 40%.
While women were still largely underrepresented in technical roles, some areas, such as product management were more balanced. Similar roles included quality assurance engineers (37%) and data scientists (31%). 
In the UK, only 9% of C-suite leaders in tech companies were female.
Additionally, only 3% of chief technology officers (CTOs) or technical director roles were held by women in 2022. This is compared to 91% of males.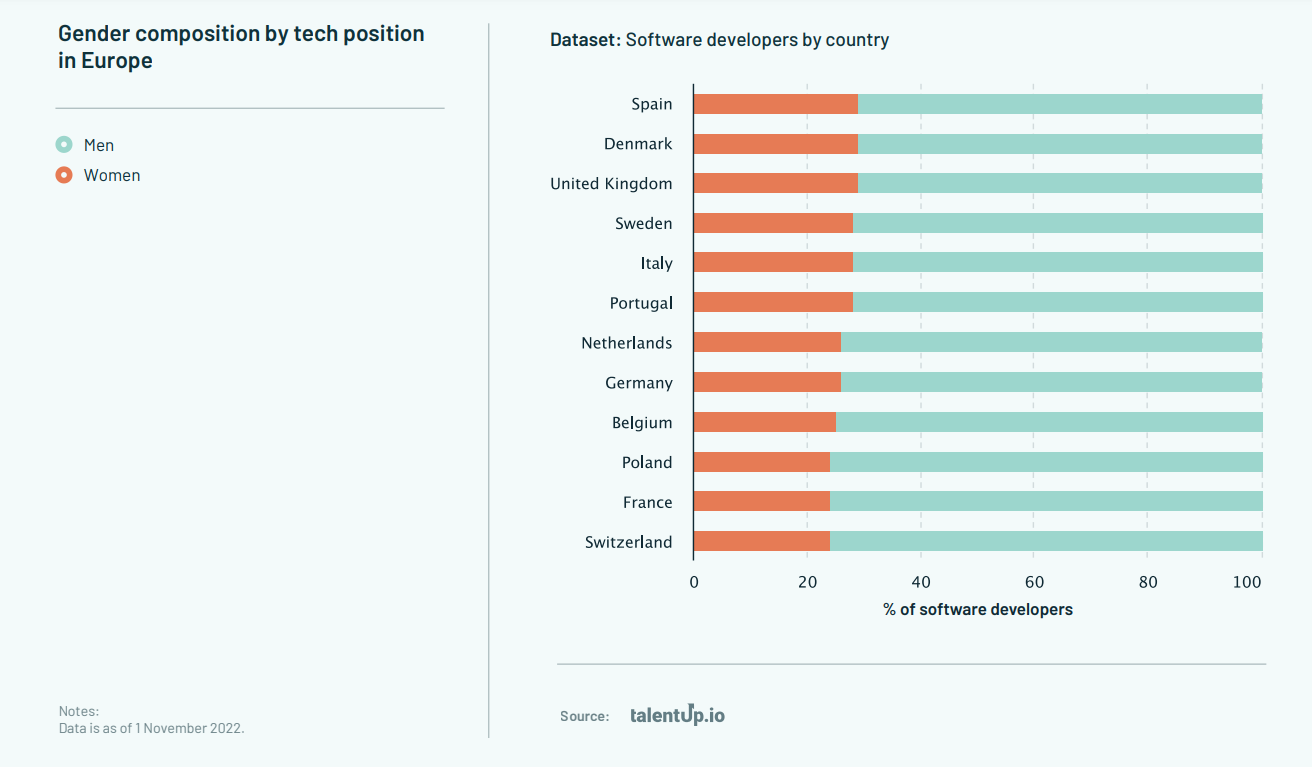 According to a 2023 report by Eco, over 17% of employees in the tech sector in Germany are female.
Only 9% of managerial positions in software development and programming in Germany are held by women. Women hold 12% of management positions in computer science, and 10% in IT networks, coordination, administration, and organization in Germany.
The report further states that:
The percentage of women studying computer science in Germany is 22%.

The gender pay gap in IT professions in Germany is 7%. 
Atomico's 2022 State of European Tech Report revealed that female teams accounted for 6% of all funding rounds.
Additionally, all-female teams only received 1% of the funding raised. 
According to the same report, Ireland had the highest percentage of all-women founding teams.
Ireland ranked first with 10% while Spain and the UK came in second place with 7% of all-women teams. At only 3%, the Czech Republic had the lowest percentage.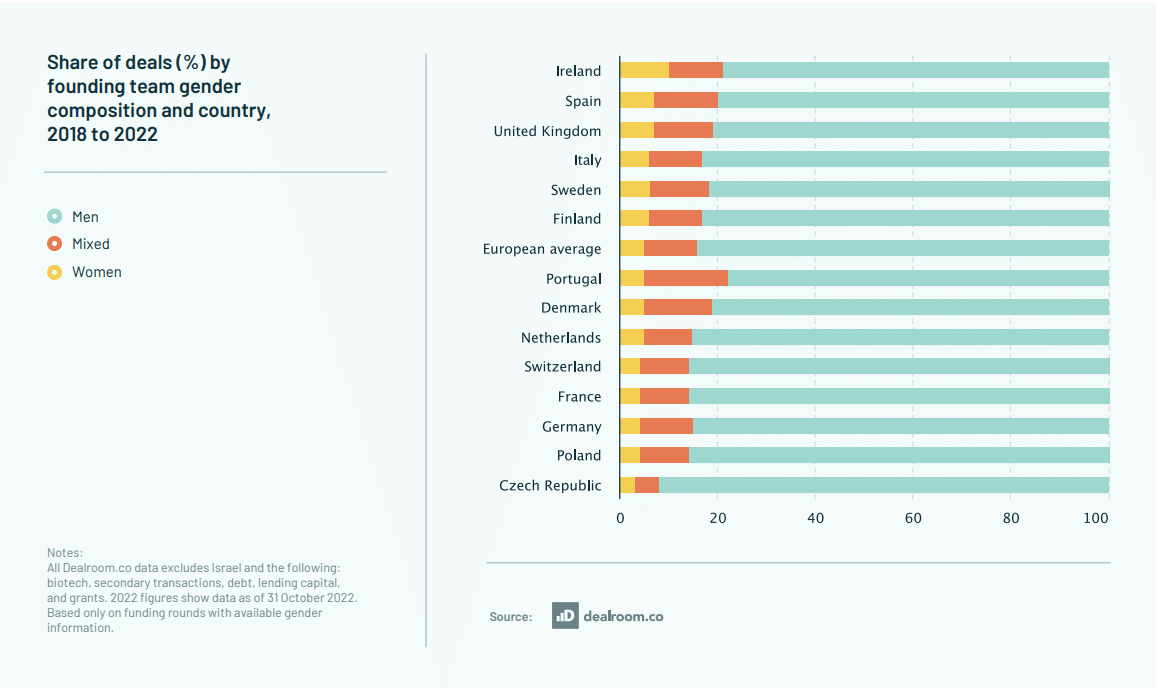 Only 13.5% of general partners at European VC firms were women in 2022.
While representation is still low, even on the investor side, this figure represents a slight improvement from 12.2% in 2021.
Women in Tech in Asia Stats
According to SlashData, women in East Asia accounted for 30% of developers in Q1 2023.
This is up significantly from Q1 2021, when women made up 15% of developers.
In Southeast Asia, women accounted for 32% of the workforce in 2020. 
A report by BCG stated that women in the region had a strong start in tech, making up more than 50% of university graduates.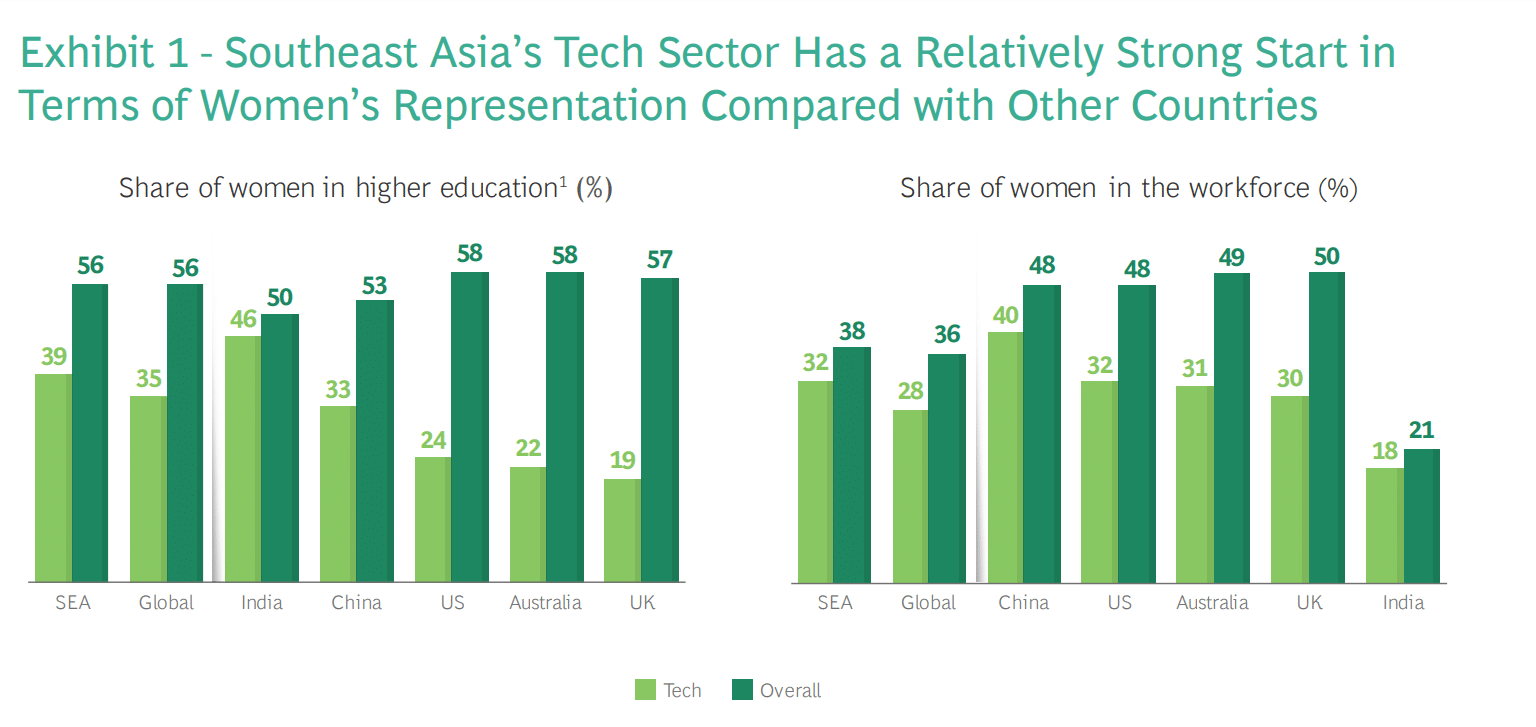 As of 2023, women in India make up 29% of the total pool of tech professionals.
In a report by AIM Research, only 6,800, or 8% of  88,000 female leaders across various sectors in India held tech leadership roles.
Women in Tech in Africa Stats
As of 2023, women occupy 24% of tech roles in Southern Africa.
According to a 2023 report by OfferZen, there are only 56,000 women working in tech out of a total of over 236,000 jobs. 
According to a 2020 Harvard study, only 30% of women in Sub-Saharan Africa received STEM training and participated in the tech sector.
Even though an estimated 230 million jobs in Sub-Saharan Africa will require digital skills by 2030, women still lack access to training and education in science, technology, engineering, and mathematics (STEM) and from education that promotes general digital literacy. Due to unequal access to digital education, women and girls face exclusion from one of the economy's fastest-growing sectors.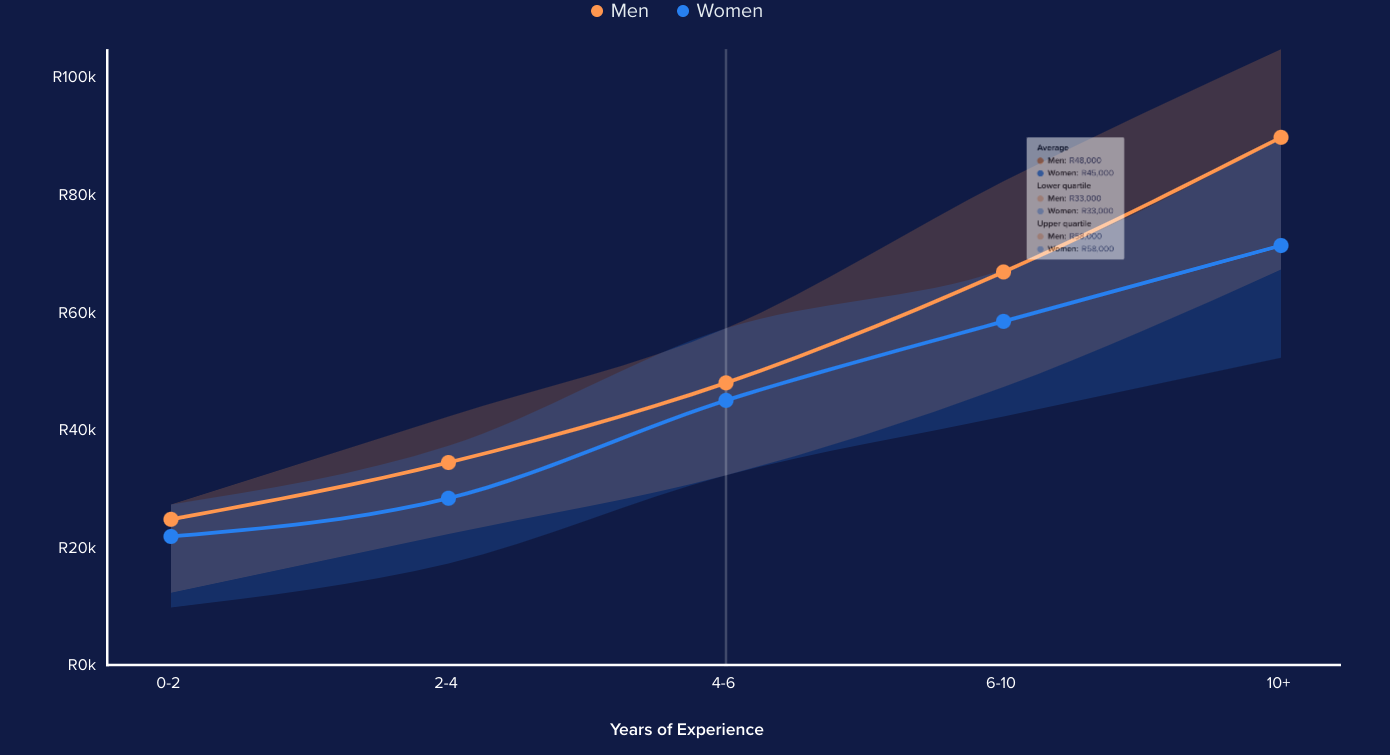 The same report revealed that compared to Nigeria, Ghana, and South Africa, Kenya had the highest female representation among start-up co-founders at 25%.
According to the Harvard study, there were three male for every female co-founder.
Despite the funding boom in African tech over the last few years, female-led startups in Africa received only 4% of the total share of funding in 2022. 
The figure is a slight improvement on the 3% of investments made into African startups between 2013 and 2021.
Around 14% of African tech startups had female founders. 
While women continue to drive entrepreneurship in Africa, they remain the minority among tech company founders on the continent.
Women in Tech Employment Data 
As of 2023, women account for 14% of the global cloud computing workforce. 
In engineering, women make up 20% of the workforce, and in data and AI, the share of women is 32%.
At 33%, virtual reality (VR) projects have the highest share of female developers.
Augmented reality (AR) projects and games rank second at 28%. Backend services and web application projects have the lowest concentration of female coders, at just 13% and 16%, respectively. 
Women make up 21% of the C-suite in corporate America.
This is up from 17% in 2018.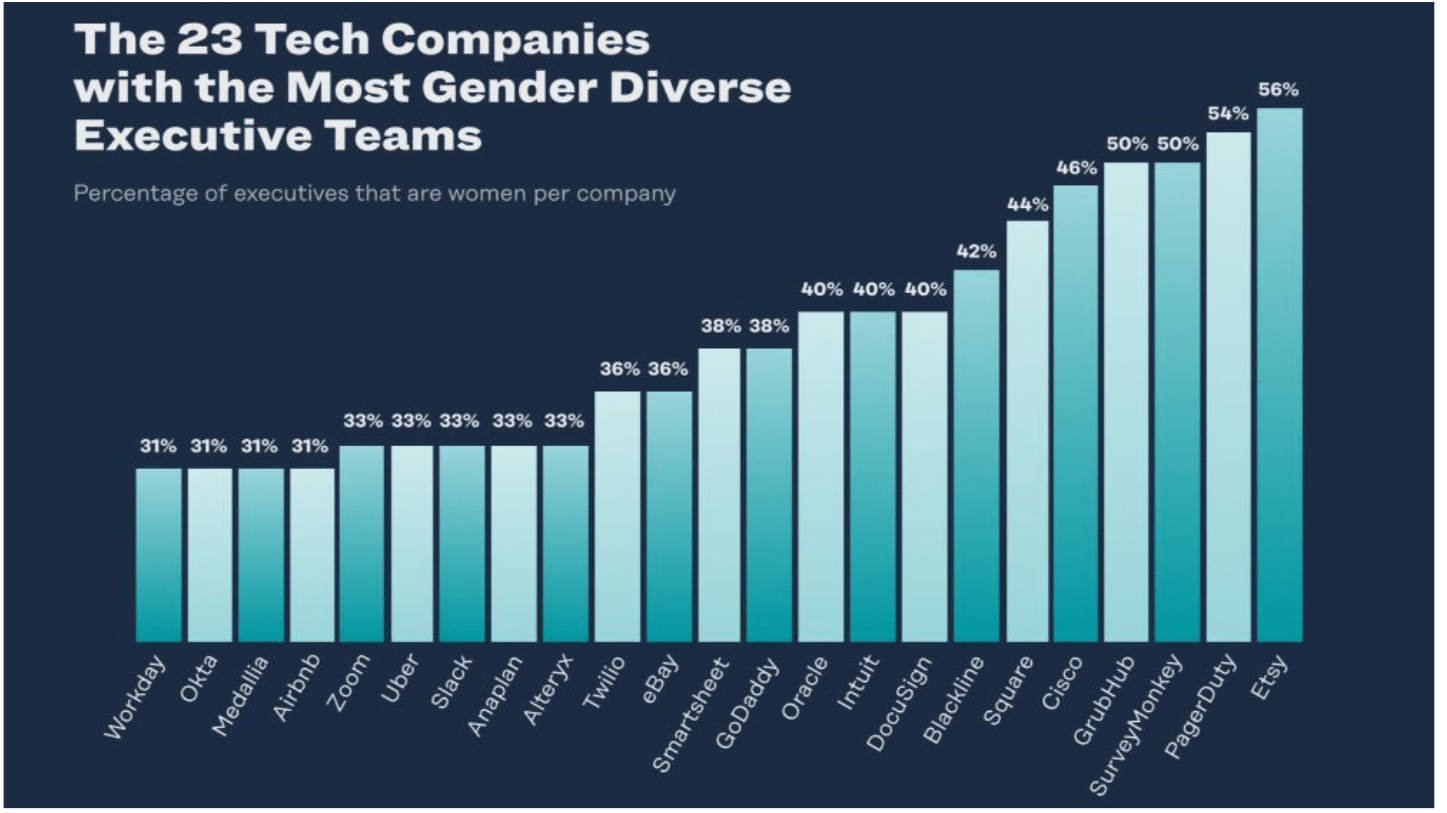 Of the 50 largest tech companies by market capitalization, only 2 — or 4% — have female CEOs.
Oracle Corporation's Safra A. Catz and AMD's Lisa Su are the only female CEOs in the top 50 tech companies by market cap as of July 2023.
Women make up the following percentage of employees at the 8 biggest tech companies:
Apple – 38% 

Microsoft – 34% 

Alphabet (Google) – 34% 

Amazon – 44.8%

NVIDIA – 19% 

Tesla – 22%

Meta Platforms (Facebook) – 44%

TSMC – 37%
As of February 2023, the most common roles for female executives in tech are general counsel, chief marketing officer, and chief people officer. 
Another notable C-suite role is that of chief financial officer. Examples of female CFOs in big tech companies include Amy Hood of Microsoft and Ruth Porat of Alphabet and Google.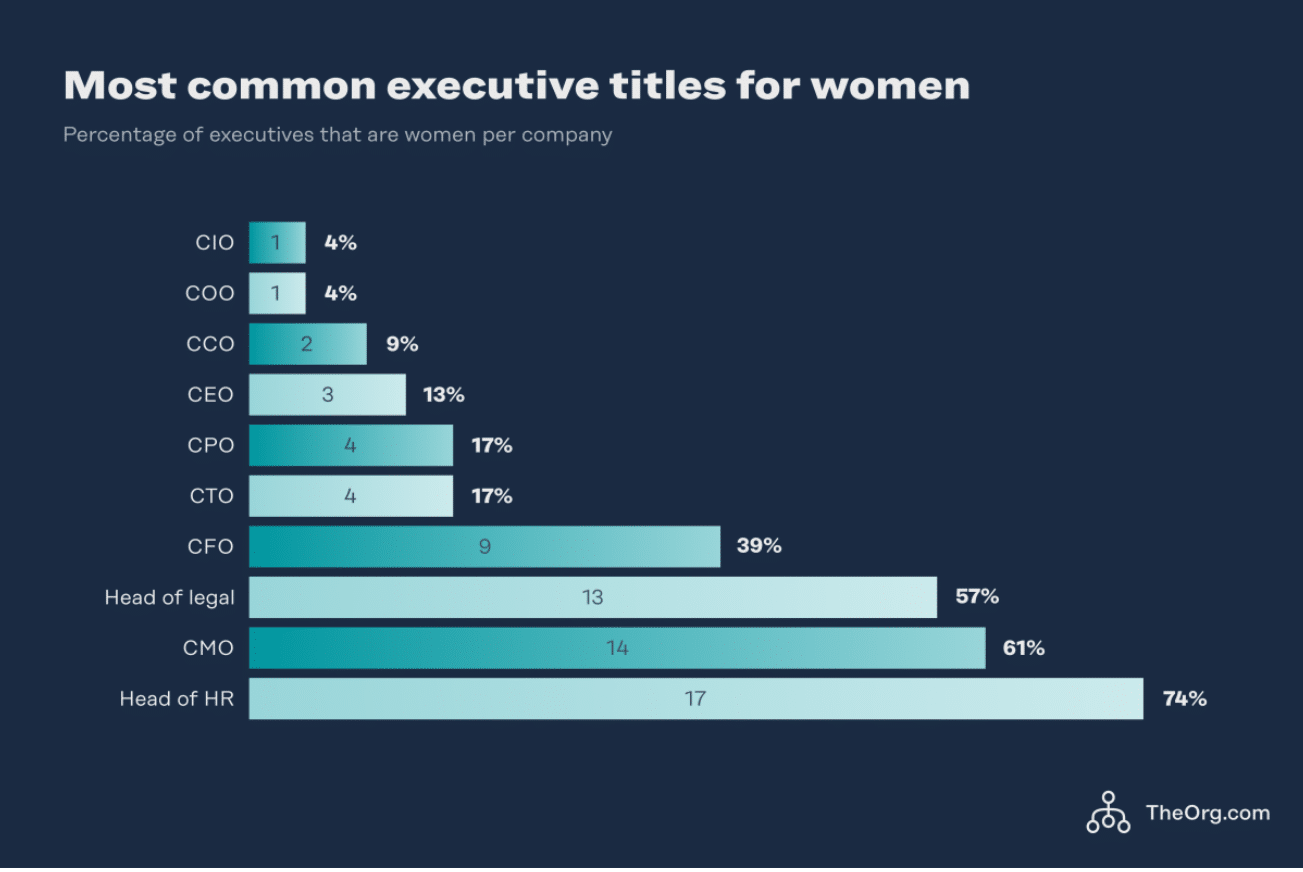 A 2023 study of some of the largest public US tech companies with a market cap of $1.5 billion conducted by The Org found 23 companies where women made up 30% or more of the executive team:
At Etsy and PagerDuty, women made up the majority (56% and 54%, respectively) of the leadership team.

GrubHub and SurveyMonkey had an even gender split.

Cisco, Square, and Blackline had 46%,44%, and 42% of female executives, respectively.

DocuSign, Intuit, and Oracle all had 40% female executives.
Women in Tech Gap Statistics
Hiring Gap Statistics
Based on ILOSAT data available for 116 countries, women's median share of employment in tech positions is less than one-third.
In almost every country, regardless of income level or development stage, women remain under-represented in tech. 
According to Hired, 40% of recruiters didn't interview a single female candidate for all open tech jobs posted in 2021.
While males were interviewed 100% of the time for an open tech role, women were only interviewed 60% of the time.
Women are less likely to be hired into entry-level jobs than men, even though they currently earn more bachelor's degrees and have the same attrition rate. 
Furthermore, the hiring gap increases as employees move up the corporate ladder. According to McKinsey, women are promoted at a slower rate across all industries and roles. For every 100 men promoted to manager, only 86 women achieve the same status. However, the gender gap for women in technical roles is wider, with only 52 women being promoted to manager for every 100 men.
Research by the WomenTech Network revealed that 69.2% of those laid off in the 2022 tech layoffs were women. 
Even in 2020, women in tech were disproportionately laid off. According to TrustRadius, women were 1.6 times more likely to be laid off.
Pay Gap Statistics
In 2019, women in tech faced a median gender pay gap of 21%, which was significantly larger than the 16% median gender pay gap for the overall economy.
In 2021, a report by Hired revealed a noticeable wage gap between men and women in tech. However, the gap was not as widespread as in some other industries. For example, women working in finance earned approximately 58% of males in the same role, while women in tech earn about 95% compared to men in the same roles.
Examples of pay gaps for women in tech across the world:
In general, women in the US earned $20,000 less than their male counterparts in 2019.

In 2022, DevOps roles showed a wage gap of 5% overall across the US, UK, and Canada.

As of 2022, the wage gap between men and women of color in Canada was widest, with women of color making

33% less than white men

.

As of 2023, the gender pay gap in South Africa was 13.2%. The pay gap amongst entry-level developers, which stood at 6.4% in 2022 more than doubled in 2023. For senior developers, the pay gap was even wider, at 25.7% compared to 16.3% in 2022.

As of 2023,

European tech companies paid

women roughly 77p for every £1 that men earned, which is much lower than the pay gap across all jobs and sectors in the EU, where women earn roughly 89p for every £1 earned by men. 

The

pay gap

in Asia stood at 15% in 2022.

In Australia,

the pay gap

was 23.5% in 2022.

As of 2023,

women in India made 17%

less than their male counterparts.

Russia has a

gender wage gap

of 31.3%.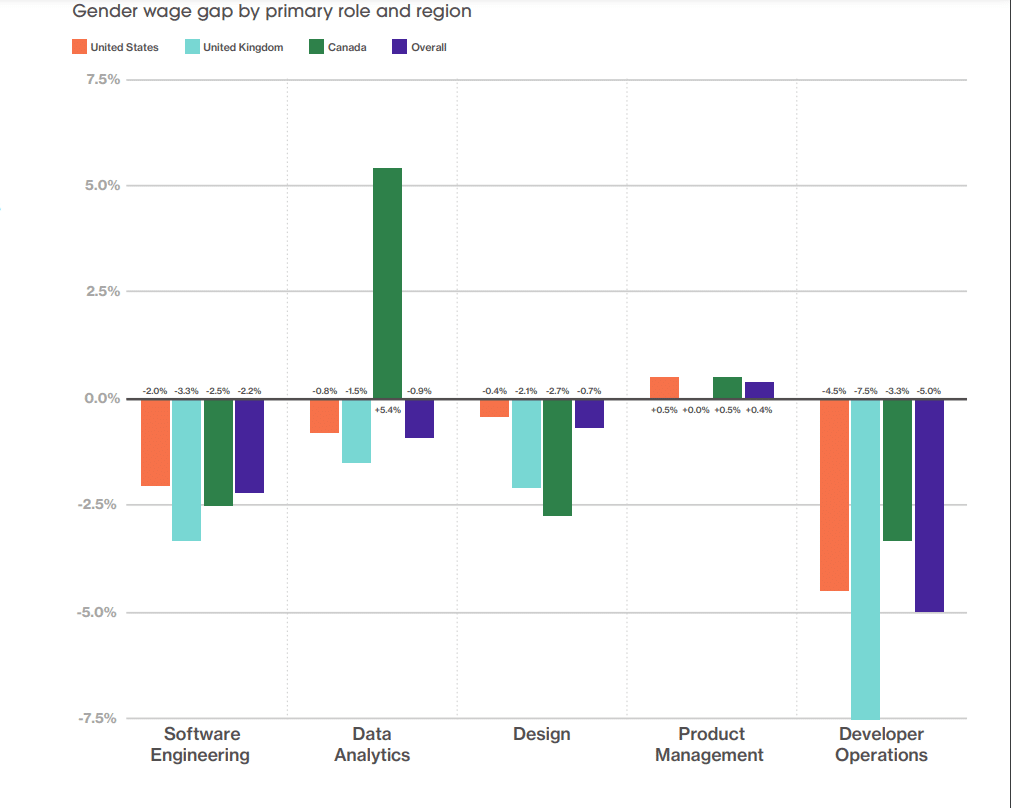 A year without employment for women can result in 39% lower pay.
On the other hand, a man's pay increases by 6% with each additional child he has. This pay gap is known as the "motherhood penalty".
According to SlashData, 11% of female developers in 2023 were significantly more likely to report feeling underpaid.
This is compared to 16% of male developers. Conversely, 7% of women reported feeling overpaid compared to 4% of men.
Remote Work Gap Statistics 
83% of women in tech surveyed by Deloitte in 2022 stated that their workload had increased as a result of remote work.
A majority said they were spending more time on household chores and dependent care. Additionally:
Work-life balance dropped by 38 points.

The ability to "switch off" work dropped by 19 points. 

Only 38% of women felt their organizations were committed to supporting them.
According to McKinsey, 51% of women in tech engaged in hybrid work, while 39% worked remotely.
Only about 33% of women were satisfied with their overall work-life balance compared to over 50% of remote and in-person counterparts. Additionally, among those who engaged in hybrid work:
Less than 40% rated their mental well-being as good.

52% said

they experienced exclusion

from professional activities.

45% said they did not have enough exposure to leaders.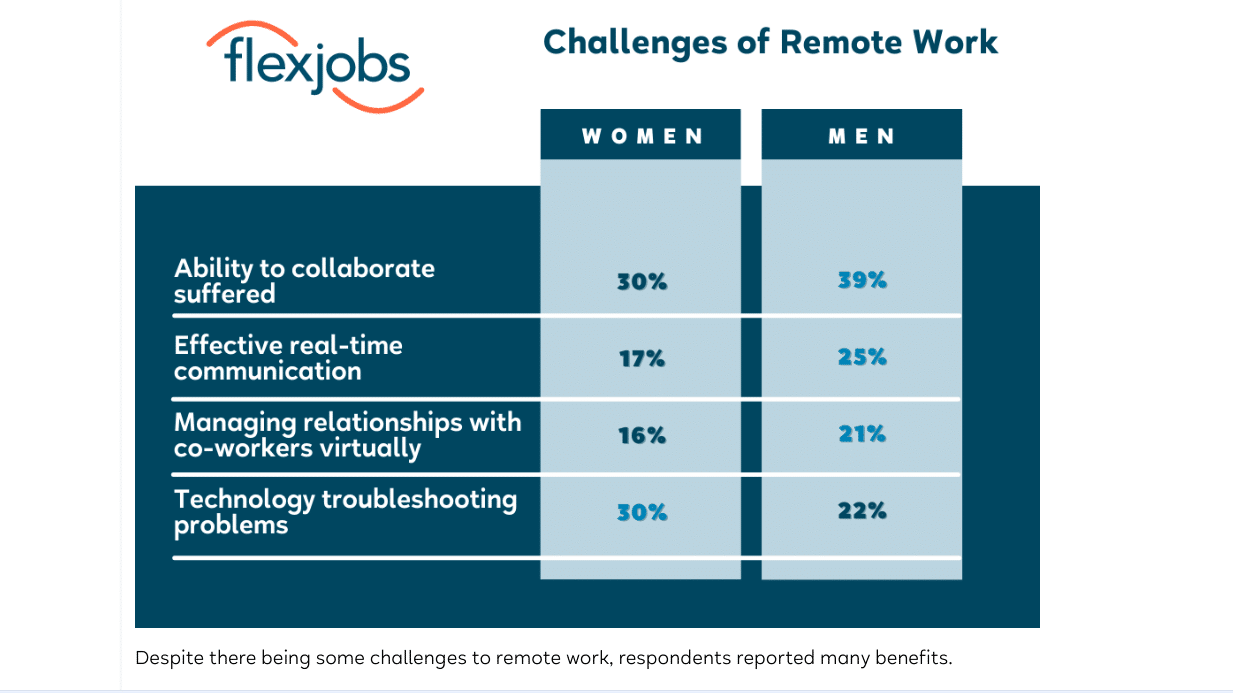 Deloitte further found that women who engaged in hybrid work were:
Less likely to rate their productivity or motivation as good or extremely good. 

More likely to report feeling stressed and burned out.

More likely to experience dramatic drops in motivation and productivity at work,
52% of women were offered the opportunity to work remotely compared to 61% of men according to McKinsey's American Opportunity Survey.
While women in tech have a greater preference for flexible work arrangements, the survey revealed that fewer women were actually offered the option.
Diversity Gap in Tech Statistics
Out of all tech candidates hired in 2021, women of color were significantly underrepresented in corporate America. 
Additionally, only 25% of C-suite leaders were women, and only 5% were racial minority females.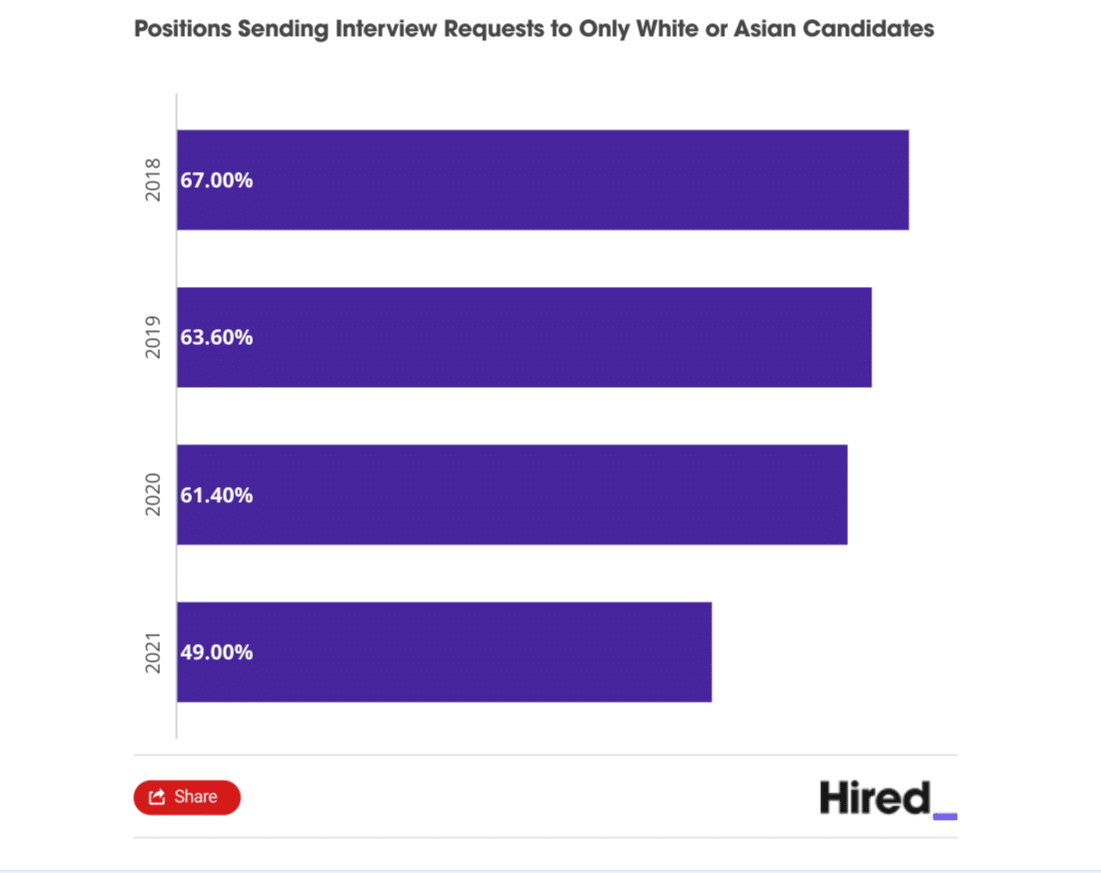 A 2022 Hired report found that 49% of those working in tech were either of White or Asian descent.
In 2018, 67% of all those with tech jobs were either White or Asian. Research has shown that between 2018 and 2021, the tech industry became 18% more diverse, however, women of color are still less likely to secure a tech job. 
52% of racially and ethnically diverse women in tech rated their work-life balance as poor or extremely poor versus 43% of other women. 
A further 59% felt less optimistic about their career prospects in 2021 than before the pandemic, versus 48% of other women in tech.
FAQs
What percentage of tech leaders are female? 
What is the gender gap in tech?
Are women leaving the tech industry faster than men?
What does it mean to be a woman in tech? 
Why are women in tech so important?
References