As the world's most populous nation and a global manufacturing hub, China has long been associated with importing vast quantities of oil to fuel its rapid industrial growth.
However, a surprising fact reflects the country's role in the global technology industry – China has been importing more semiconductors than oil in U.S. dollar terms in recent years.
Why Does China Import So Many Semiconductors?
Semiconductors are essential components in electronic devices, controlling the electrical current in everything from smartphones and laptops to advanced medical equipment and autonomous vehicles. As the world becomes increasingly interconnected and reliant on advanced technologies, demand for semiconductor chips continues to skyrocket.
China's vast manufacturing capacity and booming consumer electronics industry are driving its use of semiconductors in a range of applications. For decades, the country's strong economic growth was largely driven by its focus on exports, with oil powering its industrial production.
However, it is now attempting to transition towards a more innovation-driven economy to support its domestic growth and global competitiveness.
The government and private industry have been pouring investment into the development of its domestic semiconductor industry, and is now the world's largest consumer of these critical components.
Semiconductor chips encompass a range of electronic components, including microcontrollers/microprocessors, memory, display and audio drivers, discrete transistors and diodes, and more.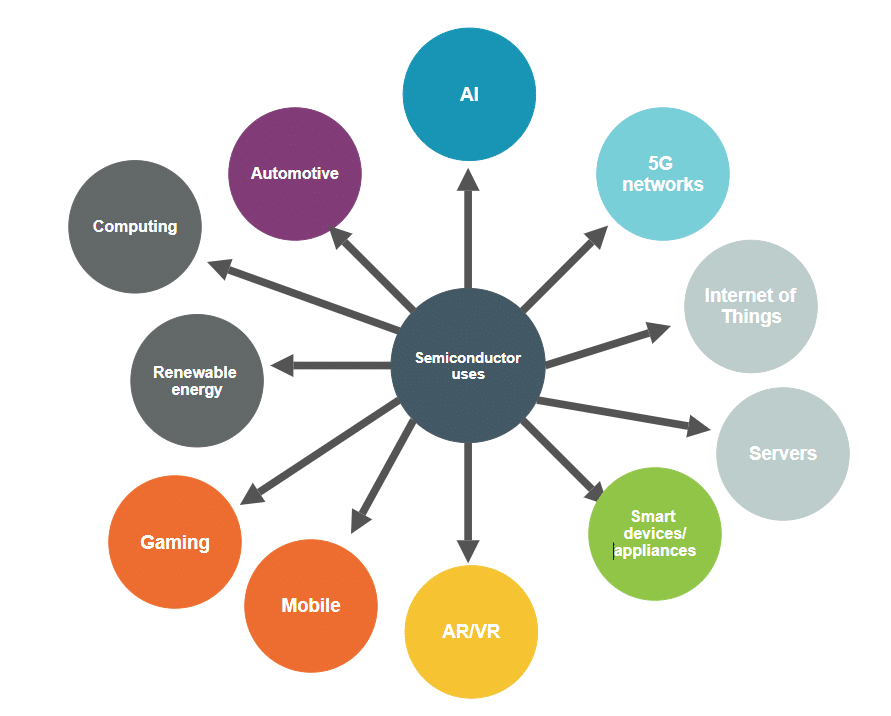 China imported 3.56 billion semiconductor wafers, known as integrated circuits, in January-September 2023, valued at a total of $252.9bn, according to customs data. In addition, it imported semiconductor manufacturing equipment with a total value of $23.22 billion.
Meanwhile, the value of China's crude oil imports over the same period totaled $247.23 billion. In 2022, the country imported $415.58 billion worth of semiconductors compared with $365.51 billion in crude oil.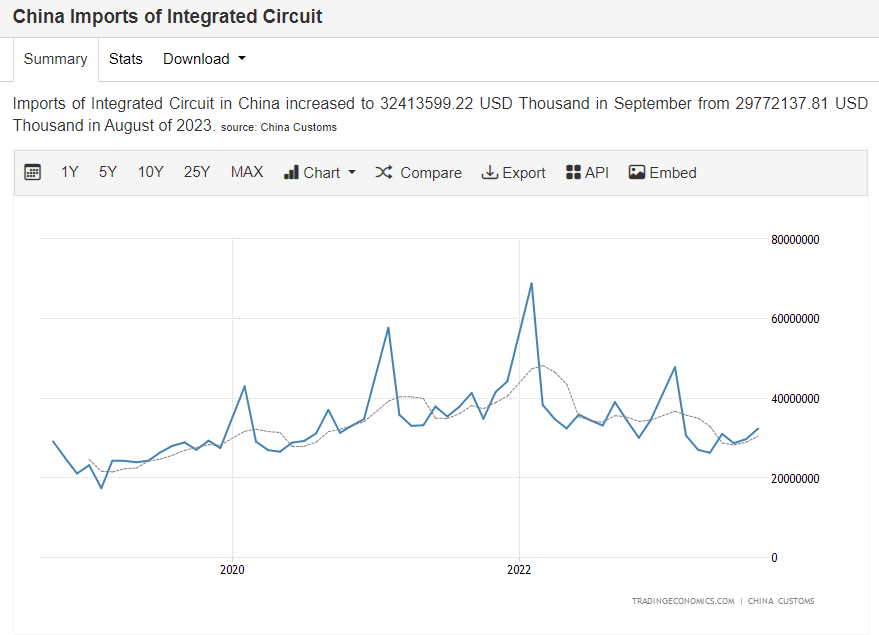 However, the volume of China's semiconductor imports fell to 538.4 billion in 2022 from 635.5 billion in 2021, and it has fallen further to 355.9 billion in the first nine months of 2023, according to customs data. This decline is attributed to the U.S. government imposing restrictions on exports to China of advanced semiconductors and the equipment used to manufacture them since October 2022.
Japan and the Netherlands, home to the largest suppliers and exporters of semiconductor production equipment, have joined the U.S. in limiting exports to China.
Geopolitical Implications and Domestic Production Challenges
The shift in China's demand for more semiconductors has significant geopolitical implications. It underscores the country's drive to achieve self-sufficiency in critical technologies to reduce its dependence on foreign suppliers. It is also fueling international competition and raising concerns about the security and control of technology supply chains globally, given the potential for trade tensions and disruptions.
The U.S. claims that China is using advanced semiconductors in military systems and harnessing AI for advanced intelligence analysis and surveillance for "uses that are contrary to U.S. national security and foreign policy interests."
The U.S. expanded the scope of the controls on 17 October 2023 to close loopholes that allowed companies to circumvent the restrictions.
With China's ambitions to lead in emerging technologies and industries, such as supercomputing and AI, by 2030, securing a steady supply of semiconductors has become a top priority.
The U.S. export controls have had a substantial impact on China's semiconductor industry. While China is a major chip consumer, it still lags behind other countries, such as the U.S., Taiwan, South Korea, and the Netherlands, when it comes to developing advanced semiconductor technologies.
The semiconductor manufacturing process is highly complex and requires substantial research, development, and infrastructure. Despite investing heavily in its semiconductor industry, China relies on imports of the most advanced chips.
The country's domestic production of integrated circuits declined by 11.6% in 2022 to 324.19 billion units and declined by 2.5% in the January to September period in 2023 to 244.72 billion, on a combination of a cyclical industry downturn and the restrictions on importing production equipment.
The Chinese government has responded to the U.S. export controls by ramping up investment in developing domestic semiconductor production. The recent unveiling of electronics firm Huawei's latest smartphone model, designed and manufactured in China, indicates that Chinese technology companies have found ways to produce advanced semiconductors by using the older technologies that are still available to them.
Paul Triolo, the technology policy lead at the Washington-based business consulting firm Albright Stonebridge Group, told the Washington Post:
"The major geopolitical significance has been to show that it is possible to completely design [without] U.S. technology and still produce a product that may not be quite as good as cutting edge Western models, but is still quite capable."
However, in the meantime, many Chinese technology companies have shifted their focus away from advanced chips to more mature technologies that are still used in a range of industries.
Clean energy, electric vehicles, industrial Internet of Things (IoT), and 5G network equipment all use large volumes of semiconductors, and China is investing heavily in these areas.
Industry
Semiconductor Usage

Consumer Electronics

Smartphones: Powering processors, memory, and sensors

Televisions: Display controllers and video processing

Wearables: Control chips and sensors

Automotive

Electric Vehicles: Battery management and control

Advanced Driver Assistance Systems (ADAS): Sensors

Infotainment Systems: Audio, navigation, and displays

Telecommunications

5G Networks: Base station equipment and network cards

Mobile Devices: Modems and radio frequency components

Industrial Automation

Robotics: Motion control and sensor integration

Factory Automation: Programmable Logic Controllers

Healthcare

Medical Imaging: Image processors and sensors

Diagnostics Equipment: Data processing and control

Aerospace and Defense

Radar Systems: Signal processing and data analysis

Communication Equipment: Secure communication systems

IoT (Internet of Things)

Smart Home Devices: Connectivity and control chips

Smart Cities: Sensor networks for data collection

Renewable Energy

Solar Panels and Inverters: Power conversion and control

Wind Turbines: Power generation and monitoring

High-Performance Computing

Supercomputers: Processors for scientific research and artificial intelligence
Dutch semiconductor equipment supplier ASML, which is the world's only manufacturer of the most advanced production machines, expects demand from China for mature and "mid-critical" chips to continue rising in the coming years.
ASML's chief executive officer (CEO) Peter Wennink said in the company's quarterly webcast:
"China is by far over 50% of all worldwide investments in renewable energy… When we look at the expansion plans of our Chinese customers, [they are] putting their capacity to work in these areas. And if you look at the total consumption of semiconductors by the Chinese manufacturing industry, now China imports more semiconductors than it imports oil.
"On top of that, you'll see a significant increase in these transitions. That means that if China wants to come to a certain level of self-sufficiency… they actually invest in this type of semiconductor technology because it's for internal use."
U.S.-based semiconductor equipment supplier Lam Research sees similar trends. The company's president and CEO, Tim Archer, said in its quarterly earnings call:
"We do believe that there's rolling demand in mature nodes that will drive China investment in a rather sustainable manner for the next several years."
The Bottom Line
China's transformation to a semiconductor-hungry giant signifies its ambition to lead in the global technology race. However, it also highlights the challenges and vulnerabilities associated with a rapid shift in global trade dynamics.
The world is now watching closely as China continues to invest in semiconductor research and development (R&D), manufacturing, and secure supply chains while navigating complex geopolitical pressures.
The global semiconductor industry remains a dynamic and critical sector, with implications that extend far beyond the boundaries of technology as countries attempt to balance economic growth, national security, and global competitiveness in a range of industries.