The timing of Google's resolution to revise the rules for using non-fungible tokens (NFTs) in apps and games on the Google Play Store is impeccable, considering the Play-to-Earn (P2E) game industry is currently teetering on the brink of downfall.
Video game developers have a lot to smile about, as this development aims to provide clarity surrounding the use of digital assets on Google's software platform.
NFTs refer to digital collectibles inscribed on blockchain protocols like Bitcoin (Ordinals) and Ethereum to represent ownership and certify the authenticity of different items like artworks, images, videos, songs, and other media files.
Is Google Play Store The Answer To The Struggling P2E Sector?
Google has been hosting a variety of blockchain-based apps for a while, although they are only allowed under stringent terms and conditions. Google Play's Group Product Manager, Joseph Mills, in a blog post on July 12, 2023, said the company is "excited to expand on these offerings to create more engaging and immersive digital experiences with tokenized digital assets such as NFTs."
Mills stated in the announcement that in a bid to protect users and "balance innovation," the updated policy is geared toward opening new opportunities "to transact blockchain-based digital content within apps and games on Google Play."
Play-To-Earn games like Splinterlands, Axie Infinity, and Sandbox have, over the last few years, faded into the distant past, with their user bases shrinking to unsustainable levels. These projects and others rose into polarity amid one of the crypto market's most sensational bull runs in 2021.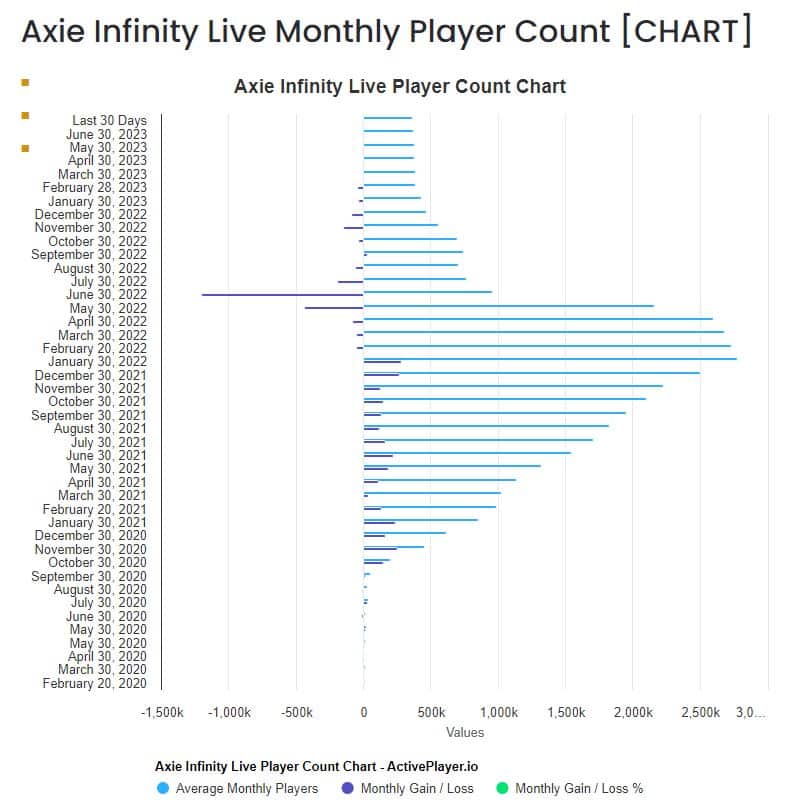 The number of players in the P2E sector has plunged massively from 30.1 million in January 2022 to a mere 6.2 million in March 2023. On top of this is the tremendous drop in total app downloads from 46 million in the first half of 2022 to 29 million in the second, according to Sensor Tower's State of Mobile Gaming report 2023.
This worrying situation gets worse when considering the trends in the market capitalization of GameFi (P2E) tokens. After hitting the incredible milestone of a market cap of $27 billion at the beginning of 2022,  it plummeted to just over $3 billion by the end of the same year.
So, what caused the failure of a rapidly growing market segment that attracted top venture capitalists (VCs), influencers, and mainstream investments? The answer is not that straightforward, although some can attribute it to a fundamental conceptual flaw that lies at the heart of the Play-to-Earn concept.
Why Are Play-to-Earn Games Struggling So Much?
In the traditional Play-to-Earn (P2E) model, there is an extraordinary focus on the game's tokenomics, the earning process, and the in-game economy, all of which often necessitate an intricate understanding of the blockchain for in-game interaction.
The typical Web2 gamer is not interested in the P2E scheme for token management or the particular blockchains used. To them, Bitcoin and Ethereum may be nothing more than internet jargon.
What the Web2 audience craves are the games themselves, not the economies and tokenomics built around them. They focus on intriguing mechanics, vibrant artwork, and compelling narratives. This vast demographic is frequently overlooked and neglected by a majority of P2E developers, who often treat engaging game design as an optional extra.
Besides the fundamental flaws of the current state of P2E games, Google Play did not allow app developers to inscribe NFTs in most games, which form the basics of the play-to-earn models. In most P2E cases, NFTs serve as in-game items or currencies.
This gives gamers the ability to assert ownership of virtual goods within games and trade or sell these items in blockchain-powered marketplaces. You can actually make money playing these types of games instead of sinking your own funds into microtransactions in Web2 games. This should be (and is) quite appealing for players, but they often lack interesting game mechanics to attract players in the first place, let alone keep them interested. Furthermore, the economies of P2E games are often poorly designed and completely lack sustainability.
These games are usually incredibly popular for a short period of time, fueled by high token inflation or similar unsustainable mechanics, and then descend into nothingness when they are no longer profitable.
P2E Games Still Have Tremendous Potential
There are a few ways that NFTs can change the mobile market for the betterment of gamers. NFTs and tokens can be integrated into already well-designed games to massive success, or new games can be purpose-built to be powered by P2E economies from the ground up without forgetting to add fun gameplay mechanics. With a strong base of fun gameplay that will keep gamers interested alone, the addition of profit potential should only help to drive growth further.
This fosters a new method of generating income for players, inspiring them to commit more time and resources to play the game and try to profit. Moreover, NFTs pave the way for gaming creators to capitalize on their content by making and selling unique virtual assets that are not just desirable to gamers but also contribute sustaining value to the gaming economy. In turn, their content drives even more user growth.
The potential influence of NFTs and cryptocurrencies on economies within gaming is massive.  They have the power to form fresh, player-governed economies that shifts control from game developers to the players themselves.
This would be great for players but also presents a major hurdle for the industry. Why would a developer build a game that pays users instead of supporting its bottom line? Fortunately, these games can do both simply by adding royalties to trades and transactions. It may not be as substantial as some microtransaction models, but it could drive more user growth than a traditional mobile game.
A shift to the P2E model has the potential to foster stronger engagement and extended gameplay sessions, consequently yielding more successful games. Beyond this, by decentralizing the ownership of virtual goods, NFTs hold the promise of a fairer and more transparent gaming industry, diminishing the sway of big-name game developers and publishers while keeping their incentives to build great games intact.
Google Play Store Protecting Users While Fostering Innovation
Google's decision to update its policy, paving the way for crypto transactions within P2E apps on the Play Store is a breath of fresh air this sector of the gaming industry needed to survive.
"From reimagining traditional games with user-owned content to boosting user loyalty through unique NFT rewards, we're excited to see creative in-app experiences flourish and help developers expand their businesses," explained Mills in the announcement blog post.
Google seems to believe that as blockchain evolves, it is important to uphold user trust. As such, the company outlined in the recent policy update that apps must strive to foster transparency regarding tokenized digital assets.
For instance, if a P2E game or app allows for the purchase or accumulation of digital tokens, it's mandatory for developers to explicitly communicate this to users. Though these tokenized assets are designed to enhance the overall user experience, the developer isn't allowed to endorse or exaggerate the prospects of making a profit from gaming or trading activities as a measure to safeguard users.
It's important to note that this policy change doesn't affect its rules on gambling. Mills explains:
"In line with Google Play's Real-Money Gambling, Games, and Contests policy, apps that have not met gambling eligibility requirements cannot accept money for a chance to win assets of unknown real-world monetary value, including NFTs."
"For example, developers should not offer purchases where the value of the NFT users receive is not clear at the time of purchase. This includes, but is not limited to, offering mechanisms to receive randomized blockchain-based items from a purchase, such as "loot boxes," Mills added.
Impacting The Adoption of New Technologies
Google's policy changes arrived after extensive consultation with stakeholders in the P2E space, including developers and publishers. The policy took into account their feedback, with Google pledging support for businesses in the sector.
Big Tech has committed to continuing to engage app developers and publishers "to understand their challenges and opportunities." Talks are already underway on how to enhance support for Play-To-Earn NFTs and blockchain-based app experiences.
"We really appreciate Google's partnership in this collaborative effort to bring about innovation in this space and move these new economies forward," John Linden, CEO of Mythical Games, said in a written statement.
"We think these new policies are steps forward for both players and developers alike and will positively impact the adoption of new technology while also protecting consumers."
Moving Forward
The limitations, checks, and balances imposed by Google Play will surely play an instrumental role in ensuring that unsuspecting newcomers do not fall into traps. Users must understand the full extent of risks associated with tokenized assets which may result in either gains or losses.
Projects within the industry often portray NFTs as massively profitable – something that is not always true. They are a perfect example of a high-risk, high-reward investment. Most NFTs eventually fail and become worthless, while some see otherworldly success.
Google expects user activity in P2E gaming apps to start increasing later this summer with the help of a select app group of developers who are ready to embrace the new changes. The rest of the app developers on Google Play will have access to the policy later in 2023.
Matt Williamson, Senior Engineering Manager at Reddit, shared in a post that the platform – celebrated for its accomplishments with crypto wallets and NFT avatars – is one of Google's esteemed policy update testers.
Google is starting to catch up to the excitement and innovation of P2E NFTs games, allowing for a balance between innovation and user protection. On the other hand, its rival, Apple, remains steady on its course, characterized by various limitations on the larger digital asset ecosystem.
Apple issued a directive in October allowing apps to mint, list, transfer, and even let users access the NFTs they already own. However, this freedom unceremoniously ends here with users barred from unlocking additional features offered by the software platform.
In adherence to Apple's guidelines, applications are limited in their ability to display external links, buttons, or calls to action related to purchasing NFTs. Users are required to utilize Apple's in-app payment mechanism for acquiring NFTs within the application, ensuring Apple gets its 30% cut. This is a significant impediment to a sector that continues to struggle with an extended crypto winter.
With Google's new policy struggling P2E NFTs like Axie Infinity and the Sandbox could be handed a new lifeline with a chance to grow their userbases. Smaller P2E NFTs like Wolf Game could also benefit massively by launching an Android version of their games.
As the crypto market recovers, it appears that Google wants to cash in on a new generation of mobile-first NFT games in addition to supporting innovation. Although the Global Pay-to-Earn NFT games market is a pale picture of its valuation of $788.05 million in 2021, the sector is expected to grow to reach $2890 million by 2028 at a CAGR of 20.4%.