What is QuillBot?
QuillBot is a suite of proprietary cloud-based writing and editing products that has over 35 million active users each month. It is owned by Learneo, an online learning and productivity platform.
QuillBot is marketed as a writing assistant that uses artificial intelligence (AI) to improve written communication.
Its tools can be used to:
Check the text for grammar and punctuation errors;
Suggest synonyms or alternative phrases to improve readability and clarity;
Translate text from one language to another;
Summarize text;
Expand text;
Change the tone of a writing sample;
Check for plagiarism;
Generate citations.
QuillBot Writing and Editing Products
QuillBot is known for being user-friendly. The current version of QuillBot's software suite includes the following products:
Paraphraser is one of QuillBot's most popular products because it is good at rephrasing sentences or paragraphs while still maintaining the original text's meaning.
This product can also be used to identify and suggest replacements for key phrases, translate text from one language to another, break up long sentences for search engine optimization (SEO), or change a sentence or paragraph's tone.
This product scans text inputs for errors in subject-verb agreement, verb tense, pronoun usage, punctuation, spelling, and sentence structure. It highlights any errors it finds and provides suggestions for how to fix what's wrong.
This product analyzes input text by breaking it down into smaller segments and then removing formatting, punctuation, and other non-essential elements. It then compares each segment of the input text with the large dataset that QuillBot's language model was trained on.
If instances of plagiarism are found, the product will highlight the text in question and provide a link to the source material.
To improve user experience (UX), QuillBot has integrated all its products into an online word processor the company calls Co-Writer. Co-Writer's AI autocomplete feature can be used to generate article outlines.
This product also includes features to facilitate online research and note-taking within the same user interface (UI).
This product is able to condense a longer text input into a shorter, more concise version that still maintains the original text's main ideas. It does this by using natural language understanding (NLU) to analyze the context and content of the text it is given and generative AI to produce a concise and coherent summary.
This product can be used to create citations for research sources in a variety of different styles, including APA, MLA, and Chicago. It is a valuable tool for students, writers, and professionals who need to cite their sources in a specific format.
The generator applies predefined formatting rules to arrange elements like author names, titles, and publication dates in the correct order and format for the selected style.
This product uses deep learning algorithms to provide accurate and natural-sounding translations in 30 languages. Once the source language is detected, QuillBot uses its language data mapping capabilities to understand how words and phrases in the source language correspond to their equivalents in the target language.
QuillBot then uses what it learns to generate text that conveys the same meaning in the new language.
How to Use Quillbot
Each QuillBot writing or editing product can be accessed through its own navigation tab on the left rail of the QuillBot.com website. QuillBot's current homepage features the paraphraser product.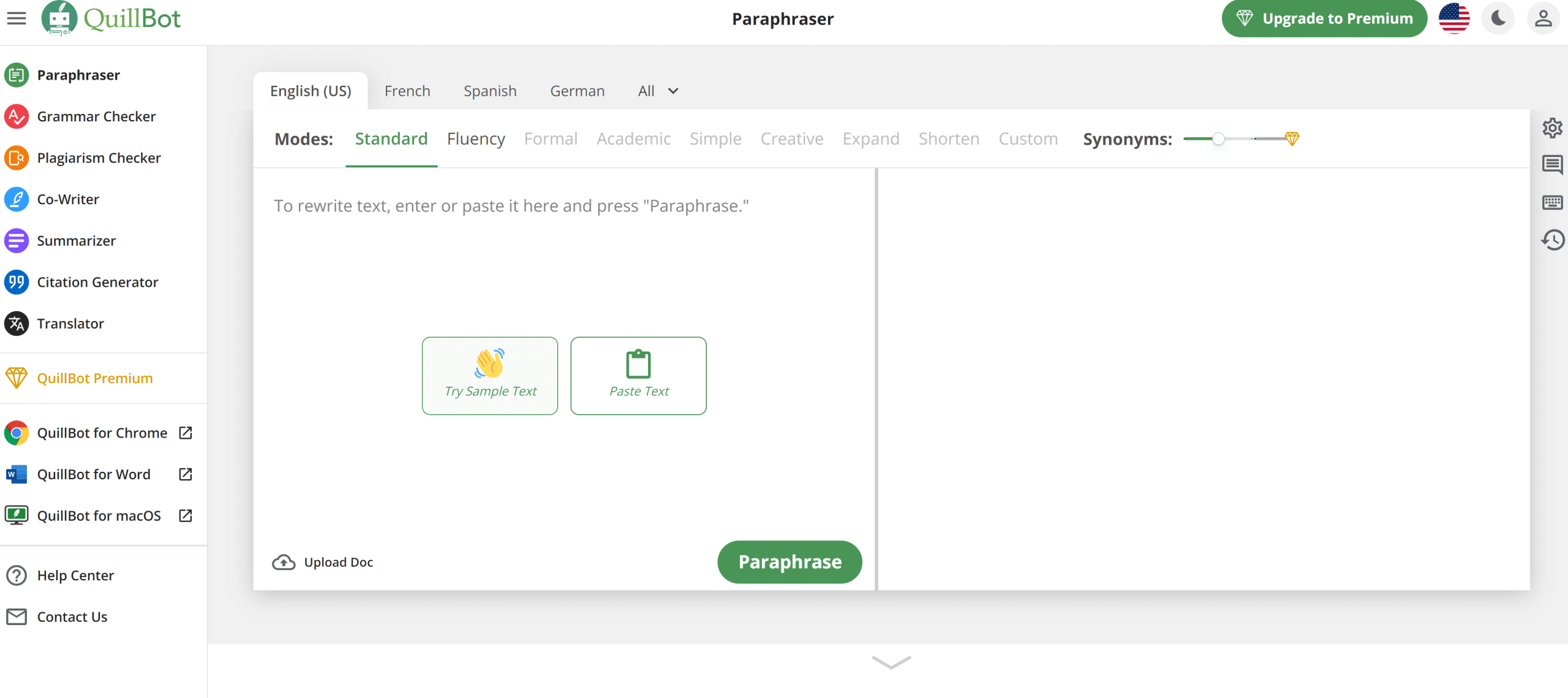 With the exception of the Plagiarism Checker, all products are free to use on a limited basis.
The Grammar Check, Paraphraser, and Summarizer products can also be accessed through a browser extension for Chrome, an add-in for Microsoft Word, or a desktop app for macOS.
Quillbot Pricing
QuillBot offers both freemium and paid subscription options for using their writing and editing assistants. Each product gives users the option to pay for an upgrade that can be accessed immediately.
The free version of QuillBot includes the following capabilities:
The ability to paraphrase up to 125 words at a time;
Limited use of the Paraphraser product's Synonym Slider feature.
Access to the Paraphraser's standard mode to rewrite text while keeping the same meaning;
Access to the Paraphraser's fluency mode to ensure text can be read easily and is error-free;
Unlimited access to the Summarizer product;
The ability to select one word or phrase that the Paraphraser product should never replace or paraphrase. (QuillBot calls these "freeze words.")
The QuillBot premium plans offer better processing capacity to improve processing speeds and the following additional features:
Unlimited use of the Paraphraser product;
Full use of the Synonym Slider feature in the Paraphraser product;
The ability to view the Paraphraser product's history;
Access to eight different writing modes in the Paraphraser product;
The ability to customize writing modes in the Paraphraser product;
The ability to compare writing modes in the Paraphraser product;
Unlimited freeze words in the Paraphraser product;
Recommendations for rewrites in the Co-Writer product;
Up to 20 pages of plagiarism checking per month.
QuillBot offers 3-day trials for their premium plans to allow users to "try before they buy." According to their website, QuillBot does not offer student discounts, but the company does release promo code discounts for new subscribers from time to time.
Quillbot for Business
QuillBot is a versatile tool that can be used by people in a variety of professions to improve their writing skills and produce high-quality content.
While QuillBot has traditionally been used by students to avoid plagiarism by paraphrasing text, the company's software-as-a-service (SaaS) AI products are increasingly being used by marketers, business-to-business (B2B) content creators and other professionals to do their jobs more efficiently.
Here are just some of the examples:
Business analysts can use QuillBot to make their reports more concise.
Sales representatives can use QuillBot to improve their written correspondence with potential customers.
Students and researchers can use QuillBot to summarize text and cite their sources properly.
Copywriters can use QuillBot to improve the readability and clarity of their content.
Bloggers – and other content creators who write about topics that are heavily covered – can use QuillBot to make their text unique.
Marketers can use QuillBot to customize the same copy for social media posts and email marketing campaigns.
SEO specialists can use QuillBot to optimize reading levels for content and improve rankings on search engine results pages (SERPs).
Quillbot Alternatives
QuillBot is a powerful suite of writing and editing tools, but its restrictions on free use can be frustrating for new users.
Popular QuillBot competitors include: