Globally, from the White House to Downing Street and throughout the European Union, there is a rapidly growing dialogue on creating a responsible framework for AI development and use.
Governments are recognizing the need for regulations that not only protect workers from the economic shifts expected with AI automation but also prevent the reinforcement of societal biases through machine learning.
This emerging regulatory landscape aims to steer the transformative power of AI towards ethical applications and ensure its integration into society benefits all.
However, much of the discourse around AI is consumer-centric, particularly concerning the potential risks to their privacy.
However, for businesses, the stakes are equally high. The concern isn't solely about safeguarding their intellectual property (IP) from unauthorized dissemination; it's also about the legal and ethical implications of utilizing AI models that may incorporate or learn from the IP of others. 
Key Takeaways
Governments worldwide are focusing on regulating AI to protect workers and prevent biases.
Meanwhile, businesses face concerns about intellectual property and the potential impact of AI regulation.
Private AI offers a solution to balance AI's value with a company's need for data privacy and control — mainly when operating in a cloud environment.
Partnerships between tech companies like VMware, Intel, and IBM are spearheading the Private AI movement.
Neil C. Hughes reports direct from

VMware Explore in Barcelona
Corporate AI Strategy: Preparing for a Regulated Tomorrow
From Europe to India, there's a palpable tension among businesses. Leaders are eager to harness the potential of AI but are simultaneously wary of investing heavily in technology that might soon be restricted or redefined by regulatory bodies. This trepidation underscores the need for a balanced approach to AI investment — one that is agile and adaptable to the forthcoming regulatory environment.
Businesses are looking for assurances that their investments will not become obsolete due to future policy shifts around AI.
The challenge for service providers is to offer adaptable AI platforms that help organizations navigate the complexities of an evolving regulatory landscape. Ensuring that today's AI solutions are both innovative and compliant and ready for the challenges of tomorrow is no small feat, but private AI is already approaching buzzword status. 
At the VMware Explore event in Barcelona, VMware was riding the wave of momentum of Private AI by unveiling new and expanded partnerships to bring the dream of centralized management of AI and non-AI workloads to life. But what is private AI?
The Rise of Private AI
Private AI represents a strategic architectural approach designed to navigate the increasingly complex data privacy landscape. As AI innovation accelerates, the imperative to keep this data confidential has never been greater. 
VMware's initiative in Private AI is a response to this challenge, aiming to reconcile the immense value AI offers businesses with the need for robust privacy and data protection. This approach addresses three critical privacy concerns:
Preventing the leakage of intellectual property during employee interactions with AI models.

Ensuring sensitive corporate data remains internal.
Maintaining absolute control over access to AI models.
Unlike public AI models, which can introduce a spectrum of risks, Private AI is engineered to provide enterprises with the autonomy to select, train, and govern their AI models with an unprecedented level of control and transparency.
VMware's Vision for Private AI Takes Center Stage at Explore
In August, VMware CEO Raghu Raghuram and NVIDIA CEO Jensen Huang discussed the transformative effects of the VMware Private AI Foundation with NVIDIA. This partnership heavily focuses on implementing Private AI architecture within the enterprise sector.
This week in Barcelona, VMware revealed that it had joined forces with Intel to introduce Private AI capabilities across various computing environments. By integrating VMware Cloud Foundation with Intel's AI software suite, including the latest Intel® Xeon® processors and Intel® Data Center GPU Max Series, the alliance promises to deliver a validated AI stack that simplifies the construction and deployment of AI models. 
Another strategic partnership between IBM and VMware was also announced between IBM and VMware to offer a secure platform for enterprises to develop, train, and manage AI models while maintaining data privacy and compliance.
The joint effort is another example of the race to create a Private AI architecture and ecosystem that provides businesses the dual advantage of tapping into AI's transformative potential while safeguarding their most sensitive data and intellectual property.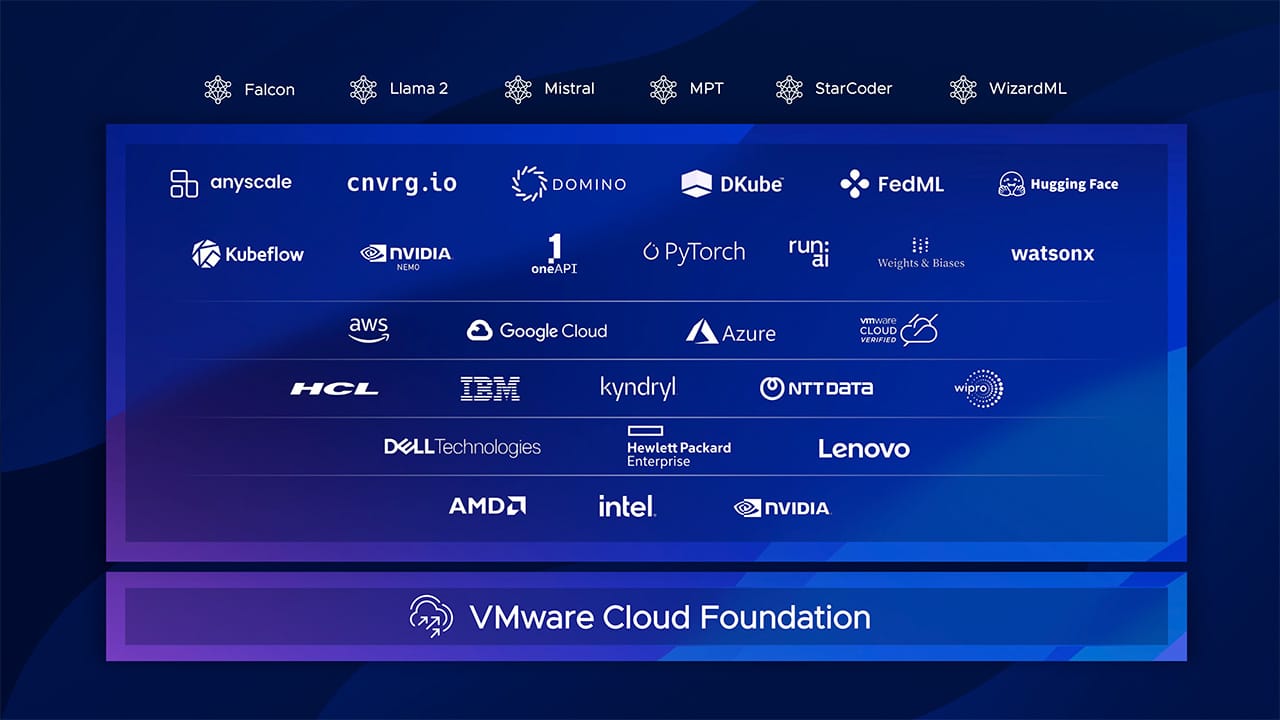 AI Deployment in a Multi-Cloud Era
In business technology, AI innovation is not just about the algorithms but also about where and how they are deployed.
With 87 percent of businesses employing a multi-cloud strategy, integrating AI across diverse cloud environments is becoming increasingly critical.
Private AI architecture is at the forefront of this evolution, offering companies the agility to deploy AI models — both proprietary and open-source — across public clouds, private data centers, and edge locations. 
This proximity to data sources not only boosts performance but also enhances cybersecurity by granting IT teams more comprehensive oversight and the ability to enforce robust, automated security protocols. Moreover, the convergence of AI and traditional workloads under a unified management system is streamlining operations and driving down costs. As AI innovation surges forward, business leaders recognize the necessity of a flexible AI strategy inextricably linked with their multi-cloud infrastructure, which is the backbone of their daily operations.
The Bottom Line
The surge in Private AI's popularity can be attributed to its alignment with the emerging needs of businesses to harness AI's capabilities while maintaining strict data governance and privacy standards. Organizations are increasingly wary of the risks associated with public AI service stacks, especially regarding data breaches and privacy concerns.
Private AI offers a compelling alternative, enabling enterprises to run AI models close to the data source, enhancing security and compliance. VMware's approach, which includes a suite of use cases from code generation to advanced information retrieval, is arguably paving the way for a new paradigm where AI's transformative potential is realized without sacrificing the sanctity of private information.
Until now, a cost-effective AI solution that does not compromise privacy or control over sensitive data and proprietary processes was a pipe dream. But in 2024, many will be looking to Private AI to help them overcome the increasing number of regulatory hurdles on the horizon. Whether it will live up to its new buzzword status is still uncertain, but as the major players in big tech continue to join forces, the future of AI just got very interesting.