Predictably, artificial intelligence (AI) dominated the tech headlines this week, including the best of times and the worst of times for OpenAI. Meanwhile, the tech sector continues to navigate significant job losses and shifts in venture capital trends, particularly in climate tech. Here is a glimpse of these diverse developments in the ever-changing tech landscape.
OpenAI's ChatGPT Hit by Targeted Cyber Attack
In the latest development from OpenAI, the company disclosed that its flagship product, ChatGPT, encountered significant disruptions due to a deliberate cyber attack. This revelation comes after extensive outages affecting OpenAI's range of tools and services. 
OpenAI assures that customer data remains secure, highlighting the robustness of its security measures amidst these challenging circumstances. This incident not only underscores the growing dependency of industries on AI technologies but also highlights the critical need for heightened cybersecurity measures in the face of evolving digital threats.
OpenAI Says ChatGPT Downtime Caused by Targeted Attack (CNBC)
Enhancing Daily Routines with OpenAI's 16 Diverse ChatGPT Bots
On a more positive note, OpenAI unveiled a lineup of 16 custom ChatGPT bots, each designed to assist with tasks ranging from tech support to creative writing. Imagine having a personal Tech Support Advisor for your technology woes, a negotiator to help you in tricky situations, and even a sous chef to whip up delicious recipes with whatever ingredients you have at home. 
Available exclusively to ChatGPT Plus and Enterprise subscribers, these bots represent a new frontier in personalized AI assistance, showcasing the versatility and practical applications of OpenAI's technology. But whether they will transform your daily routine is still up for debate.
OpenAI Unveils 16 Custom ChatGPT Bots to Help You With Specific Tasks (ZDNet)
Intel and IBM Join VMware's Private AI Intitive
In an era where regulatory scrutiny on AI is intensifying globally, big tech is uniting to pioneer Private AI, offering businesses a robust solution that balances AI's transformative potential with stringent data privacy and control requirements. This initiative, championed by leading companies like VMware, Intel, and IBM, is particularly crucial as organizations seek to navigate the evolving landscape of AI regulations while protecting their intellectual property and maintaining compliance. 
Private AI strategically responds to these challenges, ensuring enterprises can leverage AI's capabilities without compromising data security and governance. But will it be enough to tempt nervous CEOs from dipping their toes into the unchartered digital waters?
Private AI: VMware and Intel Team Up to Give Companies Privacy in Public (Techopedia)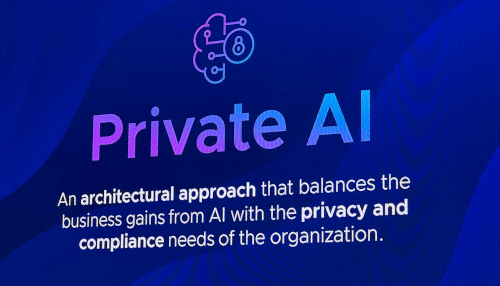 Digital Privacy on Trial
In a landmark case spotlighting privacy concerns in the digital age, the FTC has accused Kochava, a prominent mobile data broker, of engaging in the unfair use and sale of sensitive consumer data without consent. This allegation has led to a legal battle, where US District Judge B. Lynn Winmill recently unsealed a filing that details the FTC's extensive evidence against Kochava.
The complaint alleges that Kochava's practices involve collecting and disclosing a vast array of personal information, potentially impacting nearly every individual in the US.
This data includes susceptible details like location, unique identifiers, and political or religious affiliations. The FTC's action aims to curb such invasive practices by seeking a permanent injunction against Kochava's alleged misuse of consumer data, marking a significant step in the fight for digital privacy and consumer rights.
Data Broker's "Staggering" Sale of Sensitive Info Exposed in Unsealed FTC Filing (Ars Technica)
How the Do-Not-Track Ruling Could Impact LinkedIn's Privacy Awareness
In a significant development for online privacy rights, a German court has ruled against LinkedIn, asserting that the platform must respect users' 'Do Not Track' (DNT) settings in web browsers. This landmark decision, driven by the German consumer rights group vzbv, highlights LinkedIn's non-compliance with the General Data Protection Regulation (GDPR) by processing personal data without consent. 
The ruling also mandates that LinkedIn's default setting for new users' visibility on partner sites cannot be automatically set to 'Visible.'
This case marks a crucial step in enforcing GDPR, underscoring websites' legal obligations to honor user privacy and data protection preferences. It also revives the conversation around the effectiveness of DNT settings and could signal a shift towards stricter enforcement of digital privacy rights under GDPR in Europe.
LinkedIn in breach of GDPR – Berlin court (TechHQ)
Musk's Neuralink Looking for Brain Surgery Volunteers
Elon Musk's Neuralink is bringing the concept of a brain-computer interface technology to life after obtaining regulatory approval to conduct the first clinical trial of its experimental device in humans. It's time to look into the future of human-machine interaction, highlighting the potential breakthroughs and challenges ahead. 
Read more about how Neuralink is shaping the path toward a new era of technological advancements. But who will trust Elon Musk to implant a chip in their head is a debate for another day.
Thousands Lined Up to Try Out Elon Musk's Brain Chip (Times of India)
Explore the dynamic intersection of AI and cybersecurity in this enlightening article. It delves into how AI accelerates the 'shift left' approach in software development, empowering developers to write more secure code from the outset. While AI tools bring productivity gains, they also raise pertinent security questions. 
The piece navigates these complexities, offering insights into the integration of AI in coding without compromising security. Discover how AI is not just a tool for developers but a partner in enhancing cybersecurity, and learn about best practices for implementing AI in your organization's software development lifecycle.
AI is the Future of Cybersecurity. This is How to Adopt it Securely (Fast Company)
Tech Turbulence: Over 240,000 Job Cuts Mark a New Era of Challenges
The tech industry faces a significant upheaval in 2023, with over 240,000 job losses surpassing last year's figures by 50%.
This trend, affecting giants like Google, Amazon, Microsoft, Yahoo, Meta, Zoom, and numerous startups, reflects a shift from growth to efficiency amidst challenging market conditions. All while big tech continues to promote the fiction that the success of AI will not be at the expense of jobs.
While the fear of a recession looms, tracking these layoffs is crucial for understanding their impact on innovation, identifying companies under pressure, and recognizing opportunities for businesses in expansion. This article provides a comprehensive and regularly updated list of tech layoffs, offering a stark reminder of the human aspect of these changes and the evolving risk landscape in the tech sector.
A Comprehensive List of 2023 Tech Layoffs (Tech Crunch)
Climate Tech is Changing the World
Despite a general downturn in venture capital investments in 2023, climate tech stands out, receiving a larger share of funding relative to other sectors. This resilience is evident as VC and private equity investments in climate tech have seen a comparatively modest 40% drop against a steeper 50.2% decline across all venture and equity investments.
Highlighting this trend is the encouraging news of SET Ventures, a leading Dutch climate tech VC, raising €200 million for its fourth fund – a notable achievement that doubles its previous fund size.
This fund is set to invigorate the European energy transition, supporting 20 to 25 innovative companies. 
In an exclusive interview with TNW, SET Ventures' Managing Partner, Anton Arts, sheds light on the intricacies of being a venture capitalist in the climate tech space, the burgeoning economic prospects of the net-zero transition, and the strategies for startups to attract investment in a challenging financial landscape.
Arts' insights reveal a rigorous selection process, emphasizing the alignment with their investment scope as a critical criterion, showcasing the sector's resilience and potential in an uncertain economic environment.
Climate Tech is Set to Boom. This VC Explains Why it's Ripe For Investment (TNW)
AI Craze Sweeps the Domain Name Industry
In the fast-evolving world of artificial intelligence, securing the right domain name has become a crucial, albeit expensive, endeavor for startups like Pantry AI.
Ian Leaman's journey to acquire Pantry.ai for $12,000 reflects the growing demand and soaring costs for AI-related web addresses. 
As AI technology captivates the market, domain names with an AI suffix are fetching staggering prices, with some reaching up to $250,000. This article delves into the intricacies of domain name acquisition in the AI sector, highlighting the strategic importance of a memorable web address for brand visibility and market positioning. It offers insights from industry experts on the burgeoning market for AI domain names, where securing a succinct and impactful web address is not just a branding exercise but a savvy business move in the competitive AI landscape.
The Race to Buy AI Website Addresses (BBC)
The Bottom Line
In this roundup of top tech headlines, we witness the multifaceted nature of the tech industry. OpenAI's ChatGPT faces the challenge of a cyber attack, signaling the need for more robust cybersecurity in the AI realm. Meanwhile, OpenAI's introduction of 16 diverse ChatGPT bots marks a significant leap in personalized AI assistance.
The collaboration of tech giants in VMware's Private AI initiative highlights the industry's response to regulatory demands, ensuring data privacy without stifling innovation. Legal battles like the FTC's case against Kochava and the GDPR ruling against LinkedIn emphasize the growing importance of digital privacy. 
In innovation, Neuralink's search for brain surgery volunteers and the evolving AI domain name market reflect the tech industry's relentless pursuit of advancement.
However, the backdrop of these developments is the stark reality of widespread job losses, underscoring a shifting focus from growth to efficiency. Amidst these dynamics, the resilience of climate tech in attracting venture capital investment stands out, demonstrating the sector's potential in an uncertain economic landscape.
These stories collectively provide a snapshot of an industry at a crossroads, grappling with challenges while relentlessly pushing the boundaries of technology.